BFGoodrich Trail-Terrain T/A seemed to embrace all the basic technologies of an on-road AT tire: optimized footprints, 3D sipes, and extra biting edges to deal with occasional off-road ventures.
The tire's positive customer feedback did align with how efficient these features will turn out in theory. Still, to confirm its real-life road capability, our team subjected the tire to our annual COR Wheels Tire Test for more analysis and review.
In this review:
BFGoodrich Trail-Terrain T/A Specifications & Features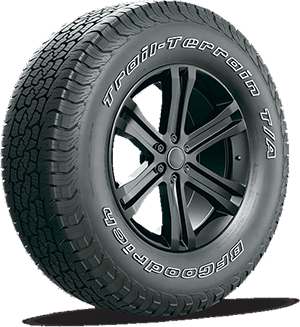 Tire Type
On-Road All-Terrain
Tire Size
15″ – 22″
Weight
24.12 LBS – 46.1 LBS
Load Index
96 – 117
Load Range
SL – XL
Speed Rating
– H: up to 130 mph
– T: up to 118 mph
Warranty
60000 miles
Ratings
8.4/10
BFGoodrich Trail-Terrain T/A is catered to pickup trucks, Jeeps, SUVs, and crossovers that perform well on-road but are still adventure-ready during critical off-road situations, thanks to:
Optimized footprints distribute pressure to reduce risks of irregular wear
Close shoulders minimize airborne noises
Ample void space for the inboard and strong biting edges pave powerful grips and water evacuation in loose/slippery surfaces
3D, full-depth sipes squeeze extra traction on icy, wet, and light snow terrains, granted the 3PMSF symbol.
2-ply polyester casings and steel belts with nylon reinforcement blend reliability and comfort while manifesting strong higher-speed capability/off-road durability.
BFGoodrich Trail-Terrain T/A Review & Performance Test Results
Our team used the 235/60R18 tire size version of BFGoodrich Trail-Terrain TA on the 2022 Honda Odyssey. As a part of the 2023 COR Wheels Tire Test, this performance testament took place in January and June-July.
1. Dry Performance: 8.8/10
Dry Traction: 9/10
BFGoodrich Trail-Terrain T/A is a delight on dry traction, though that is hardly a surprise considering the extra biting edge technology. The tire took only 5 seconds to stabilize its initial grip and even less time settling into our chosen driving rates of 40 MPH, treading forward on dry pavements with an impressive self-assuredness that quickly lifted off our worry.
We pressed the accelerator pedal to rev the car gradually to 50 and 60 MPH, respectively. The Trail-Terrain tire accommodated each speed burst uneventfully, only suffering brief delays at narrow turns and relatively none in straight driving (if there were, it was hard to notice).
Canyon roads with narrow, weaving passes did not pose much of a problem, either. The traction surprisingly retained when we engaged in steep drops; our team could feel the tire edges buffing out and strengthening when we maneuvered around blocks and pebbles. We did wish for more pronounced footholds and faster adapting during abrupt texture changes, though.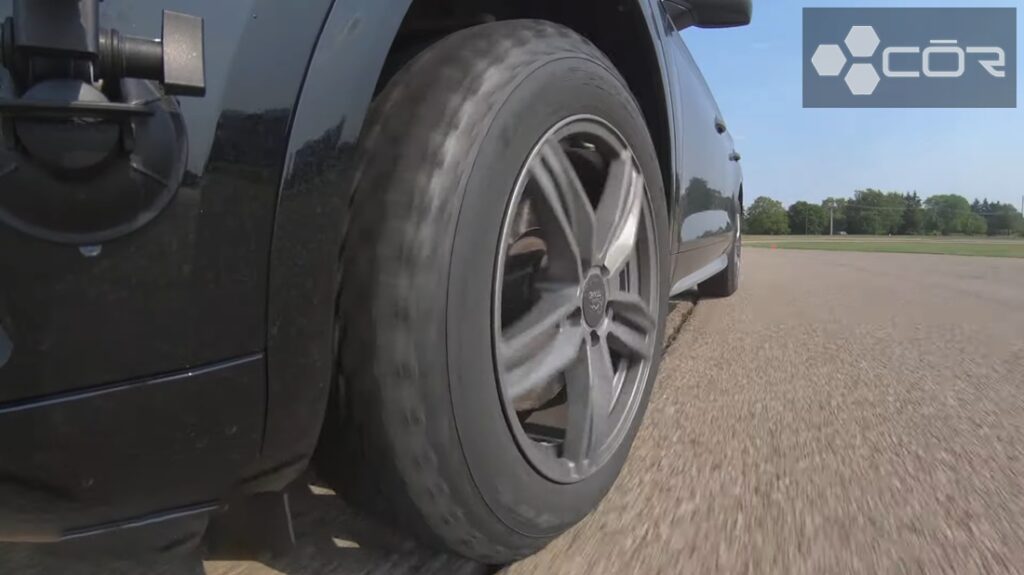 Corner Stability: 8.6/10
While cornering stability was decent, we felt it did not truly match the powerful dry traction discussed above. Reasonable speeds below 40 MPH reduced significant risks of skittish feels but could not make them go away completely; the higher we accelerated, the more our tire wandered.
Hence, it was unsurprising that BFGoodrich lost a lot of confidence when we brought our Odyssey to hilled roads. Its lack of on-center footings sent the tire into a loss on elevated terrains, making cornerings even more of a struggle with longer delays than we would have liked.
Steering Response: 8.7/10
Steering response was good during on-road straight drives. Response delays were hard to spot due to both the grippy contact patches (hence faster and more sensitive input readings) and the uneventful nature of on-road terrains. Our team went back and forth between 30 and 65 MPH within seconds and observed very little overreaction; hence, lane merges were a breeze most of the time.
The tire did not respond that great at corners, however. While the delivery was generally punctual and accurate, it came a bit loose when we leaned forward and handled abrupt decelerations with more panic than some other competitors.
2. Wet Performance: 8.4/10
Wet Traction: 8.3/10
BFGoodrich did not give us much of a headache under light, subtle drizzle. Thin water stripes lingered on the sidewalls but not enough to weaken our contact points, hence the Odyssey's breezy passage at 40-45 MPH. Slightly deeper 5-6 inches patches hardly fazed the tire's 3D sipes, allowing us to be more experimental around low-angled corners.
But downpours and heavy rainfalls were far from Trail-Terrain's best friend. Our car slipped and tripped over nothing even on well-paved paths, getting worse when the water depth reached beyond 9 inches. Tight bends or sweeping curves proved downright intolerable at the slightest signal of spirited engagement.
Hydroplaning Resistance: 8.5/10
The Odyssey's latest safety features, coupled with BFGoodrich's interlocking sipes and void space, did help keep hydroplaning under control.
But we were not so sure about their performance in less-modern cars. The sticky, wet rubber under the Odyssey's contact patch still felt a little pronounced to be ignored, and water intruded the lateral grooves much faster the moment we surged above 40 MPH.
3. Off Road Performance: 8.2/10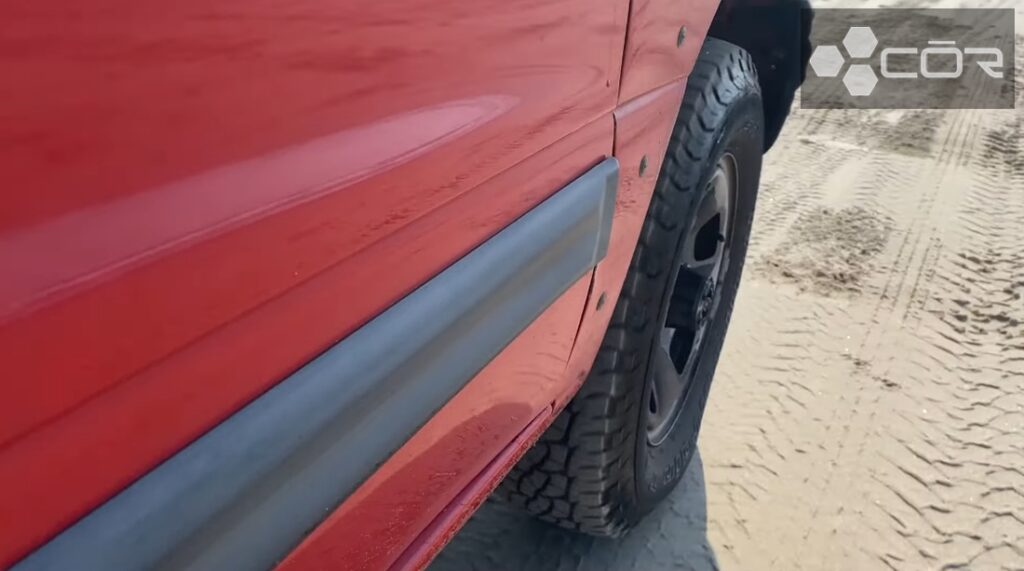 Dirt Traction: 8.7/10
Gravels and dirt were hardly a challenge for BFGoodrich, plowed immediately thanks to the powerful biting edges and full-depth sipes. It was a fun yet secure experiment treading through the thick debris, each crunchy movement resulting in a sure-footed thud that informed us of the tire's unwavering communication with the textured roads.
We thought this boundless confidence would start shaking on its feet once we neared 50 MPH, but that turned out not to be the case. Rather than speed changes, BFGoodrich seemed to have more problems with wetter dirt; traveling on gravel paths after a heavy storm or rainfall did result in constant hiccups and minor delays at intersections.
Rock Traction: 8.1/10
We did not exactly have the best bumpless experience on rocky terrains. But the good news was that the back-to-back sputters and sidewall caving only weakened the tire's edge, not getting close enough to actually dampen our on-center feel.
Hence, the contact patch still retained most of its stable dry footholds, handling pressure well when we slammed the steering force a bit forcefully to get out of stuck sections.
Sharp rocks were not as big of an issue as we thought, but still an issue nonetheless. The loud popping noises could be heard loud and clear from the cabin, which forced us to keep things low-key at below 35 MPH and observe corners twice before entering.
Sand Traction: 8.1/10
Soft, thin sand was actually an easy feat for BFGoodrich. The particles here were small and easy to infiltrate, but nothing that our tread pattern could not refill. Hence, traction loss only occurred briefly and kept the tire rolls persistently reassuring through most parts.
On thicker sands deeper than 5 inches, we started to see some mild tossing symptoms. The extra traction stemming from the full-depth 3D sipes was quickly swallowed by vicious sand flows, spiraling down to dangerous drifting as we got nearer to 55 MPH.
Mud Traction: 7.9/10
Like with rock and sand, our on-center feel was mostly intact despite the skiddings at the edge, hence our secure and safe traveling across muddier puddles at regular driving rates. But it would be a lie to claim they were comfortable; even after 1 hour into the ride, our team members still could not get used to the unpredictable, very random bumps and jostles.
Cornering, thankfully, was not much different from straight driving guaranteed consistent steering control. We had to tread much more slowly and carefully around high-angled crooks, but that was a good trade-off for the decent stability BFGoodrich delivered afterward.
4. Winter/Snow Performance: 8/10
Light Snow Traction: 8.5/10
Its 3PMSF symbol was there for a reason: the aggressive, biting edges offered by the 3D grooves and interlocking sipes were enough to pass off BFGoodrich Trail-Terrain as a decent winter tire. The car seemed lighter when we removed cargo and passengers, though, and grew even more settling once we bound snow chains onto the front tires.
The rear tires carried on decently but felt lackluster and dragged longer than expected without chains. Hence, around angled corners, we had to practice more carefully to avoid oversteering.
Deep Snow Traction: 8.3/10
Packed snow on on-road pavements was less of an issue than we thought, keeping most of the light snow's biting edges and only delivering minor stutters when we went down from speed extremes a bit too abruptly.
It was wet, muddy snow on mountain passes or off-road patches that we had the most problems with. Aided by the cold temperatures, BFGoodrich acted significantly more hesitant here, needing extra force and push/pull to shake itself with difficulty out of the sticky snow and water. With snow deeper than 8 inches, the stutters got even worse.
Ice Traction: 7.3/10
Ice terrains were far from BFGoodrich's forte, but as long as we held the wheel tightly and played safe at 15 MPH, the tire could crawl on icy roads (not wet) with occasional slippage. And the tire's braking distances were quite impressive; we only needed less than 39 feet to skid to a full stop from 12 MPH.
Still, experiments with speed changes and corner angles were only tolerable in more favorable weathers; during rains or snow storms, such endeavors could send the car into collisions even at as low as 15 MPH.
5. Comfort: 8.5/10
Ride Quality: 8.6/10
Despite the steel belts and nylon reinforcements, Trail-Terrain T/A admittedly felt soft on some sidewall parts. As a result, it balanced flex and stability very well on on-road pavements but handled off-road terrains with less subtlety. Even at mid-spectrum speeds and wide-radius corners off-road, jostles and vibrations still made themselves known.
Noise Emissions: 8.4/10
Our team members felt mixed about this aspect.
On the one hand, its noises on off-road and deep snow surfaces were delightfully less serious than other competitors and even seemed to subside the longer we rode. (we believed the closed shoulder blocks had much to do here, swallowing most airborne noises).
But on-road paths were a different story; rumbling noises lurked around constantly and even let out annoying squeaks when we decelerated to merge lanes.
6. Treadwear and Durability: 8.6/10
Ten testing days were a drop in the ocean compared to drivers' average driving time; still, BFGoodrich left a generally good impression. With consistent rolls and sturdy internal constructions, heat and external damage had not yet impacted the treads significantly. We only saw faint, shallow dents at the top that could easily be fixed.
BFGoodrich Trail-Terrain T/A Pros & Cons
Good dry traction
Decent on dirt, rock, and light snow terrains
Good treadwear
Impressive braking distance on ice
60-day satisfaction guarantee
Lacking wet-traction confidence
Underwhelming on loose terrains
More on-road noise than competitors
Trail-Terrain T/A Competitors & Alternatives
Despite being considered a true competitor against Falken WildPeak A/T Trail and Yokohama Geolandar A/T G015, BFGoodrich Trail-Terrain T/A is not exactly identical to these two in terms of overall road performances.
BFGoodrich had a good steering response (compared to the other two) and dealt well with small road imperfections. Also, its light-snow grip was on par with mid-range winter tires, which is pretty impressive. But as mentioned, the lack of boldness on wet terrains is jarring.
Falken WildPeak feels composed and controlled even on slippery surfaces. However, its snow grip is only decent, and impact noises could have received more refinement.
Yokohama Geolandar led the group in balanced comfort and road manners on off-road terrains, especially on dirt. Still, the way Yokohama palmed over impacts (even small ones) sometimes felt clumsy and uncertain.
Conclusion
Judging from this BFGoodrich Trail-Terrain TA tire review, it still falls in the upper end of the on-road AT tire spectrum, but its on-road qualities are nothing exceptional. We are actually more impressed with its off-road performance; while there is still room for upgrades, it suffices in occasional off-road ventures and rarely puts vehicles in critical safety compromise.
All in all, it is still among the best on-road AT deals available on the market. But be cautious when using this on-road tire in wet traction (on-road and off-road alike), ice terrains, and loose surfaces.
BFGoodrich Trail-Terrain T/A
PRICE
SOLD BY

Offers

In Stock

Offers

In Stock

Offers

In Stock

Offers

In Stock

Offers

In Stock

Offers

In Stock
---
President & Automotive Expert at COR Wheels
Robert Herrera has been with COR Wheels for 17 years and has a great passion for the automotive industry. During his time at COR Wheels, he has driven and test-driven a variety of vehicles.
---