Few Bridgestone tires have received as much acclaim and positive feedback in on-road all-terrain qualities as the Dueler A/T Revo 3. But whether this model could compete with other brands is something this review will analyze in detail, based on our findings from the annual 2023 COR Wheels Tire Test.
In this review:
Bridgestone Dueler A/T Revo 3 Specifications & Features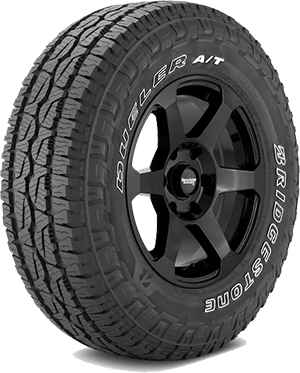 Tire Type
On-Road All-Terrain
Tire Size
16″ – 22″
Weight
28.0 LBS – 76.0 LBS
Load Index
100 – 129
Load Range
E, SL
Speed Rating
– H: up to 130 mph
– T: up to 118 mph
Warranty
60,000 miles
Ratings
8.3/10
Dueler A/T Revo 3 looks for better off-road performance in critical situations without dampening on-road qualities, working for SUVs, crossovers, pickup trucks, and Jeeps. The key features include:
Tear-resistant compounds (molded symmetrically) allow straightforward rotations and reduce irregular wear.
Aggressive shoulder slots promote boulder highway tracking
Groove stepping and tread blocks deliver more handling
Spacious void areas improve loose-surface traction
Deep treads laced with open slots and circumferential grooves evacuate water
Staggered lugs (3D steps included) seek extra grip on softer terrains
Traction Claw Technology churns dirt and deep snow
2-ply polyester casings, steel belts, and nylon reinforcement strengthen the internal construction for higher-speed capability and durability
Bridgestone Dueler A/T Revo 3 Review & Performance Test Results
The following reports discuss how the 265/70R17 tire size version of Bridgestone Dueler A/T Revo 3 worked with the 2023 Ford F150 car model during our 2023 COR Wheels Tire Test.
1. Dry Performance: 8.9/10
Dry Traction: 9.1/10
Dueler A/T Revo 3 was best friends with dry pavements, manifesting a strong, intimate relationship with the driving terrain almost instantly. The flat and wide contact patch instilled itself with confidence at our friendly, leisurely start of 40 MPH, and retained footings for 10 miles on straight roads without much stuttering.
The grip admittedly went a bit loose when our accelerator pedals started getting to work. Fortunately, that brief yet nervous tic only lasted 5 to 7 seconds – and even less once the consistent acceleration pacing finally began to sink in. We had quite a lot of fun playing around with speed changes, and even managed to switch back and forth between 30 and 50 MPH when tackling back-to-back ascents/descents.
On serpentine roads, the tightly-spaced curves did give our Ford a few panic reactions at higher speeds. But this issue was easy to fix; revving down to lower gears allowed Revo 3 more processing time to adjust to the twisty, constantly-changing directions.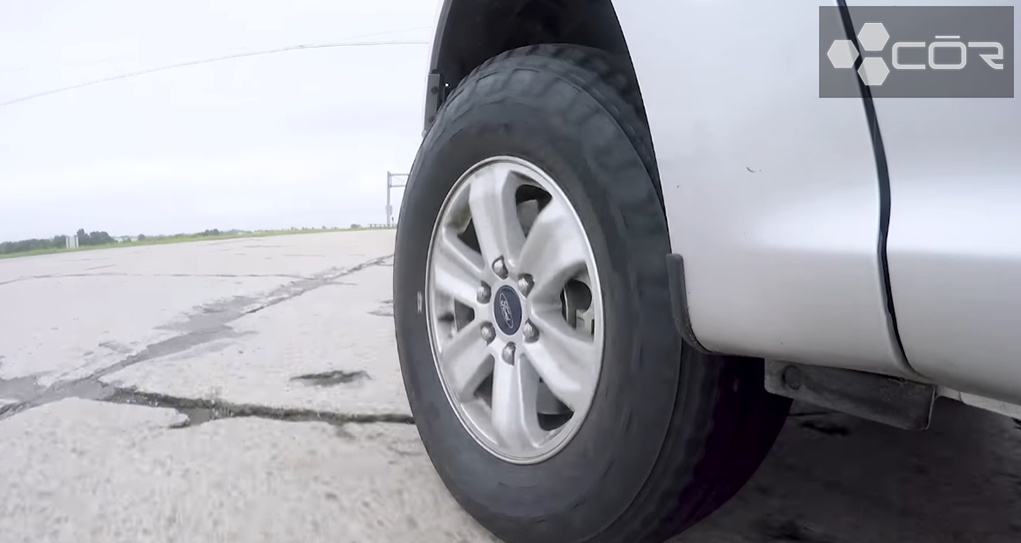 Corner Stability: 8.8/10
Solid on-feel center stability was the most critical element to ensure cornering safety, and we could observe them pretty clearly in this tire. Ford handled sudden angle changes well and, in favorable conditions, tolerated low crooks and tight entries without much protesting.
Accelerations leaned a bit into the adventurous sides, but nothing truly wild; we went up to 55 MPH and back down to 40 MPH throughout a series of highway corners in a breeze, only experiencing brief delays.
Nevertheless, like most on-road AT tires, the middle side walls were too soft for certain aggressive endeavors, hesitating at sharp turns or any number beyond 60 MPH. And maneuvering around road obstacles amidst very spirited cornering did startle our car 1 or 2 feet backward, which could have been dangerous if other cars were trailing closely behind.
Steering Response: 8.9/10
Steering our way on the road with Revo 3 was delightfully non-dramatic. Like most Bridgestone siblings, it was attentive and responsive, closely aligning and carrying out inputs without missing a beat.
Naturally, regular driving conditions at straight-line and wide-radius corners posed no serious problems. Surging to higher speeds weakened a few contact points (hence the slightly muted steering feedback); but given moderate traffic density, it was hardly noticeable. We did wish it felt less tough when dealing with rugged mountain passes, though.
2. Wet Performance: 8.5/10
Wet Traction: 8.5/10
The open slots and circumferential grooves performed as well on wet roads as on dry, but only when the water was less than 3 inches deep and started draining under hot summer temperatures. That impressive confidence significantly dimmed as we entered cold hard rain; it experienced constant skittish texture around the tire edges at 6 inches of water and only worsened from there.
Still, uphill travels were surprisingly decent given the circumstances. Revo's staggered lugs offered our car unexpected bites dealing with wet water and gravity alike, allowing us to conclude the test uneventfully at 40-45 MPH save for initial shakes.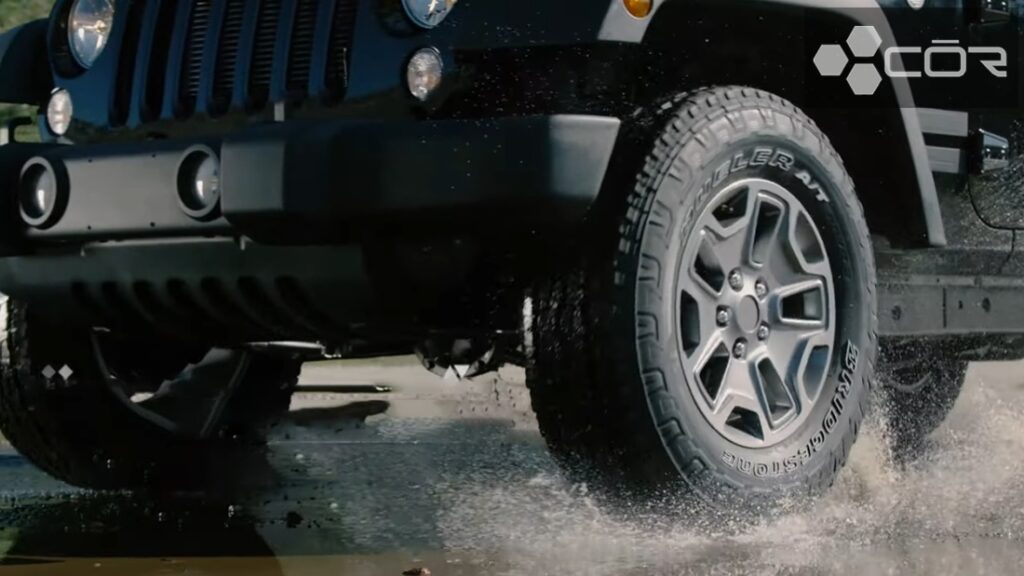 Hydroplaning Resistance: 8.5/10
Hydroplaning often happened on deep puddles and around curves; they also recurred at the end of our ride due to tread fatigue. But the good news was that most of such occurrences were within our control, nothing too dangerous or scary. At mid-spectrum speeds of 30-45 MPH, our team members could even tune them out 30 minutes into the ride.
Revo 3 was best kept off hydroplaning when it returned to well-paved, straight-line roads at water below 5 inches; the open slots redirected water off the tread well and seemed unfazed when encountering post-storm dirt and debris. Compared to corners and curves, aquaplaning risks were almost non-existent here.
3. Off Road Performance: 8.3/10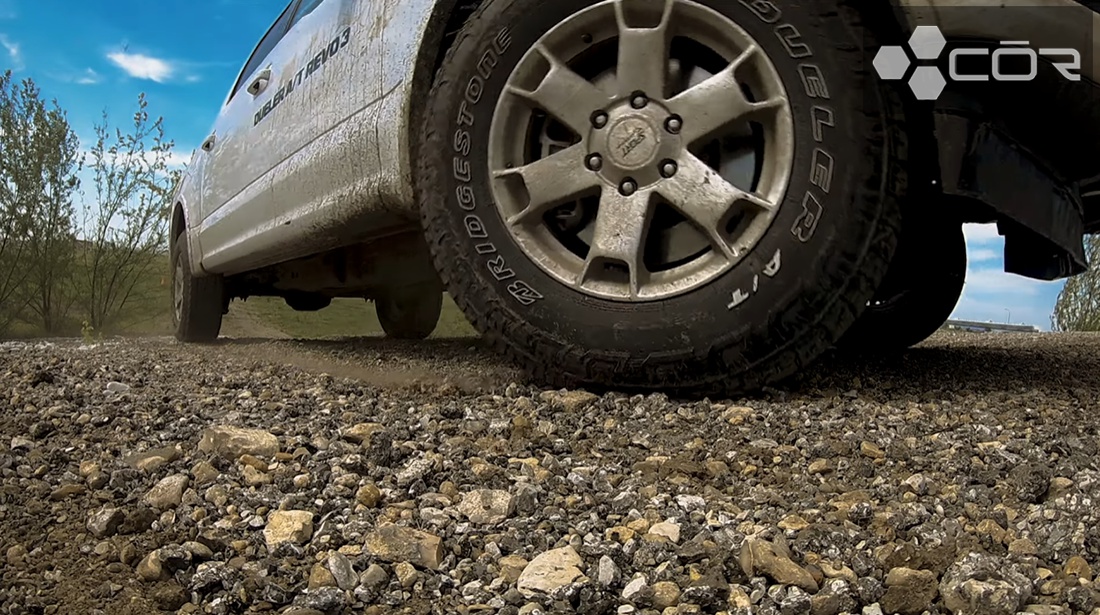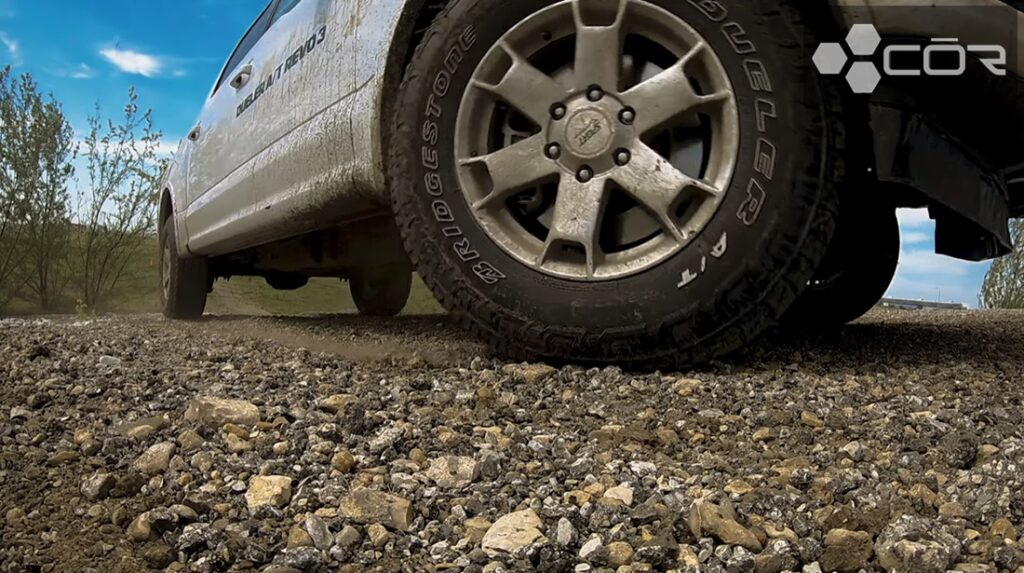 Dirt Traction: 8.6/10
We were pleased with how the tire grooves and aggressive shoulder blocks worked their magic here; our contact points anchored themselves well on debris despite the stickier feel and ground the car forward almost as breezily as if it were on dry pavement.
Stutters did happen but felt very predictable; we looked out to the road patches ahead while hovering over the pedals to prepare ourselves and hence, rarely got into any serious accidents.
Nevertheless, loose debris and dirt were admittedly tougher to handle. While the open slots could still work their way around such terrains, we had to sacrifice some riding comfort during the process and experienced much more frequent jostles as a result.
Rock Traction: 8.5/10
The groove steps handled themselves almost perfectly on easy rocks; it was as if we were back on-road dry pavements again. Traction was impressive with little to no control loss even around corners, and as a result, accelerations/decelerations and brakings remained delightfully peaceful.
It was on harder, sharper rocks that Revo 3 showcased its true weaknesses. There were thankfully no tire cracks, but inconsistent and unpredictable stumbles became annoyingly present every 1-2 miles. Even when we kept it low-key by avoiding corners and abrupt speed boosts altogether, the contact patch still slid off at the most unexpected timing.
Sand Traction: 8.2/10
The spacious void area was supposed to deal well with loose terrains like sand, but we did not see much of its power here.
To clarify, regular sands did not put Revo 3 into many issues; guaranteed consistent steering force and good preparation, our team breezed through the passage without difficulties at roughly 35-45 MPH. Any number than that caused the Revo 3 to feel a bit numb at the center, but still stayed within the lines.
However, thicker sand terrains with thinner, smaller particles (easily invading the 3D sipes) still proved to be Revo 3's Achilles heel. Even at lower driving rates, the wide grooves were already at a loss handling sand evacuation and gave the rear tires a heavy, dragged feel that significantly stalled our trip.
Mud Traction: 7.9/10
Sand and mud were both loose terrains, hence Revo's similarly underwhelming performance here.
The ride was composed at very low driving rates (15 to 20 MPH), with hiccups and coughs significantly reduced. It could also tread decently enough when there was less soil than water, but if the vice versa happened, it was doomed.
In such cases, our newly-upgraded 2023 Ford model was much less confident and even lost most of their grip at tight corners. We could not imagine what it would be like for less modern cars. Considering an on-road AT tire, our team still gave it an 8.
4. Winter/Snow Performance: 7.8/10
Light Snow Traction: 8.4/10
The "aggressive shoulders" (as the brand claims) did not feel aggressive enough on light snow. But in most regular driving cases, it squeezed enough traction to stay within lanes and caused few troubles. 55-70 MPH was not really its strong point, but given that few drivers prioritized top speed in winter, we counted it as only a minor inconvenience.
When navigated to canyon roads, Revo 3 did show a lack of competitiveness. It already struggled with either slippery snow or whiplashed steep ascents; hence, a combination of both obviously threw the road tire into back-to-back delays.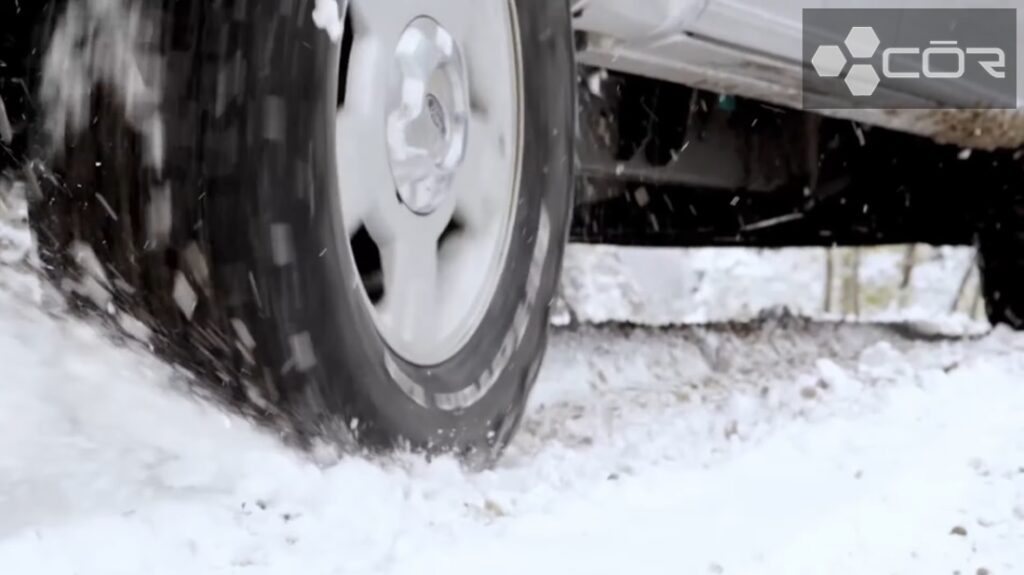 Deep Snow Traction: 7.8/10
Light snow traction was only mediocre, so the performance decrease on snow of 7 inches onwards was disappointing but far from surprising. We planned ahead by bringing in snow chains; yet, with their extra help, the tire still suffered from snow coughs and jitters at abrupt turn changes, harshed steering force, or any situation involving slightly more aggressive inputs.
At least on the brighter side of things, strides below 35 MPH were decent. Provided no challenging or tough corners, we actually enjoyed pretty much the same traction capability as on light snow at this driving rate.
Ice Traction: 7.2/10
There was nothing excusable about its ice traction except for the somewhat stable on-center feel on more even road patches. On the other hand, every other quality was another repeat of deep snow performances but twice worse.
The peak of Revo 3 was during the first 30 minutes of our ride: less skitter, few squeaking noises, and enough steering power to handle thicker ice buildups. But the compounds did not cope well with extended cold temperatures, becoming stiffer the longer we rode and resulting in one of the bumpiest trips we had ever experienced.
5. Road Comfort: 8.5/10
Ride Quality: 8.5/10
Except for ice terrains, Revo 3's road handlings were mostly favorable. The tire worked great at 30-45 MPH and could dive in wide, sweeping curves with decent smoothness. Only at aggressive ridings or sharp steering did the jostles start to truly get awkward.
Noise Level: 8.4/10
Road noises were among the most noticeable drawbacks, popping up almost from the moment we started the test till the end; our team members tolerated them only because of the low decibel levels. But noise is indeed a necessary evil for an AT tire, so that didn't steal many scores from the Revo 3.
6. Treadwear and Durability: 7.7/10
Treadwear was less than impressive and certainly ranked on the bottom half of our list. After just four days (less than 50% of our test), symptoms of fatigue already made themselves known.
Our test was too short for those symptoms to truly manifest in any physical mark, but we could imagine how the tread life would turn out with longer usage. Luckily, the brand offers a 60,000-mile warranty for passenger tires and a 50,000-mile warranty for light truck tires.
Dueler A/T Revo 3 Pros and Cons
Great dry performance
Satisfying handling of off-road dirt and rock
Decent in light snowy conditions
Good steering response
So-so comfort with more road noises than expected
More improvements are needed on wet surfaces
Struggling on loose terrains and ice
Dueler A/T Revo 3 Competitors & Alternatives
Bridgestone Dueler A/T Revo 3, Continental TerrainContact A/T, Cooper Discoverer AT3 4S, Pirelli Scorpion All Terrain Plus have been tested together in our test, showing interesting contrasts:
Bridgestone A/T Revo 3 performed great on light snow (compared to other tires in this group) and enjoyed accurate steering. But as discussed, tread noises were very noticeable.
Continental TerrainContact delivered better wet traction than most, composing itself well even mid-rainfall. Yet, the tires felt firm at times, and wintry traction was far from impressive.
Cooper Discoverer palmed over small imperfections with exceptional cushioned feel thanks to the softer sidewall parts. We did love a more punctual steering response, though.
Pirelli Scorpion clearly excelled in off-road qualities, considering it is an off-road AT tire. But like Bridgestone A/T, the annoying road noises did not sit well with our team members.
Conclusion
The tire exhibited the strongest road handlings on dry pavements during our Bridgestone Dueler AT Revo 3 tire reviews. Traction on other terrains was only decent to pretty good, downright struggling when moved to ice and loose sand/mud.
All in all, drivers could still entrust their riding quality to Revo 3, but be aware that it would not give you the communicative, versatile performance you expect. And it would be better to bring snow chains along for light snow (but not for harsh winter conditions).
Bridgestone Dueler A/T Revo 3
PRICE
SOLD BY

Offers

In Stock

Offers

In Stock

Offers

In Stock

Offers

In Stock

Offers

In Stock
---
President & Automotive Expert at COR Wheels
Robert Herrera has been with COR Wheels for 17 years and has a great passion for the automotive industry. During his time at COR Wheels, he has driven and test-driven a variety of vehicles.
---