Bridgestone has established itself as an industry leader by continually offering innovative solutions.
The quest for the ultimate winter tire has proven daunting for many manufacturers, but this brand has risen to the challenge with its Blizzak lineup. One of their latest additions, the DM-V2, touts distinct features tailored to meet those specific needs.
In this review, we'll examine our comprehensive testing results and provide an in-depth analysis to determine whether the Blizzak DM-V2 is a good contender for the king of the winter.
In this review:
Bridgestone Blizzak DM-V2 Specifications & Features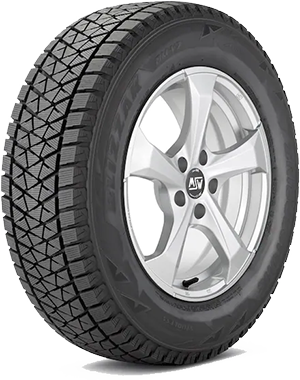 Tire Type
Winter/Snow
Tire Size
15″ – 22″
Weight
23.0 LBS – 45.0 LBS
Load Index
95 – 117
Load Range
SL – XL
Speed Rating
– R: up to 106 mph
– T: up to 118 mph
Warranty
None
Ratings
8.7/10
Bridgestone Blizzak DM-V2 is engineered with the precision needed to face the rigors of cold season.
One of the standout features is the use of the NanoPro Tech Multi-cell Compound. This innovative compound accounts for 55% of the tread depth, while the remaining 45% features a standard winter tire compound.
Its unique sponge-like reaction on wet surfaces is paired with bite particles to handle water and slush effectively. Its flexibility during freezing temperatures adds to its traction and grip capabilities, reinforcing the driver's safety.
Bridgestone put major focus on tailoring the DM-V2 specifically for larger vehicles. Knowing these carry greater loads and often have all- or four-wheel drive, they optimized the contact patch to stay flat on the road surface. This meticulous design extends to the tread's sharp and angular edges, giving them extra grip in deep snow.
Built with 15% more aggressive block edges compared to its predecessor, this tread design incorporates wide lateral and circumferential grooves to channel water, slush, and snow away from the contact area.
This can not only increase traction but also enhance control in winter weather. The inclusion of 3D zigzag sipes furthers the number of snow-biting edges and provides a more secure grip on slippery road surfaces.
In short, the Blizzak DM-V2 represents a thoughtfully engineered product with features that appear promising for winter driving conditions. We have tested this tire to understand its real-world performance. It revealed how well these design attributes translate to actual driving experiences.
Bridgestone Blizzak DM-V2 Review & Performance Test Results
In our 2023 COR Wheels Tire Test, we subjected the Blizzak DM-V2 to a rigorous examination using a 2016 Honda Civic equipped with a tire size of 225/45R17.
Dry Performance: 8.6/10
Dry Traction: 8.9/10
This is an intriguing aspect of this winter tire. Despite being specifically engineered for cold and snowy conditions, it exhibited an intelligent operating pattern during our tests that contributed to enhanced traction.
It gripped dry roads amazingly, letting our Honda maneuver and handle turns safely and accurately. Flooring it down a straight at 50 mph and then slamming the brakes, it stopped without skidding in around 98 feet – shorter than expected. You can confidently wind through twisties in highways at about 65 mph and handle straight-line driving at 75 mph.
Corner Stability: 8.5/10
This is where the Blizzak DM-V2 exhibits a bit of duality. While taking a series of sharp bends at speeds of 40-45 mph, we noticed how the taller tread sipes and blocks led to a squirming sensation in the tire.
As a result, the handling may not be as sharp, particularly in aggressive cornering scenarios. If you love sharp and precise cornering on more sporty tires, it may be a minor drawback.
Steering Response: 8.5/10
Barreling down a straight at 70 mph and then swooping into a curve, the tire's steering was decent for a winter tire but had a minor lag before fully reacting.
The response on dry pavement was observed to be quicker. Though not a summer tire, it managed to provide a satisfactory steering feel that is uncommon in studless ice and snow winter tires.
Still, if you seek an extremely sharp and immediate steering response, you might want to explore other options.
Wet Performance: 8.9/10
Wet Traction: 9/10
The Blizzak DM-V2 was a standout performer here. As you can expect from its directional tread design and ideal zigzag pattern, the tire provided us with a high level of grip and stability, even in slippery conditions.
At 45 mph, with about 2 inches of water, the car clung to the wet surface smoothly. Even pushing the Civic's limits, the tire stayed planted for safe maneuvering. It also displayed exceptional braking ability. From 50 mph, it came to a complete stop in just 140 feet – the shortest distance in its class.
If you also face regular wet weather driving, this tire will offer great value by maintaining optimal performance even during heavy rain.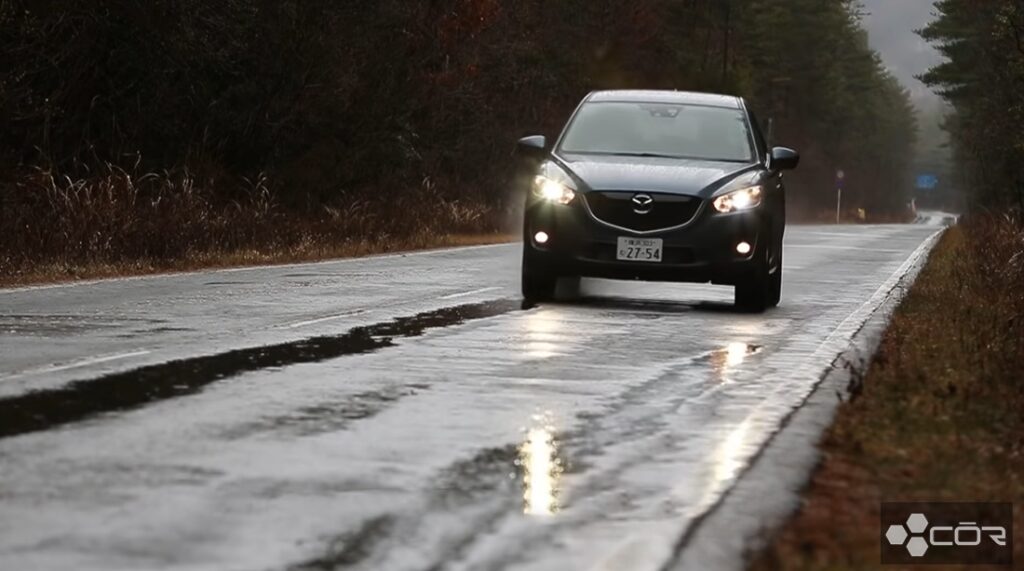 Hydroplaning Resistance: 8.9/10
This was another area where the Blizzak DM-V2 excels. On wet tracks with varying depths of standing water between 3-5 inches, it demonstrated the ability to resist hydroplaning even at speeds of 30 mph.
Whether plowing through big puddles or handling a soaked track, the tire adapted effortlessly. The directional tread and premium rubber worked together, preventing any hydroplaning feel and staying stable throughout. But revving up to more than 35 mph through deep, standing water sent the car some slight drifting.
Winter and Snow Performance: 9.1/10
Light Snow Traction: 9.4/10
The Bridgestone Blizzak DM-V2 demonstrated remarkable light snow traction during our testing.
We took the Honda through a handling course with 4 inches of fresh powder at 25 mph. The tire gripped the snow smoothly, giving us full control even during quick lane changes.
Driving down a rural road dusted with fluffy snow at 45 mph, the tire felt planted and stable as we accelerated out of turns. Its solid grip provided reassurance even when pushing the speed limit.
If you're looking for a tire that can make driving on lightly snow-covered roads feel like a breeze, the Blizzak DM-V2 is a choice worth considering.
Deep Snow Traction: 9.2/10
Deep snow can be a major challenge for many tires, but not for the Blizzak DM-V2.
On a steep gravel trail covered with over 10 inches of dense snow, our car still clawed through without issue as we maintained a steady 20 mph climb. The intricate treads dug in tenaciously and kept our sedan moving forward. It performed so well in deep snow that it could potentially remove the need for chains if that is your worry.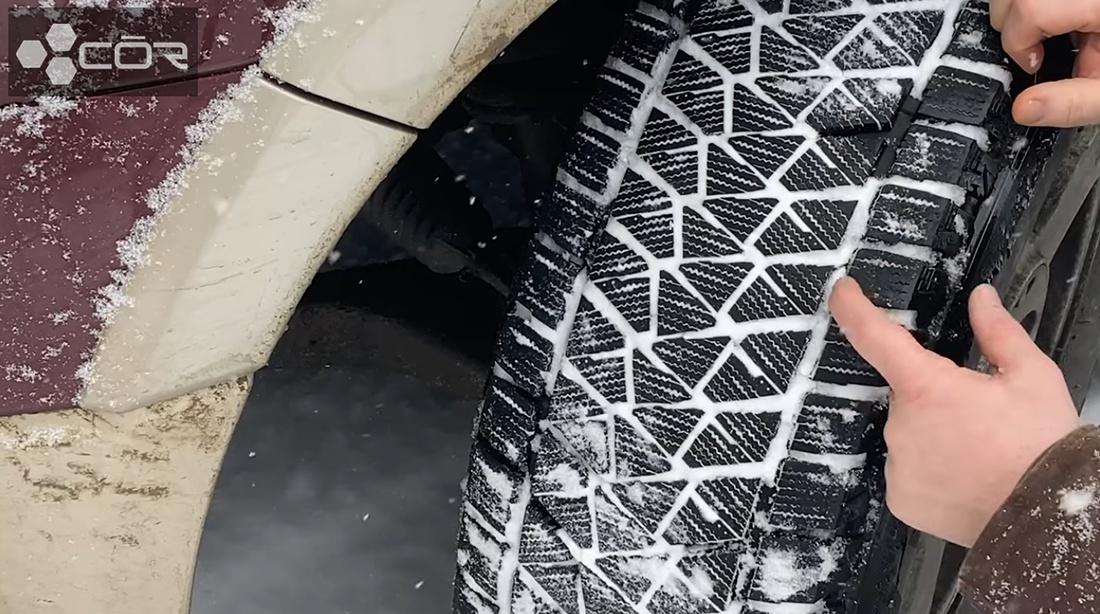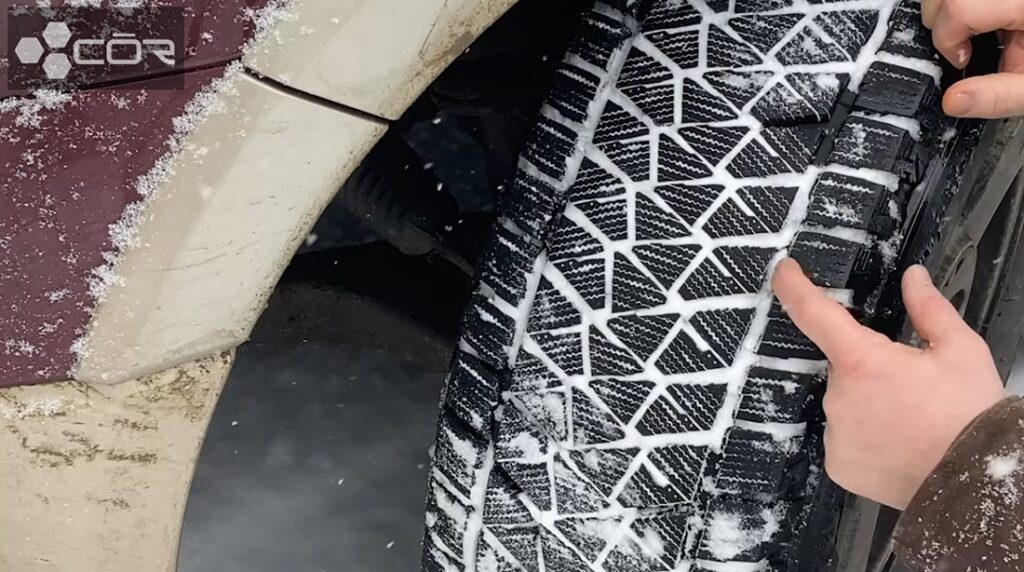 Ice Traction: 8.8/10
Ice traction was another area where the Blizzak DM-V2 truly excelled. Our testing on local roads covered with packed snow and polished ice revealed that this tire offers outstanding traction on these challenging surfaces.
We accelerated from a stop up an icy residential street with packed snow at 10 mph. The tire dug in effectively for constant traction without excessive wheel spin.
It allowed for precise maneuvers and felt comfortable and natural to control. The performance is on par with premium tires in its category, making it an excellent option if you frequently drive in icy conditions.
Comfort: 8.6/10
Ride Quality: 8.9/10
The Blizzak DM-V2's ride quality came to the fore in a few distinct scenarios. In one section of the track, we drove over a series of strategically placed expansion joints intended to mimic the regular unevenness of many urban roads. Despite speeds of around 50 mph, the DM-V2 maintained a remarkable composure. It shielded us from the usual jarring impacts one might expect.
In another instance, we drove through roads that hadn't seen maintenance in a while. Even at a slightly increased speed of 60 mph, the DM-V2's softer rubber compound clearly demonstrated its ability to absorb and dissipate road imperfections.
If you frequently drive on uneven terrains or in areas with significant temperature drops, the DM-V2 might be a worthy consideration for a more comfortable journey.
Noise: 8.3/10
On the noise front, the DM-V2 presented mixed results. On a wet asphalt section with about half an inch of water at 70 mph, the DM-V2 managed to keep these sounds subdued. This suggested a well-designed water channeling mechanism.
In a similar manner, while the DM-V2 did produce some noise on a dry, smooth tarmac stretch, it was neither jarring nor overly intrusive.
However, the real challenge came in the snow-covered section of our track. With about 2 inches of fresh snow and temperatures just below freezing, we maintained a cautious 35 mph. While the tires showcased exemplary grip, there was a perceptible sound.
This hinted at some aggressive tread biting into the snow. But don't worry; it didn't overly detract from the overall driving experience.
Treadwear and Durability: 8.1/10
As is common with many winter tires, the DM-V2 does not come with a treadwear warranty. The lack of warranty largely stems from the challenging conditions these tires face and leads to expedited wear.
After tracking tire wear over several thousand miles, our measurements indicated that the overall tread life estimate for the DM-V2 stands at around 30,000 miles. This translates to a few winter seasons, which, while commendable for a winter tire, is notably less than Bridgestone Blizzak WS90.
Blizzak DM-V2 Pros and Cons
Exceptional performance in snowy conditions
Competent dry performance for a winter tire
Great hydroplaning control and wet traction
Not the most expensive premium winter tire
Not very long tread life
More rolling resistance
Blizzak DM-V2 Competitors & Alternatives
The Michelin Latitude X-Ice Xi3 and Yokohama IceGUARD iG51v are two of the closest competitors to the Blizzak DM-V2.
The Latitude Xi3 is known for its excellent road manners, making it a great option if you prioritize a smooth, quiet ride in winter conditions. However, it may not match the DM-V2's snow traction, especially in trickier lateral maneuvers.
If your top priority is strong overall winter performance, even at the cost of some extra road noise, the DM-V2 could be the better fit. But for those focused on refinement and ride comfort while sacrificing a bit of snow grip, the Latitude Xi2 may be more suitable.
On the other hand, the budget-friendly IceGUARD iG51v concentrates mostly on snow traction in other areas. This focus on snow is evident as it provides better winter traction than most all-season tires. However, the iG51v might fall short when it comes to wet and icy conditions, areas where the DM-V2 showcases superior traction.
Conclusion
The Bridgestone Blizzak DM-V2 is a standout in this niche, upping safety and driver assurance while easing the white-knuckle stress of nasty conditions.
With top-shelf performance across varied surfaces on our Blizzak DM-V2 tire review, it separates itself as an innovative, trusty choice for winter. And despite the premium features and capabilities, pricing stays within reach for most.
That said, these tires may have slightly higher rolling resistance, potentially affecting fuel economy. But if you need wintertime traction above all, the DM-V2 presents a compelling option.
Bridgestone Blizzak DM-V2
PRICE
SOLD BY

Offers

In Stock

Offers

In Stock

Offers

In Stock

Offers

In Stock

Offers

In Stock
---
President & Automotive Expert at COR Wheels
Robert Herrera has been with COR Wheels for 17 years and has a great passion for the automotive industry. During his time at COR Wheels, he has driven and test-driven a variety of vehicles.
---