Off-road drivers have been eyeing the Scorpion All Terrain Plus since its release, partly because of its Pirelli origin and partly due to the sleek, innovative design.
Yet, despite the rocketing sales, this model faced certain heated debates regarding its real-life efficiency – hence our team's decision to include Scorpion AT Plus in our annual review for the 2023 COR Wheels Tire Test. Scroll for details!
In this article:
Pirelli Scorpion All Terrain Plus Specifications & Features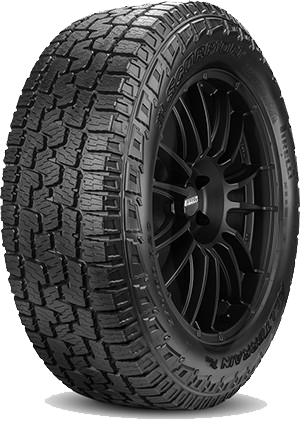 Tire Type
Off-Road All-Terrain
Tire Size
16″ – 20″
Weight
27.91 LBS – 40.7 LBS
Load Index
102 – 126
Load Range
D1 – XL
Speed Rating
– H: up to 130 mph
– T: up to 149 mph
Warranty
50,000 miles
Ratings
8.4/10
Pirelli Scorpion AT Plus is tailored for SUVs, crossovers, and pickup/light trucks that seek balanced on and off-road traction. As such, it focuses on wear resistance, optimized traction/durability, and sufficient, 3PMSF-labeled light snow performance.
The features introduced in the package are as follows:
The New-Generation, chip-resistant compounds are symmetrically molded into high-void, aggressive tread patterns to provide smoother, quieter operation on-road, better off-road confidence, and bold looks.
Independent tread blocks and deep grooves provide clawing actions for loose terrains.
Stone ejectors force small rocks off the tread to resist punctures.
Open shoulders and lateral notches manifest an anti-hydroplaning design.
Multiple edges, in-built block sipes, and advanced compound layers boost sure-footed operations on snowy and slippery surfaces.
Polyester casings combine riding comfort with durability, aided by strong steel belts that support and stabilize the footprint.
Quality nylon reinforcements boast higher-speed handling.
Pirelli Scorpion All Terrain Plus Review & Performance Test Result
In our 2023 COR Wheels Tire Test, the 265/70R17 Pirelli Scorpion AT Plus was used on the 2018 Jeep Wrangler across on-road, off-road, and snow terrains during June-July (ten days) and January.
1. Dry Performance: 8.9/10
Dry Traction: 9.1/10
Pirelli Scorpion will not disappoint you on dry roads, with traction gripping on just as expected without much drifting.
Our speed change experiments went well within the scopes of 40 to 75 MPH, only shaking slightly when revving beyond that range on graded surfaces. Plus, judging by how the combined weight of our five-member team and 1000-lb trailers could not bounce the car off its track, you should be able to pack full passenger capacity and extra cargo in little to no drama.
Gentle curves or steep ascents did cause a bit of slippage around the flanks. However, the Pirelli Scorpion recovered from such accidents quickly thanks to the New-Generation compound, buffing out in decisive sidewall flexes to cushion our tire safely throughout dangerous, non-grip patches. Thicker gravel or hard-packed soil was handled just as breezily, not choking out of traction even amidst extremely hard braking.
On another note, some of our members prefer less wavering upon correction skids. Traction during sharp U-turns was decently stable but could still be better using more consistent footholds.
Corner Stability: 8.7/10
Non-spirited cornering worked well with Pirelli Scorpion All Terrain Plus. Panic reactions or drifting symptoms were extremely rare, and once the corner entries had been properly handled, we breezed through the rest in effortless liner strikes rarely seen in other Pirelli siblings.
Still, you might have to be careful with dynamic veering; this tire was not meant to be pushed to its utter limits. Abrupt accelerations, tough braking, or any slightest signal of excessive leans at tight corners sent our car fluttering for at least four seconds.
Steering Response: 8.8/10
Steering was hardly an issue with this tire on straight, regular roads. Quick and punctual, it responded nicely to our low-key inputs and – given gradual changes – adapted to new directional demands gracefully with little to no muted delays.
However, graded surfaces or ascents (e.g., hills or mountain passes) seemed to strip this road tire of some confidence. While no actual danger was at play, the way Pirelli Scorpion stiffened against carousels or S-bends was far from reassuring. Hence, you should apply slightly extra force on the steering wheel around these sections.
2. Wet Performance: 8.6/10
Wet Traction: 8.7/10
The tire's capable wet performance was obvious: our unexpected encounter with heavy downpours in the middle of the ride failed to put any real damper on how the Pirelli Scorpion bonded with the road. Multiple grooves and sipes stretched out well against the cold temperature to seek decent footings, paving the way for our Jeep to strike unevenly at 40 to 45 MPH.
Heavy towing was not entirely impossible here, though it would be better if you kept the total weight below 900 lbs. Otherwise, heavy drags under the contact patch will likely occur, which had caused some brief, startling slippages for us when we tried to corner.
Hydroplaning Resistance: 8.6/10
Pirelli cleaned itself well with the impressive assistance from the open shoulders and lateral notches; the few thin water layers lingering were not enough to stop the car from finding its composure around shallow/moderate stagnant water of 2 to 5.5 inches.
Deeper water beyond 5.5 inches remained tolerable, but clearly not as compatible for the tire as shallow puddles. And if you prefer higher-speed endeavors in the rainy season, the Pirelli Scorpion might be quite a disappointment due to the violent coughs and drags at 50 MPH onwards.
3. Off-Road Performance: 8.5/10
Dirt Traction: 8.8/10
We were pleased with how the tire composed itself on off-road dirt; loose gravel with occasional sharp debris in between was distributed and spread out well under Pirelli's powerful grooves and independent blocks. The contact patch only grew muted at sharp corners at high speeds and remained stably pronounced in most other steering situations – hence our non-dramatic attempts towing the 1000-lb trailers throughout zigzag chicanes and slightly angled paths.
Braking on rutted trails was also much easier than expected, rarely taking more than five seconds to navigate around our pulls regardless of their intensity. Roadblocks or unexpectedly sticky marsh could be handled with just as much deftness, becoming twice more reliable once we reduced our cargo and passenger counts to half.
Our biggest issue, though, lay with the low and thin ply setup; do not be surprised if your travel on hard-packed or dense dirt volume causes much more frequent traction losses than other dirt terrains.
Rock Traction: 8.6/10
Rocky trails with large boulders made instant connections with our tires; minus a few rugged shakes due to the inconsistent textures, we had little trouble keeping stable yet aggressive footholds throughout most of our rides. And given powerful, consistent push-and-pull techniques, we actually managed quite decent early apex throughout corners at 55 MPH – almost comparable to a typical on-road cornering performance.
Tough rock gardens of multiple stone sizes and shapes hardly fazed the tire, though you might notice some of the grooves get weakened when trampling over sharp pebbles. Lack of proper approach angles may even lead to serious tire punctures, so remember to be cautious with your sharp steering.
Sand Traction: 8.5/10
Scorpion's deep grooves provided great clawing actions for the tire to pave through loose, soft sand particles. Adventurous leans or spirited one-hand steering needed to be applied more strategically but were totally doable on this tire – without the need to remove cargo or passengers.
Even dry riverbed washes with unpredictable mixes of both sand and rocks turned out to be very manageable, thanks to the surprisingly cooperative tandem between the stone ejectors and independent blocks.
However, since the Pirelli Scorpion had difficulties dealing with angled surfaces (even in on-road conditions), you should not be surprised by the tire's lack of confidence crawling through elevated sand formations – such as sand ridges or rutted sand.
Mud Traction: 8.3/10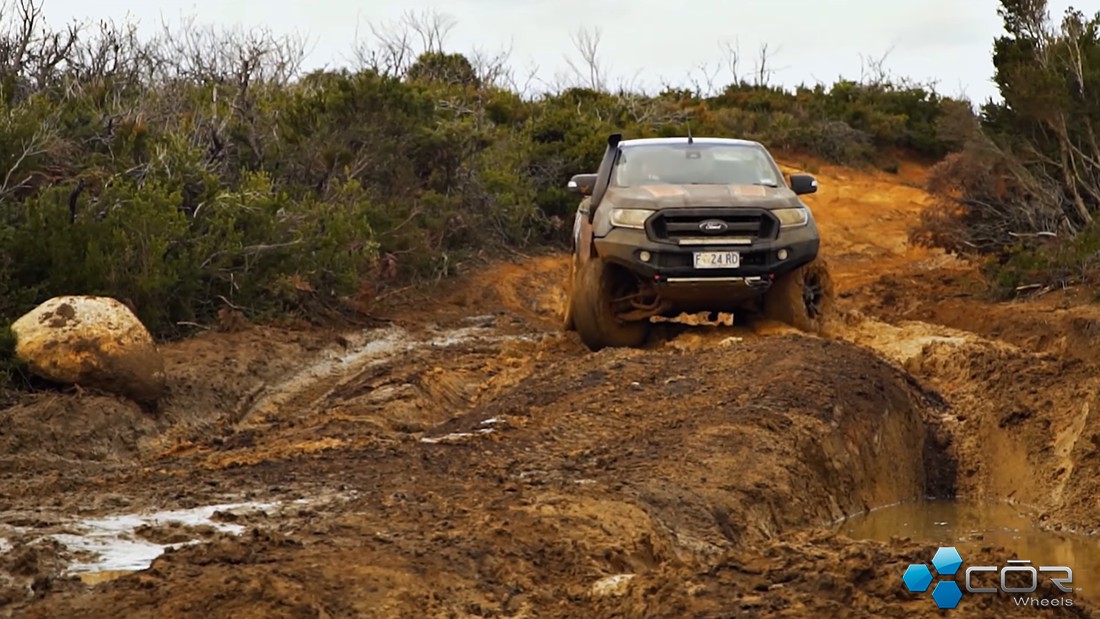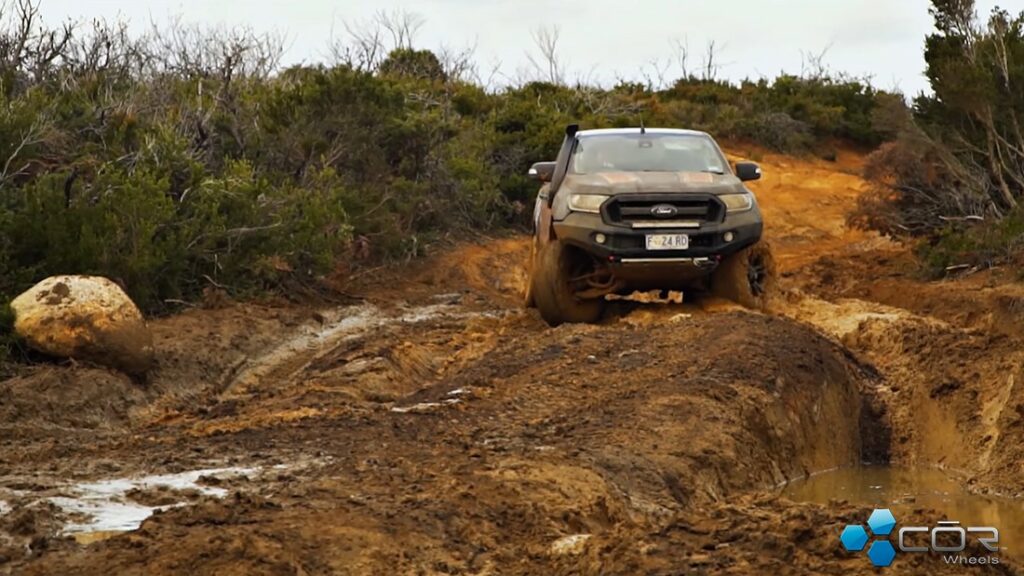 While the traction losses felt much more pronounced on mud than on any off-road terrain, the great news is that Scorpion's performances still played a lot in our favor.
Clawing actions provided by the independent blocks and deep grooves were more than sufficient to cope with thick swamps, marshlands, or rural roads around farms and fields at 40-45 MPH, only becoming hesitant around tight hairpins or off-camber bends. Better yet, the tire-road connections might be fainter under thick mud layers but never got to the point of being completely muted out, which gave us quite an accurate sense of how the tire would react and flex out on particularly more slippery patches.
On another note, off-road mud during and after heavy downpours was not the best companion with the Pirelli Scorpion AT Plus. Despite all the grooves and shoulders working together to spread water and resist hydroplaning, our car still shook violently during straight-line and cornering endeavors alike; unless you are experienced, revving beyond 45 MPH is not exactly recommended.
4. Winter/Snow Performance: 8/10
Light Snow Traction: 8.5/10
On powdered snow, the Pirelli Scorpion AT Plus did not differ much from a typical winter tire. The clawing actions that had been doing quite a great job on off-road terrains carried most of their power to light snow roads, dispersing the snow in uneventful, predictable strikes to keep startles at bay.
However, some of you may not be particularly fond of the growing hesitancy around tight hairpins and during correction skids. Its recovery from understeer and oversteer was quite sluggish, too.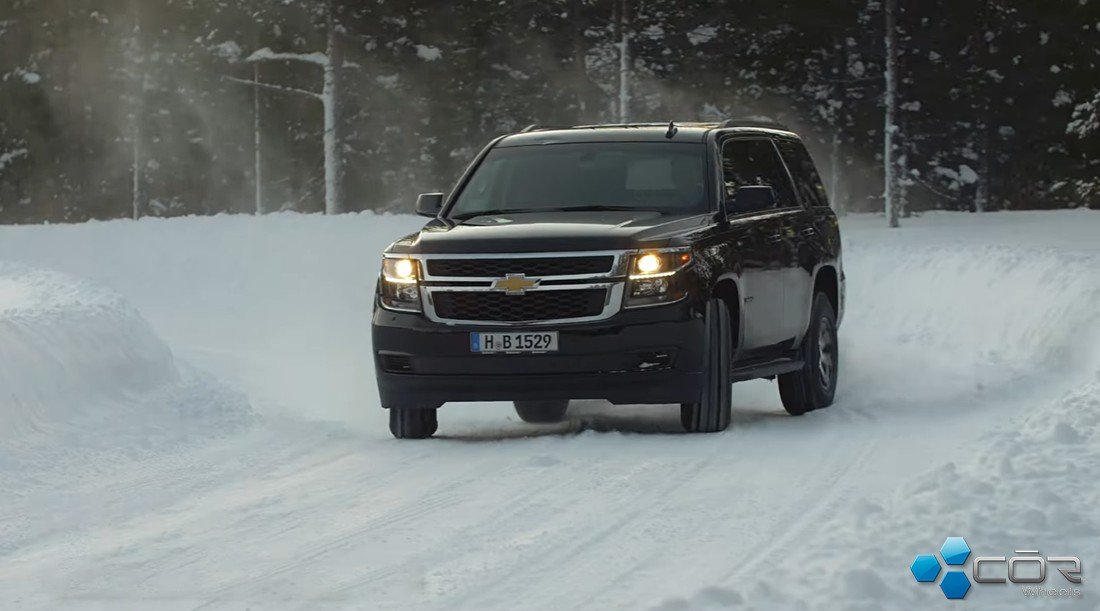 Deep Snow Traction: 8.2/10
The grooves took longer to handle the increased snow volumes and colder ambient temperature – but other than that, their performances fell within safe territories. Traction losses and drifting were easy to predict and control, even reducing themselves to very scarce issues once we equipped our Jeep with sturdy snow chains.
Braking and speed changes were carried out just as uneventfully. Still, to keep unexpected chokes at bay, you should slow down or avoid abrupt accelerations when tackling highway curves.
Ice Traction: 7.3/10
While the tire was pushed to the near-bottom position on the list due to unpredictable wavers and less-controlled footings across thick buildups, it thankfully remained rideable most of the time. Shuffle steerings or leisure strolls below 25 MPH could be carried safely without problems – even easier to manage if your cargo weight does not exceed 400 lbs.
5. Road Comfort: 8.2/10
Ride Quality: 8.5/10
Except for occasional side-to-side jostles during U-turns or correction skids (as already mentioned), the tire did not show too many over-reactions over any other road imperfections. Stable push-and-pull techniques with tame driving rates (30 to 35 MPH) even reduced the skitters into very faint protestings, barely intrusive regardless of your car make.
Noise: 8/10
Noise control peaked on dry on-road pavements (a little snow melt or drying puddles is acceptable); we could not hear any transparent tread noises.
Unfortunately, this impressive self-composure lost its edges on any slippery or slick terrain, including wet on-road pavements, off-road dirt and mud, and wet snow. They do not bother much if you only travel short distances; otherwise, the longer you ride, the louder they become.
6. Treadwear and Durability: 8.1/10
The risk of burnouts/punctures on rocky terrains or sharp debris was admittedly much higher than we thought. In compensation, the tire held its ground well against temperature fluctuations (cold and hot alike), ensuring at least 35,000 miles of mindless travel for you – quite impressive for an off-road AT tire.
Pirelli Scorpion AT Plus Pros & Cons
Confident on-road traction (both in dry and wet weather conditions)
Good traction on light snow
Great handling of off-road dirt and rock
Satisfying riding comfort
Noise control could have been better
Mud traction is not always consistent
Pirelli Scorpion AT Plus Competitors & Alternatives
Pirelli Scorpion AT Plus paled slightly in comparison to Cooper Discoverer Rugged Trek, Goodyear Wrangler Workhorse AT, and Vredestein Pinza AT, though still enjoying a few competitive edges over the other three:
Pirelli Scorpion had good wet grips and surprisingly decent handling in wintertime conditions. Its mud traction could have received more refinement, however.
Cooper Discoverer balanced riding and steering quality excellently, even in snow. Unfortunately, the lousy tread noises took a few scores off the model.
Goodyear Wrangler operated quite civilly over large road bumps, but wet traction improvements were very much needed.
Vredestein Pinza AT was an all-rounder with decent performances across most metrics, though its deep snow and ice traction still trailed behind a few competitors in this group.
Conclusion
This Pirelli Scorpion All Terrain Plus tire review has proved that it is quite an all-rounder on the road; minus its ice traction, no metrics were ranked below 8, even treadwear. Hence, you should be able to engage this all-terrain tire confidently all year round across most non-challenging iceless terrains, backed by a decent 50,000-mile warranty from the tire manufacturer for longer usage.
Pirelli Scorpion All Terrain Plus
PRICE
SOLD BY

Offers

In Stock

Offers

In Stock

Offers

In Stock

Offers

In Stock

Offers

In Stock

Offers

In Stock
---
President & Automotive Expert at COR Wheels
Robert Herrera has been with COR Wheels for 17 years and has a great passion for the automotive industry. During his time at COR Wheels, he has driven and test-driven a variety of vehicles.
---