Bridgestone, a name known for its quality and innovation, launched the Blizzak WS90 with the promise of redefining winter driving. Tailored for a specific purpose, this tire comes with substantial claims of performance, setting high expectations in the competitive market of winter tires.
But does it really live up to the promises? Our comprehensive test results and in-depth reviews are here to reveal the truth.
In this review:
Bridgestone Blizzak WS90 Specifications & Features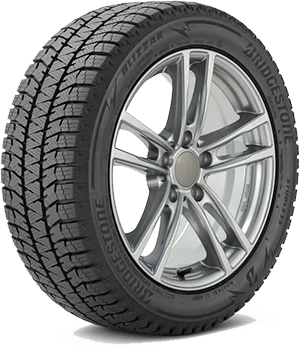 Tire Type
Winter/Snow
Tire Size
14″ – 19″
Weight
17.0 LBS – 32.0 LBS
Load Index
82-104
Load Range
SL – XL
Speed Rating
– T: up to 118 mph
– H: up to 130 mph
Warranty
None
Ratings
8.6/10
The Bridgestone Blizzak WS90 brings with it a raft of technological advancements aimed squarely at the icy and treacherous roads of winter. One notable development is the directional pattern of the Blizzak WS90.
With increased block stiffness, Bridgestone claims the tire provides more responsive steering and improved wear life. Combined with the EdgePerformance technology package, it seems primed to deliver sustained performance over the tire's lifespan.
Another interesting WS90 feature is the greater contact area and 15% more block edges versus its predecessor. The goal is to boost ice traction and decrease braking distances, potentially redefining winter driving capabilities.
The Multi-Cell technology with bite particles is a one-of-a-kind innovation for Blizzak. When these bubbles contact ice, they disperse and diffuse water so the tire's "bite particles" can grip the surface. This could significantly impact performance on icy roads.
Dense siping with angled and horizontal sipes contributes thousands of extra biting edges, taking a unique approach to extraordinary winter grip. Paired with them on the tread shoulders and the compound's hydrophilic properties, the tire design appears well-suited for snow turning and managing thin water layers on ice.
The inclusion of snow platforms that act as winter wear bars is also a thoughtful addition. These bars notify drivers when they are near the end of the Multi-Cell compound. It potentially offers a practical advantage in maintaining this snow tire's integrity during the harsh winter months.
Bridgestone Blizzak WS90 Review & Performance Test Results
To thoroughly test the Bridgestone Blizzak WS90's capabilities, our team evaluated it under diverse driving scenarios. The tire was fitted to a 2016 Honda Civic in a 225/45R17 size for this comprehensive assessment.
The primary focus in our COR Wheels Tire Test was examining performance on snowy and icy roads. However, we also assessed characteristics that would be important for you to know, even if not exclusively winter-related.
Dry Performance: 8.6/10
Dry Traction: 8.9/10
The Blizzak WS90 appears to fall into this new breed of winter tires that focus on dry conditions without compromising their primary function. During our test runs, it demonstrated an impressively firm grip, even on dry roads where winter tires usually struggle.
There was little to no sign of unnerving squeals or loss of control, except for our abrupt turn at 90-degree corners. Its dry grip proved more than capable of handling both the Civic's torque and our aggressive driving, even on technical mountain roads. When we did a sudden maneuver at high speeds of around 60 mph, the Blizzak WS90's traction remained steadfast.
The tire's capability to halt the car from 30 mph in under 90 feet adds to the assurance that many drivers would seek. You can apply hard braking, and the tires will retain strong grip under the intense stop. If you are a beginner or looking for more confidence in dry-road driving, this tire could suffice.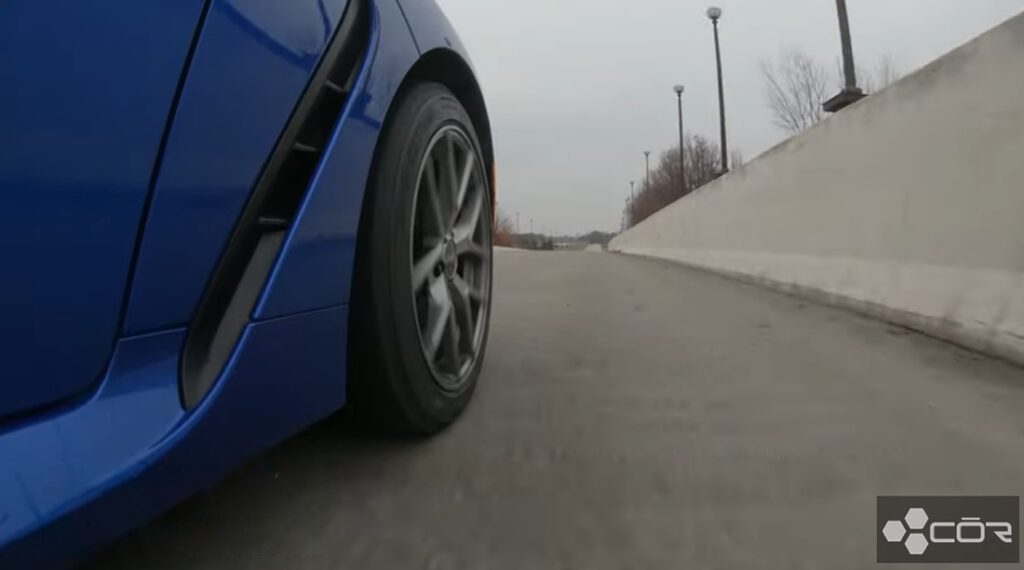 Corner Stability: 8.5/10
The WS90's steering was hefty on center yet quick to react to input, making it feel precise though less natural through curves. More feel would've been welcomed, but the boosted accuracy was a plus in a tire class where steering can resemble a guessing game in turns.
As we pushed the tire through a sharp curve at 45 mph, the lateral traction figures tightened up dramatically. At the same time, the outer shoulder blocks were abraded just enough to maintain a smooth and controlled curve. If you value stability through corners, especially on dry roads, this characteristic could be a significant draw.
Steering Responses: 8.6/10
Overall, the driving experience exceeded most other winter tires, yet didn't quite reach the satisfaction level of high-performance summer or all-season products.
During a drive on a country road, the tire responded beautifully at 50 mph and offered a tangible connection with the road that made the drive engaging.
However, it was still slightly less communicative than performance-focused alternatives. You might need to look elsewhere if you're seeking the ultimate in steering precision.
Wet Performance: 8.9/10
Wet Traction: 8.9/10
The Blizzak WS90's ability to grip in wet conditions stands out prominently, thanks to features like deep tire grooves and the innovative EdgePerformance technology package. It provided enhanced movement and control, even in damp conditions. Its cornering grip and shortened braking distances foster a natural and secure feeling, even at the limit.
During testing, the Blizzak WS90 maintained a vice-like grip at 45 mph around winding curves filled with a half-inch of standing water. Through the steering wheel, our test driver could feel the tread blocks tenaciously gripping the slick asphalt below.
Hydroplaning Resistance: 9/10
Bridgestone's design in the WS90 kept the tire firmly on wet roads even when crossing deep water. Full-depth grooves, interlocking sipes, and more block edges work together to prevent water buildup between the tire and the road.
Even on roads strewn with 3 inches of water at 50 mph, the Blizzak WS90 maintained full composure and poise. Hidden puddles failed to perturb this tire's excellent manners. When our car entered a hidden, water-filled depression at that speed, there was no sensation of floating or losing control at any moment at all. So, this tire can accompany you well in the rainy season, save for heavy downpours or storms.
Winter and Snow Performance: 9.1/10
Light Snow Traction: 9.4/10
The Blizzak WS90 excels when confronting light snow circumstances. With a minor edge in acceleration and commanding braking capacities, it shines amongst competitors. You'll treasure the comprehensive driving dynamics in light snow miles, even in more polished corners where traction can be a test.
While steering a slalom course laden with gentle curves and tight twists dusted with around 6 inches of snow, it showed a smooth and surefooted grip. Our driver could effortlessly maneuver through the turns. They felt the tires delve into the snow with a predictable hold and a receptive connection to the road.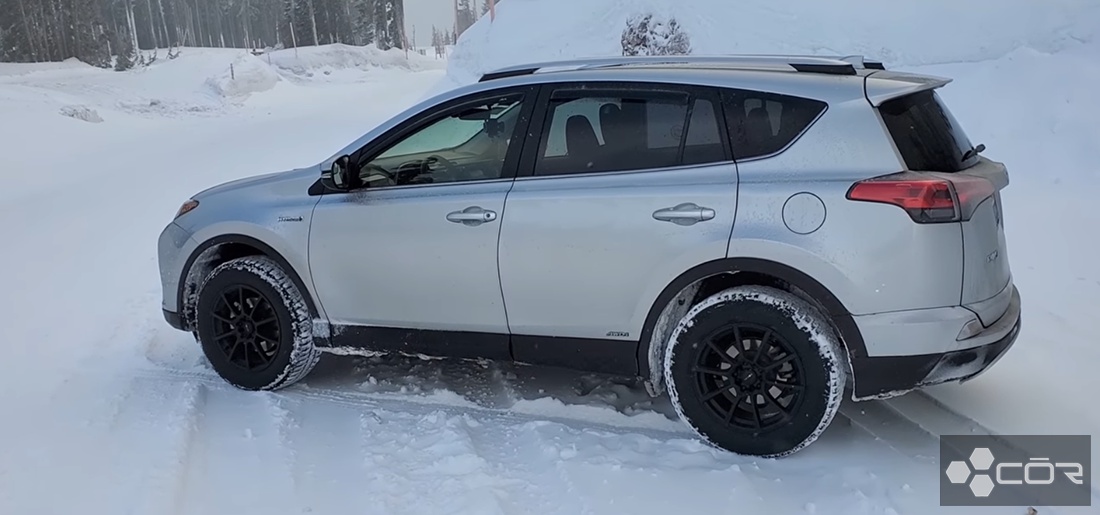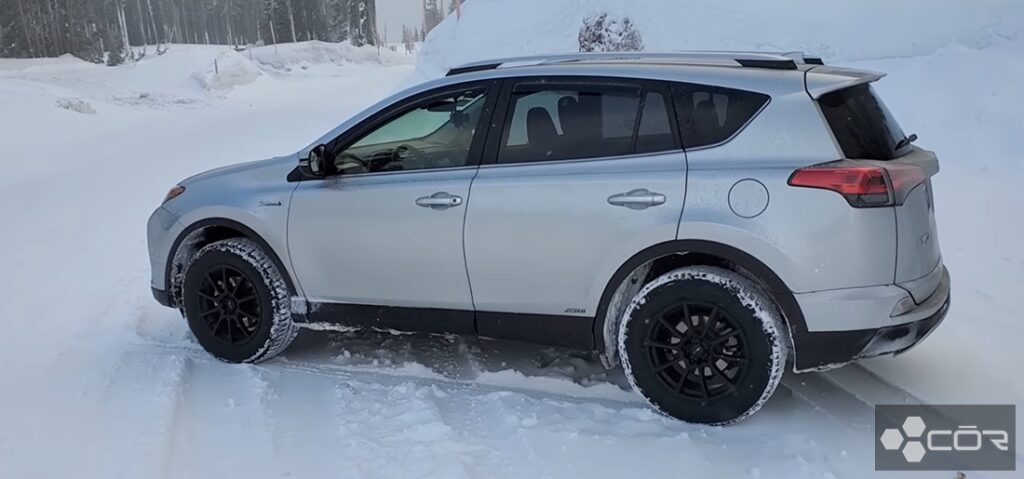 Deep Snow Traction: 9.1/10
This tire also performed excellent on roads buried under deep snow. Whether accelerating or braking, the WS90 gave us stable, trustworthy handling and top-notch traction forward and back.
On a part covered with over 11 inches of packed snow, we took turns hard to test side grip. The tire responded with reassuring bite grabbing the corners and stability. The car drifted smoothly around the curves, showing off what the tire can do in deep snow.
Ice Traction: 8.7/10
On icy surfaces, the Blizzak WS90, though not as confident as on snow, still excels. Its braking and acceleration on ice had almost no match. Steering was precise, and the tire kept our vehicle steady and under control.
Accelerating to 25 mph and then slamming the brakes, the WS90 braked excellent on the ice, stopping fast without sliding. The tire will let you hit the target speed target on straight lines without much slippage.
Still, when we revved up to 55 mph, drifting and oversteering (at corners) happened more often than not. So it's best if you keep everything below 50 mph.
Comfort: 8.3/10
Ride Quality: 8.7/10
The ride quality presented an interesting blend of firm control and unexpected adaptability during our tests.
We took it down a neglected country road full of cracks and small potholes. The tire's tautness made itself known right away, with each bump transmitting a sharp jolt into the cabin.
Though firm, the tire maintained composure, not allowing excessive movement. This made the ride feel anchored but maybe too stiff for folks looking for something softer.
Noise: 7.9/10
The noise characteristics of the Blizzak WS90 were more complex.
On the one hand, the tire produced a patterned growl over rough surfaces, different from the constant, high-pitched sounds in other tires. This growl was noticeable, especially on uneven patches, and sometimes came with too much vibration.
On the other hand, at highway speeds of 50 mph on a well-kept road, the Blizzak WS90 was impressively quiet. The growl was minimal, and the overall noise level was low, making it one of the most silent winter tires you can find out there.
Treadwear and Durability: 8.3/10
Where the temperature was kept well below 59°F (15°C), the WS90 performed admirably. We noticed how it displayed the winter abilities after 300 miles without any noticeable degradation. This made it an ideal option for regions experiencing prolonged and intense winter conditions.
However, as the temperature increased, problems started to surface. On dry roads where the temperature was raised above 59°F (15°C), the rubber compound began to soften.
This made the tire less responsive for us, decreasing its grip on dry surfaces, and the tread began to wear more quickly. The absence of a treadwear warranty is also consistent with many winter tires for this reason.
You should only use the WS90 during wintry conditions, where temperatures stay low consistently. For folks in milder or shorter winters, the rapid wear and shortened tread life may be a costly downside.
Blizzak WS90 Pros & Cons
Best-in-class grip on snow and ice
Strong grip and control in harsh weather conditions
Good performance on wet and dry surfaces
Precise braking and handling on slippery surfaces
Lacks refinement on rough road conditions
No treadwear warranty
Not ideal for rough terrain
Blizzak WS90 Competitors & Alternatives
We mentioned the Continental VikingContact 7, the Cooper Discoverer True North, and the Goodyear WinterCommand Ultra alongside the Blizzak WS90 here because they share the same purpose and target buyer.
The Bridgestone and Continental offerings are both top performers for winter tires. But they appeal to slightly different drivers.
We like the Blizzak because of its exceptional traction on almost any winter surface, including ice and deep snow. However, it does sacrifice some road refinement. It made us feel more anchored and stiff at times.
The VikingContact 7, on the other hand, is celebrated for superior on-road behavior. It absorbs bumps better than the Blizzak WS90, and we love its noise profile and ride comfort. It may lag the Blizzak a bit in wet grip, but its natural steering and well-rounded abilities make it a formidable rival.
Testing the Cooper Discoverer True North also revealed some key differences. Its steering may lack the Blizzak's precision, but delivering grip where it matters sets it apart. A bit of refinement could be needed on-road, but it contends with the best in class.
The Goodyear WinterCommand Ultra is another interesting option. It excels at satisfying steering and balanced traction, plus nice road manners.
Although it may not match the Blizzak WS90's absolute grip on snowy, icy roads, its responsive steering and cushioned handling of large bumps make it a great pick for those wanting capable traction and agreeable everyday driving.
Conclusion
The Bridgestone Blizzak WS90 is designed for the winter warrior, someone who needs to rely on their tires in the most demanding conditions. Its mastery over winter surfaces is its calling card, providing confidence and control when it matters most.
If driving through snowstorms and icy roads is a regular part of your commute, the Blizzak WS90's focus on control and safety is something you would surely appreciate.
However, our Bridgestone Blizzak WS90 tire review has also shown that its specialization in grip leads to some trade-offs, particularly when it comes to on-road refinement. At the end of the day, it's aimed at those who want a tire without compromises in winter traction rather than a jack-of-all-trades.
Bridgestone Blizzak WS90
PRICE
SOLD BY

Offers

In Stock

Offers

In Stock

Offers

In Stock

Offers

In Stock

Offers

In Stock
---
President & Automotive Expert at COR Wheels
Robert Herrera has been with COR Wheels for 17 years and has a great passion for the automotive industry. During his time at COR Wheels, he has driven and test-driven a variety of vehicles.
---