Falken is not exactly a higher-end brand compared to Michelin or even Firestone. Still, its WildPeak A/T Trail model has brought the brand's household reputation to new peaks among on-road drivers that venture off-road from time to time, known for stronger sidewalls and solid center ribs that strengthen the car's traction despite driving conditions.
Our COR Wheels team has tested this on-road all-terrain tire for more than 10 days (winter included) to confirm how much of the brand's advertisement holds true to actual performance. Scroll through our review for detailed findings reports on this common choice of a tire.
In this article:
Falken WildPeak A/T Trail Specifications & Features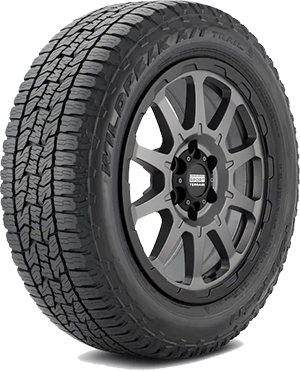 Tire Type
On-Road All-Terrain
Tire Size
16″ – 20″
Weight
26.0 LBS – 42.0 LBS
Load Index
95 – 111
Load Range
SL – XL
Speed Rating
– H: up to 130 mph
– V: up to 149 mph
Warranty
65,000 miles
Ratings
8.8/10
WildPeak A/T Trails are designed to complement small SUVs and crossovers in solid handling and durability year-round on on-road and off-road terrains. Key features included:
Silica-enriched, symmetric compound patterns designed for longevity and more durability over wide temperature/ condition ranges
Independent blocks with edges and notches, delivering both visual differences and wet-condition traction
Wide grooves, broad shoulder designs, and tread depths combine to aid water evacuation capability in standing water
Rugged upper sidewalls and over-shoulder ribs, aiming to keep punctures caused by sticks, rocks, and other roadblocks
3D canyon sipe technology intertwines underneath the surface to strengthen stability, while also manifesting enough biting edges for ice and massive snow traction. The tire flex was granted the 3PMSF (3-peak mountain snowflake) symbol as a result.
Falken WildPeak A/T Trail Review & Performance Test Results
Our team used the 235/60R18 tire size version of Falken WildPeak AT Trail on the 2022 Honda Odyssey during the 2023 COR Wheels Tire Test.
1. Dry Performance: 9/10
Dry Traction: 9.2/10
WildPeak A/T's grip on dry pavements was secure, fun, and easily found itself among the top ranks of our tests.
The symmetric compounds played a huge part in this performance; its evenly-distributed tread block guaranteed much less inconsistency in tread contact patch, meaning our tire would maintain more or less the same grip capability regardless of changes and directions.
Hence, our Odyssey rode over cracks with little grip fluctuation. 15 minutes into the ride, we already felt confident enough to implement a bit wilder steering arcs in no fear of slippage.
Accelerations from 0 to 75 MPH were pretty much a breeze – which we did expect but still felt delightfully overwhelmed by. A/T Trail did not experience much delay adapting its sidewalls to our new speed rating demand (thanks to the well-absorbing silica compounds), while still retaining enough center of gravity for us to fall back on in case of mishaps.
Narrower turning angles did rob the edges of some entry grip, but rebounds occurred so quickly in 1-2 seconds that this tiny loss was soon overshadowed in the grand scheme of things. Still, it would be better if the tire manufacturer dealt better with the numb fatigue after consecutive switchbacks.
Corner Stability: 8.8/10
The tire's cornering grip did not always give us the fastest, most prompt response. But considering this is an on-road all-terrain (not a racing tire design that prioritizes instant reactions), we could let this minor oversight slide.
Other than that, the rest of our rides remained uneventful. WildPeak AT Trail's composure was admirable and rarely let out signals of faltering center section, even with our very low, forward-leaning angles at 25 MPH.
Handling the car at tight bends or blind curves sometimes gave off a false sense of danger when we accelerated to 70 MPH; but in fact, nothing serious truly happened. The worst we had experienced so far was only some seconds-long drags that felt a bit heavy when we touched corner exits.
Steering Response: 8.8/10
Falken WildPeak did not disappoint us with its steering response and ticked most basic checkboxes.
If delays did occur, they were hard to notice. Our inputs entailed actual responses that were punctual and accurate to ensure our car did not veer out of the safe line. And the higher we accelerated towards 75 MPH, the crisper they became as the intense sipe placements buffed outwards – resulting in clean, decisive cuts that grew very reassuring at abrupt turns.
On another note, in critical situations where flexibility was required (navigating around roadblocks, for instance), Falken WildPeak still delivered but did not feel as sharp as we would have liked.
2. Wet Performance: 8.9/10
Wet Traction: 9/10
Few AT tires gripped the wet roads as firmly as our Falken WildPeak did during the test ride.
The open shoulders and wide grooves created a sturdy, solid contact patch against the water without sacrificing flexibility, pushing our car forward with little drama. Due to the terrain's already slippery nature, each strike did not go as sharp as on dry pavements, but became more pronounced as we accelerated.
By the time we neared 70 MPH, WildPeak A/T had fully embraced the road surfaces: stutters did not vanish completely as we had hoped but felt much fainter at this point.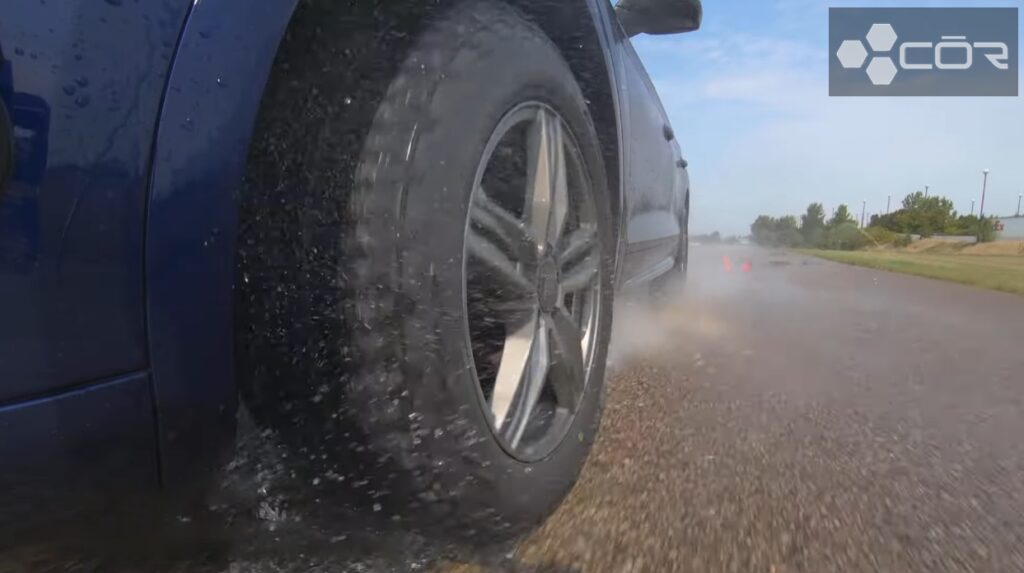 Hydroplaning Resistance: 8.8/10
The tire's good wet traction owed a big part to its quality hydroplaning resistance.
Our team already expected positive results the moment we saw the interlocking sipes and deep grooves. And we were right: water only managed to slip in when the flow was strong enough and even then, it could not linger for very long. Falken's connection with the road was restored almost immediately, keeping our Odyssey from major slippage on slurping water layers of 4-8 inches.
AT Trail took little time adjusting to speed changes below 65 MPH, so our accelerations (gradual or abrupt alike) were not really an issue we needed to worry about. The only drawback truly worth mentioning was the tire's lackluster reaction to flowing water at low speeds, which took 3-4 seconds longer to process liquid and debris compared to higher rates.
3. Off Road Performance: 8.3/10
Dirt Traction: 8.8/10
Falken WildPeak AT Trail truly displayed itself as an all-terrain tire on dirt terrains: its grip surface was as strong as on dry pavements.
With the rugged, solid sidewall protection as its most dedicated support, our tires showed little falter at thick debris or road sticks and crunched over the dirt with a satisfying thud that informed us of the constant tire-road contact. They carried on drama-free at 30 MPH and seemed to adapt quickly as we gradually crossed thresholds to reach 70 MPH.
Passing the 75-MPH milestone did present much more lackluster feedback around corners, though fortunately, it neither posed real danger nor affected the remainder of our straight-line driving.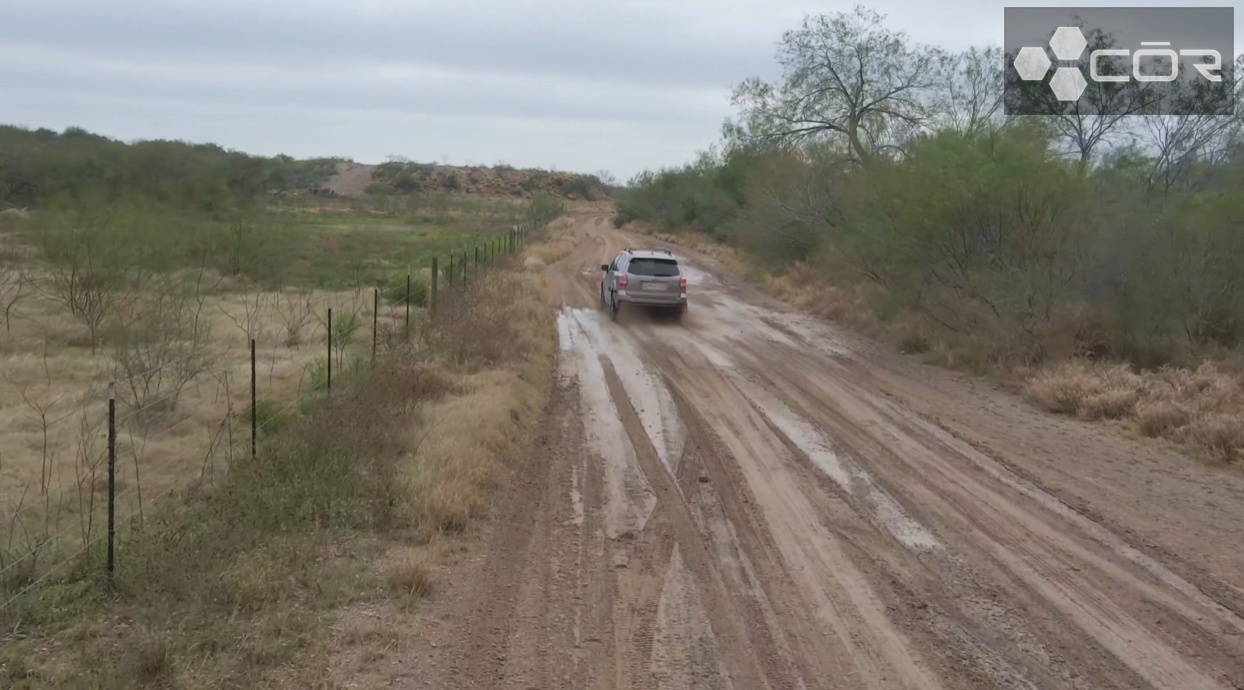 Rock Traction: 8.4/10
The sidewalls and over-shoulder ribs continued to showcase their strengths on rocky terrains.
Their extra grip tended to slip off due to the surface's inconsistent, unpredictable nature, but nothing that strong steering could not handle. Falken WildPeak AT Trail recovered pretty fast from the grip loss and even faster after crossing the empty gap between larger rocks, delivering a type of flighty, feathery sensation that did feel adventurous at times but never crossed the line to veer to danger zones.
Accelerations to 65 MPH were not without bumps and vibrations, but considering the already-tricky circumstances, they were tolerable. Other than that, the entire thing was a pretty breezy endeavor: steering response was punctual and responsive, and the compounds reacted nicely most of the time to our fluctuating speed demands.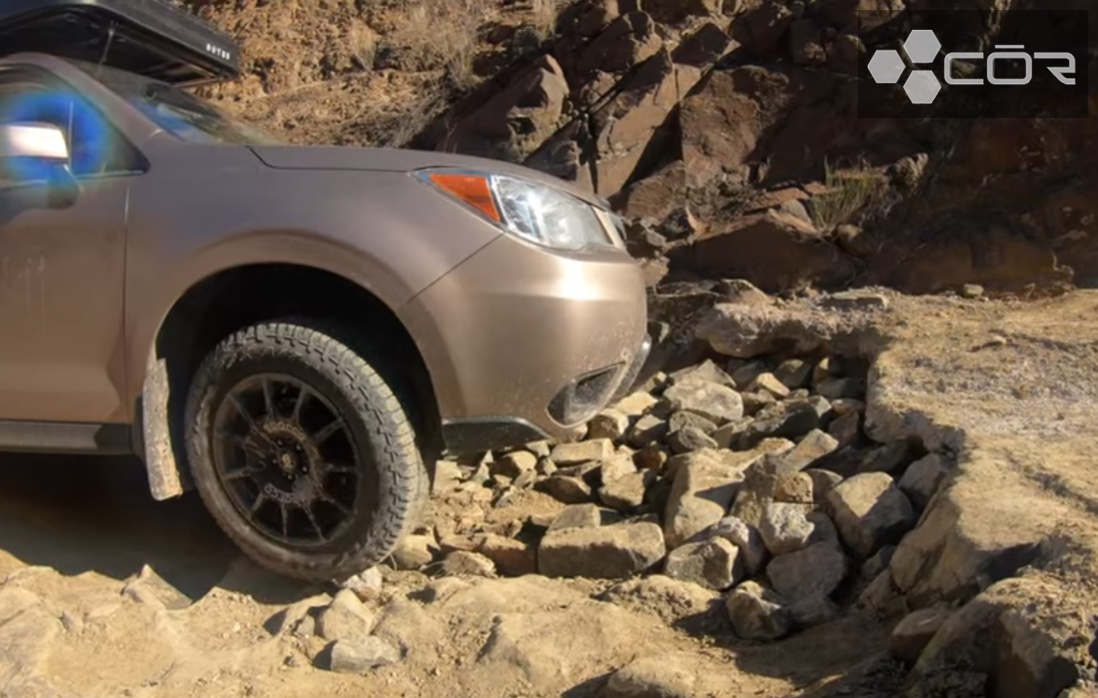 Sand Traction: 8.2/10
Slippage tended to happen more often on loose ground traction like sand. But once again, WildPeak A/T Trail did not disappoint with its sand performance, and was indeed a good choice for sand lovers.
The combination of open shoulders and wide grooves could almost be considered a divine match on sand-driving conditions, handling small, cunning sand particles before they could infiltrate deeper inside the grooves.
Thin layers of sand did linger on the lighter sidewall parts and caused slight but frequent hiccups upon 25-30 MPH marching. However, accelerations to 40 MPH – and a bit of alternation between deceleration and braking – saved the issue for us with little drama.
Traction loss around corners was present but not looming, and regained composure very fast once these solid tires entered mid-cornering.
Mud Traction: 8/10
Even with the extra water and soil density, Odyssey did not seem taken aback or hesitant. The car seemed to treat mud terrains no less or more than typical wet surfaces and hence, handled its traction quite stably here.
Just like on wetter roads (albeit with a bit more delays this time), Falken WildPeak relied on the shoulders and ribs to flex out mud and silt while retaining a sure-footed grip on the more sticky patches.
Thicker muds introduced more challenges than we would have liked, but the worst we had gone through was just some good-hearted tire shakes as the silica compounds tried to shrug themselves off the annoying dirt.
As such, 0 to 65 MPH or vice versa was not really an issue; in fact, this all-round tire got familiar with our abrupt speed changes just 30 minutes into the ride and no longer churned out sounds of protesting at sharper turns.
Still, Falken WildPeak A/T was struggling at narrower bends, whiplashing steering, or any speed beyond 70 MPH. We also didn't recommend ascending muddy hills or plowing hard-packed mud (like in the fields).
4. Winter/Snow Performance: 8.7/10
Light Snow Traction: 9.1/10
With WildPeak A/T, below-12-inch snow was even easier to slide off the grooves due to low melting points, hence little to no stuttering issues for us through most of our ride. Straight-line driving at 40-55 MPH was a given, and darting into corners while revving slowly to 60 MPH did not push us to grip the wheel with more force the way other regular all-terrain tires did.
Slippage did tend to occur quite often at sweeping curves or forward-learning on highways/sloping hills. But even then, by easing our braking and deepening the wrists, we took control of our winter traction in no time.
Long story short, Falken WildPeak A/T could totally pass off as a winter tire.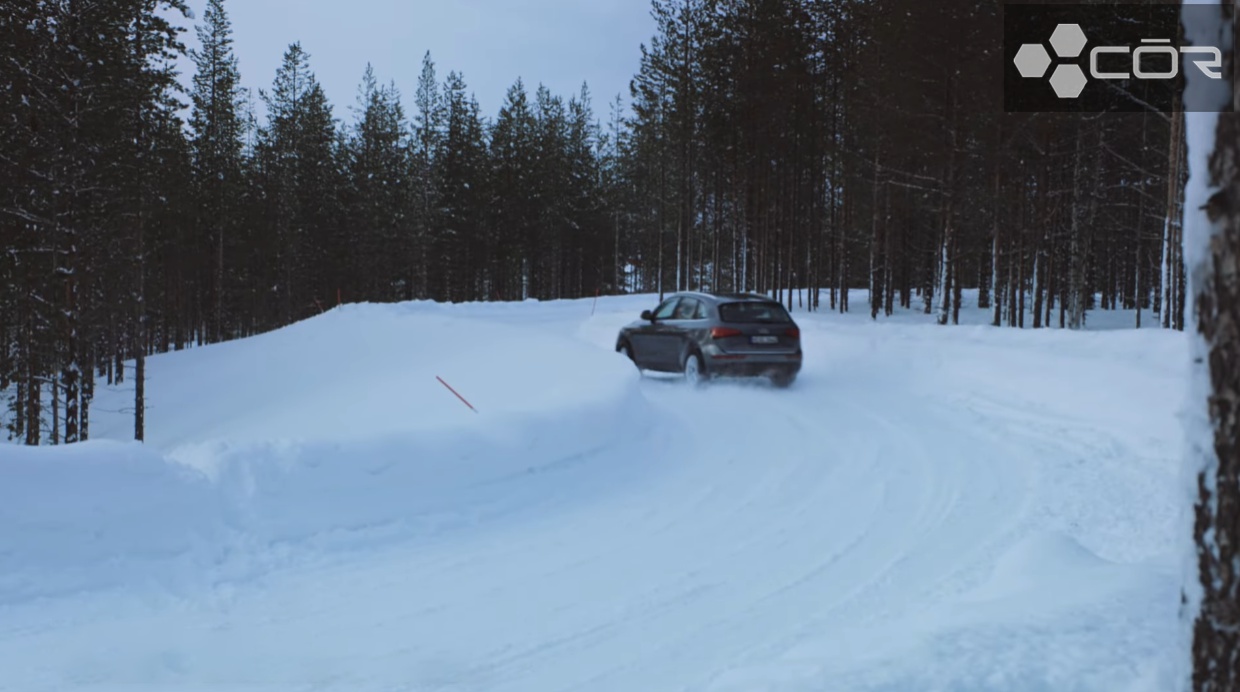 Deep Snow Traction: 8.9/10
Snow thicker than 12 inches did send our Odyssey into more frequent, longer lags around bends. But other than that, deep snow performance during straight-line driving was not much different from our experience on light snow.
The hydroplaning grooves and shoulders retained their good light-snow performance here, and we marched forwards to 65 MPH conveniently without extra help from snow chains or any other traction-increase methods.
Falken WildPeak's silica-enriched, firm tread compounds also had very little of an issue with cold temp, not falling victim to occasional freezes or stalls like a wide range of weaker siblings from the same brand.
Ice Traction: 8.1/10
The tire's ice traction was still considered among the best of its kind, but admittedly fell short compared to our driving in winter snow.
Delays were not safety-compromising but kept us from the comfortable, smooth ride we had envisioned before getting in our Odyssey. Drifting due to traction loss occurred pretty often at the first few seconds of speed changes, so abrupt cornering or U-shape turns needed to be done very strategically.
Given controlled steering and consistent driving rates with very few fluctuations (between 40 to 45 MPH or 45 to 55 MPH), we could tread forward a bit slower than expected, but worry-free. But its long braking distance was worth noting, requiring nearly 50 feet to reach a dead stop from 12 MPH.
5. Comfort: 8.6/10
Ride Quality: 8.9/10
These comfortable tires from Falken did not let any other competitors (except for Vredestein Pinza AT) win over when it comes to ride quality. The rugged sidewalls did look and feel ominous at first, but turns out we had little to worry about: they were cushioned and stable, far from a rougher ride.
Larger road imperfections or off-road mud still needed to be tackled better to keep constant jitters at bay; but overall, our rides at 50-75 MPH were almost bumpless, even on slippery terrains like ice or sand.
Noise: 8.4/10
Noise control was generally good but definitely not WildPeak's selling point.
Despite staying relatively quiet on most of the ride and even during accelerations to 70 MPH (given they were not sudden), we could still spot growling noises from time to time from the cabin and sometimes even backseats. They were neither loud nor frequent and disruptive, but could be a bother in the first hour into the ride.
6. Treadwear and Durability: 8.4/10
Falken WildPeak Trail stayed among the top ranks in this regard – not surprising, given how well-molded the grooves and shoal tread designs were.
The upper sidewall features rarely overreacted to speed/temperature changes, and did a great job working to whisk debris and water off the contact patches. As a result, our tires remained more or less the same before and after the test ride; and backed by a good 65,000-mile limited tread life warranty, it seemed there was little to worry about the maximum tread life.
WildPeak A/T Trail Pros & Cons
Great, consistent performance in all terrains
Solid winter performance except on ice
Beefy sidewalls
Generally comfortable ride, good fuel economy
Satisfying tread life with generous warranty (65,000-mile warranty)
Good hydroplaning-driving qualities and foothold
Loud noises during accelerations or at high speeds
Ice traction could have been better (but still a decent tire)
Reacting slower in flowing water than standing water
WildPeak A/T Trail Competitors & Alternatives
Against competitors from popular tire brands like BFGoodrich Trail-Terrain T/A and Yokohama Geolandar A/T G015, Falken WildPeak showed competent strengths but did not outperform in all aspects.
Falken WildPeak beat other competitors in the group with consistent, strong on-road and wet grip abilities; but as mentioned above, impact noises leave room for more refinement.
BFGoodrich soaks small imperfections noiselessly and enjoys greatly responsive steering compared to the rest. However, some wet traction improvements were needed.
Yokohama knew how to strengthen its balance capability between enhanced handling year-round and road manners. Unfortunately, the way it handled impacts was far from subtle.
Conclusion
From this Falken WildPeak AT Trail review, there is still some room for improvements in riding comfort and dynamic characteristics on ice roads. But other than that, its road capability in most road conditions is class-leading – definitely one of the best options from the on-road AT tire market within a reasonable price range for your tire buying process.
Those frequently driving on dry, wet, dirt, sharp rock crawling, light snow, and even sand terrains will find themselves pleased with this model.
Falken WildPeak A/T Trail
PRICE
SOLD BY

Offers

In Stock

Offers

In Stock

Offers

In Stock

Offers

In Stock

Offers

In Stock

Offers

In Stock
---
President & Automotive Expert at COR Wheels
Robert Herrera has been with COR Wheels for 17 years and has a great passion for the automotive industry. During his time at COR Wheels, he has driven and test-driven a variety of vehicles.
---