While Discoverer AT3 4S's performance on on-road terrains is considered a given for a Cooper Tire, the brand also promises extra capability during off-road endeavors with more lateral notches, snow grooves, and open ribs.
Whether and to what extent these features assist real-life driving has been properly testified in our 2023 COR Wheels Tire Test. Detailed reports are discussed in the tire review below.
In this review:
Cooper Discoverer AT3 4S Specifications & Features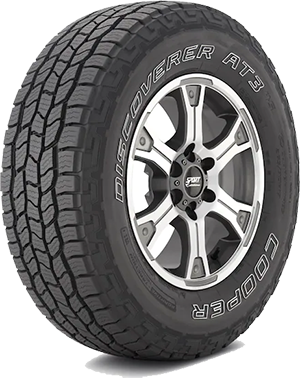 Tire Type
On-Road All-Terrain
Tire Size
15″ – 22″
Weight
29.0 LBS – 45.0 LBS
Load Index
99 – 117
Load Range
SL – XL
Speed Rating
– H: up to 130 mph
– T: up to 118 mph
Warranty
65,000 miles
Ratings
8.6/10
Cooper Discoverer AT3 4S aims at drivers of full-sized SUVs, pickup trucks, and crossovers used on-road but venturing off-road on occasions. Several key features are combined to deliver better grips on any textured surface, including:
Adaptive Traction Tech, molding the silica-based compounds into five-rib, open designs for powerful dry and wet performance.
Lateral notches and Aqua Vac circumferential channels evacuate water.
Micro-gauge zigzag sipes offer more bites on slippery surfaces while retaining dry stability and handling.
Snow Grooves, utilizing saw-tooth edges for outboard grooves, maintain on-snow grip for the tread blocks.
Durable 2-ply polyester casings, reinforced with single-ply nylons and steel belts, increase handling response, durability, and higher-speed stability.
Cooper Discoverer AT3 4S Review & Performance Test Results
Our team has used the 265/60R18 tire size version of Cooper Discoverer AT3 4S on the 2022 Jeep Grand Cherokee, testing its performance along with other on-road AT tires in the 2023 COR Wheels Tire Test.
1. Dry Performance: 9.1/10
Dry Traction: 9.3/10
Discoverer AT3 4S excelled in dry traction, with a startling smoothness rarely seen in even standard on-road tires. The contact patch clicked right into place and remained strongly composed through most pavement cracks, showing little signs of stutters even with sudden deceleration mid-bump.
Making our way through highway curves was similarly uneventful and rarely required urgent braking. The way the contact points adapted themselves with each flick and turn did not leave much room for complaints, and under the right push-and-pull, we even managed a bit of extra traction near the edges that made sweeping, decisive cuts a breeze.
Likewise, our ride stayed remarkably unchanged when we accelerated nearly 70MH onto mountain roads. Slight backward jostles only felt pronounced during the first few minutes and grew less and less present once our Jeep familiarized itself with the ascent's consistent pacing. Traction loss was admittedly common on rugged patches, but barely there in the rest.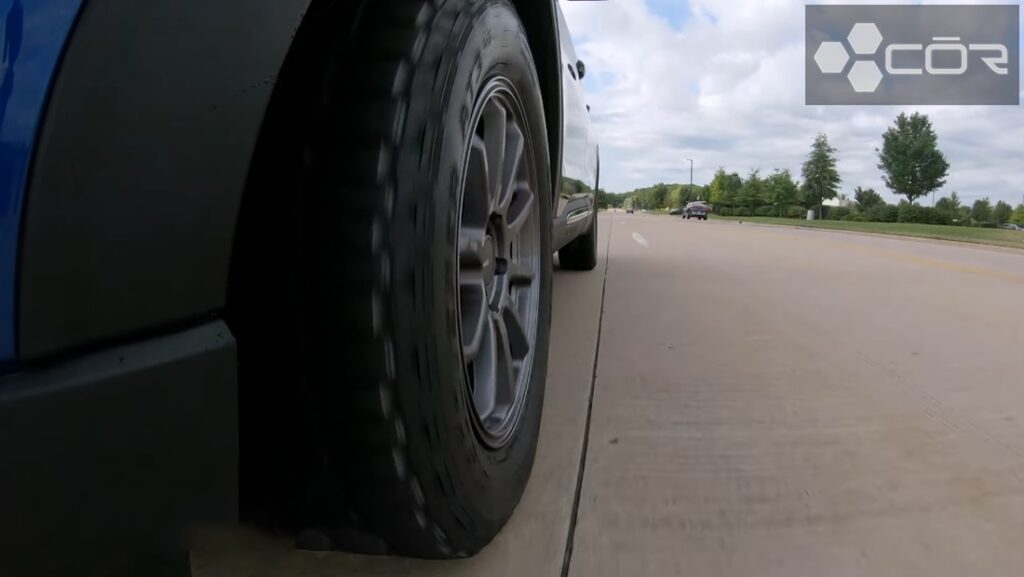 Corner Stability: 8.9/10
Our team experienced very little trouble with the tire's cornering stability. Its on-center feel accompanied wider steering angles pretty well and could handle unexpected skiddings or sidestep potholes within predictions. We allowed ourselves to experiment with abrupt decelerations from 50 to 25 MPH, and it seemed the worst that could happen was only some distant side-to-side shakes.
Tight corners, meanwhile, were easier to tackle with gradual, more leisurely speed changes. Otherwise, it seemed unprepared when our driving endeavors grew more aggressive, reacting somewhat poorly to narrow arcs and low leans.
Steering Response: 9/10
Few competitors deliver steering responses as accurately and promptly as the Cooper Discoverer AT3 4S, lifting most of our initial worry just two or three minutes into the test. The five-rib designs flanked our contact patch better than expected with sturdy immediate ribs, further enhancing our constant communications with the steering.
We thought surging to higher speeds in record time would result in significant drops in steering sensitivity, but the surprisingly punctual delivery at 60 MPH proved otherwise. Going over potholes or bumps at 60+ MPH did send us a jerking feel in the steering. Obvious hiccups around hairpins and off-camber bends took a few points away from the score – but even then, our team did not really face any actual driving compromise.
2. Wet Performance: 8.6/10
Wet Traction: 8.6/10
Wet performance was unsurprisingly less confident than on-road dry pavements, but strided with enough self-awareness thanks to the micro-gauge sipes. They seemed to work better at mid-range speed (anything below 55 MPH) than higher numbers, planting much firmer on the contact patch despite lingering layers of water.
Deep water beyond 11 inches proved to be a general non-issue, but only when it was stagnant. Discoverer AT3 4S did not deal that well with flowing water or downright floods regardless of driving rates, often finding itself to wander off the line.
Hydroplaning Resistance: 8.6/10
The Aqua Vac channels worked full force at 50 to 55 MPH, breezing our Jeep through deeper waterlogged patches with little drama. Even tight, wet corners felt surprisingly tame for us; we did not sense any signal of heavy drags often observed in silica compounds on slippery surfaces.
However, as briefly mentioned, the tire still needed major improvements during floods or flowing water. The lateral notches buffed out hard at first to whisk off rainwater but seemed to wear themselves out quickly, resulting in sticky feels below the rubber that might have been downright deadly in heavy storms.
3. Off Road Performance: 8.5/10
Dirt Traction: 8.8/10
The five-rib patterns contribute a lot to the Cooper Discoverer AT3 4S's off-road dirt performance, which stacked the tire with decent stability and grip balance to grind over inconsistent textures. Handling thick debris only seemed daunting for the first ten minutes and became easier the longer we drove.
Most of the time, we kept consistent rates of 50 MPH on even roads and 40 MPH or below on steep inclines to stay safe. But when urgent accelerations/decelerations were required to get over particularly rough patches or maneuver roadblocks, the tire thankfully showed fewer hesitations than expected. Real delays with speed changes only reared their heads on loose, soft dirt, which was easier to infiltrate the grooves than regular debris and twice as sticky.
Rock Traction: 8.4/10
Although the grooves and tread designs were clearly catered for on-road conditions judging the soft feel, they were thankfully sufficient for sharp and rocky terrains. Traction at low-key driving rates (below 45 MPH) was pretty good, and only lost more biting edges the nearer we got to 60 MPH.
On another note, cornerings and straight-line drivings did not suffer from major traction differences (since they were equally slippery). In an odd way, that could be considered an advantage: the ride remained predictable with very few unforeseen grip losses or violent coughs.
Sand Traction: 8.6/10
Discoverer AT3 – which already dealt well with loose dirt – became even more stable on loose sand terrains with very few jitters and skiddings. The Aqua Vac grooves and lateral notches managed to redirect most of the sand flow for us, coating the rubber with a cushioned texture that lingered headstrong despite frequent road bumps.
The only major drawback was the significant increase in the terrain's sand coverage after 1 hour or so into the ride. With much more sand volume to work with now, Discoverer AT3 4S did sacrifice some of its confidence and resorted to uneventful, tame strolling at 30-35 MPH.
Mud Traction: 8.7/10
Thin mud seemed to be more of Discover's expertise. There were understandably a lot of stutters and sticky feels – but other than that, the tire behaved more or less similarly to how it had been on on-road waterlogged patches. Caving at narrow curves did not prove much of a difficulty with a bit of subtle yet firm revs from 40 to 44-45 MPH.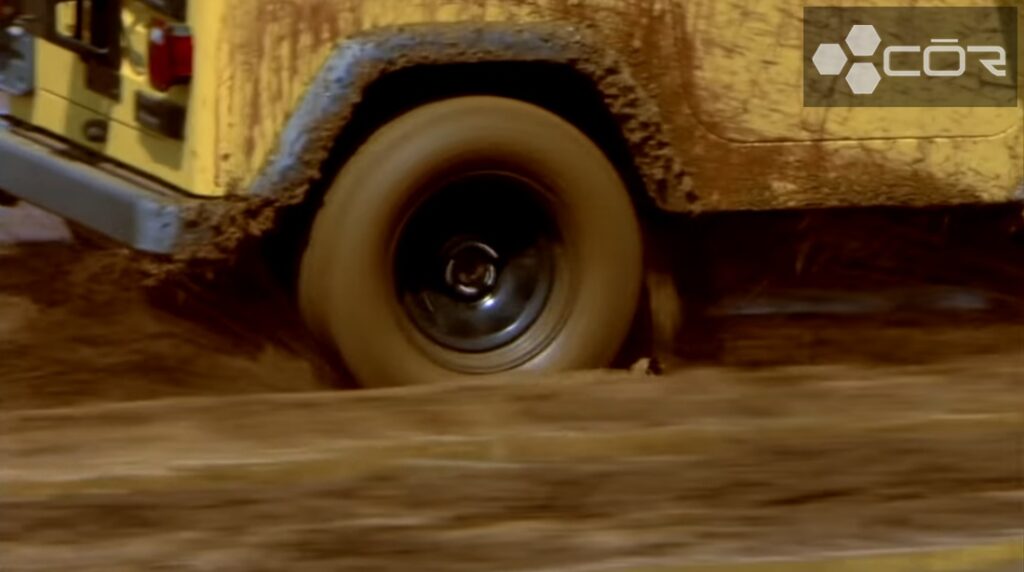 Traveling on thick mud from 4 inches onwards was not as easy, but still pretty decent. The tire fulfilled its dutiful self-cleaning tasks and got itself out of drags with relative ease, only showing clear symptoms of fatigue in tackier soil and water.
Accelerations in such cases were still within reach, but did not help much. Hence, our only solution was to keep our steering position consistent and grind through it.
4. Winter/Snow Performance: 8.3/10
Light Snow Traction: 8.8/10
Our team loved how the Discoverer AT3 4S quickly found itself home on light snow-covered roads. Unlike other tires that tittered hesitantly upon the extremely cold temperature in the first few minutes, the tire offered amazing initial bites that almost reminded us of how it familiarized itself with on-road dry pavements.
Speed changes were barely an issue, and braking was delightfully easy with extra help from snow chains. What made its score drop below 9 was that this stability did not carry on as consistently as we hoped; once our steering endeavors became more pronounced or frisky, the traction broke loose.
Deep Snow Traction: 8.5/10
Much to our surprise, hard, compacted snow was pretty easy to deal with. It was like off-road dirt all over again, this time with a less sticky feel and much smoother rolls. Aided by powerful snow chains, the Jeep could even fling back and forth between 30 and 50 MPH in quick successive accelerations/decelerations and little drama.
But wet, deep snow was another story: the horrid combination of water, hard particles, and terrain density did not sit well with the tire's already flimsy lateral grooves. Corners were not completely off the hook, but felt safer when handled at driving rates below 35 MPH.
Ice Traction: 7.7/10
The tire's winter vices only worked best on snow. Now moved to ice terrains, its contact patch fell flat against the slippery surfaces and struggled to retain the (very few) biting edges it had left, causing us to stall our steering inputs every 2-3 miles to monitor the rolls better.
These skittish vibes only got slightly better when a few members got off the car, reducing the number of our passengers from 6 to 3. With less weight to handle, the car admittedly felt more centered.
5. Road Comfort: 8.6/10
Ride Quality: 8.9/10
Traveling on Discoverer AT3 4S was one of our best experiments; violent throws were few and far between, if even present at all. Refills for traction loss occurred very fast, especially on on-road pavements, which ensured the ride stayed mostly uneventful at regular speeds (30-50 MPH).
However, as an on-road tire, the Discoverer still had places to improve regarding off-road mud, sand, snow, and ice; its power and traction delivery was safe but not really comfortable.
Noise: 8.4/10
Tread noises were not bad in general but could have been toned down at corners or higher speeds beyond 55 MPH. They also got borderline annoying on off-road dirt and rock surfaces – though given the rugged nature of these terrains, that was to be expected.
6. Treadwear and Durability: 8.5/10
Driving mostly in on-road conditions did not pose too much issue for our tire tread.
However, too much testing on off-road terrains seemed to take quite a toll on it. While the intricate block designs held themselves enough to keep obvious dents and cuffs at bay, we could feel some of the sharpness being rounded out, indicating potential deterioration if heavily abused beyond our 10-day test.
Cooper Discoverer AT3 4S Pros and Cons
Excellent, outstanding traction on on-road dry terrains
Decent wet-road grip and snow traction
Great steering response
Handlings on dirt, sand, and rock are good enough for an on-road AT tire
Very smooth and comfortable ride
Road noises could have been toned down
Frequent stalls on ice
Struggling with mud
Cooper Discoverer AT3 4S Competitors &Alternatives
General Grabber APT and Kumho Road Venture AT52 were tested around the same time as the Cooper Discoverer AT3 4S. Their performances showed some noteworthy contrasts:
Cooper Discoverer still took the leading spot with its wet/snow traction (within this group). But while the steering was good, it felt a bit less engaging at corners and bends.
General Grabber APT excels in riding comfort. Unlike Cooper, however, the handling dynamics on wet surfaces felt much more lacking.
Kumho Road Venture delivered a sporty steering feel for more aggressive off-road ridings, which was pretty impressive considering it is still an on-road AT tire. But we loved to see extra wintertime grip and additional hydroplaning resistance.
Conclusion
The AT3 4S is an excellent performer during on-road conditions, with dry-road traction surpassing every other on-road all-terrain tire in our test.
Its off-road capability, while not being the class leader we have hoped for, still falls safely at the middle spectrum. So guaranteed your off-road trips are only occasional, the Discoverer AT3 4S will more than suffice. But from our Cooper Discoverer AT3 4S tire review, be more careful with mud or ice.
Cooper Discoverer AT3 4S
PRICE
SOLD BY

Offers

In Stock

Offers

In Stock

Offers

In Stock

Offers

In Stock

Offers

In Stock
---
President & Automotive Expert at COR Wheels
Robert Herrera has been with COR Wheels for 17 years and has a great passion for the automotive industry. During his time at COR Wheels, he has driven and test-driven a variety of vehicles.
---