WeatherPeak or Turanza QuietTrack are usually the first names drivers think of when it comes to Bridgestone's grand-touring tires. Still, lesser-known models like DriveGuard Plus do receive favorable feedback due to intricate draft angles, stable constructions, and numerous add-ons.
A more detailed review of the tire's real-life performance will break down each of the criteria. Scroll for discussions!
In this article:
Bridgestone DriveGuard Plus Specifications & Features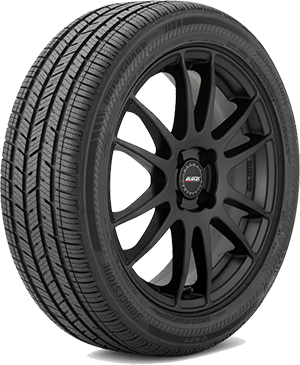 Tire Type
Grand Touring All-Season
Tire Size
16″ – 19″
Weight
24.0 LBS – 40.0 LBS
Load Index
88 – 104
Load Range
SL – XL
Speed Rating
– H: up to 130 mph
– W: up to 168 mph
Warranty
65,000 miles
Ratings
8/10
Bridgestone DriveGuard Plus is developed for drivers of SUVs, CUVs, coupes, and sedans seeking self-supporting capabilities and year-round stability (light snow included).
The run-flat technology, asymmetric tread designs, and stiff outboard blocks promote stable braking and cornering. Meanwhile, the inboard sections focus on wet grip.
Circumferential grooves, 0-degree draft angles, and open slots increase anti-hydroplaning qualities.
Full-depth sipes provide consistent bites for wintry conditions and slippery surfaces across the default tire's lifespan.
Double steel belts (nylon-cap reinforced), 2-ply polyester casings, and stiffer sidewall reinforcements support this rough-ride tire through loss of air pressure and punctures.
Cooling Fin dissipates internal heat to minimize sidewall rigidity and maximize comfort.
Bridgestone DriveGuard Plus Review & Performance Test Results
As part of the 2023 COR Wheels Tire Test, we used the 225/45R17 tire size version of Bridgestone DriveGuard Plus on the 2016 Honda Civic car model on on-road terrains (both dry and wet) and snow surfaces.
1. Dry Performance: 9/10
Dry Traction: 9/10
Thanks to the numerous dry-focused features included in the rubber compounds, Bridgestone DriveGuard delivered stable, unwavering footholds across paved roads. After a few initial shakes that were barely noticeable, the cross grooves picked up our 40-MPH inputs instantly to push the car straight onto the track in little hesitancy, plowing in eventful, balanced strikes that required no intervention at all.
As such, we gained enough confidence to roar to 60 MPH while navigating to highways, and DriveGard Plus continued to show excellent composure there. Straight-line endeavors at consistent rates were an obvious given, and even occasional abrupt chokes mid-way could not startle the car out of its tight tire-road connection. Sweeping through curves remained just as breezily, suffering from none of the usual worn-out symptoms we often see in similar tires after extended driving.
There is hardly any true drawback you should look out for, though we do recommend beginners to be more cautious with hard brakings around turns to avoid unexpected startles. Other than that, trust this all-season touring tire to deliver well regardless of your driving habits.
Corner Stability: 9.1/10
DriveGuard's composure during cornering attempts was very impressive, if not even slightly better than its straight-line performances. The stiff blocks and run-flat technology did a spectacular job supporting the on-center rib without sacrificing the required flexibility to handle early apex or tight corner entries, smoothing out all traction losses around the flanks into weak protests that could easily be crushed with basic push-pull techniques.
Better yet, unlike other tires, the extra combined weight of passengers and cargo (1000 lbs) did not drag DriveGuard Plus down at higher speeds. You may still want to keep the loading at a minimum to sustain faster oversteer recovery – but even without doing so, be assured that no real danger will be at play.
Steering Response: 8.9/10
DriveGuard left little room for complaint regarding its steering feedback. Sharp, aligned, and very responsive, this Bridgestone model fell into immediate steps after our inputs and knew how to trample down over-reactions when they were not unwelcomed.
Unexpected jerks or dragged delays, therefore, were hardly a threat; better yet, there seemed to be hardly any difference between the tire's steering at regular and high driving rates (below and above 55 MPH), save for occasional drifting signals expected of spirited driving.
On another note, Bridgestone DriveGard Plus did need better refinement over heavy loads beyond 1100 lbs. While the downgrade is not enough to put any true hamper on the tire, some of you might not like the seconds-long stall before early apexes or intentional oversteering.
2. Wet Performance: 8.8/10
Wet Traction: 8.8/10
DriveGuard Plus was actually on par with its more famous sibling, the Turanza QuietTrack, in this regard; shallow water or puddles below 6 inches could hardly weaken the established contact points.
DriveGuard maintained its composure well in straight-line endeavors, kept traction losses under control at corners, and took less than a second to bounce back from slight slippages after navigating a road obstacle. On well-paved roads, you can even manage one-palm steering without fear of unexpected control loss.
While the tire admittedly lost some slacks in deeper water, its predictable tire flex and quick adaptability to changing road textures thankfully made up for that oversight. Unless our cargo exceeded 1000 lbs, the risks of significant lags and shakes were few and far between.
Hydroplaning Resistance: 8.8/10
We were quite pleased with how the draft angles and circumferential grooves arranged themselves here; water redistribution went on so smoothly that hydroplaning issues were barely noticeable at 40 to 45 MPH.
The few drops of water clinging onto the sidewalls were not enough to deter the tire off its track. And even when we tried to cut the processing time by increasing our rates to near 60 MPH, the grooves managed to spread out the rainwater into thin, scattering blocks that kept unpleasant slippage at an extremely low level.
Sure, some refinements over deep-water performance were still required – but overall, you can trust your car to march well into heavy rainfalls without much difficulty.
3. Snow/Winter Performance: 6.5/10
Light Snow Traction: 7.2/10
Though the tire remained rideable, it was by no means the same effortless performer as in our previous wet tests, evident in the way slippage occurred every 1-2 miles. The full-depth sipes only delivered half of their advertised power on straight-line paths and were barely there around corners, forcing us to grind down the steering wheel all the time to trample drifting symptoms before they worsened.
You can trust snow chains to boost the tire's performance for the first two hours into the road trip (no stops in between). Longer rides than that, however, will still suffer from major muted feedback that could have been dangerous in heavy traffic.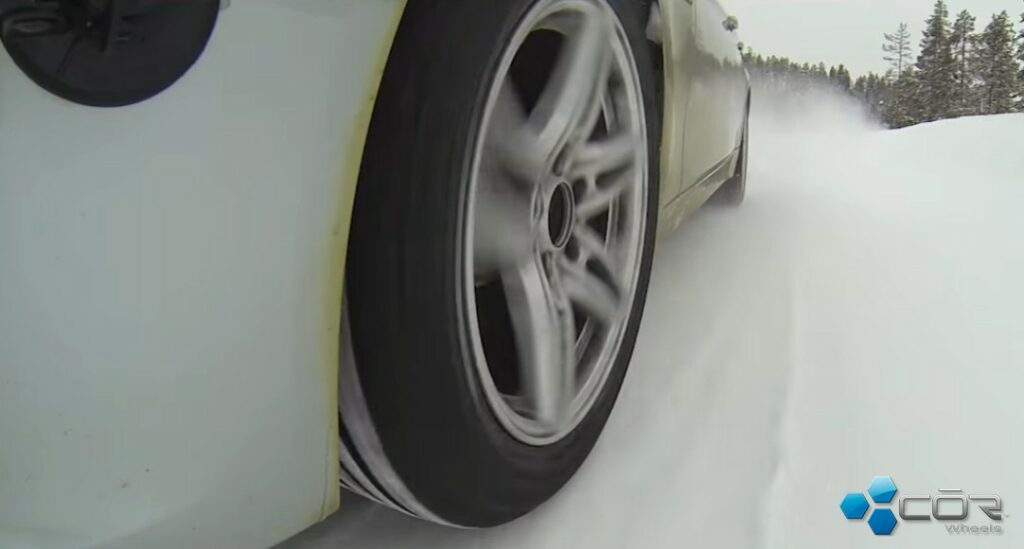 Deep Snow Traction: 6.3/10
DriveGuard Plus fell horribly flat on thicker snow; there was hardly any stable contact point that lasted more than 5 minutes. Our attempts to keep consistent palm-over-palm steering did not even work in well-paved snow roads – let alone mountain passes or rugged asphalts – and hence, suffered from constant chokes and coughs over thin air.
We pulled over after 30 minutes to bind snow chains on all four, yet these extra supports only lasted our car for another 2 miles before stalling under the cold temperatures. Avoiding these terrains altogether is the best move – but if you cannot do that, at least keep the driving distances below 4 miles.
Ice Traction: 6.1/10
Judging by the tire's horrid composure on deep snow, it was unsurprising that even 5 to 9 MPH strikes failed to keep our car well-aligned on moderate icy roads. Cornerings were clearly impossible, but even straight-line endeavors were uncertain throughout most of the ride; none of our careful maneuvers or forceful hand-over-hand grinding could make the frequent stutters any less subdued.
On a slightly brighter note, you can remove all cargo and passengers for less dragging under the contact patch and more predictable protests upon gradual speed changes. Ice melts in early- or mid-spring are unlikely to put the car in much trouble, either; the tire's grooves could redistribute and thin them out just fine.
4. Ride Comfort: 7.8/10
Ride Quality: 8/10
We were pretty pleased with the cushioned, well-padded feel DriveGuard Plus delivered over large road bumps.
Jostles and vibrations still need to be expected if your turns are sharper than intended; but other than that, there was hardly any situation where our rides got to the point of being downright uncomfortable. Even high-speed maneuvers were not that much unstable if our steering inputs were well-placed.
Tire Noise: 7.5/10
The rumblings were tolerable on non-twisty public roads but got significantly louder around corners and highway curves. Wet conditions and snow packs only made this noisy tire twice as deafening; the only way to improve the situation is to keep your passengers at 1-2 adults while driving slowly at 20-25 MPH.
5. Treadwear and Durability: 7.9/10
As with other Bridgestone's regular grand-touring tires, DriveGuard Plus also suffered from significant internal structure breakdowns in cold, inclement weather; the Cooling Fin designs did not help as much as they were expected to.
Fortunately, dry weather and rugged road textures could hardly leave a dent on this all-weather tire, coupled with the great tread depth and generous 65,000-mile warranty to ensure mindless driving for the first six years for daily drivers.
Bridgestone DriveGuard Plus Pros and Cons
Excellent traction in dry conditions and on dry roads
Great cornering grip, natural response time, and extended mobility
Confident on wet roads; good wet braking
Reliable hydroplaning resistance
Quite comfortable ride; pretty good balance between riding quality and long-lasting tread life
Very generous warranty (65,000 and 60,000-mile treadwear warranty)
A bad tire in winter seasons; unrideable on ice-covered roads
Road noise reduction on bumpy roads could have been better
Bridgestone DriveGuard Plus Competitors & Alternatives
Bridgestone DriveGuard Plus competed directly against Goodyear Assurance ComfortDrive and Pirelli P7 AS Plus 3 in our test rides:
Bridgestone DriveGuard Plus had an impressive steering response and pretty good impact handling. Nevertheless, its lateral grip on light snow had plenty of room for improvement.
Goodyear ComfortDrive led the group in damp-road tire traction, but steering responses sometimes felt unnatural and non-linear.
Pirellie P7 Plus 3 was very sporty and adept on highways and canyon road conditions. Unfortunately, the wet performance of this grand touring all-season tire fell quite flat.
Conclusion
Our Bridgestone DriveGuard Plus tire review has proved that this is definitely one of the best grand-touring tires in the all-terrain tire market, with a reasonable tire price and exceptional on-road performances across a wide range of roads.
Tread with more caution on snow/ice terrains, however, as the notched patterns and tire shoulders lost most of their road manners here.
Bridgestone DriveGuard Plus
PRICE
SOLD BY

Offers

In Stock

Offers

In Stock

Offers

In Stock

Offers

In Stock

Offers

In Stock
---
President & Automotive Expert at COR Wheels
Robert Herrera has been with COR Wheels for 17 years and has a great passion for the automotive industry. During his time at COR Wheels, he has driven and test-driven a variety of vehicles.
---