Since its release, Bridgestone Dueler A/T RH-S has been one of the brand's most recognized on-road AT models. However, the simple design and lack of traction balance features raised questions about the tire's performance through varied road textures – an issue our team has addressed in our latest COR Wheels Tire Test.
Scroll through our reviews for a more detailed report.
In this article:
Bridgestone Dueler A/T RH-S Specifications & Features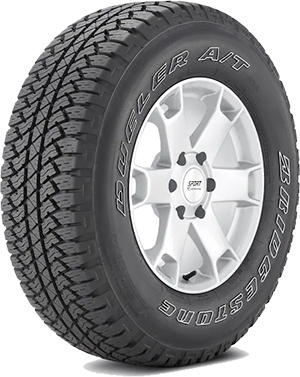 Tire Type
On-Road All-Terrain
Tire Size
17″ – 22″
Weight
34.0 LBS – 45.0 LBS
Load Index
110 – 115
Load Range
C1 – SL
Speed Rating
– H: up to 130 mph
– T: up to 118 mph
Warranty
40,000 miles
Ratings
7.6/10
Bridgestone Dueler A/T RH-S claims to combine off-road refinement and on-road capability (light snow included) for sports vehicles, crossovers, and 4WD light trucks by integrating the following tire design features:
The CO-CS system (short for Computer-Optimization Component Systems) strikes the best balance between construction, materials, casing shape, and tread designs for better stability.
The open shoulder tread enhances consistent performance all year round.
Its O-bead constructions utilize continuous single cable strands to improve riding comfort and uniformity.
Aggressive tread blocks add extra bites on snow and mud terrains
The long-link carbon structure resists cracks and chips along the way.
Bridgestone Dueler A/T RH-S Review & Performance Test Results
Our COR Wheels team installed the 245/75R17 tire size version of Bridgestone Dueler AT RH-S on the 2022 Jeep Wrangler car model as part of the annual COR Wheels Tire Test in 2023.
1. Dry Performance: 8.1/10
Dry Traction: 8.5/10
Despite lacking innovative construction features, the tire performed much better than expected thanks to the continuous, stable O-bead strands. Waverings happened from time to time but, overall, were quite easy to control given regular speeds, breezing us through lane changes and gentle curves around roadblocks in little to no drama. Even on slightly bumpier road conditions, basic intersection approaches and exits should prove to be a non-issue for cautious beginners.
There was a lagging feel under the tire that our members did not quite like as we moved toward highways; fortunately, Dueler A/T RH-S regained composure pretty fast and soon settled snugly into the road pavements while pushing our momentum to the highest level.
And while you may encounter more pronounced driftings around the flanks at 55 MPH onwards, the rides should remain uneventful in any other situation, especially on smooth asphalts.
Cargos did not affect the Dueler's stability more than any other Bridgestone tire, although the intervals between each stutter were admittedly reduced to a dramatic extent when we kept the payload (passengers + cargos) below 900 pounds. As such, we highly recommend you bring only the necessary items during the trip.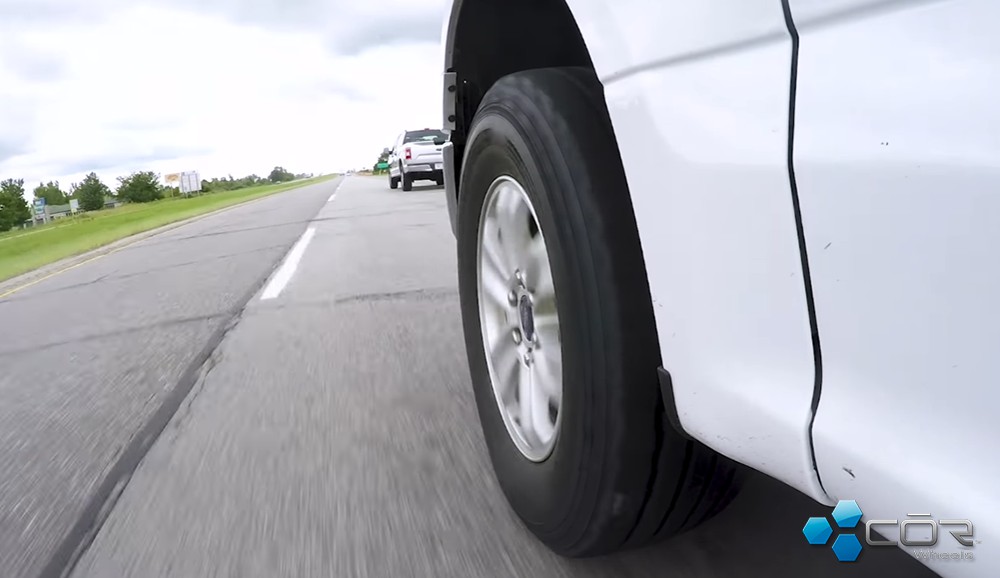 Corner Stability: 7.9/10
Dueler A/T RH-S introduced no cornering-focused features in the package at all – hence the manageable but very ominous skitters during our attempts to dive toward tight crooks. Tight hairpins or blind curves were impossible to handle at excessive speeds, requiring careful approaches and extremely cautious shuffles to pass through the initial entries.
But on the brighter side, non-challenging carousels or 45-degree turns with no zigzag patterns still bonded quite well with Dueler A/T RH-S. Even with extremely minimal inputs, you should be able to maintain decent speeds from the beginning down to the exits. And we suggest not entering any turn at any above 60 MPH.
Steering Response: 8.1/10
The tire-road connection was not always at its peak behavior, but we could still feel its strong presence most of the time no matter what steering demands were involved. Each response delivered predictably with acceptable delays on straight-line driving and only faltered a little when revved below 45 MPH – more than enough to help you through regular, daily driving situations.
High-speed or dynamic maneuvers, unfortunately, were far from A/T RH-S's best highlights. The steering feedback only remained somewhat tolerable when there were no lane changes and got much more slowed down in every other situation, sparing little to no margin to attempt anything impromptu. In a narrow corner, you'd better slow down to less than 40 MPH to keep the sidewall of the rear tires from rubbing against the pavement due to oversteering.
2. Wet Performance: 7.4/10
Wet Traction: 7.3/10
Shallow puddles already sent our Jeep Wrangler into ominous fumbles.
While we managed to keep decisive, clean cuts throughout well-paved roads, such constant instability gave quite a bad hunch about how the tire would cope at deeper water. And indeed, stagnant water of more than 5 inches was almost impossible to pass through at 45 MPH without frequent slippage every two miles, getting worse at corners.
A/T RH-S only seemed to recover a bit of its dry-weather confidence when passengers were reduced to two. So unless there are no other choices, always keep both your driving rates and extra weight at a minimum.
Hydroplaning Resistance: 7.5/10
The tire gave us mixed feelings in this regard. On a positive note, the hydroplaning issues occurred surprisingly scarce; however, whenever it did, our car hooked up so much water that steering responses were delayed for almost six seconds. Abrupt accelerations or sharp U-turns for correction skids were clearly out of reach.
And due to the ill-placed deep grooves and sipes, the intrusive water worsened the longer we rode under heavy rainfalls or downpours; to keep danger at bay, keep your steering wheel consistent while throwing alternating downshifts in between.
3. Off-Road Performance: 7.2/10
Dirt Traction: 7.8/10
Although Dueler A/T RH-S did not exactly deliver a stellar level of performance, its composure was actually retained much better than on on-road wet pavements. Loose dirt only clung for a brief few seconds before dispersing under the patch, and the contact points were established with decent intensity to pave the car forward undramatically at 45 MPH.
Thick gravel corners and curves are where you need to pay more attention; the tire fell flat when dealing with low-angled approaches and tight liners, forcing us to grind down the wheel with much more pressure than required to keep the car on track.
Rock Traction: 7.3/10
A/T RH-S was somewhat rideable on soft creek beds or quarry roads of smaller rocks and pebbles, but failed to shine through on every other terrain.
Even our latest Jeep Wrangler model struggled to trample over the inconsistent textures and graded rock surfaces for faster traction refill, meaning you will likely get your car stuck or flip if the steering wheel slackens. Tight corners or late apexes were also a big no, judging by the almost unredeemable side-to-side shakes.
Sand Traction: 7.3/10
With so much struggling on dirt and rock, it was unsurprising Dueler A/T RH-S faced even more violent hiccups when moving to loose sand particles.
None of the evacuation channels seen in other Bridgestone tires were seen in Dueler, causing the particles to pool harder on the sidewalls instead of being redirected. Coupled with the uneven tire rolls, our Jeep only managed decent footings at 30 MPH (or below) with little to no roadblocks on the way; every other number, otherwise, will pose huge risks to your safety.
Mud Traction: 6.7/10
Airing down the tire to 15 PSI only gained us a bit of faint grip around the corners; A/T RH-S reacted horribly to sticky mud and even got itself stuck for minutes in deep clay pits.
Worse, off-road travels during or even post-rain stuttered so violently that our car almost had an instant crash into nearby overgrowth. Needless to say, long-distance travel is impossible, unless your car installs aftermarket wheels.
4. Winter/Snow Performance: 7.1/10
Light Snow Traction: 7.7/10
Our team went through more or less the same traction capability as on off-road dirt: in simpler terms, the car only fell lackluster around curves/snow-pooled corners and remained delightfully breezy in every straight-line endeavor.
Gradual accelerations had to be carried out with better strategy but were totally doable for any average driver. Better yet, when armed with snow chains on the two fronts or two rear tires, your leisurely strolls through wet bridges or highway lanes will pretty much stay in the safe territories.
Deep Snow Traction: 7.2/10
Our car performed in deep snow conditions just as it did on off-road sand (if not slightly worse during roundtable negotiations). Fortunately, the tire was not entirely unrideable thanks to the O-bead cables, which gummed themselves quite stably through thick snow to connect tight with road pavements. Snow chains will also do a great job steadying your tire around gentle corners, though not entirely without hiccups.
Ice Traction: 6.3/10
Dueler A/T RH-S was pushed to the near-bottom, failing to offer the barest hint of composure even with our extremely low driving rates (mostly at 9 MPH, revving to 8 when navigating around lane changes).
Except for cautious shuffles, any other steering technique was considered too much for its internal construction. Thus, you should only use the tire for very short-traveling distances below 4 miles.
5. Comfort Level: 7.8/10
Ride Quality: 8.1/10
Performances on off-road and winter terrains were admittedly underwhelming. But when returning to regular dry on-road pavements, Dueler A/T RH-S shined brilliantly with controlled jostles and well-padded feel over bumps and cracks. You will also have little trouble marching over slightly rougher paths like cobblestones or chip-seal roads.
Noise: 7.6/10
We did not like the continuous hums that got louder the longer we rode; high-speed noises sneaked in the cabin every now and then, even during very long-spaced curves.
Still, given the lack of noise-absorption layers, the tire turned out not to be as subpar as we thought. If you are not really noise-sensitive, it will be quite easy to tune out these sounds in casual rides or slog driving.
6. Tread Life and Durability: 7.8/10
Both overheating and extreme cold seemed to take quite a toll on the Dueler's simple long-link carbon compounds – though, thankfully, the symptoms only showed up in faint hints after the final testing day.
The tire manufacturer's 40,000-mile mileage warranty is not really competitive but still sufficient, guaranteeing comfortable driving for at least the first four years.
A/T RH-S Pros & Cons
Pretty good traction in dry conditions
Not bad on light snow and off-road dirt
Decent riding quality and tire life/wear rate
Steering and cornering could have been better
Struggling on wet roads and loose terrains; unrideable on ice
Not really quiet rides
Conclusion
Even the decent dry traction could not keep the A/T RH-S from delivering an unimpressive performance on regular roads; the tire's behavior on wet pavements, wintry terrains, and off-road paths also falls behind many Bridgestone siblings. What to learn from this Bridgestone Dueler AT RH-S tire review is that you should use this all-terrain tire for non-spirited driving situations in favorable temperatures, preferably with as few twisty roads and corners as possible.
Bridgestone Dueler A/T RH-S
PRICE
SOLD BY

Offers

In Stock

Offers

In Stock

Offers

In Stock

Offers

In Stock

Offers

In Stock
---
President & Automotive Expert at COR Wheels
Robert Herrera has been with COR Wheels for 17 years and has a great passion for the automotive industry. During his time at COR Wheels, he has driven and test-driven a variety of vehicles.
---