Though Vredestein Pinza All-Terrain has been mainly catered to on-road surfaces, a few extra stability-enhanced features were added to support occasional off-road drivers on more challenging terrains as well.
Judging from positive customer feedback, it seems the tire does a good job. To confirm, our COR Wheels team decided to test its actual road performance and speed limits as part of the annual 2023 tire test. Scroll through our review for detailed findings reports.
In this article:
Vredestein Pinza AT Specifications & Features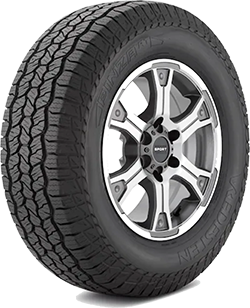 | | |
| --- | --- |
| Tire Type | On-Road All-Terrain |
| Tire Size | 15″ – 20″ |
| Load Range | C – SL |
| Speed Rating | S, H, T |
| Warranty | 70,000 miles |
| Ratings | 9/10 |
Pinza AT tires are tailored for full-size crossovers, SUVs, and pickup trucks that travel mostly on-road but still look for off-road stability for certain occasions. The design blends traditional tire elements with highway-oriented features to improve road conditions in varied terrains (light snow included), granted a 3PMSF symbol.
Some feature highlights include:
Computer-aided footprints and multi-pitched tread patterns, offering aggressive bites for the shoulders
High void ratio, zigzag circumferential grooves, and deep sipes, combined to increase hydroplaning resistance and wet traction
Two-ply casings (for Euro Metric tires) and three-ply triplex casings (LT Metric), with Jointless Hexabead technologies to handle heavy-duty tasks
Robust sidewalls and twin steel belts, capped with nylon reinforcement to utilize edge protections and high-speed footings
Vredestein Pinza AT Review & Performance Test Results
Our team members used the 265/60R18 metric tire size of Vredestein Pinza AT on the 2022 Ford F-150. Along with other on-road all-terrain tires, it was tested in our 2023 COR Wheels Tire Test.
1. Dry Performance: 9/10
Dry Traction: 9.2/10
Vredestein Pinza AT delivered excellent dry grip ability that still offered enough room for tire flexes. The multi-pitched patterns curved well onto the pavement grooves and secured our Ford right from the start; those slight, uncertain initial delays as the steering wheel started turning could not be observed here.
Straight-line drivings were non-dramatic; stutters under the tread blocks felt too distant to be truly considered delays, and there was a natural, smooth grip transition under the contact patch as Pinza AT changed its lean angle to accommodate our new turning inputs.
We did prefer a bit more pronounced feedback at entries, but overall, no real traction issues reared their heads for the first 2-2.5 hours of our uneventful 40-45 MPH rides.
From there, our team started to apply more speed changes that crossed 55, 60, and 70 MPH. Below 60 MPH remained smooth and confident, but 70 MPH maneuvers encountered minor shakes settled on the tire's edges. Though our center positions were not truly affected, we still had to engage countersteering from time to time to ensure the Ford stayed within safe boundaries.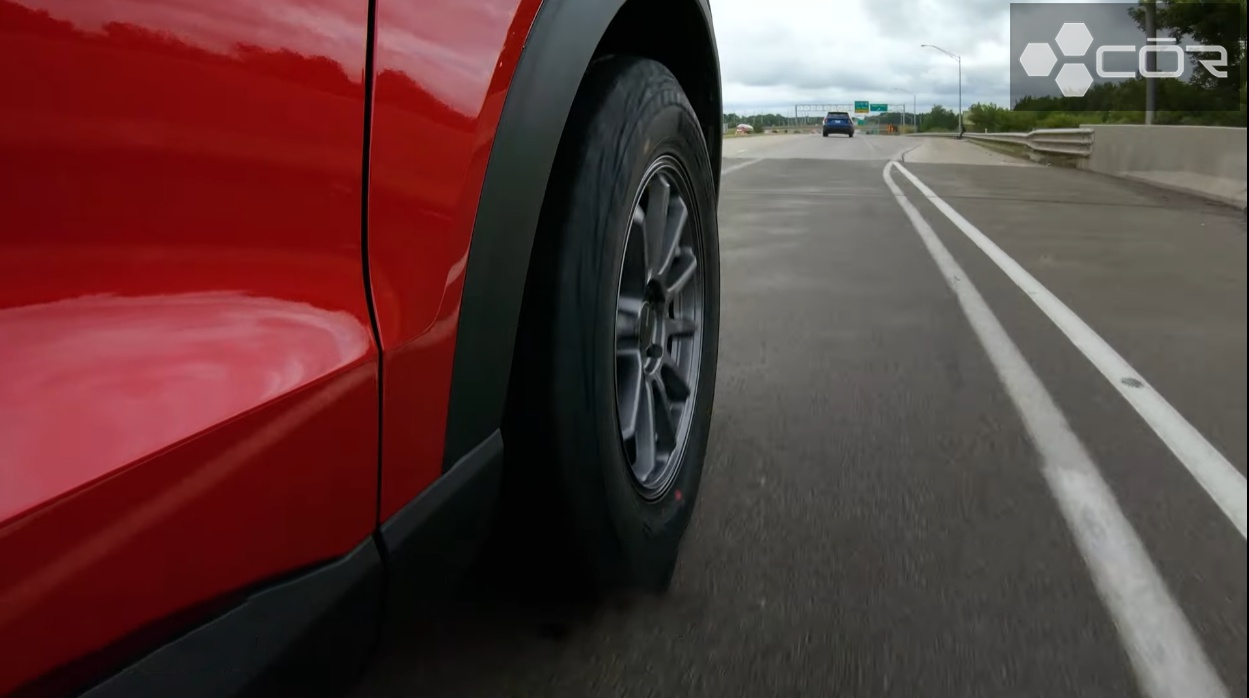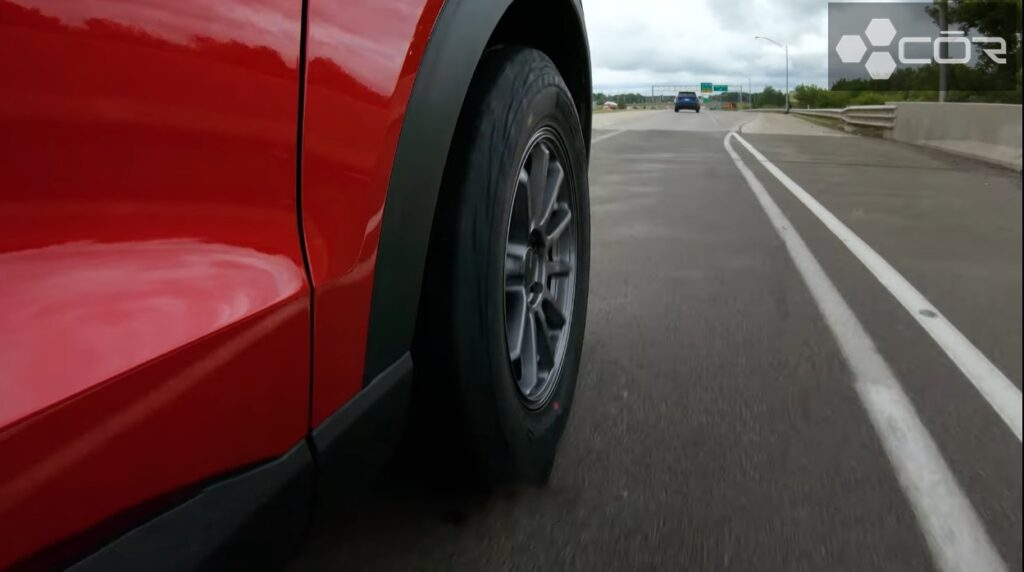 Corner Stability: 8.9/10
When it comes to corner stability, Pinza AT was very predictable.
Its continuous sibs provided good angle and steering arc balances and hence, rarely went out of line except for very drastic twists at tight curves. Hairpins and off-camber bends were within the tire's handling capability; and guaranteed enough preparation before each cornering, unwanted surprises and slippage seemed unlikely to happen.
We had lots of fun accelerating to 55 MPH mid-corners; Ford stumbled forward a little but nothing life-risky, and quickly regained composure to let the notched rubber compound cave better under our wrists.
From 60 MPH onwards, there was a minor titter at the edge like the tire was going to break loose. But turns out that was a false alarm. After 1-2 seconds of startled recovery, our Ford bounced back on the contact patch and carried on as it had been throughout most of our ride.
Steering Response: 8.9/10
Like cornering stability, there was nothing sketchy about Vredestein Pinza AT's steering response; it was very responsive, accurate, and easy to predict. Each reaction was delivered in very close alignment with our inputs, carrying out the exact angles and steering arc with nothing more, nothing less.
While that seemed like an excellent quality for regular rides, fans of spirited style in our team did feel a bit disappointed: Pinza AT felt too tame for us to try anything really adventurous. Abrupt surges to 60 MPH from our 40-MPH starting point resulted in an odd squishy-firm feel, which was not dangerous but did not sit right with the otherwise aggressive shoulder bites.
The best we dared try was to dart into highway curves from a shorter notice. Other than that, our team mostly kept ourselves within comfortable, normal speed ranges (40 to 55 MPH) to avoid unexpected stutters.
2. Wet Performance: 9/10
Wet Traction: 9/10
Its lateral traction on wet surfaces was amazing, only a tad behind dry performance.
Despite the increasing water density mid-downpour, our tires kept their composure and stability in check – with only occasional shakes under the contact patch to shrug off intruding water. The shoulder bites planted themselves firmly in intimate contact with the road, barely faltering as we marched straight forwards at 40 MPH.
At corners or sharp U-turns, though, there were a few hiccups lasting 3-4 seconds. Accelerating to 55-60 MPH did seem to swallow them down, but it resulted in bunched-up, water-filled sidewalls that dragged our car a little. Instead of changing speed ratings, the best solution for us was to keep the rates unchanged and move up with consistent pacing.
Hydroplaning Resistance: 8.9/10
Hydroplaning was far from a real threat with Pinza AT. The full-depth siping and zigzag grooves created an open yet intricate channel that made it hard for rainwater to slide in. Wet-road traction (discussed above) clearly benefited from it, resulting in very little trouble navigating around roadblocks or taking unexpected turns.
However, as mentioned, accelerating to 60 MPH gave the grooves less time to process the water and hence, invited a bit of them to seep in. Keeping things neutralized at 40 to 50 MPH without much speed fluctuations seemed like the best way to truly keep hydroplaning at bay.
3. Off Road Performance: 8.7/10
Dirt Traction: 8.8/10
Pinza AT took the crown with its dirt/gravel traction. Albeit not without delays at jerks an entry (it is an on-road tire, after all), it ground over thick, stuck debris with better smoothness than our expectation, especially with punctual alteration between braking and acceleration to 55 MPH.
The open channels also did a pretty good job here. Sure, they did take much longer fighting debris than rainwater – but once they truly settled in, even the stickiest patches stood little chance against our consistent steering control and gradual speed surges. Reducing the PSI to 25-30 was also a great idea (at least for our Ford), bringing unexpected boosts to our road connection.
Sand Traction: 8.8/10
Like off-road dirt, our car and performance tire held themselves well on sand traction. The high void ratio helped the responsive tire bead dig deeper into loose ground traction like sands and spread out the particles. No wonder Vredestein Pinza AT ground on the contact patch confidently, and only experienced stutters at truly nasty twists.
40 to 55 MPH seemed like the best speed range for sand terrains, offering a good balance between acceleration force, stability, and sand evacuation. We also took away more air pressure (to around 20 PSI) this time to test how it fared, and these highway tires did become grippier on softer sand – though the changes were not as drastic as on off-road dirt.
Rock Traction: 8.7/10
Our car clasped well on rocky terrains. It felt a bit similar to on-road dry traction – except with much more texture inconsistency and cracks this time, of course. Ford struggled during the first 30 minutes but seemed to tame itself down the longer we rode, the stone-ejector compounds finally caving themselves obediently along the road patterns.
Accelerations stuttered during straight driving but still managed to graze at 55 MPH. Steep ascents, however, were a different story; we were too busy stabilizing the car throughout the bumpy ride to truly give much care about maximum speed limits. Still, at more favorable patches, our members could rev up (with occasional delays in between) to 50 MPH or a bit lower. But under no circumstances did it prove a good climber on large rocks.
Mud Traction: 8.4/10
Vredestein Pinza A/T performed better on mud than any other on-road terrain tires. But compared to its own footings on dirt, rock, and sand, this area did feel significantly lacking: the tire's capability in mud started slipping away as we entered thick soil/water at 40 MPH and only gained back a tiny bit of its dry composure when decelerated to 30 MPH.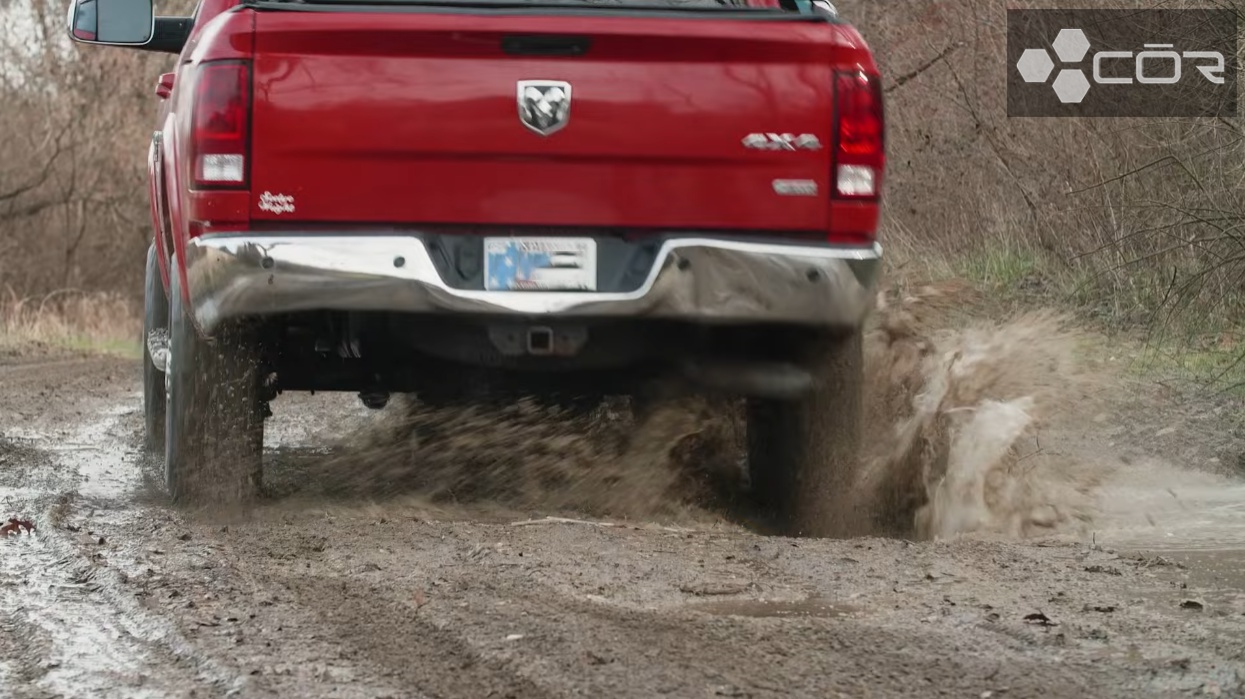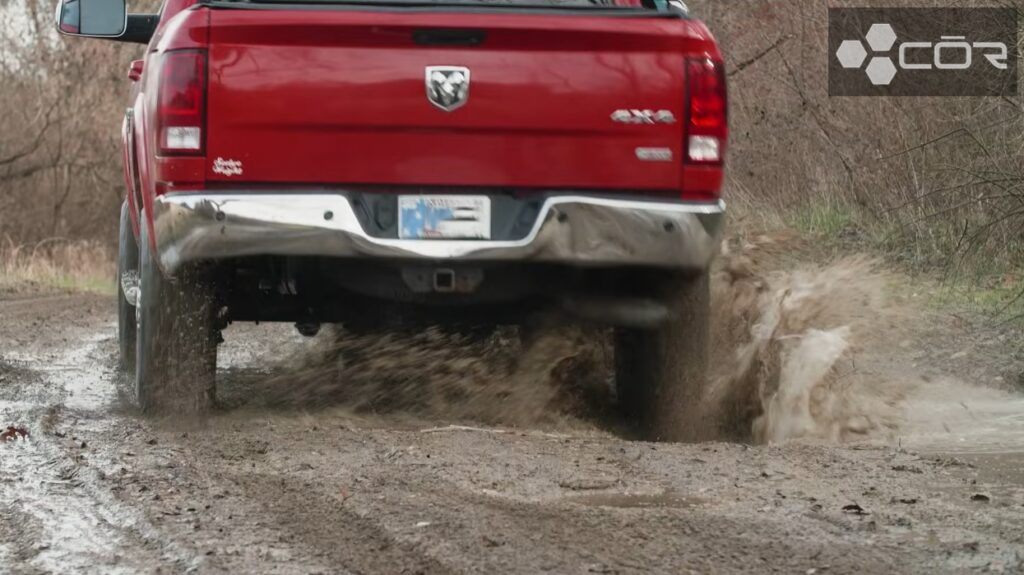 Clearly, accelerations were not really a choice (unless the mud was thinner). But in compensation, Vredestein Pinza A/T found its way around the terrains well once the tire-road connection had been established. Despite the very moody beginnings, the last few hours of our ride at 35 MPH became much more peaceful than expected.
4. Snow/Winter Performance: 8.9/10
Light Snow Traction: 9.2/10
Vredestein Pinza AT was a surprising delight on snow, gripping the terrain as strongly as it had been doing on dry pavements! The lack of dry cracks on snow (as often seen on regular roads) turned out to play in our favor, allowing the sticky compounds to settle in startlingly fast.
Needless to say, the rest of our trip was smooth – except for minor thuds on trudging snow packs, Pinza AT always stayed connected with the surface and did not let the contact patch slide off. With aided help from the multi-pitched tire patterns and sipes, we gained enough biting edges and momentum to bolt straight at 55 to 60 MPH, suffering from very little delay during the process.
On another note, we did think steering at narrower arcs should have delivered better, more instant feedback. The way the tire hesitated for 2-3 seconds before diving in felt unsettling for our team members, though nothing truly dangerous.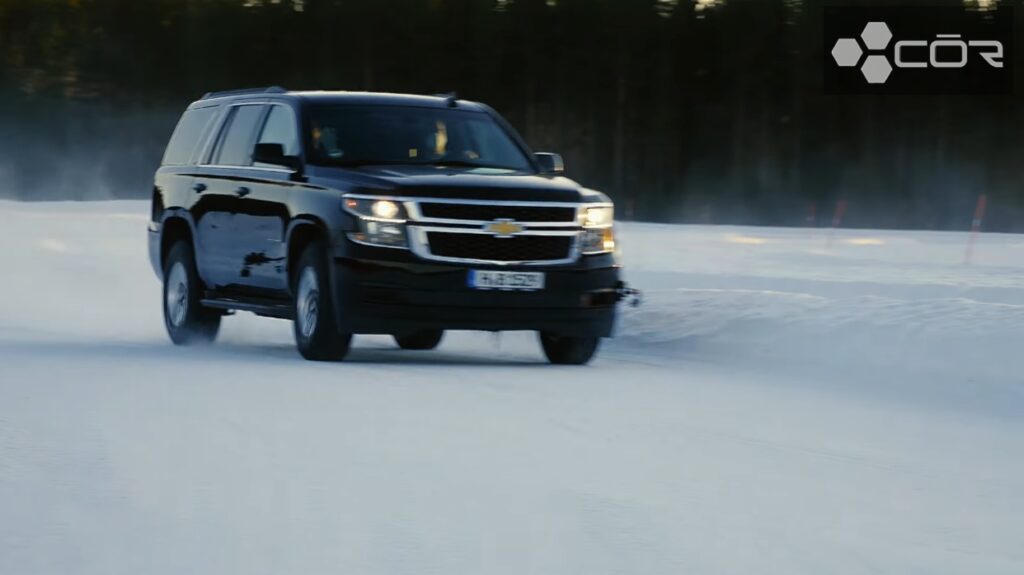 Deep Snow Traction: 8.9/10
Compared to light snow, we observed messier cuts during sweeping, consecutive curves or quick trips through rougher snow patches.
But in general, its consistent traction on deep snow was still fairly impressive, even more so than most off-road terrains we had tested. The multi-pitched patterns plowed through in an aggressive, dynamic manner, almost similar to a mid-range off-road AT tire.
Thicker snow beyond 11 inches took longer to get out of, but still played in our favor and seemed much less like a threat once we brought out snow chains. Accelerations to 60 or even 70 MPH were possible, although the shakings at the edge eventually made us rev back to 50 MPH – just in case.
Ice Traction: 8.3/10
Handling characteristics on ice were decent but significantly went down from the impressive snow traction.
Slippages were not just a faint, distant issue like with other terrains. They became frequent and much more immediate now, forcing us to keep our Ford between 25 and 35 MPH for better monitoring. Busting through 40 or even 50 MPH was not impossible – but only if we could ensure no tricky, narrow turns or corners lurked around for at least 500 feet ahead.
5. Comfort: 8.9/10
Ride Quality: 9/10
With a good tread design that walked the fine line between flex and stability, Vredestein Pinza A/T truly delivered with its exceptional ride quality.
The cushion feel was even better than some on-road tires (no off-road features included) we had tried in the past, and greased through large road imperfections with enough subtlety to keep most vibrations off the picture.
Provided enough preparation time before each corner entry, jostles and hiccups would not become a risk no matter the angle we aimed. We had tried out off-camber bends on both off- and on-road, and both generally felt bumpless.
Noise: 8.8/10
Not much to complain here; Vredestein Pinza A/T was one of the quietest all-terrain tires on-road we had tried during our test. Tire bead and tread noises were inaudible at 25 to 55 MPH, either muffled by the thick sipe-groove interlocks or whitened out under the engine noise. They did grow much louder from 60 MPH onwards, though.
6. Treadwear and Durability: 8.9/10
Tread depth seemed like a non-issue, at least judging from what it showed us during the 10-day test.
Considering the abuse the tire had been subjected to, the lack of constant overheating and fatigue was indeed impressive. Even after grinding on nasty, sharp rocks, no treadwear or shred was visible at the end of the test – unless we really counted the faint dents on the top due to sharp corner entries as external damage.
Vredestein Pinza AT Pros and Cons
Great traction on dry roads
Good directional grip on wet surfaces
Reliable light-snow traction and deep-snow footholds (comparable to winter tires)
Handles dirt, rock, and sand well; decent stone ejection
Tons of rubber touch on the contact patch; strong sidewall durability
Outstanding tread life
Smooth ride comfort and enhanced durability
Good edges and self-cleaning capability
Could have been better on ice or severe winter conditions
Road noises from 60 MPH onwards
Sometimes struggling on mud
Pinza AT Competitors & Alternatives
When competing against popular tire manufacturer models like Continental TerrainContact A/T and Firestone Destination A/T2, Vredestein Pinza AT showed both strong and weaker points:
Pinza AT beat the other two all-terrain tire competitions in terms of appropriate traction across all terrains we have tested, even deep snow or ice. But its water evacuation capability – while still good – could have enjoyed more support.
Continental TerrainContact offered athletic steering that ticked all the boxes for more spirited driving. However, our team would love a slight increase in comfort and impact handling.
Firestone Destination AT2 rolls over bumps smoothly with very responsive handling. We wish it would display the same polished manner at sharp corners or tight bends, though.
Conclusion
Pinza AT exhibited clear struggles on mud terrains and suffered higher skidding risks on ice terrains. But most other on-road all-terrain tires were no better in this regard (if not worse) – and not to mention, Pinza AT's road capabilities excelled in almost every other weather condition.
Hence, it is definitely one of the best on-road AT deals available on the tire market at a reasonable price range from our Vredestein Pinza AT tire review. Unless you wish for a sportier riding style, it should suffice as a cozy tire for on-road, occasional off-road, and winter conditions for your car and light truck all year round.
Vredestein Pinza AT
PRICE
SOLD BY

Offers

In Stock

Offers

In Stock

Offers

In Stock

Offers

In Stock
---
President & Automotive Expert at COR Wheels
Robert Herrera has been with COR Wheels for 17 years and has a great passion for the automotive industry. During his time at COR Wheels, he has driven and test-driven a variety of vehicles.
---