A tire produced by Bridgestone, Ecopia EP422 Plus is expected to continue the brand's tradition of good handling and great all-season traction. However, our real-life test on this all-season tire revealed numerous alarming drawbacks, which we will explain further in the review below.
In this article:
Bridgestone Ecopia EP422 Plus Specifications & Features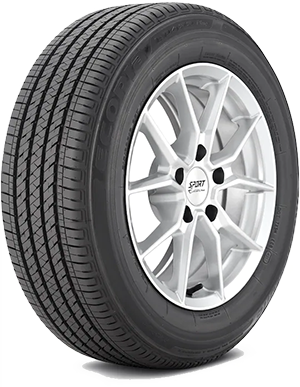 Tire Type
Grand Touring All-Season
Tire Size
15″ – 18″
Weight
17.0 LBS – 27.0 LBS
Load Index
82 – 100
Load Range
SL – XL
Speed Rating
– H: up to 130 mph
– V: up to 149 mph
Warranty
70,000 miles
Ratings
6.7/10
The Bridgestone Ecopia EP422 Plus is developed for small crossovers, minivans, sedans, and coupes that seek fuel economy, good handling, low rolling resistance, and reduced CO2 emissions:
The compound features the exclusive NanoPro-Tech, which minimizes energy loss and rolling resistance. It also helps your car maintain all-season traction.
Its symmetric tread pattern combines intermediate ribs, independent central blocks, and notched shoulders to optimize dry traction.
The sipes and notches also create more biting edges on light snow, while the circumferential grooves help displace water to reduce hydroplaning.
Each sidewall features the Fuel Saver compound for better fuel efficiency.
Twin steel belts (spirally reinforced by wrapped nylon) cover a polyester casing to balance durability and riding comfort.
Bridgestone Ecopia EP422 Plus Review & Performance Test Results
Our team installed the Bridgestone Ecopia EP422 Plus (215/45R17 tire size version) on our 2017 Toyota Prius as part of the 2023 COR Wheels Tire Test.
1. Dry Performance: 7.6/10
Dry Traction: 7.8/10
The NanoPro-Tech indeed lowered rolling resistance, but we found it most effective in casual, low-speed rides below 45 MPH.
The tire didn't falter during our acceleration and deceleration within the 30-45 MPH range. Still, any number beyond this seemed too much for the tire, evident in the constant shuddering and drifting on straight roads. You might not encounter too much danger or risks of collision if you keep your push-pull consistent, but fresh beginners will definitely find themselves struggling when making sharp turns or correcting skids.
The EP422 Plus does not grip well on rough mountain passes and cobblestones, either; it is only somewhat tolerable when you travel very slowly with little to no cargo. This lack of confidence likely persists on highways and worsens during extended curves, so you should not try anything too aggressive here.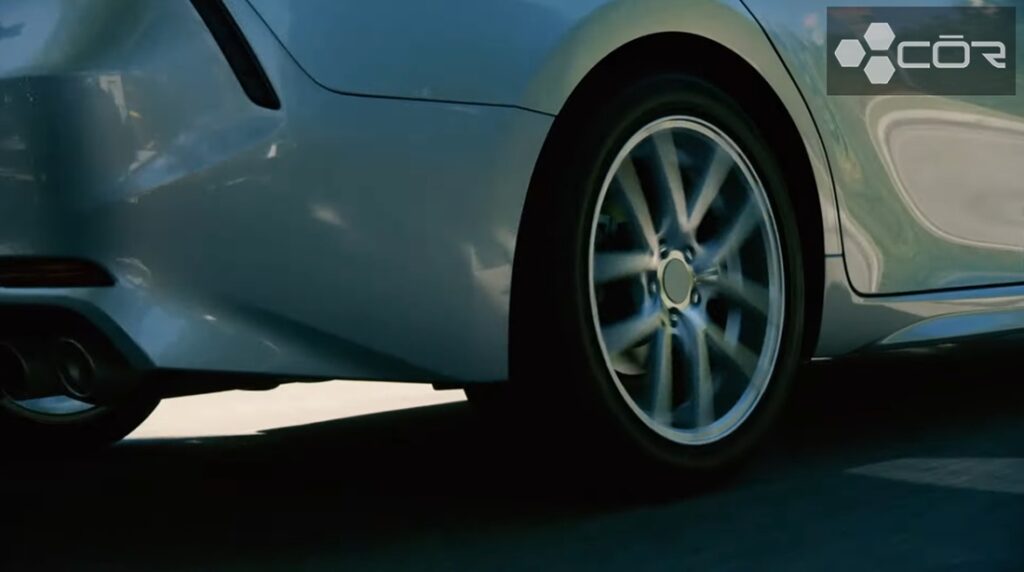 Corner Stability: 7.5/10
Despite being a Bridgestone tire, the EP422 Plus's cornering was frankly disappointing. The on-center and intermediate ribs did not combine as well as we expected, so the sidewalls still shook/wavered as we tried to increase our speed at corner entries.
Thus, your car will likely encounter lots of drifting when you try to accelerate or decelerate mid-way. Not to mention, the tire's thudding after hard braking makes it quite difficult to carry 300 lbs of cargo or 3-4 passengers through tighter corners.
Needless to say, dynamic or high-speed maneuvers are quite risky (though still possible for seasoned drivers). The safest choice is to stay within the 20-30 MPH range.
Steering Response: 7.5/10
Our team was not impressed with the EP422 Plus's steering response.
Its performance was decent in basic driving situations and on non-twisty roads – but even then, occasional delays still occurred when we tried to rev higher or navigated sudden roadblocks. The EP422 Plus struggled even more around corners and barely aligned with our inputs as we climbed hills or moved onto bridges, resulting in heavy drags when the extra loads on our car exceeded 400 lbs. If you are not confident, do not use this tire on heavy-traffic roads or winding paths with too many twists and blind curves.
2. Wet Performance: 6.9/10
Wet Traction: 6.8/10
The sipes and notches lost almost all their power in wet weather conditions. Our car could barely stay balanced in moderate/deep water (beyond 5 inches deep) and became slightly more stable in shallow puddles. So, we believe higher speeds than 30 MPH can cause a lot of drifting. While experienced drivers can still manage this, it will certainly throw beginners off-guard.
Even gentle corners are very risky here, especially in heavy rainstorms where you can hardly see anything under the downpours. Avoid them altogether, or drive as slowly as possible (and use hard braking when necessary).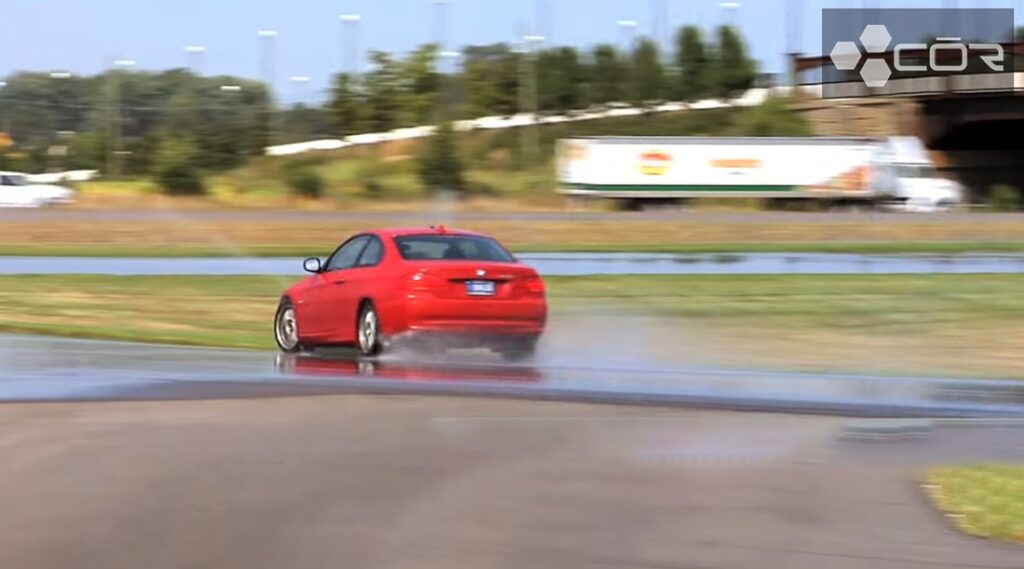 Hydroplaning Resistance: 7/10
Hydroplaning is not too disastrous when you keep your driving rates below 20 MPH on well-paved roads.
Unfortunately, the EP422 Plus's grooves failed to distribute water quickly and evenly in any other situation, resulting in a thick layer of water below the footprint that dampened the tire's stability. You should also brace yourself for heavy tire drags when ascending or going through tightly spaced curves.
3. Winter/Snow Performance: 4.8/10
Light Snow Traction: 5.8/10
None of the grooves and sipes worked well on lightly snowy roads (below 4 inches deep) as advertised. The tire dragged and shuddered so horribly that even strong snow chains could not stabilize them on straight roads. 
Cornering or spirited riding on highways is even more dangerous, so you clearly cannot experiment with many steering techniques here. The safest choice is to keep the car between 10 and 15 MPH on straight, non-twisty roads while removing all unnecessary luggage and cargo.
Deep Snow Traction: 4.7/10
Thicker, deeper snow reduced the EP422 Plus's traction even more; our car almost stalled without exhausting push-pull, and we had to pull over after only 4 miles.
Worse, the tire could not resist cold temperatures and snowmelt, leading to frequent and very annoying response delays. If you must still travel for long hours through these terrains, we recommend stopping every 30 minutes to let the tire recover properly.
Ice Traction: 4/10
The EP422 Plus struggled even on light snow, so its poor composure on ice was no surprise. We had to drive very carefully at 10 MPH, maintain consistent steering, and remove every extra load, yet the tire still exhibited shaking and sliding.
After 2 miles, steering responses became so muted that our test had to conclude earlier than expected. So, you should avoid using the EP422 Plus on any icy roads.
4. Comfort: 7.3/10
Ride Quality: 7.6/10
Even when we drove slowly, the tire still jostled and vibrated a lot, only getting more stable and less quivering once our car moved onto well-paved roads. The EP422 will shake on large road bumps if the car is loaded with cargo or you accelerate abruptly. Also, it's clearly not meant for long trips on rougher mountain passes.
Noise: 7/10
There is hardly anything to praise about the EP422 Plus's noise control.
The noise was somewhat tolerable during our casual rides, but it became unpredictable and frequent. While most Bridgestone tires tend to grow quieter the longer you ride, the EP422 Plus's tread noise appears to remain annoying regardless of your steering input. If you are noise-sensitive, this might be a major turn-off.
5. Tread Life and Durability: 6.9/10
The EP422 Plus failed to distribute water in the wet season, struggled with high-speed rolls over rougher surfaces, and stiffened on snow and in cold weather.
Needless to say, the tire will not last as long as other touring tires we have tested; its only noteworthy competitive advantage is the generous 70,000-mile/5-year warranty (for selected tire sizes).
Bridgestone Ecopia EP422 Plus Pros and Cons
Reliable traction during casual rides in dry road conditions
Budget-friendly
5-year/70,000-mile treadwear warranty
Disappointing in wintry conditions and on wet surfaces
Noisy
Underwhelming ride comfort and tread life
Conclusion
Given the simple design and disappointing traction in snow/wet conditions and on rough surfaces, the Bridgestone Ecopia EP422 Plus is most suitable for low-speed rides on well-paved roads with little to no cargo. Its affordable pricing is another bonus if you want to save your money.