Continental has paid equal attention to both on-road and off-road venturing, and its TerrainContact AT is one of the brand's most recent successes. The model still incorporates basic features for daily driving, while entailing extra technology to give drivers more off-road capabilities.
After the conclusion of our annual COR wheels tire test, a full review has finally been released in a detailed discussion of the tire's traction and review, and ratings. Scroll for our analyses and recounts!
In this review:
Continental TerrainContact A/T Specifications & Features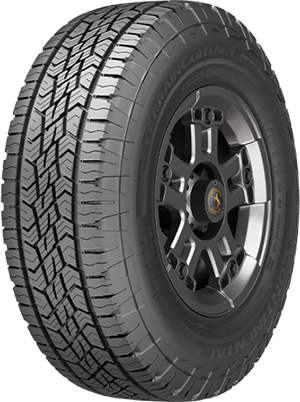 | | |
| --- | --- |
| Tire Type | On-Road All-Terrain |
| Tire Size | 17″ – 22″ |
| Load Range | XL – SL |
| Speed Rating | H: Up To 130 Mph |
| Warranty | 60,000 miles |
| Ratings | 8.5/10 |
TerrainContract A/T introduces Silane compounds molded into stable tread blocks for all-terrain compatibility. Its open grooves help with traction improvements on off-road paths, while the closed shoulders and stable blocks provide better wear resistance and longer tread life.
Extra +Silane additives also increase wet-weather grip, aided by full-depth sipes and block-edge slits in enhanced stability. The cherry on top is the tire's internal construction introducing quality steel belts (with high-tensile coats) and polyamide two-ply casing reinforcements, whose combined power protects the tire from integrity compromise.
Continental TerrainContact A/T Review & Performance Test Result
Our team experimented with the 265/60R18 TerrainContact AT tire size on the 2022 Ford F150 models for ten days during the 2023 COR Wheels tire test. Results were as follows:
1. Dry Performance: 9/10
Dry Traction: 9.2/10
The tire's dry traction truly lived up to word of mouth. Its Silane technology delivers a graceful combination of slick additives and stiff compounds, manifesting stable dry traction that did not tiptoe our team to the verge of flex uncontrol. There was a natural yet confident feel in the way the rubbers enveloped our contact patch, leaving little room for awkward stutters.
Our test ride started at a friendly rate of 30 MPH and navigated through straight-line lane changes with no significant problems. Hence, acceleration began to rev up only 1 hour into the professional tire test, as we gradually sped up until the car straight-up crossed the 75-MPH milestone. The cushioned and assuring grip did not falter even then, except for a little panic when the Ford entered sharper curves.
Deceleration from 75 MPH back to 30-0 MPH for intersection merges occurred just as seamlessly. TerrainContact A/T seemed unfazed by our impromptu, almost wild steering control, landing at its full stop with an effortless and neat refinement that we did not see often on Ford F150 tires.
After very brief delays (1-2 seconds), the car eventually picked up its composure and joined other vehicles in the line with little to no drama.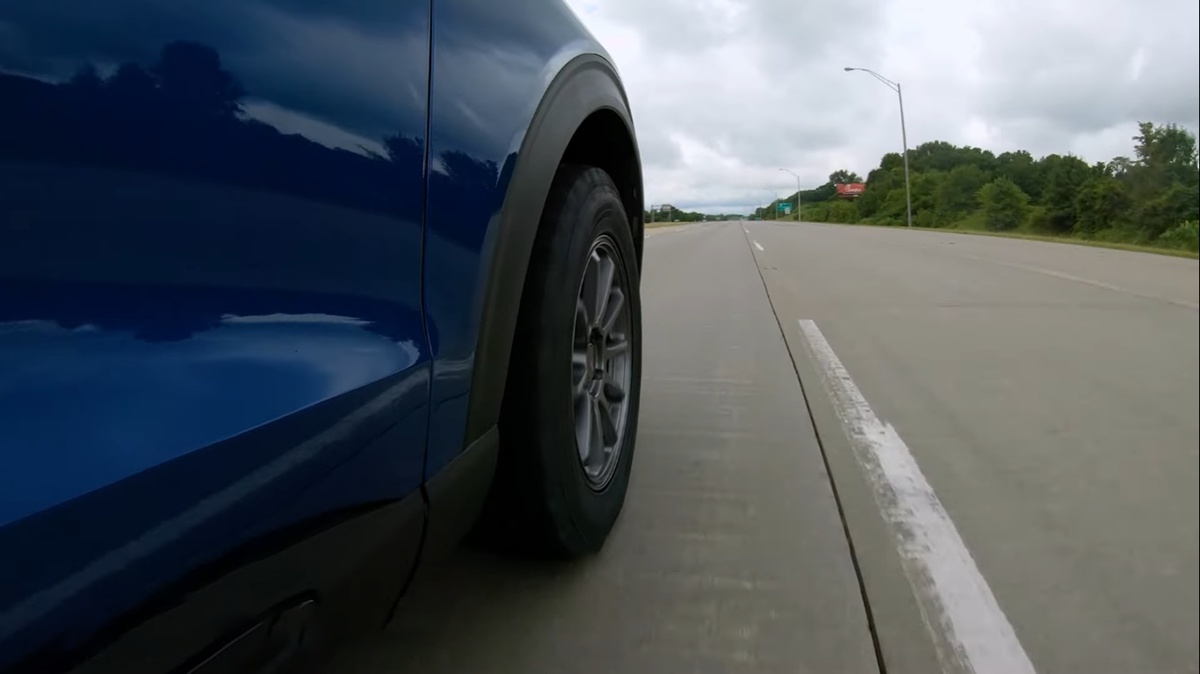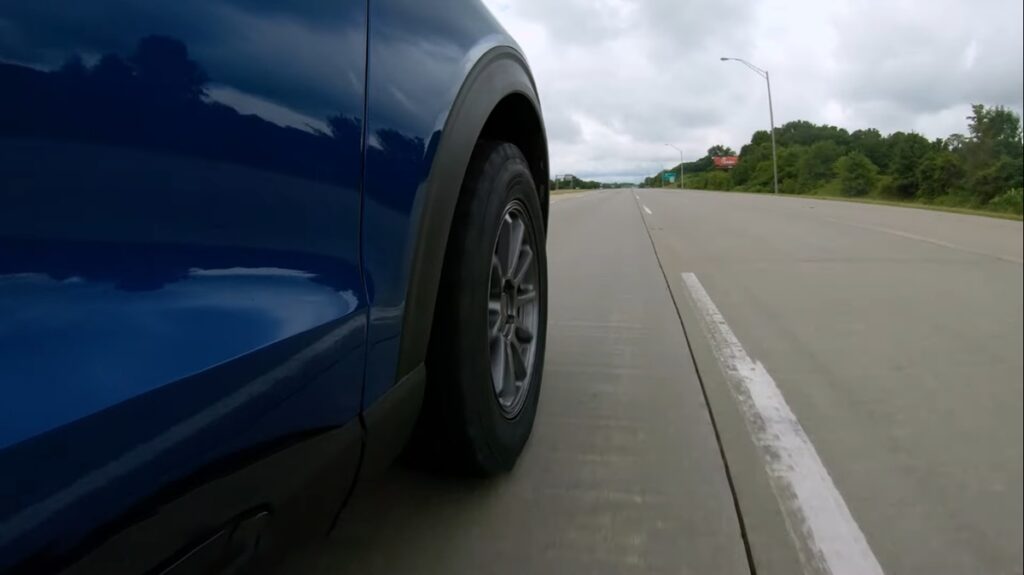 Corner Stability: 8.9/10
TerrainContact A/T's corner stability exceeded many other competitors in our test. Its stable center and sturdy internal casings played a huge part in this achievement, ensuring our car did not cross the fine line with excessive over-leaning.
Maneuvering through dry paved surfaces amidst intense traffic was a breeze at 45 MPH and even easier when we drove onto highways. TerrainContact A/T showed little struggle making wide, sweeping angles at longer curves.
Better yet, traction sharpness even seemed to pick up each time we raised the driving speeds, quickly embracing the new asphalt terrains to put our anxious new members at ease.
What took a few points from these A/T tires was how they handled back-to-back switchbacks. One or two sharp turns were fine – but give the tires more than that, and they would start showing clear symptoms of fatigue. And when cornering at slow speeds, our team member could feel the sidewall a bit soft.
Steering Response: 8.9/10
Like corner stabilities, A/T's steering response was also considered among the top of its own class. Its reactions were crisp and swift at most angles and reflected our inputs in close alignment. (though that was a double knife; we had to be very precise with how we controlled the wheel in the first place).
During our test rides, our team faced no trouble staying centered and poised through long hours of highway travel; TerrainContact A/T delivered sufficient stability and grippy feels while also allowing generous degrees of mid-way adjustments. For instance, we could gently turn the wheels to counteract edge drifts or apply subtle force to the center part for more speed balance.
Obstacles and intruding vehicles/passersby were a constant presence on regular roads, and once again, TerrainContact did a good job sidestepping them. With slight speed revs and lower-arc wrist angles, we managed to glide around the roadblocks on these tires in just one decisive, clean cut; the advanced rubbers bent well under pressure and barely jostled even at our abrupt, unannounced steering.
There were still drawbacks, however: the way the steering bumps announced their presence loud and clear at 75-80 MPH on rugged patches did throw us off guard.
2. Wet Performance: 8.8/10
Wet Traction: 8.8/10
Its performance was not as good as dry traction, but still enough to land around the top 4 of our on-road all-terrain test.
Communications between the grooves and road patches remained consistent despite the intruding water – not that it could stay there for long, anyways. The open grooves have worked quite well in distributing and redirecting the water flow from our tread area, keeping us firmly planted.
Gentle road curves had much lower water depth than the rest, so our ride started from there. As the tires managed themselves well at 30 MPH straight with very few disruptions, we decided to raise the bar and changed directions into tighter bends – while increasing the driving rates to 60 MPH.
This time, the water sputters felt a bit more forceful and pronounced, jerking the A/T tire slightly backward. Fortunately, things were still in good control, and we managed to bounce back in seconds thanks to the strong, grippy silane compounds.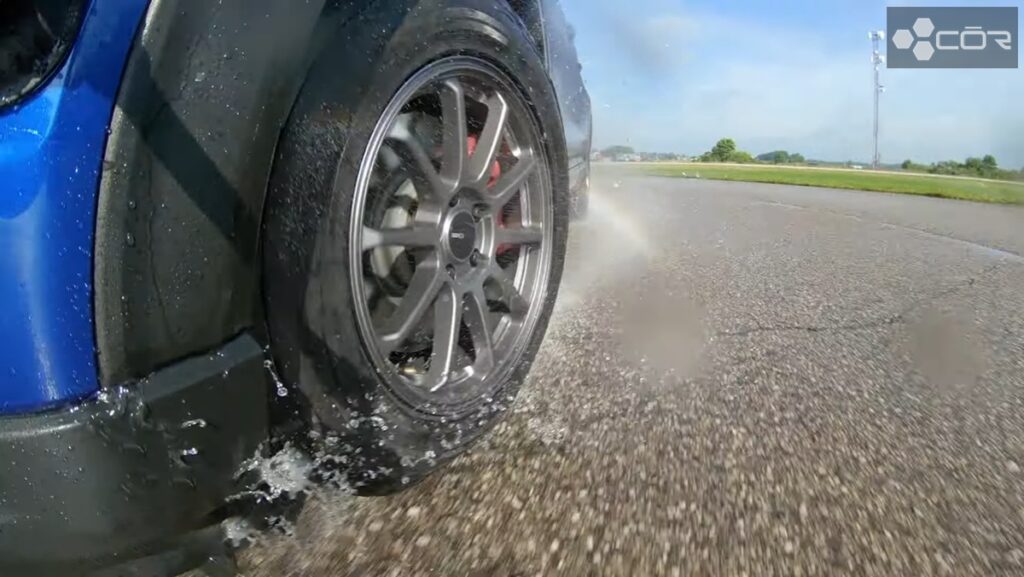 Hydroplaning Resistance: 8.8/10
Continental delivered trusted, quality aquaplaning resistance with its TerrainContact A/T.
As briefly mentioned in our wet-road traction assessment, rainwaters could not linger around for long. The slick +Silane additive made it hard for them to infiltrate, causing these liquid substances to be flung out before fully sinking into the rubbers. Hence, our Ford F150 tread confidently forward, only suffering from minor hiccups and fatigue after long rides.
Better yet, unlike other all-terrain tires that encounter higher hydroplaning risks during greater speed heights, the same did not really happen to TerrainContact. Its block angles were not world-class but low enough to keep water at bay, even during our particularly tight cornering attempts at accelerated 60 MPH. By the time we reached 70 MPH, it gave us a sense of "floating on the road," though.
3. Off Road Performance: 8.2/10
Dirt Traction: 8.6/10
A/T's performances on off-road dirt delighted and surprised us, as the ratings were only slightly behind its own wet road traction. The slits and full-depth sipes lacing each other seemed to lend our road tires better connection points and flexibility than average, which allows the already-versatile Ford to conform better to terrain irregularity.
We maneuvered as cautiously as possible through rougher, twistier off-road trails at less than 30 MPH. Pooled-up dirt did stall the tires a little but quickly got smoothed over, delivering a satisfying "crunch" sound that informed us of the grippy, communicative tire-road contact.
Crawling over boulders was just as convenient, though not without minor grip loss due to uneven surface textures. Speeding up to 40-50 MPH while keeping the steering wheel firmly grounded solved this issue for us just fine.
Rock Traction: 8.2/10
Struggles were much more obvious on rock traction. TerrainContact groove designs are still biased towards on-road terrains, after all, causing our tire compounds to take much longer to adapt themselves to the erratic rock-filled patterns.
But the good news was that the average traction did get better after 30 minutes to 1 hour of driving. It was now used to the extra pressure and stopped jerking/protesting whenever our steering took a more aggressive turn than the last.
The tire proved stable on roads with mixed small rocks at 55 MPH, but surpassing that showed signs of drifting. On tamer sections, TerrainContact learned to embrace the rock's stable base, leafing itself more confidently from one anchor point to the next at 50 MPH.
However, sharper rocks remained a threat. The risks of cracking/leaky tires around these rocks were very high, forcing us to slow down to 25 MPH for better roll monitoring.
Sand Traction: 8.1/10
Although not without minor lags and delays, TerrainContact's sand traction was still one of the tire's strongest off-road assets.
The even-spaced grooves – which had allowed rainwater to glide so smoothly – reapplied the same working mechanism on sand flow now. Large contact areas also did a great job spreading the rubber out to reduce concentrated pressure, keeping our heavy Ford from sinking deep into the sand particles.
Thus, given cautious and surefooted driving, we could retain overall performance as smoothly as on dry roads. But to accelerate to 50 MPH after passing danger zones, we had to deflate the tires a bit.
Removing extra cargo from our trunk also improved grip capability; with fewer risks of biased weight distribution and a more stabilized center, our Ford almost felt like soaring over the sandy masses. By the way, wet sand is not something this tire can handle, as we tried and failed.
Mud Traction: 7.7/10
Continental tires' mud performance is so-so, which allowed us to drive through a muddy path of about 4 inches smoothly. But as we entered a road with more than 8 inches of mud mixed with clay, our Ford F150 got stuck annoyingly more often than we would have liked, having to take 4-5 extra seconds to shrug itself off completely before moving forward. When we escaped from that disaster, there was even more than 3 inches of mud clinging to the tires.
And even without the constant bumps and vibrations, the sticky feeling underneath the rubber was already more than unpleasant. Despite our attempts to accelerate mid-way, it still felt like we could be glued to the terrain at any time.
Worse, the small rocks, debris, water residues,… littering on muddy surfaces gave TerrainContact even more tasks to deal with, leading to the rubber's total fatigue by the time we got to our destination.
4. Winter/Snow Performance: 7.6/10
Light Snow Traction: 8.2/10
Continental TerrainContact AT performed the same on light snow as on off-road sand. The only major difference is that snow has much lower melting points and hence, slipped off our tire grooves more easily.
Jostles and shudders on Ford F150 were constant yet within control. They did become less frequent when we kept our tires moving at an unchanged 50-55 MPH speed with snow chains tightly wrapped.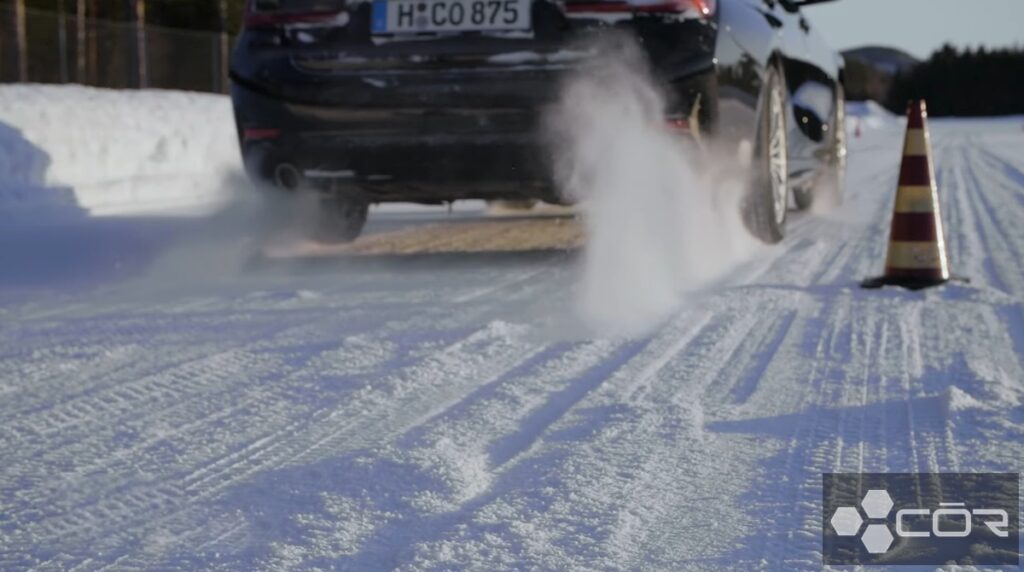 Deep Snow Traction: 7.7/10
Entering deep snow zones beyond 7 inches was like a war declaration for tires like Continental TerrainContact. Compact, hard snow loitered stubbornly on the rubber tread elements, threatening to put our car in a compromised situation if we did not maneuver around them on time with the steering wheel.
Putting snow chains on did help a little, but not enough to stop the jiggles and violent thuds. Hence, our team decided to sacrifice riding length for smoother rides by reducing our rate to 20 MPH – which extended the test ride 3-4 hours longer than planned.
Ice Traction: 6.9/10
The tire performed very disappointingly on ice terrains – but considering how it had to wrestle itself on snow, we did not feel taken aback.
Unlike other terrains, our team did not dare experiment with speed fluctuations and only stayed faithful to 20-25 MPH throughout the rest of the ride. Even then, slippage was still a major threat.
5. Comfort: 8.7/10
Ride Quality: 8.6/10
All of us were generally pleased with TerrainContact's ride quality.
Jostles and delays were there but far from a looming presence. The Silane compound rolled over notable road surface cracks with so much certainty that we only noticed them when things were already over. Furthermore, given accurate steering input, sharp turns and corner arcs rarely made our tires waver – except for sudden acceleration at beyond 70 MPH.
Noise: 8.7/10
With Vredestein Pinza AT as the only exception, Continental TerrainContact beat every other tire we have tested when it comes to noise control.
Even violent thumps over pavement grooves only resulted in low thud noises that were quickly swallowed under the compound. Our road ride was the quietest when kept below 50 MPH, but accelerations still did not seem to damper the noise control much.
6. Treadwear and Durability: 8.5/10
There was little treadwear change by the time our COR wheels test tide concluded.
Some of our team members did not like the microcracks littering the surfaces. However, considering that the tire had been subjected to too many terrain changes, this drawback could be tolerated to a certain extent.
TerrainContact A/T Pros and Cons
Great dry and wet traction; good road dynamics
Smooth, comfortable ride with little noise
Decent roading performance on off-road dirt/snow-covered roads
Bad on ice and mud conditions
Steering bumps at 75-80 MPH
TerrainContact A/T Competitors & Alternatives
Firestone Destination A/T2 and Vredestein Pinza AT are considered the biggest rivals of Continental TerrainContact A/T tires.
The Continental tire outperformed the other three with a more athletic steering feel in dry and wet weather. Some of these strengths even translated to a certain extent to dirt/light snow traction. Still, some of the sideways slidings might be annoying.
Firestone A/T2 fared better than its competitors in terms of responsive handling, facing no qualms over bumps or tight corner angles. But on deep snow/ice, its braking distance felt short.
Vredestein Pinza took the crown in riding comfort thanks to the refined traction response on dry pavements. At the same time, better steering and wet grip increase would be welcomed.
Conclusion
Our Continental TerrainContact A/T tire review has revealed that with excellent dry and wet traction, good treadwear, and very comfortable rides, this tire is a great choice for on-road performance.
For those wanting more off-road traction, though, you might be disappointed: the tire carried decently on dirt and dry sand but was underwhelming on all other terrains, and deep snow is also a no-go.
Continental TerrainContact A/T
PRICE
SOLD BY

Offers

In Stock

Offers

In Stock

Offers

In Stock

Offers

In Stock

Offers

In Stock
---
President & Automotive Expert at COR Wheels
Robert Herrera has been with COR Wheels for 17 years and has a great passion for the automotive industry. During his time at COR Wheels, he has driven and test-driven a variety of vehicles.
---