Like most on-road all-terrain tires, Pirelli Scorpion ATR introduces numerous promising benefits to the table: better stability, capable off-road performance when it is due, and long treadwear. Our annual COR Wheels Tire Test revealed other aspects not mentioned by the brand, though, and whether that is a good or bad thing will be discussed in the following tire review.
In this article:
Pirelli Scorpion ATR Specifications & Features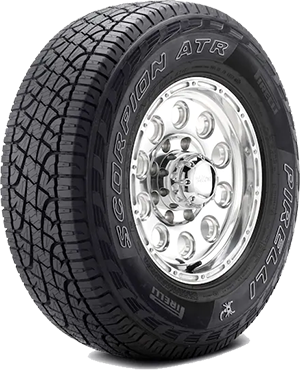 Tire Type
On-Road All-Terrain
Tire Size
15″ – 24″
Weight
25.0 LBS – 67.0 LBS
Load Index
96 – 121
Load Range
C1 – XL
Speed Rating
– H: up to 130 mph
– V: up to 149 mph
Warranty
50,000 miles
Ratings
7.7/10
Pirelli Scorpion ATR aims to master long journeys and wet/winter road challenges by combining regular comfort with rougher terrain grip for SUVs, light trucks, and pickups:
Silica tread compounds (molded symmetrically) with stable shoulder blocks and continuous center ribs provide steering response and directional stability.
Interlocked blocks offer acoustic comfort, while lateral and sweeping central grooves resist hydroplaning.
Independent, siped locks offer extra off-road biting edges on snow and loose surfaces.
Steel belts and nylon cords (spirally wrapped) give the higher-speed control and handling more predictability.
Polyester cords secure the sidewalls.
Pirelli Scorpion ATR Review & Performance Test Results
We used the 255/70R16 tire size version of the Pirelli Scorpion ATR on our 2018 Jeep Wrangler, which is a part of the 2023 COR Wheels Tire Test.
1. Dry Performance: 8.6/10
Dry Traction: 8.8/10
Our Jeep worked as expected on dry pavements.
Initial bites were a bit weak and took a few seconds to truly settle, but most of the time, Scorpion ATR connected well with our driving terrains and did not deter much of its road confidence when speeds gradually changed back and forth. As the road texture finally curved into the contact patch after one hour of driving, stutters were flattened out and eventually disappeared.
Trips to canyon roads grew bumpier due to the constant, back-to-back ascents and drops, but nothing truly out of ATR's control. Decisive turns of the steering wheels and punctual decelerations at particularly slippier patches allowed us to retain most of the previous pavement traction. We did encounter more jostles when handling S-curves, but they could be tactfully handled by alternating between 2nd and 3rd gear.
However, spirited driving with accelerations beyond 60 MPH or sharp steering arcs (or both) did not sit well with ATR's slightly soft shoulder blocks. Whiplashes were not dangerous, but enough to shake some members out of their seats if unprepared.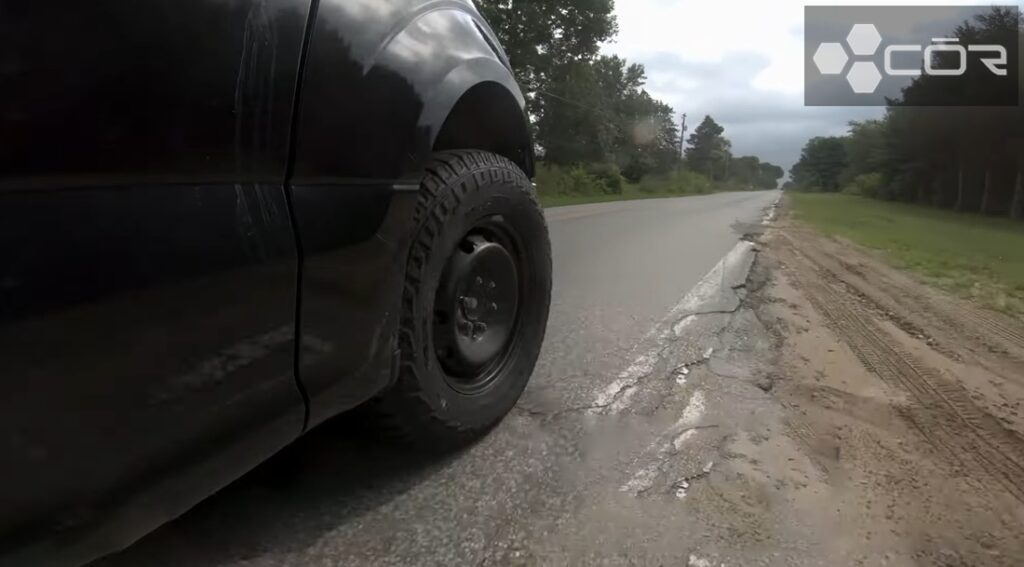 Corner Stability: 8.4/10
The center ribs did what they were supposed to: cornering attempts were not exactly the most bumpless but very peaceful and predictable, with no jostles, hiccups, or panic reactions often seen in less-quality models. Gradual accelerations were totally within reach, breezing us through 30 to 50 MPH even at slightly tighter corners.
On another note, we felt like the sacrifices of tire wall flex (in exchange for stability) were a bit overdone. It was not that noticeable on regular streets but struck oddly out of key when our car navigated to highways, stuck dead on the spot at back-to-back switchbacks. This rigid, almost dull composure kept us from achieving a bit of wilder fun with the angled leans.
Steering Response: 8.5/10
There was nothing revolutionary about ATR's steering, but it did its job. Responses and inputs were not always closely aligned but hit the right notes in the right places, allowing us to be kept within safe territories in the most basic endeavors like gentle turns, lane changes, parallel parking, or reversing.
But like most AT tires in the lower ends, this tactful response kind of slipped away along with our speed increase. And the more abrupt the strike was, the more panic ATR became, struggling to balance powerful driving forces with flexible margins. It had to be handled very carefully with at least five seconds of preparations ahead.
2. Wet Performance: 8/10
Wet Traction: 8.1/10
ATR was decently good, though it admittedly did not have the best brag. With water as shallow as 2-3 inches, we could already sense minor, nervous stutters at the edges that grew more pronounced at corner entries. They were still manageable and not disruptive, of course, but gave us a bad vibe about what might happen in much heavier downpours.
And we were right; mid-downfalls in flowing water beyond 4 inches, slippage became a constant, annoying presence. Revving down to 35 MPH solved parts of the issue in straight-line driving but could not keep the hiccups at bay when dealing with tighter crooks. One silver lining: they were thankfully not dangerous for seasoned drivers.
Hydroplaning Resistance: 8/10
The central and lateral grooves could still handle drizzles/thin water well and even managed to squeeze out extra grip when we alternated between heel-toe techniques and trail braking. Accelerations did not come without minor drags but carried on pretty smoothly otherwise.
It was at water beyond 4 inches or mid-downfalls where hydroplaning truly came around. Scorpion ATR's less-than-impressive wet grip was to blame for its hydroplaning. The contact patch often slipped despite our effort to maximize the entire tire width during grip maintenance, and low-radius cornering invited more rainwater in than we would have liked due to the lackluster sidewall angles.
3. Off Road Performance: 6.6/10
Dirt Traction: 7.2/10
Pirelli Scorpion ATR only grazed the barest hint of decency on off-road dirt. The contact patch did a surprisingly good job connecting with our terrains but lacked the required durability to keep that confidence longer. As a result, our tire went smoothly for the first 15 minutes of the ride but started to spiral afterward.
Keeping the tire at 30 to 35 MPH seemed to be the peak of its performance – and even then, stutters and slippage still came around. Surges beyond 40 MPH sent our car down the hole even on wide, straight paths – so needless to say, tackling tight crooks was unlikely to succeed without push and pull.
Rock Traction: 6.8/10
Performances on rocky traction were very unpredictable, treading on effortlessly in one moment and tripping over air in the next. We had high hopes for the interlocked blocks but it turned out they did not do much, only buffering out in weak protests whenever the rubber trampled on sharp rocks.
Traction loss started at the very first few minutes and dragged on as the Jeep carried on. By the conclusion of our test, the driving rates were reduced to less than 15 MPH.
Sand Traction: 6.6/10
Despite the brand's claim, the independent siped locks gave us almost no extra bites on loose terrains like sand.
If there were any, it was hard to notice amidst the violent shakes and jostles. Our team members started low at 15 MPH just in case, and still had to slow down to 10-12 MPH after getting stuck at rougher buildups. Frankly, it was hard to find any significant competitive edge.
Mud Traction: 5.8/10
Scorpion ATR was downright unrideable on mud terrains. It could somehow cope with occasional muddy patches littered on dry light off-road dirt roads – the only thing we could consider a positive – but skidded and squeaked on any other road surfaces. Wet mud post-rain was even worse, losing so much grip that we had to pull over after 30 minutes.
4. Winter/Snow Performance: 6.6/10
Light Snow Traction: 7.2/10
Nothing exceptional; but given the tire's horrendous off-road capabilities, we were thankful that at least it was still rideable on light snow with slow, leisurely approaches at 35MPH. Hiccups were more common at corners, wet snow, and when maneuvering around roadblocks, but they remained somewhat polite during the rest.
Still, angled roads with steep ascents or descents were not best friends with ATR; even with snow chains, the constant drags and lack of stability felt very obvious.
Deep Snow Traction: 6.5/10
ATR could still march forward (with lots of difficulties) on snow below 6 inches but stalled horribly otherwise. We cast accelerations aside in favor of consistent driving rates (15 MPH) to reduce grip loss, yet our Jeep kept drifting. Needless to say, on mountain passes or canyon roads with tight curves and close-spaced crooks, they could not survive more than 20 minutes.
Ice Traction: 6.2/10
Judging by the squeaking sounds at the initial grip, it was clear ATR and ice terrains were not meant to be. Almost every other competitor in our list beat ATR by a long slide due to its significant lack of on-center feel (despite the continuous ribs) and failure to cope with cold temperatures. Straight-line driving on on-road pavements at 15 MPH was our best attempt.
5. Road Comfort: 8.2/10
Ride Quality: 8.1/10
Scorpion ATR was on its best behavior on dry roads, handling bumps with less grace than higher-end models but enough to make regular driving tolerable. Unfortunately, the tire started to get bumpier on dry roads, shook around the edges on loose terrains, and spiraled straight towards the hellhole in winter snow and ice.
Noise Level: 8.4/10
Its noise control was surprisingly good given the circumstances. It slurped more often than not on wet terrains, off-road dirt/mud, and ice, but behaved on most dry surfaces. Accelerations towards 55 MPH gave off low rumbling that got more pronounced with sharper flicks of the wrist, but within control.
6. Treadwear and Durability: 7.9/10
The tread had not yet cracked after a mere 10 days of testing. Still, judging by the way it literally crackled on rugged patches and gave off sizzling noises traversing on hot pavements, we suspected it would likely start to wear down if we continued our test on off-road and snow terrains for, say, several months.
Pirelli Scorpion ATR Pros & Cons
Pretty good dry traction
Good noise control
Could handle water below 4 inches
Affordable
Struggling on off-road and winter snow/ice
Very underwhelming tread life and ride comfort
Wet grip could have been better
Conclusion
The Scorpion ATR suffices in dry/wet roads and non-challenging terrains with tolerable debris and mud; and if the weather is favorable, it can be passed off as a short-term winter tire (little to no snow with no rain).
But from this Pirelli Scorpion ATR tire review, it underperformed in most road situations and was not the best tire offering on the market when it comes to off-road and on-road dynamics alike.
Pirelli Scorpion ATR
PRICE
SOLD BY

Offers

In Stock

Offers

In Stock

Offers

In Stock

Offers

In Stock

Offers

In Stock
---
President & Automotive Expert at COR Wheels
Robert Herrera has been with COR Wheels for 17 years and has a great passion for the automotive industry. During his time at COR Wheels, he has driven and test-driven a variety of vehicles.
---