As one of the most trusted tire brands worldwide, Michelin consistently delivers premium performance and innovations.
The Defender T+H represents Michelin's play as a refined yet capable all-season touring tire. With a focus on comfort, longevity, and grip across varying conditions, Michelin claims it strikes an optimal balance.
But does the Defender T+H live up to its promises of sports car handling, 80K mile tread life, and a serenely quiet cabin? Our extensive testing and tire review cuts through the marketing claims to reveal how it truly performs on real-world roads.
In this article:
Michelin Defender T+H Specifications & Features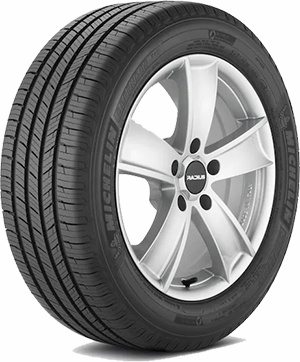 | | |
| --- | --- |
| Tire Type | Standard Touring All-Season |
| Tire Size | 14″ – 18″ |
| Weight | 17.26 LBS – 31.0 LBS |
| Load Index | 83 – 103 |
| Load Range | SL |
| Speed Rating | – H: up to 130 mph |
| Warranty | 80,000 miles |
| Ratings | 8.4/10 |
At the heart of its design is Michelin's proprietary IntelliSipe technology. This is an ingenious addition to an asymmetric tread pattern characterized by zigzag sipes. The sipes should be able to not only fortify tread blocks but also optimize road contact. This means they are potentially capable of offering drivers a superior handling experience.
Complementing the IntelliSipe technology is a high-silica compound which, on paper, should enhance traction on wet roads. It's good to see that safety measures haven't been overlooked. Zigzag sipes offer the much-needed biting edges for a solid grip on slippery surfaces, and the high silica content aims to improve wet traction.
The tire also incorporates lateral notches and circumferential grooves. From our experience, these design elements are crucial for effective water redirection and hydroplaning prevention. A glimpse at the Defender T+H's internal construction reveals a meticulous approach to balancing durability and comfort.
Its core features two robust steel belts reinforced by a polyamide layer, which would ideally result in stabilized tread and sharper steering response. Meanwhile, the dual-ply body casing, made with a polyester cord, is an interesting choice that hints at a comfortable and durable ride.
Adding another layer to the mix, Comfort Control Technology has a huge role in Defender T+H's overall functionality. Its primary objective is to ensure a quieter and smoother journey, reducing the unpleasant aspect of road noise.
The selling points of this tire aren't just confined to performance and comfort but also extend to treadwear. Michelin Defender wants to improve the tire's tread life with its unique MaxTouch Construction and EverTread compound.
Michelin Defender T+H Review & Performance Test Results
We mounted tires of size 225/50R17 on a 2022 Honda Accord and put them through their paces in an extensive, multi-phase testing procedure in our 2023 COR Wheels Tire Test.
Dry Performance: 9/10
Dry Traction: 9.2/10
The Defender T+H impressed with its sure-footed grip on dry roads with its independent tread blocks.
We performed some aggressive driving scenarios on a sunbaked asphalt track. For instance, while we floored the accelerator from a standstill, the tires still displayed admirable poise. The sensation was one of strong traction and reliable control, with no discernible tire squeal or unsettling wheel spin.
When it came to braking, the Defender T+H also did a good job. On a straight stretch of road at a speed of 60 mph, the tires brought the vehicle to a complete stop in just under 160 feet. This is a performance that places them amongst the top tier in their class.
Still, the Defender T+H does not match the extreme grip of high-performance summer tires. There was a significant gap between them that wasn't hard for us to notice.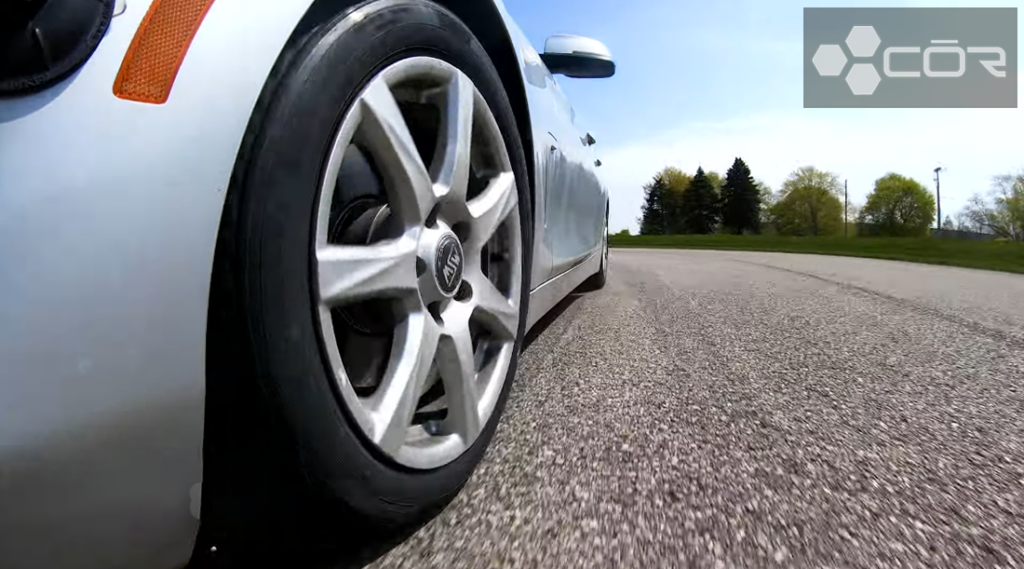 Corner Stability: 8.9/10
Dealing with corners was mostly a breeze. Through sweeping 60 mph highway bends, the Defender T+H held its line with precision. The ride remained smooth and controlled, with no noticeable tire squeal or unsettling body roll.
The rigidity of the tread blocks minimized lateral movement and offered a sense of stability and control, which was impressive for a touring tire.
The tire's stability during these extreme high-speed corners left a bit of room for improvement. It lacked the adhesive-like grip when tackling sharp turns at high speeds.
When we raised the stakes on a race track with speeds exceeding 75 mph, the transition from straight-line driving to high-speed cornering revealed a slight wobble.
Steering Response: 9/10
Despite its touring design, the Defender T+H provides satisfyingly crisp steering reflexes.
Tip-in response felt precise and allowed easy placement through twisty sections. At cruising speeds of 30-40 mph, straight-line tracking was excellent, with the tire communicating conditions well.
When subjected to very aggressive inputs, the tire could lack some transitional control. We did a transition from hard left to right at speeds around 60 mph. The Defender T+H exhibited a slight delay in response. Though minor, it might affect its overall experience.
Wet Performance: 8.6/10
Wet Traction: 8.6/10
The Defender T+H's IntelliSipe technology and silica tread compound deliver excellent wet grip. Driving through a heavy downpour, it managed to maintain commendable control and avoided any major slips.
We also performed a series of hard-braking tests from 60 mph on this wet track. The tire had impressively short stopping distances, coming to a complete halt in less than 180 feet consistently.
It wasn't entirely flawless, however. When pushed near the limit of its grip, the tire sometimes responded abruptly to sudden throttle input.
For instance, when aggressively accelerating out of a corner, there was a momentary loss of grip before the tires found their footing. This might surprise less experienced drivers.
Hydroplaning Resistance: 8.6/10
The circumferential grooves carved into the tread effectively prevented hydroplaning issues – at least to some extent.
When we speeded through a large puddle of around 3 inches at 45 mph, the tire remained undisturbed and retained its firm grip on the road. The car continued to travel straight and gave us a sense of reassurance.
Only during high-speed driving over extremely waterlogged sections did the lateral notches allow some water ingress between the treads. At speeds nearing 70 mph, there was an obvious sense of floating. This suggested that the lateral notches might have allowed some water intrusion.
Winter and Snow Performance: 7.1/10
Light Snow Traction: 7.9/10
We had an opportunity to test the Michelin Defender T+H during an early January snowfall, where a light layer of snow blanketed the roadways. The zigzag sipes of the tire provided a good grip in these conditions, while the tread rubber was flexible enough to provide more road contact.
A drive through a slightly snowy neighborhood demonstrated its capabilities well. Through 3 – 5 inches of fresh, powdery snow, the tire maintained descent control and traction for conservative winter driving.
We were able to navigate around corners and make stops with confidence. The tires hold their ground well without excessive sliding or skidding.
However, accelerating from a stop in unpacked snow revealed some wheel slippage. During a drive across a field with a thin layer of soft, loose snow, the tires also struggled to maintain their grip.
Also, many cheaper competitors can deliver similar performance. They make the extra cost of the Michelin tires hard to justify based on light snow conditions alone.
Deep Snow Traction: 7/10
While the Defender T+H manages to handle light snow reasonably, its performance in deep snow conditions was less impressive.
As snow depth increased to 8+ inches, it struggled to power through and lacked composure. The tread design caused buildup between blocks rather than snow ejection. This led to slippage and loss of control when accelerating or turning.
It made the drive a bit nerve-wracking for us. If you frequently encounter deep snow conditions, it's recommended to switch to dedicated winter tires.
Ice Traction: 6.6/10
When it comes to ice traction, the Michelin Defender T+H also falls short. The pliable tread rubber helped on clean pavement but lacked meaningful biting edges to penetrate the ice.
On a local ice-covered parking lot, the tire struggled to find enough traction.
When we were attempting to accelerate from a stop on an icy incline, the tires spun, and the car made little progress. The grip and traction on icy roads were very limited, with the car sliding more than we'd like to have during cornering and taking longer than expected to stop.
Comfort: 8.6/10
Ride Quality: 8.8/10
After logging hundreds of miles, we found that Comfort Control Technology provided a refined, comfortable ride.
Small bumps and imperfections were effectively absorbed for plush cruising. A ride over a local road notorious for its deep potholes and uneven surfaces was relatively plush and comfortable with these tires. Even on rough chip seal roads, the tire settled quickly after impacts.
However, repetitive sharp bumps could sometimes overwhelm the damping and create a harsh ride.
During a ride over a stretch of road with continuous bumps and ridges, the softer nature of these tires seemed to compromise the ride quality. The ride felt a bit taut and jumpy, with the tire struggling to settle down quickly after each impact.
Noise Level: 8.5/10
The quiet performance was particularly noticeable during long highway drives, where the tire noise was hardly perceptible. In fact, wind and engine noise exceeded the subtle tread growl.
Even when cruising at speeds of 70-75 mph on the freeway, the tire noise was very subdued. We rated it among the quietest tires in its all-season touring category.
Treadwear and Durability: 8.6/10
One feature that stood out was the even distribution of contact forces across the tire, which resulted in uniform treadwear.
This was particularly noticeable during intense day-long driving sessions with constant braking, accelerating, and cornering. The tires handled it all without showing any significant signs of wear.
Michelin also provides an 80,000-mile treadwear warranty exceeding most competitors. Just remember that the rear tires only get half the mileage warranty if you have staggered tire setups (different sizes).
Defender T+H Pros & Cons
Outstanding dry and wet traction
Comfortable and quiet ride
Exceptional tread life with an 80,000-mile treadwear warranty
Retains wet traction even when worn down
Excellent hydroplaning resistance
Mediocre winter performance
The ride can lose composure over repetitive impacts
Higher price point compared to some competitors
Defender T+H Competitors & Alternatives
With its price tag, the Defender T+H contends with other high-quality options, such as the Continental TrueContact Tour, Goodyear Assurance MaxLife, and Yokohama AVID Ascend LX.
The Continental tire offers similar refined manners with good road isolation. However, the Continental provides a sportier feel with lighter yet controlled steering compared to the Defender's precise steering.
It's in the wet conditions where it truly outshines the Michelin with superior grip and shorter stopping distances. It also outperformed the Defender T+H in winter snow conditions.
The Goodyear Assurance MaxLife offers a stark contrast to the Defender T+H, delivering a more energetic feel and firmer impacts. It also has its moment in dry conditions with better lateral traction.
However, it stumbles in the face of wet conditions, falling short compared to the Michelin. But the Assurance MaxLife gains the upper hand in snowy conditions and shows limited capability on icy roads.
The Yokohama AVID Ascend LX poses another interesting competitor for the Defender T+H. It provides a more comfortable ride and absorbs road imperfections effectively. However, its steering can seem slightly lethargic, especially when compared to the precise steering of the Michelin.
In dry testing, the Yokohama took the longest to stop and lacked grip, while its light snow traction was impressive.
Conclusion
Overall, the Michelin Defender T+H represents an impressive feat of tire engineering. It can balance performance, longevity, and comfort to an admirable degree.
It is ideally suited to drivers who value a quiet, comfortable ride and excellent wet and dry traction.
The tire displays an exceptional level of reliability and stability. With its long warranty, you can also get great value for your money over time. It would be a particularly good investment for those who frequently travel long distances on the highway.
However, as we've mentioned in our Michelin Defender T+H reviews, snow, and ice performance wasn't as strong as we had hoped for. If you encounter these conditions regularly, it would be a better choice to opt for dedicated winter tires. For those on a tight budget, many good alternatives exist too.
Michelin Defender T+H
PRICE
SOLD BY

Offers

In Stock

Offers

In Stock

Offers

In Stock

Offers

In Stock

Offers

In Stock
---
President & Automotive Expert at COR Wheels
Robert Herrera has been with COR Wheels for 17 years and has a great passion for the automotive industry. During his time at COR Wheels, he has driven and test-driven a variety of vehicles.
---