Michelin Defender LTX M/S is a highway all-season tire that has been well-favored in recent years. They often feature great sipe density and independent treads, whose combined power provides beyond-average versatility all year round.
While most all-weather tires can perform decently on all terrains but don't excel at any certain condition, this tire from well-established Michelin is praised for superior performance on many terrains alike.
We decided to put it to our COR Wheels tire test to see if it's worth the hype.
In this review:
Michelin Defender LTX M/S Specifications & Features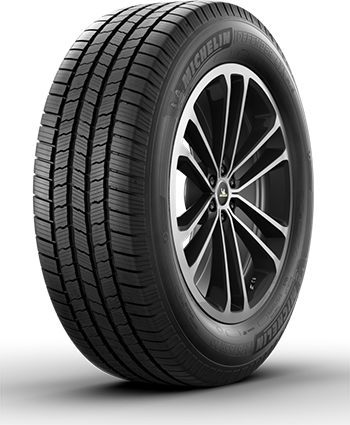 Tire Type
Highway All-Season
Tire Size
15″ – 22″
Weight
23.0 LBS – 60.19 LBS
Load Index
95 – 129
Load Range
C1 – XL
Speed Rating
– H: up to 130 mph
– T: up to 118 mph
Warranty
50,000 – 70,000 miles
Ratings
8.8/10
With the advanced compound "Evertread" for better resistance against wear and tear from serious road conditions and heavy loads, Defender LTX M/S aims to take the durability game to a new level compared to its predecessors. In fact, Michelin itself claims the Evertread brings the tire's shelf-life to 10% higher.
Another performance feature included in the LTX M/S is the MaxTouch Construction, which increases the level of biting edges to cut off the tire's harshness, vibration, and operation noises. At the same time, more than 65 fuel gallons are saved throughout its lifespan – according to the Michelin team.
This model offers several speed ratings, load ranges, and fitment sizes, whose diameters range from 15 to 22 inches. Drivers can choose from one of the three options: T, H, or R speed ratings – the most widely used range with max speed spanning from 118 MPH to 130 MPH.
Their temperature (A grade) and high traction grades (A to AA) are arguably the major factors behind the brand's confidence in its treadwear ratings (720 – 800).
The brand further backs this number by issuing warranty policies of 50,000 (R speed rating) to 70,000 miles (T and H speed ratings). For instance, 265/60R18, the model we used for the performance test, covers 70,000 miles as its mileage warranty.
Michelin Defender LTX M/S Review & Performance Test Results
265/60R18 was the representative model for our 2023 COR Wheels Tire Test in July, as its width, ratio, and diameter fall into the middle range of Michelin's inclusive family lines.
These high-way all-season tires were installed on our Jeep Grand Cherokee SRT, suited for our long-traveling test.
After discussion with other team members, we have agreed on the results of the test as below:
1. Dry Performance: 9.2/10
Dry Traction: 9.3/10
The dry tarmac footprints are significantly increased thanks to the Evertread, which equals better steering control. To seal the deal, the MaxTouch Constructions further enhance the tire's pick by distributing the braking and acceleration force evenly.
As we were experimenting on a pickup truck, our team decided to test the tire's traction when pulling a boat, and there was no slippage on the asphalt road. Even the Jeep's eventual stop felt confident and stable, just like the rest of the test.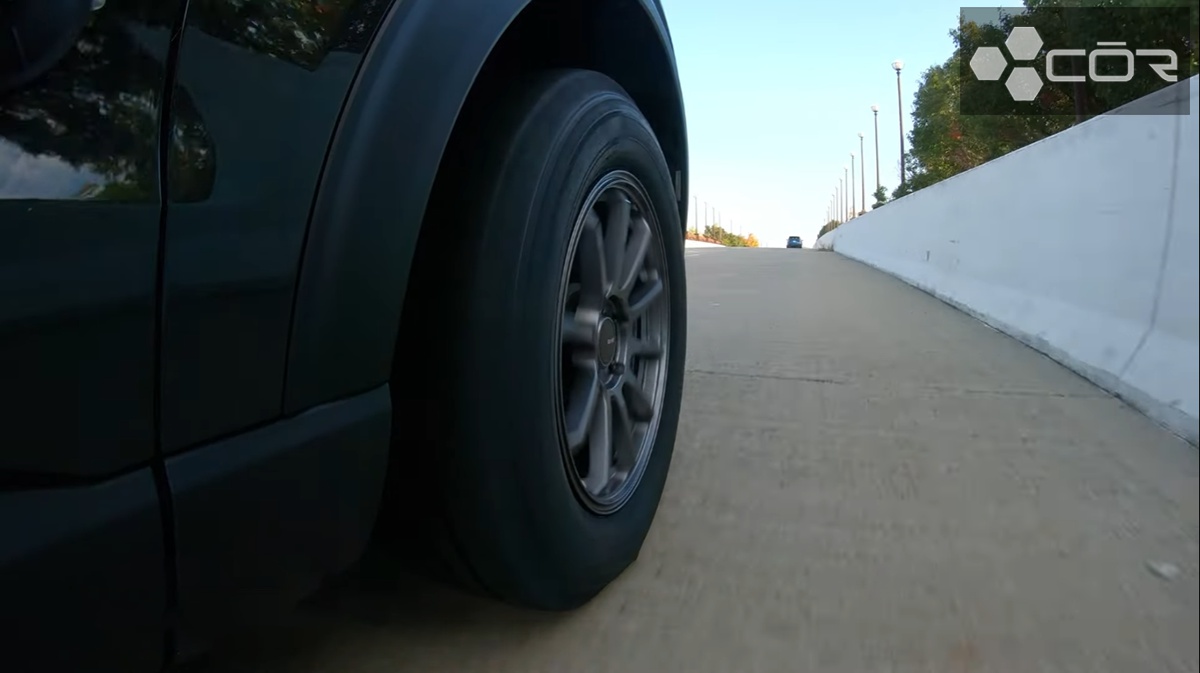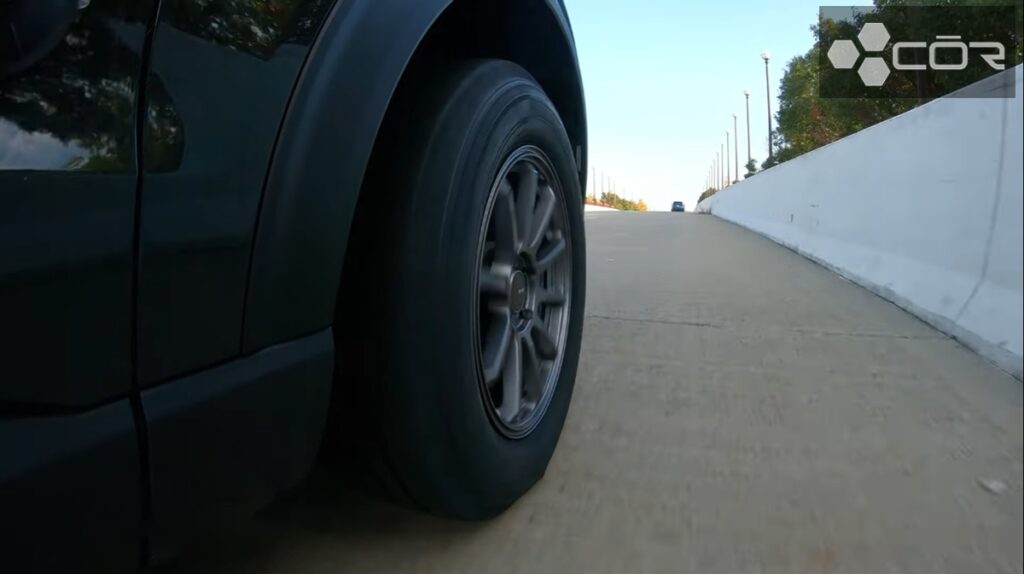 Corner Stability: 9.1/10
Due to the balanced-out braking and acceleration forces mentioned above, we encountered no difficulties when cornering into different sections and cross-points.
However, we do admit a slightly spongy feel at particularly hard turns, which some beginners might take time to adjust to. On another note, seasoned drivers might find this roughness a thrill to their adventure instead of a threat, so it is up to you to decide whether it is a bad thing.
Steering Response: 9.1/10
Despite coming with tall sidewalls, these tires gave us quick response even at high speeds, and we still felt the grip with little tire squealing.
The only minor drawback is when we made a very tight bend (probably 90°), there was a bit of understeer that required our team member to apply the brake mid-corner.
2. Wet Performance: 9/10
Wet Traction: 9/10
Defender M/S performs great on both normal and challenging terrains. Though our team members could not feel their presence at first, the active 3D sipes did a nice job providing the tire with better grips and biting edges. Guaranteed drivers keep their speed rates below M/S's speed rating, slippage on wet roads will be less likely to happen.
There is a slight road grip reduction when the car accelerates from its standstill. However, it compromises neither performance nor safety, so few drivers are bothered by such trivial issues.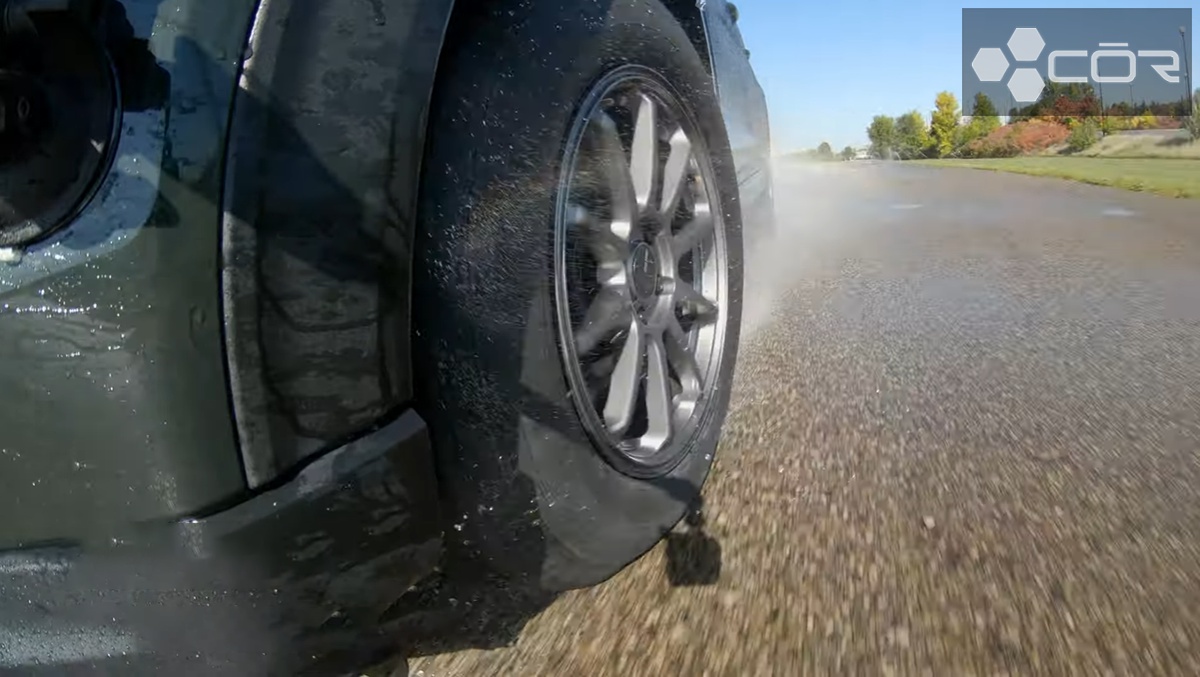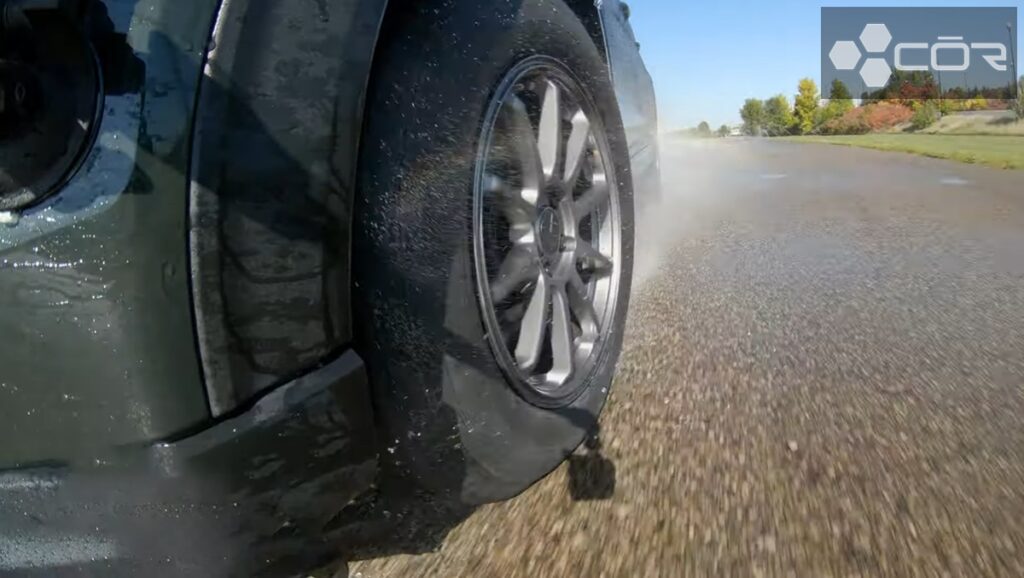 Hydroplaning: 9/10
Here comes another aspect where Defender M/S outperforms other tires from the same sectors. The tread pattern designs arrive with circumferential/lateral grooves, which channel water quickly and effectively off the tire's walls.
During a heavy rain, we revved up the Jeep to 55 MPH but experienced no planing. As such, the tires always remained in constant contact with the ground, despite our attempts to push it beyond its comfort zone.
3. Off Road Performance: 8.2/10
We could not expect powerful off-road performances from an all-season tire like Michelin Defender, as it must sacrifice aggressiveness to give room for superior durability and easy operation.
But putting this model and other all-season tires in our test on the table, this Michelin is still the best off-road performer in its class, leaving other rivals like Continental TerrainContact H/T or Firestone Destination LE3 behind.
Dirt Traction (8.5/10) and Sand Traction (8.1/10):
This competitive tire is fully equipped with tough casings to handle heavy loads, providing much better resistance and puncture than the usual rubber compound found in other touring tires.
The Jeep car could travel through hard-packed gravel and dirt for hours without any puncture risks. Sure, dangers are still lurking – but much less than other highway tires. The impressive traction (even on slightly wet roads) also impressed our team members.
Mud Traction (7.8/10) and Rock Traction (8.3/10)
LTX M/S tires made their way through dirt ramps and slightly muddy snow or unpaved roads just fine; any other off the beaten track than this was beyond their reach, though.
More demanding terrains like deep mud and rocks are not suitable places for the tire to operate.
4. Winter and Snow Performance: 8.2/10
Light Snow Traction: 8.7/10
Michelin Defender conquered light snow terrains with ease, according to our test.
In mild snowy conditions, Michelin remains as strong as it is in any other environment (although we did notice a small front-end response delay for its steering abilities). Its braking scores do not give us critics anything to complain about, and deliver notable straight-line tractions during our acceleration attempts.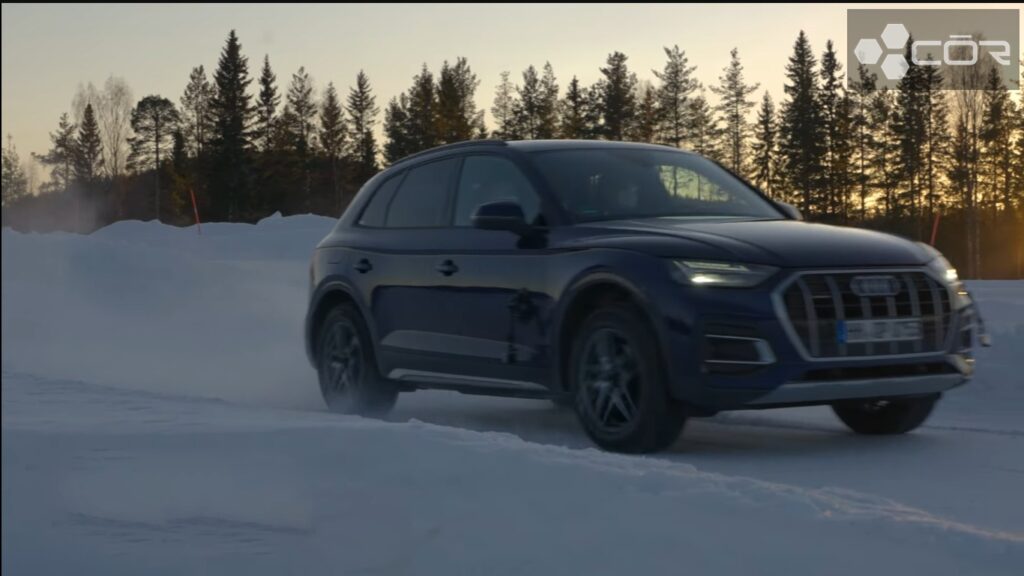 Deep Snow: 8.2/10
The Defender M/S is not branded with a 3PMSF symbol (short for 3 Peak Mountain Snowflake).
Thus, we did not expect much of its performance in deep snow conditions – but Michelin is not too bad in this regard. When the snow was just a couple of inches, the car felt sure-footed enough, and our drivers could still keep everything under safe territory.
However, once moving into the deeper snow, the Michelin Defender did show signs of struggle, though we had tried to put on tire chains.
Ice Traction: 7.7/10
The tire kept sliding if we drove at normal speed on icy roads. Slowing down did help a bit, but that is not very practical if you want a specialized tire set for winter. After all, it does not have traction lugs/wheel nuts nor indents (to insert studs for better icy grips).
5. Ride Comfort: 9/10
Comfort: 9.1/10
With many considerate design features and well-placed add-ons, Michelin Defender's comfort is a given; it has done a very impressive job in this regard.
Our test rides remain smooth and breezy throughout, even when the tires enter rougher patches on NW 33rd Street. The tires handle smaller road imperfections with no difficulties and deliver vibration-free operations over bigger spots.
And thanks to its tough casing, reverberations post bumps are never an issue, only improving the ride's overall smoothness.
Noise: 8.9/10
It is hard to find any flaw with its noise production on city roads.
Even when our team revved the car at higher rates, the tires were still very quiet, with only occasional low-pitched sounds that did not feel disturbing at all. And that is to be expected, what with its computer shoulder blocks that cancel out patterns and road noises.
At times, there were admittedly a few cyclical pattern noises on smooth asphalts. And when accelerating to 55 MPH or more on highways, the noise would be a little noticeable. But again, you can treat it as a non-issue, as it's all tolerable.
6. Treadwear and Durability: 8.9/10
Though these tires were only tested for a few days, the MaxTouch construction still gave us some insight into what we should expect.
Even after being driven for more than 300 miles, these tires exhibited nothing unusual in their tread area. And their durability is undisputed, thanks to the reinforced internal structures. The win steel belt ensures Defender's sidewalls cannot deform even under the worst driving pressure, impacting their overall lifespan in all the most positive ways.
Defender LTX M/S Pros & Cons
Excellent traction in dry and wet conditions
Work well on light snow and off-road dirt
Quality, comfortable ride; no disturbing noises that cannot be controlled
Slight understeer during sharp corners
Needs more caution for mud/rock, and extreme snow and ice
Michelin Defender LTX M/S Competitors & Alternatives
Michelin Defender is straight-up pitched against Continental TerrainContact H/T and Vredestein Pinza H, two other top high-way tires on the market.
The Continental is on par with Michelin with its dry and wet performance, compliantly breezing through road impacts. However, secondary movements after bumps still existed, which, if improved, could have made the tires more composed.
To compensate, Continental delivers the sportiest steering feels in the group, with eager, quick corner turn-ins and lane changes. The TerrainContact H/T also delivered the best comfort during our test with minimal noise.
Meanwhile, the Vredestein, despite coming with simplistic yet effective patterns and sidewall designs, is the worst among the three. It soaked up impacts and balanced well, but gave off the loudest noise and delivered a little dull steering at first that called for more input.
Conclusion
Our Michelin Defender LTX M/S review has covered the most critical aspects of the tires, revealing their excellent coping qualities in almost every environment – except for extreme snow and ice.
They are a good choice for combined highways and off-road or combined highway and city roads. Do not be put off by the initial upfront prices; their world-class performances will turn out to be a huge bargain and cost-saving deal for you in the long run.
However, if you live in harsh-winter regions or cold climates, it would be better to play on the safe side and set your eyes on other candidates for dedicated winter tires.
Michelin Defender LTX M/S
PRICE
SOLD BY

Offers

In Stock

Offers

In Stock

Offers

In Stock

Offers

In Stock

Offers

In Stock
---
President & Automotive Expert at COR Wheels
Robert Herrera has been with COR Wheels for 17 years and has a great passion for the automotive industry. During his time at COR Wheels, he has driven and test-driven a variety of vehicles.
---