Pilot Super Sport reportedly brings summer traction to a new level with sporty designs, stress-resistance outboard shoulders, and extra strength reinforcements. Being a Michelin tire gives it many advantages in terms of popularity, but whether the performance truly lives up to expectations is an issue our tire review will dig deep into.
In this article:
Michelin Pilot Super Sport Specifications & Features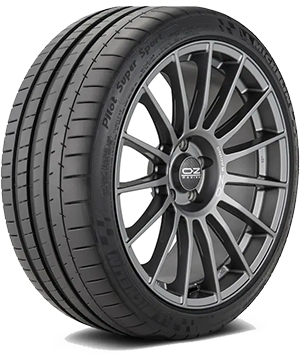 | | |
| --- | --- |
| Tire Type | Max Performance Summer |
| Tire Size | 17″ – 22″ |
| Weight | 19.64 LBS – 34.94 LBS |
| Load Index | 88 – 110 |
| Load Range | SL – XL |
| Speed Rating | – Y: up to 186 mph |
| Warranty | 30,000 miles |
| Ratings | 8.6/10 |
Michelin Pilot Super Sport is designed for supercars, performance sedans, sporty coupes, and sports cars to reach their full wet and dry potential. However, like most summer tire models, no special features are tailored for ice/snow or near-freezing temps.
The asymmetric tread pattern features dry and wet track-type compounds that withstand cornering stresses.
Inboard shoulders and notch-centered ribs handle high speeds in slippery conditions.
Double steel belts (strengthened with Twaron cords that are strong yet lightweight) enhance durability, even wear rates, and higher-speed handling.
Polyester casings promote responsive feedback and riding comfort.
Sound absorption foam layers adhere to the tire's inner liners to minimize cabin noises.
Michelin Pilot Super Sport Review & Performance Test Result
As part of the 2023 COR Wheels Tire Test, our team has used the 225/40R18 tire size version of the Michelin Pilot Super Sport on our 2016 Honda Civic car model in dry, wet, and snow conditions.
1. Dry Performance: 9.3/10
Dry Traction: 9.4/10
Michelin Pilot Super Sport had no trouble retaining strong, responsive traction throughout leisurely straight-line driving, hence our decision to rev straight to 55 MPH in seconds.
Smooth asphalts were a non-issue for Super Sport, but even composite paths (whose surfaces comprise different materials) did not pose much of a challenge for the tire. The contact patch learned its way around road textures rather fast and instantly trampled down traction loss before it got out of line.
Our car settled just as smoothly on well-built highways, if not even better; hence, you can confidently engage in spirited driving and wide-angle reaches (guaranteed consistent handbrake positions). Stutters were choked out more pronouncedly when accelerations towards 75 MPH occurred within too short notice – but other than that, even beginners should find road handlings here quite a breeze.
On another note, Pilot's sidewalls are still softer than a true extreme summer tire; as such, hesitations did show up along tight S-curves or back-to-back switchbacks. Remember to get your car prepared at least 4-5 seconds ahead around these crooks.
Corner Stability: 9.3/10
Michelin Super Sport is a star with its corner stability.
Pilot's superior competence was admittedly hard to recognize at first at normal speeds, since it performed more or less the same as other standard competitors. But the moment our Civic surged to 75 MPH, the rib's surprising footholds grew much more present. Its on-center feel was composed, sturdy, and unwavering despite input fluctuations, breezing through most corner types with ease.
Thus, we encountered no trouble tackling tight or wide crooks of all chosen angles. Still, you'd better watch out for signals of corner drifting after long hours of driving: Pilot Super Sport exhibited no symptoms at all when it happened, so if you are unprepared, it might throw the car slightly off track.
Steering Response: 9.2/10
Our team was generally pleased with how Super Sport responded to our steering inputs. Strong, sturdy ribs and inboard shoulders kept constant and insistent communication with the roads, paving for very sharp feedback that did not get out of line once.
Oversteer and understeer were few and far between, if present at all. Hence, it was easy to gauge what the tire would do next – a great competitive edge if you are a fan of strong yet predictable veering. Tracking was also outstanding, going straight ahead till the course was thoroughly pulled off; there is no need for you to steer constantly to nudge the car in proper directions.
On another note, we still needed to adjust throttle positions to enhance steering response when Super Sport started showing fatigue symptoms (mostly after a long series of consecutive ascents).
2. Wet Performance: 8.7/10
Wet Traction: 8.8/10
Our Honda Civic had quite a blast with wet-surface traction. Some confidence edges from the previous dry tests were lost, but so did most other summer tires; Super Sport still retained enough edge to march through stagnant water without drama or stuttering.
Deep water beyond 8 inches was surprisingly easy to tackle due to the wet track-type compounds; given consistent speed and steering input, you can actually bounce through carousels and blind curves at regular driving speeds as on dry paths (40 to 55 MPH).
We also had a rather uneventful experience through puddles and slippery railroad crossings. Slippages and muted feedback lurked around at U-turns and constant left and right veering, but could easily be controlled with instant gear shifts.
Judging by how our car did not falter with 4 passengers plus 100 lbs of luggage, we see no reason you could not march with the same confidence in daily driving situations while carrying much lighter loads.
Waterlogged patches on long highways or bridges did bring in a bit of trouble, however. The high water volume, paired with the already slushy nature of these terrains, sent the car into spiraling skidding that felt ominous in heavy downpours and storms. It would be best if you avoided these paths altogether or drove at below 50 MPH.
Hydroplaning Resistance: 8.7/10
The Super Sport bonded well with waterlogged surfaces thanks to the shoulders and ribs; their wide grooves did a great job redirecting and dispersing high water volumes below 7.5 inches. Our car suffered from very minor hydroplaning issues at corners that went almost non-existent once we returned to paved roads; fluctuations between speed extremes (30 to 65 MPH) were breezy.
Rain-soaked gravels are unlikely to give you a hard time, either. While the grooves did not whisk water off as quickly as we thought, they spread out the traction in wide, even footprints to ensure traction loss did not invade the tire's center. Thus, hydroplaning issues still played in our favor, gradually getting tamer with consistent steering.
Nevertheless, it seemed the sipes curved into themselves in colder weather: on spring snowmelt or slush, aquaplaning resistance weakened at higher speeds and lurked much more frequently around abrupt corners. Considering this is a summer tire, that performance is unsurprising, though still quite a letdown if you are a fan of undisturbed, aggressive wet boldness.
3. Comfort: 8.5/10
Ride Quality: 8.6/10
Riding quality is one of Super Sport's stronger assets; the cushioned bumps were well-handled and reduced to faint, distant jostles under the tread. They were hardly a bother at speeds below 55 MPH and only poked out from time to time when we tried to rev beyond that number.
Side-to-side shakes and hiccups did happen when we moved our road trip to mountain passes and rugged trails, though, so brace yourself with more careful entries and fewer spontaneous brakings.
Road Noise: 8.5/10
Noise control was not exceptional but far from downright bad; nothing much for you to worry about. In most daily driving situations, Super Sport kept itself quiet under the cushioned tire sidewalls, and only hummed a little in protest along tight S-curves or closed-spaced entry points.
Highways and composite roads admittedly generated more noises; but judging by their low-key spreading, we believe you can easily tune them out after 4 to 5 miles of constant driving.
4. Treadwear and Durability: 7.9/10
The tread held its composure well in very leisurely driving (below 35 MPH). 40 to 45 MPH was still tolerable in favorable weather conditions; otherwise, with any number beyond this range under extreme summer, our tire started to feel worn out around the edges.
Dynamic, high-speed handling also seemed to speed up the burnouts. Thus, you should expect the first signal of treadwear after 20,000 to 22,000 miles.
Michelin Pilot Super Sport Pros and Cons
Very confident and exceptional traction in dry conditions
Satisfying wet-condition grip
Decent ride comfort levels with tolerable noises
Lackluster tread life (and only 30,000-mile treadwear warranty)
Not handling cold temp (not winter) well
Pilot Super Sport Competitors & Alternatives
Michelin Pilot Super Sport was pitched directly against Pirelli P Zero – another popular maximum-performance tire for summer – during our test.
Michelin Super Sport had impressive dry and wet confidence that is hard to beat. However, the way it cushioned harsh impacts could still be improved on rugged paths.
Pirelli P Zero delivered a nice balance between stability and flex, allowing wilder and more fun leans. Still, its on-road dry traction would have been better with a more optimized footprint.
Conclusion
From this Michelin Pilot Super Sport tire review, it is an ultimate max-performance tire with no rivals (except for its own Michelin sibling, the Pilot Sport 4S). The treadwear definitely could have been better, but that is a worthwhile trade-off for its confident, relatively unwavering performance and great riding comfort.
All in all, whether you are a casual driver or an adventurous soul, trust this street tire to deliver quiet yet capable handling on every on-road surface in summers and rainy seasons.
Michelin Pilot Super Sport
PRICE
SOLD BY

Offers

In Stock

Offers

In Stock

Offers

In Stock

Offers

In Stock

Offers

In Stock

Offers

In Stock
---
President & Automotive Expert at COR Wheels
Robert Herrera has been with COR Wheels for 17 years and has a great passion for the automotive industry. During his time at COR Wheels, he has driven and test-driven a variety of vehicles.
---