With many extra off-road capabilities, Cooper Discoverer STT PRO has been considered one of the best candidates for thick dirt, mud, and even sharp rock terrains. Our team finally had the chance to put its performance to test in the last January and June-July, whose results will be discussed in the detailed tire review below.
In this article:
Cooper Discoverer STT PRO Specifications & Features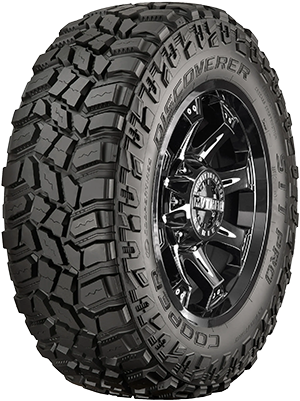 Tire Type
Off-Road Max Traction
Tire Size
15″ – 22″
Weight
43.0 LBS – 94.0 LBS
Load Index
104 – 129
Load Range
C1 – F2
Speed Rating
– P: up to 94 mph
– Q: up to 100 mph
Warranty
None
Ratings
8.2/10
With this mud terrain tire, Cooper promises exceptional off-road handling and acceptable on-road civility, proven by the following features:
The high-void, chip-resistant compounds enhance loose-terrain traction with the help of alternating scoops and biter cleats in the shoulder lugs.
Dimples for mud release increase STT Pro's self-cleaning abilities, granted the M+S symbols (mud + snow)
Anti-stone ribs at the groove base eject pebbles and keep punctures at bay.
Wide circumferential and lateral channels reduce hydroplaning, while the in-block sipes offer more bites on slippery surfaces.
3-ply polyester casings, two steel belts, and nylon cap reinforcements enhance puncture resistance.
Cooper Discoverer STT PRO Review & Performance Test Result
As part of the 2023 COR Wheels Tire Test, we have used the 265/70R17 tire size version of Cooper Discoverer STT PRO on our 2022 Ford F-150 car model.
1. Dry Performance: 8.7/10
Dry Traction: 8.9/10
STT Pro knew how to handle itself around on-dry pavements. Its compounds felt a bit rigid around the first 1-2 miles, but that was normal for an off-road tire. We settled quickly after that and breezed through the roads at an uneventful 45 MPH with only very few jostles at particularly bad cracks.
Traveling to smooth highway asphalts while revving up gradually to beyond 65 MPH was just as fun, with the contact patch remaining mostly intact despite our attempts to sweep through lane merges within very short notice.
However, we did feel like the tire's traction at emergency brakings lacked the gentle yet decisive nature, sending us to a very heavy thud that could have resulted in accidents in heavier traffic.
Fortunately, STT Pro's confidence returned as the Ford navigated to mountain passes. The aggressive tread felt more at home on these rugged terrains, with the rubber buffing out to offer very efficient traction refills whenever we sensed faint stutters at new turn entries.
Corner Stability: 8.6/10
Regular driving rates below 55 MPH were not an issue with STT Pro. Its pretty solid on-center ribs encouraged us to navigate around low-radius corners the same way we maneuvered around roadblocks on straight-line roads. With a bit of on-time revving – then sweep and decisive veering to the left or ride – Ford made its way out of the mess with little to no drama.
We did have some more trouble with cornering at higher speeds than 55 MPH. STT Pro was very active around tight, off-camber bends (not in a good way), so we had to be gentle with both the gas pedal and steering input to avoid over-reactions.
Steering Response: 8.6/10
STT Pro did not disappoint us with its steering response, which was punctual and accurate in most basic driving situations. Lane merges or reversing were equally effortless with very few delays, boosting enough confidence in us to try out wider steering arcs.
One minor drawback, though: STT Pro went a bit too hard on our steering stabilizer whenever it had to grind over large road bumps. While the shocks and jostles did indeed decrease, the stabilizers would likely need replacements sooner than expected.
2. Wet Performance: 8.3/10
Wet Traction: 8.3/10
STT Pro marched decently in wet conditions; not the same confidence on dry pavements, but enough to pave the Ford through shallow water below 6 inches or very light drizzles. The contact points remained pronounced through our constant, back-and-forth switches between 45 and 65 MPH, even tolerating a bit of harmless drifting when cutting apex.
Like most competitors, STT Pro started to waver in deeper water. Slippage was not a danger but could no longer be treated as a minor drawback, getting worse when we traversed mountain passes: the combination of rugged dirt and waterlogged puddles sent the car to lots of violent hiccups here.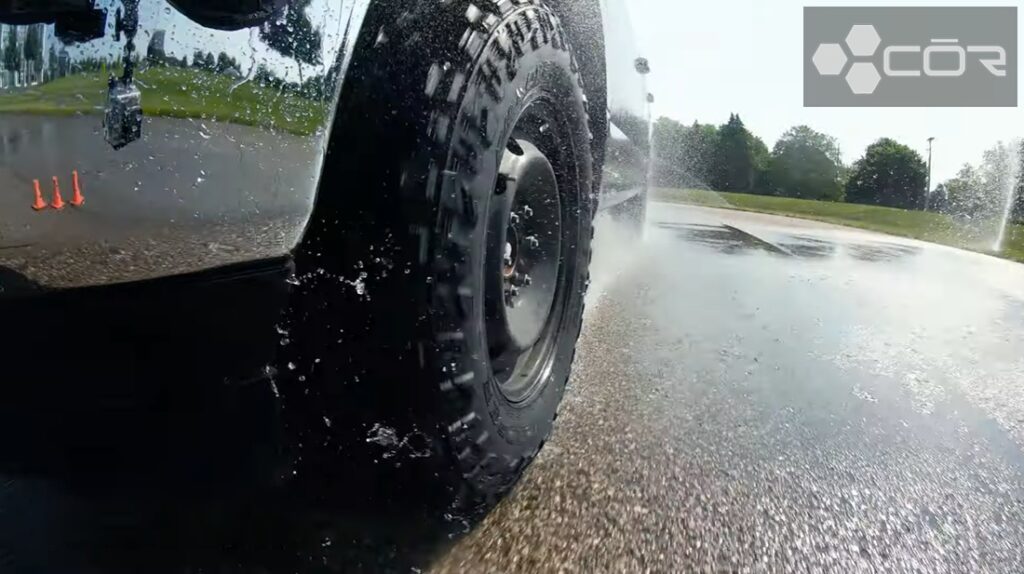 Hydroplaning Resistance: 8.4/10
The interlocking circumferential and lateral channels did a much better job than expected in water evacuation. Thin water could still intrude as the car leant outwards to tackle crooks, but they were too weak to put any real damper on the tire-road connections. Even when revving to 60 MPH on paved roads, we countered much fewer stutters than most tires of the same sectors.
Unfortunately, driving for more than 2.5 hours under cold, heavy rain took a toll on the tread sooner than we thought; symptoms of clear fatigue could be observed with the tread's frequent muted feedback. Our test was too short for hydroplaning to become an actual issue here, but it would likely worsen with longer usage.
3. Off Road Performance: 9.2/10
Dirt Traction: 9.3/10
STT Pro wowed every team member with the confident, non-stuttering way it pounced on off-road dirt; it felt like the sticky debris was not even there in the first place. The alternating scoops and cleats of rubber worked together to disperse and redirect particles off the sidewalls, while smoothing out STT's contact points to pave for uneventful accelerations from 35 straight to 60 MPH.
We avoided washouts and ruts at first for fear of violent swaying, but turned out it was unnecessary: STT coped just fine, rarely losing grip even with our very unplanned steering inputs. Needless to say, roadblocks were barely considered roadblocks with how easily Ford wriggles itself around them, merging back to our main track like nothing had happened.
Still, constant descents and ascents seemed to be STT Pro's weak points. Its aggressive, heavy tread rubber compounds required much more effort to adjust to the back-to-back direction changes than lighter tires, hence our decision to rev down to 30-35 MPH to give it more time to breathe.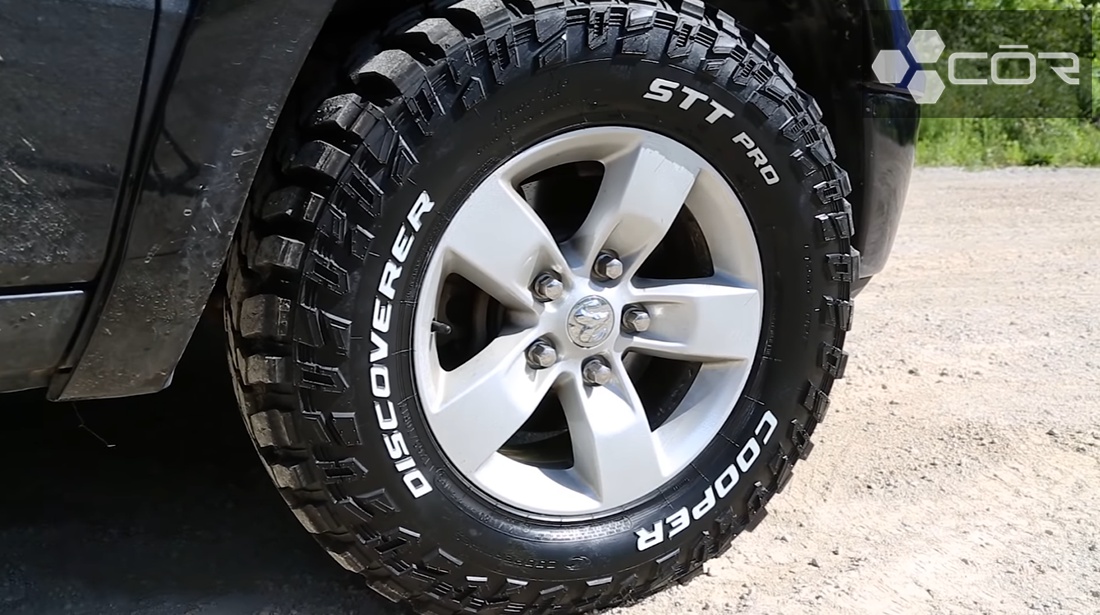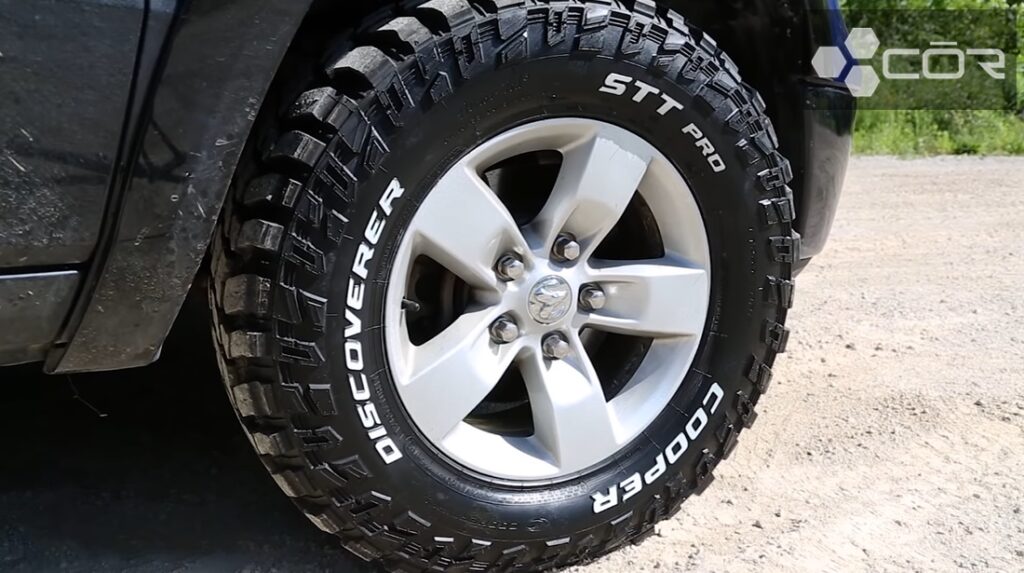 Mud Traction: 9.4/10
As a major mud tire, STT Pro excelled on muddy terrains with impressive self-cleaning capabilities. The slick mud dimples made it hard for the soil and water to linger; they tagged along for a bit but slid off before becoming a real nuisance.
We experimented with diverse acceleration techniques – from gradual ones at corners to whiplashing speed surges near riverbeds – and did not really encounter any noticeable stutters besides some brief, good-hearted shakes. Mud mixed with small rocks couldn't hold the tire back, as well, given it being aired down to 15 PSI.
Muddy hill climbs did push the tire into a bit of wheelspin, but nothing we could not handle with the right throttle control.
Rock Traction: 9.2/10
Our Ford caved well onto rocky terrain, too, with only a few jitters from time to time that felt natural for rugged surfaces like these. We could even crawl on a 45-degree inclined rocky leg. Guaranteed the driving rate was below 75 MPH on straight roads and less than 65 MPH at corners, real slippage dangers were mostly off the hook.
The chip-resistant compounds lunged head-on at sharper rocks without drama, aided by the efficient anti-stone ribs that took care of smaller, trickier pebbles. We also liked how the center ribs sprung onto work instantly the moment Ford went off-angled, gapping the brief traction loss before our team realized it was even there.
Sand Traction: 8.8/10
The Discoverer STT Pro was generally unfazed by dry sand; whisking the particles off the same way it tackled dirt and mud (though with admittedly much less subtlety). It composed itself well within the track and, when the situation required, easily took over other same-lane vehicles with consistent steering and punctual gear shifts.
Still, quick accelerations were not the tire's strong suit. Our attempts to surge from 0 straight to 50 MPH in five seconds sent the Ford into violent coughs, taking much longer than usual to shake itself off.
4. Winter/Snow Performance: 8.1/10
Light Snow Traction: 8.5/10
Slush, dry snow did not put much pressure on STT Pro. It lacked the pronounced sharpness and confidence on dry roads or off-road terrains, but rarely lost contact with the pavements and knew how to regain balance when grip loss occurred around corners.
At higher speeds beyond 60 MPH on highways, however, STT Pro suffered from very frequent slippage. Wide corners were not a problem, but this oversight could pose real danger at tighter, off-camber bends.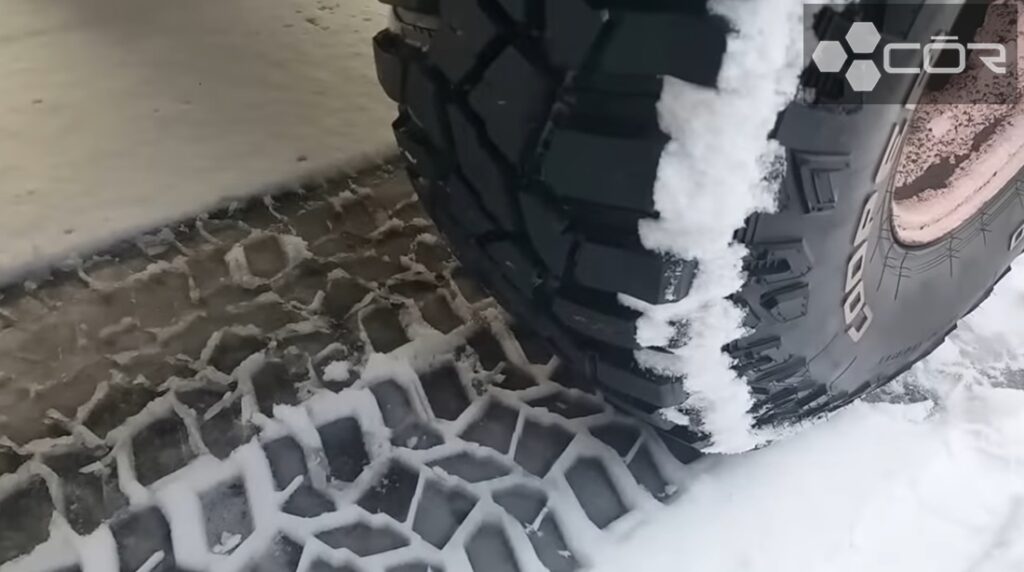 Deep Snow Traction: 8.6/10
Cooper Discoverer STT Pro was surprisingly very good here; we suspected the strong, deep flex grooves latched themselves slightly better on thick snow than on light. Snow chains brought out even more traction than expected – guaranteed leisurely approaches below 40 MPH.
But, just like on light snow, we did not have a very smooth experience at highway speeds. Cold snow in ambient temp below 32 degrees F also resulted in muffled traction and steering feedback.
Ice Traction: 7.1/10
STT Pro was not at its peak on ice traction, as the slippage accident grew twice worse than snow terrains. Pulling to a stop at 12 MPH also proved a real struggle for us, requiring a whopping 79 feet.
Hence, we kept things civilized at 15-20 MPH in favorable conditions and stayed as far as possible from twisty corners.
5. Comfort
Ride Quality: 8.4/10
Turns out the tire did not sacrifice as much riding comfort as we thought, especially on dry on-road pavements. While the bumps could still be felt from our cabin, Discoverer STT Pro smoothed them out with enough cushion feel at 40-55 MPH, keeping them from becoming a real nuisance. They did shake more often at high-speed cornerings, though.
Noise: 7.5/10
Its noise control was horrid – but it still came out on top of off-road max terrain tires. One silver lining is that the low rumblings were tolerable most of the time at speeds below 55 MPH, and could even be tuned out if the car was equipped with aftermarket mufflers.
6. Treadwear and Durability: 8.3/10
As aggressive as it was, STT Pro did not adapt well to sudden temp changes or cold weather, hence the weakening water evacuation and more muted feedback the longer we rode. But we can't expect a long tread life from a dedicated off-road tire, after all.
Cooper Discoverer STT Pro Pros & Cons
Excellent traction on off-road surfaces
Good dry traction
Satisfying wet traction for an off-road tire
Decent on light snow and deep snow
Pretty great riding comfort
Acceptable treadwear
Struggling on ice terrain
Noisy
Cooper Discoverer STT Pro Competitors & Alternative
BFGoodrich Mud-Terrain T/A KM3, Firestone Destination M/T2, and General Grabber X3 are considered the primary competitors against our Cooper Discoverer STT Pro:
Cooper Discoverer STT Pro had good wet traction (for an off-road tire) and superior confidence on deep snow. We still loved to see better on-road handling on highways or around high-speed corners.
BFGoodrich KM3 had good control over road impacts but sacrificed tread noise in the process. Huge bumps over snow also happened often.
Firestone MT2 led the snow traction competitions and gave off very responsive handling. But like BFGoodrich, improvements over noise control are much needed.
General Grabber is well-mannered on highways, though it occasionally suffers from too-loose steering in critical cornering situations.
Conclusion
The tire's off-road traction (especially on mud terrains) is a given in our Cooper Discoverer STT PRO tire review, but it also delivers well in other conditions.
On-road wet drip, for instance, is decent for regular driving, and performances on snow are extra powerful with the help of snow chains. On icy roads, it is admittedly less confident but still considered among the top ranks.
Hence, you can trust this Cooper tire all year round in most weather conditions and terrains, minus road adventures in harsh winter or violent, wet storms.
Cooper Discoverer STT Pro
PRICE
SOLD BY

Offers

In Stock

Offers

In Stock

Offers

In Stock

Offers

In Stock

Offers

In Stock
---
President & Automotive Expert at COR Wheels
Robert Herrera has been with COR Wheels for 17 years and has a great passion for the automotive industry. During his time at COR Wheels, he has driven and test-driven a variety of vehicles.
---