Cooper Discoverer Rugged Trek's reportedly powerful performance on off-road and on-road terrains is part of the reason we included it in our annual 2023 COR Wheels Tire Test.
While the extra inclusion of stone blockages, earth diggers, and stable Trac tech promised exceptional results in theory, nothing could be confirmed until we subjected the tire to real-life, actual driving challenges. Our review below will summarize the most critical findings.
In this review:
Cooper Discoverer Rugged Trek Specifications & Features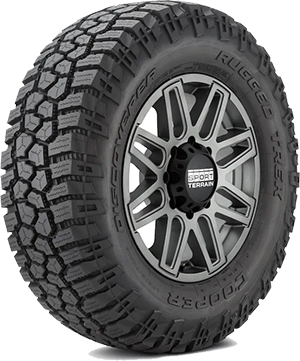 Tire Type
Rugged All-Terrain
Tire Size
16″ – 22″
Weight
41.0 LBS – 70.0 LBS
Load Index
111 – 126
Load Range
E1 – XL
Speed Rating
– Q: up to 100 mph
– T: up to 118 mph
Warranty
55000 – 60000 miles
Ratings
8.5/10
Cooper Discoverer Rugged Trek tires are built for SUVs, crossovers, pickups, and light trucks seeking off-road performance without sacrificing comfortable, smooth rides on highways and streets. Key features include:
Durable, symmetrically-molded compounds promise more even wear and longer tread life.
Stable Trac Tech inside the inboard blocks provides better control and road stability.
Micro, omnidirectional gauge sipes enhance grips on rough surfaces and pavements.
Whisper Grooves (between the outboard elements and center) dampen airborne noises.
High-void, deep tread patterns work with outer sipes to evacuate water and boost control on slippery roads.
Aggressive stone blockades (built-in edges inside the grooves) handle lodge rocks and prevent stone drilling.
Earth digger (molded inside the shoulder) propels the car across loose surfaces.
Robust 2-ply casings, strong steel belts, and nylon reinforcement blend comfort with higher-speed stability and control.
Double sidewall designs – Knife-Edge (straight-lining shoulders) and Mountain Pass (jagged elements resembling mountain peaks) – mainly help with visual personalization.
Cooper Discoverer Rugged Trek Review & Performance Test Results
During the 2023 COR Wheels Tire Test, our team used the 265/70R17 tire size version of Cooper Discoverer Rugged Trek on the 2018 Jeep Wrangler.
1. Dry Performance: 8.9/10
Dry Traction: 9.1/10
Issues with the Rugged Trek's dry traction were barely noticeable, especially during gradual accelerations from 30 to 45 MPH. All team members were pleased with how fast the contact patch bonded with pavement grooves, instilling our Jeep onto secure footings despite the not-so-subtle road cracks. Brief traction loss around these imperfections could be faintly sensed at the edges but disappeared as quickly as they had come, breezing the Jeep through.
Revving from 45 MPH to higher thresholds while navigating toward highways remained effortless. Rugged Trek took little time bracing the new, smooth asphalts and regained composure after only seconds-long of bewildered whiplashes.
We leaned outward slightly – while hovering over the pedals – to test the limit of spirited driving the tire traction could permit. The results did not disappoint: an extra margin was left to enable more adventurous endeavors without pushing the car out of line, boosting enough confidence for 80MPH sweeping cuts and beyond.
On another note, Rugged Trek's great traction did seem a bit compromising at twistier curves. Here, we could observe a clear delay at turn entries, mostly due to the contact patch taking longer to unclasp its strong grip and move toward the new direction.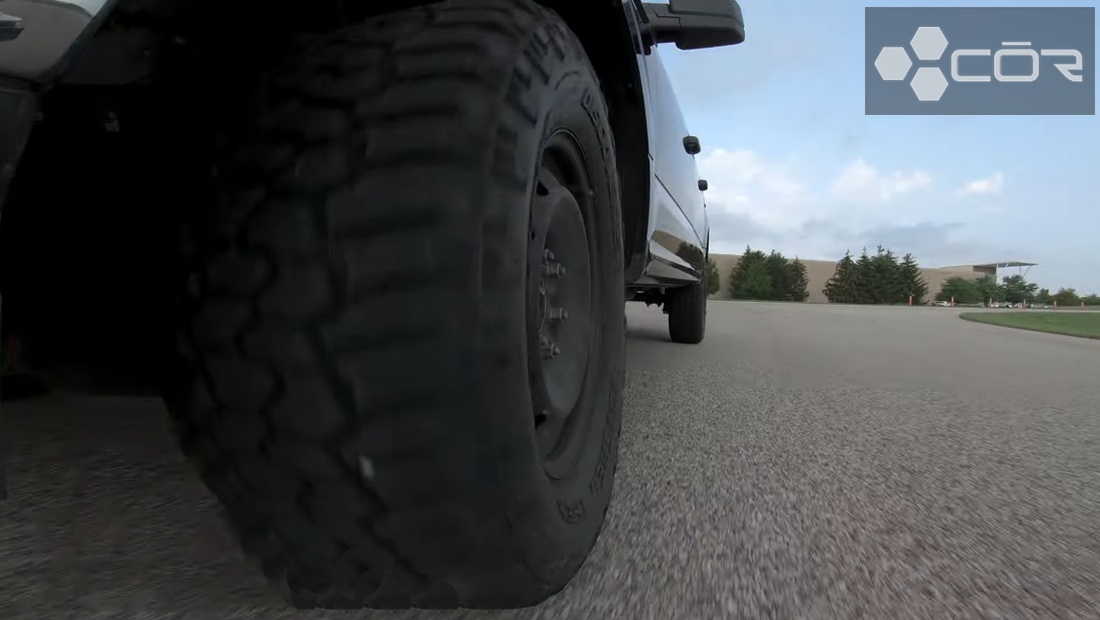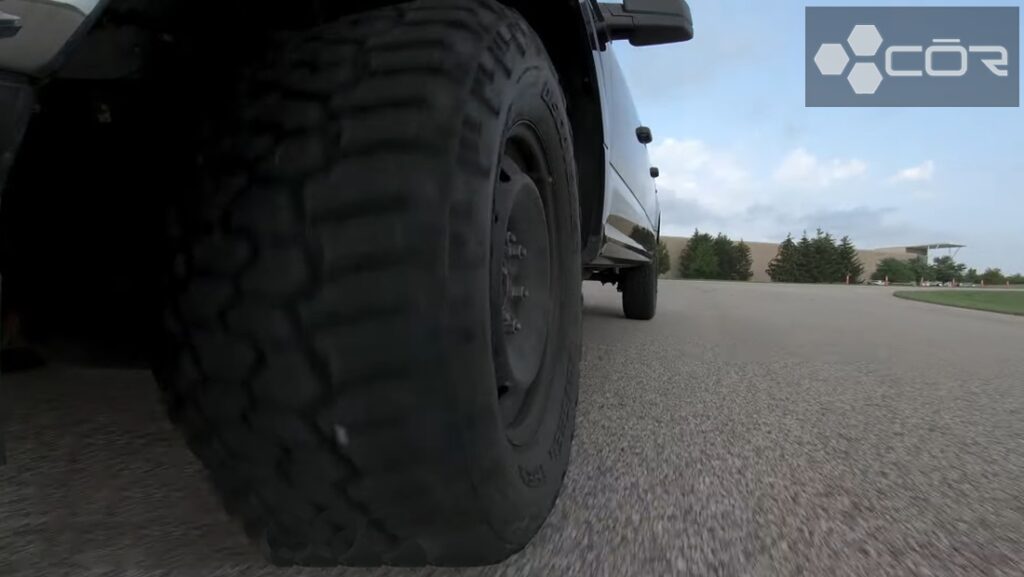 Corner Stability: 8.8/10
Discoverer Rugged worked deftly with most of our cornering attempts at varied angles. Our contact patch let some of the biting edges slip at sharper curves, but its solid on-center feel remained intact thanks to extra help from the Stable Trac Technology. Hence, few troubles could be observed at 40-45 MPH, and surging to 60 MPH surprisingly nailed the tires even better at particularly trickier twists.
Still, as the tire pressure went down over time (even as little as 3-4 PSI), we could observe slight fatigue in the way Rugged Trek dived into higher-angled turns. Centrifugal forces increased and veered the car further away from the line, demanding more applied force to keep it neat within safe territories.
Steering Response: 8.7/10
While the steering responded accurately and quickly enough to our inputs with little delay risks, its sharpness was a tad behind the tire's corner and dry traction. As our veering grew more aggressive and bolder across the span of accelerations, there was a brief mismatch between steering and power delivery that might have gone unnoticed on straight-line driving but became obvious during wilder curves.
Hence, our travel through pass roads admittedly tittered uncertainly between lines. The Rugged Trek's steering showed clear symptoms of burnout when handling back-to-back steering changes within short notice.
2. Wet Performance: 8.7/10
Wet Traction: 8.7/10
Cooper Discoverer felt heavier due to the logged water, but its overall confidence was still clearly present thanks to the combined water evacuation from high-void areas and outer sipes. Our Jeep carried on more or less the same as on dry traction guaranteed regular driving speed (below 55 MPH), minus a bit of slippage when handling globular maneuvers at corners or around obstacles.
Cooper Discoverer Trek coped decently in strong wind and heavy rainfall (given strong, consistent steering). Still, most parts of its contact patch seemed to get numb the nearer we reached 60 MPH. Water beyond 11 inches deep was not much of a difficulty compared to other tires, but we had to hover over the accelerator pedal all the time to prepare for alternating speed changes where they were due.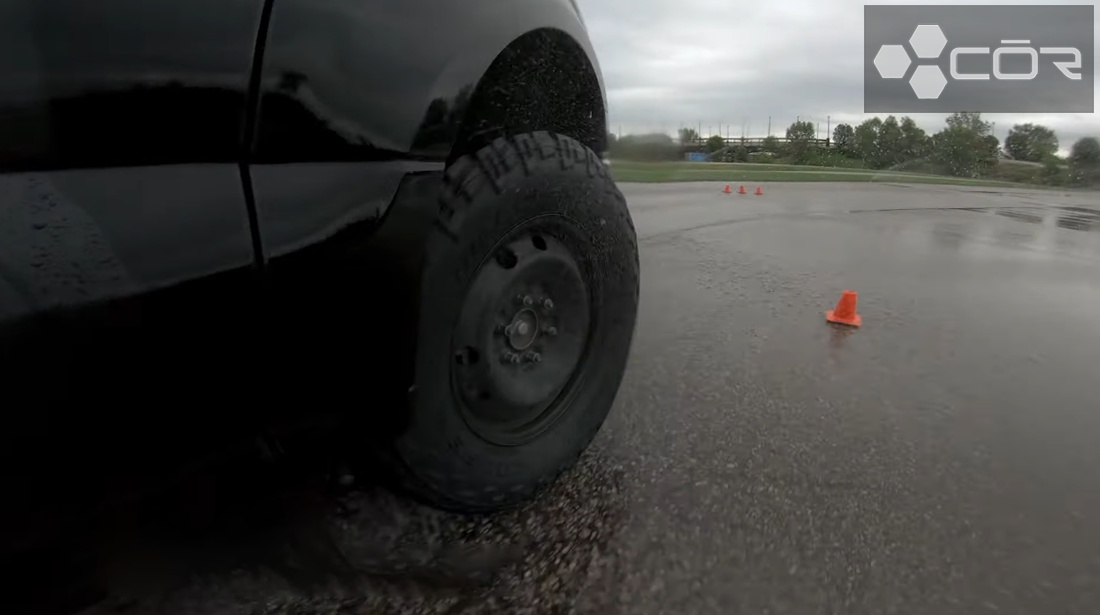 Hydroplaning Resistance: 8.7/10
The outer sipes did not whisk water off completely, but hydroplaning issues were thankfully tame enough not to intervene with how our car steered and strode. Colder and fatter rainwater droplets got into the grooves around sharp curves but were flung off just seconds later, failing to stick around due to the lack of anchoring points in the void areas.
However, endeavors from 60 MPH and beyond pushed higher water pressure in front of the road tire, giving the Discoverer Rugged Trek less time to process and recover from strong water flows. As such, we could feel the water seep in at low angles and drag the tire down a little.
3. Off Road Performance: 8.8/10
Dirt Traction: 9/10
Our high expectations for the Discoverer's omnidirectional gauge sipes were fulfilled: their entries delivered enough stability and power on aggressive dirt terrains and did not mind a bit of rugged roughness. Besides a few fumbles beyond 60 MPH, none of our experimental speedy endeavors pushed the Jeep off the line.
On another note, Discoverer Rugged handled loose dirt a bit underwhelmingly. Although each inboard block was equipped with Stable Trac tech, it mostly worked with slow, leisurely driving and still delivered quite a few stutters through gradual accelerations toward 55 MPH.
Rock Traction: 8.7/10
The brand's strong promises about powerful stone blockades managed to transfer most of its advertisements into real-life rock terrains.
We experienced much fewer risks of pebbles or small stones lodging themselves into the grooves, flattening out most of the rougher stalls of the ride. The tire palmed over inconsistent textures with decisive and clean-cut refinement, resulting in secure, non-shaking footings that grew even more trustworthy from 40 MPH onwards.
Still, sharper rocks proved to be a huge challenge, putting Discoverer Trek of immediate cracking threats around even basic corners. To keep it from happening, we had to drive as low-key as possible.
Mud Traction: 8.7/10
We liked how the Earth Digger features lessened the tire's heavy-weight feel across deeper puddles. Hence, the tire carried itself pretty solidly into soil and water, rarely getting stuck at corners or coughing when tackling muddy patches beyond 3 inches.
Speed decrease and brakings, which were surprisingly breezy and smooth given the circumstances, also became the tire's strongest assets and sent its off-road performance right to the No.1 position in its class. What took a few points away was the self-cleaning properties; they worked great at regular speeds but stalled our tire during accelerations.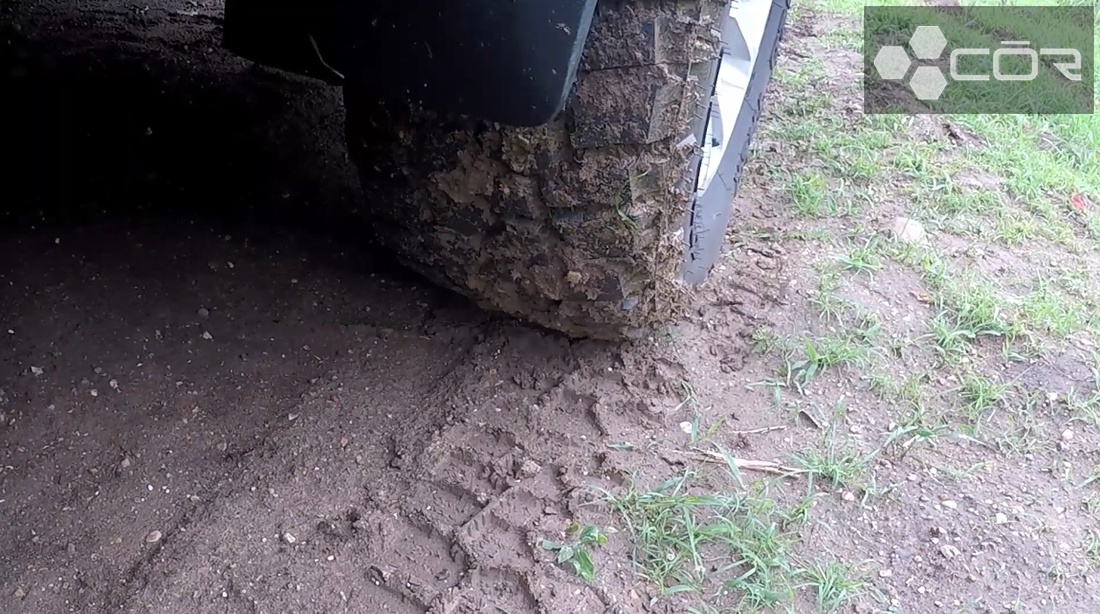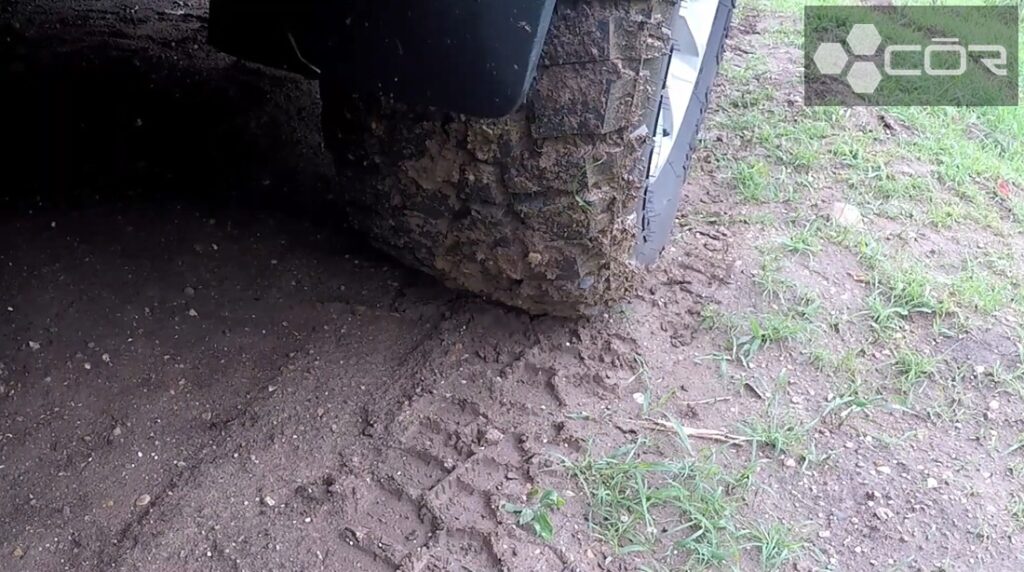 Sand Traction: 8.6/10
Clogging sand did not seem like that much of a threat during the first 5 miles of our ride. The Earth Digger helped channel thick particles off the contact patch, keeping us mostly connected to our driving terrains during straight-line drivings. Abrupt, rounded maneuvers around rocks and tree branches stuttered here and there, but could easily be controlled.
With much smaller and thinner sand particles, Discoverer did not let much of its boldness be stripped off, either. The sand was smoother and easier to slot itself among the grooves this time, yet nothing alarming or wandering happened for the most parts of our strikes.
Still, we would love to see some improvements with the constant slippage around the edge, which threatened to embed the center rib if our steering was not decisive enough.
4. Winter/Snow Performance: 8/10
Light Snow Traction: 8.6/10
Ironically, the Earth Digger clasped hesitantly on off-road dirt but plowed much better though light snow, with an instant and immediate grip that settled the Jeep quickly into its track. The tire only let out a bit of a skittish feel around tighter crooks and remained mostly composed on straight paths, allowing seamless fluctuations between 40 and 50 MPH.
With snow chains, the tire plunged even faster thanks to the extra squeezed traction. However, on alpine or canyon roads known for very tight switchbacks and steep drops, Discoverer Rugged Trek still exhibited seconds-long delays despite our efforts to grind consistently down the steering wheel.
Deep Snow Traction: 8.2/10
Although struggles were more frequent than on light snow, Rugged Trek still offered a decent performance on deep snow with average self-cleaning and handling. The contact patch overcame the initial bunch-up quickly and gradually palmed out once we engaged the cruise control, allowing uneventful treading around 30 MPH.
Snow chains produced extra grips at corners the same way they did us on light snow. However, after we brought the test to hill roads, the heavy chain links resulted in significant drags and promptly returned us to square one.
Ice Traction: 7.1/10
Discoverer Rugged Trek was even worse on ice than on mud. The tire could cope alright with moderate ice build-ups but got worse treading on thicker, more slippery patches. Small oversteering incidents sent our Jeep shivering and skidding for ten seconds straight; accidents would definitely have happened if there were snow storms.
We stuck ourselves with straight-line, 25-MPH marches just in case, yet the Discoverer still could not rid itself of constant hiccups. Brakings were no better, taking more than 61 feet to come to a full stop.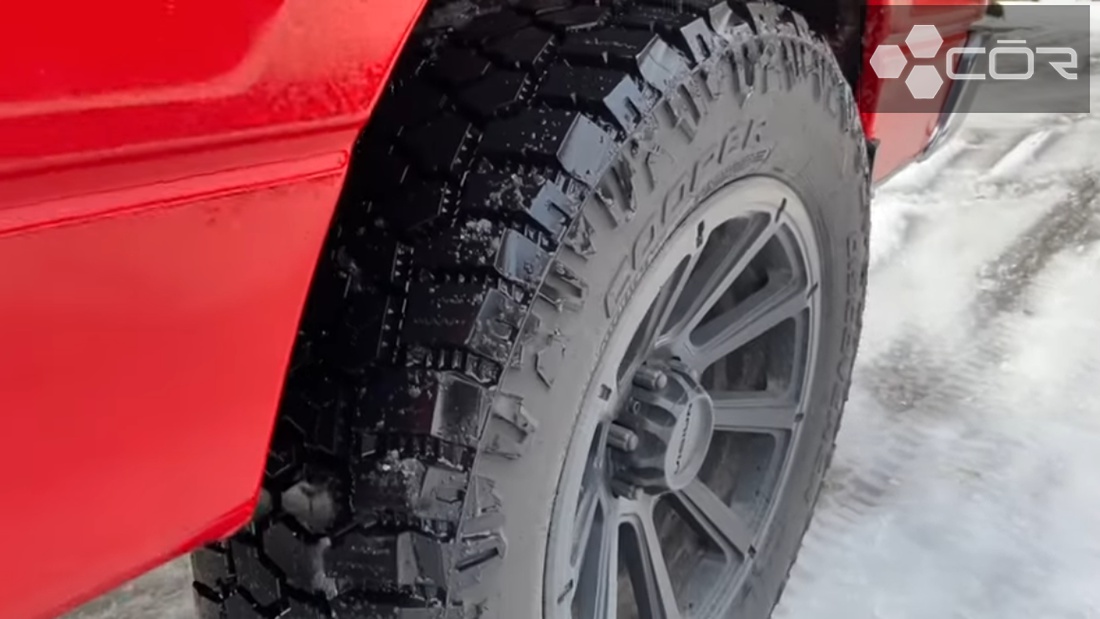 5. Comfort: 8.1/10
Ride Quality: 8.5/10
Our team was generally satisfied with the Discoverer's overall comfort – though mostly on dry/wet pavements and light snow.
On rugged terrains, the jostles were kept under control on off-road dirt but became more pronounced facing sand, dirt, and rock. And nothing could be used as an excuse for its uncomfortable, horrendous ice management.
Noise: 7.6/10
Contrary to its name, the Whisper grooves barely did anything to reduce tread noises. The humming already started at 30 MPH, got louder (but tolerably) between 35 and 40 MPH, and downright roared at any number beyond 45 MPH. Even some of our less-noise-sensitive members could not tune those sounds out during our highway and off-road terrains.
6. Treadwear and Durability: 8.4/10
The symmetric, aggressive tread designs kept most severe external damages off our tire sidewalls. They did cave under spirited steerings or extra steering force but not enough to compromise tread wear, resulting in little to no scuffs after our test conclusion on 7th July.
Discoverer Rugged Trek Pros & Cons
Excellent dry-road traction
Great wet grip
Decent on dirt, road, and light snow
Satisfying tread wear though not exceptional
Sufficient riding comfort
Steering lacks flexibility
Underwhelming on rock, sand, and mud
Horrible on ice
Lots of tread noises
Discoverer Rugged Trek Competitors & Alternative
Performance tests on Cooper Discoverer Rugged Trek, Goodyear Wrangler Workhorse AT, Pirelli Scorpion All Terrain Plus, and Vredestein Pinza AT revealed interesting, juxtaposed findings about their road capabilities:
Cooper Discoverer Rugged Trek satisfied our team members in both daily-drive steering and riding, and light-snow traction was good enough. But as mentioned above, the road noises were horrid.
Goodyear Wrangler had civilized, polished road manners with decent light snow traction. However, we wished for more improvements in wet grip.
Pirelli Scorpion delivered stronger wet grips than most and kept hydroplaning low. Still, the nimble handlings over imperfections were lacking.
Vredestein led the group in terms of overall performance; none of its metrics were below average. Yet, the light snow grip (while still good enough) trailed a bit behind the other three.
Conclusion
The Discoverer Rugged Trek is a bit disappointing on off-road terrain qualities. It could work with decent off-road dirt but lagged significantly in most other tough and loose road textures, including ice. Be more cautious if you use it for aggressive off-road endeavors.
In compensation, there was little to complain about the Discoverer's dry and wet traction, and light snow performance was reassuring enough to be passed as a temporary winter tire. Still, through this Cooper Discoverer Rugged Trek tire review, the tire's overall ratings were still miles ahead of same-sector competitors like Nitto Ridge Grappler and Yokohama Geolandar X-AT, making it the best deal for rugged all-terrain tires available.
Cooper Discoverer Rugged Trek
PRICE
SOLD BY

Offers

In Stock

Offers

In Stock

Offers

In Stock

Offers

In Stock

Offers

In Stock

Offers

In Stock
---
President & Automotive Expert at COR Wheels
Robert Herrera has been with COR Wheels for 17 years and has a great passion for the automotive industry. During his time at COR Wheels, he has driven and test-driven a variety of vehicles.
---