On-road AT models like the Cooper Discoverer AT3 XLT use updated tread designs and groove placements to stabilize the tire rib across both regular and light off-road terrains.
While the overwhelmingly positive customer feedback has already hinted at the tire's efficiency, our COR Wheels team took a step further by including the tire in our annual performance test. Scroll through our review for a more detailed report.
In this article:
Cooper Discoverer AT3 XLT Specifications & Features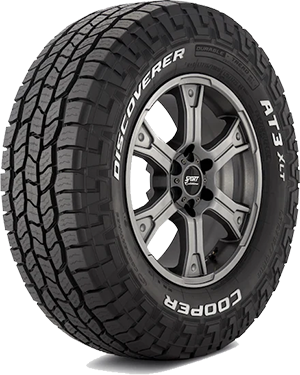 Tire Type
On-Road All-Terrain
Tire Size
15″ – 20″
Weight
44.0 LBS – 71.0 LBS
Load Index
108 – 129
Load Range
C1 – F2
Speed Rating
– R: up to 106 mph
– S: up to 112 mph
Warranty
60,000 miles
Ratings
8.5/10
Cooper Discoverer AT3 XLT is developed for drivers of full-sized SUVs, work vehicles, and pickup trucks that require rugged durability for more active driving styles. The tire combines comfortable on-road manners with off-road power, engineered to handle urban jungle, mud, gravel, dirt, and more. 
The silica, shred-resistant compounds work with the Discoverer's advanced all-terrain tread pattern and Wear Arc Tech. Their combined power optimizes the footprint shape, balances concentrated pressure and treadwear, and improves handling.
Whisper Grooves in the outboard blocks reduce road noises.
Stone ejector ledges prevent stone-drilling damage and punctures.
Rugged shoulders feature cleat lugs, biting edges, and alternating scoop to grip loose soil, thick mud, and rocks.
Lateral notches and circumferential channels minimize hydroplaning risks.
Zigzag sipes from the independent blocks create extra bites for the car in slippery conditions.
Snow Groove Tech utilizes saw-tooth edges, trapping snow under the tread to deliver better road traction in wintertime.
Cooper Discoverer AT3 XLT Review & Performance Test Results
In our 2023 COR Wheels Tire Test, the 265/70R18 tire size version of Cooper Discoverer AT3 XLT was installed on the Toyota Tundra across both on-road and off-road terrains in January and June-July.
1. Dry Performance: 9/10
Dry Traction: 9.2/10
The grooves and shoulders self-cleaned better than most Cooper tires we have observed, resulting in clean, neat cuts that kept most traction losses at bay. Our Toyota encountered no problems navigating through sweeping curves and around roadblocks, even retaining most of its composure during our attempts to trample over construction-site pebbles at 50 MPH.
Highway maneuvers remained just as breezy – if not slightly better – than our tests on regular roads. Texture changes and directional veerings could not choke any panic reactions out of the tread except for brief, seconds-long shudders that were barely noticeable. Towing or loading more than 1000 lbs is totally doable here regardless of your car make, judging by how our Toyota could afford adventurous leans and occasional late brakings on smoother patches in little to no drama.
Mountain passes of inconsistent depths and rugged surfaces bonded well with AT3 XLT's aggressive compound layers, hence our decision to get a bit lackluster with the steering wheels around wider approach angles. Some of you might prefer more footholds during graded ascents – but frankly, other than that, there was hardly any drawback worth mentioning.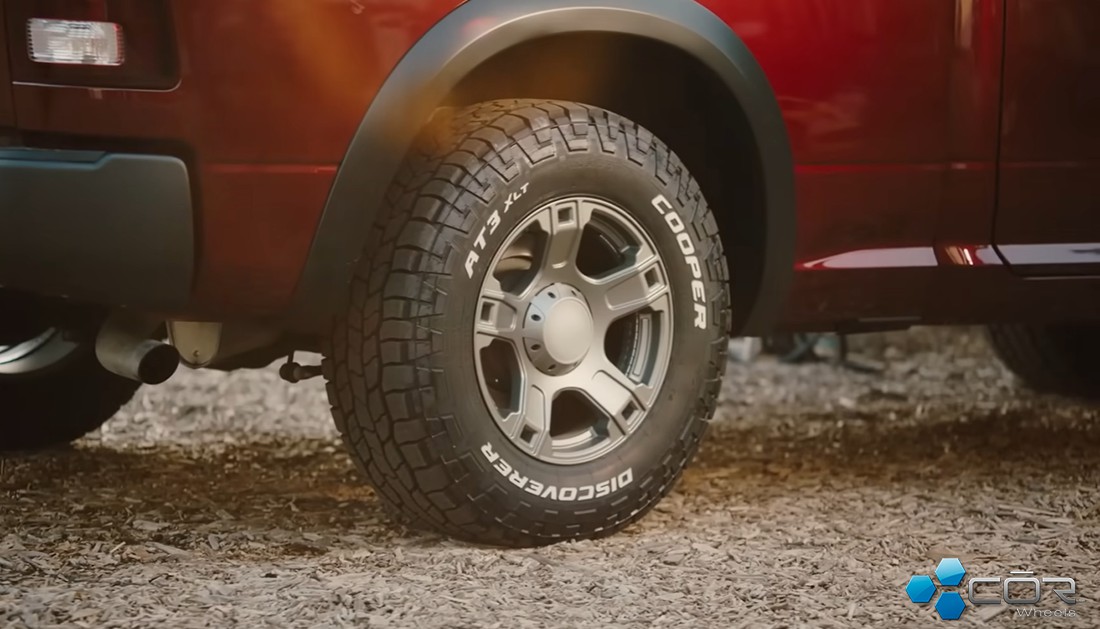 Corner Stability: 8.9/10
While the rib wavers might get slightly more noticeable at late apexes or intentional steer, the rest of our ride was uneventful. AT3 XLT had little trouble retaining its sharp edges and crushing tread protests under the patch – and hence, breezed our heavy Toyota (extra cargo included) through carousels and off-camber bends with boundless confidence.
Sharper debris at tight corners did not deter the tire from its continuous strikes despite our abrupt accelerations, meaning you should be able to maintain excellent alignment with the inner liners without much effort. Mid-corner changes or brakings were similarly undramatic, though we did wish the rear tires recovered from understeer faster to keep our momentum more steady.
Steering Response: 8.8/10
Cooper Discoverer AT3 XLT easily landed among the top ranks with its quick, reliable steering response.
Sure, the tire did not always deliver sharp feedback during U-turns or blind curves. But in compensation, its connection with the road patterns rarely strayed far off the line; we could always feel its presence clearly from the cabin and gauge the tire's reactions with accurate hunches most of the time.
Thus, XLT's road manners remained tame, predictable, and closely aligned with our inputs. Given stable control and unwavering steering wheels, the chances of collisions at regular driving speeds should be extremely low for you, even if you are a beginner.
2. Wet Performance: 8.6/10
Wet Traction: 8.7/10
Discoverer AT3 XLT showed quite a blatant hesitation marching on deep, stagnant water of more than 5 inches. We also did not like the occasional shudders every few minutes in ambient temperatures below 30 degrees F, making basic towing tasks twice as difficult as usual.
But aside from these minor drawbacks, the tire is fortunately still considered a very competitive performer on wet surfaces.
Every basic landing situation could be handled as easily as on dry-road terrains given tame speeds below 50 MPH, and wide-radius corners did not pose as much trouble as we expected despite our lack of preparation. You can even use one-hand steering to navigate non-challenging roadblocks and overtake vehicles – quite an impressive feat compared to its sibling, the Cooper Discoverer AT3 LT.
Hydroplaning Resistance: 8.6/10
The lateral notches and circumferential channels did quite a great job keeping hydroplaning issues under control.
They were not entirely off the hook, of course. Fortunately, our consistent contact points rarely got disturbed by them, except for high-speed rides through more slippery surfaces like wet bridges or thick snowmelt.
Even deep water turned out to be easier to handle than we thought. Indeed, thanks to the well-placed gaps and ample void ratio, rainwater dispersed surprisingly fast to leave only very faint layers of moisture underneath.
Hence, your car should only take seconds to crush the drifting symptoms around the flanks and move forward, not facing any significant drag or violent coughs as with other tires.
3. Off-Road Performance: 8.3/10
Dirt Traction: 8.8/10
The alternating scoops translated very well into actual driving, hence our almost effortless steering inputs through wide corners and gentle curves.
Some of our members did complain about a few lost edges when dealing with tightly spaced entry points or 180-degree skid corrections. Still, other than that, you will likely find the tire's performance on loose dirt almost no different from dry-road capability, given that the driving rates do not exceed 55 MPH.
Road manners on hard-packed dirt needed some refinements to adapt to minor steering changes, but things were still in good control. Better yet, unless the cargo exceeded 1000 lbs, heavy towing or loading tasks were unlikely to affect the tire's footings.
Rock Traction: 8.4/10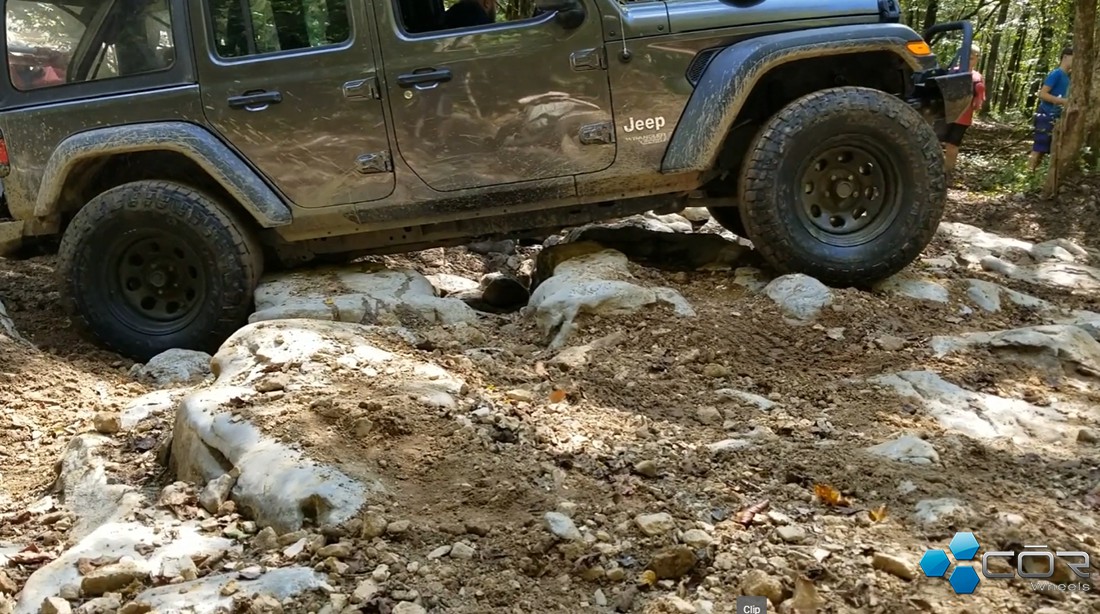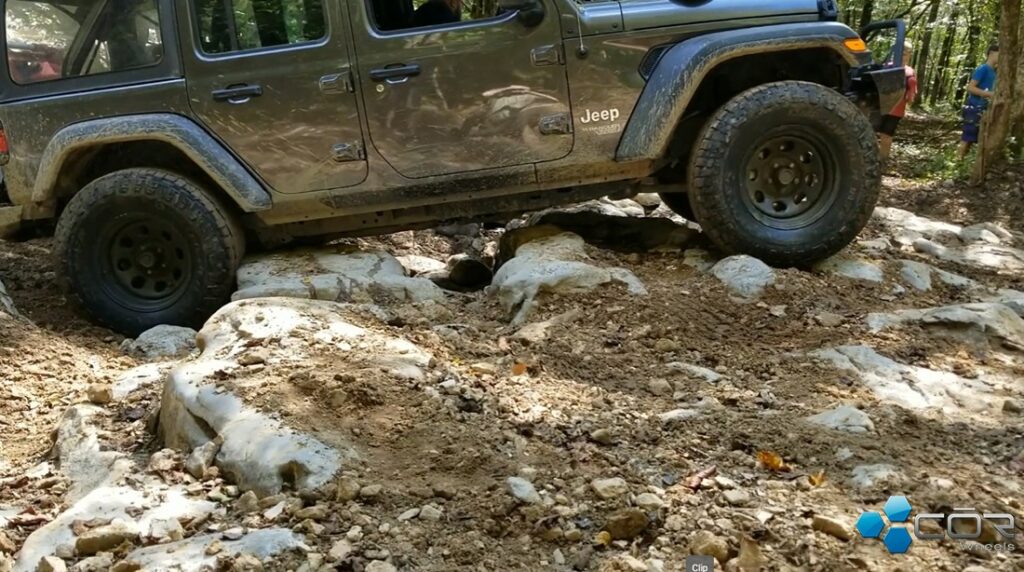 Thick riverbed or extreme rock crawling still proved to be beyond AT3's designated scopes. Unless you are a beyond-average driver, engaging in dynamic leans on such road textures is not really recommended.
The great news is that the tire delivered a stellar job in almost any other non-challenging rocky terrains, such as gentle trails, riverbeds, or short quarry roads. Accelerations and hard brakings might result in pronounced thuds around corners but, overall, were still doable.
Sand Traction: 8.2/10
AT3 XLT certainly could not compete with an off-road AT model, but its behavior on thick dunes was frankly much better than our expectations for an on-road AT tire. Soft, concentrated particles pooled up in small clusters under the tread but were far from enough to deter the car off its track, only giving off some frequent yet brief stutters when diving into zigzag patterns or graded road textures.
And once revving down to 30 MPH using more focused shuffle steering techniques, our car actually managed great traction confidence at almost the same level as on gravel dirt. You can give its performance an even greater boost by keeping cargo and passengers at the minimum, preferably with combined weights below 500 lbs.
Mud Traction: 8/10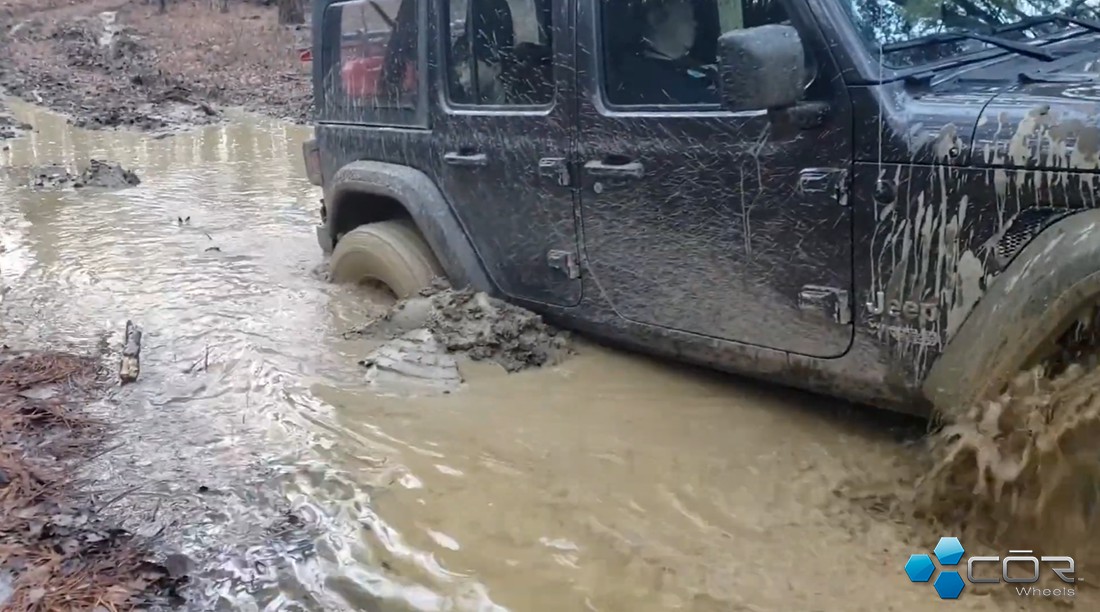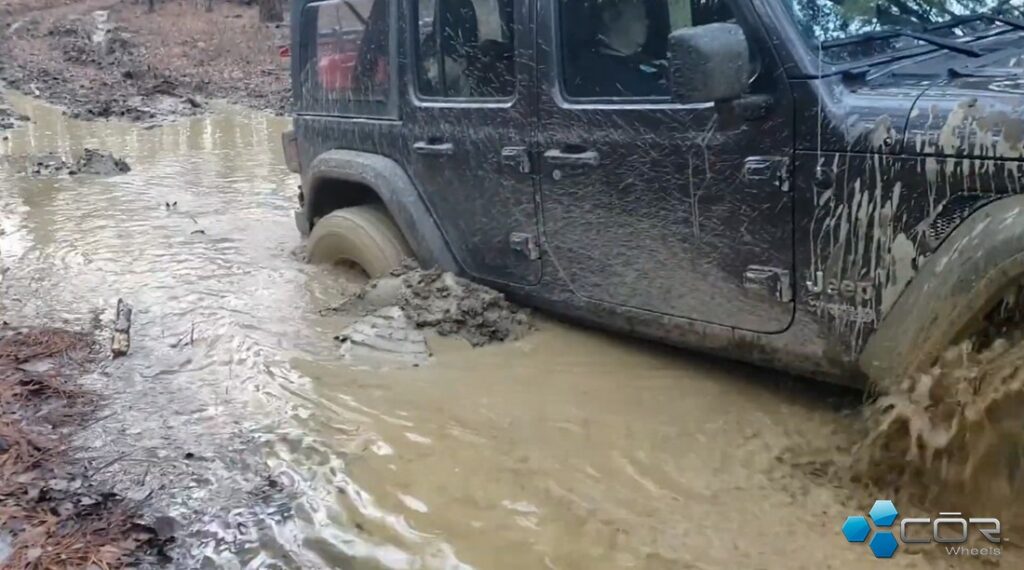 While the tire sidewalls admittedly got more squelchy on mud tracks, their connection with the road textures remained pretty transparent. As a result, the tire still delivered punctual, pretty responsive steering feedback with basic input, and gummed itself surprisingly tight when panic brakings had to be engaged to avoid collisions.
On another note, higher speed limits or adventurous leans are still not considered the tire's best highlights on mud terrains. They were within reach to a certain extent – especially for some members with better physiques in our team – but we still recommend you avoid them altogether for safety reasons.
4. Winter/Snow Performance: 8/10
Light Snow Traction: 8.4/10
We were pleased with how AT3 XLT composed itself on the road. Its clawing actions were not as sharp as on off-road gravel dirt but handled the snow distribution tasks just fine, allowing our car to strike confidently through 2-5 inches of snow volume with only brief, distant stutters around the flanks.
When armed with snow chains, AT3 LTX became all the more powerful, almost comparable to a middle-range specialized winter tire. You still need to look out for highway cornerings or steep ascents, though, since our ride was not completely free of hesitant chokes and coughs.
Deep Snow Traction: 8.1/10
Deep snow performances witnessed a major decrease from the previous light-snow tests. Thankfully, they still played very much in our favor – judging by the stable footholds, calm demeanor, and very predictable drifting that could have totally been prevented beforehand with enough preparation.
With snow chains installed onto the two fronts, Discover AT3 XLT could carry itself much longer than expected into rugged mountain passes and rarely stuttered in the face of tight corner approaches. But just like with its light snow traction, high-speed maneuvers and leans might not always be the safest moves to try out if you lack experience.
Ice Traction: 7.3/10
Ice traction definitely had room for improvement, especially when we compared AT3 XLT to its powerful sibling Cooper Discoverer AT3 4S. The XLT coughed more often, easily got triggered with the slightest input changes, and sometimes took a whopping 5-7 seconds to recover from understeer and temporary stalls.
On a brighter note, this all-terrain tire was still rideable and controlled itself pretty well in warmer weather or mid-spring. Extended trips clearly still pose too much risk, but short-distanced travels are totally possible for you given low-key driving rates below 30 MPH.
5. Comfort: 8.5/10
Ride Quality: 8.7/10
AT3 XLT is a star on on-road pavements with extremely cushioned and well-padded feel over bumps, cracks, and small pebbles.
Even its off-road manners on dirt and rock ticked most of our boxes, rarely giving off truly alarming jostles except during spirited driving. You only have to watch out for significant vibrations on ice, loose terrains, and deep water from 6 inches onwards.
Noise: 8.4/10
Noise control is not exceptional but far from being considered bad; the sounds stayed low-key most of the time on regular roads (both dry and wet) and even quietened when our passengers and cargo were reduced. They did get louder on off-road terrains – but nothing more alarming than any other on-road AT tire in our test.
6. Tread Wear and Durability: 8.4/10
The Wear Arc Tech lived up to expectations, keeping this road tire almost unchanged by the end of our test with impressive withstanding power against temperature extremes and intensive off-road abuse. Its 60,000-mile treadwear warranty is also a huge bonus, guaranteeing mindless usage for about the first six years.
AT3 XLT Pros & Cons
Excellent traction on dry roads (top 3)
Great steering and cornering stability
All-round off-road handling (no metrics below 8)
Pretty good manner on deep and light snow
Fairly smooth rides
Ice and wet-condition traction could have been better
Can't deal with thick mud
Conclusion
In this Cooper Discoverer AT3 XLT tire review, the tire proves itself a brilliant performer on on-road terrains. While off-road and wintry traction still has room for improvement, the tire is totally rideable in such conditions and unlikely to put you in real danger.
Overall, it would be a great assistant in summer, light rainy conditions, moderate winter temperatures, and during basic off-road maneuvers with no significant texture alterations.
Cooper Discoverer AT3 XLT
PRICE
SOLD BY

Offers

In Stock

Offers

In Stock

Offers

In Stock

Offers

In Stock

Offers

In Stock
---
President & Automotive Expert at COR Wheels
Robert Herrera has been with COR Wheels for 17 years and has a great passion for the automotive industry. During his time at COR Wheels, he has driven and test-driven a variety of vehicles.
---