Continental is known as the fourth largest tire manufacturer, whose tires excel in both dry and wet conditions with great stability at high speeds, especially its all-season lineup. A case in point is the Continental CrossContact LX25. This is a touring all-season product crafted to provide above-average performance in all kinds of weather.
The review below contains everything you need to know about this tire, based on our recent COR Wheels test. Our experience with it across diverse scenarios provides a detailed overview of its performance.
In this article:
Continental CrossContact LX25 Specifications & Features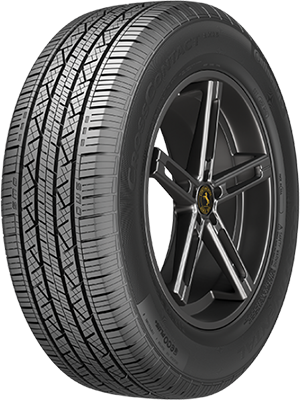 Tire Type
Crossover/SUV Touring All-Season
Tire Size
16″ – 22″
Weight
24.0 LBS – 43.0 LBS
Load Index
95 – 114
Load Range
SL – XL
Speed Rating
– H: up to 130 mph
– V: up to 149 mph
Warranty
65,000 – 70,000
Ratings
8.8/10
What first catches our attention is the extensive range of wheel sizes it caters to. With the smallest size being 215/70R16 and the largest being 285/45R22, this line ensures a fitting option for most vehicle models.
The tires also offer load index ranging from 95 to 114. Its speed ratings range from T to V. This means those tires are meant for both everyday driving and more performance-oriented driving.
The design of the tire is also worth mentioning. In addition to a symmetrical tread pattern, it also includes features such as circumferential grooves, diagonal and lateral sipes, and traction grooves. Such grooves can help water escape from the tire's footprint and reduce slipperiness on snowy and wet roads.
The internal structure of the tire is also built for durability. It has a polyester cord body and polyamide reinforcement aimed at improving high-speed stability and steering control.
The tire incorporates what is known as Comfort Ride Technology in its construction. This is intended to dampen vibrations and shocks that can occur when traversing uneven roads.
The system works by absorbing these disturbances within the tire before they can be transferred to the vehicle's suspension or body. It's an aspect that sounds appealing, and we're intrigued to see how much of a difference it can actually make.
The CrossContact LX25 also features EcoPlus Technology – a fuel-saving feature that Continental employs in its high-end tire lines. The goal here is to enhance the tire's efficiency and longevity, which in turn could reduce fuel consumption and extend the tire's life cycle.
This technology includes two key elements: Plus Silane and Tg-OF Polymers. They are designed to reduce slipperiness and increase stability, particularly on wet or snowy surfaces.
Continental CrossContact LX25 Review & Performance Test Results
In our 2023 COR Wheels Tire Test, we utilized a 2022 Honda Odyssey outfitted with a set of 235/60R18 tires.
To get a thorough and balanced assessment, we tested it under an array of conditions. This range from clear, dry roads to rain-soaked highways and even snowy winter paths (in January). And here are our findings.
Dry Performance: 9.1/10
Dry Traction: 9.3/10
We navigated a stretch of highway in the heat of summer. During that time, we immediately noticed the impressive dry traction of the CrossContact LX25.
A palpable sense of control and stability pervaded our drive, even as the speedometer ticked upwards. The tires clung to the pavement with a reassuring grip, adding an extra layer of confidence to our journey.
Even when we accelerated to 55 MPH quickly, there was no noticeable traction loss, prompting us to give it a solid 9.3 out of 10 in this category.
That said, it wasn't all smooth sailing. There were moments when we decided to push the boundaries, executing tight turns at 75+ MPH. Here, we noticed a slight slippage, a common trait among many high-performance tires.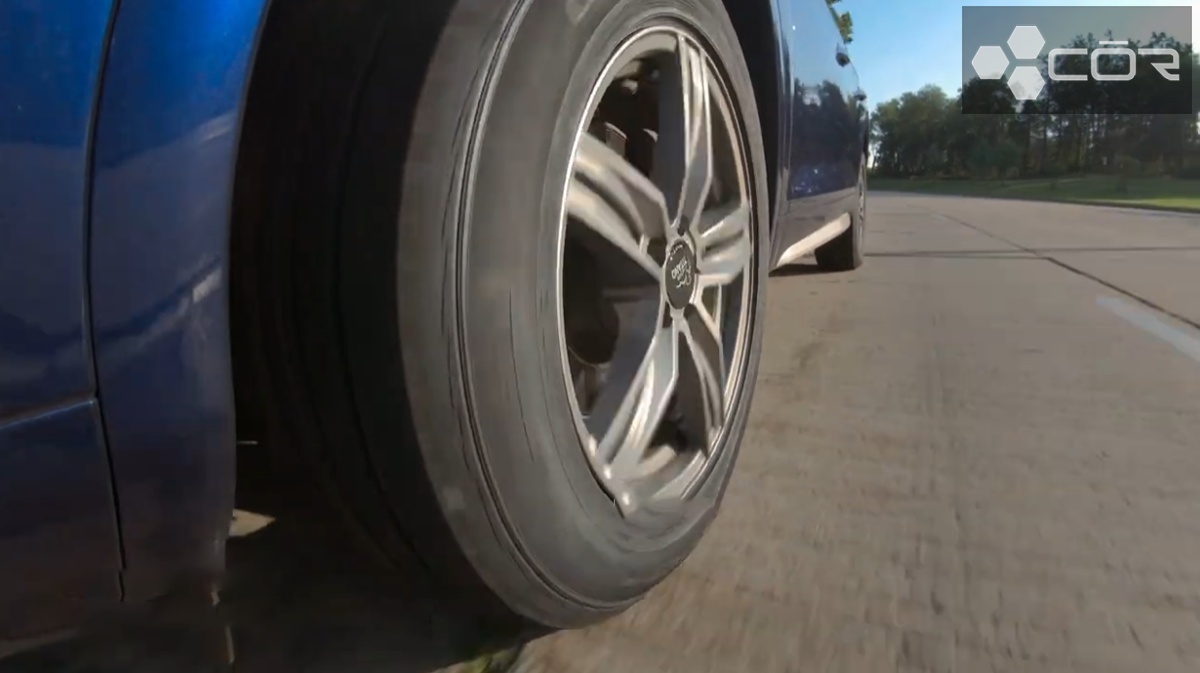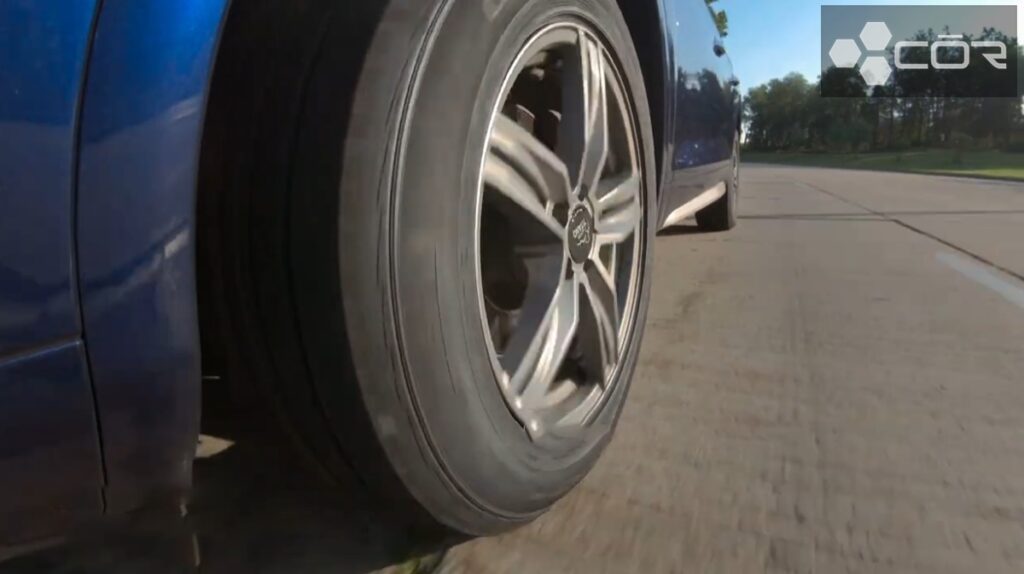 Corner Stability: 9/10
The tire truly displayed its prowess on a series of serpentine hillside roads.
Traversing through sharp bends and winding stretches, the tire maintained an impressive degree of stability. Each corner was met with a robust grip, ensuring our vehicle adhered to the intended path with precision.
However, as we took on an ambitious hairpin bend at a somewhat 60 MPH, there was a marginal wheel slip.
Steering Response: 9/10
Going through the labyrinth of narrow lanes, tight corners, and sudden obstacles, the LX25 rewarded us with effortless maneuverability. The tire's responsiveness was on full display when we had to make a swift steering adjustment to bypass an unforeseen pothole.
The response from the LX25 was immediate and accurate, maintaining our vehicle's stability and ensuring a safe drive.
Yet, we must note that the steering response, while excellent overall, might not satisfy those seeking the ultra-crisp feedback of a high-performance tire. It felt a tad overactive, demanding minor adjustments to our inputs.
Wet Performance: 9/10
Wet Traction: 9/10
The Continental CrossContact LX25 demonstrates excellent capabilities when navigating wet conditions.
As we drove the vehicle around the track, we observed that the tire displayed a significant cornering grip. It was certainly more than we have seen from comparable products in its class. This provided a sense of confidence, enabling us to maintain speed on corner entry and regain throttle control swiftly at the exit.
Despite a slight decrease in traction when compared to dry conditions, the tire's performance was impressive. It gave us an assertive response and balanced power distribution.
However, it should be noted that the braking strength could seem less robust than the tire's objective figures may suggest, especially when pushing it to its limit.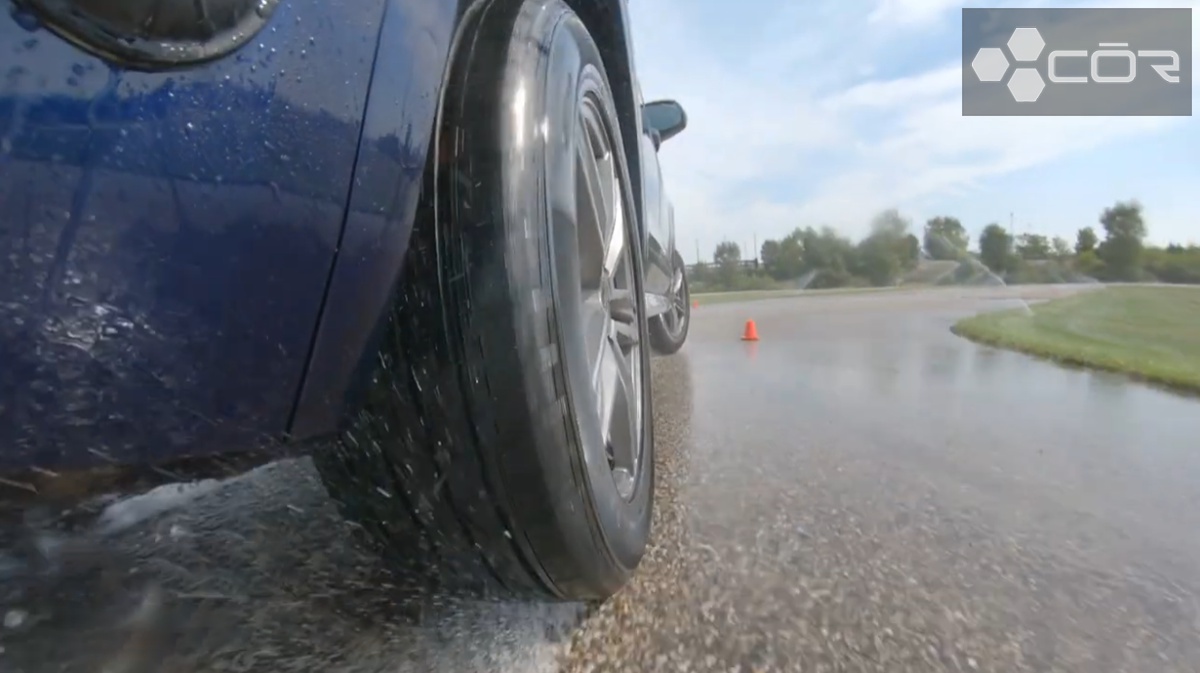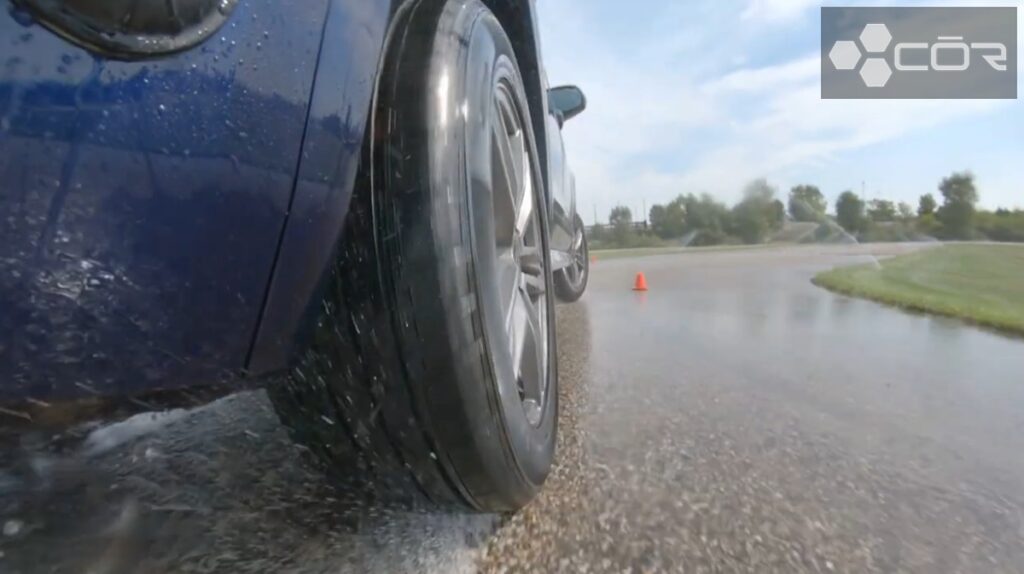 Hydroplaning Resistance: 8.9/10
Even under heavy rainfall in Florida, the tire maintained stability and displayed exceptional grip, instilling a sense of security and control. No hydroplaning was detected when we were cutting through 2-3 inches of water. But deeper and larger puddles did give us a sense of floating.
However, under such extreme conditions, it should be noted that some amount of spray was ejected onto the car's fender – an event that can be managed with experience and attentiveness.
Under emergency braking situations, we also found the stopping distance to be slightly longer than what we've seen with some other tires.
Winter and Snow Performance: 8.2/10
Light Snow Traction: 8.7/10
We put this tire to the test on a winter's day through a lightly blanketed suburb. Cruising through 6 inches to 10 inches of snow, the tires gripped the road with conviction.
The tire's advanced tread pattern allows it to dig into the snow efficiently. The car responded predictably to steering, and we didn't encounter any unexpected slips.
Still, on a few occasions, we observed slight traction loss as the snow became more compact under our tires.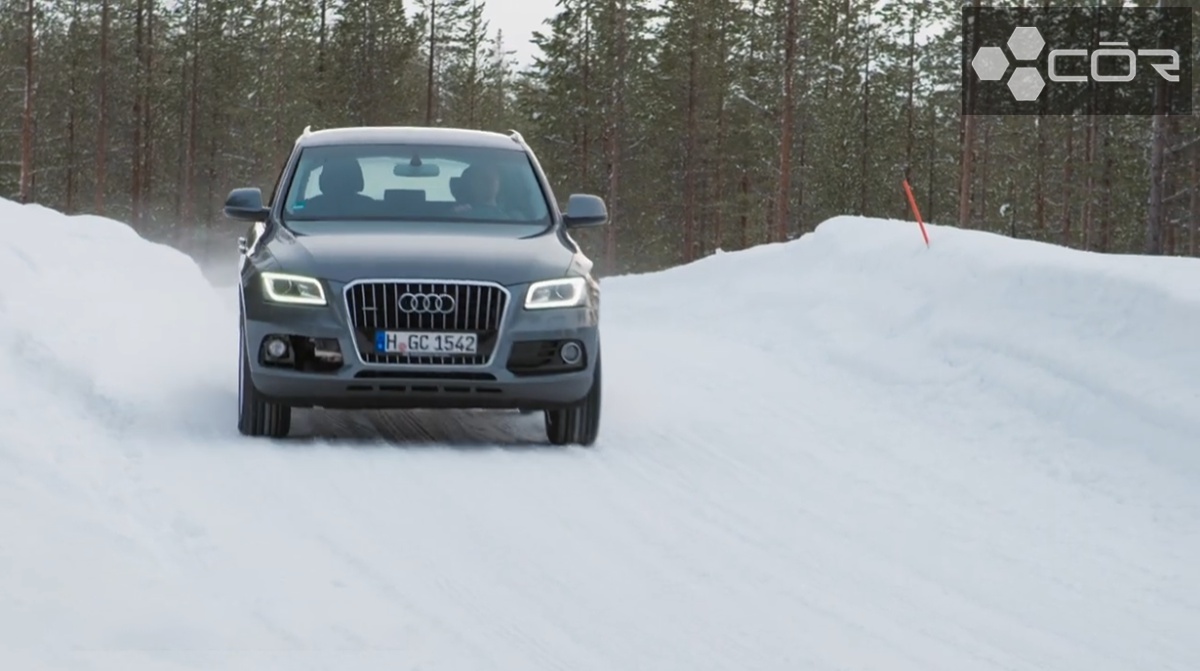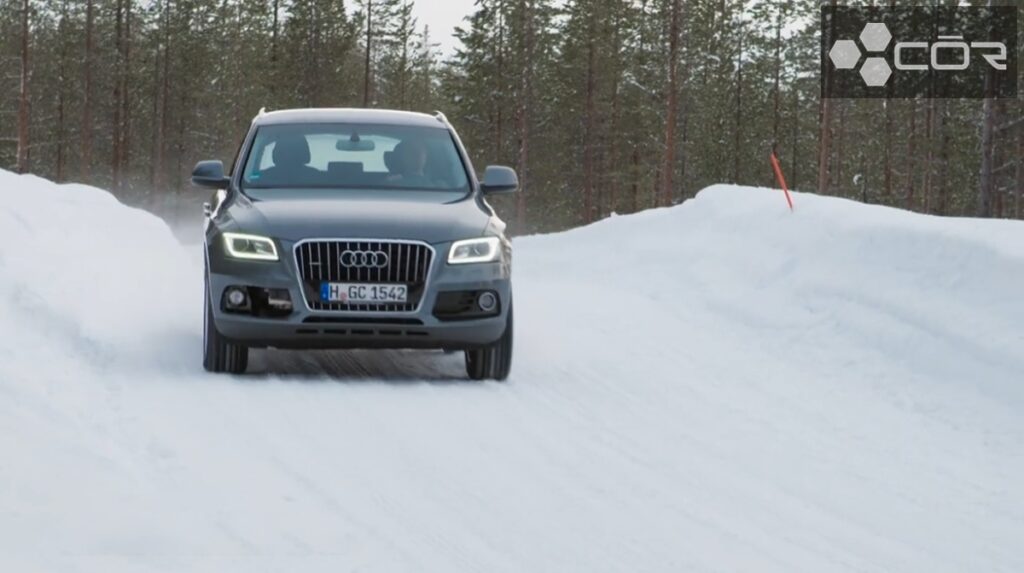 Deep Snow Traction: 8.2/10
It was obvious that as the snow became deeper, say, from 12 inches onwards, the performance declined drastically. In a snow-laden parking lot after a heavy snowfall, we noticed a hint of hesitancy and instability as the snow level reached the underside of the vehicle.
Overall, the tires managed to get us through below-12-inch snow blankets. But the drive wasn't as effortless or comfortable as it would have been with a dedicated winter option like the Continental VikingContact.
Ice Traction: 7.8/10
Ice traction, a challenging aspect for any all-season tire, was a bit of a mixed bag with the CrossContact LX25. Driving in icy conditions with these tires was manageable (at a snail's pace of 15-20 MPH) but not exceptional.
With a noticeable decrease in grip and stability, we had to adjust our driving style and slow down considerably to ensure a safe drive, especially on hardly packed, many-days-old ice.
Comfort: 8.8/10
Ride Quality: 9/10
Continental's Comfort Ride Technology has indeed done a fine job. From the moment we set off in our test vehicle, we could feel the difference.
The car seemed to glide smoothly over the road surface, regardless of its condition. It delivers an exceptionally plush ride that absorbs road bumps with little to no harshness within the cabin.
Noise: 8.7/10
While the noise levels are impressively low, it's not the quietest tire we've ever tested. We observed that as the tires wore, the noise increased slightly, becoming more noticeable over time. It became a tad more prominent when driving over coarse or rough road textures.
Treadwear and Durability: 9/10
We are confident in the tire's durability. Our 10-day test, although a relatively short period, showed no significant wear. It affirmed what we had researched and heard from user feedback.
The impressive tread life seems to be a result of the tire's internal structure. The two steel belts wrapped in a polyester cord body can enhance overall durability.
Our immediate impression, even before we hit the road for tests, was that the tires looked sturdy and capable of enduring long-term wear.
Continental also offers warranty coverage of 70,000-mile treadwear for the H and T speed rating and 65,000 miles for the V speed rating. You simply have no reason to worry about the longevity of this tire.
CrossContact LX25 Pros and Cons
Reliable traction and stable handling across a range of conditions
Good ride comfort
The advanced design promotes fuel efficiency
Offers some light snow traction
Slightly cheaper than other premium competitors
Not the best choice for heavy snow or off-road
The thumping sounds over larger potholes
Somewhat slippery at hard corners
CrossContact LX25 Competitors & Alternatives
The Continental CrossContact LX25 shares the market with some strong competitors. Two of them are the Bridgestone Alenza AS Ultra and the Michelin CrossClimate2.
The Michelin tire is highly respected due to its impressive on-road characteristics. With responsive steering and short braking distances in all conditions, its performance was undeniably excellent, but we noticed it fell short for winter tractuon.
Notably, though, the Michelin CrossClimate2 proved to be quieter than the LX25, particularly at high speeds.
On the other hand, the performance balance of the Bridgestone Alenza AS Ultra was impressive as it offers a smooth ride and competent wet traction.
In terms of ride comfort, it slightly surpassed our LX25. The Alenza AS Ultra also exhibits slightly more noticeable low- to medium-volume tread noise. But when it came to snow performance, the LX25 also showed superiority.
Conclusion
The CrossContact LX25 is a high-performing tire for daily commutes and urban environments. Dry traction is where these Continental tires shine brightest, making them a top contender for those who reside in areas with milder winters.
While it may not be the absolute best in all categories, it holds its ground firmly in several key areas. These attributes often outclass even those offered by high-end tires like Michelin.
With a price range lower than those of the Alenza AS Ultra and the Michelin CrossClimate2, the CrossContact LX25 delivers good value for money. Remember that it even did a better job in snow conditions than its pricier competitors.
However, from our Continental CrossContact LX25 tire review, we can see that for those who frequently traverse icy and heavily snow-covered roads, this tire might not be the optimal choice. For such conditions, exploring other tire alternatives that excel in severe winter conditions would be a wise move.
Continental CrossContact LX25
PRICE
SOLD BY

Offers

In Stock

Offers

In Stock

Offers

In Stock

Offers

In Stock

Offers

In Stock

Offers

In Stock
---
President & Automotive Expert at COR Wheels
Robert Herrera has been with COR Wheels for 17 years and has a great passion for the automotive industry. During his time at COR Wheels, he has driven and test-driven a variety of vehicles.
---