The mentioning of grand-touring tires is often associated with popular names from Michelin, Bridgestone, Pirelli, and of course, Continental – notably PureContact LS. This tire has actually earned quite a reputation for itself with stable blocks, advanced underlays, and siped shoulders for optimal dry handling.
This tire review will summarize its real-life performance in the 2023 COR Wheels Tire Test.
In this review:
Continental PureContact LS Specifications & Features
Tire Type
Grand Touring All-Season
Tire Size
16″ – 20″
Weight
19.0 LBS – 28.0 LBS
Load Index
87 – 102
Load Range
SL – XL
Speed Rating
– H: up to 130 mph
– V: up to 149 mph
Warranty
70,000 miles
Ratings
8.4/10
Continental PureContact LS is a grand touring tire developed for small crossovers, minivans, coupes, and family sedans seeking sporty steering and responsive handling without sacrificing quiet comfort.
With the following highlight features, the tire aimed to deliver year-round, confident grip in all on-road terrains (light snow included):
Functional, temperature-activated polymers are blended into the compound to improve fuel efficiency and tire wear rates.
The asymmetric patterns deliver stable shoulder tread blocks that strengthen high-speed manners and lateral grip.
Wide center ribs offer exceptional on-center feels with confident tracking on straight-line roads.
Comfort Ride Tech incorporates tread underlay, isolating the tread walls to reduce perceptible cabin vibration.
Extra +Silane additives aid on slippery surfaces, while the circumferential channels and sweeping grooves evacuate water.
Intermediate blocks, traction grooves, and siped shoulders combine for extra icy/snowy grip.
Polyester, single-ply casing and varied apex (middle to high) balance riding comfort with performance and handling.
Two steel belts (reinforced with polyamide overlays) enhance high-speed consistency and durability.
Continental PureContact LS Review & Performance Test Result
Our team has used the 225/50R17 tire size version of Continental PureContact LS on the 2022 Honda Accord as part of the annual 2023 COR Wheels Tire Test.
1. Dry Performance: 9/10
Dry Traction: 9.1/10
There was little doubt about PureContact's dry grip. Just as its name suggested, the pure road contact already established itself strong right from the beginning despite our low-key inputs; and after getting over a few brief shudders, LS breezed through the main roads in clean, confident strikes at 40 MPH.
We had very few problems veering around roadblocks or off in other directions to sidestep vehicles. Better yet, both accelerations and decelerations bonded well with the tire's high-quality polymer compounds, resulting in breezy stops before merge lanes and equally seamless speed revs in moderate-traffic road sections.
A few tires experienced slight stutters navigating different road materials in back-to-back endeavors, but that certainly was not the case with PureContact LS. It will deliver you relatively the same confidence on asphalt, concrete, and tarmac roads; cobblestone paths admittedly caused the tire to squeal slightly around the flanks, but those drifting moments were swallowed down just as quickly as they came.
Hence, you can trust the tire to be exceptionally stable regardless of road surfaces and driving techniques. No significant drawback was spotted, though we did notice slightly more shuffling quivers on dry roads with hints of snow melts or puddles after winter.
Corner Stability: 8.9/10
While the wide, strong center ribs sometimes caused several over-reactions, they still played mostly in our favor due to reliable stability. Corner exits were not scary – even for some of our beginner members – and once the momentum was settled, the rest of the strike was very uneventful. We experienced little stutters accelerating mid-ways and managed to hug the corner line with excellent precision before exiting.
Still, drawbacks were at play: the transitions from arterial to cross streets, while comforting, were not always predictable at doglegs or carousels. You should also be careful with accelerations beyond 55 MPH at tight crooks, since the chances of slippage and slight off-center feel might occur more frequently than expected.
Steering Response: 9/10
The tire had excellent steering quality in moderately spirited driving. Unlike some other Continental tires, the steering wheel vibrations were kept so low-key that we hardly felt it under our fingers, leading to very stable and controlled responses that rarely strayed off our inputs.
Each strike was on-point, precise, and predictable, allowing us a good hunch of where the tire was heading to and how it would react on certain road paths.
However, PureContact LS started to get slightly muter as our accelerations became more aggressive. For better safety, it would be better if you only engage in dynamic riding on straight-line highways – and slow down to below 35 MPH with at least 6 to 7 seconds to spare before corner entries.
2. Wet Performance: 8.7/10
Wet Traction: 8.7/10
PureContact LS was delightful on wet roads. You may notice a lot of sharp edges vanishing compared to dry conditions – but frankly, that is normal for any touring tire. Other than that, it was hard to find anything to complain about when plowing through shallow, stagnant water or marching through wet bridges or gravel roads.
PureContact LS always remained in communication from decent to good with the roads, even choking out extra footholds with slightly more forceful wheel grinding.
Deep water beyond 7 inches turned out not to bring as much trouble as we thought, all thanks to the excellent circumferential and sweeping grooves. Given that your driving rate is below 55 MPH with no abrupt changes, retaining the same aggressiveness as on regular street surfaces will actually not be that difficult.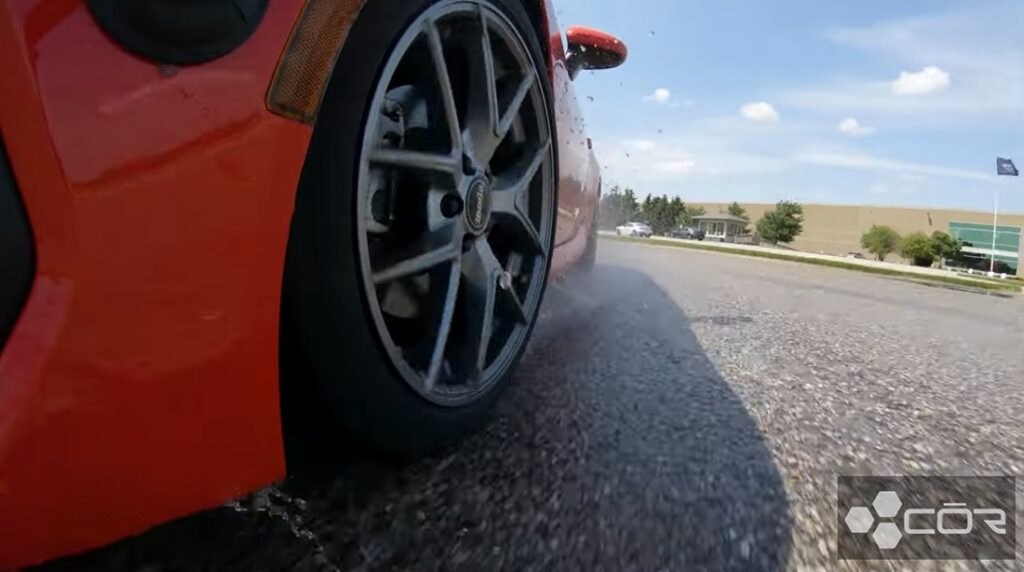 Hydroplaning Resistance: 8.6/10
There was little room for hydroplaning issues; once again, the interlocking grooves and sipes did an excellent job keeping water intrusion under control. On moderately deep water or slippery post-rain surfaces, PureContact LS barely faltered and trampled on the slightly heavy water feel under its contact patch in little to no drama.
Nevertheless, it seemed the temperature-activated polymer did not deal well with cold temperatures as well as we thought. Summer rains were tolerable, but our ride began to suffer in winter downfalls or heavy rains in cold weather below 32 degrees F. Stalls are frequent even on straight-line drivings, and you may have to brace yourself for dragging center ribs when tackling very tight corners.
3. Winter/Snow Performance: 7.3/10
Light Snow Traction: 7.9/10
PureContact LS was not exactly the best performer on light snow, but its straight-line traction was tolerable thanks to the frequent yet predictable skitters around the borderlines.
The tire reacted with punctual steering during critical moments like abruptly switching lanes or overtaking other vehicles. Handling slightly slippery snow-mud roads or littering pebbles also brought no real issue for us when the car was equipped with extra snow chains.
But as mentioned, low temperatures had never been PureContact LS's highlighted strengths, so cold, hard snow began to take a toll on the tire's siped shoulders. You can actually still maintain decent driving rates (40 to 55 MPH), but it would be best to avoid tight corners and blind curves.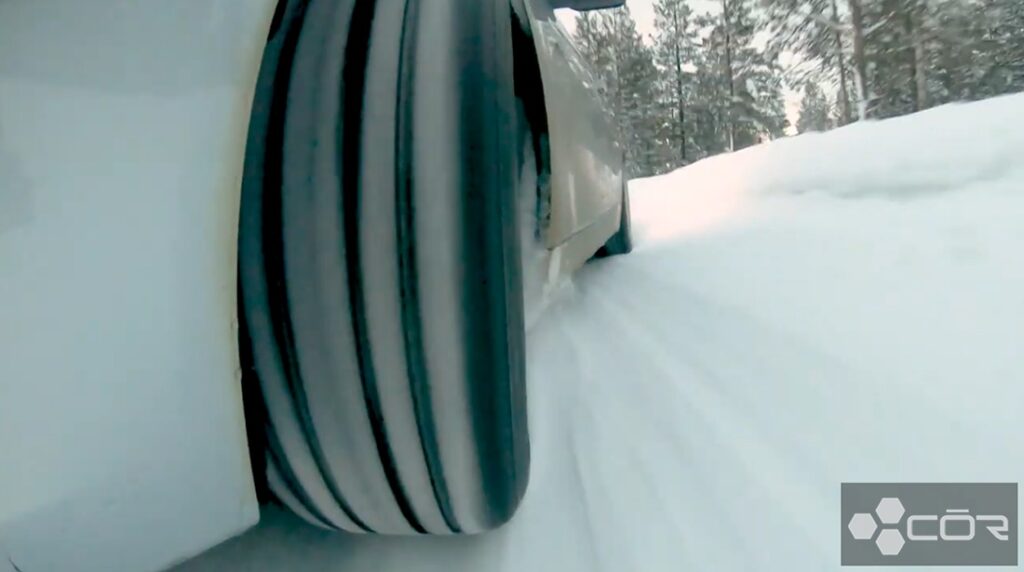 Deep Snow Traction: 7.1/10
After 15 minutes, we could already tell PureContact LS's lackluster deep snow traction. Unless we kept things civilized under 25 MPH, it was hard to attempt any daring leans or bold strikes without constant shakes from side to side. Thankfully, these traction losses recovered within acceptable timeframes, but the fluctuating movements still left a very ominous feel under the patch if we drove further.
Snow chains did help us get out of thick buildups, though not as fast as we had hoped. Worse, once snow storms occur and increase snow volume past the 9-inch benchmark, these chains might not offer much support for your car.
Ice Traction: 6.8/10
We only tested PureContact for 4 to 5 miles due to safety reasons – and even on such a short distance, the tire already performed below expectations.
While the length and intensity of each traction loss occurrence were the same as on deep snow, they became much less predictable this time; we traveled breezily at 35 MPH at one moment but downright stumbled in the next despite the unchanged road textures.
All cornering and veering attempts must be carried out twice as slowly as usual – and even then, it felt like we could be shaken out of our seats at any moment.
You can still use PureContact LS for ice terrains if these icy patches are only a small part of your trip. But when the entire terrain is covered with ice, consider purchasing winter tires instead.
4. Comfort: 8.6/10
Ride Quality: 8.8/10
Continental PureContact LS easily found itself among the top 4 of our test. The contact patch bonded great with pavement grooves on straight paths without overdoing it, hence the cushioned, very streamlined feel over road bumps.
As mentioned briefly above, we did encounter some over-reactions at corners, though; while they were not as intrusive as we thought, this is still a major drawback to consider if you are a fan of bumpless cornering.
Noise: 8.4/10
Noise control could have been better at higher-speed maneuvers. However, given that many competitors performed even worse, PureContact LS could still be considered pretty decent in this regard. Plus, if you use this tire for slow, leisurely driving below 35 MPH for relaxed sightseeing or town wandering, noises will be barely audible.
5. Treadwear and Durability: 8.5/10
As indicated above, PureContact LS fell quite subpar in cold weather (both snowed and snowless conditions) and shuddered violently when transitioning from dry/hot asphalt to cold, deep water and vice versa. Other than that, dry or wet road manners were decent.
It can still hold its ground well if you mostly use the tire for predictable, non-challenging driving. But for those that want extended durability across varied terrains, PureContact LS does not exactly live up to expectations.
PureContact LS Pros & Cons
Excellent dry traction
Fairly confident on wet surfaces
Comfortable ride with tolerable noises
Pretty good treadwear
Underwhelming traction in snowy conditions; disastrous on ice
Cannot handle slightly more dynamic riding without obvious shakes
PureContact LS Competitors & Alternatives
When put against competitors like Bridgestone Turanza QuietTrack, Michelin Primacy Tour A/S, and Vredestein Quatrac Pro, Continental PureContact LS revealed more about its own performance:
Continental PureContact LS had a great cushioned feel on dry tracks and felt pretty confident in moderate stagnant water. Nevertheless, none of its other metrics (winter performance, riding comfort, treadwear) truly stood out from the competition within this group.
Bridgestone QuietTrack delivered excellent, refined road manners and surprisingly good light snow traction. Its wet traction could have been improved, though.
Michelin Primacy A/S enjoyed a very consistent, all-round performance; none of its qualities bottomed the list. But this is also a double knife: the tire does not really excel in any area, either.
Vredestein Quatrac was a star on heavily slippery surfaces (both with and without snow), which is very impressive for a touring tire. We love to see slightly more stable cornering, however.
Conclusion
To conclude this Continental PureContact LS tire review, the tire still lands safely in the upper half of our list with punctual steering feedback and reliable traction on most on-road terrains, though tread noise control and wintertime performance could have been improved. Given that spirited or aggressive turns are few and far between, trust this all-season tire to be at its peak in most of your daily driving situations.
Continental PureContact LS
PRICE
SOLD BY

Offers

In Stock

Offers

In Stock

Offers

In Stock

Offers

In Stock

Offers

In Stock

Offers

In Stock
---
President & Automotive Expert at COR Wheels
Robert Herrera has been with COR Wheels for 17 years and has a great passion for the automotive industry. During his time at COR Wheels, he has driven and test-driven a variety of vehicles.
---