Introducing the Continental ExtremeContact DWS 06 Plus: an ultra-high performance all-season tire, or so the company claims. With its enticing promises of exceptional performance year-round, it's hard not to be intrigued by this tire's potential. Designed to deliver superior traction and handling on many terrains, it boasts impressive specifications and features.
However, after subjecting it to our rigorous COR Wheels tire test, we discovered that the ExtremeContact DWS 06 Plus doesn't quite live up to its all-season title. While it excels in dry and wet conditions, it falls short when it comes to snow and icy surfaces. Let's delve deeper into our findings and tire review to explore why this tire may not be the ideal choice for those seeking true all-season capability.
In this review:
Continental ExtremeContact DWS 06 Specifications & Features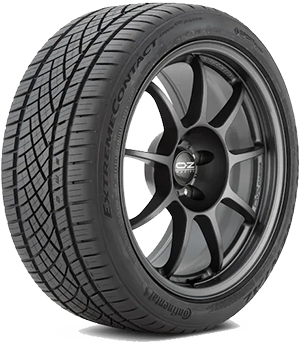 Tire Type
Ultra High Performance All-Season
Tire Size
16″ – 22″
Weight
19.0 LBS – 36.0 LBS
Load Index
83 – 114
Load Range
SL – XL
Speed Rating
– W: up to 168 mph
– Y: up to 186 mph
Warranty
50,000 miles
Ratings
8.5/10
One of the key factors that set the DWS 06 Plus apart is its innovative tread design and compound. The tire features Continental's SportPlus Technology supports braking and handling, while a unique silica-infused rubber compound with advanced Chamfered blocks and Macro Blocks deliver more biting edges, increasing dry traction and steering response.
The tire's 3D siping technology, along with circumferential grooves, allow for more traction and grip on wet roads and snow. This makes the DWS 06 Plus a reliable option for winter driving, ensuring safety and control in challenging weather conditions.
Featuring One notable trait is the dual-ply construction (rather than single ply of some grand touring tires) with stiffer cord materials and Sport sidewall, improving handling without sacrificing comfort.
In terms of the DWS06 Plus's size, the manufacturer gives customers several choices, with diameters ranging between 16 and 22 inches. Also, the manufacturer additionally offers a 50,000-mile walking guarantee as well as numerous other after-sales services.
Continental ExtremeContact DWS 06 Plus Review & Performance Test Result
Our team decided to use the 245/40R18 for the performance test, which is also among the brand's best-selling tire models.
As part of the 2023 COR Wheels tire test, all four Continental ExtremeContact 245/40R18 tires are mounted on the 2022 Honda Accord and test-driven on the road.
Here are the results of our thorough performance test:
Dry Performance: 9.1/10
Dry Traction: 9.2/10
The high-performance tread compound provided a remarkable level of traction, allowing us to accelerate and brake without any signs of slippage confidently. Whether we were navigating sharp turns or engaging in spirited driving, the tire maintained its grip on dry roads, even at 85 mph speed, delivering a responsive and controlled feel.
They highlighted its ability to provide excellent grip during acceleration, quick stops, and even aggressive maneuvers. There's nothing much to complain about this ability, but we did feel an overheating tendency when it was 85 to 90°F outside, which sheds off some of its score.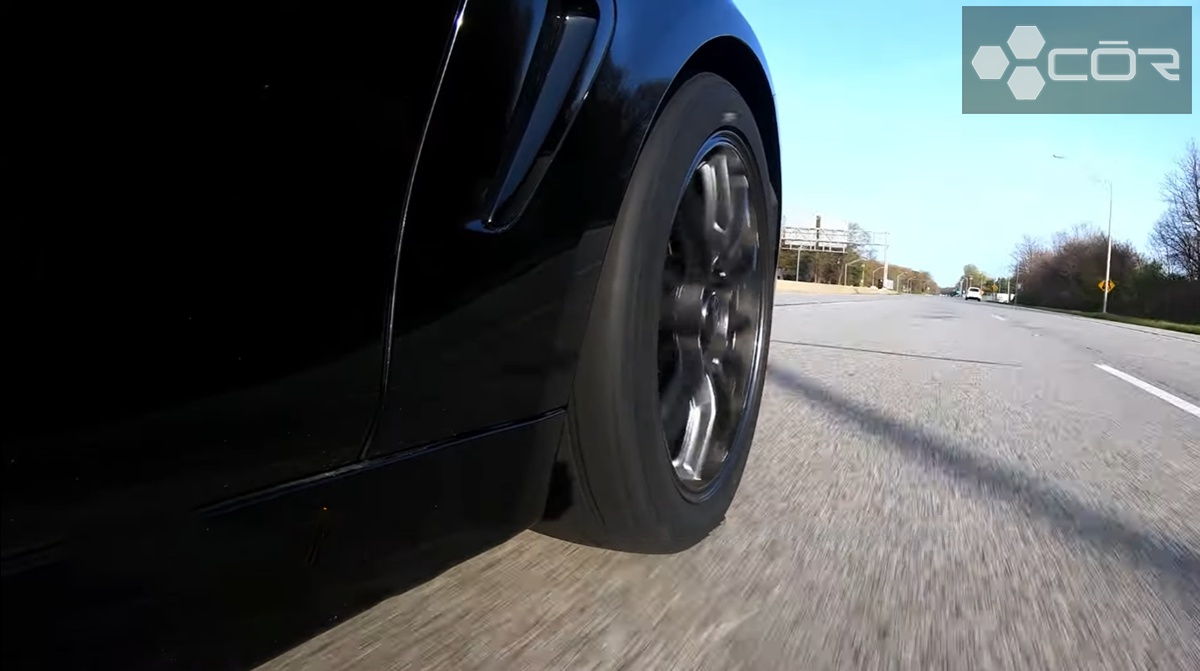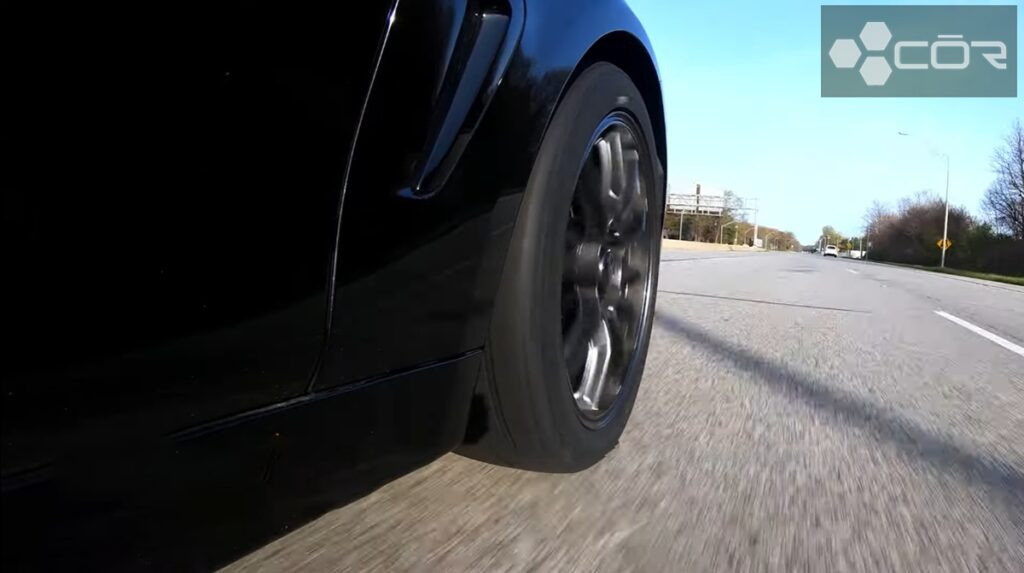 Corner Stability: 9.0/10
The wide shoulder blocks and sturdy outer shoulder design of the tire create a solid foundation for precise and controlled cornering. We tested it on a twisty road with just some short straightaways, and the tire still maintained optimal contact with the road surface when cornering at 20 – 45 mph.
When tackling tight bends or sweeping curves, the tire displayed a little traction loss, but we soon gained control over it, so it still gives us enough confidence in this regard.
Steering Response: 9.0/10
The tire's design, including the continuous center rib, played a vital role in enhancing steering response. We found that the tire responded promptly to our steering inputs, translating them into immediate and precise changes in direction on 33Rd Street.
This level of responsiveness greatly enhanced the overall driving dynamics, allowing for agile maneuvering and confident handling. We decided to put it to a more extreme test by making an abrupt sharp 90° turn, but oversteering happened – the front tire tried to grip on the dry pavement, while the rear tire swung around.
Wet Performance: 8.9/10
Wet Traction: 8.9/10
One key feature that contributes to its exceptional wet traction is the presence of wide circumferential grooves. These traction grooves efficiently channel water away from the tire's contact patch, reducing the risk of hydroplaning and enhancing traction on wet surfaces.
Additionally, the tire incorporates optimized sipes, which are small slits in the tread blocks. These sipes act as biting edges, providing additional grip on slippery roads by creating more surface area for the tire to make contact with the road.
Cruising through a downpour, we still felt the tire hugging the road tightly, even at 75 mph. But when it comes to deep waterlog, you will likely notice slippage.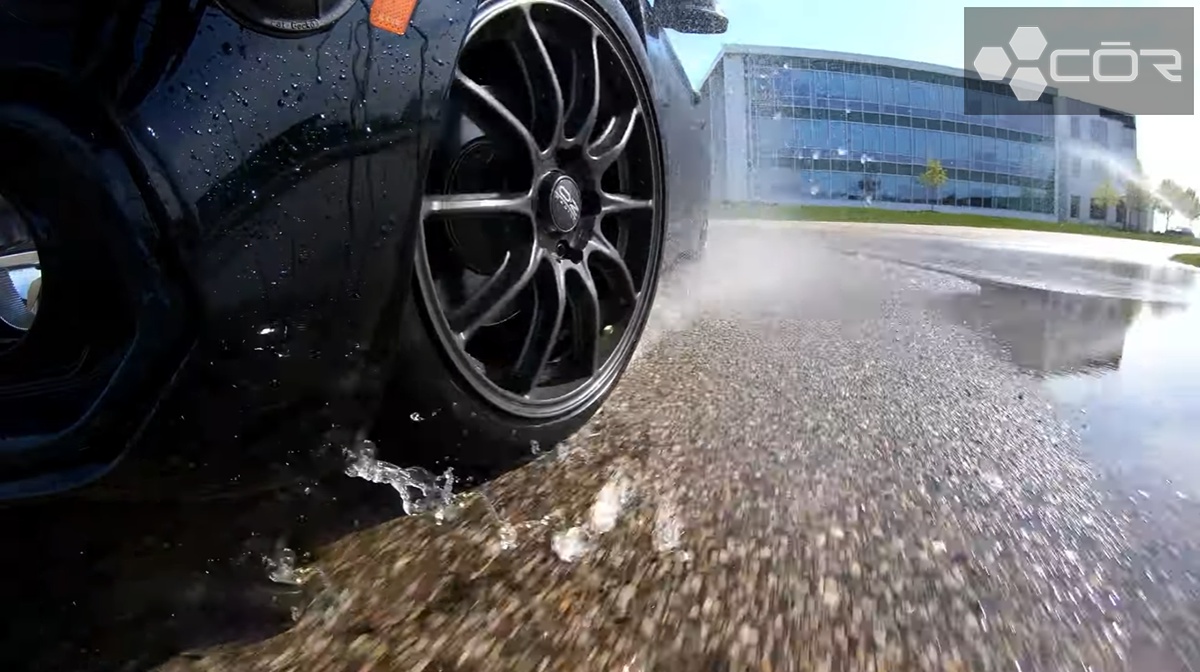 Hydroplaning Resistance: 8.8/10
Having tested this tire in various wet conditions, we can confidently say that it performs well to prevent hydroplaning. The unique tread pattern of the DWS 06 Plus, featuring wide circumferential grooves and multiple lateral grooves, efficiently evacuates water from the tire's contact patch, allowing for enhanced grip on wet surfaces.
This design feature, combined with the tire's advanced silica compound, ensures optimal traction and stability, even in heavy rain or standing water.
As we are driving through flooded roads around 5 inches, we found the tire effectively channeled water away from the tread, maintaining solid contact with the road. We had to admit that it showed signs of sliding once the water level was higher, and this all-season tire is by no means comparable to specialized rain tires.
Winter/Snow Performance: 7.4/10
Light Snow Traction: 8.1/10
In terms of light snow traction, we say this item is quite decent. When we tested on a 7-inch-thick snow layer, it performed okay. We found that its snow traction may not be as robust as that of dedicated winter tires.
Some drawbacks to consider include the lack of specific winter-focused features like aggressive tread patterns or specialized compounds. As a result, the tire's performance in deep or heavy snow may be limited compared to dedicated winter tires.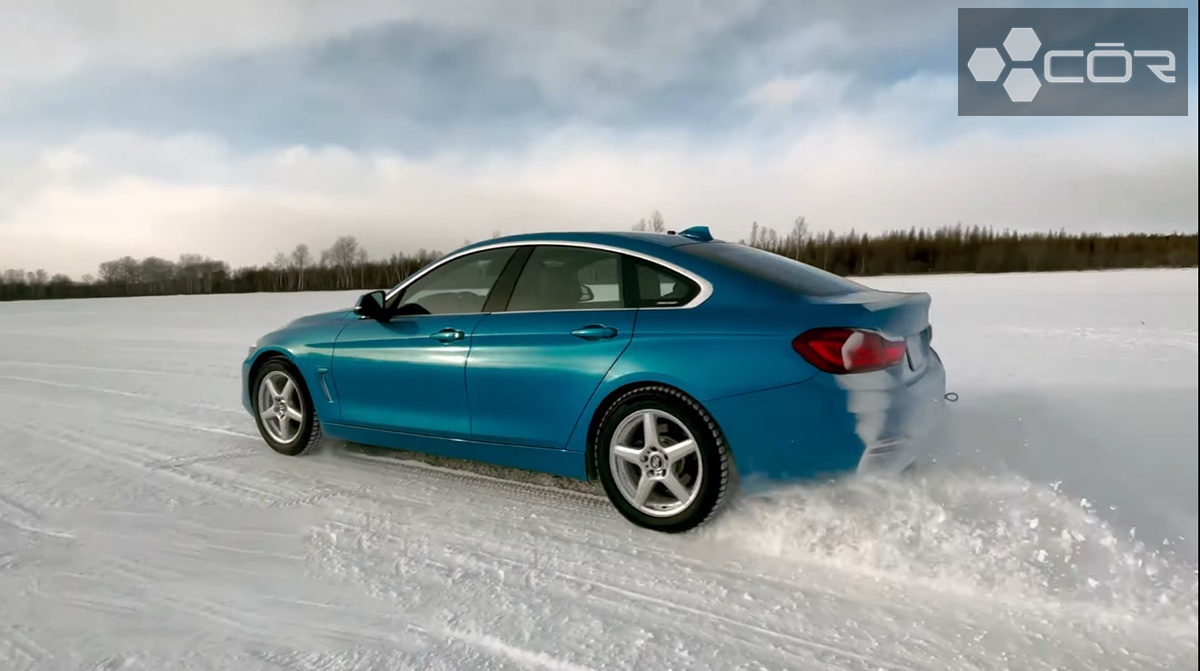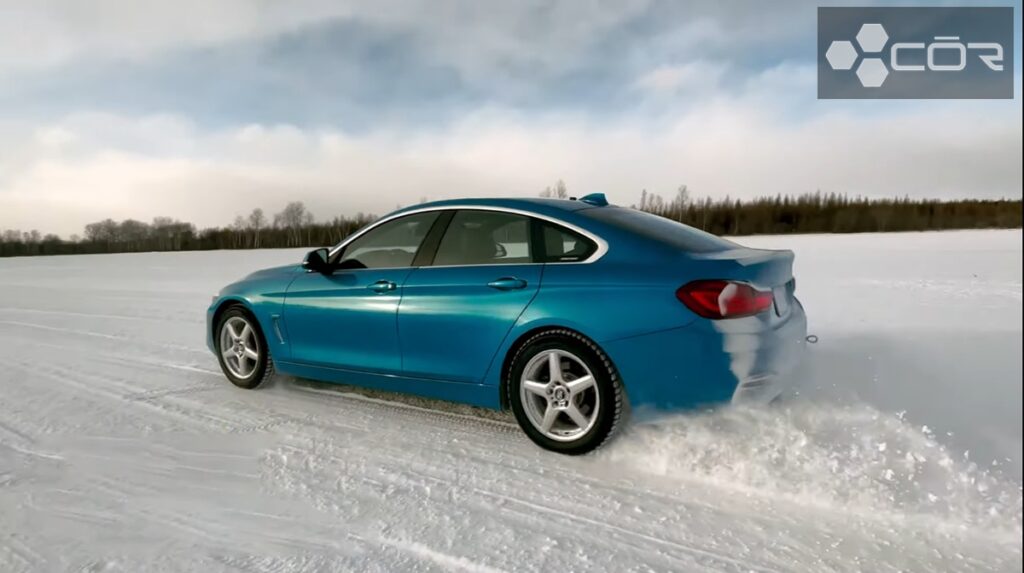 Deep Snow Traction: 7.3/10
The tread design, although can work on light snow, seemed to struggle in more challenging scenarios. The lack of aggressive tread patterns and deeper grooves limited the tire's ability to bite into the snow and maintain traction.
As a result, we experienced instances of slippage and a noticeable decrease in stability when driving through deep snow. Its limitations in deep snow traction should be taken into consideration, especially for drivers living in areas with heavy snowfall.
Ice Traction: 6.9/10
During our testing, we noticed that the tire struggled to provide the same level of grip and control on icy surfaces as it did on other winter terrains. While the tire's tread design and specialized compound contribute to improved traction on ice, it falls short when compared to dedicated winter tires designed specifically for icy conditions.
The lack of aggressive stud-like features or specialized rubber compounds for ice traction hinders it from gripping on icy surfaces effectively. As a result, instances of traction loss and increased sliding on icy roads occurred frequently during our test.
Comfort: 8.7/10
Ride Quality: 8.8/10
The Continental ExtremeContact DWS 06 Plus tire is highly regarded for its exceptional ride quality, earning a rating of 8.8 out of 10. The tire's sidewall design contributes to a comfortable experience by offering additional flexibility and sidewall absorption.
Whether driving on city streets or highways, we hardly felt the vibrations, but coarser roads seemed to give us a bumpy feel.
Noise: 8.5/10
Throughout the testing, we noticed a significant reduction in road noise compared to other tires in its class, such as Yokohama ADWAN Sport A/S+ or Goodyead Eagle Sport All-season. The tire's advanced tread pattern and design work harmoniously to minimize noise generation, resulting in a peaceful cabin environment.
To get the best testing result, we tested the item on both city roads and highways. When driving on rough city streets, the DWS 06 Plus consistently delivers a quiet ride. Meanwhile, as we entered the highway, the noise became more noticeable at the 60 mph speed. Still, suppose you drive a bit slower and have some music on; the noise will be minimal.
Treadwear And Durability: 8.7/10
We cannot totally evaluate tread life as the test lasts for only 10 days. That being said, when we drove the tires in harsh weather and on various terrains, we hardly ever noticed any tread wear.
We think this is thanks to the advanced tread compound and construction. These factors contribute to its impressive durability, allowing it to withstand the rigors of daily driving without significant tread erosion.
The tread pattern, specifically designed to optimize wear and distribute forces evenly, ensures a consistent and prolonged tread life. Additionally, the tire's construction provides robust sidewalls that resist damage and enhance overall durability.
DWS 06 Plus Pros & Cons
Impressive wet traction and hydroplaning resistance
Excellent dry performance, a great summer tire
Comfortable and smooth ride quality
Low road noise levels
Long-lasting treadwear and durability
Limited deep snow traction
Ice traction may not match specialized ice-specific tires
Slight compromise in responsiveness and sporty handling
DWS 06 Plus Competitors & Alternatives
Michelin Pilot Sport All Season 4, Vredestein Hypertrac All Season, and Bridgestone Potenza RE980AS+ are three notable rivals of Continental ExtremeContact DWS 06 Plus.
All four tires (which are 245/40R18 in size) were put to the test to see how they varied.
The Bridgestone Potenza RE980AS+ focuses on delivering a high-performance driving experience in wet, dry, and even light snow conditions. It offers strong grip and precise handling, making it a suitable choice for drivers seeking sporty performance without sacrificing wet traction. However, it may not provide the same level of hydroplaning resistance as the Continental DWS 06 Plus.
When comparing the Continental and Vredestein tires, the former excel in wet conditions and the latter offers a well-rounded all-season performance.
The Michelin Pilot Sport All Season 4 prioritizes dry and light snow performance with precise handling – a great option for those seeking sporty driving dynamics. However, it may not excel in wet traction and ride comfort as much as the Continental DWS 06 Plus.
Conclusion
The Continental ExtremeContact DWS 06 Plus tire review has proved that it's a great choice for drivers seeking a reliable all-season tire for summers and rainy seasons. Its impressive dry traction, commendable wet performance, and comfortable ride quality make it a top contender in its class.
The DWS 06 Plus tire will suit individuals residing in regions with limited snowfall during winter. Customers who frequently encounter heavy snowfall or icy road conditions during winter should consider specialized winter tires that offer enhanced grip and handling in such conditions.
Continental ExtremeContact DWS 06 Plus
PRICE
SOLD BY

Offers

In Stock

Offers

In Stock

Offers

In Stock

Offers

In Stock

Offers

In Stock

Offers

In Stock
---
President & Automotive Expert at COR Wheels
Robert Herrera has been with COR Wheels for 17 years and has a great passion for the automotive industry. During his time at COR Wheels, he has driven and test-driven a variety of vehicles.
---