Continental has been churning out high-quality standard tires in consistent productions while gaining favorable feedback during the process. And its TrueContact Tour models, with their power bites and well-placed lateral notches, also have quite a special place among standard touring drivers.
This review addresses lingering inquiries about the tire's quality and discusses possible indicators yielded from the tire's real-life performance test. Scroll for details!
In this article:
Continental TrueContact Tour Specifications & Features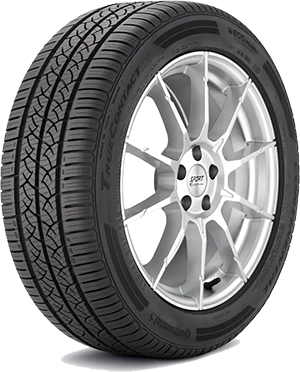 Tire Type
Standard Touring All-Season
Tire Size
15″ – 19″
Weight
15.0 LBS - 30.0 LBS
Load Index
84 – 104
Load Range
SL – XL
Speed Rating
– H: up to 130 mph
– V: up to 149 mph
Warranty
70,000 – 80,000 miles
Ratings
8.9/10
Continental TrueContact Tour is developed to cater to small crossovers, minivans, coupes, or family sedans seeking quiet, smooth rides with sure-footed longitudinal traction across all conditions (light snow included) and impressive tread life.
Highlighted features worth mentioning comprise the following:
Its all-season compounds introduce functional temperature-activated polymers that boost fuel efficiency and tread life.
Symmetric patterns allow seamless rotation intervals that prevent irregular wear.
Comfort Ride Tech, incorporating underlays below the tread, isolates the casing from the footprint to reduce levels of transparent cabin vibrations.
The +Silane additives heighten the tire's confidence on slippery surfaces.
Circumferential grooves pave the water flow through your contact patch, battling hydroplaning issues.
Lateral notches and siped tread blocks offer the required biting edges in icy and snowy grips, aided by the traction grooves that trap snow underneath for better stability in wintry conditions.
Continental TrueContact Tour Review & Performance Test Result
Our COR Wheels team has used the 205/55R16 tire size version of Continental TrueContact Tour on the 2022 Toyota Prius Prime during the annual 2023 Cor Wheels Tire Test. Summer evaluations lasted ten days in June-July, while Winter assessments took place around January.
1. Dry Performance: 8.9/10
Dry Traction: 9.1/10
Continental TrueContact Tour was a true delight on snow with its excellent, immediately-bonding contact patch that felt very reassuring right from the start. At the relatively tender starter of 40 MPH, we could feel how the paved grooves from the tread threaded themselves onto the asphalts to seize constant communications, breezing the car through rugged and smooth patches alike in very few stutters – if existent at all – during straight-line drivings.
Texture changes or slightly foggier roads (not enough to be labeled as "wet roads," by the way) could not throw TrueContact Tour off its designated track, either, gumming itself in almost unbreakable strikes as we gradually accelerated further from the 40 MPH benchmark.
By the time we fully bolted down on highways at 85 MPH, TrueContact Tour exerted the best of its power to pull the car back to safe margins at any slightest signals of overleaning, only shaking around the flanks in low-key manners when the Toyota tackled deep, long curves.
All in all, you can trust TrueContact Tour in basically every typical daily driving situation, save for extended road handling during very sharp turns or unannounced speed changes. It is still a standard touring tire at the end of the day, after all, so aggressive, adventurous driving dynamics that throw caution into the wind is not truly its style.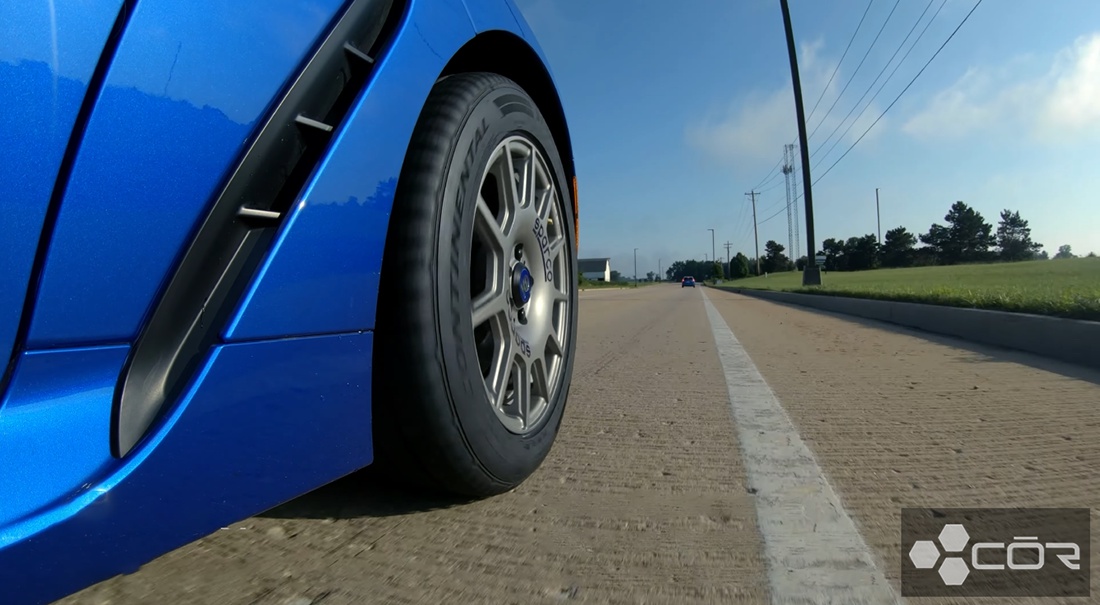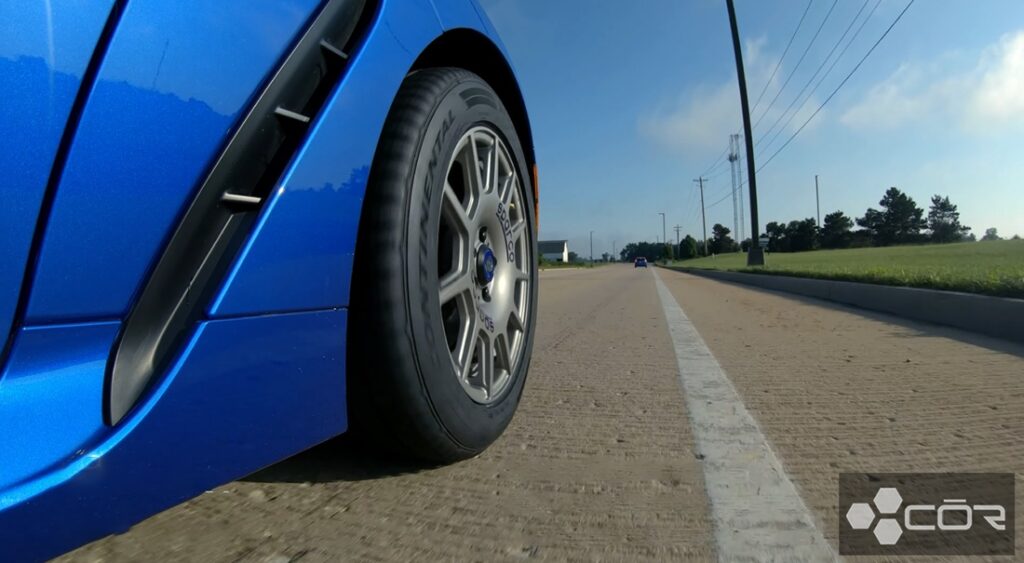 Corner Stability: 8.8/10
TrueContact Tour leaves little to worry about during cornerings. The Comfort Ride Tech did quite an excellent job reducing unnecessary jostles and unwavering movements under the tread and center rib, hence our breezy, almost effortless attempts diving into wide-radius corners. Even occasional blind curves with zigzag corner entries posed fewer troubles than anticipated, maintaining reassuring, steady composure at 45 MPH that stayed unchanged through speed surges.
Still, the occasional muted feedback at the borderline was what pushed TrueContact Tour's cornering stability behind other stars like Michelin Defender2. Judging by how our Toyota showed clear hesitancy when tittering through lower-radius crooks, you should double-check your cornering speeds and approach angles before entering.
Steering Response: 8.8/10
The steering was pretty sharp and punctual, at least in non-challenging situations or basic lane changes. Its aligning feedback needed a little bit more confidence but was overall accurate, so we rarely had to concentrate too much weaving through moderate- or high-traffic alike and stayed quite certain during highway maneuvers.
Nevertheless, in critical veerings around roadblocks or intruding vehicles, you might sometimes find the sidewalls to be too flexible to keep stable and more defining footholds on rougher road sections or at highway speeds.
Muted reactions after extended drives (usually around 3 hours) could also be noted during our test, so pull your car to a stop after particular intervals to give this Continental tire more recovery time.
2. Wet Performance: 8.7/10
Wet Traction: 8.6/10
Puddles of varying depths on regular streets were a surprising non-issue. Thanks to the +Silane additives, we encountered no significant difficulties in distributing more footings under the contact patch, so under favorable conditions, we almost felt like returning to well-paved asphalts in dry weather. The steering response was relatively unchanged from its previous dry-terrain test, so you could still hope for uneventful straight maneuvering and decent corner entries at 40 to 55 MPH.
We started to face more problems climbing over slightly steeper ascents or graded surfaces with thicker slush and deeper stagnant water. The grooves flexed out at their best to fight them over, but they still couldn't resist the inevitable heavy-drag feel that pulled our car down despite accelerations.
Hydroplaning Resistance: 8.7/10
As seen from its wet traction, hydroplaning issues were very controlled, even under heavy downpours.
While thicker, colder rainwater layers still managed to worm their way into the grooves at occasional five-mile stops, the consistent tire rolls spread them out in quick successive cuts that spared little room for burnouts or exhaustion symptoms. As such, we managed impressive reactions at corners and recovered faster than anticipated from accidental oversteering.
Still, as a standard touring tire, TrueContact Tour does not exactly have the best response to abrupt directional changes. This results in our car choking up more water than necessary and stalling for an extra 5 to 6 seconds in deep waterlogged patches.
You can still manage these situations well with average to advanced driving skills; for beginners, though, switch to slow shuffle steering and avoid quick accelerations at all costs.
3. Winter/Snow Performance: 7.7/10
Light Snow Traction: 8.3/10
On light powdered snow, we could still feel a clear tire-road contact. Stable steering inputs were enough to carry us through a 3-inch blanket. But sometimes, the tire found itself in oversteering incidents tackling sharp curves.
In its defense, such a performance was rather unsurprising for a standard tire; in fact, the model still managed to land in our Top 2 thanks to its predictable strikes and quite impressive self-cleaning abilities once the danger zone was over. Hence, you may still use it as a winter tire in favorable conditions – though we do not encourage you to turn it into a habit.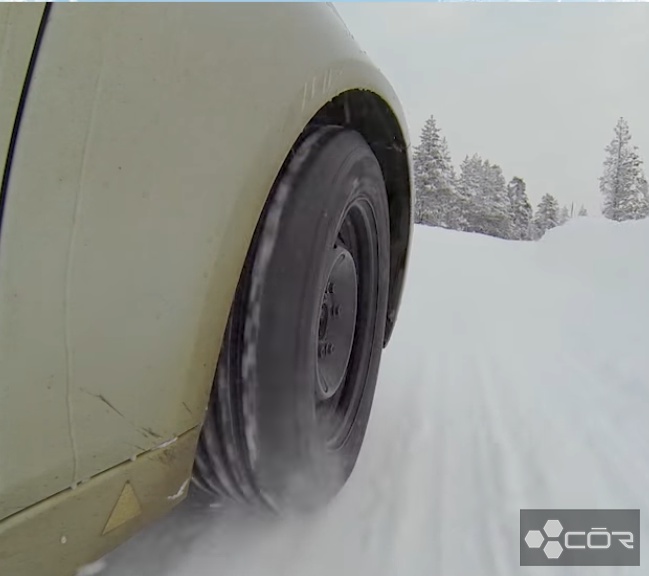 Deep Snow Traction: 7.7/10
TrueContact Tour definitely needed more composure on deep snowy roads. Snow volumes between 5 and 7 inches were somewhat tolerable at 55 MPH, but any terrain thicker than that sent our car downright fumbling.
When equipped with snow chains, the lateral notches and siped blocks did help us regain some of our confidence at wide-crooked corners – yet, even that performance could not live up to our previous light-snow test. Needless to say, any type of dynamic riding or spirited leans will be impossible for you here.
Ice Traction: 7.2/10
While landing on Top 2, TrueContact's ice grip still lags behind the No.1 Michelin Defender2 by a very long margin. The all-season tire reached its peak behavior on moderate ice-snow roads (with more snow than ice), supported by snow chains on all four tires.
Meanwhile, full-fledged ice terrains were completely out of the tire's reach at any driving rate beyond 40 MPH, tripping over thin air and taking much longer than usual to recover from pronounced slippage. Unless you are truly left with no other choices, it is best to find another path.
4. Ride Comfort: 8.6/10
Ride Quality: 8.8/10
The tire checked all our basic criteria boxes. It grew more jostled around sharp crooks (or correction skids toward the opposite direction) but remained quite cushioned in other situations.
Better yet, loading more cargo than usual did not hurt its smooth strikes much as expected, even when we traversed at 55 MPH.
Noise: 8.5/10
Noises were low-key in basic straight-line drivings but seemed to lose composure at U-turns, corners, or even sweeping curves. The great news is that you can tune them out just fine after half an hour, even trampling them down completely with aftermarket upgrades.
5. Treadwear and Durability: 8.6/10
Fortunately, TrueContact Tour does not have to sacrifice treadwear rates for decent riding comfort. Heat extremes during the summer test could not scratch a mark on its tread, and its handling of cold weather and low ambient temps were impressive enough for a standard tire.
Coupled with the generous 80,000-mile warranty, worry-free travel during the first six years is totally within your reach.
Continental TrueContact Tour Pros & Cons
Confident on dry roads
Good cornering grip
Well-behaved on wet pavements
Comfortable ride and good treadwear
80,000-mile treadwear warranty
Decent on light snow (for a standard touring tire)
Deep snow and ice performances still have room for improvements
Noise control could be better
Continental TrueContact Tour Competitors & Alternatives
Though falling behind the champion Michelin Defender2, Continental TrueContact Tour still gains an edge over Goodyear Assurance MaxLife with its own competitive edges:
Continental TrueContact Tour had excellent wet traction levels compared to the rest of its rivals. But as mentioned, noise control could have been less choppy.
Goodyear MaxLife led the race in handling and road comfort, but it should pay more attention to wet traction.
Michelin Defender2 was an unbeatable opponent in steering and fine-tuned damping. Even its snow performances found themselves at the very top rank; an improvement in braking and accelerations during winter will be welcomed, though.
Conclusion
TrueContact could have performed more reliably on snow and ice terrains – but again, so do other tires in its class. Other than that, we can conclude from this Continental TrueContact Tour tire review that this premium tire delivers brilliantly in both on-road dry and wet weather without giving away much riding comfort and durability, cementing its position as the No.2 best standard touring model in the industry.
Continental TrueContact Tour
PRICE
SOLD BY

Offers

In Stock

Offers

In Stock

Offers

In Stock

Offers

In Stock

Offers

In Stock
---
President & Automotive Expert at COR Wheels
Robert Herrera has been with COR Wheels for 17 years and has a great passion for the automotive industry. During his time at COR Wheels, he has driven and test-driven a variety of vehicles.
---