Firestone has invested quite a sum in the production of the Destination AT2 tires, aiming to fulfill drivers' need for a balance of on-road and off-road quality.
Still, a real-life performance testament is needed, hence the tire's inclusion in our annual 2023 test on both on-road and off-road surfaces. Scroll through our tire review for a full report.
In this article:
Firestone Destination A/T2 Specifications & Features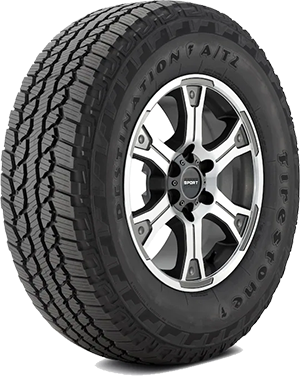 Tire Type
Off-Road All-Terrain
Tire Size
15″ – 20″
Weight
15.0 LBS – 35.0 LBS
Load Index
77 – 111
Load Range
SL – XL
Speed Rating
– H: up to 130 mph
– W: up to 1868 mph
Warranty
55,000 miles
Ratings
8.5/10
Firestone Destination A/T2 is developed for light trucks, Jeeps, SUVs, and crossovers for consistent performance both on and off-road, snowed surfaces included (which explains the tire's 3PMSF label).
Detailed highlights of the tire are as follows:
The specialized, symmetric compound is engineered to deliver riding comfort and noise control on off-road terrains.
Its ample void area features solid center ribs, providing continuous road contact.
Deep HydroGrip grooves enhance wet-ground handling and work with the void to assist water evacuation capability.
Aggressive tread design and shoulder patterns streamline your off-road handling.
Stone Rejecters slotted between the blocks keep stone-drilling damage at bay.
Heavy 3D sipes and notches in independent blocks/center ribs increase icy/snowy traction – enough to grant this tire a 3PMSF symbol.
Strong 2-ply polyester casings blend ride quality and durability, reinforced with powerful steel belts and nylon caps.
Firestone Destination A/T2 Review & Performance Test Result
Our team used the 265/70R17 tire size version of Firestone Destination A/T2 on the Jeep Wrangler. The tire has been tested for ten days in June-July and another short January period as part of the annual 2023 COR Wheels Tire Test.
1. Dry Performance: 8.9/10
Dry Traction: 9.1/10
The Destination A/T2 did not disappoint at all, already gumming itself tight on the road despite our tame start and minimal input. As the car began to rev higher toward 60 MPH, the established contact points remained relatively firm and delivered little to no drifting even when our hand position went slightly slack.
You do not have to worry about abrupt texture changes, either, as the specialized stiff compounds worked great with different road materials. The tires didn't feel slippery when transitioning from asphalt to concrete roads or vice versa, consistently planting on the road.
As such, lane merges were a non-issue and did not introduce us to unexpected stutters or hesitations at entries; after a few harmless shakes post-deceleration, A/T2 picked up well to weave itself into the ongoing traffic.
Thick, cobblestone paths were just as delightful due to the tire's stronger sidewalls than previous generations. Accidental skids could easily be corrected, and navigating obstacles went as uneventfully as any other straight-line endeavors; thus, you can easily engage in whiplashing directional turns without sacrificing stable road grip over time.
No glaring drawback was noted during the ride, except for fainter footholds on gravel roads (which are mostly common around construction sites).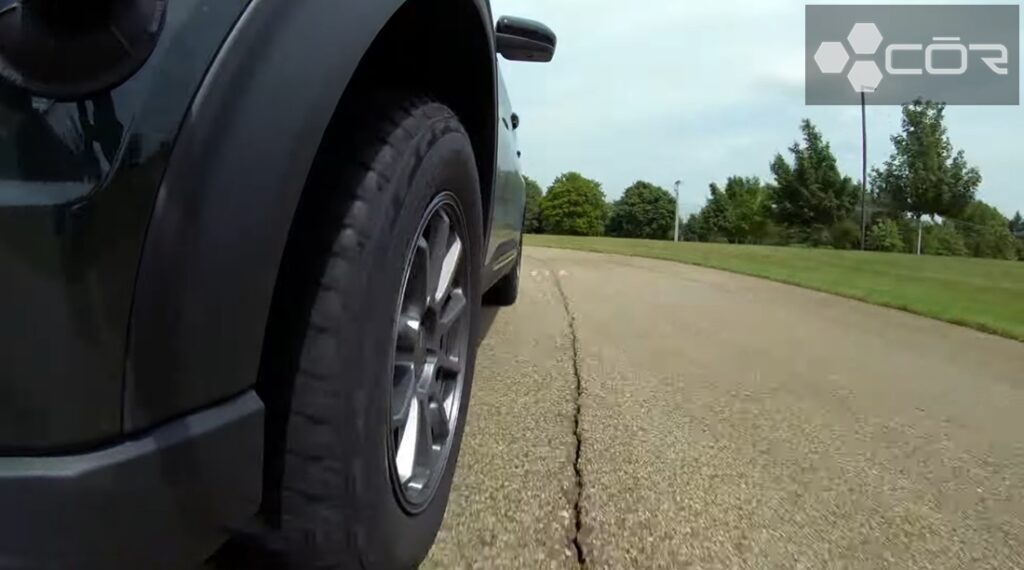 Corner Stability: 8.7/10
Handling smooth, gentle turns was quite a given for Destination A/T2; we did not really feel any difference compared to straight driving thanks to the very well-built center ribs. You will not even need to exert extra force at particularly lower-radius patches, judging by how our car breezed through them just fine despite unchanging steering positions.
Tighter curves did choke the A/T2 of its stable footings a little, especially when the contact patch gave off symptoms of overreactions; nevertheless, be confident that it was neither intrusive nor dangerous. Good preparation time is always the key: with 5 to 6 seconds of ahead planning, we managed to dive swiftly around carousels at 55 MPH with little to no stuttering.
If there is a downside truly worth mentioning, it is how Destination A/T2 struggled to perform decent inside-out lines before reaching the apex. This oversight might result in ominous hiccups that could throw you off if you are fresh beginners.
Steering Response: 8.9/10
A/T2 delighted us with its responsive, reliable steering ability; chances of folds or rollovers were admittedly pronounced at the beginning but got more and more low-key as the car finally settled onto the roads. From basic lane-changing situations to emergency palm-to-palm steering when avoiding obstacles, Destination A/T2 followed our inputs excellently without missing a beat.
Still, as previously mentioned, you might have to look out for spongy feedback when dealing with apex. To avoid being taken aback at ill timing, stay as close to the inner corner line as possible, then gradually move wider when the danger zone has passed.
2. Wet Performance: 8.6/10
Wet Traction: 8.7/10
Compared to competitors in the tire industry, A/T2 was very good on wet, slippery surfaces. Travels through shallow water did not pose much of a problem, if not even as stable as on dry-grip roads given consistent steering and speed ratings below 50 MPH. This is quite a competitive edge if you prioritize stability and safe maneuvering over driving rates during adverse weather conditions.
However, just like most off-road AT tires, Destination A/T2 started to lose some of its traction edges when the water volume increased beyond 5 inches. The HydroGrip grooves could still withstand extra abuse during the first three or four miles but grew weaker over time; hence, avoid tight corners and blind curves at all costs if you lack driving experience.
Hydroplaning Resistance: 8.6/10
This tire once again ranks itself among the class leaders. Water rarely seeped in on straight roads and even wide-radius corners, dispersing quickly with the excellent combination of the HydroGrip grooves and generous void areas. Abrupt turns did startle the tire and invited a bit of rainwater to slide in, but nothing that grinding steering forces could not tame.
You should be more careful with heavy storms or rainfalls, however. Most regular all-terrain tires still struggle with flowing deep water, and A/T2 was not an exception, sending our Jeep into minor but very constant jitters that made even some basic handling situations much more difficult.
3. Off Road Performance: 8.3/10
Dirt Traction: 8.7/10
A/T2 handled loose dirt roads better than expected thanks to the HydroGrip grooves – which were supposed to work on water but did surprisingly well dispersing soft particles off the contact patch. The shakes were still visible but barely mattered compared to the rest of the ride, and we managed decent acceleration rates from 40 to 55 MPH without significant delays.
Hard-packed surface dirt bonded well with the strong sidewall durability and became more tamed the longer we rode. Sure, some sharpness around the edges was lacking in our test, but the predictability of A/T2's drifting will make it very easy for you to pull the car back to the line.
Rock Traction: 8.3/10
A/T2, despite nearly bottoming our list of off-road AT tires, still delivered decent rock traction. Riverbeds or well-built quarry roads were still tolerable thanks to the smooth, palmed-out texture, but the rougher the terrains, the more struggles we encountered. On extreme road trails of loose rocks – or when rocks of diverse sizes littered on the surfaces – slippage became more often than not.
While all this sounded ominous, rest assured: you can still maintain quite a decent ride if there are no sudden or unplanned speed/turn changes. It would be better to drive alone, but even when your car is loaded with 3-4 passengers (or about 500 lbs of cargo), A/T2 can still cope with relatively stable composure.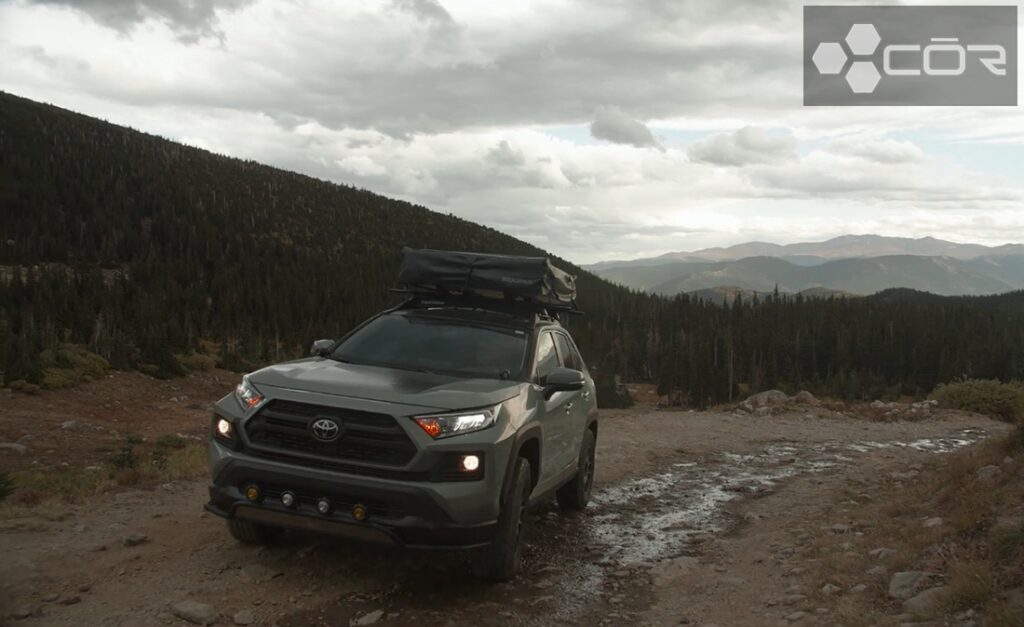 Sand Traction: 8.1/10
A/T2 was pretty good on regular sand dunes, allowing us to fluctuate between 30 and 40 MPH with only some seconds-long delays. Traction loss occurred now and then but was generally in great control.
Real troubles only started to show up when we entered tricky washes of varying sand depths and density. Despite the brand's claim, the serrated shoulder patterns did not adapt as instantly and responsively as we would have liked.
Cornering attempts were not impossible but needed to be carried out more carefully, especially around tight-neck corners. Otherwise, high-speed apex or cutting lines might end up hurting the steering wheel and make the car downright plummet; worse, one moment of carelessness can even send you to collisions.
Mud Traction: 8/10
A/T2 did not encounter many issues with regular slushy rural roads. Though these paths were poorly maintained, AT2 established road connections in only seconds, carrying the Jeep in slow but quite sure-footed strikes through speed changes from 40 to 55 MPH.
Waterlogged soils on marshlands challenged the tire a bit. We needed clearer steering input to stabilize the center rib, so you should concentrate more to manage decent riding quality with secure palm-on-palm steering movements.
A/T2 ranked last on the chart in mud traction for a reason. The tire held its ground very weakly in mud pits (even those with very moderate depths) and swamps near riverbanks, forcing us to remove a little cargo to streamline the car's road cuts.
4. Snow/Winter Capability: 8.1/10
Light Snow Traction: 8.7/10
The tire's pretty confident performance on off-road dirt continued to carry on into light, melted snow; its groove channels and ample void area retained the same efficiency in spreading out snow layers under the contact patch. Once the initial stutters passed by, the well-siped rubber planted itself tight, adapting to speed whiplashes to and from 55 MPH with ease.
Gravel roads with wet compact dirt, mud, and snow combined led to more hiccups, but the great news is that they were rather easy to predict. Hence, in favorable weather and with no time constraints, you can actually use A/T2 as a winter tire during rugged-path traveling.
Deep Snow Traction: 8.2/10
We were not impressed with A/T2's deep snow traction. While it was decent enough to guarantee non-dramatic rides at regular driving speeds, the punctual sensitivity seen in other competitors was clearly lacking and caused the car to react in panic facing unexpected vehicles or roadblocks. And the colder the snow, the worse A/T2 became, even stalling mid-corners.
Fortunately, snow chains did help a little with the issue. Sure, we actually could not get rid of the border coughs completely, but the chains guarantee you can still find your way around thick, inconsistent blankets or moderate snow storms without compromising centered stability.
Ice Traction: 7.5/10
Ice traction found itself in the middle of the compilation chart – neither good nor disastrous. Even on thick buildups, the car could still tread around in decent strikes thanks to the pretty tamed rib-type center section, though we had to hover over the accelerator pedal all the time to prepare for unexpected mishaps.
However, tight corners and icy blind curves were still very risky. Unless you can do countersteering in very smooth and decisive cuts, it would be better to avoid them altogether.
5. Comfort: 8.6/10
Ride Quality: 8.7/10
Here is where A/T2 leads the competition.
Pronounced jostles were obvious on large bumps or inconsistent textures – but frankly, so did other tires. Other than that, A/T2 maintained excellent cushion feels on on-road terrains (dry roads and wet pavements alike) and even offered consistent delivery on soft off-road dirt trails or snow.
Road Noise Levels: 8.4/10
The noises were admittedly unpredictable; they quietened during our first-day test but got louder when we returned to the same road traction the next day.
Still, their low-key rumblings only worsened on extreme off-road terrains/ dirty surfaces and remained composed on other terrains. So if you are a fan of quieter rides in daily driving, A/T2 could still be a pretty decent choice.
6. Treadwear and Durability: 8.4/10
As briefly mentioned, the tire struggled to deliver the same traction on cold deep snow or in severely low ambient temperatures.
Thankfully, the tire's otherwise pretty stable handling in summer ensures you can still enjoy about 40,000 miles of comfortable driving and little change in the tread depth. Coupled with the 55,000-mile limited mileage warranty period, there is little to worry about.
Firestone A/T2 Pros & Cons
Aggressive tread pattern
An excellent tire on-road conditions (dry and wet traction alike)
Pretty good water evacuation ability
Good riding comfort; fairly quiet ride
Decent tread life for an off-road AT tire (55,000 miles of limited warranty)
Excellent grip on light snow/mild winter conditions and off-road dirt
Underwhelming traction on off-road mud, rock, and sand
Struggling on deep snow, ice, and harsh winter conditions.
Firestone A/T2 Competitors & Alternatives
When competing with BFGoodrich All-Terrain T/A KO2, Hankook Dynapro AT2, and Yokohama Geolandar A/T G015, Firestone Destination A/T2 revealed both strengths and weaknesses:
Firestone Destination A/T2 shined with consistent traction ability in on-road wet and dry conditions alike, and even delivered confidently in light snowy conditions. Nevertheless, its mud and rock traction was rather unimpressive for an off-road AT tire.
BFGoodrich KO2 was quieter than others and had better steering than expected (especially considering the simple contact patch design). But the LT-Metric version of this tire made our ride feel very stiff.
Hankook AT2 delivered intuitive, nicely weighted steering that performed pretty well on deep snow. However, we needed a huge increase in lateral grip/wet grip.
Yokohama G015 led the group in great riding comfort, especially during wet-surface traveling. Yet, other metrics were from average to mediocre; nothing truly stood out.
Conclusion
Though being an off-road all-terrain tire, Firestone Destination A/T 2 actually ranked high in the tire market due to its consistent grip and comfort in on-road driving conditions. Meanwhile, sizable improvements on off-road mud and sand are still much needed compared to other rivals.
To sum up this Firestone Destination AT2 tire review, with its reasonable price range this road tire is a good choice for drivers on off-road dirt and rock who still want impressive road manners on regular streets. Avoid too-frequent application ranges on sticky loose ground traction, deep inconsistent snow, and icy conditions.
Firestone Destination A/T2
PRICE
SOLD BY

Offers

In Stock

Offers

In Stock

Offers

In Stock

Offers

In Stock

Offers

In Stock
---
President & Automotive Expert at COR Wheels
Robert Herrera has been with COR Wheels for 17 years and has a great passion for the automotive industry. During his time at COR Wheels, he has driven and test-driven a variety of vehicles.
---