Continental has been recognized for high-quality grand touring tires. Thus, many drivers understandably have high expectations for the ProContact TX. We will explore whether the Continental ProContact TX will satisfy your traction and handling demands in the following review.
In this article:
Continental ProContact TX Specifications & Features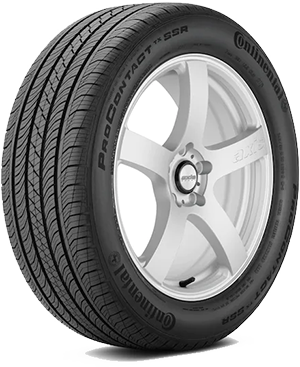 Tire Type
Crossover/SUV Touring All-Season
Tire Size
15″ – 20″
Weight
14.0 LBS – 34.0 LBS
Load Index
81 – 112
Load Range
SL – XL
Speed Rating
– H: up to 130 mph
– W: up to 168 mph
Warranty
40,000 – 65,000 miles
Ratings
7.3/10
The ProContact TX offers year-round traction and great handling characteristics for passenger cars and touring vehicles thanks to the following key features:
Its silica compound reduces rolling resistance for better fuel efficiency.
The convex and concave sipe design (aided by the multidirectional tread design) lowers road noise and improves the tire's grip.
Deep sipes create more biting edges for winter performance while increasing the tire's resistance to various temperatures.
Circumferential grooves disperse slush and water below the footprint.
Continental ProContact TX Review & Performance Test Results
In the 2023 COR Wheels Tire Test, our team installed the 225/65R17 tire size version of the Continental ProContact TX on our 2015 Jeep Cherokee. We then tested the tires on different on-road terrains in June-July (for Summer evaluations) and January (Winter).
1. Dry Performance: 8.3/10
Dry Traction: 8.4/10
The ProContact features a much simpler groove design than other tires, so you should not expect too much traction when the car is at higher speeds than 50 MPH. Other than that, this all-season touring tire is fortunately quite stable. Our Cherokee started non-dramatically at 40 MPH and encountered no problems navigating roadblocks or overtaking vehicles. Sharper turns or sudden accelerations in between did not make the tire shudder or off balance,  allowing us to carry light cargos of 200 to 300 lbs. 
You can also expect the same confidence on highways or mountain passes, given no abrupt speed changes. Its convex and concave design connected well with asphalt and debris; our tires did not drag even when the Cherokee was at full passenger capacity (5 people). So, your car is less likely to slip unexpectedly when moving between different road textures, making the ProContact TX a great option for casual family trips.
On another note, the tire felt less grippy after we drove for more than 5 hours. When we kept its pressure between 25 and 30 PSI, traction loss when ascending and descending became more obvious.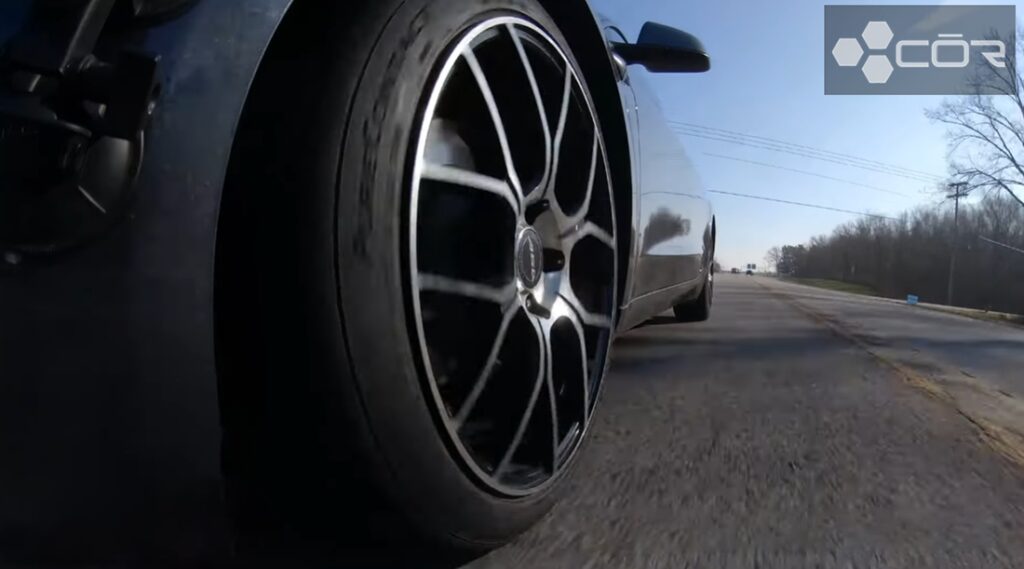 Corner Stability: 8.2/10
As long as you maintain your driving speed between 25 and 35 MPH, the ProContact TX will perform well at corners. Our car only suffered minor shudders when approaching tight corners and breezed almost effortlessly through gentle curves. Sudden acceleration and hard braking hardly dampened its confidence, thanks to the well-supported on-center ribs. So, if you are an average/seasoned driver, you can transport 300 to 350 lbs when traveling on twisty roads.
Unfortunately, the ProContact TX is not as manageable when you rev higher than 35 MPH. It is still decent around gentle corners, but tight chicanes, carousels, or off-camber bends will be a nightmare for you. Experienced as we are, we still had to remove some passengers and cargo in these cases to ensure smoother rolls and fewer understeering accidents.
Steering Response: 8.2/10
If you are not a spirited driver, the ProContact TX's decent steering responses at low/average driving speeds should satisfy you. It was not sharp, but agreed with our inputs to handle reversing, lane merging, parking, etc., without much problem. And, provided that the combined weight of your cargo and passengers does not surpass 600 lbs, long delays are very unlikely.
As with most grand touring tires, the ProContact TX became less responsive when our car exceeded 55 MPH. On angled surfaces or during ascents and descents, your vehicle will also struggle to deliver sharp feedback.
2. Wet Performance: 7.7/10
Wet Traction: 7.7/10
Continental does not include too many wet-focused features in the ProContact TX's design, so the constant slippage and shudders are unsurprising. The great news is they are not too intrusive in moderate water depth (below 5 inches) and manageable using a stronger push-pull. You can also improve its grip by keeping your passengers/cargo weight light below 500 lbs and avoiding too-tight corners.
Real struggles occur in deep water, sharp corners, and high speeds: our car could not roll smoothly even on well-paved roads and took much longer than usual to recover from oversteering. On rougher surfaces (e.g., mountain passes, light gravel roads, etc.), the traction loss only worsened. So, avoid these terrains if you have limited experience.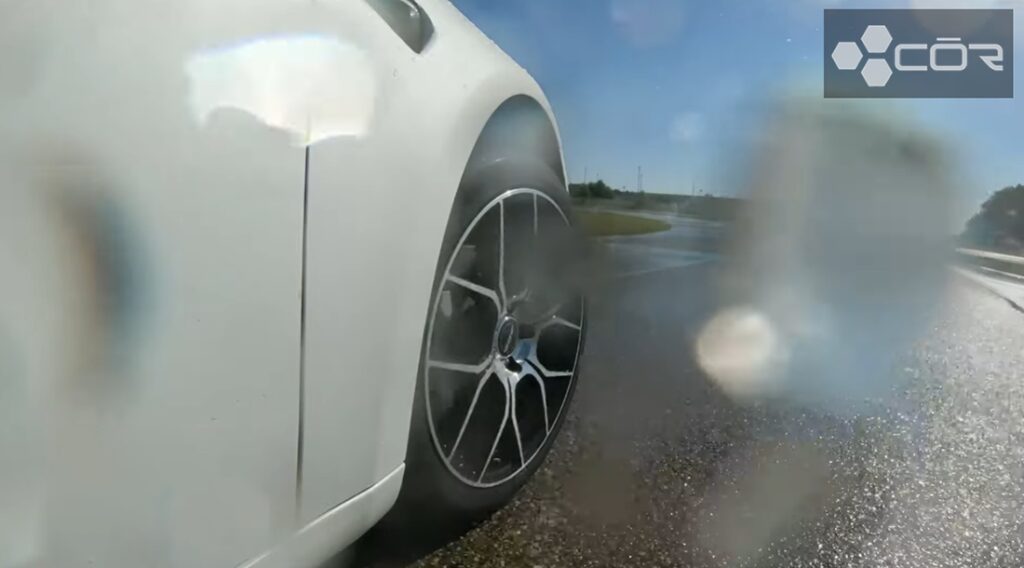 Hydroplaning Resistance: 7.7/10
You do not have to worry too much about hydroplaning issues if your car rarely exceeds 45 MPH. The grooves were not exactly strong but decent for moderate water depth and thin layers of rainwater, ensuring our vehicle could still roll through them without shaking and dragging.
On the other hand, the faster our car traveled, the more drag the ProContact TX exhibited. The tire-road connection also grew much fainter, inviting even more water when we moved onto highways, angled surfaces, or wet bridges.
3. Winter/Snow Performance: 5.8/10
Light Snow Traction: 6.6/10
Despite the brand's claim, the deep sipes are not enough to help the ProContact TX control its tire flex even on light snow. Our car shook and shuddered every two miles, becoming more and more unpredictable over time. Even when assisted by premium snow chains, it still struggled on straight roads, particularly whenever we encountered corners.
Needless to say, aggressive handling, high-speed maneuvering, and heavy towing are out of the question. Of course, seasoned drivers can manage with acceptable traction when carrying 2-3 passengers, but traveling alone is still the best option if you are a beginner.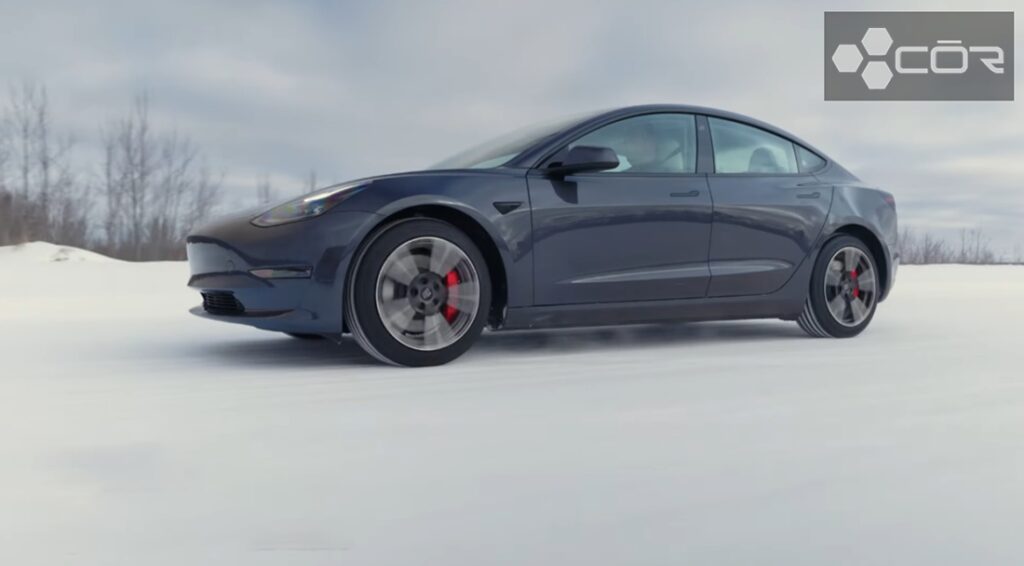 Deep Snow Traction: 5.6/10
Given its disappointing performances on light snow, it is unsurprising that the ProContact TX continues to fail when the snow thickens. Even at low driving speeds (between 15 and 25 MPH), we could barely keep the tire stable on snow, and our car slipped a lot even when we experimented with gentle corners. Wet, post-rain snow makes things even worse, so you'd better pull your car over until the snow dries up.
Ice Traction: 5.3/10
Our test ride had to stop short because the ProContact TX was barely rideable on thin ice buildups – let alone thicker ones. The tire could not balance on the road for longer than 1 mile and slipped after that.
You can still use the tire if the road is familiar and does not have too many twists and turns. Otherwise, prepare yourself for significant traction loss during aggressive handling.
4. Comfort: 7.6/10
Ride Quality: 7.8/10
The ProContact TX did not deal well with large road cracks on snowed and wet surfaces, bringing on the annoying vibration and jostles.
Fortunately, the tire was quite well-behaved on paved roads and did not have much trouble composing its ribs through gentle corners. They will get even better if you travel alone with very light luggage – and, of course, at low to moderate driving speeds. Navigating sharp turns and driving at high speeds, otherwise, only worsens the shaking.
Noise: 7.4/10
The absence of noise-absorbing layers foreshadows the ProContact's underwhelming noise control. Our car was only quiet on paved roads, grew louder when we accelerated and became twice as deafening when cornering or ascending. The noise will only amplify in wet and wintry conditions.
5. Tread Life and Durability: 7.2/10
The ProContact TX can resist extreme heat surprisingly well (given the simple design).
Unfortunately, we did not observe the same behaviors in cold rain and winter; on thick ice and heavy snow, this all-season tire could barely move and even experienced scratches on rough gravel and rocks. Thus, the tire only lasts long if you do not travel much in winter or at high speeds.
Thankfully, its 65,000-mile warranty is enough to save you from treadwear issues for the first 5 years.
Continental ProContact TX Pros & Cons
Stable on dry surfaces during casual rides
Pretty good wet grip in shallow water and lightly slippery surfaces
Decent ride quality on paved roads
Struggling with deep water and in winter conditions
Disappointing noise control and treadwear rate
Not for highway speeds
Conclusion
The ProContact TX will work best for casual drivers or people with low demands in towing/loading and speeds. On the other hand, its simple design and lack of extra biting edges will compromise the tire's performance a lot in deep water or on snow and ice, so avoid traveling there if you are not confident.