Bridgestone Potenza RE980AS+ has been lauded as one of the best ultra-performance all-season tires with its 3D sipes and advanced lateral chamfered edges. Positive customer reviews could be found at many popular automobile forums, hence our team's decision to verify these markings and claims in our intensive COR Wheels test.
The results came back within expectations, with some slightly unexpected findings thrown in between. Scroll through our tire review for details.
In this article:
Bridgestone Potenza RE980AS+ Specifications & Features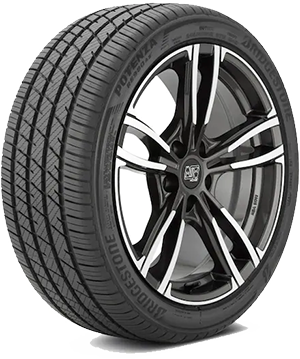 | | |
| --- | --- |
| Tire Type | Ultra High Performance All-Season |
| Tire Size | 16″ – 20″ |
| Weight | 23.0 LBS – 36.0 LBS |
| Load Index | 84 – 106 |
| Load Range | SL – XL |
| Speed Rating | – W: up to 168 mph |
| Warranty | 50,000 miles |
| Ratings | 8.6/10 |
Those already using Potenza RE980AS will find the RE980AS Plus version quite similar to its predecessor in tread designs. However, a few new internal structure updates are included this time to cater more to wet and snow traction.
Noise-optimized, asymmetric molded compounds that balance wet and dry performance with noiseless comfort
Lateral slots, aided by chamfered edges, whose combined power improves road contacts and dry braking
3D full-depth sipes interlocking with each other to deliver stable tread. Their height density also offers extra biting edges during slippery driving.
Interconnected circumferential grooves and slots to strengthen water evacuation
Open shoulder slot and see-through voids, added by the tire manufacturer to further aid the tire's hydroplaning resistance.
Bridgestone Potenza RE980AS+ Review & Performance Test Results
As part of the tires chosen for the 2023 COR Wheels tire test, the 245/40R18 tire size version of Bridgestone Potenza RE980AS+ has been used on the 2022 Honda Accord for summer (June-July) and winter (January) evaluation, here is the test result
1. Dry Performance: 9.1/10
Dry Traction: 9.2/10
Potenza RE980AS+ is the top option in dry-road traction, at least based on how it performed in our test.
The asymmetric compound classic of most Bridgestone tires delivered good, stable grips that felt uneventful (since they were so predictable). No wonder our Honda Accord took little time adjusting to the worked-up steering wheel and pushed itself forward in bold, confident certainty.
Rubber sidewalls also bent and retracted accordingly under the extra pressure – or lack thereof – and compensated instantly for the sudden traction loss at more aggressive bumps with its powered-up chamfered side slits.
As a result, gradual acceleration from 25 MPH to 40, 50, and 60-MPH thresholds was relatively breezy, with only minor entry stutters thrown into the mix.
Construction sites near 33rd Street opened the doors for a quick maneuvering trial, and Potenza RE980AS+ did not disappoint us here. Despite the littering of water, debris, and mud (not to mention tiny rocks and pebbles), our Honda Accord held its ground.
There was a good kind of crunchy sound as the rubber ground itself over the terrain and sealed its firm clasp – which took a few of our members aback at first but soon became a non-issue. And navigating our cuts around smaller obstacles like nails/sand packs remained as straightforward as on dry pavements, minus some skids at low angles.
Still, the tire was not without drawbacks: when treading through narrower turn-ins, its traction was admittedly not as crisp as around wider curves. Frankly, we might not have noticed the issue if it had occurred in other tires. But due to RE980AS+'s impressive confidence beforehand, this very small decrease became twice more obvious.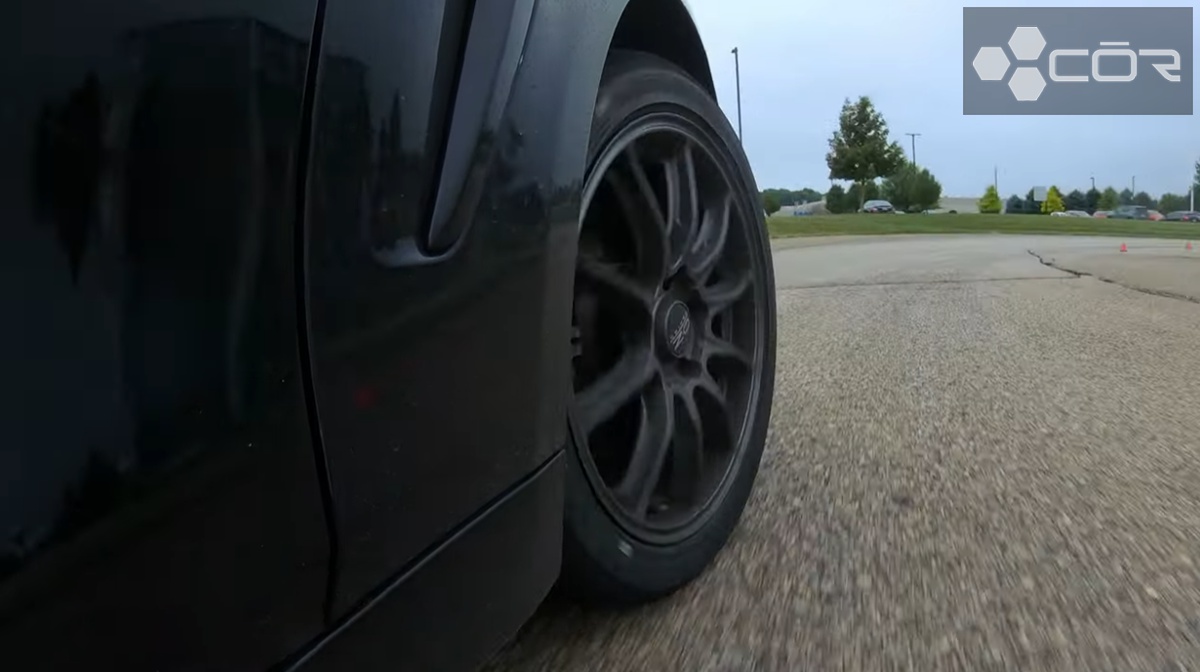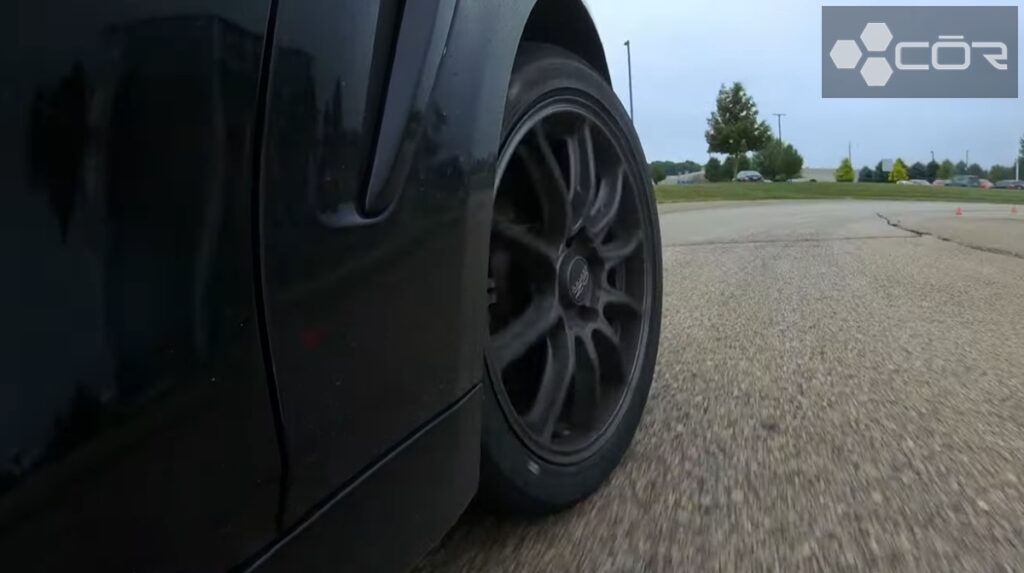 Corner Stability: 9.1/10
Potenza RE980AS Plus was once again ahead of the race in terms of corner stability, which fueled our spirited driving to wind through twisties at 60 MPH.
The extra chamfered edges added to the lateral slots stabilized our center sections in ways we have not observed in the original Potenza RE980AS models. No wonder the cornering was neat and almost borderline polite, guiding our steering wheel gently but firmly through multiple entry and exit points at consecutive intersection turns.
No issues were worth noting with acceleration or deceleration, although the initial steers into corners after abrupt rev from 45 to 50 MPH did give off a slight "numb" feel. And at low-degree arcs that required a bit more flexibility than average, the center felt stiff – not in a good way, but thankfully not yet venturing into the "bad" zone.
Steering Response: 9.1/10
Complimenting the tire's good dry-condition traction was its equally good steering. Responsive and straightforward, it accompanied our inputs in close alignments, while adding a bit of extra sharpness that buffed more confidence in first-time drivers. We were by no means inexperienced, but the surge of power boost delivered in each strike was still more than welcome.
Alternating ourselves between acceleration, deceleration, and braking to adapt to driving terrains did not pose any danger or safety-compromising delays, which allowed us to merge lanes or make roundabout turns with smooth tire rolls and few struggles.
Tackling S-bends or even corkscrew turns did not rob the car of its calm steadiness, though some responses in strong crosswinds were a bit sharper than how we intended them to be.
2. Wet Performance: 8.9/10
Hydroplaning Resistance: 8.9/10
This feature left some room for improvement but was still considered the best of its kind.
Here was where the 3-D sipes exerted their full-force operations; they seemingly invited water flows to enter, but then redirected them to output channels away from the tread areas. What was left was just paper-thin layers of rainwater clinging noncommittally to the rubbers.
Our tires had no issue exchanging constant communication with the road through the contact patches and marched forwards almost as securely as on dry pavements. They only needed one moment or two to shake themselves off stickier debris.
Though a minor issue, it seemed the car encountered more hydroplaning risk at below 25 MPH. Solving the problem was simple – we only needed to accelerate; but this slight oversight might still prove inconvenient in storms or heavy rainfalls where slow but steady driving was preferred.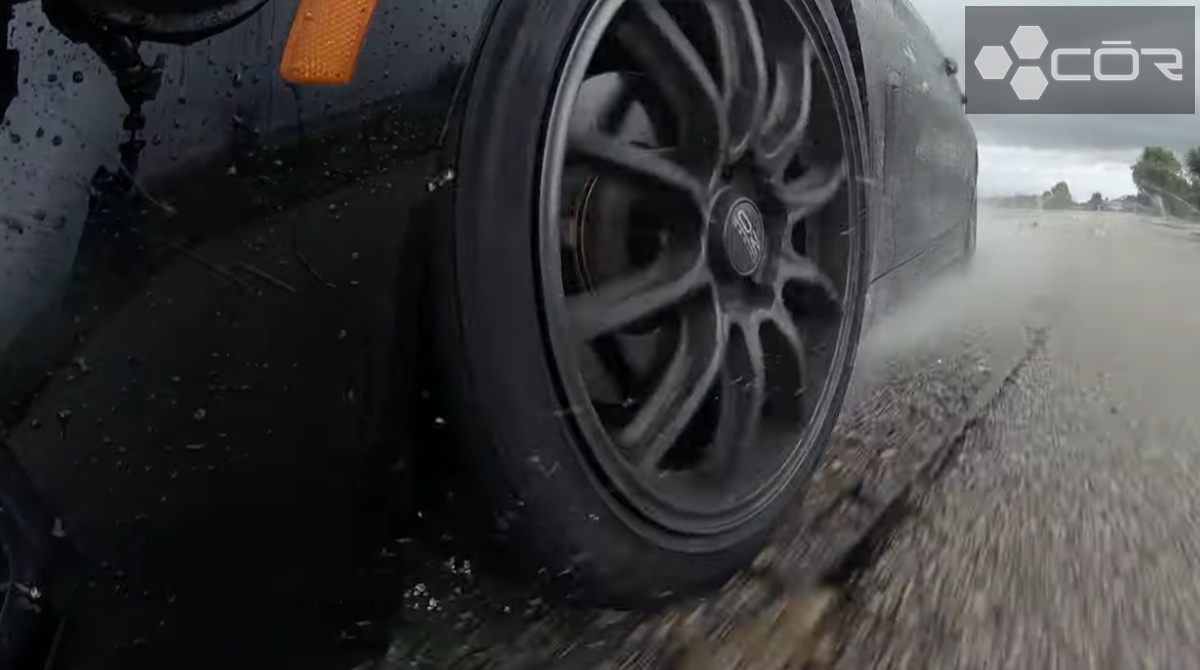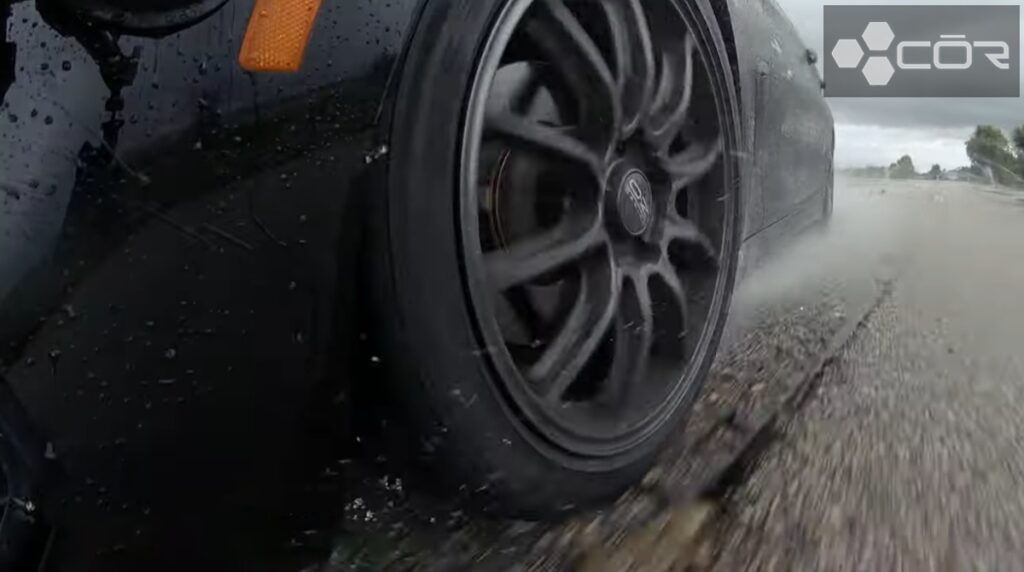 Wet Traction: 8.9/10
Aided by good hydroplaning resistance, RE980AS+ naturally enjoyed ample grip on soaked surfaces. Its open shoulders bound our tires well to the ground (already water-filtered thanks to hydroplaning-driven designs), moving forward with little to no drag.
The tires showed more notable signals of struggle when encountering deep standing water of more than 7 inches, but nothing the grooves could not handle; stutters and jerks felt more like temporary self-defense than actual stalls, giving our car some time to shake off water properly before resuming its speed.
However, it seemed anything between 25 and 40 MPH in deep water was the safest speed range for our wet skid tests. Aggressive drivings beyond 50 MPH were still possible, but needed to be exerted with more caution; at the end of the day, Potenza RE980AS+ was not a tire meant to be pushed to its very limit.
3. Winter/Snow Performance: 7.3/10
Light Snow Traction: 7.9/10
Potenza RE980AS+ was good enough on light snow terrains – considering it was not a winter tire – and still managed to snatch the top 3 of our ultra-high-performance all-season tire tests (regarding light snow).
Trampolines in steering responses grew worriedly worse as we accelerated beyond 50 MPH and fishtailed even at moderate turns – but any number lower than that, and the tires seemed fine.
The occasional flounders were expected due to the compact snow, but never got out of line to send our car straight to danger. With the help of snow chains, our team even managed an uneventful hill ascent that felt stable and decently steady most of the time.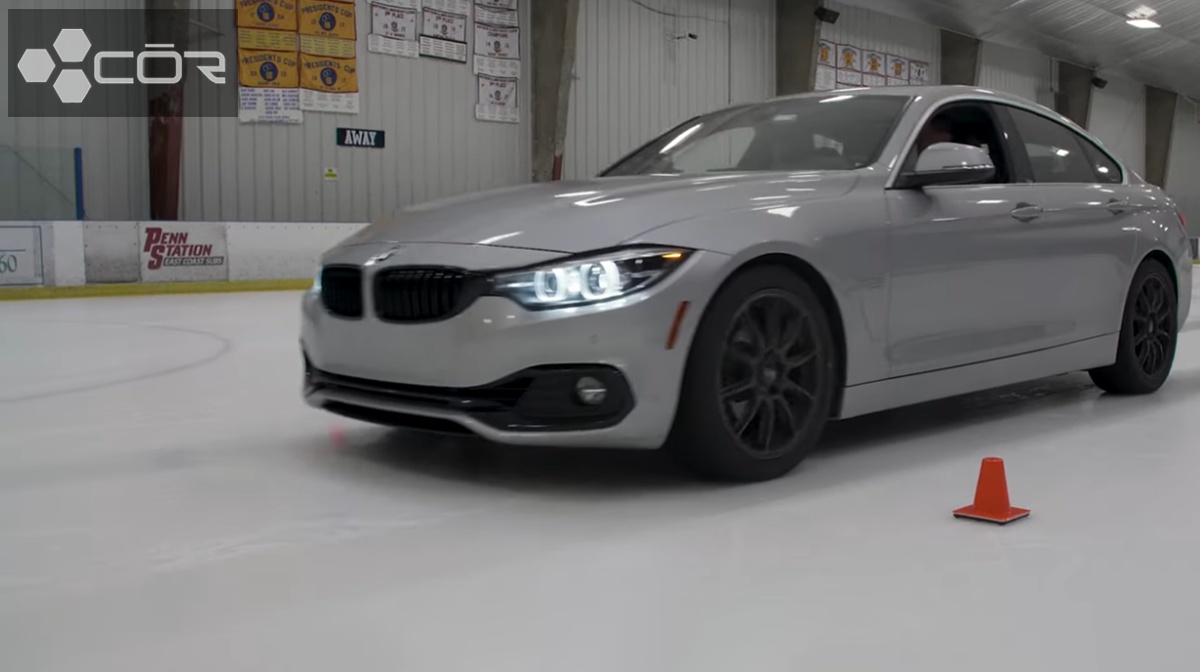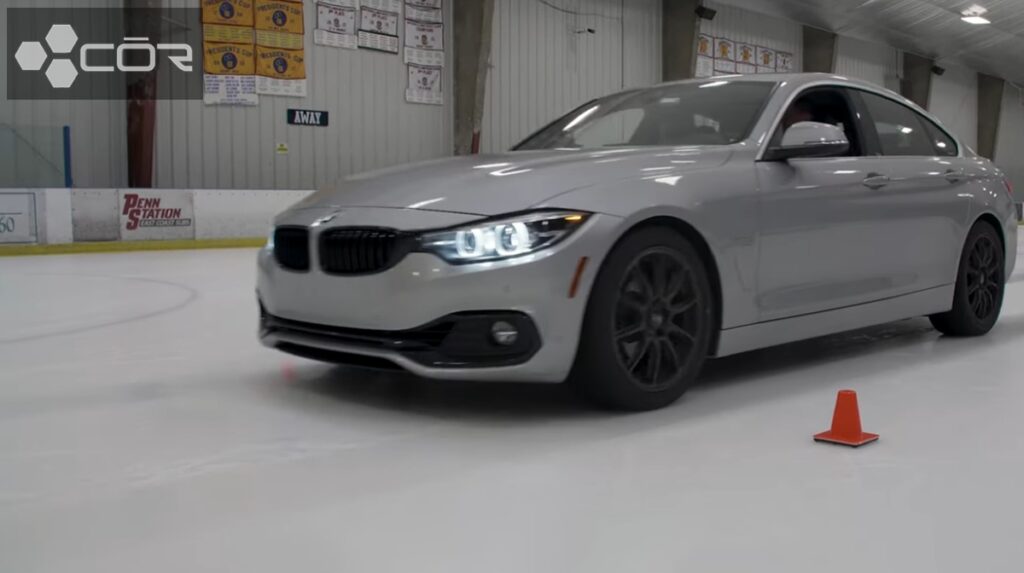 Deep Snow Traction: 6.9/10
Though still considered among our top 3, Potenza RE980AS+ was nowhere near as stellar when we entered snow thicker than 7 inches.
Even from our cabin, we could feel how the traction slipped away as the temp got colder. Tread compounds struggled to fight off the tread freezes and needed 4-5 extra seconds to regain their breathing every time they hit a particularly large bump.
Snow chains could help a little with 8-9" blankets but did not provide much assistance when driving uphills. The stutters remained with or without chains, forcing us to keep our steering consistent at 25 to 30 MPH.
Ice Traction: 6.7/10
Ice traction slipped even a few notes lower than deep snow to enter into the danger zone.
Even minor bumps and stumbles were considered a luxury at this point, let alone smooth rides. Our team swung between the 20-25 MPH speed and only allowed ourselves brief accelerations during straight-line driving. At turns and corners, they were out of the question.
4. Comfort: 8.7/10
Ride Quality: 8.8/10
Our rides were not 100% smooth on more fragmented pavements, but the way this performance tire handled unexpected bumps and cracks was enough to list itself as the top 1 tire option of our comprehensive testing.
Potenza RE980AS Plus carried itself backward, onward, and at turns with cushioned feels and little vibrations, only cracking seriously at lower cornering angles or sharper twists.
Noise Level: 8.6/10
With Vredestein Hypertrac All Season as the only exception, RE980AS+ beat all other tires we have tested in terms of noise control.
Even terrains as draining as icy roads did not draw out a lot of bothersome tread noise – and if there were any, our consistent, stable steering wheels throughout the ride would whiten them out anyways. Abrupt stops and decelerations might startle a bit of squeaking out of the tire, but nothing went out of control.
5. Treadwear and Durability: 8.7/10
The good news is that the Potenza RE980AS+ did not have to sacrifice much in its treadwear grade in exchange for more riding comfort.
Our tires suffered from cold temperature freezes in winter often but did not seem to exhibit any worrying fatigue during hot summers. After our ten-day test rides, there were only some slight shreds at the very outer edges; the rest of the flagship tire remained the same.
Potenza RE980AS+ Pros and Cons
Great dry- and wet-condition traction
Comfortable ride; noises were acceptable
Good treadwear
Adaptive cornering speeds
Stable most of the time
Needing more improvements in ice and snowy conditions (though still considered one of the best tires of its class).
Potenza RE980AS+ Competitors and Alternative
Continental ExtremeContact DWS 06 Plus, Michelin Pilot Sport All Season 4, and Vredestein Hypertrac All Season have been tested around the same time as Bridgestone Potenza RE980AS+:
Bridgestone still holds its crown as the tire with the crispiest steering; all responses felt snappy and prompt with only the slightest hint of rebelliousness. The tire's performance on lighter snow was also decent. However, wet-road traction could still allow more upgrades (compared to the remaining 3).
Continental ExtremeContact retained incredible composure at wet and dry surfaces alike; even its snow cornering was on a higher level than the rest. But sometimes, the steering feel was a bit lacking.
Michelin Pilot performed well on highways (dry and wet alike) and leads the competition when it comes to curve navigation and optimal braking distance. Its performance would have been more all-round with some extra on-road refinements, though.
Vredestein excels in riding comfort and produces little road noise. But once pushed to their limits, the sputters and jerks admittedly felt very out of character.
Conclusion
Our Bridgestone Potenza RE980AS+ reviews have showcased its performance and proved its 1st position among ultra-high performance all-season tires in our test. Excellent grips and composure kept it thriving through a wide range of driving conditions we have tested, and there is little to worry about regarding treadwear or riding comfort.
Its levels of performance driving on snow and ice do need significant improvements – but then again, most other tires in the same category are no better. Given favorable conditions, RE980AS+ could still pass itself off as a reliable choice for occasional winter tires.
Bridgestone Potenza RE980AS+
PRICE
SOLD BY

Offers

In Stock

Offers

In Stock

Offers

In Stock

Offers

In Stock

Offers

In Stock
---
President & Automotive Expert at COR Wheels
Robert Herrera has been with COR Wheels for 17 years and has a great passion for the automotive industry. During his time at COR Wheels, he has driven and test-driven a variety of vehicles.
---