Despite being outdone by the latest Bridgestone WeatherPeak models in terms of popularity, Turanza QuietTrack is still among drivers' first choices when it comes to all-season touring performances. The tire embraces most Bridgestone trademarks, evident in the rounded patch, optimized pitch sequences, and interlocking grooves that promise long-term comfort levels.
Our COR Wheels team finally had the chance to test out Turanza QuietTrack on varied terrains in January and June-July. The findings will be summed up in our tire review below.
In this article:
Bridgestone Turanza QuietTrack Specifications & Advanced Features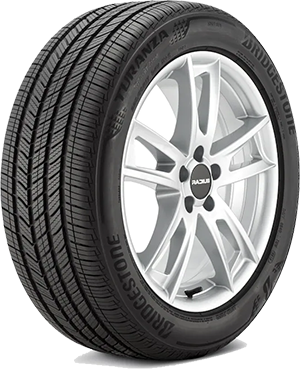 Tire Type
Grand Touring All-Season
Tire Size
15″ – 20″
Weight
20.0 LBS – 33.0 LBS
Load Index
87 – 104
Load Range
SL – XL
Speed Rating
– H: Up to 130 mph
– V: UP to 149 mph
Warranty
80,000 miles
Ratings
8.4/10
Bridgestone Turanza QuietTracks is developed for minivans, crossovers, coupes, and sedans seeking refined road handling for year-round performances on non-challenging terrains (light snow included):
Asymmetric tread compounds combine with non-chamfered slots, optimized pitches, and quiet tracks to increase stability while reducing pattern noise.
The ComfortCruise Tech and rounded contact patches maximize riding comfort and minimize vibrations, cutting through stagnant water.
Shoulder slots and circumferential groove ridges prevent hydroplaning.
EdgePerformance Tech with interlocking tread grooves works with the full-depth tread patterns to create more levels of grip and retain performance consistency as treadwear starts to show up.
Bridgestone Turanza QuietTrack Review & Performance Test Results
Our team has tested the 225/50R17 tire size version of the Bridgestone Turanza QuietTrack on the 2022 Honda Accord car model. Its road balance was tested along with other grand touring tires as part of the 2023 COR Wheels Tire Test.
1. Dry Performance: 9/10
Dry Traction: 9.2/10
Bridgestone Turanza QuietTrack did not disappoint us with its calm, self-possessed grip on straight-line driving. At relatively 30-35 MPH (with very little fluctuation in between), our Honda Accord already set up the contact points properly and stayed within lanes at minimal inputs. Handling roadblocks was a breeze and resulted in no traction loss thanks to the Turanza's smooth, clean cuts – hence our breezy, generally unwavering accelerations towards 55 MPH.
Slick tire rolls across well-built asphalts were an obvious given, and we also found it very easy to travel on slightly rugged paths like cobblestone roads or concrete blocks. Just basic palm-to-palm veering is enough to rock you to speed extremes while still retaining good road grip; no complex efforts are required.
Nevertheless, gravel roads did prove to be Turanza's weaker points. Its sipes and grooves were not meant to tackle increased dirt volume within short periods, resulting in constant jittery feels. If you still want to venture there regardless, remember not to put the car in any sudden, abrupt directional changes.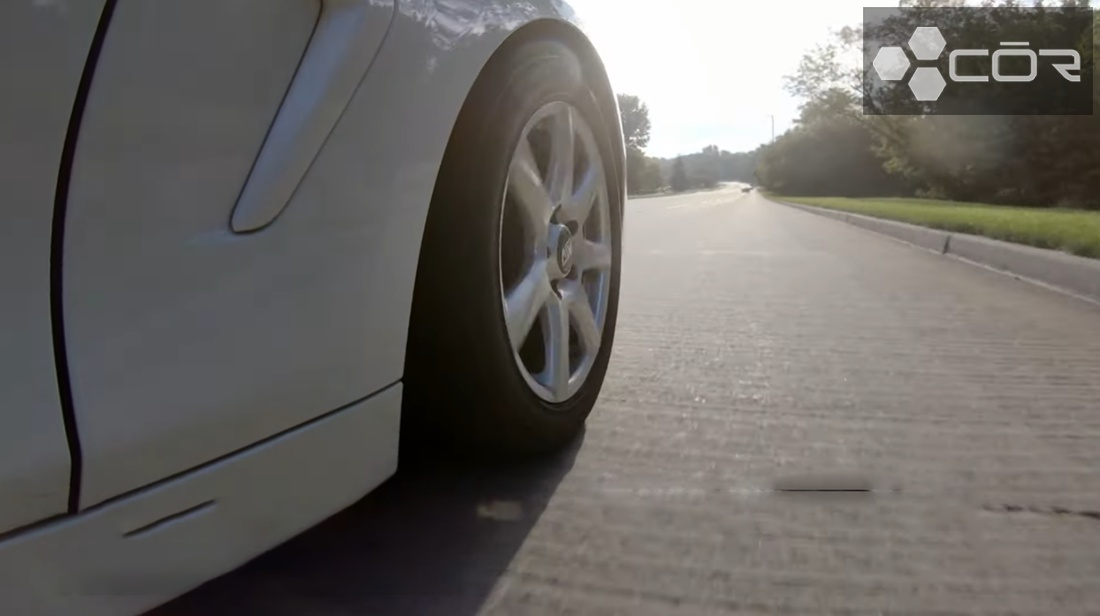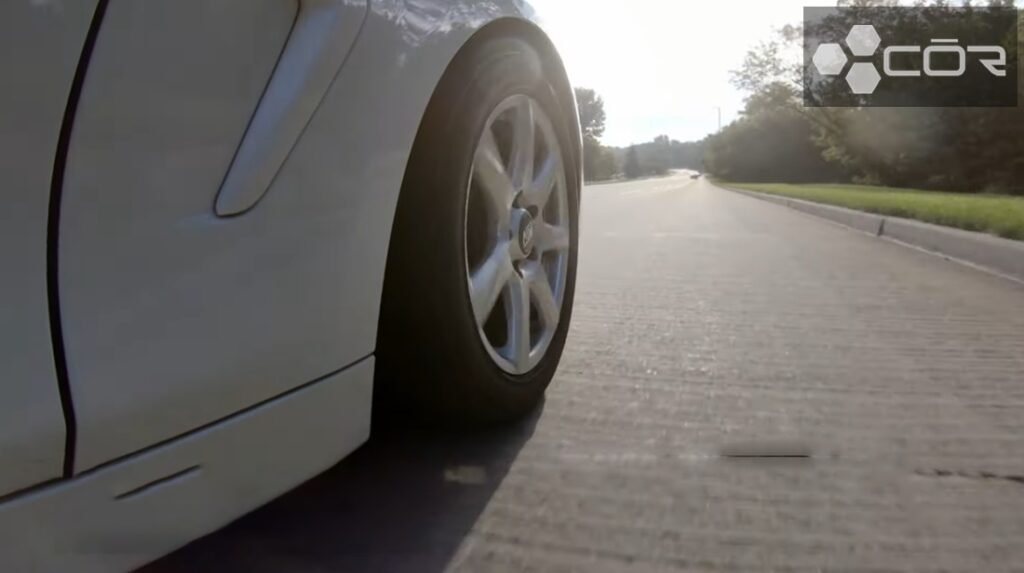 Corner Stability: 8.9/10
Turanza QuietTrack quickly settled our worries at the first few miles of the ride, diving straight into tight corners with a surprising confidence for a grand touring tire. It even manages smooth stops at corner exits with intentional late brakings.
Hence, except for very spirited drivings beyond 75 MPH (which the tire is clearly not designed for), you will likely have no issues tackling any type of tight, narrow road crooks. On graded roads with slightly sloped surfaces, we aired down the tire a couple of PSI while alternating between braking and decelerations. Apply this trick, and your car will work fine afterwards.
Steering Response: 9/10
Steering response was delightfully responsive during our tests, delivering instant, sleek feedback despite our rather low-key demands. The ribs did feel slightly off-center at times but rarely struck us as threatening; on the contrary, it even gave off rather refreshing wilder edges on highways or dry tarmac without compromising traction points.
On another note, the alignment seemed to grow more commanding as steering angles increased. Fortunately, you will get used to it over time – but beware that such over-reactions might still throw your car slightly off-track during the first few rides.
2. Wet Performance: 8.7/10
Wet Traction: 8.8/10
We were generally pleased with how Turanza QuietTrack tackled wet pavements. Light drizzles with littering wet leaves could barely leave a mark thanks to the tire's capable grooves and shoulder slots, paving our Honda straight towards the usual 55 MPH with only minor hiccups.
Stagnant water below 6 inches did not seem like a looming threat either; the round-shaped contact patch evacuated water fairly quickly, only sparing a few harmless drops on the outer grooves and sidewalls. We could even tow a 2000-lbs trailer while driving leisurely at 30-35 MPH.
On another note, slippages started to increase mid-downfalls among flowing water 7 inches onwards. The good news is that no real danger occurred except for the occasional few-second delays; but in trade-offs, you have to sacrifice your time-saving priorities by revving below 25 MPH and avoiding tight roundabouts.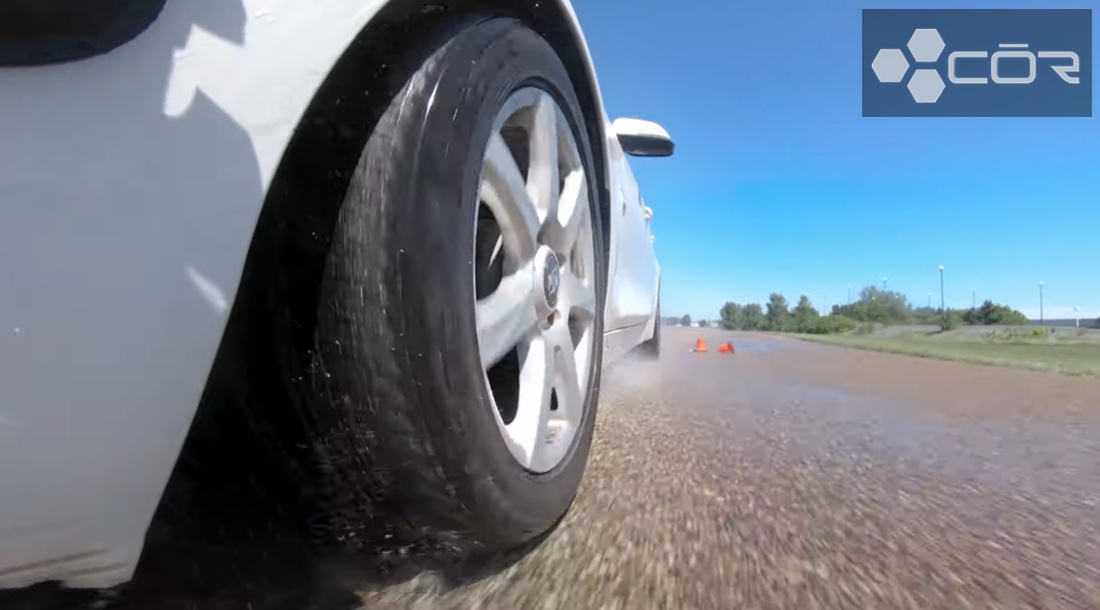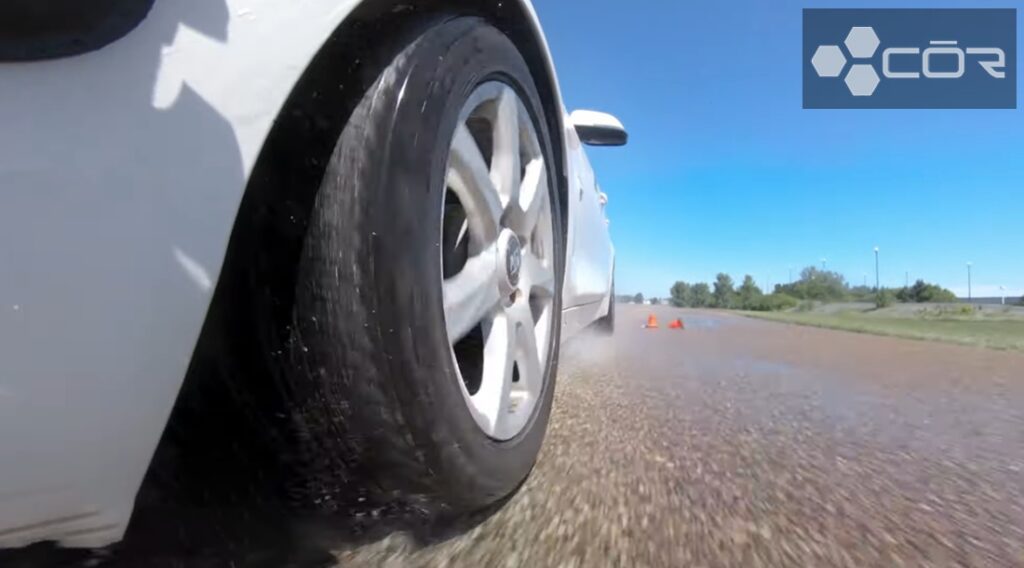 Hydroplaning Resistance: 8.7/10
Turanza knew how to control water evacuation with the help of interlocking grooves and sipes. Rainwater did slip in when we engaged in high-angled cornerings but got trampled down quickly; the Honda remained composed and dynamic in water below 7 inches and handled speed fluctuations well.
Your car will not likely encounter stutters or unexpected vulnerable angles during texture changes (from dry to wet road patches or vice versa), hence even fewer hydroplaning risks. From 7 inches onwards however, unplanned acceleration forces tended to choke up the tread and mute our contact patch. So you're better off being more discreet and consistent with your steering then.
3. Snow/ Winter Performance: 7.4/10
Light Snow Traction: 7.9/10
This responsive tire worked fine with light, soft snow on the verge of melting; stutters and hiccups happened but were not much different than typical slippery surfaces, hence our uneventful marching at 30-35 MPH. With snow chains, there did seem to be some extra squeezed traction at narrow corners.
However, the harder the snow, the more struggles you will have to deal with during the rides. Turanza was generally aggressive for on-road terrains but still fell at a loss here due to the combination of inconsistent snow depths and cold temperatures. We had to keep unwavering hand positions on the steering wheels and give the car at least 5-6 seconds of preparation before corner entries.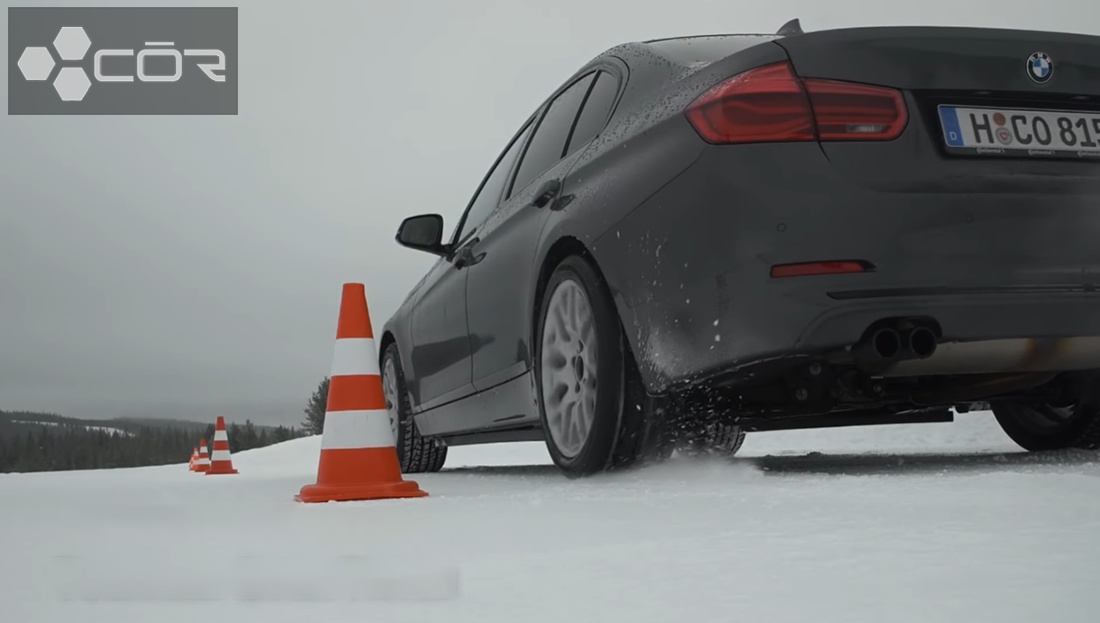 Deep Snow Traction: 7.3/10
The performance decrease from our previous light-snow test was very obvious; QuietTrack was tolerable on freshly fallen snow with little moisture but started to struggle after 20-25 minutes, sending our car straight into a flurry of drifting sequences that took extra longer than usual to recover.
With snow chains bound onto all four tires, Turanza QuietTrack regained enough leverage to breeze our car straight-line for another 4 to 5 miles at below 35 MPH. However, if you face serious snowdrifts or deep snow beyond 6 inches, it might start skittering again.
Ice Traction: 6.9/10
Unlike its WeatherPeak sibling, QuietTrack did not cope well with ice terrains. Our Honda managed moderate traction on ice-covered sidewalks (with controlled yet frequent skitters) but straight-up slipped on ice ruts, bridges, and rink ice. And when faced with sudden black ice on the road, its panic was instant and very obvious.
Seasoned daily drivers could enjoy decent road handling with punctual alterations between countersteering and handbrake turns. Beginners or below-average drivers, however, should avoid riding on these roads – or only venture here if the travel is less than 10 miles.
4. Comfort: 8.8/10
Ride Quality: 8.8/10
Most Bridgestone tires excel in riding comfort, and Turanza QuietTrack keeps the tradition going with a great balance between stability and tire flex. Bumps and jostles were pronounced on rough terrains and sometimes along highway curves, but that is it; vibrations rarely got to the point of borderline annoying.
Spirited driving into tight-neck corners was likewise comfortable. Still, at tricky parts at blind curves or hairpin turns, it would be wise to prepare an extra 10 seconds ahead and use shuffle steering, which extends the cushioned feel under your contact patch.
Road Noise Levels: 8.7/10
As a tire tailored for regular driving, Turanza QuietTrack lives up to its name during daily traffic situations: we did not hear much unpleasant noise frequency from the tread at speed rates below 55 MPH. In rare cases where the sounds occurred, they were low-key and trampled down by the buffed rubber walls almost instantly.
Low rumblings started to show up at 57-58 MPH and grow louder the nearer we reached excessive speed extremes (80 MPH). But in exchange, the angled leans and adventurous maneuverings became much more enjoyable on highways, so ask yourself whether your priority lies in noisy highway fun or tame, quiet rides.
5. Treadwear and Tire Life: 7.9/10
QuietTrack's class-leading riding comfort has to sacrifice tread life during the process, hence the clear symptoms of fatigue after only the fourth day of our summer test.
Steering feedback and traction was still generally punctual, but got fainter at corners and spiraled during extremely heated days. When translated to longer road rides, this indicates about 30,000 to 35,000 miles of on-road traveling before you start experiencing the first signal of tread cuffs.
On another note, Bridgestone has always been generous with its mileage guarantee, and this QuietTrack model is no exception with an 80,000-mile tread-life warranty. So at the very least, you do not have to worry about tread wear issues for the first five years.
Bridgestone Turanza QuietTrack Pros & Cons
Plenty of grip on on-road dry surfaces
Satisfying traction in wet conditions
Great riding comfort; fairly quiet tire.
Underwhelming in wintry conditions; horrid on icy roads
Less-than-stellar treadwear grade
Bridgestone Turanza QuietTrack Competitors & Alternatives
Bridgestone Turanza QuietTrack is pitched directly against Continental PureContact LS, Michelin Primacy Tour A/S, and Vredestein Quatrac Pro.
Bridgestone QuietTrack leads the competition in on-road handling manners and confident texture adaptability. However, hydroplaning resistance could have been better.
Continental PureContact delivers strong, confident footholes in both on-road dry and wet surfaces. Better yet, this versatile tire model has no glaring drawback, except for minor falters with the steering response.
Michelin Primacy has good overall performances since none of its metrics rank last. But at the same time, there is nothing special about it, either; this cozy tire is decently good to mediocre in pretty much all criteria.
Vredestein Quatrac delivers impressive snow traction for a grand-touring all-season tire. Its stability would have been even more impressive if there were immediate ribs to support the solid center, however.
Conclusion
The Turanza QuietTrack performs within expectations in dry and wet on-road conditions. Unfortunately, its power delivery in ice and snowy conditions is admittedly behind a wide range of competitors, even some same-brand siblings. Treadwear is also mediocre.
To sum up this Bridgestone Turanza QuietTrack tire review, it is a middle-spectrum tire that suffices for non-challenging terrains with a dash of soft, favorable snow conditions. Harsh snow storms and thick ice buildups, on the other hand, require much more specialized tires for the occasion.
Bridgestone Turanza QuietTrack
PRICE
SOLD BY

Offers

In Stock

Offers

In Stock

Offers

In Stock

Offers

In Stock

Offers

In Stock
---
President & Automotive Expert at COR Wheels
Robert Herrera has been with COR Wheels for 17 years and has a great passion for the automotive industry. During his time at COR Wheels, he has driven and test-driven a variety of vehicles.
---