Yokohama has catered to on-road drivers (who also travel occasionally off-road) through a series of back-to-back releases and extra add-ons every year. The Geolandar A/T G015 model has been one of the brand's most recognized attempts, combining durable compounds, pitch variations, and optimized 3D grooves for the best all-year traction balance.
This tire review will delve further into G015's real-life performance, verified through the annual COR Wheels Tire Test.
In this article:
Yokohama Geolandar A/T G015 Specifications & Features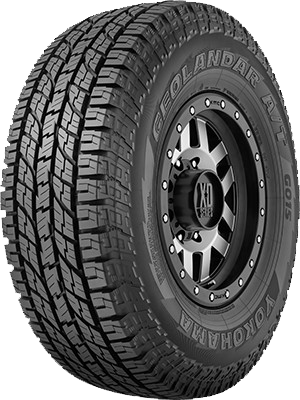 Tire Type
On-Road All-Terrain
Tire Size
16″ – 20″
Weight
27.91 LBS – 40.7 LBS
Load Index
102 – 126
Load Range
D1 – XL
Speed Rating
– H: up to 130 mph
– T: up to 149 mph
Warranty
50,000 miles
Ratings
8.3/10
Yokohama Geolandar AT G015 is developed for SUVs and light trucks seeking durability and tough footholes across on-road and light off-road terrains.
Trip Polymer compounds (symmetrically molded into aggressive patterns) allow better wear characteristics and easier cross rotations.
Pitch variations reduce road noise levels.
Deep, optimized circumferential grooves evacuate water to resist hydroplaning.
Lug grooves and 3D sipes create all-season biting edges that carry into light snow – enough to be granted the 3PMSF symbol.
Double steel belts and 2-ply polyester cords, reinforced by spiral nylon, blend ride comfort with stability.
Yokohama Geolandar A/T G015 Review & Performance Test Results
As part of the 2023 COR Wheels Tire Test, the 265/70R17 tire size version of Yokohama Geolandar A/T G015 was used on the 2022 Chevrolet Silverado in January and June-July.
1. Dry Performance: 8.7/10
Dry Traction: 9/10
Performances on dry roads were excellent. There was a nice sidewall balance not often seen in most average on-road AT tires, which helped our Chevy retain its composure on the road without much over-reacting over slightly rougher road textures. As such, maintaining a good 40-MPH strike all through was a non-issue – and when needed, the tire also showed excellent adapting capability through abrupt surges towards 60 MPH.
Highway endeavors carried on just as breezily, not suffering from the usual traction chokes we often observed in other tires when transitioning from regular streets to graded surfaces. Once settling in, the tire-road connection grew stronger than ever, marching with confidence through lane merge entries and even retaining the same edges when diving into extended S-curves.
Heavy towing, of course, is totally within the scope of Geolandar G015. We only experienced slightly more frequent drifting with cargos from 1500 lbs onwards, meaning you can expect seamless traction maintenance for any other number otherwise. Packing the Chevrolet to full six-passenger capacity will not influence the grip in any way, either.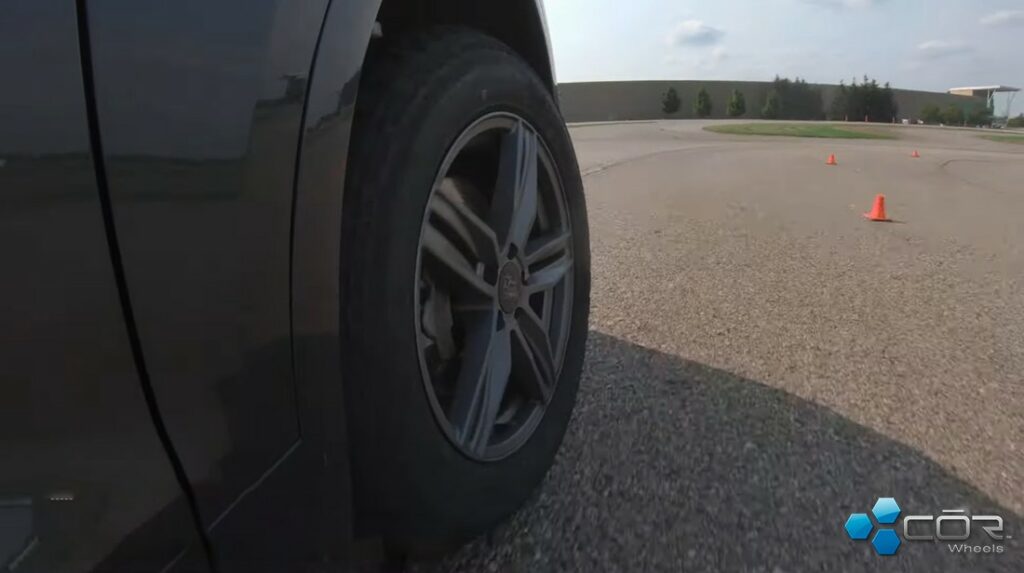 Corner Stability: 8.6/10
Geolandar AT G015 did a great job maintaining impressive footings over wide, gentle corners with ample approach angles. Given regular speed rates that do not exceed 55 MPH, you can actually expect the tire to deliver almost the same controlled road manners as straight-line endeavors. Our attempts at intentional oversteers and late braking also got backed up nicely thanks to the extra margins, leaving almost no room for true danger.
On another note, our car still had to fidget uncertainly upon tight, fast corners; at 60 MPH, recoveries from miscalculated angles took five seconds longer than usual and, worse, were not always predictable. Hence, unless you have enough expertise and physique, it would be best to steer clear of dynamic accelerations at all costs.
Steering Response: 8.6/10
Basic handling situations, such as lane merging/departing or reversing, were totally within Geolandar's operation scopes thanks to the responsive steering response. Always staying closely aligned with our input, G015 delivered each steering demand in reassuring, precise cuts that made it easy for us to gauge its next reactions; minor changes mid-way or near corner exits were also picked up with decent sensitivity.
There was still room for improvements however, particularly regarding G015's steering adaptability to multiple directional changes within short successions; the longer we were engaged on such terrains, the more muted the tire grew towards the end of the road.
2. Wet Performance: 8.6/10
Wet Traction: 8.5/10
Geolandar AT G015 carried most of its dry-road confidence into shallow puddles or moderate water depth (below 5 inches), gripping the road well despite low-key inputs. Speed changes and brakings remained uneventful for us most of the time, except for occasional blind curves where the front tires lurked slightly off the line in more pronounced chokes than expected.
The tire's delivery in deep water was not exceptional but not bad, either; we still managed to predict/correct corner skids within acceptable time frames. And the steering delays, while occurring quite frequently, were fortunately not serious enough to push the car into actual danger zones.
Hydroplaning Resistance: 8.6/10
Guaranteed no abrupt changes or unplanned veering, Yokohama Geolandar A/T G015 did quite a good job keeping hydroplaning at bay. The optimized circumferential grooves took little time dispersing water under the contact patch, not even fazing out when our steering wheel got lackluster during brief texture transitions towards wet bridges or graded hill descents.
However, braking attempts seemed to be G015's Achilles heel; even with very low-key stop-short situations, the tire spewed violent coughs and hocked in much more rainwater than some of its siblings.
3. Off-Road Performance: 7.9/10
Dirt Traction: 8.5/10
Traveling deep into loose dirt and gravel did not seem to send any significant stutters down G015's way. Moderate driving rates (40 to 55 MPH) were the safest bet for the tire to balance out sidewall flex and crawling actions, keeping consistent composure through basic roadblock handles and even occasional tight corners at zigzag entry points.
But as with some other Yokohama siblings, Geolandar AT G015 still needed better steering responses on hard-packed, wet dirt. Thicker gravel roads with littering mud and puddles might also give you quite a headache, so remember to keep your cargo and passengers at civilized levels here.
Sand Traction: 7.8/10
While the grooves and 3D sipes did not provide as much clawing as we had hoped, traction maintenance was still pretty decent on light dunes or soft, drying sand particles. Gradual speed changes with shuffle steering thrown in between were totally doable – even at corners or blind curves – and hugged the liner with surprisingly better confidence than we initially thought.
Just like with off-road dirt, you may want to be on the tamer side with your cargo/trailer towing. To keep hiccups at bay, do not let the extra weight exceed 400 lbs.
Rock Traction: 8/10
Our Chevy climbed over large riverbed boulders in quite impressive stability for an on-road AT tire, only shaking from time to time when we failed to engage punctual downshifts to refill traction loss. Low-key driving inputs were still the safest choice most of the time – but given smoother terrain textures with fewer inconsistent depths, we actually could rev to 55-60 MPH without plummeting.
Wet, slippery rocks, however, were not exactly best friends with AT G015. Hydroplaning was extremely frequent even on thin, shallow water coats, threatening to flip over when we had more than four passengers in the car. Hence, in rainy seasons, it would be better if you travel on these roads by yourself (or with 1 or 2 friends) and bring along as little luggage as possible.
Mud Traction: 7.5/10
G015 was rideable on mud, but these performances were far from stellar, repeating the same slippage on wet rocks but much worse.
Straight-line endeavors already caused us significant steering delays. So needless to say, tight corners were either very challenging to pass through without constant oversteer, or needed to be tackled extremely cautiously at low driving rates (preferably below 20 MPH if you are a fresh beginner).
On a brighter note, if you travel alone towing weights of less than 200 lbs, maintaining relatively the same footholds as on dry rocks was actually quite possible.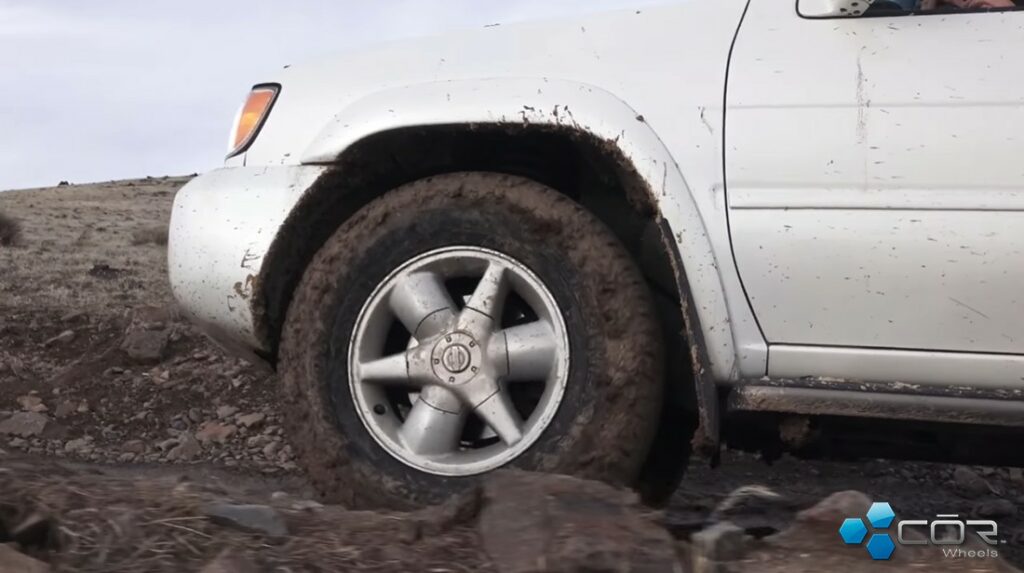 4. Winter/Snow Performance: 8/10
Light Snow Traction: 8.5/10
To our delight, Geolandar AT G015 was quite a star on light, snowy roads – even on par with on-road wet traction thanks to the well-placed lug grooves and 3D sipes.
Hence, minus the slightly longer steering delays on hard-packed sections, you can expect to handle most basic handling situations the same way as with on-road pavements. Even tight corners should not pose that much difficulty, judging by how our Chevy landed on the corner exit with strikingly smooth thuds despite very minimal input. But snirt and smud roads did slow our car down, and the tire kept spiraling every now and then.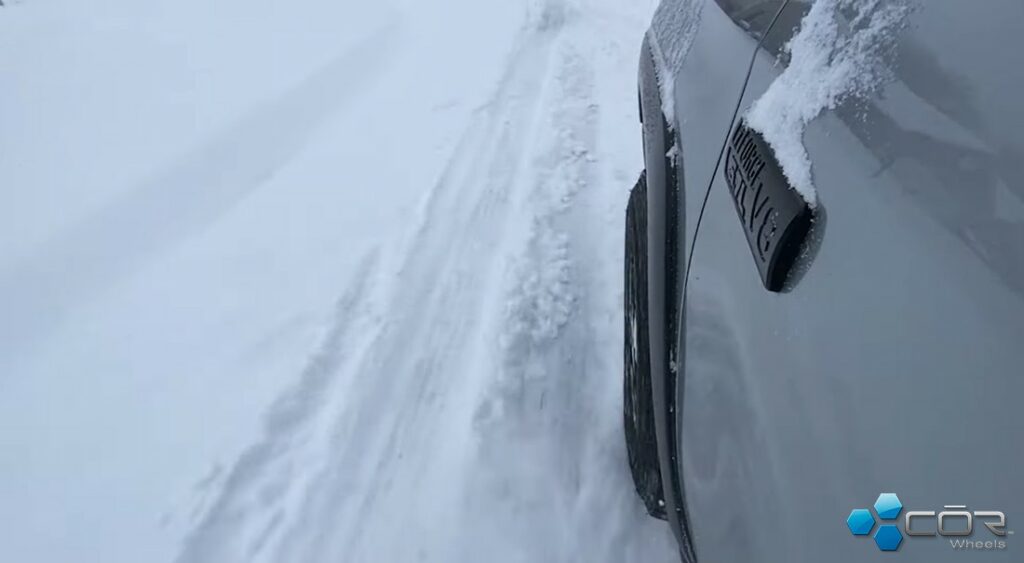 Deep Snow Traction: 7.1/10
The tire handled increased snow volume quite badly here (much worse than off-road mud), getting more distant the longer we rode and shuddering in extremely short intervals as the weather became colder. Corners were not entirely impossible but should only be tackled with extremely little cargo loading (below 100 lbs would be ideal).
But at the very least, the tire was still rideable in favorable temps and maintained decent composure on well-paved snow paths. Snow chains on all four will also help you gain a few sharper edges when dealing with U-turns and S-curves.
Ice Traction: 7.4/10
The 3D sipes surprisingly reacted better to thick ice buildups than deep snow.
While we still could not get rid of the ominous shakes completely around tight crooks, Geolandar AT G015 admittedly felt much more stable on straight roads and delivered acceptable contact points when revved below 20 MPH. Thus, during ice-melting periods (usually from late winter to mid-spring), G015 will still be qualified as a winter tire replacement for your short-distance travel.
5. Comfort: 8.4/10
Ride Quality: 8.5/10
Geolandar G015 composed itself well over on-road imperfections and, given minimum cargo, could carry us with stable, bumpless strikes through non-challenging dirt and mud. You only need to pay more attention to deep water or thick, hard-packed gravel, where constant jostles might be unavoidable if the steering input is insufficient.
Noise: 8.3/10
The noises could be heard pretty clearly from our cabin; fortunately, alternations between shuffles and downshifts had helped us trample them down quite a lot. And unlike some Yokohama tires, the noises grew quieter along the way instead of increasing their volumes, meaning you should be able to tune them out once the tire familiarizes itself with the road patterns.
6. Treadwear and Durability: 8.2/10
More improvements in cold-temperature handling are still very much needed. Fortunately, other than that, Geolandar AT G015 coped pretty well in summer and managed to learn their way around sharp debris and rocks along the roads. Aided by the 60,000-mile warranty, you can expect smooth, comfortable driving in the first five years without major shredding issues.
Geolandar AT G015 Pros and Cons
Confident dry-road traction
Pretty good manner on off-road dirt and rock
Satisfying handling of light snow
Quite comfortable rides
Wet performance could have been better
Occasional struggles on loose off-road terrains
Sometimes noisy
Geolandar AT G015 Competitors and Alternatives
Yokohama Geolandar A/T G015 was put in the same group as BFGoodrich All-Terrain T/A KO2, Firestone Destination A/T2, and Hankook Dynapro AT2 during our test:
Yokohama Geolandar A/T G015 was pleasant on-road and handled light snow quite well. However, wet traction could have received a bigger boost.
BFGoodrich KO2 delivered impressive wet and snow performance with much less noise than other tires, though the way it rolled over road impacts felt too stiff at times.
Firestone Destination A/T 2 led the group with its solid balance between on- and off-road capability. On another note, this all-terrain tire needed more upgrades with braking distances on snow/ice terrains.
Hankook Dynapro supported nicely weighted, intuitive steering. Unfortunately, the lackluster lateral wet grip brought the tire down by several levels.
Conclusion
The AT G015 is a pretty good choice for dry roads and non-challenging off-road terrains (especially dirt and rock.) According to our Yokohama Geolandar A/T G015 tire review, its performance on snow, wet roads, and loose surfaces was alright for an on-road AT tire but definitely had room for bigger improvements; it would be best to drive slowly around these terrains with as little cargo as possible.
Yokohama Geolandar A/T G015
PRICE
SOLD BY

Offers

In Stock

Offers

In Stock

Offers

In Stock

Offers

In Stock

Offers

In Stock
---
President & Automotive Expert at COR Wheels
Robert Herrera has been with COR Wheels for 17 years and has a great passion for the automotive industry. During his time at COR Wheels, he has driven and test-driven a variety of vehicles.
---