Falken showed clear ambitions for off-road all-terrain performance with its WildPeak A/T3W, which seemed to be one of the brand's most successful endeavors by far. The tire's aggressive sidewalls, supportive ramps, and advanced handling characteristics sat well with most customers and reflected part of its popularity through impressive sales.
Our COR Wheels team has included WildPeak A/T3W in our test to verify the tire's true metrics across different on-road and off-road challenges. Scroll through the tire review below for detailed reports.
In this article:
Falken WildPeak AT3W Specifications & Features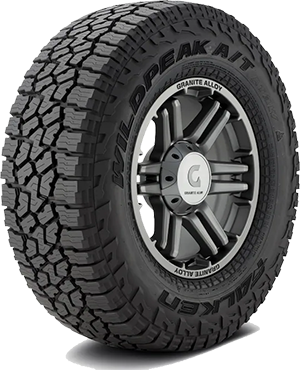 Tire Type
Off-Road All-Terrain
Tire Size
15″ – 22″
Weight
31.1 LBS – 84.0 LBS
Load Index
99 – 129
Load Range
C1 – XL
Speed Rating
– H: up to 130 mph
– T: up to 118 mph
Warranty
55,000 miles
Ratings
8.6/10
Falken WildPeak A/T3W aims to serve full-sized vans, SUVs, and pickup trucks with high traction demand for on/off-road adventures:
Durable compounds molded into optimized footprints to resist tear on off-road and coarse surfaces
Step-down add-ons and support ramps along tread blocks for better handling stability and resistance against stone damage
Aggressive sidewall tops that deliver extra off-camber traction and protection against sharp debris
3D canyon sipes tackle high-torque driving and resist wear better while introducing more biting edges to light snow, ice, and wet conditions
Heat diffusion technology for the lower sidewalls to dissipate temperature
Double steel belts and double robust polyester plies, reinforced with secondary bead apexes to boost confident handling in dynamic environments
Falken WildPeak A/T3W Review & Performance Test Results
The 265/60R18 tire size version of Falken WildPeak AT3W was tested on the 2022 Ford F-150 as part of our 2023 COR Wheels Tire Test.
1. Dry Performance: 8.8/10
Dry Traction: 9.1/10
Falken WildPeak AT3W had a major dry traction win on our test. The tire took little time clasping their ramps onto the terrains, pushing the Ford forward with an effortless, feathery feel that seems at home with extra-deep 3D sipes.
Our team members accelerated gradually from 25 MPH to 60 MPH while threading the car through traffic; Falken WildPeak stayed composed and oddly polite for an aggressive off-road all-terrain tire. Traction loss was not really an issue even at abrupt deceleration to merge lane – and if it did occur, the follow-up rebounds occurred swiftly without missing a beat.
On another note, beyond 60 MPH, slight hesitations started showing up a bit more frequently – even at gentle curves that required very minor direction changes. Fortunately, consistent hand-over-hand steering kept things civilized and under control.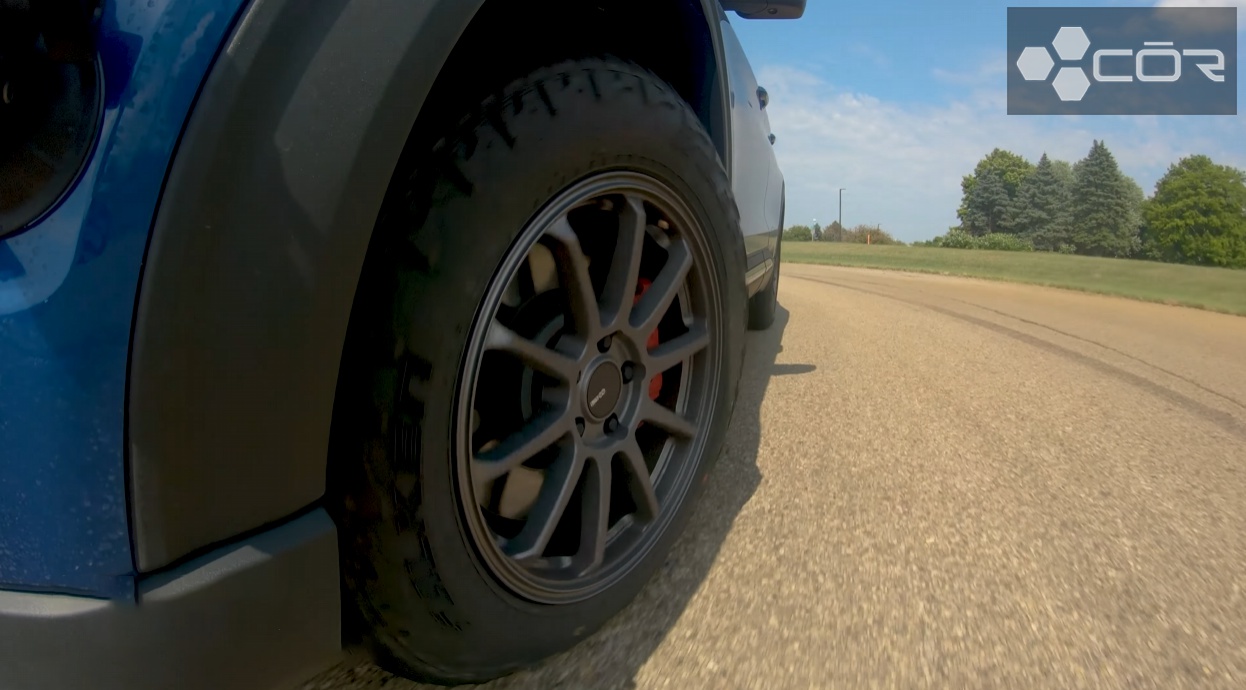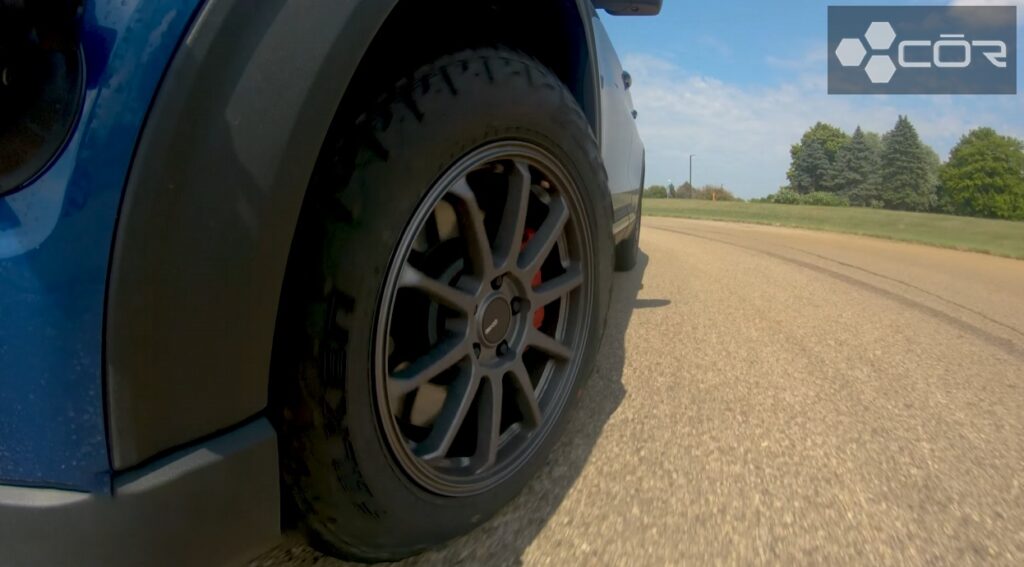 Corner Stability: 8.7/10
Our cornering attempts were decently good, owing to the engineered footprint and aggressive upper sidewalls that lent the WildPeak A/T3W extra stability. We managed low-angled corners and even really short-noticed off-camber bends pretty uneventfully at 40 to 55 MPH, with only a few minus stutters before exit points (already past the danger zone).
The sturdy step-down features extended our cornering limits a bit further past 60 MPH. However, stutters did admittedly grow more obvious the more we neared 70 MPH, stumbling to deliver highly-sweeping cuts across narrow, S-curve corners on highways.
Steering Response: 8.7/10
Steering response was good, but nothing truly exceptional compared to other competitors in the off-road all terrain category. It answered accurately to our inputs and adapted well to impromptu changes when we maneuvered our way around the blocks, growing more confident the higher the speed.
What seemed lacking here was the bold flexibility required in non-linear situations. While accelerations to 70 MPH or even more remained a non-issue, the steering became stiff, rigid during sharp U-turns or twists at blind curves, giving the impression that it would be better to stick to straight-line driving.
2. Wet Performance: 8.7/10
Wet Traction: 8.8/10
WildPeak AT3W tires excelled when it came to damp traction. The 3D full-depth sipes had done a pretty good job controlling the contact patch despite the rainwater, ensuring our communication with the road remained more or less intact.
Our team was particularly satisfied in water below 6 inches, where water barriers felt very distant and even permitted fast cornering at 60 MPH (given enough preparation time). Some traction loss did occur upon long hours of driving, but nothing that a quick stop/pull-over could not fix.
Struggles only seemed to grow prominent as the water surpassed 6 inches deep. While 60-MPH travels were still within reach, the steering-traction connection became more unpredictable; we stayed behind 50 MPH to avoid accidents.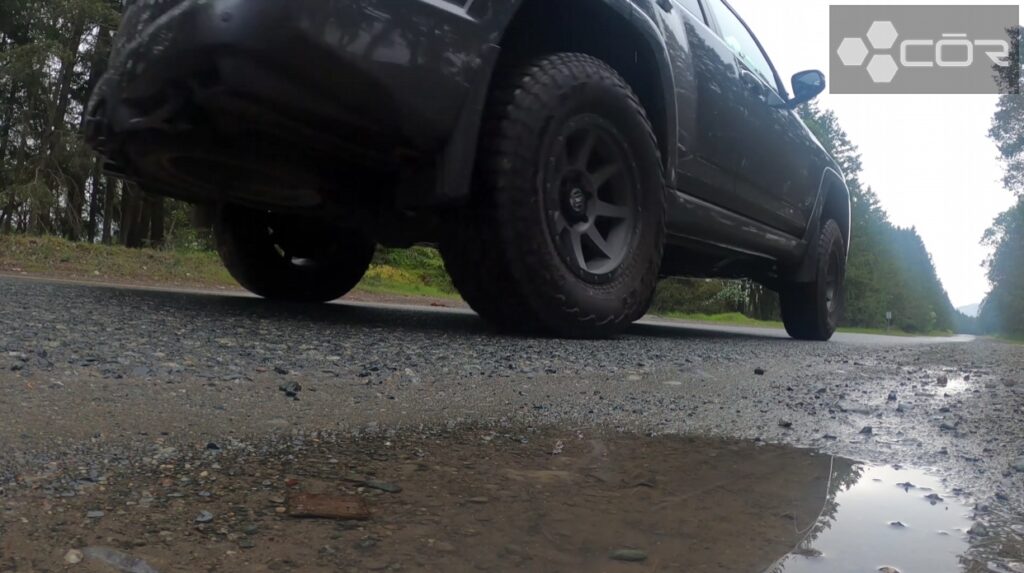 Hydroplaning Resistance: 8.6/10
This tire did a great job with hydroplaning resistance in lighter rain or wet terrains of less than 6 inches. The 3D, evenly-spaced sipes helped control water going in and out (mostly out), ensuring these rainwater drops did not overstay their welcome. As a result, the terrain still felt connected under the deep tread and aligned well with our steering input/Ford's suspension and chassis system.
More water started to seep through the grooves at more than 6 inches of water (which explains the higher risks of traction loss here). We also struggled with flowing water amidst heavy rainfall at any rate outside the 30-40 MPH range – which was admittedly a huge turn-off, considering this is an off-road AT tire.
3. Off Road Performance: 8.6/10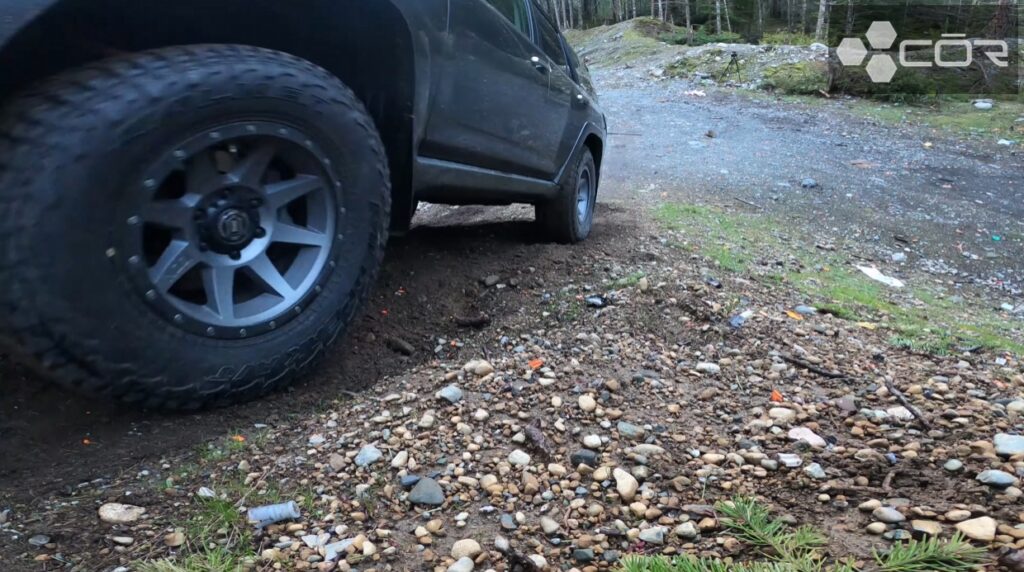 Dirt Traction: 8.9/10
Off-road dirt was clearly where WildPeak A/T3W belonged, with traction even firmer than on on-road wet pavements. The strong upper side walls manifested enough stiffness to plow through debris without sacrificing much tire flex, allowing our Ford to travel in delightful smoothness at quite a high starting point of 45 MPH.
Tight corners proved challenging even for max traction tires, but WildPeak A/T3W managed beyond expectations. Our car gave a few good-hearted shakes at the entry and breezed through the rest of the passage, while coping well with gradual acceleration to 60 MPH in little to no drama.
What took a few points off the overall score was how WildPeak A/T3W trumped nervously and hesitantly over sharper debris. At lower speeds (less than 30 MPH), it might have led to minor tire cracks had we failed to pay attention or keep consistent steering.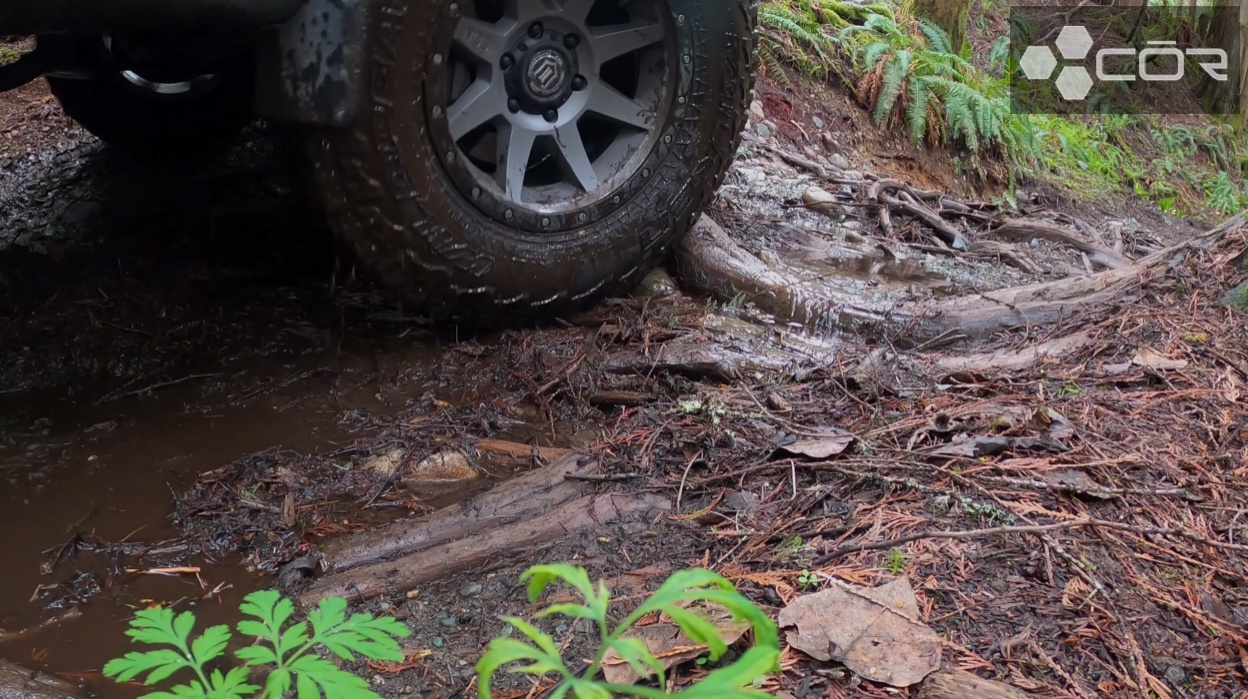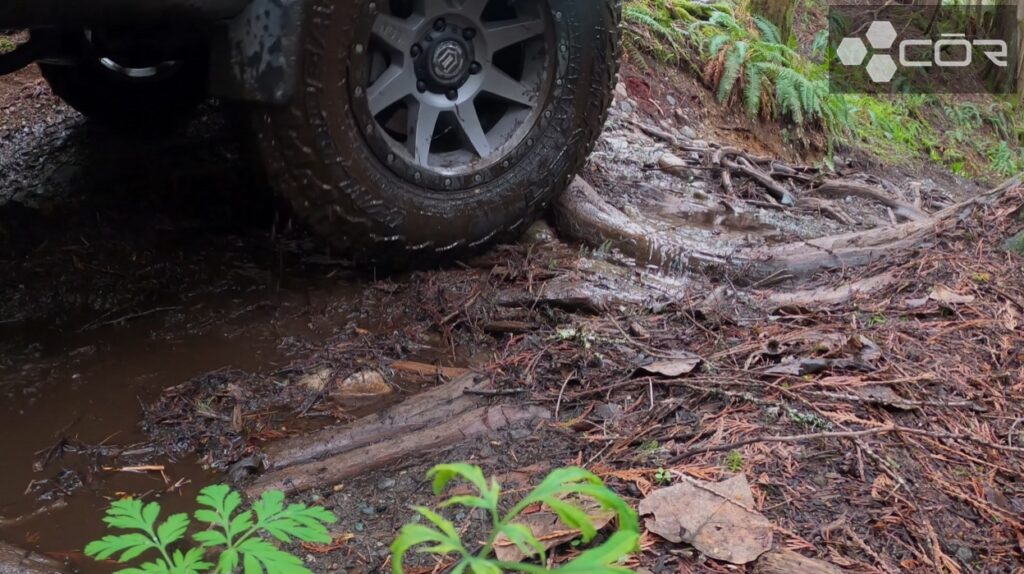 Rock Traction: 8.5/10
WildPeak A/T3W did not disappoint us with its accurate, precise cutting through rocky surfaces. On such a crushed rock bed, bumps and jostles were surprisingly less than what we had expected, allowing the car to perform safe maneuvers and even low-angled steering at 40 to 60 MPH.
Still, compared to more powerful tires on our tests, the lack of sure-footed stability on more rugged terrains (with larger rocks) did feel disconcerting. To clarify, our Ford kept "dancing" on that road rather than throwing rocks to gain more traction, let alone the "climbing on rock" feeling, which hindered us from accelerating more.
Sand Traction: 8.6/10
Thin sand did not give Falken WildPeak A/T3W much problem to deal with. The 3D sipes and ramps filtered the particles pretty well even at extremely low speeds of 25 MPH; thus, the rest of our surges to 40, 50, and 70 MPH were uneventful – saved for seconds-long hiccups at turns.
Thicker sands were where the jitters became much more present. These particles were small, easy to infiltrate, and sticky, making the channels work extra harder to fling them off. A balance between acceleration force and stability would give the tires more time to process the sand, hence our decision to stay mid-range at 45 MPH.
Mud Traction: 8.3/10
Mud performance tittered between good and underwhelming.
On the one hand, the tire handled thin, occasional mud very well with traction almost the same as on dry roads, enabling effortless speed boosts to 70 MPH. We could even dive into corners and blind curves the same way we did on on-road paths, only experiencing very brief traction loss due to temporary fatigue.
However, like sand, thicker mud posed much more challenges. There was not enough time to handle the extra mud density between two back-to-back rolls, resulting in sticky feels that dragged on for miles.
In such cases, more force needed to be applied to our steering wheel. And unless the muds have been properly shaken off, ill-timing accelerations might actually invite more soil and water inside the grooves instead of speeding up the ride; the best bet was to tread forward slowly but firmly.
4. Winter/Snow Performance: 8.5/10
Light Snow Traction: 8.9/10
The tire handled light snow very well. What we experienced on light snow was almost similar to off-road dirt, but smoother and grippier at corners. Accelerations were never an issue, and we did not have to be picky about the best driving speed like with other tires. Whether 25 MPH or 60 MPH, the tire composure remained mostly unwavering.
Light snow after rain, however, sent us into quite a bit of trouble. The already low-melting snow combined with slippery rainwater did not mean well, and we had to err on the safe side by sticking with one driving rate only (say, 40 MPH) and no abrupt speed changes.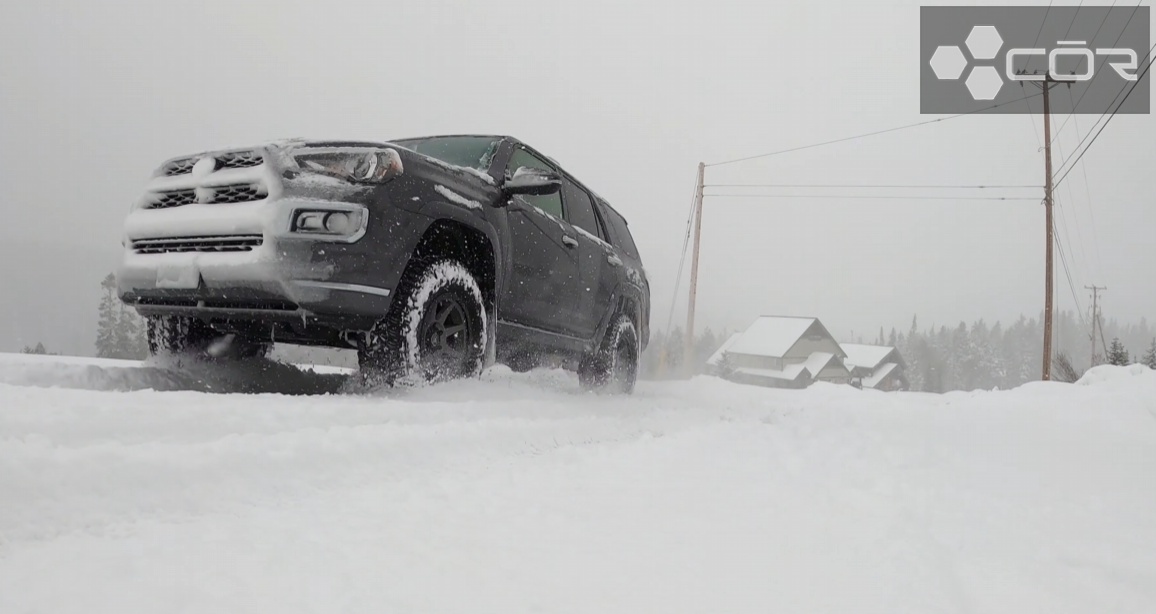 Deep Snow Traction: 8.7/10
The tire stuttered more on thicker snow than on light snow, but that was a normal reaction for most tires. WildPeak A/T3W still felt stable enough even then, with only some occasional hiccups and steering delays that rarely threw us into actual danger.
Unlike on light snow, we had to be more selective with speed driving this time. 50-55 MPH was still possible but resulted in bunched-up sidewalls in rides longer than 1 hour, so we kept it safe at 45 MPH or lower depending on roadblocks/steering endeavors.
Ice Traction: 8/10
Falken WildPeak AT3W performed better than most competitors on tires. Thanks to the great tire-road connection, we did not experience as many slippage risks and still had a great sense of the car's position and directional veering.
Still, the stability decrease on ice did feel disheartening compared to its planted footings on snow. Strong, instant accelerations were out of the question now; for safety, we needed to rev up very gradually and slowly through multiple transitional thresholds.
5. Comfort: 8.5/10
Ride Quality: 8.7/10
We were pleased with the overall consistent and predictable ride.
Bumps and vibrations were not entirely off the bay, but WildPeak A/T3W knew how to handle them well. Their impact felt vague, far from a constant bother, and grew more distant as we went through slow but sure-footed surging to 60 MPH.
Noise: 8.4/10
Falken A/T3W was not exactly the quietest tire; the tread noises were easily triggered even at the smallest bumps on the road.
But the great news was that these sounds stayed pretty low-key, sometimes almost close to howling wind sounds. And the longer we rode, the easier it was to tune them out completely, making WildPeak A/T3W the second-best off-road AT tire on our test when it comes to noise control.
6. Treadwear and Durability: 8.5/10
Nothing exceptional, but sufficient. Overheating admittedly occurred more often than we thought, even on pretty tame summer days. Fortunately, the heat diffusion technology did help our tire maintain good internal temperature, resulting in little to no noticeable tread marks after our ten-day test.
Falken Wildpeak A/T3W Pros and Cons
Good dry traction
Decent wet traction
Additional handling stability on off-road terrains
Fairly smooth ride
Stutters or hesitations at beyond 60 MPH were still pretty frequent
Easily-triggered road noises
Struggling on thick mud/sand and large rocks
A/T3W Competitors & Alternatives
When put in the same group, Falken WildPeak A/T3W, Toyo Open Country A/T III, and Mickey Thompson Baja Boss A/T showcased both notable strengths and drawbacks.
Falken Wildpeak A/T3W led the group with excellent traction on wet and dirt roads. However, the ride did feel a bit too firm at sweeping curves.
Mickey Thompson excelled in ride comfort and handled bumps smoothly. Fewer road noises and more wet-road grip would be welcome, though.
Toyo A/T III delivered sporty steering that aggressive drivers would like, especially on highways. But like Mickey, there was room for improvement regarding wet grip.
Conclusion
Our Falken WildPeak A/T3W tire review can conclude that it's one of the best deals for off-road AT tires at a fair price. Except for ice traction – which was alright but could have done away with the slippage – every other metric was beyond average to excellent.
Hence, you could trust AT3W to lend decent, consistent performance in any road condition (on-road and off-road alike) but deep snow/mud. For aggressive driving or accelerations beyond 60 MPH, remember to implement proper strategy and extra steering caution.
Falken WildPeak A/T3W
PRICE
SOLD BY

Offers

In Stock

Offers

In Stock

Offers

In Stock

Offers

In Stock

Offers

In Stock
---
President & Automotive Expert at COR Wheels
Robert Herrera has been with COR Wheels for 17 years and has a great passion for the automotive industry. During his time at COR Wheels, he has driven and test-driven a variety of vehicles.
---