At first glance, Hankook Dynapro AT2 seems like a promising on-road AT tire with multi-directional grooves, silica compounds, and wide grooves that keep hydroplaning risks at bay. Other technologies are also added to further the tire's capability in more challenging terrains if demanded.
However, our performance review (based on our tests in January and June-July) revealed more about the tire's metrics, and not all of them lived up to expectations.
In this article:
Hankook Dynapro AT2 Specifications & Features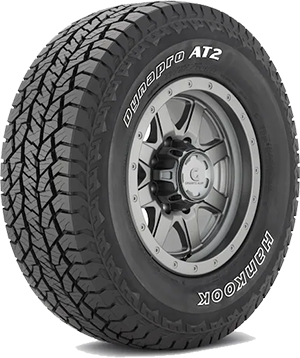 Tire Type
On-Road All-Terrain
Tire Size
16″ – 22″
Weight
From 41.0 LBS
Load Index
From 113
Load Range
E1 – SL
Speed Rating
– T: up to 118 mph
– S: up to 112 mph
Warranty
60,000 miles
Ratings
7.9/10
Hankook Dynapro AT2 is an on-road AT tire for work vans, Jeeps, full-sized SUVs, pickups, and light trucks:
Cut-resistant tread compounds improve fuel efficiency, aided by the silica content that delivers more wet grips
Right shoulder tie bars stabilize the blocks for better dry handling and ride comfort
Stepped edges absorb airborne noise
Wide, multi-direction grooves and open shoulders resist hydroplaning while finding traction from any direction
Independent blocks feature more biting edges on snow and off-road paths
3-ply casings and wide computerized footprints distribute pressure to resist wear and prevent off-road punctures/damage. Aided by steel belts with nylon cap plies, they promise higher-speed capability and durability.
Hankook Dynapro AT2 Review & Performance Test Results
In our annual 2023 COR Wheels Tire Test, the 265/70R17 tire size version of Hankook Dynapro AT2 was used on the 2022 Chevrolet Silverado in January (for Winter evaluations) and June-July (Summer).
1. Dry Performance: 8.6/10
Dry Traction: 8.8/10
Hankook Dynapro did not pose much of an issue in this regard, just like most of its competitors.
While the contact patch gripped the roads a few seconds slower than we thought at the first 1-2 minutes, it settled pretty well once the anchoring points were finally established. The Chevy carried us through the first part of our straight-line drive at a leisurely, mid-spectrum rate at 35 MPH in little to no stuttering.
The performance perked at highways as we gradually accelerated to 55 MPH. Smooth asphalts curved under the rubber with a nice, confident feeling, delivering their grip just fine while navigating around sweeping curves. A bit of traction loss was spotted when we leaned a bit further to the left to mold along the roads, but nothing generally alarming.
On another note, some of the patch's footholds seemed to lose their edges when it came to dusty, sizzling hot summer days (which was very often in Florida). At times, we could feel the rubber jolting back when touching very hot road patches, and the increase in surface dust did put our grooves at a major loss.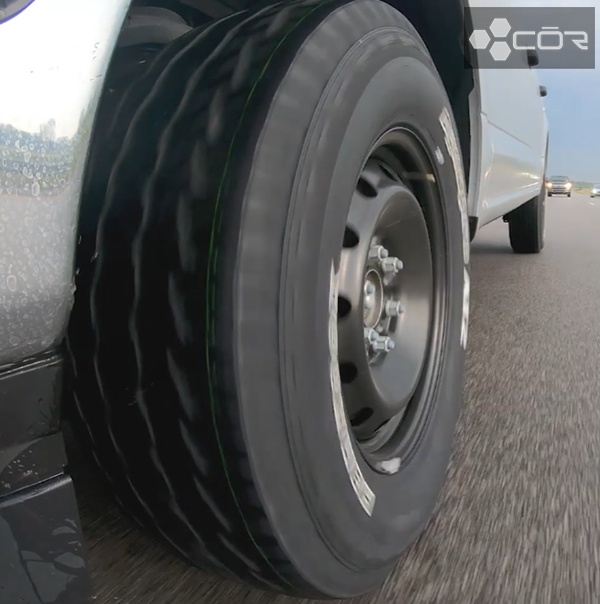 Corner Stability: 8.5/10
Our cornering attempts at wider angles were pretty much uneventful. The on-center ribs received much stabilization with extra help from the shoulder tie bars, keeping our Chevy neatly in the line during regular driving rates. Not the punctual sharpness we would prefer for an on-road AT tire in favorable conditions, but enough to keep driving worry-free.
Still, Hankook Dynapro did need a much better grip when diving into lower-radius crooks with increased centrifugal forces. The rear tires wandered a bit more often (hence our decision to air down a few extra PSI compared to the front to lessen oversteering risks), and we did not like how its rubber struggled to re-attach to the roads when tackling multiple entry/exit points.
Steering Response: 8.6/10
Dynapro AT2 responded well to our inputs most of the time. Delays were admittedly noticeable but not dangerous, with a bit of extra margin left for us to deal with unexpected roadblocks or other obstacles blocked from our sight line. Accelerations surprisingly did not strip its edges much compared to lower speeds, which was a bonus.
Nevertheless, this all-terrain tire still was clearly not meant for spirited driving. While not entirely off-putting, the mushy, squishy feel on the sidewalls did strike very out of place when put against wide steering arcs and abrupt flicks. It seemed to deal much better with gradual directional changes of decent notice, or any situation that did not require much tire flex and sensitivity.
2. Wet Performance: 8/10
Wet Traction: 8/10
Water below 4 inches barely scraped against the contact patch and did not give the tire much of a traction compromise. Hence, despite the minor jostles when veering to the side, our Chevy remained mostly composed here and paved the way for 30-45 MPH travels with little drama. Steering grew vague at corners (even wide-angled ones), but given that we could anticipate it, the situation was within control.
Dynapro AT2 lost its power as the water density reached beyond 5 inches, however. We could still feel our contact points buffering under the rubber, but their weak calls were quickly trampled on by the slippery surface. Slippage happened more often, even on straight-line drivings, worsened at tighter bends, and down-right shook at accelerations.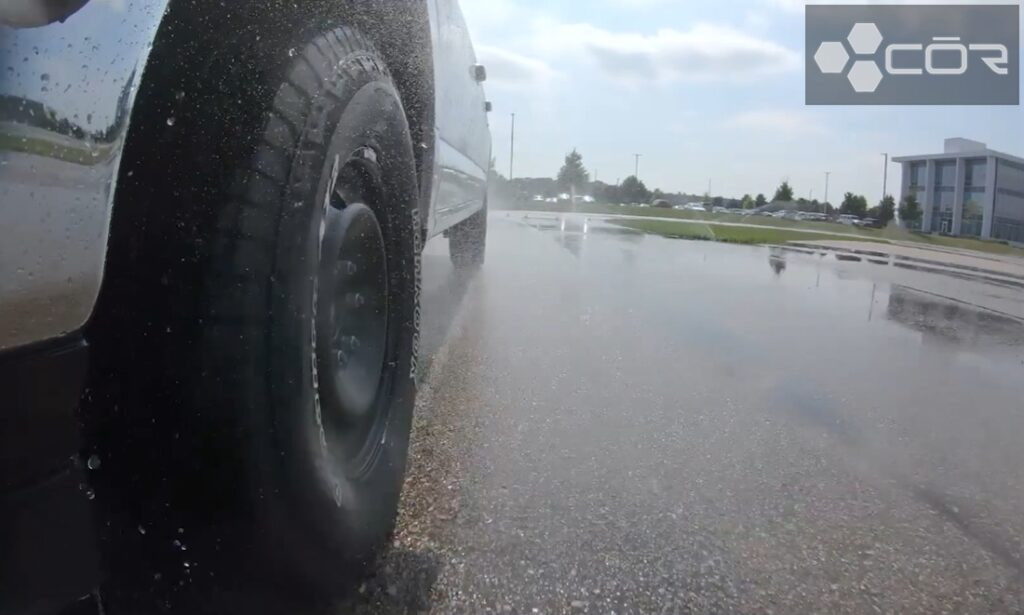 Hydroplaning Resistance: 7.9/10
Hydroplaning was one of the tire's biggest problems. The multi-direction grooves were supposed to whisk and spread out rainwater. Yet, their weak, low-material constructions caved under vicious water onslaught and eventually invited some of the liquid inside.
Straight, well-paved roads with no twists and turns at standing water below 5 inches deep or mid-downpour were tolerable: hydroplaning still occurred, but we could manage well with consistent steering and on-time accelerations. From 5 inches onwards, the ride became a series of constant hiccups and coughs, growing twice annoying in deep flowing water.
3. Off-Road Performance: 7.6/10
Dirt Traction: 7.9/10
Off-road dirt was manageable but nothing exceptional.
Dynapro's shoulder tie bars gave us enough stability to plow through the thicker debris, and extra biting edges delivered with the independent tread blocks managed to grind the contact points better on inconsistent patches. At constant fluctuations between 35 and 40 MPH, the Chevy managed stutters and hiccups well, treading forward more firmly once the road patterns became more familiar.
However, the soft and squishy sidewalls sent us back to square one on rougher dirt. Despite their best efforts, the grooves could not redirect sticky slime off the sipes and ended up dragging the car around with a heavy-weighted, bias-center feel that struck at all the wrong places. Cornerings were possible but sluggish and shaky.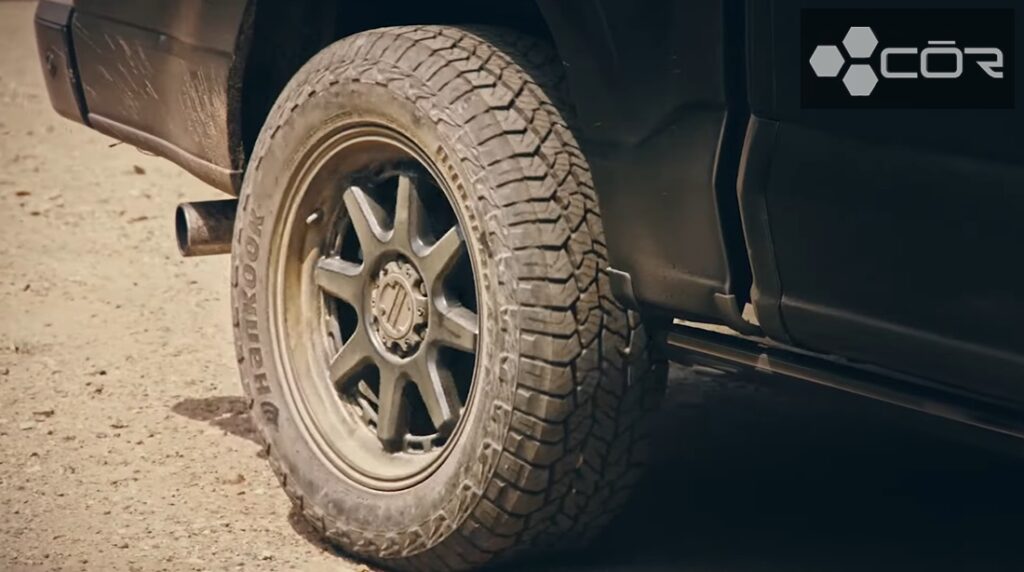 Rock Traction: 7.9/10
Like off-road dirt, we found rock terrains mostly acceptable when traveling below 40 MPH at non-twisty paths. The jostling and hiccuping were admittedly very annoying, but such traction loss did not give room for any actual danger. Contact anchors were on point, albeit a bit nervous, and small pebbles and rocks only caused low-angled shakes.
Real troubles only arrived when we accelerated or engaged the braking pedal unannounced. The high sidewalls and the surge of centrifugal forces stripped Dynapro AT2 of the low-speed subtlety we had enjoyed earlier, causing the rubber to throw rocks forcefully when navigating crooks or grinding through a particularly rougher section.
Wet, muddy rocks made things even worse; without our constant hovering over the acceleration and braking pedal, the stutters were hardly bearable.
Sand Traction: 7.6/10
Our ride on off-road sand was far from the best experiment, with initial traction only weakened after just merely five minutes. Fortunately, traveling on wet, hardened sand was somewhat comfortable thanks to the unexpected support we received from its density, and after a few more struggles, Dynapro AT2 finally embraced our steering forces at 35-45 MPH without protesting.
But dry, soft sand with much more loose particles was a nightmare; we could not tread for two miles straight without the tire rolling. The shoulder bars and open grooves already fell below expectations with on-road rainwater and hence, clearly could not cope well with off-road sand. We felt the tire sink clearly, and every time we pressed the gas pedal, it was like going uphill.
Mud Traction: 6.9/10
Nothing excusable about Dynapro's AT2 horrendous mud traction. The rubber picked up mud easily even at low-key drivings, and not a single lap could be completed without at least one mud flap or two. Our ride was mostly kept on straight roads, with the driving speeds only hovering slightly above 35 MPH.
Sometimes, the car even stalled completely in deeper puddles (beyond 4 inches) and only managed its way out of the hellhole with our constant and very forceful push and pull. Needless to say, maneuvering around sudden bends or tight curves was out of reach.
4. Winter/Snow Performance: 6.7/10
Light Snow Traction: 7.4/10
Dynapro handled light snow even worse than off-road mud. The perks of its performance were when we traveled on snow below 3 inches – and hiccups already lurked around even then. Snow chains were very helpful in anchoring the tire but could not still stop the panic reactions around corners.
From snow 4 inches onwards, the soft sidewalls and lackluster tread blocks kept protesting through frequent jostles and stumbles. Surging beyond 45 MPH was still within reach but had to be done at appropriate timing, preferably on more even road sections in warmer weather when the snow started to disperse.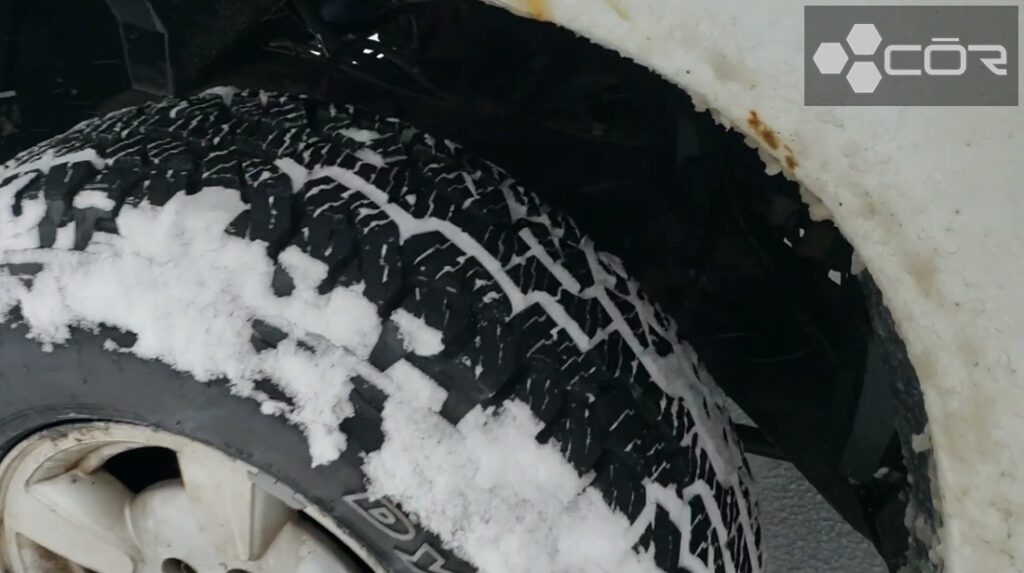 Deep Snow Traction: 6.6/10
Accelerations already proved difficult even on light snow, so we did not try it out here. Snow chains were also involved from the start; still, Dynapro AT2 could not handle our steering inputs without delays. Slippage manifested around the tire's edge, worsening at turns, and threatened to invade the center rib when we moved from regular roads to highways.
Still, although the constant shakes were borderline disruptive, at least they felt manageable at low speeds (below 30 MPH) thanks to our snow chains. Hill ascents gave the tire extra tasks to work with due to the combined wet snow and gravity force, which should be a no-go zone.
Ice Traction: 6.2/10
Our test ride had to stop in just 2 hours on the first day and 1.5 hours on the second day.
The safest we felt during the entire experiment was when the car had to stoop as low as 15 MPH on roads with no thick buildups, road obstacles, or heavy traffic. Other than that, Dynapro AT2's skittish slippages took up most of the car rolls and, more often than not, threatened to push us into steering loss.
5. Comfort: 8.2/10
Ride Quality: 8.4/10
Leave ice and loose terrains out of the picture, and we had a pretty composed tire. Dynapro AT2 was more lousy and bumpy when dealing with low cornering angles and large road perfection but remained seamless and cushioned in the rest, giving us very little difficulty switching from 55 MPH to 30 or vice versa.
Noise: 8/10
Tread noises were within safe range during straight, on-road driving at below 40 MPH (hence the overall 8 out of 10) but grew slightly more noticeable as we revved toward 55 MPH. The same occurred to off-road and snow terrains, but twice worse this time.
6. Treadwear and Durability: 8.1/10
Treadwear was decent but definitely ranked at the bottom half of our top list.
Hankook claimed to deliver durable tread life with the silica layers, but we did not see much of their power during extreme off-road abuse and thick snow roads. While our 10-day test did not yet witness any significant physical dents, they would not survive well on long road trips.
Hankook Dynapro AT2 Pros & Cons
Good road traction on dry roads
Can cope with off-road dirt and wet, hard sand
Comfortable ride on on-road pavements
Can handle corners given good preparation
Underwhelming tread depth wear, only 30-day free trial
Struggling on deep snow, ice, mud, and wet surfaces
Lots of road noises
Hankook Dynapro AT2 Competitors & Alternatives
It was a tough competition among Hankook Dynapro AT2, BFGoodrich All-Terrain T/A KO2, Firestone Destination A/T2, and Yokohama Geolandar A/T G015:
Hankook Dynapro AT2 delivered a nicely weighted steering on on-road dry pavements. However, traction in wet and deep snow needs significant boosts.
BFGoodrich T/A KO2 felt quieter than most and competitive on snow and wet roads. Riding was quite stiff at corners and highway curves, though.
Firestone Destination had a good overall performance; none of its metrics ranked last on our list. But at the same time, none raised to the top, either; it was a fair tire that did not draw much attention to itself.
Yokohama Geolandar handled road bumps well and knew how to palm over noticeable road cracks without being disruptive. Still, the riding feel should have been more plush at the edge.
Conclusion
No point sugarcoating it in this Hankook Dynapro AT2 tire review: the tire is underwhelming. The only place where the tire feels truly at home is on on-road, dry surfaces (sometimes wet) – and even at that criterion, it is not stronger than many competitors.
Hence, it would be much better to use this tire daily in regions with milder climates.
Hankook Dynapro AT2
PRICE
SOLD BY

Offers

In Stock

Offers

In Stock

Offers

In Stock

Offers

In Stock
---
President & Automotive Expert at COR Wheels
Robert Herrera has been with COR Wheels for 17 years and has a great passion for the automotive industry. During his time at COR Wheels, he has driven and test-driven a variety of vehicles.
---