By the time of our writing, few off-road all-terrain tires could truly live up to Sumitomo Encounter AT in popularity. Flying sales and positive word of mouth seemed like a true testament to the tire's intricate sipes, optimized pattern designs, and extra-biting edges on challenging terrains.
Our COR Wheels team has put it to the test to verify its real-life on-road and off-road performance in direct competition against other best-sellers. Scroll through our reviews for detailed reports!
In this review:
Sumitomo Encounter AT Specifications & Features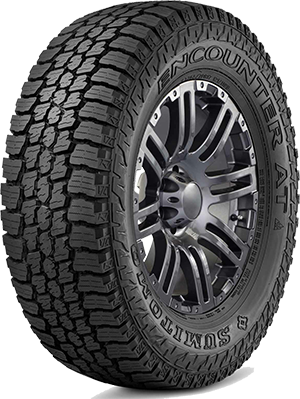 Tire Type
Off-Road All-Terrain
Tire Size
15″ – 20″
Weight
35.0 LBS – 84.0 LBS
Load Index
105 – 127
Load Range
C1 – XL
Speed Rating
– Q: up to 100 mph
– T: up to 118 mph
Warranty
60,000 miles
Ratings

8.8

/10
With its Encounter AT model, Sumitomo aimed to deliver confident traction on all terrains for SUVs, crossovers, and pickup trucks. The following key features are covered:
Non-directional, 5-rib tread designs to maximize guard and stability
Open tread depths with stepped center edges to tackle loose surfaces
Open shoulder sipes with connecting ribs that stabilize the tire; independent center lugs help with average sand traction/ rock ejection
Deep circumferential grooves evacuating water off contact patch, aided by in-block sipes for more footholds on slippery terrains.
Zigzag sipes and independent tread block combined for winter-focused traction (granting the 3PMSF symbol)
2-ply high-tension polyester casing that stabilizes the internal structure, improves handling, and supports heavy load.
Sumitomo Encounter AT Review & Performance Test Results
We used the 265/70R17 tire size version of Sumitomo Encounter AT to test its performance on the 2022 Toyota 4Runner. This was part of our annual 2023 COR Wheels Tire Test, where other off-road all-terrain tires were also put under testaments.
1. Dry Performance: 9/10
Dry Traction: 9.2/10
Sumitomo Encounter was a star on dry roads with little to no traction issues.
The contact patch vibed well with our pavement thanks to the sturdy yet flexible tread blocks evenly distributed on both wall sides. We faced no qualms grinding our steering wheel a bit stronger to squeeze out extra traction, and had quite an accurate sense of direction from our cabin thanks to the constant communication between the rubber and the contact points.
Accelerations to 65 MPH on well-paved roads were obviously a given and remained relatively uneventful for one hour straight – hence our decision to quickly veer into rugged off-road paths to test the water.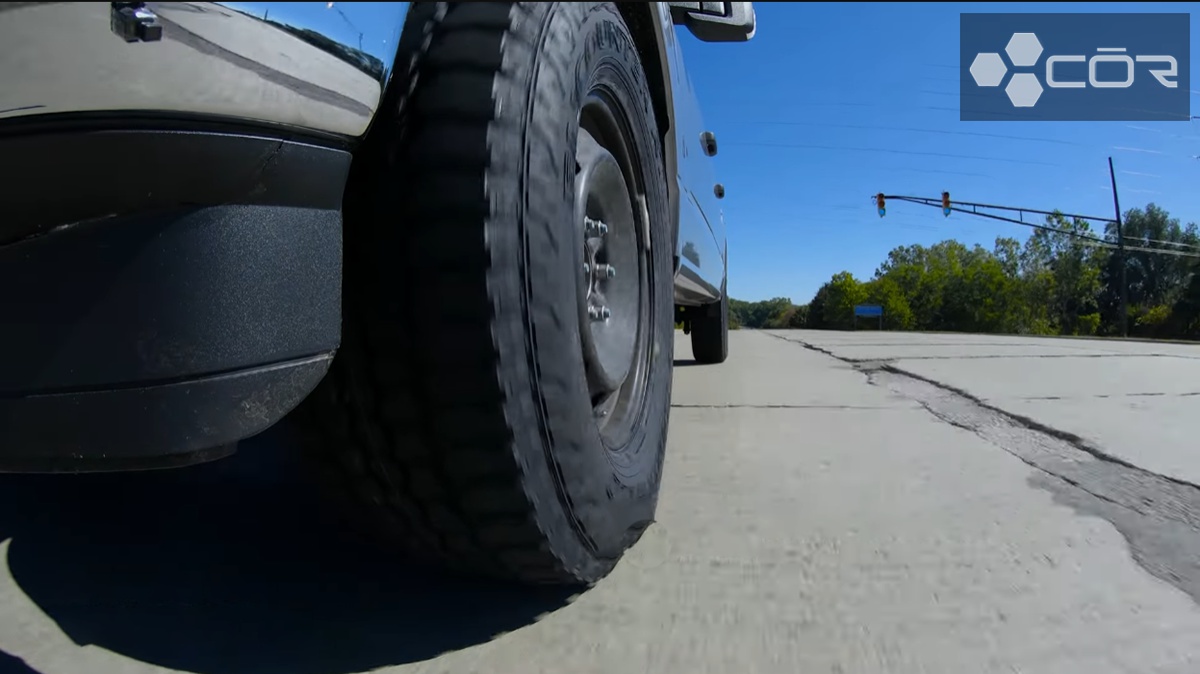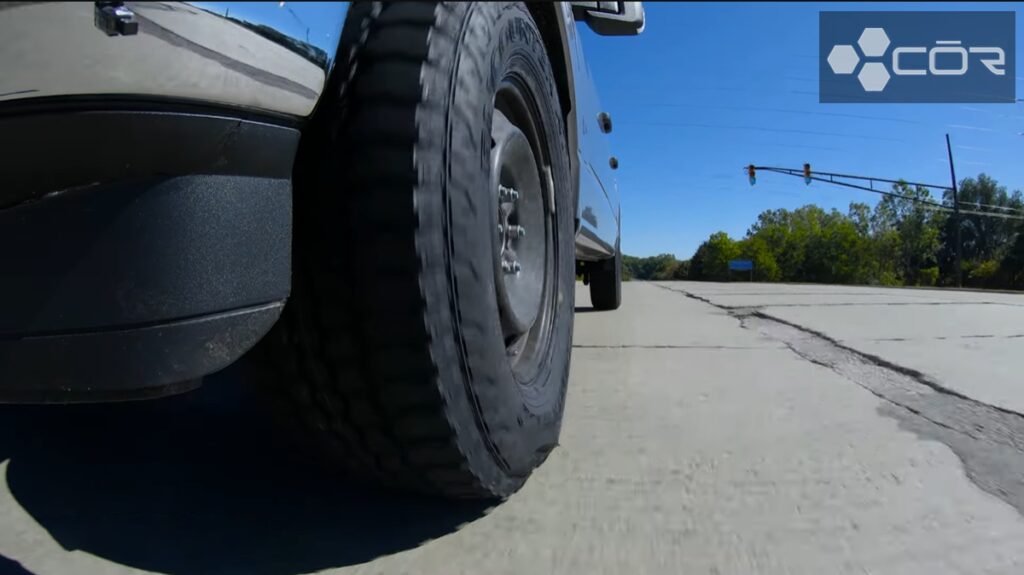 Corner Stability: 8.6/10
Sumitomo delivered a good enough performance by terrain here. The connecting ribs and variable-width shoulder lugs did a good job setting the traction-driven tire straight on the line, allowing smoother, bolder corner cuts without sacrificing safety.
Our car curved well into tight corners at 30-35 MPH and retained its grip well through gradual revs up to 60 MPH. Faster, more abrupt accelerations did stagger the tire's stiff sidewalls, but not enough to give us a sense of uncontrol or danger. When we towed a 1200 lbs mini camper, the rear tires displayed some faint signs of swaying when turning at intersections, but as long as we slowed down and held the wheel tightly, we could nail it.
Steering Response: 8.8/10
There was little to complain about the steering response.
Sure, it lacked the aggressive, bold confidence often seen in max-traction off-road tires. But given that this is just a rating-standard all-terrain, its accuracy and prompt delivery were more than enough to tackle off-road mishaps.
Our inputs sank in well and were followed up almost instantly, maneuvering through gentle and rough curves alike with consistent, unwavering self-awareness.
What took a few points away was how the tire company handled stuck debris at low speeds. To clarify, the problem could easily be solved by simply increasing the driving rates.
But for trickier road paths like these, most of us preferred slower driving for optimal safety and hence, got quite annoyed with the frustratingly numb feedback here.
2. Wet Performance: 8.6/10
Wet Traction Capability: 8.6/10
Sumitomo Encounter AT's wet-road grip was still one of the best of its kind, though admittedly less stellar than on dry terrains.
The open tread depths folded snugly onto the wet roads at 2-3 inches, shredding water in a smooth yet aggressive manner that left little room for complaints. Changes to and from 40 MPH towards speed extreme did not challenge our Toyota, though we did have to pay more attention when diving through trickier off-camber bends.
However, the tires grew more and more distant as we neared deeper zones of 5 inches onwards, seemingly at a loss whisking high volumes of rainwater off the exhausted sipes. Sure, strong accelerations were not entirely impossible (given good steering); but we still returned to 35 MPH to keep better track of the car's rolls and possible fishtailing.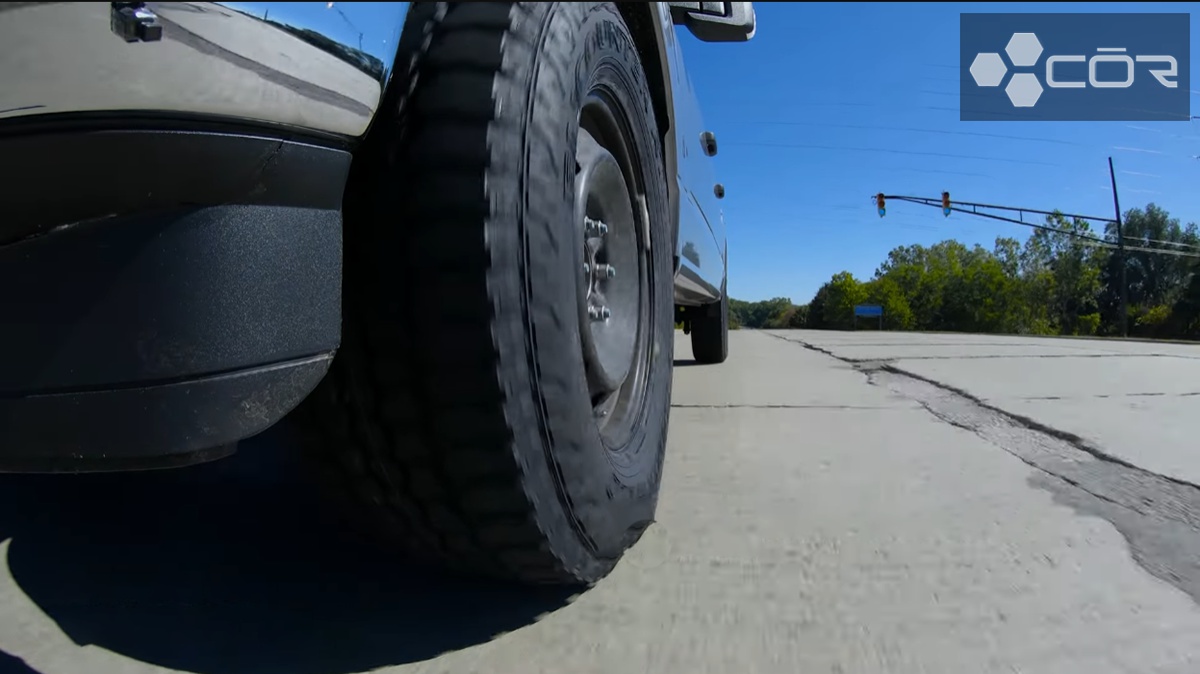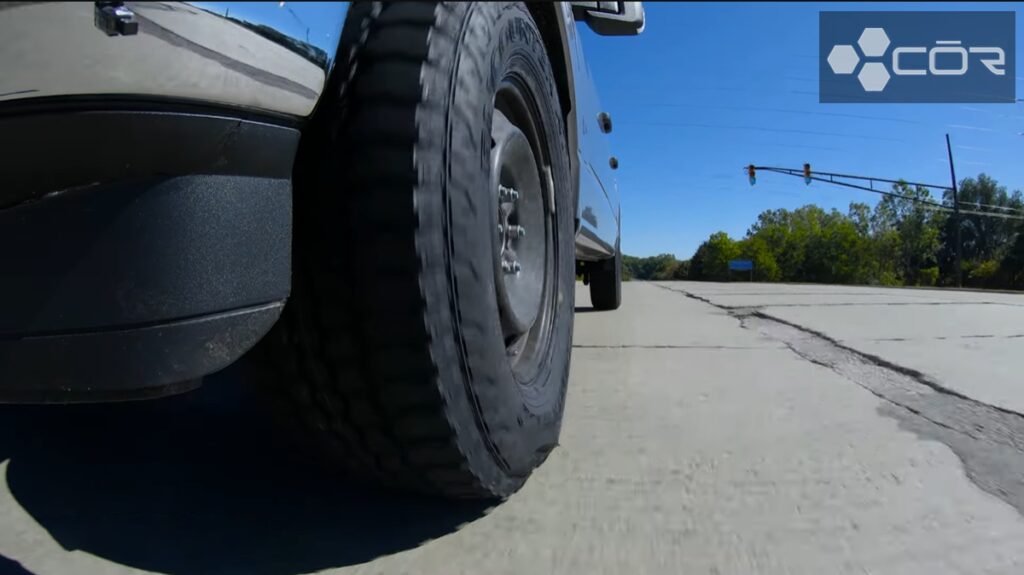 Hydroplaning Resistance: 8.6/10
Given that the rain/storm had already ceased, Sumitomo Encounter AT did not struggle much with its water evacuation capability. Deeper standing water (more than 5 inches) admittedly gave the grooves a much harder time than other roadblocks – but even then, the interlocked center lugs and open, deep treads fling the water off our Sumitomo tires pretty fast.
We encountered more problems traveling mid-downpours or storms. The water flow did not stay stagnant and moved constantly, making our grooves work extra to safeguard the tread pattern area against external attacks. 25-30 MPH seemed like the safest speed-rating range to travel in such conditions; from 35 to 40 MPH onwards, hydroplaning problems picked up and sent us back to square one.
3. Off-road Performance: 8.6/10
Dirt Traction: 8.9/10
Sumitomo Encounter delighted all our members in this regard. The open, robust bead edges plowed through thick dirt with delightful, aggressive confidence, tramping on bumps with increasingly better stability the more we neared 75 MPH.
Jostles and panic reactions at corners were few and far between – mostly occurring when we turned the steering wheel a bit more forcefully than necessary and startled the tires out of their ongoing trance. Other than that, the tire's extra grip was a breezy non-issue for most of our trip.
Sand Traction: 8.6/10
Our travels through off-road sand were pretty fun and, not to mention, literally on the same page as on-road wet traction. Just like regular slippery surfaces, it still sat well with the deep grooves/zigzag sipes and maintained good connections with the rubber's contact patch.
We started slow at 30 MPH to backtrack on time in emergencies, but that excessive caution turned out to be unnecessary.
Sure, sticky thin layers of sand did linger a bit longer than we wanted them to; however, Sumitomo's deep circumferential, slick grooves ensured they could not stay there forever. Surging to 60, 65, and then 75 MPH encountered stutters and hiccups here and there, but they felt insignificant compared to the ride's overall length.
On the downside, turns and corners on extra deep dents result in a lot of traction breaking off. Using push-pull steering could get our car out of these patches pretty fast, but not without constant jerks, bumps, and staggering.
Rock Traction: 8.5/10
Toyota 4Runner still ran well on rocky paths and even seemed to get buffer the longer we dived into the terrains. However, our team could feel a slightly more lackluster feel compared to sand roads.
Specifically, the sidewall stiffness was just right for sand but felt admittedly much softer on sharp rocks now. Hence, although straight-line driving at 40-55 MPH remained competitive, any number below or beyond this range gave us more rolling resistance at corners than we liked.
Mud Traction: 8.3/10
Light mud did not pose much of a problem. Jostles were annoyingly frequent, but not to the point of truly disrupting our steering endeavors. The traction gripped on pretty tight at 40-55 MPH and recovered quickly at sudden texture/density changes.
Sumitomo Encounter AT only revealed its true weakness when it entered deep mud of more than 5 inches. These tires were stable but by no means as aggressive as true off-road max traction tires, which explained why signals of struggle could still be observed at entries and near exits.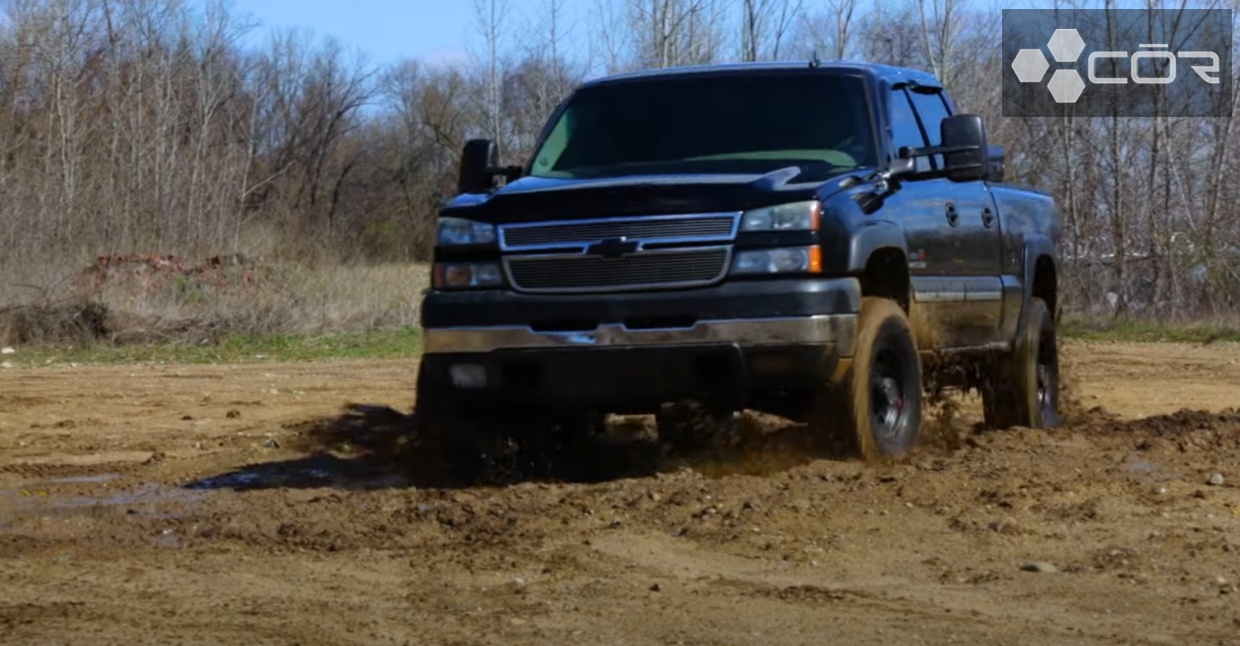 4. Winter/Snow Performance: 8.7/10
Light Snow Traction: 9/10
Here is where Sumitomo surpassed every other cheap tire model we have tested, even getting to the same level as dedicated winter tires.
For a strong tire like Encounter A/T handling snow was actually even easier than off-road dirt due to the low-melting points. Thus, our car's strong bead grip on snow was as good as on dry terrains, and risks of traction loss were very low; even unplanned maneuvering around tree branches or rocks could not send it into stutters.
Needless to say, accelerations or decelerations from extremes to middle spectrums did not pose much of a threat. The stiff compounds only slightly hesitated in the first ten minutes or so due to cold temperatures but found themselves at home for the rest of the ride, embracing our 0-55 MPH and vice versa with very little drama.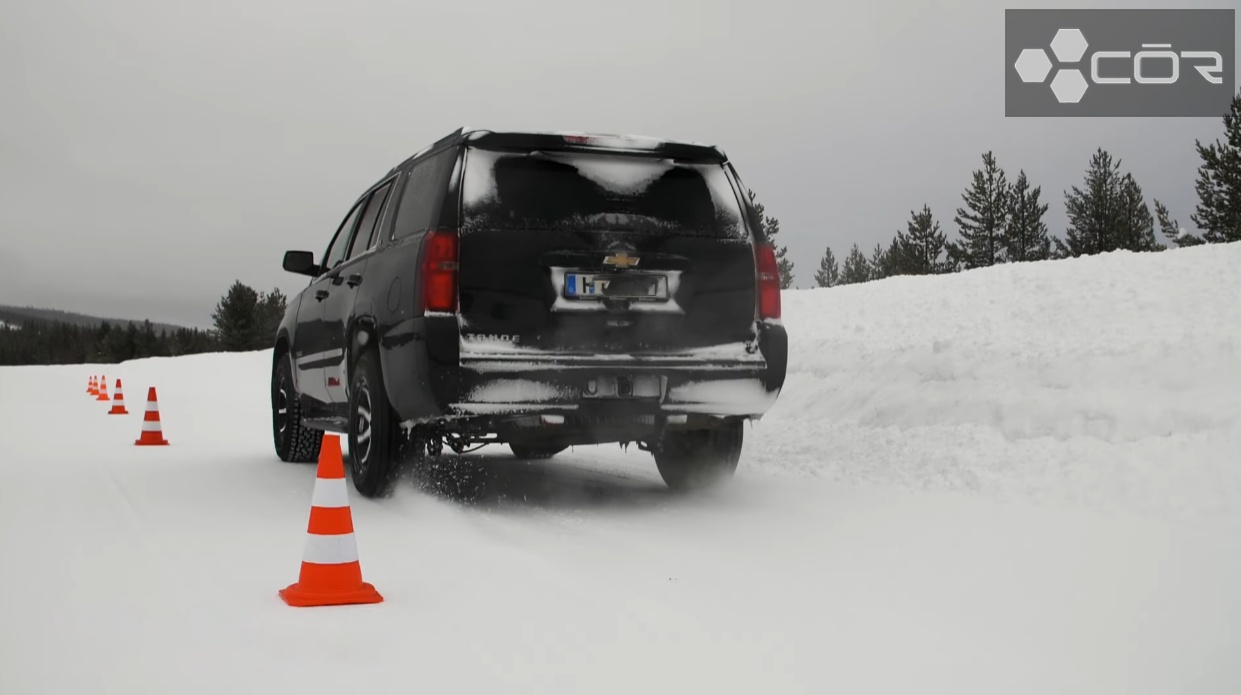 Deep Snow Traction: 8.9/10
Except for the more frequent skittish feel due to the extra snow volume, nothing really changed from our previous driving experience on light snow. The same stability and firm foothold remained, allowing our car to plow through diverse snow packs in much better confidence than any other competitor.
12-inch blankets seemed like its limit, as we encountered more drag and slippage if plowing deeper snow. Extra caution was also needed for driving beyond 65 MPH; Sumitomo Encounter AT struggled between high acceleration and good hydroplaning. But other speed rates were a no-brainer; we could slide constantly and conveniently between 25-55 MPH or vice versa.
Ice Traction: 7.9/10
Sumitomo Encounter AT still outsold most other all-terrain and all-season tires in ice traction, but the dramatic decrease from its competitive performance on snow did feel quite jarring.
To clarify, these quality tires were safe for ice-terrain capabilities and rarely sent us into actual danger (except for abrupt surges at particularly thinner ice patches). However, the back-to-back skids and slippage occurred often and got borderline annoying at 30-50 MPH.
And we did not like the very obvious hesitant feedback at narrow turning curves, either. While the issue seemed trivial under more favorable conditions, we would have lost most of our confidence to tread forwards under rainfalls or, worse, winter storms.
5. Comfort: 8.6/10
Ride Quality: 8.7/10
Sumitomo Encounter AT was our favorite tire in this regard; riding comfort was pretty great on on-road and off-road terrains alike. Accelerations and sharp turns clearly delivered much more stutters than usual; but in the standard city driving range of 30 to 55 MPH, response delays and traction loss were within control and rarely got annoying.
Noise: 8.5/10
Road noises did show up at 65 MPH and beyond, but they rarely got on our nerves and remained low-key for most of our members. Any number below 60 MPH ensured comfortable, quiet rides from beginning to end, cementing Sumitomo Encounter's position as the best noiseless tire around.
6. Treadwear and Durability: 8.8/10
Unlike most tires from competing brands, Sumitomo Encounter AT did not have to surrender treadwear for riding comfort.
The lack of concentrated pressure on critical contact points relieved our tire of most abusive steering forces despite the diverse terrain textures and driving habits/styles. We managed to keep the shoulder stiffness and outer tread edges relatively unchanged (save for faint scruffs) once the test concluded.
Sumitomo Encounter AT Pros and Cons
Excellent gravel traction in dry driving conditions with strong sidewalls
Handling loose terrains well
Reliable traction on wet surfaces with sectional center ribs
Spacious shoulder slots that deliver better footings
Good, stable performance on snowy terrains
Self-cleaning capability even in mud or wet dirt
Satisfying treadwear and ride comfort
Ice-edge traction could have been improved
Hydroplaning at 34-40 MPH on off-road wet terrains
Low road noises beyond 65 MPH
Sumitomo Encounter AT Competitors and Alternatives
Sumitomo Encounter AT specs easily came out on top when competing with popular tire brand models like Falken WildPeak A/T3W and General Grabber A/TX. But the other two also had their perks:
Sumitomo Encounter AT is the strongest, most competitive all-rounder contender (not just within this group, but also compared to the tire market's average). Its traction was stable and unwavering in most terrains we have tested. However, hydroplaning resistance and cornering stability could still be upgraded to live up to the tire's excellent wet and dry grip.
Falken WildPeak AT3W was more composed than the rest, with decisive, cleaner cuts that felt polished under the independent blocks. Nevertheless, a few extra upgrades on the steering response would be welcomed.
General Grabber A/TX stood out from the noise with well-tuned handling on dry and even snow terrains. But it was a waste of time trying to gauge additional grips on wet surfaces.
Conclusion
Sumitomo Encounter AT faced off-road challenges head-on with utter confidence while still retaining excellent treadwear and riding comfort. Even its weakest point – ice traction – still leaves a wide range of popular competitors in the dust.
To conclude our Sumitomo Encounter AT tire reviews, you can trust this no.1 off-road all-terrain tire to quench your thirst for sporty driving feeling in almost any road condition and with any car/light truck – guaranteed it is at an affordable price and does not bite much into your budget, obviously.
Sumitomo Encounter AT
PRICE
SOLD BY

Offers

In Stock

Offers

In Stock

Offers

In Stock

Offers

In Stock
---
President & Automotive Expert at COR Wheels
Robert Herrera has been with COR Wheels for 17 years and has a great passion for the automotive industry. During his time at COR Wheels, he has driven and test-driven a variety of vehicles.
---