Experts could tell General Grabber A/TX promises good off-road performances judging its design. The brand's acoustic patterns, adoption layers, and biting traction notches have received critical acclaim right from release.
But there is no guarantee they would always deliver capable performances in actual driving conditions, hence our decision to test and review its metrics in the 2023 COR Wheels Tire Test.
In this article:
General Grabber A/TX Specifications & Features
Tire Type
Off-Road All-Terrain
Tire Size
14″ – 20″
Weight
28.0 LBS – 80.0 LBS
Load Index
95 – 127
Load Range
C1 – XL
Speed Rating
– Q: up to 100 mph
– T: up to 118 mph
Warranty
50,000 – 60,000 miles
Ratings
8.6/10
General Grabber A/TX aims to assist full-sized SUVs, work vans, and pickup trucks in confidence boosts through wet, dirt, and snow conditions. It entails the following features for maximum off-road capabilities:
Tough compounds that could resist chips and cuts, molded into acoustic patterns
Absorption layers under the treads deliver sound and ride comfort
Optimized, wide footprints that distribute pressure evenly, extending lifespan
Stone bumpers slotting tino shoulder blocks, preventing debris and rock drilling
Sidewall protection lugs, designed to sidestep punctures
Angled and deep-starting tread intertwin, aided by sipes and traction notches to manifest biting edges for snow, wet, and loose terrains (e.g., dirt, sand). They were granted the 3-Peak Mountain Snowflake (3PMSF) symbol.
Can be studded for enhanced traction on packed snow and ice
Steel belts, robust 2-ply polyester casings, and polyamide reinforcements add high-speed handlings and durability
General Grabber A/TX Review & Performance Test Results
As part of the 2023 COR Wheels Tire Test, General Grabber A/TX (the 265/70R17 tire size version) was tested in June-July and January on the 2010 Dodge Ram 1500.
1. Dry Performance: 8.9/10
Dry Traction: 9.2/10
The tire left little to worry about on dry pavements. While the contact patch might not be the most space-generous out of the bunch, it was grippy and secure enough to ensure uneventful daily driving. Roadblock maneuvers were breezy at sharp turns and even easier on straight paths, seeming unlikely to throw the Dodge into unexpected shakes.
While accelerations and decelerations from 0 to 50 MPH or vice versa seemed unproblematic, braking distance was a bit underwhelming. It took about 185 feet for the car to pull to a stop from 50 MPH, leading to brief struggles during lane merges or ramp exits.
There was also a slight numb feedback mid-ride, with unpredictable patterns and frequencies. Fortunately, they felt vague and distant, unlikely to affect our grip given consistent control.
Corner Stability: 8.7/10
Some of the tire's firm footholds during straight-line drivings seemed to break loose at corners. The way it stuttered slightly at entries, stabilized mid-way, and felt hesitant again at exits gave quite an ominous vibe, keeping our team on edge at higher speeds beyond 60 MPH.
But at 55 MPH and below, our strikes were thankfully uneventful. Traction loss lurked around but was still kept within the line, rebounding faster with firm, decisive angel controls. Off-camber bends or even blind curves were handled nicely, allowing us to get slack a little with the steering wheel.
Steering Response: 8.7/10
We had no significant issues with Grabber A/TX. It responded fast with very minimal inputs and always kept itself updated with the slightest changes in our flick or directional turns. We also felt inspired by the neat, clean-cut way each strike was delivered, which inspired spirited confidence in daily driving and even more so on highways.
Rutted roads proved to be its biggest weakness, however. The Dodge wandered here more often and launched a tad behind our inputs. Burnouts after too-long drives also became more pronounced, causing brief missteps between our demands and the steering at sharper turns.
2. Wet Performance: 8.6/10
Wet Traction: 8.7/10
The tire performed better than most competitors on wet roads. Stutters got more frequent the deeper the water, but other than that, not much confidence was stripped off compared to its previous dry performance.
Our 40-55 MPH handlings felt consistent and composed enough to tread through cracked pavements, even managing some extra traction at corners thanks to our push-and-pull steering.
But around sloppy, wet mountain roads, the traction did slip away faster than we would have liked. Hard brakings also seemed like an ill-fitted endeavor for Grabber A/TX, sending the tire into a flurry of uncertain spins.
Hydroplaning Resistance: 8.6/10
The intertwining sipes and treads did a pretty great job of water control, hence our peaceful travel across the waterlogged Florida roads at water of 5-7 inches. Even at times when the water had not yet been completely evacuated, the headstrong contact patch and rubber retained enough grip to punch through the water layers, breezing us through easily.
From 7 inches onwards, struggles were still well-controlled but became more present, especially at higher speeds beyond 55 MPH. Curves and bends could still be handled, but had to be tackled from a cautious, strategic angle with enough prep time. Abrupt accelerations and decelerations around these corners are out of the question with how shaky they felt.
3. Off Road Performance: 8.4/10
Dirt Traction: 8.7/10
The tough yet acoustic tread compounds hooked up with great self-awareness at 40 MPH, giving us enough confidence boosts to gradually accelerate over the test. Our contact patch struggled to hold itself onto the slippery, rugged terrains at the first 5-10 minutes but grew more and more confident with our driving, eventually managing decent composure at 55 MPH top.
But in light of other off-road AT tires, Grabber A/TX bottomed the list. Its lack of sharpness and flex combination became painfully obvious as we climbed steeps or took turns, and seemed to lose biting edges the nearer we got to 70 MPH.
Rock Traction: 8.5/10
We felt mixed. On the one hand, the stone bumpers within the tread blocks did allow better rock ejection at regular driving rates (the usual 40-55 MPH). Even shaper rocks seemed to be a non-issue for us given good, gradual accelerations.
But on another, our team expected more power from these bumpers. The tire still seemed too soft for aggressive driving and reacted painfully tamed at thicker patches, which kept us from getting wilder at the edges.
Sand Traction: 8.2/10
The deep-starting and angled tread pattern had not much to do here, and loose terrains were not Grabber A/TX's strong suits.
Our Dodge already felt sluggish after 5 minutes and showed clear hesitations during accelerations – no longer smooth and effortless as with other terrains. The rear tires also grew heavy, only seeming to cut us some slacks when Dodge received a little break on dryer, thinner-sand sections.
But in compensation, decelerations and brakings had very few difficulties. And once we chose a particular driving rate (ex: 30 MPH) and stuck ourselves around it for the rest of the ride, Grabber regained its composure slowly but surely.
Mud Traction: 8.2/10
Like on sand, muddy loose terrains did not play much in Grabber's favor due to the constant, annoying traction loss. Sticky and heavy, Grabber struggled to wrench itself out of the soil/water and moved forward with too much pain for an off-road AT tire. Accelerations, while not impossible, were cast off by our members in favor of better stability.
Things started to get better when there was a change in the soil-water ratio (more soil, less water). At that point, Grabber A/TX delivered more or less similar to its off-road dirt performance, bringing in occasional stutters that no longer felt like immediate threats.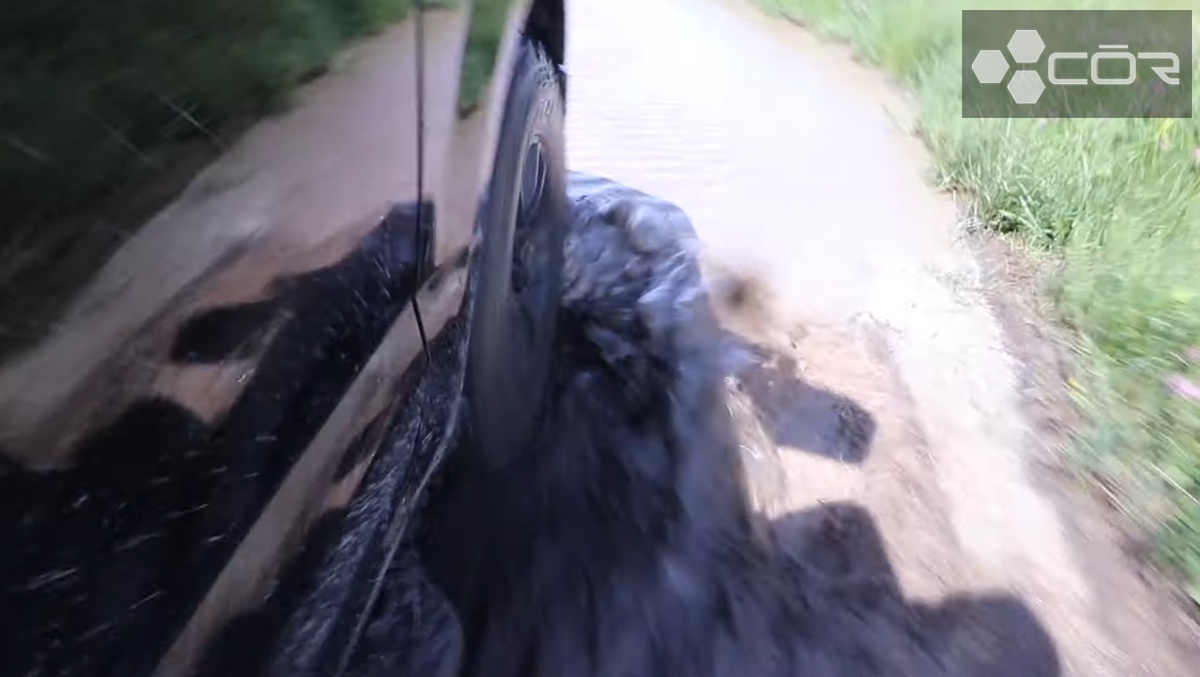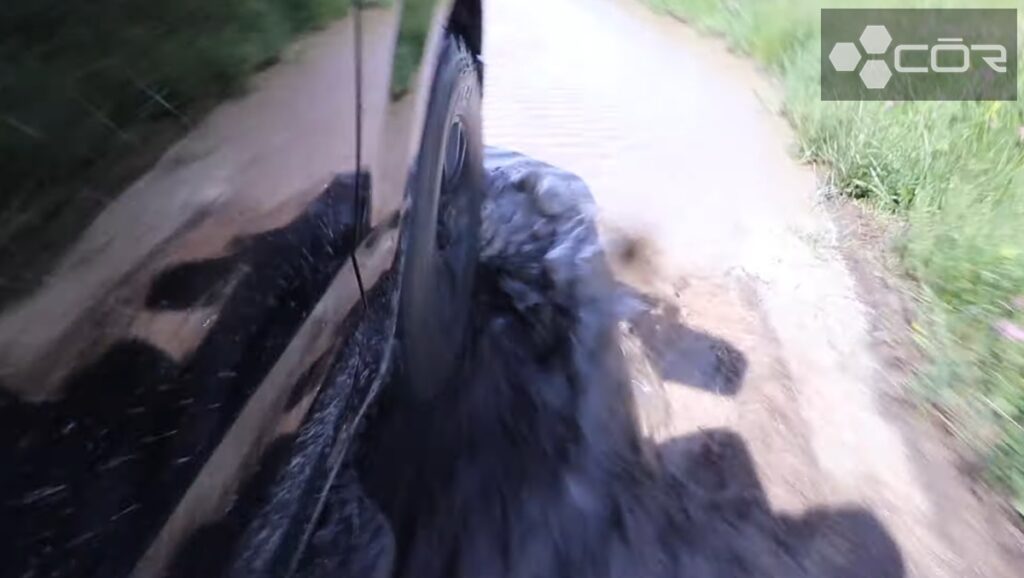 4. Winter/Snow Performance: 8.5/10
Light Snow Traction: 8.9/10
One of the best in the competition, Grabber's light snow traction satisfied our team with secure footholds and communicative tire-road connections.
Traveling on it felt even smoother than on on-road wet pavements, thanks to the traction notes and extra biting edges. Our paranoids about 60-70 MPH accelerations turned out unnecessary: Grabber did not really have much of a problem with them.
However, light snow combined with mud or rainwater was not the best driving terrain for Grabber A/TX. While its stability here was still better than on mud or rainwater alone, our members did not like how the tire grew skittish and less confident even at basic corner angles.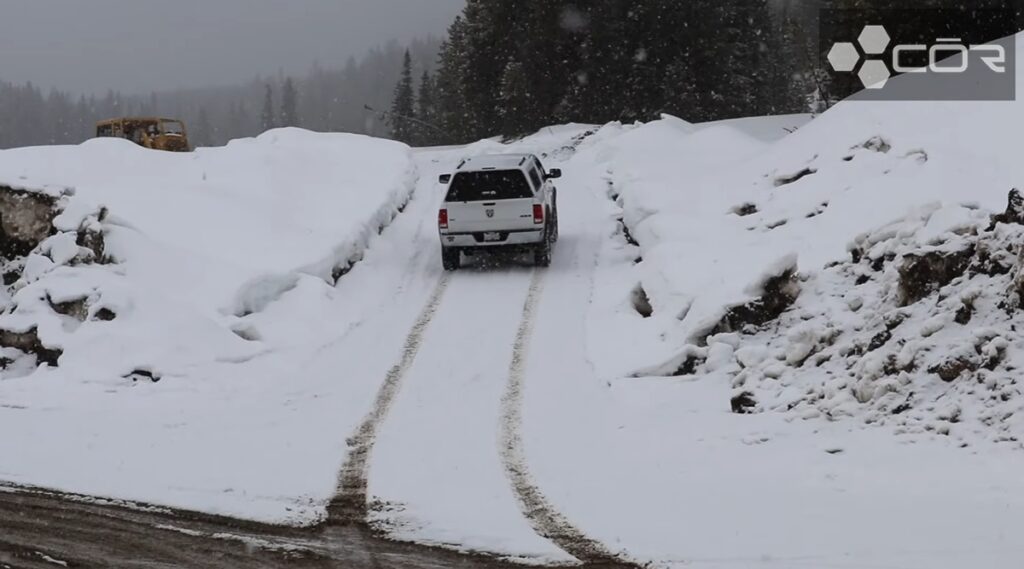 Deep Snow Traction: 8.7/10
Grabber A/TX could still cope with snow of 7-8 inches the same way it handled lighter snow. But from 9 inches onwards, it started to fumble, jittering during straight-line driving and straight-up shaking when diving into curves.
Fortunately, we remembered Grabber could be studded and decided to try that option. The extra contact points brought about by these studs improve deep snow traction at 9 inches to almost the same level as light snow, significantly speeding up our ride.
Ice Traction: 7.9/10
It was not as stellar on ice as on snow, but more stable than most same-sector tires under similar conditions. Drifting frequently occurred at the edges but never got close enough to the center, retaining sufficient on-center feel for our car to remain unwavering despite steering delays.
And when studded, the tires dug and held onto the ice better. Traction at the corners could still be improved, though, but straight-line drivings became more effortless. Braking distance from 12 MPH is so-so at 50 feet.
5. Comfort: 8.1/10
Ride Quality: 8.2/10
Despite absorption layers, Grabber disappointed us with the lousy way it handled road bumps. Smaller cracks on an otherwise well-paved path could be tolerated, but other cases remained bumpy and jostling.
Turning to less-aggressive driving and lower driving rates solved the problem for us somehow but only on on-road streets; the strategy proved impractical for off-road terrains.
Noise: 8/10
Tread noises were annoyingly common on wet and off-road terrains, triggered by even the smallest angle changes. The only good thing about them is that they were mostly low, often swallowed by engine noises and the sound of water/mud.
Fortunately, the noises got less frequent on dry and snow (they did not completely disappear, though).
6. Treadwear and Durability: 8.5/10
Though overheating still occurred, the absorption layers and interlocking treads did a good (but not truly exceptional) job minimizing the possible impacts. Hence, signals of treadwear, layer shreddings, or cuffs were mostly absent by the conclusion of the test, minus slightly deeper dents at the top.
Pros and Cons
Exceptional traction on dry-pavements
Decent wet traction
Handles off-road dirt well
Very capable on light snow
Decent treadwear with good guarantee (60,000-mile treadwear warranty for metric sizes & 50,000 miles for Flotation and LT ones)
Bumps and road noises were annoying
Still struggle on sand, mud, and rock
Need much better footholds on ice (even with studs on)
Absence of maintenance indicator
Competitors and Alternatives
General Grabber A/TX, Falken WildPeak A/T3W, and Sumitomo Encounter AT are direct competitors with respective strengths and downsides:
General Grabber ATX had nice handlings and led the group with its capable snow traction. Still, its wet grips were just decent, nothing exceptional.
Falken WildPeak AT3W balanced competitiveness and polished manners well on wet and dry traction alike. Its steering response, however, should have been livened up due to heavy on-center steering feel.
Sumitomo Encounter AT excelled in wet traction but lacked subtlety over road imperfections, causing lots of contact noises.
Conclusion
Despite being an off-road AT tire, off-road performance seemed to be Grabber A/TX's weakest asset; it was decent but always bottomed out when put against other competitors in the tire industry. By contrast, Grabber's capability on dry, wet, snow, and even ice traction is always considered among the upper half of the tire list.
So to conclude this General Grabber A/TX tire review, drivers can use it all year round in most weather and mixed-surface conditions – given tamed driving, since this road tire is clearly not the best choice for spirited customers.
General Grabber A/TX
PRICE
SOLD BY

Offers

In Stock

Offers

In Stock

Offers

In Stock

Offers

In Stock

Offers

In Stock
---
President & Automotive Expert at COR Wheels
Robert Herrera has been with COR Wheels for 17 years and has a great passion for the automotive industry. During his time at COR Wheels, he has driven and test-driven a variety of vehicles.
---