General Grabber X3 was highly anticipated from the moment of its first release, and up until now, customer feedback has been generally favorable. The tire is lauded for aggressive builds, smartly-placed tread blocks, and capable adaptability when dealing with rough texture changes.
As with other best-selling tires, our COR Wheels team has put its features to actual tests. Scroll through our review to read the summarized findings.
In this article:
General Grabber X3 Specifications & Features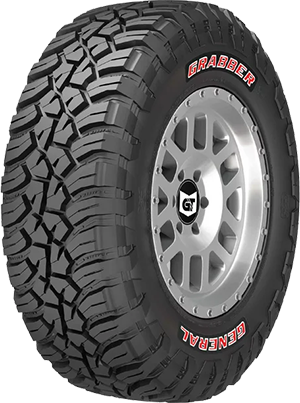 | | |
| --- | --- |
| Tire Type | Off-Road Max Traction |
| Tire Size | 15″ – 20″ |
| Weight | 50.0 LBS – 81.0 LBS |
| Load Index | 108 – 129 |
| Load Range | C1 – E2 |
| Speed Rating | – Q: up to 100 mph |
| Warranty | None |
| Ratings | 8.5/10 |
General Grabber X3 promises extreme traction on rock, mud, and dirt while still retaining comfortable on-road handling. 
Robust, high-void compounds (symmetrically molded) work with traction notches and block chamfers to grip better on loose surfaces.
Evacuation channels handle tread mud, while the stone bumpers in the grooves release debris and pebbles.
Deep sipes improve wintertime and wet grip.
Multi-pitch blocks minimize pattern-generated noises for more on-road comfort.
3-ply body casings and twin steel belts support the tire's off-road strength.
Deflection ribs and sidewall lugs defend Grabber X3 from harsh-terrain punctures.
General Grabber X3 Review & Performance Test Results
As part of the 2023 COR Wheels Tire Test, we used the 265/70R17 version of General Grabber X3 on the 2022 Ford F150.
1. Dry Performance: 8.6/10
Dry Traction: 9/10
Grabber X3 already showcased its excellent traction from the start of our 45MPH strikes; from our cabin, we could feel the contact patch click into place and settle down as the Ford rumbled towards the main roads. The bold, striking confidence overshadowed all brief traction loss at lane merges, encouraging us to experiment with abrupt speed changes towards 75 MPH or down to 30 with little drama.
Our team stepped up to hill roads at roughly 65 MPH and had more or less the same effortless experience; stalls were more obvious at angled ascents but did not seem to affect our contact points one bit. With the right built-up momentum and punctual power surges, we could even squeeze out extra grip navigating sweeping curves.
This road performance, unfortunately, did not transfer as much as we had hoped into highway speeds. At 85 MPH, traction drifting felt more pronounced at the edge and worsened at back-to-back switchbacks. The piercing sharpness on regular streets also lurked around much more vaguely.
Corner Stability: 8.6/10
Grabber X3 was very sure-footed and aggressive at short corners, carrying itself with solid on-center ribs at 45 MPH and not fazing at all as we revved to 60 MPH mid-corners. When other vehicles encroach unexpectedly from tough angles, Ford swiftly decelerated and veered right/left simultaneously without jostling in panic reactions like some other competitors.
Long corner handling did leave room for improvement, though. X3 did its job just fine but with much less self-awareness, even faltering when we neared corner exits.
Steering Response: 8.4/10
It would be better to keep the front tires at 55 to 60 PSI and the rear ones at 40 to 45; the steering response reached its peak here, always punctual and responsive. Adding a 4000-lb trailer to the car did not deter much of its biting edges, either; if anything, it grew even more connected with the tire as our Ford dived deeper into rugged alpine roads.
Again, highways proved to be X3's bigger problem; revving higher than 75 MPH gave us a constant ominous feeling that we would lose control soon. The rear tires also responded much slower compared to the front.
2. Wet Performance: 8.6/10
Wet Traction: 8.5/10
X3 was average on wet surfaces with decent composure and traction refills around shallow water below 6 inches. The rubber gave off a bit of slippage near the sidewalls that we did not like, especially when cornering off-camber bends, but we could manage well with gradual, consistent steering inputs and minimal speed changes (40 to 45 MPH most of the time).
Like most off-road competitors, Grabber X3 was not on its peak behaviors mid-downfalls or in flowing water of 6 inches onwards. The siped tread felt much less powerful when facing increased water volume, resulting in muted contact patch when we tried any number beyond 42 MPH.
Hydroplaning Resistance: 8.7/10
Grabber X3 was surprisingly very good with its anti-aquaplaning performance – which we think had much to do with the well-built, aggressive evacuation channels. They offered open, non-anchoring paths for the water to flow right through, leaving little to no remainders on the sidewalls and allowing X3 to march forward pretty uneventfully.
However, as mentioned, flowing, deep water was not Grabber X3's strength; the limited sipe depths could not handle sudden water surges on short notice. Hydroplaning seeped into the grooves frequently at 42 MPH onwards during straight-line driving, and downright dragged the contact patch down when tackling U-turns.
3. Off Road Performance: 9.1/10
Dirt Traction: 9.3/10
X3 had no trouble familiarizing its groove patterns with the off-road dirt, exuding instant, firm traction clasps despite our very minimal inputs.
After 1-2 minutes, Ford already breezed through the rugged patches at 50 MPH, tolerating harmless slips at abrupt directional changes without putting our car in any actual steering compromise. The contact patch maintained composure well and grew more and more comfortable the longer we rode.
Deep, roundabout ruts also proved to be a non-issue. Bouncing was few and far between – not enough to be considered a major drawback – and only swayed when we went too slack with our steering wheel. Other than that, the entire ride was pleasant, even managing enough internal stability to rev up to 70 MPH.
But to put things in perspective, Grabber X3 still ranked at the bottom half of our test when it came to dirt handling. It handled low-angled surfaces well but became much less sharp when entering steep zones of constant ascents and descents.
Mud Traction: 9.1/10
The tire's evacuation channels already did a great job with on-road water and shined even more on muddy terrains: at 30 MPH, the clumps of thick, sticky soil and water already weakened and slid off the tread walls after 3 seconds.
Our Ford took little time to find its footings and adapt to unannounced speed changes; even our accelerations mid-cornering went on non-dramatically, given no jittery steering inputs.
Still, X3 did falter quite often when treading through swamps; the rough combinations of both standing water and thick mud seemed to take a toll on the sipes and grooves. We had to alternate between 30 and 35 MPH with occasional brakings in between.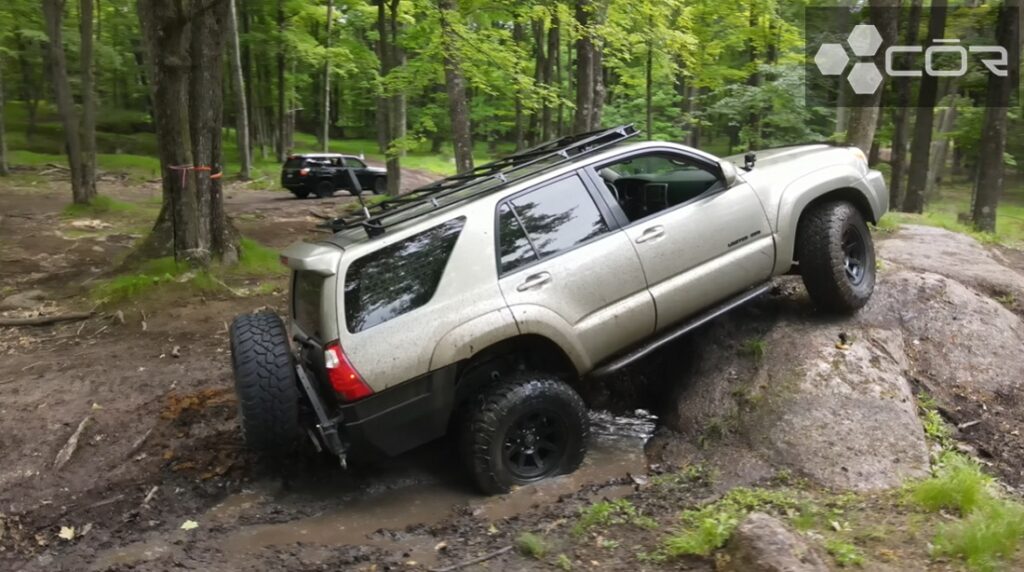 Sand Traction: 9/10
General Grabber X3 knew how to find its composure on the loose, drifting sand. The block chamfers and very generous void ratio kept sticky, intruding particles from getting deeper; aside from the thin gritty layers typical of sand terrains, our Ford did not really encounter any significant issues.
Accelerations were generally breezy, and we managed to switch back and forth between 30 and 55 MPH with few stutters until our ride grazed at thick sand dunes beyond 11 inches. Inconsistent texture and rougher sand particles made our wheels sink deeper than expected, forcing us to retain decent steering momentum from beginning to end.
Rock Traction: 8.9/10
X3 received its much-needed help from the stone bumpers; we could not sense any significant contact swaying when handling sharp, small rocks and even dust clouds. The aggressive tread patterns got even more at ease on mountain roads than beaten paths, allowing seamless fluctuations between 45 and 60 MPH minus at tighter crooks.
On another note, traveling through dry creek beds was easy on hot summer days but became much more challenging during rainy seasons. Hydroplaning was very frequent at higher speeds beyond 55 MPH, causing brief but sudden slippage around the flanks that threw us off guard.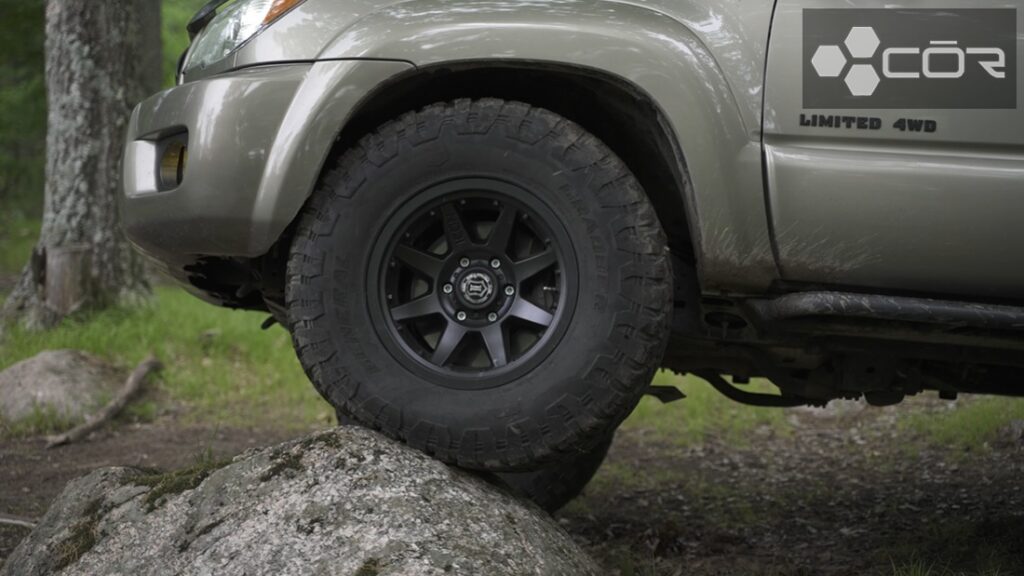 4. Winter/Snow Performance: 8.4/10
Light Snow Traction: 8.8/10
Grabber X3 bonded well with light snow and recovered from the slush, squishy feel under the tread pretty quickly. The deep sipes that had worked well on wet on-road once again offered us extra biting edges here, breezing the Ford through shallow zones as easily at 45 MPH as it did at beyond 55 MPH.
Cornering at snowbanks was not as smooth but frankly expected for any off-road tires. Snow chains helped us get out of these patches uneventfully when we revved down to the 4th gear.
Deep Snow Traction: 9/10
Deep snow played more in X3's favor than light snow, as the aggressive, sturdy grooves settled their footholds much more quickly with extra support from the thick snow's density. The block chamfers plowed their way around in very neat cuts, showing little to no hesitancy when dealing with unexpected roadblocks or approaching vehicles from corners.
Cold, long-hour temperatures did mute out the tire's edges, though not enough to push our on-center feel to the danger brink. The tire remained composed and stable most of the time and even seemed unfazed when we surged straight to 50 MPH (from 0 MPH) in 4 seconds.
Ice Traction: 7.3/10
Its ice performance ranked third on our test, giving off average levels of stability on straight roads with moderate ice buildups. Accelerations were far from X3's strong points, but if desired, we could still achieve 45-50 MPH given very gradual steering inputs – nothing abrupt or unplanned.
Troubles ensued with glazed black ice, though: despite our best efforts to keep driving rates consistent, slippage happened more often than not. Removing cargo (and even passengers) did not help us much.
5. Comfort: 8/10
Ride Quality: 8.3/10
X3 was relatively smooth on dry terrains (off-road and on-road alike) at regular driving rates. However, it started to bring in more jostles and hiccups when accelerated or tackling corners.
Constant directional changes and U-turns were not handled as subtly as we had thought, either, often protesting with brief but very pronounced delays in the first few seconds.
Road Noise: 7.7/10
The tire did emit more dry tread noise than we would have liked, which worsened even more on loose terrains and wet roads.
But in its defense, so did other competitors. In fact, X3 still managed the second spot in our test, since most of its rumblings did not spiral out of control and could be tuned out once the deep grooves familiarize themselves with the road patterns.
6. Treadwear and Durability: 8.3/10
Treadwear was not stellar but very pleasant compared to most other off-road tires.
Symptoms of burnout and overheating showed up occasionally under very heavy abuse (marching through deep mud at ambient temp of 100 degrees F, for instance). But they invited themselves out instantly the moment our Ford was back to more breathable terrains.
General Grabber X3 Pros and Cons
Excellent and very consistent off-road traction (not much change despite terrain changes)
Good dry and wet traction
Very good hydroplaning resistance
Satisfying treadwear for an off-road tire
Exceptional traction on deep snow
A bit noisy
Muted feedback at highway speeds
Struggling on ice
General Grabber X3 Competitors and Alternatives
The tire is put in direct competition against BFGoodrich Mud-Terrain T/A KM3, Cooper Discoverer STT Pro, and Firestone Destination M/T2:
General Grabber X3 had great road handling and performed brilliantly in deep snow. However, the steering could have been tighter at corners or steep ascents.
BFGoodrich tackled road imperfections well and ground over impacts with few jostles. Still, the way it controlled highway tread noises left much room for improvement.
Cooper Discoverer delivered a confident, solid wet grip but fell behind others in snow performance.
Firestone Destination MT2 led the competition when it came to grippy, stable winter traction. Nevertheless, noise reduction could have been much better.
Conclusion
As seen in this General Grabber X3 tire review, it is an unapologetic tire when it comes to off-road manners: stable, unwavering, and very confident.
Furthermore, its performance on on-road pavements was very impressive for an off-road tire, and the exceptional, planted footholds on deep snow also deserved just as much spotlight. Even X3's ice traction – its weakest point – still ranked among the top positions of our test.
So all in all, this mud tire is a great all-rounder you can trust in most seasons and weather conditions, minus spirited driving on highways or icy roads.
General Grabber X3
PRICE
SOLD BY

Offers

In Stock

Offers

In Stock

Offers

In Stock

Offers

In Stock

Offers

In Stock
---
President & Automotive Expert at COR Wheels
Robert Herrera has been with COR Wheels for 17 years and has a great passion for the automotive industry. During his time at COR Wheels, he has driven and test-driven a variety of vehicles.
---