There is not much customer debate about Firestone Destination M/T2 when it comes to its off-road max traction qualities: most agree the tire performs beyond expectations.
Our team had the chance to testify these claims in January and June-July in the 2023 COR Wheels Tire Test, where Destination M/T2 was assessed along with other off-road max traction tires. Scroll through our review for a more detailed report.
In this article:
Firestone Destination M/T2 Specifications & Features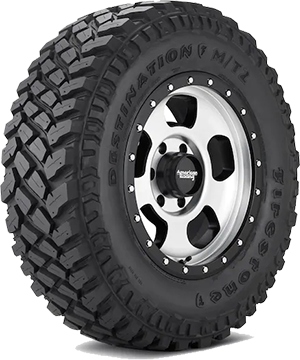 Tire Type
Off-Road Max Traction
Tire Size
15″ – 20″
Load Range
D – E
Speed Rating
– Q: up to 100 mph
– T: up to 118 mph
Warranty
None
Ratings
8.3/10
To assist SUVs, pickup trucks, Jeeps, and off-road vehicles, Firestone Destination MT2 includes:
Tear-and-chip resistant compounds, molded in high-vold patterns, offer extended stability on beaten paths.
Attack angles at 23 degrees optimize pulling powers on loose terrains
The serrated lugs on the upper sidewalls (stronger than previous models) improve side bites on softer surfaces. The biting edges increased by 20% compared to the last predecessors, as per advertisements.
Stone and mud ejectors slotted into the blocks clear debris and prevent stone drilling.
3-polyester casing plies and two steel belts enhance puncture resistance and tread stability.
It can be studded (optional) for more ice traction.
Firestone Destination M/T2 Review & Performance Test Result
As part of the 2023 COR Wheels Tire Test, the Firestone Destination M/T2 (265/70R17 version) was used on our 2022 Ford F150 car model in January and June-July.
1. Dry Performance: 8.6/10
Dry Traction: 9/10
Firestone Destination MT2 gripped very well on dry, on-road pavements. As an off-road tire, its initial bite did feel a bit more aggressive than necessary, but the contact patch soon found its anchor and learned to balance well between traction and rolling flexes.
Destination MT2 encountered no issue starting at 45 MPH on straight-line roads and – despite our not-so-subtle attempts to rev up to more than 60 MPH in seconds – remained stable and sure-footed most of the time. Brakings to merge lanes went on just as uneventfully; there were minor stutters at merging entries, but too brief for us to truly pay them any mind.
And rougher canyon passes, surprisingly, felt even more secure than on regular roads; it seems MT2's aggressiveness worked better on rugged terrains than on paved surfaces. Our attempt to switch back and forth between 40 and 65 MPH encountered no significant issues, minus the startled reactions when encountering narrow turns or veering right/left within short notice.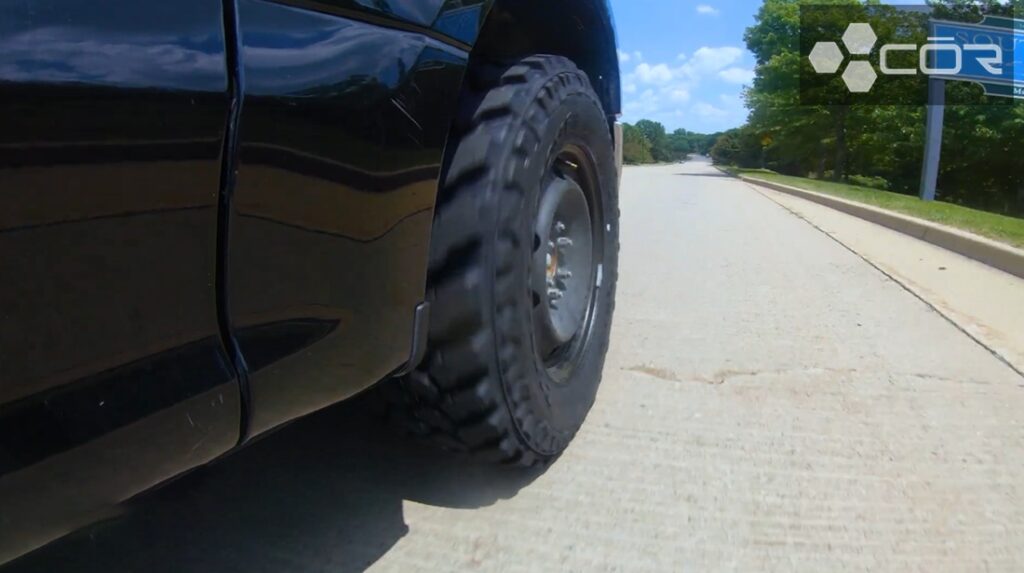 Corner Stability: 8.4/10
Provided that our speed is beyond 65 MPH and travels on well-built roads, MT2 coped well. The tire could handle basic lean angles and had no trouble keeping the on-center rib consistent when diving into slightly tighter crooks than average. Abrupt accelerations were not really a problem for MT2, but they did slip a little at the edge when we applied more force on the steering wheel than necessary.
Cornering on highways was a different story; the tire always seemed to be at a loss. Most of its confidence on-road was stripped off in replace of nervous hesitations, and even simple lane changes gave off a snow-traction feel. We kept things civilized at 55 MPH, just in case.
Steering Response: 8.3/10
In non-challenging conditions, MT2's steering response was decent and punctual – nothing to get alarmed about – albeit the sharp edges often seen in competitive on-road tires were obviously not there. Straight-line driving with no twists, turns, or roadblocks out of sight line was where the tire worked best.
Our ride started to take a dragging turn as the Ford entered narrow roads of back-to-back, closely-spaced curves. The tire's lack of steering flexibility was hard to ignore here, tolerable in the first 3-4 miles but showing clear fatigue symptoms when our whiplashing directional changes were carried out longer than 20 minutes.
2. Wet Performance: 8.2/10
Hydroplaning Resistance: 8.4/10
Destination MT2 still ticked most of our basic criteria boxes. Its grooves were not interlocking in small 3D sipes the way we often see on on-road tires, hence occasional water intrusion at the least expected timing (ex: pulling at a traffic light). Still, guaranteed no heavy rain or downpour, the issue was within control and felt very faint compared to the ride's otherwise smooth, breezy composure.
Unfortunately, hydroplaning became more pronounced at water deeper than 5 inches during mid-rain traveling. The grooves could somewhat deal with standing/stagnant water, but they did not have much power against flowing floods that increased in volume after every passing second. Hiccups were frequent even on non-twisty roads, and got worse at S-curves and corners.
Wet Traction: 8/10
MT2 was pretty good in leisurely approach below 35 MPH and with minimal steering inputs on straight roads; the traction grew more distant at the edges than on dry pavements but still enough to ensure safety.
But other than that, any spirited driving above 40 MPH sent the Ford into a flurry of brief but frequent drifting. Extra steering input did not instill more grip onto the contact patch as we had hoped; on the contrary, it only increased the slip angles. Taking turns could titter right into the danger zone if it was not prepared at least 5 seconds ahead.
3. Off Road Performance: 9.1/10
Dirt Traction: 9.3/10
Destination MT2 was a delight on dirt traction since most of its features were designed to tackle such terrains in the first place; the 23-degree attack angles pounced on the road immediately and established instant connection.
Starting at 50 MPH was no qualm for the tire, as our team members could not observe much drifting or hiccups; even when stuck with particularly stickier, thicker debris, MT2 took less than 3 seconds to wriggle its way out of the mess and even less when we accelerated to 60 MPH.
Needless to say, tight corners with very limited escape routes did not pose much of a challenge for us, either. Some parts of the sidewalls were admittedly a bit too stiff in critical cornering situations where flexibility was preferred, but that oversight could be compensated for by revving down to the 3rd or 4th gear.
Rock Traction: 9.2/10
We were very pleased with how MT2 handled itself on rocky terrains. The extra biting edges offered by the serrated lugs tackled rough, larger rocks with little drama, while the stone ejectors within the tread blocks threw smaller pebbles off to pave the way for our marching.
Constant speed changes were far from an issue as the contact patch remained relatively unfazed, and navigating sweep curves was even more fun than on-dry pavements thanks to the extra margins dedicated to adventurous leans.
With MT2's high-void patterns, sharper rocks were not really a looming threat. Still, the loud thudding noises could be heard from the cabin when we trampled on those rocks a bit harder than usual (especially mid-acceleration), causing the Ford to titter slightly towards the left.
Sand Traction: 9/10
The tire's equilibrium on sand terrains left very little room to complain. Once again, the 23-degree attack angles, combined with the serrated lugs, did their job; their self-cleaning was superb and much less likely to get soft sand particles stuck inside the grooves.
Aided by even tire rolling, Destination M/T 2 shrugged itself off sticky, dragging feel at record speed and pushed the car forward like nothing had happened.
Our flat, wide contact patch held its ground well even at abrupt twists, which, in turn, paved the way for great steering response. Still, we did think its road manners on wet sand could have been improved; it became sluggish due to patches of sand sticking to the large grooves rather than falling off.
Mud Traction: 9/10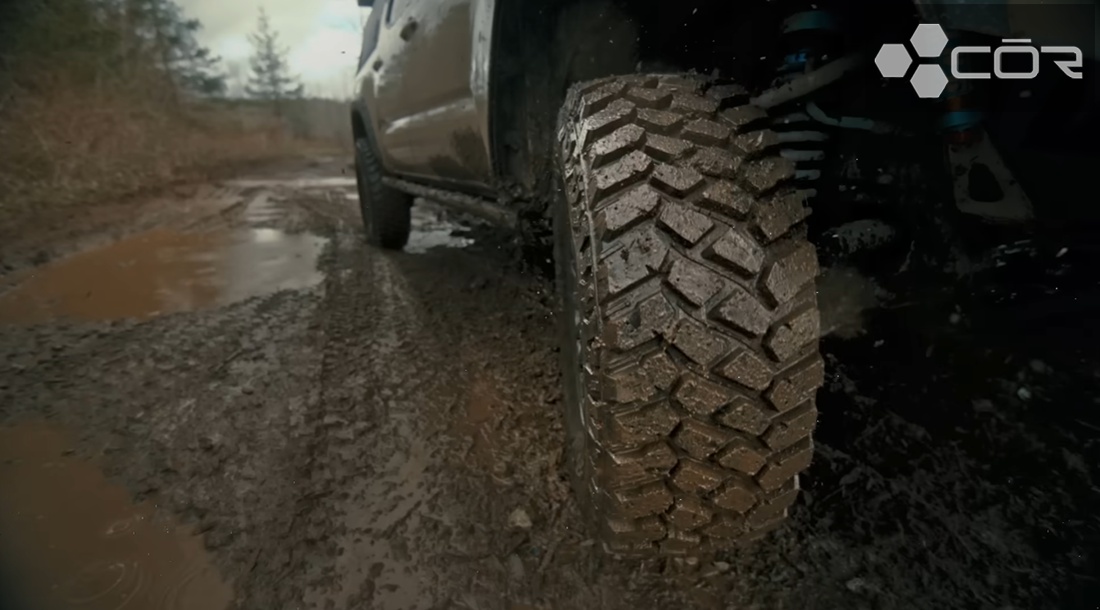 Every groove and rubber curved into the road texture like they were at home, and the way the attack angles plunged mud off our way was so decisive and clean that we did not even really register the mud there in the first place.
Post-rain mud admittedly gave us more of a headache due to the extra slipperiness, but nothing that the sturdy sidewalls and intricate tread blocks could not handle. To reduce the side stutters, we reduce our driving rates to about.
4. Winter/Snow Performance: 8.1/10
Light Snow Traction: 8.5/10
The MT2's attack angles could not plow through snow the same way it did with off-road dirt, but overall, most of its traction still seemed composed enough for light-hearted driving at 40 to 55 MPH.
Dry snow was rarely a problem; and even on wet, slippery snow post-storm, the worst we had experienced was only some harmless drifting that could be controlled by push-and-pull steering.
Deep Snow Traction: 8.6/10
The thick, dense snow gave MT2's contact patch some unexpected support; hence, its traction on snow beyond 7 inches was a repeat of our light snow test but a tad better around corners.
Equipping snow chains allowed MT2 to squeeze even more traction, though they had to trade off smooth accelerations as a result. We stayed within 40-45 MPH on main roads and stepped down to 35 MPH when entering rugged mountain passes, only accelerating at smoother road sections to avoid jostles.
Ice Traction: 7.1/10
MT2 was not on its best behavior on ice terrains and certainly could not cope with major speed changes. Each steering and turning endeavor had to be done strategically with at least 3-5 seconds of planning – and even then, occasional coughs still lurked around the horizon.
Attempts to navigate around roadblocks were just as bumpy, forcing us to grind the wheel tight during the entire process. Brakings were no better; it took us more than 59 feet to pull to a stop from 12 MPH.
5. Comfort: 7.9/10
Ride Quality: 8.4/10
MT2 is an off-road max traction tire, so the rigid rolls through cracks and larger road imperfections (especially on ice) were only to be expected.
Fortunately, other than that, the rest were tolerable for us. The cushioned feel was at its highest peak on off-road terrain (almost no bumps at all, even on rocks at 65 MPH), decent on on-road pavements, and pretty good when moved to snow.
Noise: 7.4/10
MT2 performed underwhelmingly with its noise control, though that was far from surprising given the aggressive tread.
Paved roads with thick yet well-plowed snow seemed to be the only case where MT2 noises died down. Aside from that, we always had to brace ourselves for the rumblings, which grew even louder when navigating highways.
6. Tread Wear and Durability: 8/10
The tread could still deal with the sharp, thick debris, but there were many points at which we could sense the clear signals of burnout. But in compensation, this aggressive tire had a pretty good initial tread depth (19/32"), backed by free replacements for the first three years.
Firestone Destination M/T2 Pros & Cons
Excellent traction on off-road terrains
Good enough on on-road dry pavements
Decent on snow (light and deep snow alike)
Satisfying riding comfort
Underwhelming on ice
Not really confident on on-wet roads
Noisy
Firestone Destination M/T2 Competitors & Alternatives
Tight competitions with BFGoodrich Mud-Terrain T/A KM3, Cooper Discoverer STT PRO, and General Grabber X3 revealed more insight about the Firestone Destination MT2:
Firestone Destination M/T2 led the race in loose terrain traction and remained responsive on deep snow. However, some noise reduction would be welcomed.
BFGoodrich KM3 outsold the rest with its well-controlled and firm impacts on off-road and dry pavements. Unfortunately, the same polished manners did not persist on light snow roads.
Cooper Discoverer delivered solid wet grip and hydroplaning resistance. The way it handled road bumps could have received more upgrades, though.
General Grabber X3 offered very polite road manners and composed itself well in deep snow. Still, the steering sometimes felt loose around tight corners.
Conclusion
The MT2 is definitely one of the most competitive off-road max traction tires out there, delivering non-dramatic, breezy strikes through even the toughest dirt and mud.
What brings its score down in this Firestone Destination MT2 tire review is not any off-road oversight, but rather the lack of confidence on wet surfaces and underwhelming noise control. Ice traction is also not among the top ranks, either. Anyway, this tire is reserved for off-road, dry-road, and mild winter driving.
Firestone Destination M/T2
PRICE
SOLD BY

Offers

In Stock

Offers

In Stock

Offers

In Stock

Offers

In Stock

Offers

In Stock
---
President & Automotive Expert at COR Wheels
Robert Herrera has been with COR Wheels for 17 years and has a great passion for the automotive industry. During his time at COR Wheels, he has driven and test-driven a variety of vehicles.
---