Highways deal with less traffic complexity but need intense focus and extended high-rate consistency; that explains why drivers flock to Firestone Destination LE3 in recent years. Most of its extra add-ons are highway-oriented, delivering optimized patterns and redesigned grooves for better tread life and grip capability.
The following tire review will summarize performance results gauged from its intensive 10-day test ride.
In this review:
Firestone Destination LE3 Specifications & Features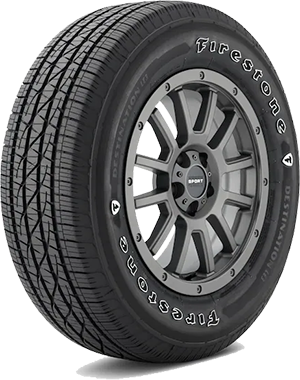 Tire Type
Highway All-Season
Tire Size
15″ – 22″
Weight
22.0 LBS – 41.0 LBS
Load Index
95 – 116
Load Range
SL – XL
Speed Rating
– H: up to 130 mph
– V: up to 149 mph
Warranty
70000 miles
Ratings
8.5/10
Destination LE3 introduces advanced rubber compounds shaped into symmetric tread designs, which aim for more precise, clearer road handling and smoother rolls. The classic TractionTech package was also utilized, added by the full-depth employment of tread blocks to retain more consistent performance over future tire wear.
At the same time, the HydroGrip technology introduces optimized, open shoulder slots to let the tire slice better through water, which reduces hydroplaning and aids wet traction simultaneously. 3D sipes are also interlaced into the lateral grooves for more gliding confidence in wintry conditions.
Internal structures are solid but pretty basic: polyester casings are mated onto twin steel belts to deliver extended lifespan, with nylon reinforcements that boost higher-speed stability.
Firestone Destination LE3 Review & Performance Test Result
Our reports were based on Destination LE3's ten-day run on the 2022 Toyota 4Runner during the 2023 COR wheels tire test. The 265/70R17 has been selected as the representative tire size.
1. Dry Performance: 9/10
Dry Traction: 9.2/10
Destination LE3 retains Firestone's good reputation on dry roads with competitive grooves and tread blocks. The symmetric designs did a good job spacing out the slits and channels, which gave the tire feathery yet confident levels of grip on asphalts as we glided through the highways at a leisure rate of 30 MPH.
Straighter stretches of the highway showed little rolling issues. There was a good kind of roaring underneath the tires to inform us of the communicative tire-road connection. And as we slowed down occasionally at exits or the front of heavy traffic to adjust our tempo, Destination LE3 played along with instant and punctual responses.
It was a good kind of confidence that allowed us to lean more confidently outwards at boulder angles, not afraid of accidents or occasional slippage.
Once certain of the car's good handles, we decided to accelerate to 70 MPH and applied more dynamic forces onto the steering wheel. Our impression remained more or less the same: Toyota 4Runner grazed through ruts and potholes quietly and smoothly, only feeling a bit harsher on rougher surfaces due to the sidewall's stuffer parts.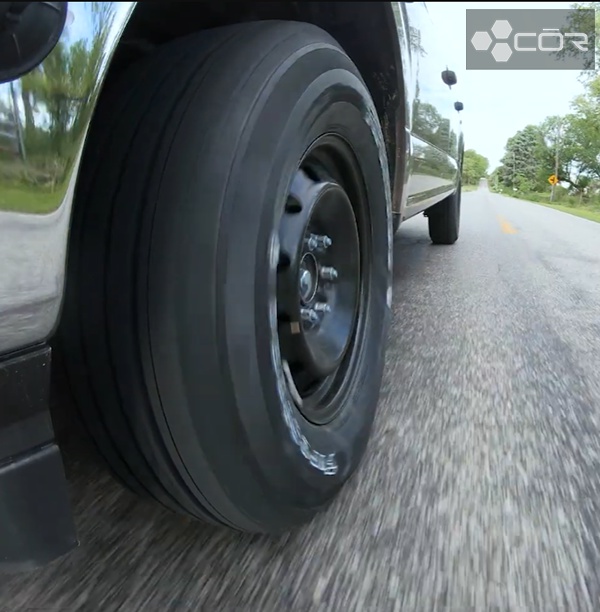 The tires were initially not meant to be pushed beyond limits – but thanks to these performance consistencies, we let ourselves get carried away a bit at 75 -85 MPH when the traffic became scarce.
Negotiating merge points was also a breeze, albeit with a bit of harmless, brief delays. LE3's deceleration grips performed as reliably as its acceleration, crunching itself to a planted, surefooted decrement before joining other vehicles under a series of swift and nippy flicks.
Corner Stability: 8.9/10
Corner stabilities did not disappoint us. The interwoven grooves and solid internal casings gave our tires the secure highway footings they needed, delivering beyond-average anchors when we navigated around decreasing-radius curves.
Similar to our straight-line driving experience, shrieking noises were not an issue here, except for the confident, low rumbling that neither felt intrusive nor disruptive for us.
When instant reactions were required on sharper bends, Destination LE3 launched into action even faster; we could feel the rubber compound slightly buffing up underneath to adjust to the tighter angles and sudden whiplashes.
Accelerations and decelerations mid-way also posed no issues, minus a few backward jostles when our strikes became a bit too over-the-top.
Tossing the wagon was uneventful, although our team experienced massive tread squirms more than once at the entry. It stabilized fast and eventually disappeared at the exits; still, we had to take away a few points on this one.
Steering Response: 9/10
Destination LE3 has a very competitive and dynamic steering response, all thanks to the sturdy casings and internal reinforcements that keep the tire in good shape and integrity.
At 50 MPH, these tires already winded through consecutive, long highway curves with graceful and steady movements, with little to no shallow constraints to get in the way.
Also, communications between the car's steering system and tread operations were immediate and swift; unless there were sharp, expected crosswind barriers, Destination LE3's responses remained precise down to milliseconds most of the time.
Sudden surges in traffic flow required firmer steering to avoid crashes, and again, Destination LE3 lived up to expectations.
Despite relatively short notice, the tires managed to pull to slow deceleration (not a full stop) under less than 120 feet and picked up speed just as fast to merge lanes. Any aggressive steering maneuver after that was considered a given, carrying on effortlessly.
On another note, we do think the transition between dry-wet and vice versa could have been improved to deliver fewer variations.
2. Wet Performance: 8.7/10
Wet Traction: 8.8/10
Firestone's consistent and reliable traction capability carried on into our wet road tests.
The grooves and slits did lose some of their footings due to the extra water on wet roads, but that was within our expectations. Their grapples still felt straightforward and certain enough that we could confidently rev up to 50 MPH after 5 minutes on the way.
The 4Runner advanced through gentle curves with very few delays and grew even more stable by the time we were at the entry of consecutive curve stretches, sweeping past other vehicles comfortably thanks to the sensitive steering response.
However, at tighter S-curves in wet conditions, our team admittedly had to tread more cautiously; higher wall angles made the tire-road contact slip away, inviting more intruding water than we would have liked.
Hydroplaning Resistance: 8.7/10
The HydroGrip technology had quite a lot of spotlights here. Its open-ended channels churned out rainwater and mud pretty fast to maintain a more secure connection with the grippy surfaces.
Thus, hydroplaning was rare and insignificant at a regular pace of 40 to 45 MPH. Occasional residue water did get in, but mostly due to our steering wheel's stuttering rather than the malfunctioning tire grooves or slits. Even in those cases, the car rebounded fast and resumed its treading as if nothing had happened.
After uneventful, smooth-going five minutes, we decided to accelerate to 50 MPH – as mentioned above. The tire's hydroplaning resistance still remained the same from here – except they seemed to weaken a little when the sidewalls were lifted during tighter S-curve cornerings.
3. Off Road Performance: 7.8/10
Dirt Traction: 8.3/10
Destination LE3 was one of the best highway all-season tires in terms of dirt traction, but signals of struggles still occurred.
Tight turns and steep inclines were not the smoothest, though a slight acceleration from 40 to 43-45 MPH was enough to get our 4Runner car off the stuck gravel.
We could also handle rutted rail pretty decently through cautious, surefooted braking and steering; the frequent bumps did throw us off a few times, but our tires recovered from them just as quickly.
Rock Traction: 7.9/10
Cracks and rumps or rocky terrains were ten-folds more challenging to palm over, so the constant jostles and nudges from Destination LE3 did not take us by surprise.
Our 4Footer seemed to do much better at the middle spectrum between slow and fast rates (50 to 60 MPH), since there was enough balance between driving force/acceleration and stability to grind over obstacles. Speeds both below and beyond that, on the other hand, subjected our car to much more time-consuming struggles.
Sand Traction: 7.7/10
At first, we expected Destination LE3 to perform better on sand than on rocky paths. But the tiny, littering particles created an uneven and inconsistent road texture that put our tires through lots of rolling pain.
The tire grooves took twice as long to whisk sand particles off the sidewalls compared to pure rainwater, which extended our test ride 1-2 hours longer than intended.
Mud Traction: 7.4/10
Muddy terrains took our car on a wild ride due to the extra combination of soil particles and water. Destination LE3 could handle soil and water separately, but putting them together was a tough and exhausting fight.
We had to ramp up our steering wheel several times just for the tires to gain enough traction, and accelerations beyond 70 MPH hurt the rubber compounds rather than pushing the car forward.
As such, staying consistent with our driving was out of the question; we had to alternate often among deceleration/ acceleration/ braking to adapt to the road's unpredictability.
4. Winter/Snow Performance: 7.9/10
Light Snow Traction: 8.4/10
Interlocking 3D sipes were LE3's strongest in fair snow weather – and a huge relief from their horrid mud performance. Wet, compact snow still got into the grooves, but they slid off the rubber fast and left little lingering traction impact.
Our tires traveled with slick, swift strikes at a regular 50 MPH pace, and could even handle sudden acceleration at tighter curves and cornering grips. However, we still had to pay enough caution on the roads; late responses to higher-density bumps led to violent nodes that almost flung us off our seats.
Deep Snow Traction: 7.9/10
LE3's could still plow through deep snow, given high speeds (above 55 MPH) and strong, consistent grip on the steering wheel.
Still, it was clear that our travel was far from seamless. The same struggles observed on light snowy surfaces continued at thicker snow blankets of beyond 6 inches at a much more serious degree. We even had to unload a few cargos off the trunk to avoid weight-bias response delays – and even by then, noticeable drags at mid-corners were unavoidable.
Ice Traction: 7.4/10
Like most Firestone siblings, Destination LE3's ice performance was decent enough to be passed off as winter tires in very favorable weather conditions.
But its reliability did not deliver as consistently as we would have liked, as slippage risks still hovered around any time our steering slightly faltered.
Under extreme driving pressure, a few vulnerable sidewall parts even cracked – not enough to drive us straight into accidents, but still requiring proper inflation with a handheld pump before we continued the trip.
5. Comfort: 8.8/10
Ride Quality: 8.9/10
Firestone rarely disappointed with road comfort, and its Destination LE3 model was not an exception. Upon road imperfections, the tire barely gave off any visible shudders, and the cushioned feel it delivered when we bent our way through long-slide highway curves at 70 MPH was very comforting, even for beginners.
Noise: 8.8/10
Except for the low rumbles that felt more assuring than annoying, Destination LE3 delivered a generally quiet ride. Even the cackling, bumpy off-road rock terrains did not churn out loud noises from the tires, and we liked how the tread pattern curved itself along the road texture to pin down and kill punctuated hisses.
6. Treadwear and Durability: 8.6/10
There was a bit of treadwear trade-off to give room for soft rides – but not enough to throw LE3's durability under bad light. The treadwear did not shred after the test had concluded, and not to mention, Firestone already backed average drivers with a trusted 70,000-mile mileage warranty.
Firestone Destination LE3 Pros and Cons
Great dry performance on highways in dry conditions
Good steering flex and response
Decent in rainy conditions
Comfortable ride, with little noise
Reassuring tread wear rate with great mileage warranty (70,000 miles)
Underwhelming performance in off-road conditions
Bad tire/ lackluster traction on snow blankets and ice
Needing more finesse at trickier steering angles
Firestone Destination LE3 Competitors & Alternatives
Directly pitching against Firestone Destination LE3 are Yokohama Geolandar H/T G056, Continental TerrainContact H/T, and Kumho Crugen HT51:
The Continental representatives won our winter and wet traction with commanding steering responses and well-controlled drive. However, its steering center tended to tighten up at the wrong times.
None of the other three beats Firestone LE3 when it comes to riding comfort; its strikes felt confident, natural, and carried on with little drama. Still, the tire manufacturer could have equipped the tire with more finesse during power/steering angle refinement.
Yokohama Geolandar felt the tautest and sportiest thanks to the solid braking performances on dry terrains. Huge improvements in wetter conditions are required, though.
Kumho fared better in winter conditions than its direct competitors and generated the least noise. But we would like to see some changes in lateral wet grip and steering feedback.
Conclusion
$151 to $271 is quite a decent, affordable price range for tires like Firestone Destination LE3. Its dry and wet performances are note-worthy, and the way the tire handles light snow conditions and off-road dirt is enough to ensure basic road safety.
Our team considered it a great all-season tire for trucks. However, if you have to tackle off-road mud, sand, rock, and ice on a frequent basis, it would fall short. Destination LE3 is still good but clearly does not deliver reliable driving performances for these tough surfaces.
Firestone Destination LE3
PRICE
SOLD BY

Offers

In Stock

Offers

In Stock

Offers

In Stock

Offers

In Stock

Offers

In Stock
---
President & Automotive Expert at COR Wheels
Robert Herrera has been with COR Wheels for 17 years and has a great passion for the automotive industry. During his time at COR Wheels, he has driven and test-driven a variety of vehicles.
---