Yokohama has made a name for itself as one of the best brands for ultra high-performance all-season tires. And its recently popular model, the ADVAN Sport A/S+, embraces all highlights that make the brand well-beloved: large shoulder blocks, advanced sipes, and updated compounds that promise performance balance.
Hence, this top-selling tire has been included in our rigorous performance test, whose metrics and overall score will be discussed in detail in the review below.
In this article:
Yokohama ADVAN Sport A/S+ Specifications & Features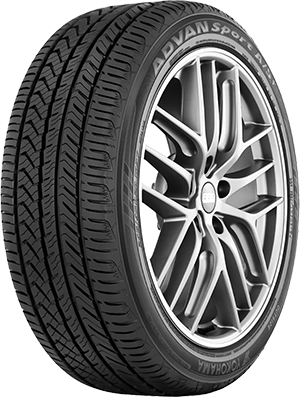 Tire Type
Ultra High Performance All-Season
Tire Size
16″ – 21″
Weight
21.0 LBS – 34.0 LBS
Load Index
87 – 106
Load Range
SL – XL
Speed Rating
– W: up to 168 mph
– Y: up to 186 mph
Warranty
55,000 miles
Ratings
8.2/10
The tire is built for sedans, sporty coupes, and sports cars that demand year-round confidence and enjoyable riding comfort.
The asymmetric, high-performing compound with extra silica content brings in all-season handling and better traction on wet roads.
Large outboard shoulders strengthen dry cornering.
The two-in-one intermediate blocks improve lateral stability and handling response.
Circumferential grooves tackle hydroplaning issues
Streaming Wavy Sipes and Z-Grooves creates more bites for slippery conditions
Inboard serpentine channels deliver more snow-shearing power to handle winter traction
Double steel belts (with wrapped nylon reinforcement) and extended sidewalls blend riding comfort with good road manners.
Yokohama ADVAN Sport A/S+ Review & Performance Test Results
We tested the 225/40R18 tire size version of Yokohama ADVAN Sport A/S+ on the 2022 Toyota Corolla. Along with other ultra high-performance all-season tires, it was sampled for ten days in June-July (and another short period in January) as part of the 2023 COR Wheels Tire Test.
1. Dry Performance: 8.9/10
Dry Traction: 9/10
ADVAN Sport A/S+ was a delight on regular asphalt sidewalks. The immediate blocks worked well with ADVAN's study steel belts to stabilize the tire and gum it along the road pavements in swift, clean strikes.
Our car took little time to settle in a niche start of 40 MPH and remained breezy throughout our straight-line endeavors; occasional shakes happened during left/right veering around roadblocks, but nothing you need to worry about.
The silica-blended compounds also worked very great on concrete roads and showed no over-reactions trampling over aggregates and cement. We started implementing accelerations this time (from 40 straight to 65 MPH), yet traction loss only tittered around the edges and recovered just as quickly as they came.
Even as a beginner, you will encounter no trouble with grip maintenance when applying back-to-back gear changes during particularly spirited handling dynamics.
On another note, Sport A/S+ felt a bit heavy on gravel roads. The traction drags could be easily solved with more forceful palm-to-palm steering – but it is still a letdown if you aim for seamless, all-time smooth strikes.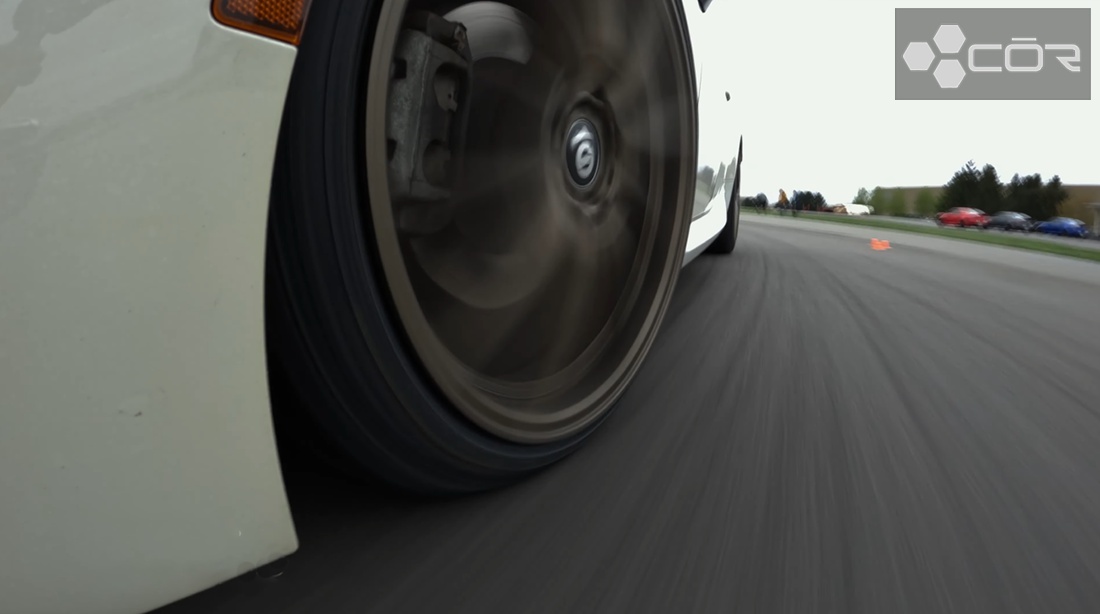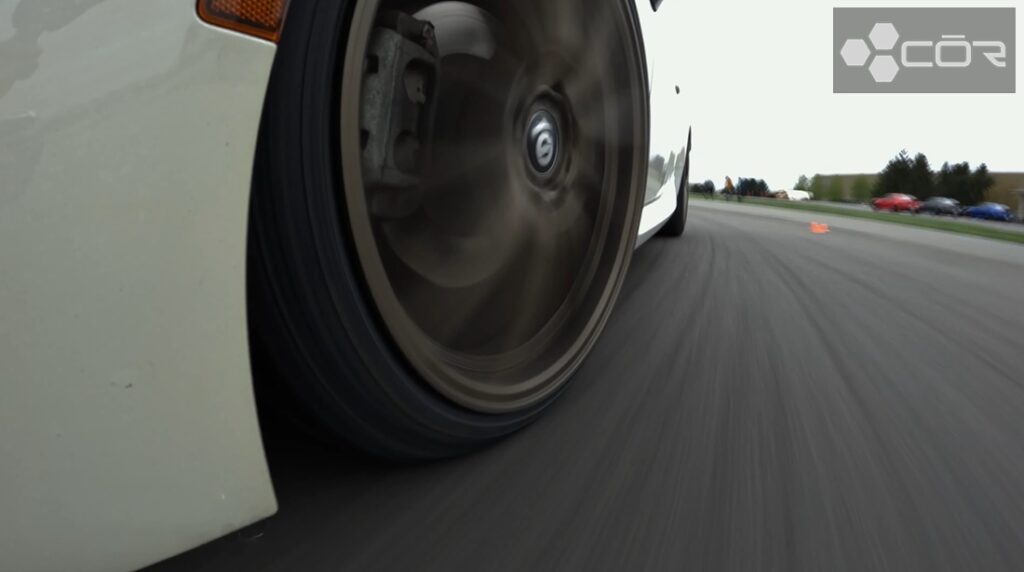 Corner Stability: 8.8/10
Basic gentle turns were an obvious given for aggressive tires like Sport A/S+; it was no difference from straight-line maneuverings despite our rather wild experiments with speed extremes (revving straight towards 75 MPH or down to 40).
Apex turns were similarly pleasant; whether we reached the apex at corner exits or corner entries, the line remained delightfully tight thanks to the sturdy, large outboard shoulders. You can even alternate between both techniques during constant switchbacks or lane merges for a better corner speed/exit.
Plus, the stable immediate blocks allowed ADVAN Sport A/S+ to embrace the corner's inner lines well with little to no stutters. This is quite a great competitive edge if you want to reduce the cornering radius and utilize your exit speeds.
Nevertheless, this tire admittedly struggled when we attempted Scandinavian flicks at speeds beyond 55 MPH; the whiplashing directional changes led to more oversteer risks than we would have liked.
Steering Response: 8.8/10
ADVAN Sport A/S+ left little to complain about here. In most two-hand steering situations, we could sense the aligned response almost immediately, which then seeped into the contact patch and rubber sidewalls to keep ambiguous delays at bay.
Coupled with the excellent dry traction discussed above, navigating common roads in both leisurely and spirited styles was a general non-issue.
Sport A/S+ remained pleasant as we moved to highways while pushing our car past 75 MPH. Though we still needed to apply palm-to-palm steering in longer curves, the amount of input required was minimal; our tire sprung into action without a second reminder.
You can still err on the safe side if desired, but rest assured that the risks of accidents with extreme power pitches or G-Force glides will be very low.
However, ADVAN Sport A/S+ was not as strong as extreme summer tires and hence, still fell into frequent steering burnouts when engaging in serpentine swaggers.
2. Wet Performance: 8.4/10
Wet Traction: 8.4/10
Sport A/S+ maintained relatively decent confidence on common slippery sidewalks. It kept slipping accidents under good control thanks to the well-placed circumferential grooves, and performed even better than expected when passengers/cargo were removed from our car.
Guaranteed consistent steering input, you can maintain the same performance as on dry surfaces when revving down to 30-35 MPH.
Puddles of moderate depths (preferably below 4 inches) posed no significant issues, either. Despite the slightly clingy drags under the contact points, Sport A/S+ got itself out of the mess quickly and resumed traction after only 4-5 seconds of slight struggling.
Extra mud with slightly heavier soil than usual was handled just as breezy, only bringing in occasional stalls when our steering position went slack.
Cornering attempts, unfortunately, did not play in our favor like with straight maneuvers. Wide-radius, gentle crooks were tolerable, but the sharper the turn, the more stuttering it became. Unless you are experienced, it would be best not to try out anything adventurous here.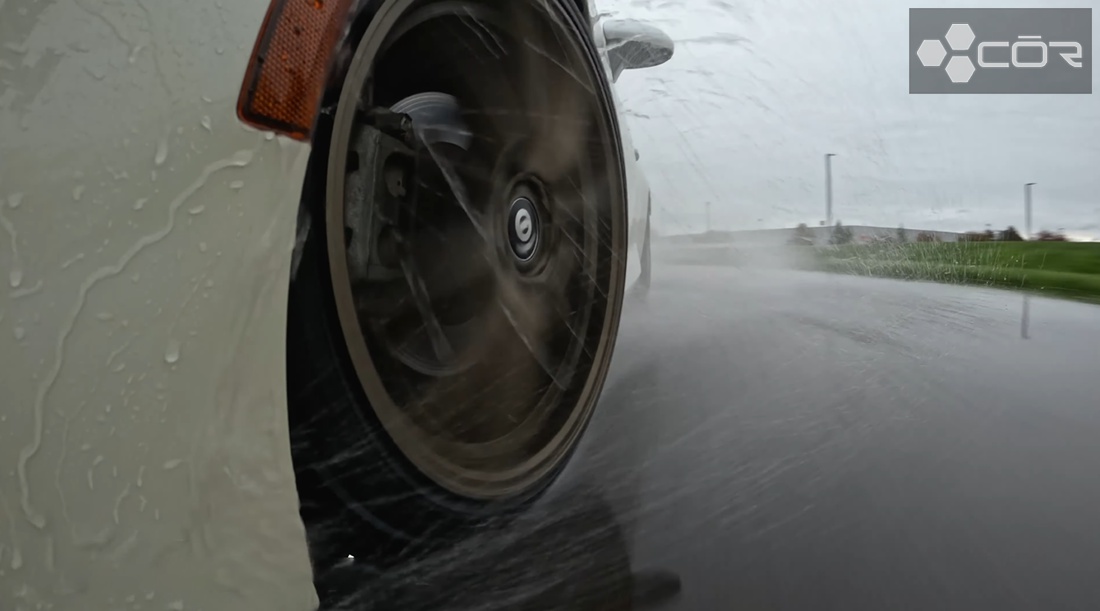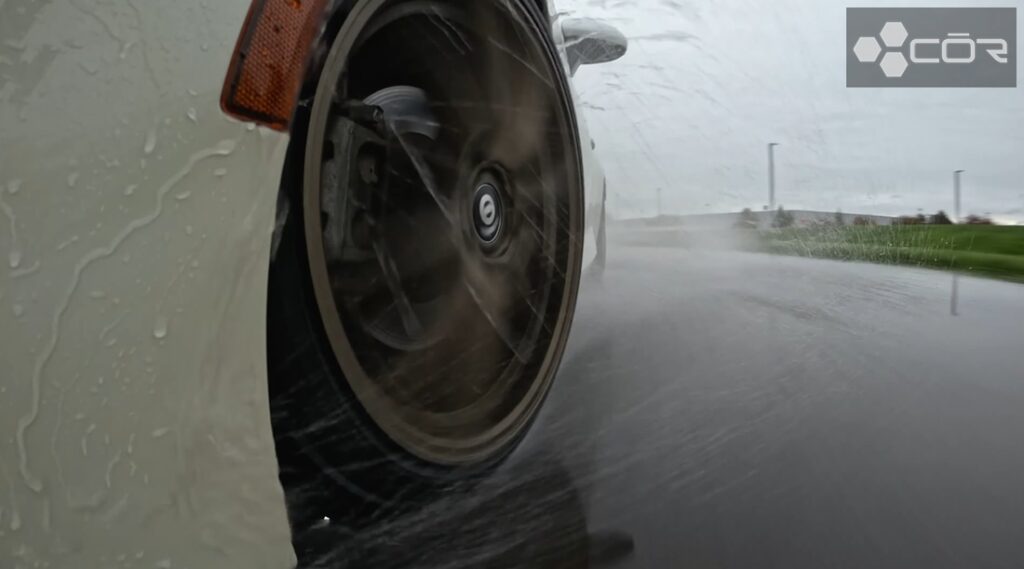 Hydroplaning Resistance: 8.4/10
Water issues were pretty tamed on common streets; water rarely lingered for too long and quickly dispersed during our 40-MPH strikes.
As we accelerated higher toward highway speeds, the grooves admittedly lost some of their edges but still managed things within expectations. Aquaplaning occurred quite predictably for us (often every 4000 to 5000 miles), so you do not have to worry about unexpected water intrusion at the wrong timing.
Still, deep water beyond 5 inches or flowing flood during storms sent our car into a flurry of drifting. The aggressive sidewalls did make up for the oversight and kept water from seeping further, but it would be quite a reach to expect powerful, non-stuttering slides on such terrains.
3. Winter/Snow Performance: 7/10
Light Snow Traction: 7.6/10
Despite the brand's claim, ADVAN Sport A/S+ already exhibited struggle symptoms even on very light snow.
While the overall on-center feel was somewhat decent, this tire could not cope well with cold temperatures and skittish borderlines near the contact patch. Any slightest steering input that went out of line made it shudder almost right away.
Unchanged driving rates of 40 MPH (or somewhere around that benchmark) fortunately carried out the ride well, so it would be best if you avoid abrupt speed changes altogether, especially around turns.
Deep Snow Traction: 6.9/10
Sport A/S+ was disappointing on deep snow, already shaking when our car tiptoed into snow blankets at very low driving rates (below 25 MPH). Snow chains did help us a lot with regular surfaces but fell lackluster again when entering rugged patches with inconsistent snow depths. Needless to say, dynamic riding was impossible.
But in its defense, Sport A/S+ still ranked on the upper half of our list; many other ultra high-performance tires delivered even worse.
Ice Traction: 6.4/10
Though Sport A/S+ still found itself among the top ten, its performance was very weak.
Except for moderate ice buildups and snow-ice packs in warmer temperatures, we could not bring our car further than one mile without violent squeaks. Cornering and curve handles must be done with utmost caution, and reckless highway accelerations will send you straight into accidents. We always held the drive wheel tight and covered the brake pedal since skidding and oversteering could happen any time.
4. Comfort: 8.3/10
Ride Quality: 8.7/10
Winter terrains aside, Sport A/S+ was a star on dry road surfaces with its smooth and very cushioned impact feel. None of our heavy rolls over large cracks and rugged sections truly resulted in any significant vibrations – and when relieved of loaded cargo, the ride became even more breezy at 65 MPH onwards.
You will likely find yourself in comfortable driving positions even after long, extended traveling. Nevertheless, we still had to carry intentional oversteer or late brakings strategically to avoid violent thuds.
Noise: 8/10
The tire had mediocre road noise control. It was tolerable in casual rides but worsened the more you accelerated (or the sharper the turn) and even had the tendency to increase after exhaustive driving. The best bet is to pull over after every 45 minutes or 1 hour to give the sidewalls some time to recover.
5. Treadwear and Durability: 8.6/10
As mentioned, the tire did not handle cold temperatures well (hence the horrendous performance on snow and ice). But other than that, Sport A/S+ held its ground excellently thanks to the reinforced steel belts, casings, and well-built grooves. Coupled with the 55,000-mile limited warranty, you can pay treadwear issues no mind in the first five years.
ADVAN Sport A/S+ Pros and Cons
Confident lateral grip on dry surfaces
Good treadwear
Great riding quality
Mediocre traction on slippery surfaces
Underwhelming winter performance (though still better than most)
Minimal noise control during sharp turns or accelerations
ADVAN Sport A/S+ Competitors & Alternatives
Yokohama ADVAN Sport A/S+, BFGoodrich g-Force COMP-2 A/S PLUS, Toyo Extensa HP II, and Falken Azenis FK460 A/S led the group in certain aspects and needed improvements in others:
ADVAN Sport A/S+ cushioned its ride well and kept pronounced jostles at bay. Nevertheless, as discussed, road noise control needs a lot of improvement.
BFGoodrich COMP-2 excelled in sporty steering and gained the upper hand in balanced wet/dry traction. But like Yokohama ADVAN, its tread noise was horrendous.
Falken Azenis offers athletic, nice refinements on every on-road terrain we tried. We did love fewer steering over-reactions on wet tracks, though.
Toyo Extensa had satisfying cornering stability, but was clearly lacking in wet performance and noise control.
Conclusion
The tire stays among the top ranks in dry traction, treadwear, and riding comfort in our Yokohama ADVAN Sport A/S+ tire review. However, winter performance (snow and ice included) is only mediocre, while wet grip strikes are downright underwhelming compared to competitors.
So all in all, this premium tire is the best fit for very spirited driving in warm/hot weather. Drivers who do not mind constant road noises during such endeavors will also find Sport AS+ to be quite a delight.
Yokohama ADVAN Sport A/S+
PRICE
SOLD BY

Offers

In Stock

Offers

In Stock

Offers

In Stock

Offers

In Stock

Offers

In Stock

Offers

In Stock
---
President & Automotive Expert at COR Wheels
Robert Herrera has been with COR Wheels for 17 years and has a great passion for the automotive industry. During his time at COR Wheels, he has driven and test-driven a variety of vehicles.
---