Yokohama has been focusing on van/SUV traction, and its popular model Geolandar CV G058 is the most widely-recognized example. These tires retain the highly acclaimed strengths of previous models while including more advanced technology for better grip and load capacities – which every SUV driver needs.
The tire's rave feedback in America is part of why we included it in our 10-day COR Wheels tire test, and this review will sum up our findings, test rides results, and verdicts.
In this article:
Yokohama Geolandar CV G058 Specifications & Features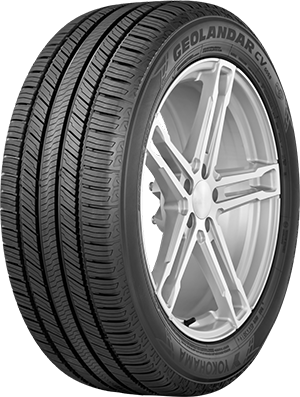 Tire Type
Crossover/SUV Touring All-Season
Tire Size
16″ – 20″
Weight
23.0 LBS – 36.0 LBS
Load Index
96 – 110
Load Range
SL – XL
Speed Rating
– H: up to 130 mph
– V: up to 149 mph
Warranty
65,000 miles
Ratings
8.7/10
The G058 models featured advanced CV2 compounds laced with Micro Silica, whose combination is shaped into a symmetric, five-rib pattern to better utilize the round rib blocks and chamfered edges on the intermediate ribs/shoulders. Such a carefully constructed system promises dry grip and better load characteristics, which in turn increases tread life.
At the same time, Yokohama equips the tire with a unique 5-pitch varying pattern, which is included to cancel naturally-developing road noises as the tires roll along rough surfaces.
Regarding hydroplaning resistance, the Pass-Thru and circumferential grooves take charge of water evacuation with their wide, deep channels across the tread faces. A hybrid of 3D and 2D combination sipes works in sync with the CV2 compounds to boost traction on slippery terrains.
Look further into the sipes and grooves, and one can easily recognize the extra biting edges and serrated slits, promoting stability and traction during critical wintertime. Aiding their solidity is an internal construction typical of touring all-season tires, which includes:
Polyester casings, two-ply, providing more responsive and robust packages.
Double steel belts, reinforced by nylon cap plies for better high-speed handling.
The tires are available in 16″ to 20″ rim/wheel sizes, expected to fit numerous vehicles from globally-recognized automobile brands. They are backed with a 30-day trial satisfaction guarantee and a mileage warranty of 65,000 miles.
Yokohama Geolandar CV G058 Review & Performance Test Result
As a part of the 2023 COR Wheels tire test, we used and tested the 235/60R18 tire size of Yokohama Geolandar G058 on the recent 2022 Honda Odyssey, a high-performance minivan.
1. Dry Performance: 8.9/10
Dry Traction: 9/10
The chamfered edges and well-crafted intermediate blocks have much to do with Yokohama's impressive dry traction. 33rd Street is not short of road irregularities, yet our tires palmed and flattened them out within a breath.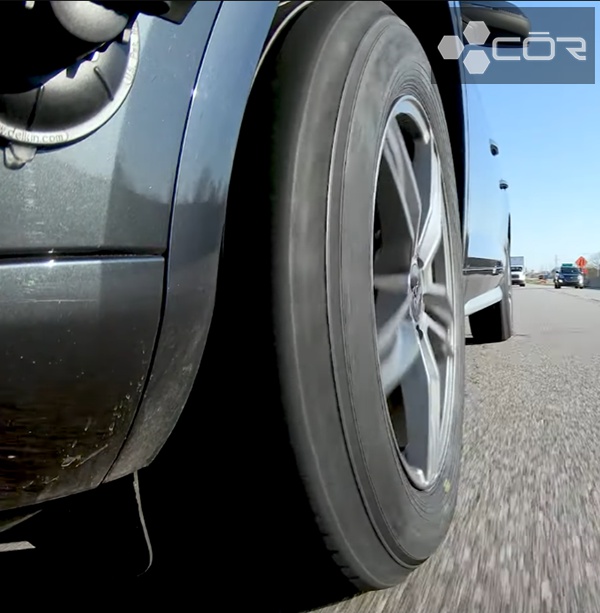 Not that we paid much attention to those bumps in the first place, as the five-pitch patterns have swallowed down all the contact noises. What was left for us was a seamless, smooth ride from beginning to end, navigating through flexible turns and changes with almost non-existent drags.
What took a few points away from Yokohama was the on-and-off squealing ramps. We thought the car might be traveling too fast and decided to reduce our speed to 70 MPH, yet the squealing stuck around.
Corner Stability: 8.8/10
Although there is room for improvement, our team was generally satisfied with Yokohama G058's corner stability.
The serrated, well-supported center position has done quite a good job retaining our Odysey's overall composure. Without too much worry about consistent angles and rates, we could still make swift turns around tight, tricky corners – and even managed to flex some of our driving skills with more experimental flicks of the wrists.
Risks of going mid-corner are rare. Better yet, despite occasional flex due to the softer sides of the tire walls, our car stayed on track and moved precisely.
All of these sounded like a good formula for a great, beyond-9 overall score – until we spotted small-degree, muted feedback when it comes to more impromptu handling aspects. Safety was not compromised, but we admittedly felt a bit thrown off by it.
Steering Response: 8.9/10
Its steering response ranked among the top out of all SUV touring tires we have tested, as they delivered more than enough lateral grip for us to get flexible with the steering wheels.
We faced no qualms keeping a straight line in road traffic – and even fewer difficulties changing lanes or sidestepping large holes. The feedback was, to be frank, not the level of "Wow" we expected, but confident and sure footed; even at mid-corners, we could still make some small/micro-adjustments here and there.
At every 30-minute stop, our members packed more boxes in the cargo trunks to see how much weight the van could bear without compromising dry traction. When the loads reached about 1200 lbs or so, we could feel a more delayed response and braking due to the extra weight – but overall, still within safe territories.
And once we stepped onto the highways, its steering strengths became more prominent; its steering response was just the right balance of quick and precise, allowing us to maintain a stable run through the rest of the road. Some of our team members felt they were not "sporty" enough – but in its defense, vans and SUVs are never meant to be "sporty" in the first place.
2. Wet Performance: 8.9/10
Wet Traction: 8.9/10
Yokohama CV's wet traction is on the same level as its dry performance, and that in itself is a remarkable feat. The temperature-pliable silica compounds must have something to do with it, since they can withstand extra abuse under tough, colder temperatures (moisture and rain counted).
If there were any struggles, we did not notice them; our tires gilded lightheartedly and seamlessly through puddles and even sticky mud. We picked deep waterlogged roads on purpose to test how far it could handle, and the steering did break away from time to time – not enough to throw off the overall ratings, though.
The test ride went several steps further when we decided to climb up post-rain mountains and hills. With other tires, we tended to slide around even upon descent control, but that seemed to be a non-issue with Yokohama. The tires kept us locked tight and rolled stably from beginning to end, given cautious driving.
On another note, low-degree slurping could be spotted around wet, curvy ramps. None of us personally considered it a drawback since the impact was minimal, but we understand if any driver feels bothered.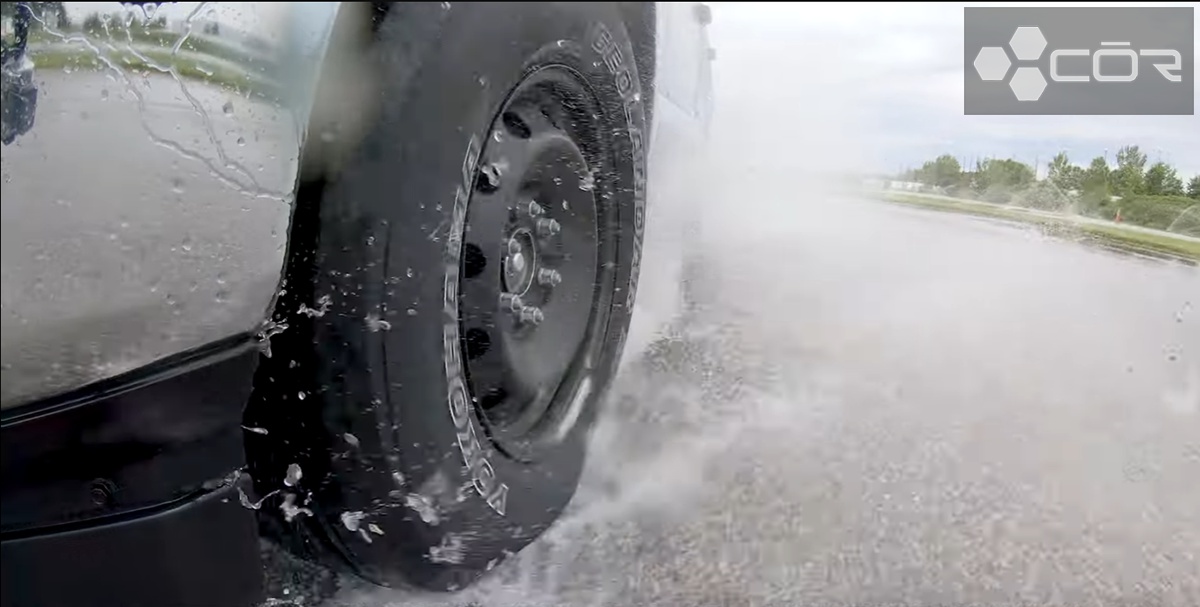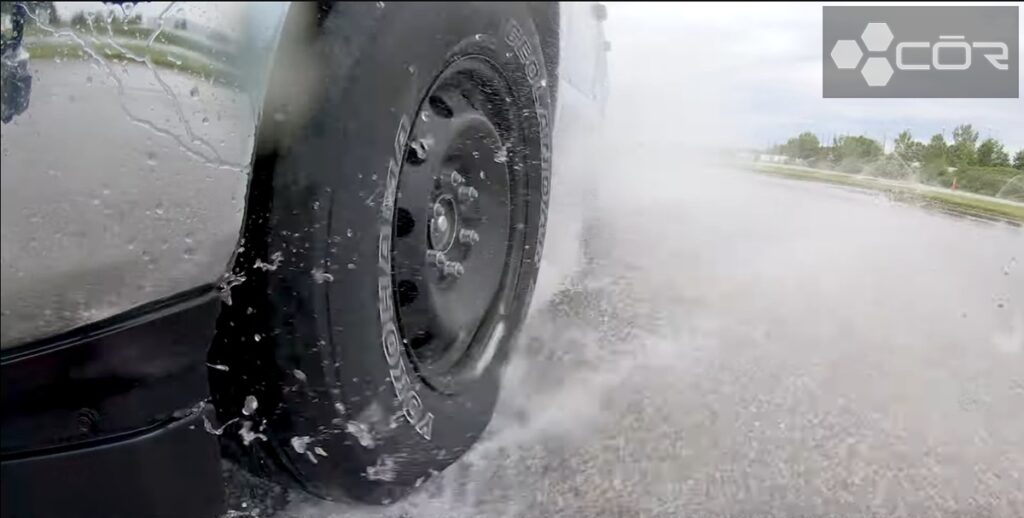 Hydroplaning Resistance: 8.8/10
The tire's hydroplaning-driving qualities were under our expectations. Their lateral sipes and four circumferential grooves play a critical role here, channeling large amounts of water more efficiently and much faster than smaller, more shallow slits seen in other tires our team has tested.
Hence, our team experienced little water invasion on slippery terrains and even fewer rotation slides on straight drives. The sticky feel of water clinging onto rubber was not very strongly present, and it seems our tires still retained a generally communicative relationship with the steering and suspension system for even more fast-paced water evacuation.
Under heavy downfalls or storms, the hydroplaning tendency got more serious, though; one second of carelessness could have pushed our car straight into the red-flag zone, which is why Yokohama received only an 8.8 for this criterion.
3. Winter/Snow Performance: 8.2/10
Light Snow Traction: 8.5/10
Compared with the powerful Continental CrossContact LX25 or Cooper Discoverer EnduraMax, Yokohama G058 did lag a bit behind. But its winter performance is still better than the rest of the SUV touring tires we have tested, thanks to the incorporated 3D and 2D sipes deep into the tread.
The grooves and slits reacted almost instantly to the first signal of packed snow, digging deep into the slick winter roads to power the Honda Odyssey forward. Upon deeper snow of more than 6 inches, we did sense a bit of stuttering – but the tires quickly recovered even before we realized what was happening.
Minus the occasional stuck snow and hydroplaning tendencies, we felt as convenient traveling through light snow as we did on regular, cracked pavements or rougher street patches in dry conditions.
Midway through the test rides, one member of our team had the idea of swapping the brand-new Yokohama tire with a worn one (2/32 inches) to see whether the car would slide or not. The good news: it still managed, and slippage did not occur often. So even as your tire wears down over time, winter grip accidents on light snow seem quite unlikely.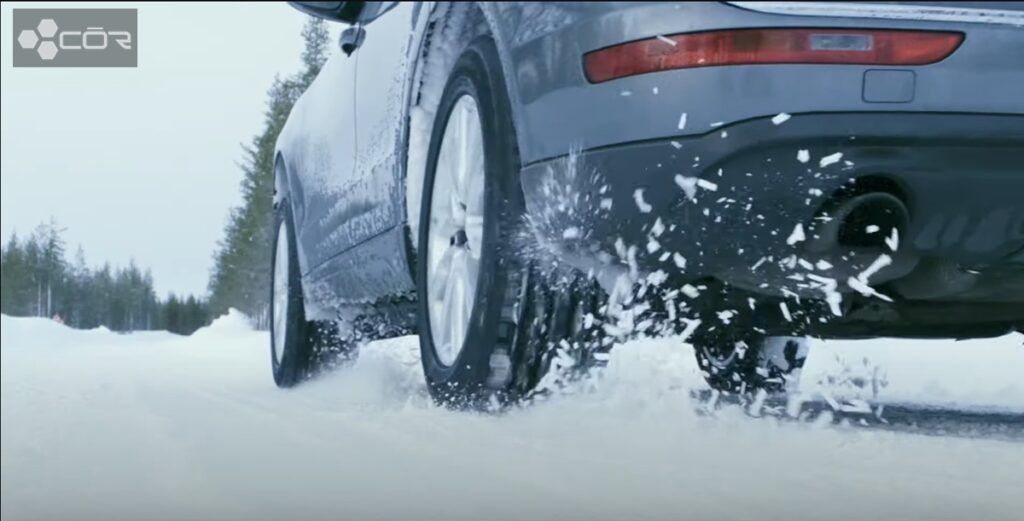 Deep Snow Traction: 8.2/10
To clarify: the Geolandar CV G058 performed better than other tires and even ranked second on the list of 105 all-season touring tires we tried. Still, we could not just ignore the very obvious struggles the tires went through as we entered the 9"-11" snow zone.
At particularly thick packed snow, our Honda Odyssey almost lunged forward in a series of startled, panic reactions. Grinding down the steering wheel helped us return back on track in no time, but we must admit accidents could happen at any second of carelessness.
In compensation, the tires felt sure-footed once they were out of the danger zone; given that the weather/temperature was favorable, Yokohama could suffice as a temporary winter tire substitute.
Ice Traction: 8/10
Surprisingly, it snatched our No.1 spot of the best SUV touring tire on icy roads. When we accepted the slippery nature of these terrains and were willing to put aside the occasional yet sudden traction loss, then there was little to complain about.
The intricate chamfered edges and rib blocks lent great support for the tire's sidewalls and remained unfazed even during our small, experimental acceleration attempts to 60 MPH. We could even go down an icy hill, given our member's skillful hands behind the wheel.
Better yet, after 1 hour of driving or so, it felt like the rubber slowly familiarized itself with the cold temperature and oily ice (given that these temps did not fluctuate, of course). Slippage and grip loss significantly reduced over time, and we were at a very comfortable driving pose by the time the test ride concluded.
4. Comfort: 8.6/10
Ride Quality: 8.7/10
The complex tread designs did quite a great job maintaining traction, but there seemed to be a bit of ride quality sacrificed.
We did not feel any bumps on generally smooth pavements or even surfaces, but bumpy, cracked roads were a different story: the tires danced around. Loading fewer cargos than usual (below 900 lbs) seemed to solve the issue for our Honda Odyssey, however.
Noise Level: 8.5/10
There were still low roars under the rubber as we plunged into light snow or wet roads at higher acceleration, but that is already a huge improvement from previous Yokohama models.
They were neither bothersome nor distracting for us; better yet, these sounds gradually disappeared on their own once the five-pitch, noise-swallowing patterns got up to work.
5. Treadwear and Durability: 9.1/10
The shoulder blocks, center ribs, and circumferential grooves support and balance each other at the same time, aided by the 2D-3D sipes that give the tire less concentrated pressure. As such, our Honda Odyssey tires remained almost unchanged after almost a day running, and we believed the same would apply to cars that travel beyond our 10-day timeframe.
Geolandar CV G058 Pros & Cons
Dry and wet performances are on par with each other
Adaptive steering response
Good footings on ice after 1 hour of driving
Very durable treadwear
Low roars (though they will eventually disappear)
Bumpy feel when loaded at more than 900 lbs on rough roads
Geolandar CV G058 Competitors & Alternative
Pitching Yokohama CV against Cooper Discoverer EnduraMax and Sumitomo HTR Enhance CX2 is a tough decision. Nevertheless, several distinct traits set them apart:
Cooper's control is the firmest and most controlled in the group. These taut qualities mean drivers could feel road imperfections more clearly, but that is not necessarily a bad thing since most bumps are singular and succinct. The tread noises did sound distinctive and a tad annoying, by the way.
Yokohama has the best braking performance, leading the other two by a long margin. Its braking distance of 50-0 MPH is 20 feet shorter than Cooper and Sumitomo. However, there is an eager understeer tendency at corners.
Sumimoto enjoys the best average lap time, as it does not require riders to carry much speed into every turn. The only drawback in this regard is Sumimoto's oversteering frequency as it reaches limits.
Conclusion
For people valuing dry and wet performances equally, this Yokohama is a good deal at $157-$248. From our Yokohama Geolandar CV G058 reviews, it is not always 100% smooth or noiseless, but can still help you cope with unexpected mishaps or lane changes with relative confidence and ease.
Light-snow performance is not half-bad, though signals of struggles become more worrying as the snow densities/ice slickness increase. The tires can serve as a winter tire replacement, but only from time to time; consider buying a full set of winter tires if you plan to drive the SUV through winter.
Yokohama Geolandar CV G058
PRICE
SOLD BY

Offers

In Stock

Offers

In Stock

Offers

In Stock

Offers

In Stock

Offers

In Stock

Offers

In Stock
---
President & Automotive Expert at COR Wheels
Robert Herrera has been with COR Wheels for 17 years and has a great passion for the automotive industry. During his time at COR Wheels, he has driven and test-driven a variety of vehicles.
---