Though off-road and snow manners apparently needed some improvement, Nitto Ridge Grappler easily established its reputation as one of the most competent performers in the rugged AT sector. Our COR Wheels Tire Test earlier this year also revealed some surprising findings regarding its traction maintenance, which will be disclosed in the following review.
In this article:
Nitto Ridge Grappler Specifications & Features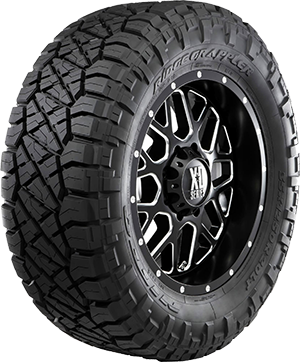 Tire Type
Rugged All-Terrain
Tire Size
16″ – 24″
Weight
37.0 LBS – 92.0 LBS
Load Index
109 – 129
Load Range
C1 – XL
Speed Rating
– Q: up to 100 mph
– T: up to 118 mph
Warranty
None
Ratings
8.3/10
Nitto Ridge Grappler is developed for pickup trucks, Jeeps, and SUVs, seeking capable off-road performances and well-balanced on-road capabilities.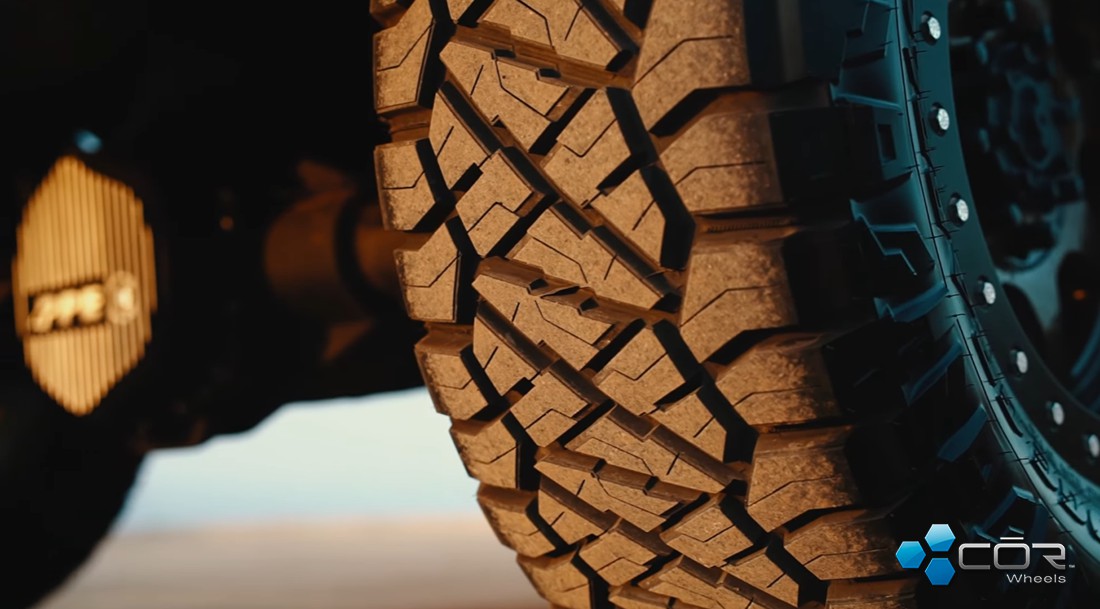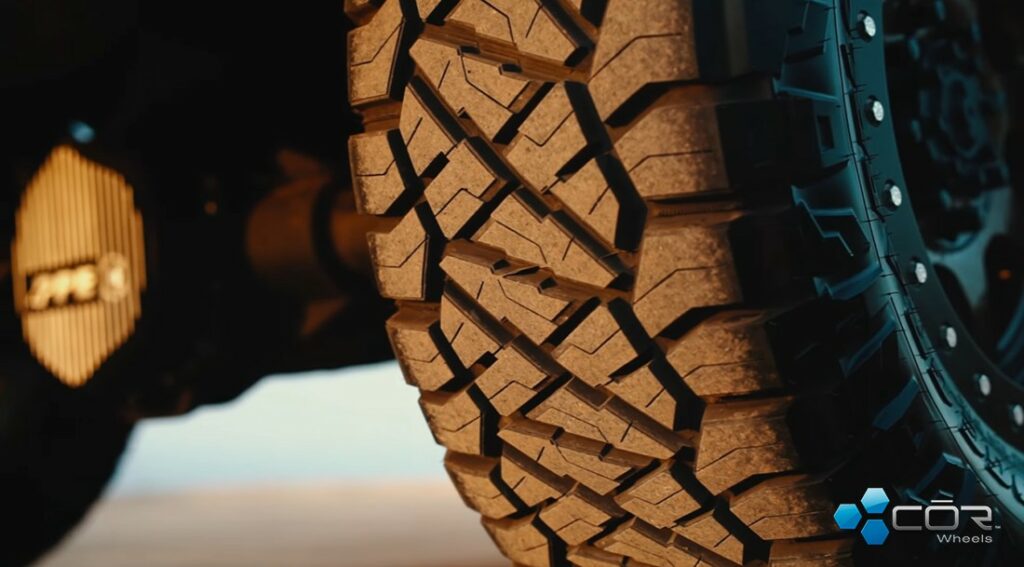 The symmetric tread compounds feature tapered edges and reinforced blocks to optimize the surface contact.
The variable pitch tread pattern with blocks of different sizes minimizes road noise.
Staggered lugs and step block edges give the tire more adventurous margins across all road textures.
The Z-patterned lateral zigzag grooves whisk water to reduce hydroplaning, aided by in-built sipes inside the blocks.
Multitudinous bites and generous void ratio support light snow composure.
Two-ply polyester casings, double steel belts, and nylon plies promote durability and higher-speed handling.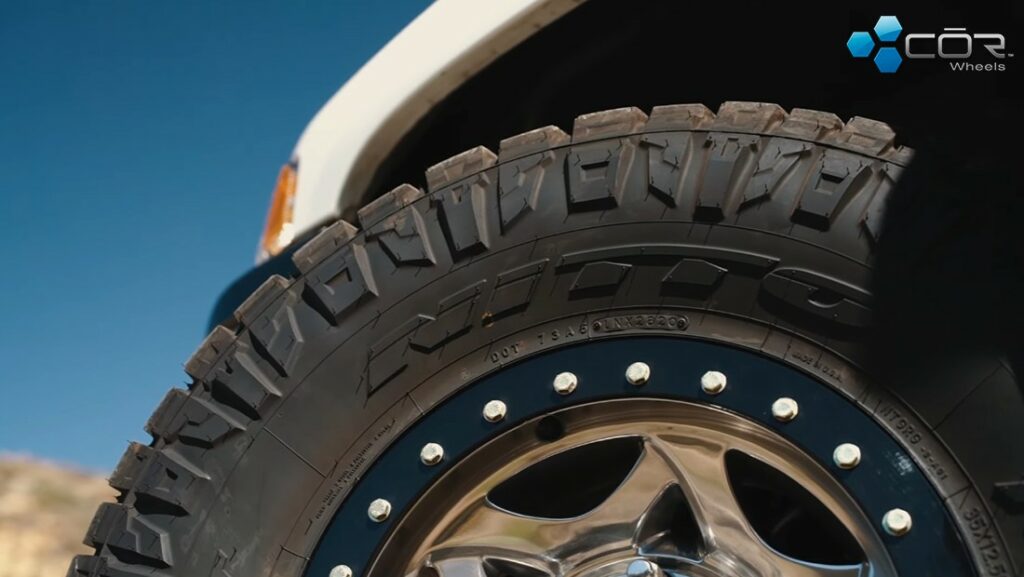 Nitto Ridge Grappler Review & Performance Test Results
As part of the 2023 COR Wheels Tire Test, our team used the 245/75R18 tire size version of Nitto Ridge Grappler on the 2018 Jeep Wrangler car model across on- and off-road terrains in January and June-July (ten days).
1. Dry Performance: 8.8/10
Dry Traction: 9.2/10
Ridge Grappler was easily one of the most outstanding contenders, gripping the road patterns with exceptional confidence rarely seen in rugged AT tires. The way it refilled traction losses and flexed out to compensate for drifting was even more stable than some touring tires we have tested, leaving little room for panic as our Jeep spiraled down the road at 40 MPH. Accelerations towards higher benchmarks (55, 60, and 70 MPH) also carried impressively smooth, exhibiting no symptoms of muted contact points despite our intentionally abrupt veering.
This road tire performed just as delightfully – if not a tad better – on highways. What was considered a minor over-reaction on regular streets fit great with the highway's asphalt, resulting in breezy and non-dramatic strikes through lane merges and departures. Our team also had a pleasant experience with tight and extended curves, even managing spirited revs midway without burnouts and downright plummets.
Cargo beyond 700 lbs did admittedly give the contact patch more pronounced drags. Fortunately, other than that trivial downside, there is little else you should worry about.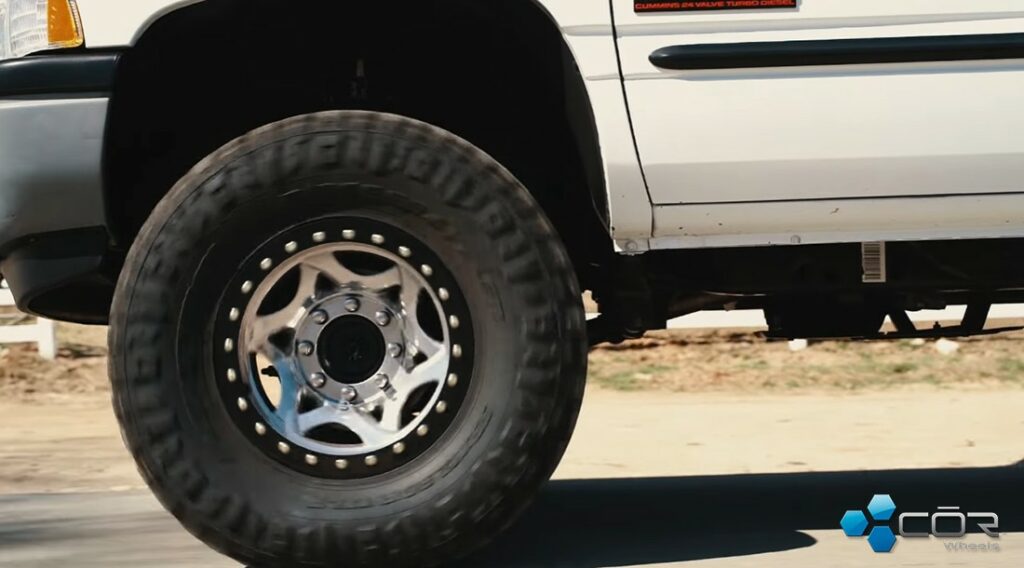 Corner Stability: 8.6/10
The tire was quite a delight around corners. Gentle wide crooks were obviously a given, but even back-to-back esses did not send the car fumbling. We hugged the liners tight, stayed closely aligned with the directional approach angle down to the exit points, and easily applied moderate changes (slight veering or a bit of acceleration) midway without much issue.
Still, compared to the tire's impressive aggression on straight-line roads, you may still find the occasional hesitation around the flanks and understeering accidents quite annoying.
Steering Response: 8.6/10
Grappler satisfied us with punctual and responsive feedback on straight-line endeavors; instances of delayed responses were very few and far between, minus rare occasions when the sidewalls did not react too well with the rough road textures. Better yet, it did not grow fainter or muter throughout accelerations, allowing us ample chances to experiment with different push-pull techniques without putting the car's momentum at risk.
On another note, you still have to look out for the slight steering dip at tight corners, which, as mentioned, sometimes did not deliver proper responses to understeering and brief drifting issues.
2. Wet Performance: 7.9/10
Wet Traction: 7.8/10
Ridge Grappler controlled stutters well on shallow puddles at 20 to 35 MPH, capable of handling cargo of 100 to 250 lbs. Unfortunately, that seemed to be the only instance when Grappler's wet composure truly reached its perks; our other attempts fell quite flat due to the constant, easily-triggered panic, getting even worse as we entered deep stagnant water beyond 4 inches.
Needless to say, cornering attempts were no longer as effortless as in dry road conditions. Our Jeep had to wrestle itself to recover from oversteering, so it would be better if you choose a slightly wider corner entry – or just avoid complex road twists altogether.
Hydroplaning Resistance: 8/10
While we still had issues with hydroplaning at corners and deep water, it did not affect our riding consistency as severely as we expected. In fact, with strategic alterations between downshifts and decelerations – while keeping our driving rates not too far from 40 MPH – we almost managed the same smooth cuts as on dry roads. Serious stutters only occurred at highway limits or when directional changes were applied too abruptly.
Muted steering feedback was not much of an issue, either, though you could definitely boost them further by reducing cargo to below 100 lbs. Traveling alone or with only 1-2 passengers is also recommended.
3. Off-road Performance: 8.5/10
Dirt Traction: 9/10
Ridge Grappler surpassed all expectations on off-road gravel terrains. Its clawing at particularly tougher dirt was so stable and consistent we almost felt like returning to on-road streets; hence, regular driving rates below 55 MPH bonded instantly with the tire's shoulder grooves and aggressive sidewall lugs like they belonged. Our team had no trouble taking wide corners, avoiding roadblocks, and trampling over slightly wetter patches, minus a few protests during unplanned decelerations that could easily be tuned out after a while.
Our experiment with rough mountain passes also went on quite non-dramatically. The graded, angled ascents made Grappler stumble and drift at first; fortunately, after only several minutes, the contact points found their footings and settled well into the terrains.
100 to 250 lbs is the safest range for cargo weight, but feel free to raise the bar to 300 or even 400 if you have the required physique for the task.
Rock Traction: 8.8/10
The rock's gritty textures took quite some time to fully embrace Grappler's rather simple-designed interlocking sipes. But once the initial estrangement was over, Nitto Ridge proved to be a stellar player in its game, sliding and thudding with confidence at 40 to 55 MPH.
Cornering attempts only posed real trouble during zigzag, back-to-back switchbacks and remained smooth otherwise, even regaining some of its on-road edges when we chose a more gentle corner entry to dive in. Like on dirt roads, you should do well with cargo weights of 100 to 250 lbs.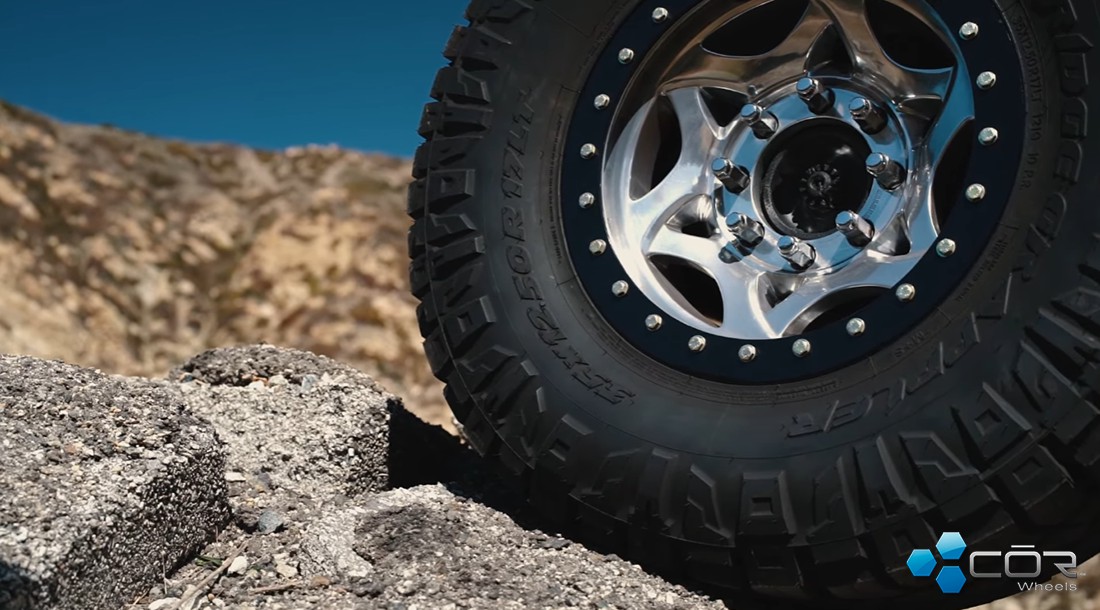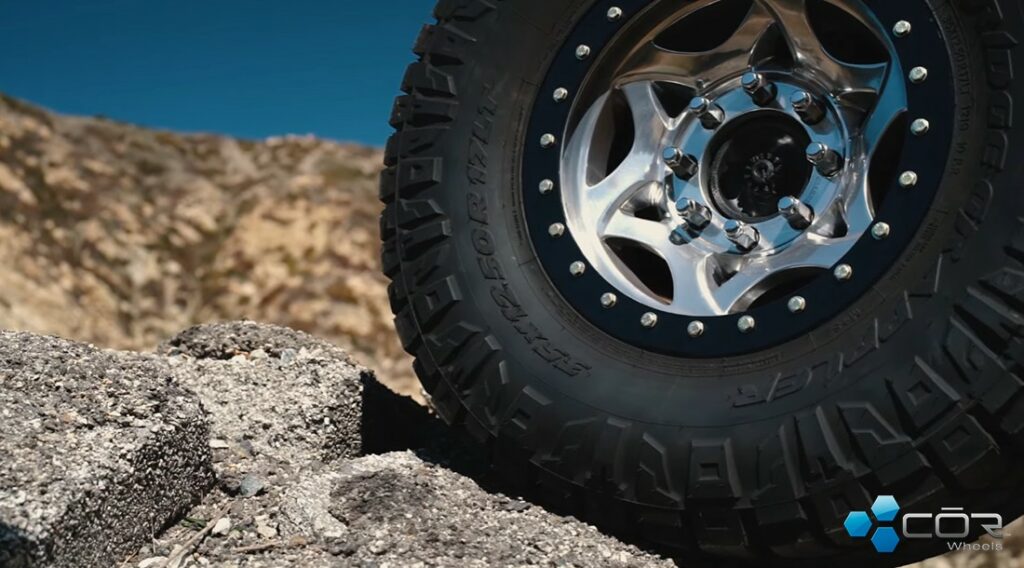 Mud Traction: 8.1/10
The significant lack of composure (compared to dirt and rock terrains) was obvious due to the absence of loose-surface-oriented features. Fortunately, at 25 to 30 MPH, Grappler still controlled its stutters well enough to ensure no safety compromise for most of our straight-line endeavors. You could also maintain somewhat tolerable momentum through most muddy trail corners – though, judging by our Jeep's clear hesitancy at chicanes, it would be much better to use extra force on the steering wheel in such cases.
Sand Traction: 8/10
Ridge Grappler carried its mud traction into the sand, although we did notice more frequent panics for the latter; Grapper's grooves and sipes still lacked the required optimization to clean soft, small sand particles with better refinement.
On a brighter note, moderate dunes with consistent textures seemed to bond quite well with Grappler. You will likely have no significant issues finding the right momentum here – and, in favorable conditions, can even rev to 50-55 MPH without violent coughs.
4. Winter/Snow Performance: 7.6/10
Light Snow Traction: 7.9/10
For a non-winter tire, Nitto Ridge Grappler was not half bad. The panic shudders occurred mostly around corners, wetter snow packs, and highway curves at driving rates beyond 45 MPH. Otherwise, you could trust the tire to compose its footings decently (especially on well-paved roads with no twists), gaining even more confidence when cargo was removed and snow chains entered the picture.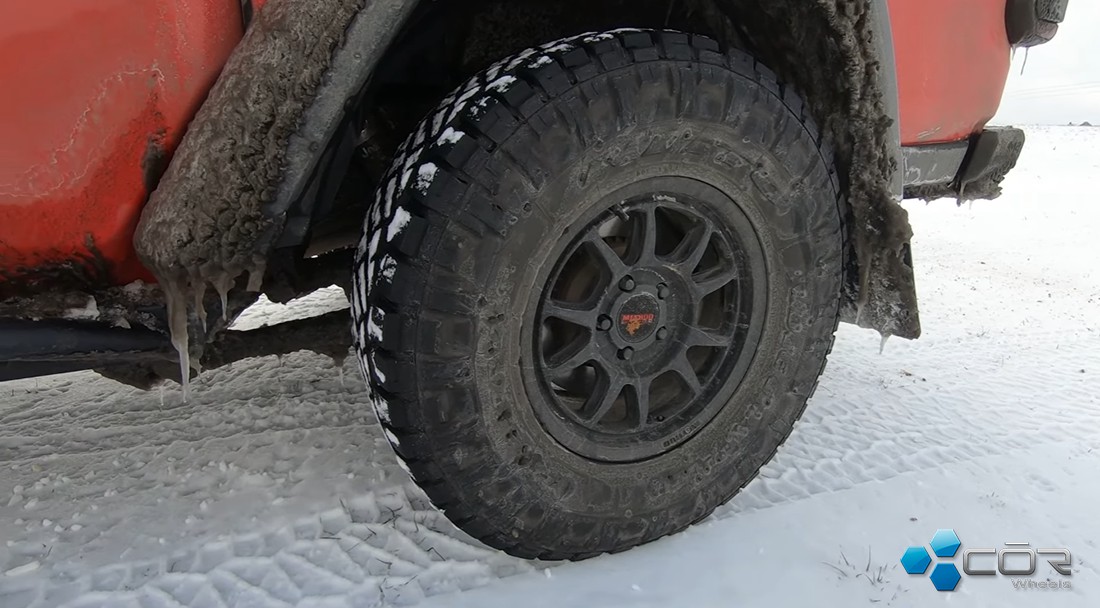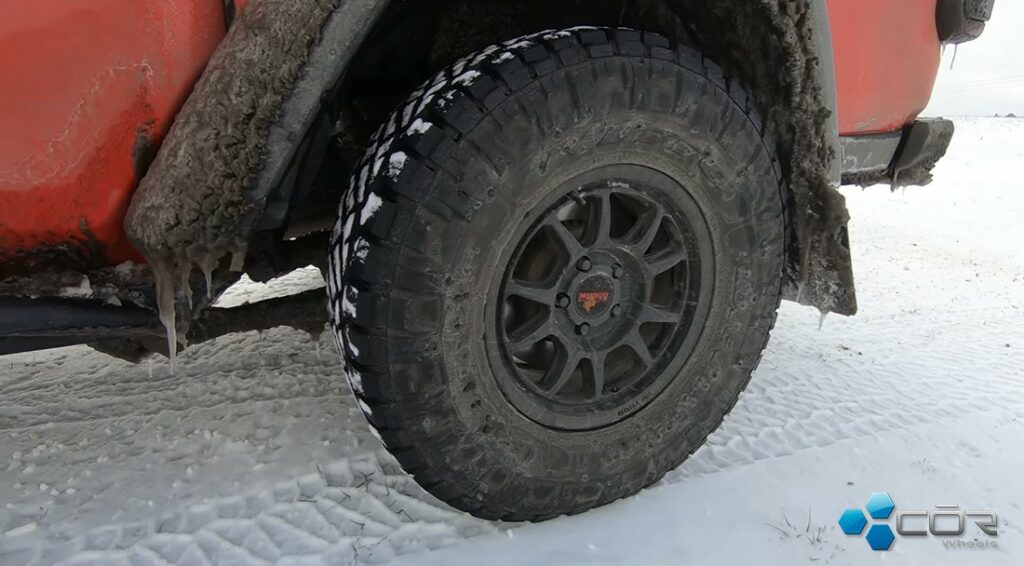 Deep Snow Traction: 7.9/10
There is surprisingly not much difference between Grappler's behaviors on light and deep snow – guaranteed that you also drive below 45 MPH on these terrains. Tire-road connections were still present most of the time despite the frequent over-reactions, which gave us clear signals to Grapper's immediate responses around gentle curves or non-challenging veering.
As such, no jostles truly went out of line, even subsiding slightly with the help of snow chains. You can use it as a temporary winter tire for short distances (5 to 20 miles) or in warmer weather.
Ice Traction: 7/10
With little to no extra bites on ice, Ridge Grappler clearly suffered a lot from back-to-back coughings, even on straight roads. Fortunately, it was not entirely unrideable, still managing somewhat acceptable footholds when the car kept itself below 15 MPH. Plus, by pulling over every 30 minutes to give the tire some resting time, you should be able to do well on moderate trips of 5 to 7 miles on thick ice buildups.
5. Comfort: 8.6/10
Ride Quality: 8.7/10
Ridge Grappler exuded great confidence and impact handling on dry roads and off-road dirt, resulting in only some faint jostles that are barely noticeable once you get used to the sidewall's daily behaviors. We only had minor complaints about Grappler's road manners in wet and winter conditions, which did not exactly deliver a cushioned feel around corners and through texture transitions.
Noise: 8.6/10
Nitto Ridge Grappler easily topped the entire list in this regard; most of its tread noises were faint, low-key rumblings that grew more and more distant once we decided to keep the driving rate unchanged. Heavier cargo (500 lbs above) did seem to press the footprint further onto the roads, but even the squeaking resulting from such contact was trampled down quickly using consistent push-pull.
All in all, this tire will more than suffice if you are not extremely noise-sensitive.
6. Treadwear and Durability: 8.5/10
The tire seemed to cave in more often than not in heavy storms and cold rains – but surprisingly held its ground well during freezing winter temperatures. We also spotted little issue during overheating summer days or through fast-paced traveling on off-road dirt, which explained why the tire remained mostly intact at the end of the test. You should likely have at least four to five years of convenient usage after the tire purchase.
Nitto Ridge Grappler Pros & Cons
Exceptional dry traction
Stable cornering and steering responses
Very confident on off-road dirt and rocks
Very comfortable rides
Consistent traction through both light and deep snow
Good tread life
Traction on loose terrains could be better
Struggling on ice
Underwhelming wet-road traction
Conclusion
The tire's impressive confidence on dry roads and off-road dirt easily tops the entire list. Its road manners through off-road rocks and loose terrains were also pretty good – not to mention the decent footings during wintertime.
Hence, minus a bit of frequent slippage in wet weather seen in our Nitto Ridge Grappler tire review, this all-terrain tire was almost unbeatable, only ranking behind Cooper Discoverer Rugged Trek as one of the best rugged AT tires to date.
Nitto Ridge Grappler
PRICE
SOLD BY

Offers

In Stock

Offers

In Stock

Offers

In Stock

Offers

In Stock

Offers

In Stock
---
President & Automotive Expert at COR Wheels
Robert Herrera has been with COR Wheels for 17 years and has a great passion for the automotive industry. During his time at COR Wheels, he has driven and test-driven a variety of vehicles.
---