When it comes to Cooper tires, the Discoverer SRX might not be as popular, but its well-designed tread and consistent traction still make it one of the best fits for SUVs and crossovers.
Our COR Wheels team has included the Cooper Discoverer SRX in our 2023 test to assess its handling and traction on different terrains and driving conditions. Scroll down for a detailed review!
In this article:
Cooper Discoverer SRX Specifications & Features
The Cooper Discoverer SRX is designed for crossovers, SUVs, vans, and light trucks that seek great tread life, riding comfort, and good year-round traction.
The all-season, high-silica compound features a symmetric pattern, allowing easier cross-rotation and more even wear.
Its StabilEdge Performance Tech reduces excessive tread block movement, enhancing stability and handling on dry tracks.
The competition-grade resin, combined with the Micro-Gauge 3D sipes, improves wet traction and promotes a stable foundation during cornering, braking, and accelerating.
Intermediate and center ribs (with numerous independent tread blocks) create more biting edges for inclement weather conditions.
The polyester, two-ply casing balances riding comfort and durability.
Double steel belts (reinforced by a nylon cap ply) enhance higher-speed capability and stabilize the tire tread.
Cooper Discoverer SRX Review & Performance Test Results
We installed the 245/75R17 tire size version of the Cooper Discoverer SRX on our 2016 Chevrolet Silverado as part of the 2023 COR Wheels Tire Test. 
1. Dry Performance: 8.9/10
Dry Traction: 9/10
We were pleased with the Discoverer SRX's great dry traction. True to its name, the StabilEdge Performance Tech, coupled with 3D sipes, stabilized the tire well, so we had no trouble navigating roadblocks and weaving through heavy traffic at 40 MPH. Acceleration was also smooth, evident in the minor slippage when we revved to 50, 55, and 60 MPH, respectively. Even heavy cargo of 1000 to 1500 lbs could barely dampen this impressive stability.
You will also have a very pleasant experience on highways. Our tire remained confident on these roads and suffered from no gliding or slippage when going through long, tightly spaced curves. It also dealt well with steep ascents and descents, with only brief shudders that could be easily controlled with a firm grip on the steering wheel. 
The Silverado was not as stable after we exceeded 75 MPH. However, traveling at high speeds is not the priority of most SUV/crossover drivers, so this drawback will not likely affect your driving experience much.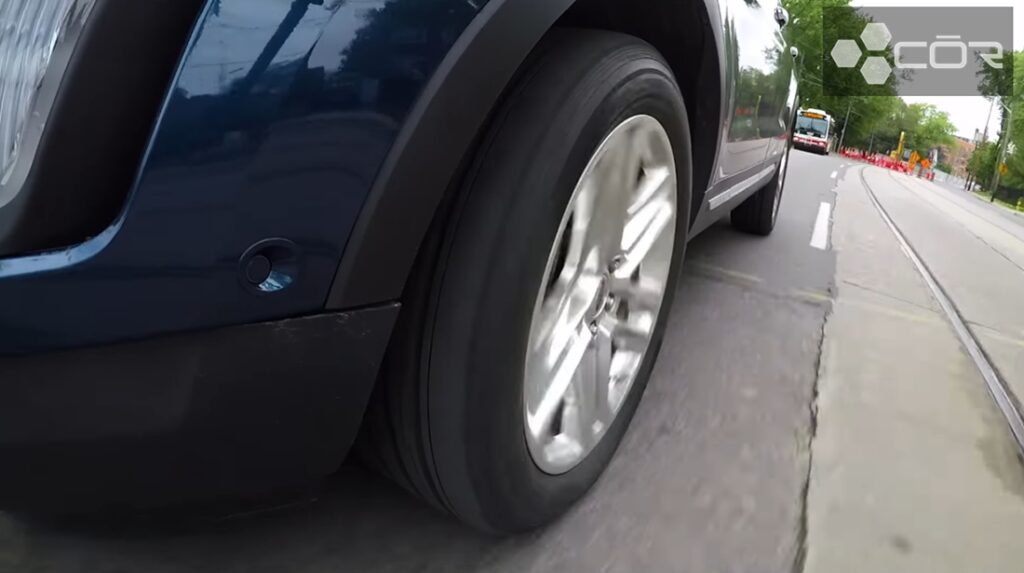 Corner Stability: 8.8/10
The tire's 3D sipes and resin did a great job. They supported the on-center ribs well while keeping slippage at a minimum, so the Discoverer SRX rarely lost balance or traction when cornering at 40 to 45 MPH. Hard braking and abrupt acceleration only resulted in minor jostles and harmless understeering. Even as a beginner, you will likely have little trouble controlling your steering wheel and pedals here!
On another note, the tire dragged more than we expected when transporting cargo heavier than 1200 lbs. We had to exercise more caution when driving at 75 to 85 MPH. If you're not careful, the frequent shaking under the contact patch might throw you off guard.
Steering Response: 8.8/10
The Discoverer SRX delivered slightly delayed feedback when we sped up to 75+ MPH or carried more than 1000 lbs of cargo.
Fortunately, even in those cases, the tire did not pose a significant risk. Once we returned to regular driving speeds (around 55 MPH) and reduced our cargo to below 1000 lbs, its steering response was quick and impressive.
Even when you experiment with diverse steering techniques, your car still reacts promptly to unexpected road imperfections or obstacles. Aggressive steering around tight corners is also acceptable, with quick responses and very few overreactions.
2. Wet Performance: 8.7/10
Wet Traction: 8.7/10
Our Silverado often slipped around tight corners and in deep water (beyond 8 inches). Traveling at speeds higher than 70 MPH also reduced the contact patch and caused the on-center ribs to waver. Be careful if you are a fresh beginner.
But other than that, the Discoverer SRX handled wet roads just as effectively as dry roads. We could maintain the same stability and traction at 40 to 50 MPH. Better yet, the slippage and shudders grew less noticeable the longer we rode, almost disappearing when we kept our cargo below 500 lbs.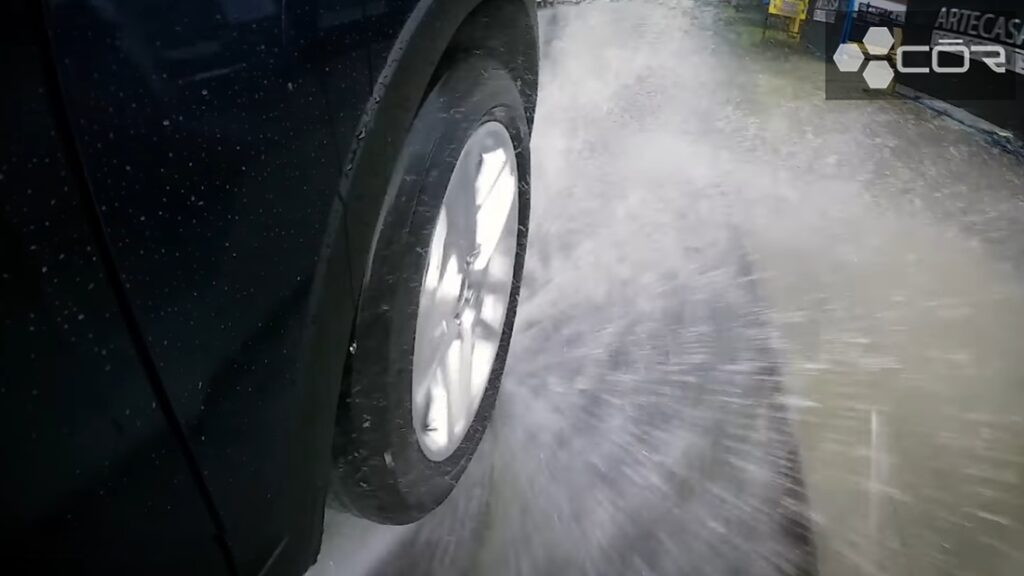 Hydroplaning Resistance: 8.8/10
The SRX's grooves and sipes might not help you eliminate hydroplaning completely in water deeper than 9 inches.
Apart from that, its water distribution was still impressive and effective, preventing the intrusive rainwater from covering the footprint and causing traction loss. The stable foundation created by the 3D sipes and resin also contributed to consistent tire rolling, channeling water quite evenly under the contact patch. As a result, our rides remained breezy and uneventful at any driving rate below 75 MPH on both straight and winding roads.
3. Winter/Snow Performance: 7.4/10
Light Snow Traction: 8.1/10
Although Cooper paid little attention to snow traction, the Discoverer SRX was very well-controlled on light snow below 4 inches deep.
The brief shudders and traction loss only occurred at the beginning of our ride and became less frequent as we continued. Its intermediate ribs also remained sturdy under cold temperatures to minimize vibrations.
Your car may struggle when driving at 50+ MPH – but even then, a couple of snow chains can easily handle those issues on straight roads. Be more careful with the slippage around tight corners, especially if your cargo exceeds 600 lbs.
Deep Snow Traction: 7.2/10
Although the Discoverer SRX was rideable on deep snow, the shuddering and shaking was still pronounced. Accelerating beyond 45 MPH resulted in significant over-reactions and severe slippage, so we had to keep our speed between 35 and 37 MPH only.
You can still go through gentle curves, but tight corners and off-camber bends are quite challenging, even with snow chains. Ascending or descending wet, snow-covered slopes are not highly recommended, either.
Ice Traction: 6.9/10
The SRX's ice traction was definitely not excellent, but it was decent to some extent. When driven at 20-25 MPH, our Silverado could still handle thick ice buildups and road cracks well without drifting too much. In warmer weather (or on well-paved roads), it could even gradually accelerate mid-corner while carrying 200 to 300 lbs of cargo.
Still, the SRX's steering response was less crisp after 2 hours of riding. That's why you should not use this all-season tire for long trips on icy roads. If you really have to, remember to let the tires rest every 30 to 45 minutes.
4. Ride Comfort: 8.1/10
Ride Quality: 8.3/10
The Discoverer SRX still annoyed us with frequent shudders and vibrations on large road cracks. But on a brighter note, maintaining consistent push-pull and moderate driving speeds (30 to 45 MPH) could reduce them to a certain extent. You will also have quite a smooth ride on paved roads when carrying less than 500 lbs of cargo. 
Noise: 8/10
Aside from the deafening squeaking during sharp turns, tight corners, or ascending/descending, the Discoverer SRX was generally quiet, absorbing noise pretty well. Even on thick ice and deep snow (the tire's weakest points), its tread will not screech as loudly as you might expect.
5. Treadwear and Durability: 8.1/10
The Cooper Discoverer SRX revealed its weaknesses under cold temperatures; it also needed some improvement to navigate sharp rocks and debris more smoothly without affecting the tread.
Still, this tire handled strong steering inputs well and could reach extreme highway limits (even when loaded heavily) without wearing down. So as long as you keep traveling at 30-50 MPH on straight roads and through gentle corners, the tire should last longer. Not to mention, the competitive 75,000-mile (for S and T speed ratings) or 70,000-mile (for H speed rating) warranty is the cherry on top. 
Cooper Discoverer SRX Pros & Cons
Great traction and cornering in dry conditions
Precise and responsive steering feedback
Controlled on wet surfaces
Long treadwear warranty (70,000 or 75,000 miles)
Quite decent on light snow
Struggling on deep snow and ice
Muted steering response at 75+ MPH
Noisy at corners and during ascending/descending
Conclusion
The Cooper Discoverer SRX performs well in both dry and wet conditions, especially during low-speed rides. Its wintertime traction is definitely not the best, but you can still travel on snow 2 to 6 inches deep with a decent grip when using snow chains. Note that the tire might be quite noisy around tight corners or on steep slopes, however.