Judging by the focused patterns and advanced sipe designs, Yokohama Geolandar M/T G003 seems like a great formula for victory. Positive feedback has been flooding since release, though where the tire fits into the competition is still a question that needs more investments.
Our COR Wheels team finally had the chance to test and review G003's latest models in January and June/July this year. Scroll for our summarized findings.
In this article:
Geolandar M/T G003 Specifications & Features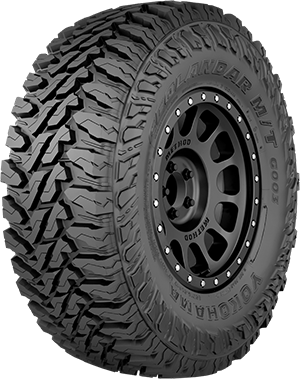 | | |
| --- | --- |
| Tire Type | Off-Road Max Traction |
| Tire Size | 15″ – 22″ |
| Weight | 41.05 LBS – 86.95 LBS |
| Load Index | 100 – 129 |
| Load Range | C1 – F2 |
| Speed Rating | – Q: up to 100 mph |
| Warranty | 45,000 miles |
| Ratings | 8.7/10 |
The tire is dedicated to SUVs, Jeeps, and pickups that need extended off-road capabilities without compromising wear, noise, and wet traction.
High-density Triple Polymer compounds improve off-road grip and on-road manners.
Ample void areas featuring pitch variations and block orientations reduce obtrusive on-road noises.
In-block sipes combine with the Polymer compound to offer wet confidence.
Sidewall Armor (including upper sidewall lugs and over-shoulder blocks) resists punctures while seeking available traction on loose terrains.
3 polyester plies (2 plies for C tire versions) add durability by wrapping around strong hexagonal beads to shape the casing.
Twin steel belts and full-width reinforced nylon caps strengthen the internal structure.
Yokohama Geolandar M/T G003 Review & Performance Test Result
Our team tested the 265/70R17 tire size version of Yokohama Geolandar M/T G003 on the Jeep Grand Cherokee as part of the annual 2023 COR Wheels Tire Test.
1. Dry Performance: 9/10
Dry Traction: 9.2/10
G003 exceeded all our expectations on dry roads, showcasing boundless confidence at 50 MPH just about 1-2 minutes into the ride. Straight-line driving on clear roads was an obvious non-issue, but even our encounters with pebbles and debris near construction sites exhibited very little stuttering. G003 gripped the surface well during our abrupt veering and recovered back on track just as fast.
Hence, we saw no reason not to rev straight to 75 MPH while moving to highways. G003 did falter around the flanks like most off-road tires at highway speeds – but much fainter than its competitors – and managed to squeeze out a bit of extra clasp when we ground down the steering wheel.
Navigating around multi-lane patches was a breeze, too; G003 pulled at near stops with sufficient self-awareness (neither too forceful nor too soft) and gained great momentum before joining other vehicles on another lane.
Nevertheless, the contact patch did overreact when we tried to counter an unwanted skid on highway S-curves, gripping the surface much tighter than necessary.
Corner Stability: 9/10
All our cornering attempts breezed through uneventfully; the on-center ribs felt too stable to instill any ominous leans or off-angled strikes. It tackles wide-radius corners with just as much confidence as on straight roads, remaining impressively composed as our team accelerated to 60 MPH to dive into carousels.
But slalom curves did still prove to be G003's slightly weaker points. With alternating right and left turns, G003 coped well in the first 4-5 miles but started to feel burn-out around the edges afterward.
Steering Response: 8.6/10
The tire had great, punctual responses capable of handling most basic situations at any given speed between 40 and 60 MPH. Gentle turns and S-curves proved to be just the right place for G003 to fit in despite minimal inputs, which gives us much more confidence to try out adventurous corner cuttings (or sometimes blind crooks).
Still, G003 did need better adaptability in steering situations where multiple techniques had to be alternated back to back, such as on double apexes. While the experience was generally not dangerous, brief delays between transitions happened very frequently and worsened the nearer we got to the exits.
2. Wet Performance: 8.7/10
Wet Traction: 8.6/10
We were pleased with G003's polished road manners on wet pavements. Sure, lots of dry-road confidence had been stripped off, but what was left was still more than enough for us to tackle water below 6 inches in little drama, given consistent driving rates between 40 and 50 MPH with few abrupt changes.
Dogleg corners were a breeze with very minimal input requirements; we only needed to apply more force than usual when diving into chicanes.
However, G003 started to reveal more hesitations in coping with higher water volume beyond 6 inches, downright coughing if it rose above 9. We did not have much luck with bridge decks, either – since their thin, slippery road materials seemed to be an ill fit with G003's void area.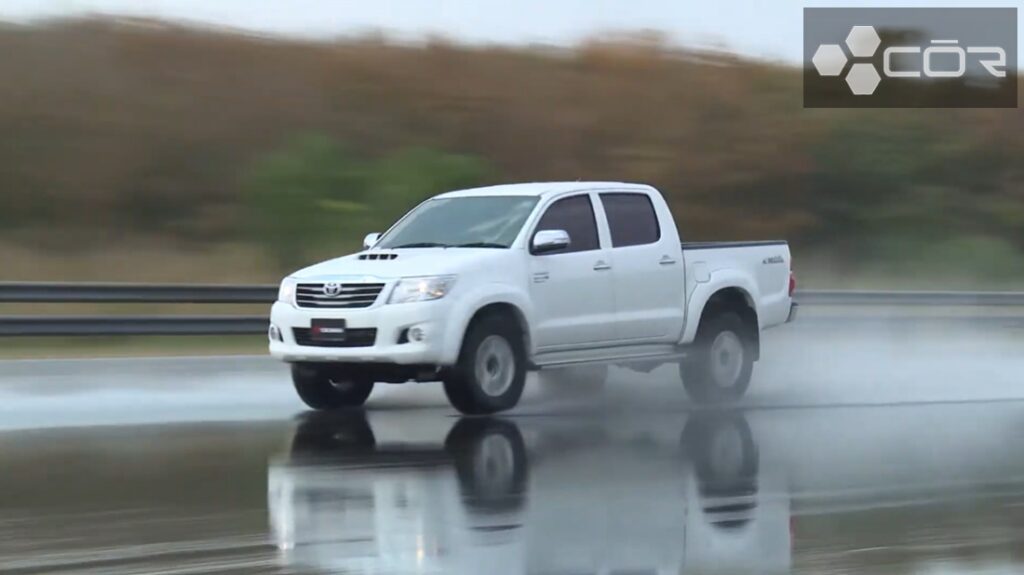 Hydroplaning Resistance: 8.8/10
Hydroplaning was not really a risk for us, mostly kept within control thanks to the capable siped blocks. Rainwater grazed the barest edges of the grooves on straight, clear paths and lingered a bit around corners – but not for long – hence our non-dramatic speed fluctuations between 35 and 65 MPH.
Dashes of heavy rain and post-winter snow still tripped us a little when the steering wheel got too slack, though. And deep water beyond 6 inches required more processing time inside the grooves, causing some water to seep in during U-turns.
3. Off Road Performance: 9.4/10
Dirt Traction: 9.6/10
The G003 was extremely powerful on beaten dirt roads. The tire-road connection was established after the very first bites at 45 MPH, treading through sticky, inconsistent textures with blinding forces that swallowed all the weak traction loss around tire contours.
Rutted roads with looming threats of deep harrows could not leave a scratch on G003's strong, triple Polymer compounds, either. Throughout our whiplashing accelerations towards 70 MPH, the worst that happened was the slightly heavier thuds as we stepped on rough patches. Even quick, closed-spaced chicanes (previously proving challenging for on-road pavements) were very easy to handle.
It was hard to find a real major turn-off. Some of our members did complain about the jitters on washboard paths, but they were far too unpredictable and infrequent to be considered a recurring downside.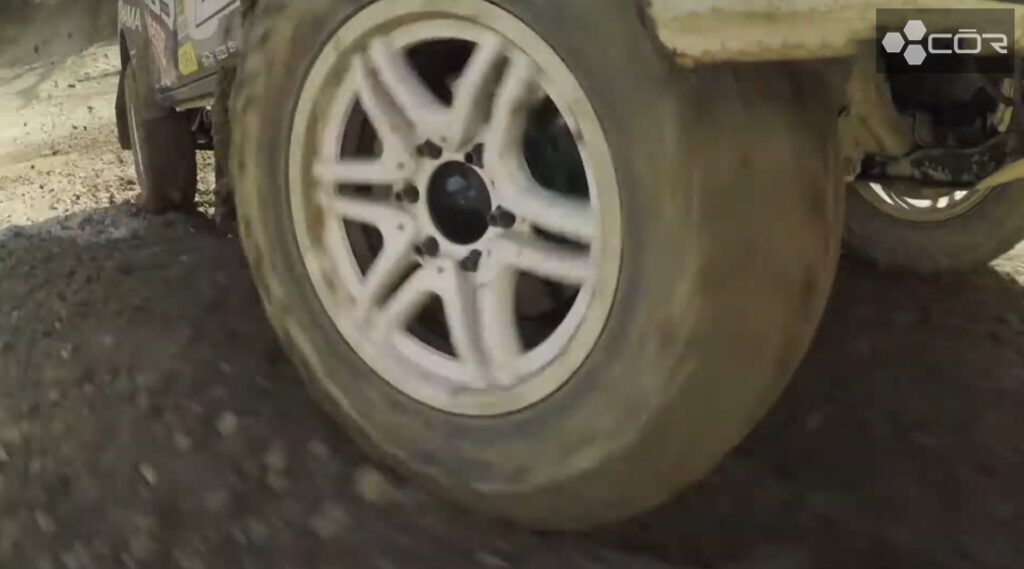 Mud Traction: 9.5/10
The sidewall lugs and over-shoulder tread blocks did a stellar job with mud-terrain evacuations. It neither bogged down nor hesitated at thick, clammy puddles and trampled on just as it did with off-road dirt – only taking slightly more time to shrug stickier mud off.
Even very deep clay pits only stalled this mud tire in three seconds tops, hence our confidence to speed up to 70 MPH after only 2-3 miles.
Nevertheless, constant switchbacks did wear it out a little, as the grooves had to deal with both back-to-back steering changes and mud redirection simultaneously.
Rock Traction: 9.4/10
G003 rolled through slippery rock slabs with no problem, clasping onto the sharp stones and pebbles with surprising confidence (even for off-road tire standards) at 50 MPH.
The tire required very little input to curve itself into long, exhausting sweepers, and soon established enough equilibrium to jump through several thresholds at a time and reach 75 MPH. Head-to-toe shifts were already smooth on off-dirt and became even more airy here, almost feeling like floating.
Nevertheless, we still had to err on the safer side once our Jeep stepped onto rock staircases. The stacked rocks (hence the name "staircase") left more gaps for road traction loss, requiring extra caution and emergency brakings whenever our tire placement went astray.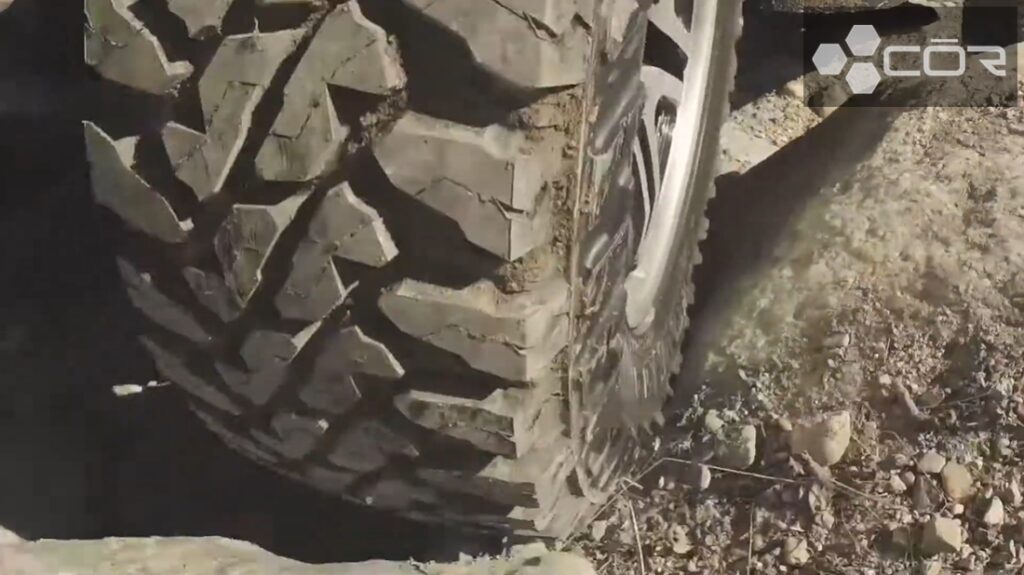 Sand Traction: 9/10
Slip faces with steep ascents usually required specialized tires, but we drove spectacularly at 60 MPH with Geolandar G003. The contact patch admittedly lacked the headstrong, almost stubborn grip found on rock and dirt, but was still more than enough to ensure predictable marching here.
Skitters only crept around the edges and got whipped out just as quickly, so even our new members paid no mind at all to the lurking slippage risks.
Still, G003 would have had even better ratings if it performed more consistently on coastal sands. These particles stored much higher moisture content than regular sand and hence, did throw our Jeep slightly off-track at corners and tight bends.
4. Winter/Snow Performance: 8.2/10
Light Snow Traction: 8.8/10
G003 lacked the same self-awareness on mud and sand, but it still performed impressively well on snow for an off-road tire. 50 MPH roundabouts were already pretty easy even without snow chains, rarely losing touch with the contact patch and managing punctual, accurate responses whenever abrupt maneuvers were required.
We had slightly more trouble with scree slopes; the addition of gravel and pebbles to 5-inch snow made it harder for the grooves to maintain consistent self-cleaning rates.
Deep Snow Traction: 8.9/10
G003 was a delight here, as the flat, wide contact patch gave it much better flotation than on light snow. The tire rubbers did stall for the first 5-6 seconds due to the extra temperature increase but soon unfroze to settle its footings, carrying the Jeep forwards in breezy, light-hearted speed surges towards 57-58 MPH.
Going off track towards rutted roads remained just as effortless due to the aggressive tread patterns. Unfortunately, we started to experience much more fatigue and muted feedback after 2-3 hours of non-stop driving.
Ice Traction: 6.7/10
Contrary to its shining snow performance, G003 ranked second to last when it came to longitudinal traction on ice, already tripping over thin air on very little ice buildups. We assumed that the aggressive construction became stiffer and lackluster on the cold ice.
Even high-speed straight driving already proved difficult – let alone highway cornerings or off-road paths – hence our decision to keep things below 25 MPH.
5. Comfort: 8.2/10
Ride Quality: 8.4/10
G003 was not exactly bumpless, but it knew how to cushion road imperfections in ways that struck off as non-annoying. Given consistent steering and less cargo/passenger, we actually managed a pretty comfortable ride on paved grooves at 40 MPH and even retained impressive resilience at zigzag corners.
Noise: 7.9/10
Geolandar G003 was not quiet but not screechingly loud, either. It actually led other competitors by a long slide here, with tolerable, well-kept rumblings under the tread that only grew more pronounced at highway speeds or very wet surfaces. Other than that, the noises rarely felt disruptive.
6. Treadwear and Durability: 8.9/10
No other off-road max traction tires on the market could beat G003's very satisfying treadwear. Sharp rocks and steep ascents could barely scratch the outer edge of the Triple Polymer, high-density compounds – let alone get deeper into the grooves to shred off the tread depth.
Colds and freezings in winter were here and there but did not leave any real impact; no wonder the tire stayed almost 100% intact after our test rides. Of course, we can't expect an off-road tire to last as long as other touring tires.
Yokohama Geolandar M/T G003 Pros & Cons
Exceptional and very incredible off-road qualities (especially on dirt and mud)
Very good dry traction
Satisfying traction on wet road surfaces
Handle snow well
Great treadwear
Best riding comfort in the competition; fairly quiet ride
Horrid on ice terrains (ranking second to last)
Not dealing well with slippery bridge decks or water beyond 9 inches deep
Conclusion
Except for ice traction, the M/T G003 had no competitors in every metric. Its off-road qualities were near perfect (the 9.6 scores on dirt said it all), and even wet on-road pavements could not make its biting edges falter one bit.
To conclude this Yokohama Geolandar M/T G003 tire review, this mud-terrain tire will be the best assistant for your SUVs and pickups all year round in every season and weather (minus harsh icy roads), catering to both leisurely and spirited driving just fine.
Yokohama Geolandar M/T G003
PRICE
SOLD BY

Offers

In Stock

Offers

In Stock

Offers

In Stock

Offers

In Stock

Offers

In Stock
---
President & Automotive Expert at COR Wheels
Robert Herrera has been with COR Wheels for 17 years and has a great passion for the automotive industry. During his time at COR Wheels, he has driven and test-driven a variety of vehicles.
---