Commercial traction tires for on-/off-road terrains like Goodyear Wrangler DuraTrac have been all the rage in recent years. Its on-road qualities might be a tad behind all-terrain tires, yet drivers have great faith in stable tread blocks, large shoulders, and wintry-biting edges regardless.
Our review regarding its performance testaments from the 2023 COR Wheels test will discuss its real-life treadwear, traction, cornering, and more. Scroll for details!
In this review:
Goodyear Wrangler DuraTrac Specifications & Features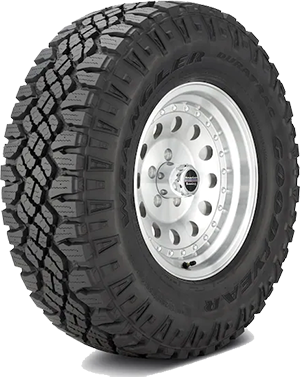 Tire Type
On-/Off-Road Commercial Traction
Tire Size
15″ – 22″
Weight
28.0 LBS – 76.0 LBS
Load Index
100 – 129
Load Range
C1 – XL
Speed Rating
– H: up to 130 mph
– T: up to 118 mph
Warranty
50,000 – 65,000 miles
Ratings
8.3/10
Goodyear Wrangler DuraTrac promises optimal fits for multi-purpose vehicles during on- and off-road ventures alike, such as sport-utility cars, vans, full-size pickups, and other commercial vehicles. They combine standard stability with extra off-road capability using the following key features:
Rugged tread compounds with symmetric design resist tearing, chunking, and chipping under heavy loads
Large shoulders and angled centers are combined to improve dry/wet traction and stability
Stepped, self-cleaning shoulder blocks, TractiveGroove technology (planted under the grooves), and zigzag sipes offer thousands of extra biting edges in snow and mud (granted the 3PMSF symbol for most tires)
Rim locks prevent wheel slips, while the built-in protectors keep the wheels from accidental damage.
Metal studs (size #16) for most LT and high flotation sizes (not applying to models with the "Non-studdable" labels).
Goodyear Wrangler DuraTrac Review & Performance Test Results
We reported Goodyear Wrangler DuraTrac's performance metrics based on the testings of its 275/65R18 tire size version on the 2022 Ford F-150. It was a part of the annual 2023 COR Wheels Tire Test.
1. Dry Performance: 8.4/10
Dry Traction: 8.9/10
Driving on dry tarmac was a pleasant experience with this Wrangler DuraTract tire. Its grip admittedly lacked a few competitive dynamics often observed in all-terrain contact patches, but more than suffice in regular driving of 40 to 55 MPH.
Even when we packed 3000 pounds of cargo in the trunk, the Ford displayed very few troubles in speed changes during lane merges, managing to weave the slightly heavy Ford through traffic with reassuring stability.
Friendly, curvy slopes remained light-hearted and breezy. Except for the slight staggers typical of any tire upon ascent, Wrangler DuraTrac stabilized on its center just as quickly and kept the tire-road connection on point throughout the rest of the ride. Accelerations were a bit lackluster mid-ascending but became a non-issue once the car landed on non-angled, even surfaces.
Steep hills or mountain roads were where certain grip weaknesses started rearing, worsening as we neared 75 MPH. Despite their rugged coatings, Wrangler's tread compounds were not ready to tackle the thick, unpredictable pebbles and debris littering on such terrains; plus, the way DuraTrac handled tight curves hesitantly and shakily instilled distrust even among our more experienced members.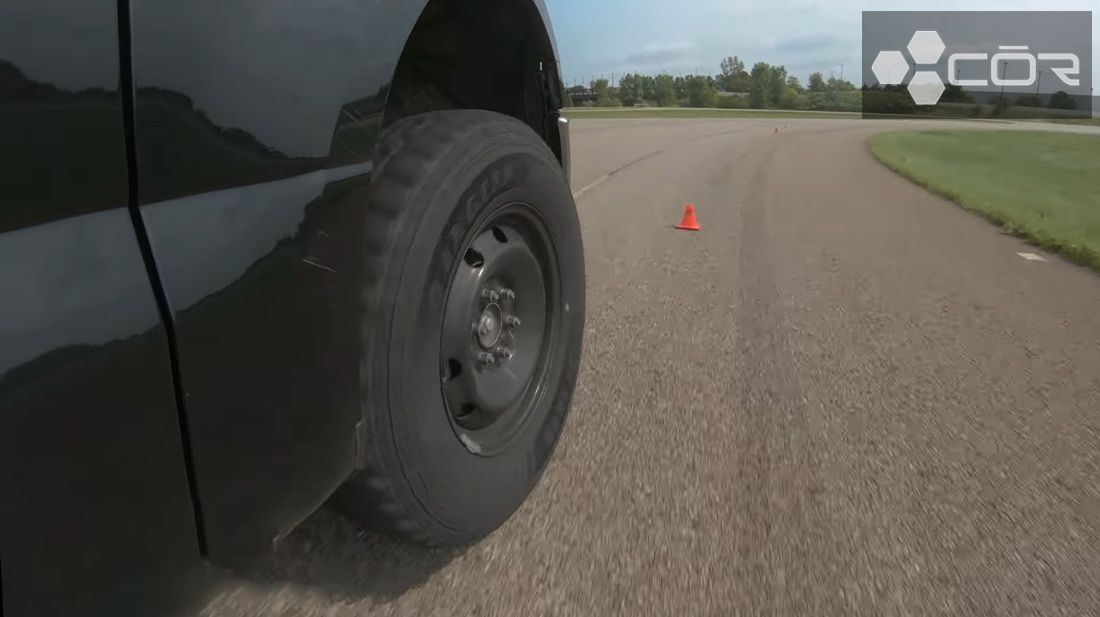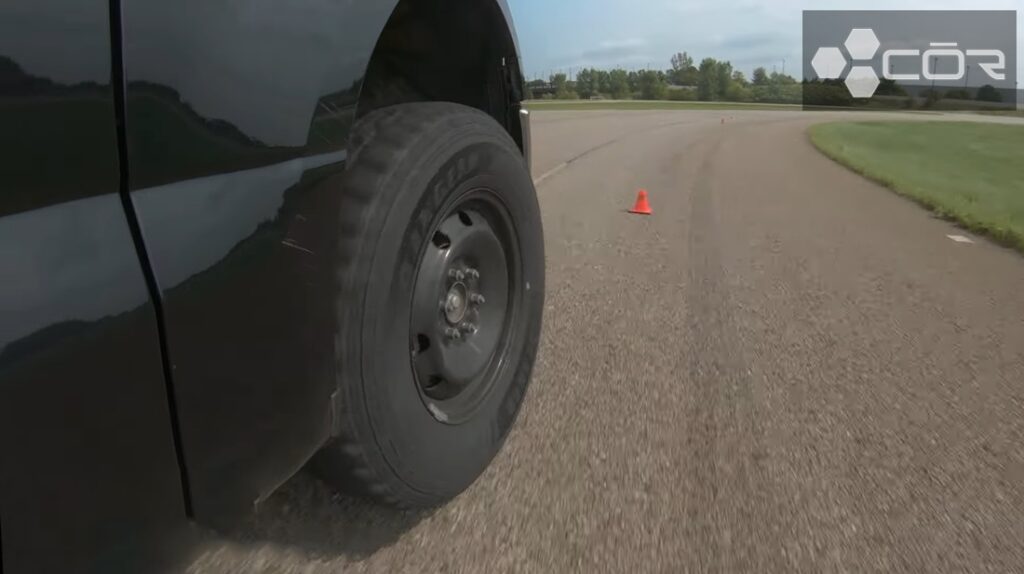 Corner Stability: 8/10
Round corners or wide-radius bends could be handled easily. We barely had any actual issues under those circumstances, navigating through steering arcs and speed changes with relative ease. And since most of the cornering area could be observed early from afar, maneuvering around roadblocks with smooth, consistent grip felt even more effortless.
What significantly brought down Goodyear Wrangler's corner ratings was how it worked with sharp/180-degree turns or sudden bends on narrow roads. Despite our already low expectations (since this is a commercial traction tire), Wrangler DuraTrac still disappointed with its constant off-angle wanders and signals of heeling toward the total opposite directions of our desired input.
Steering Response: 8.1/10
All the basic elements of proper steering response were there, but they felt very vague compared to standard AT tires. None of the flex or sharpness required in more complex, consecutive turns could be observed, allowing our Ford to graze the barest hint of decent performance at 40 to 45 MPH.
While speeding up to 50, 60, and 70 MPH thresholds respectively was not 100% impossible, it was only less problematic in straight-driving mode with moderate traffic. When towing a 5000 lbs camper, the tires showed clear symptoms of panic dealing with packed vehicle flows, and took very long to recover from unexpected response delays.
2. Wet Performance: 8.3/10
Wet Traction: 8.2/10
Wet performances were definitely a significant step down compared to the tire's stable dry traction. The rugged compounds and stepped shoulders did not retain as many footings as we had thought, stuttering at any barest signals of abrupt turns (maneuvering around tree branches or rocks, skidding to avoid collisions with other cars, etc.)
Airing down the tire to 25 to 30 PSI did invite back some of the lost traction. But facing deep water beyond 5 inches, even this method failed to bring in much difference.
Hydroplaning Resistance: 8.4/10
Wrangler DuraTrac did a good job with water evacuation thanks to the large shoulders and angled centers. While the lack of even space did result in a bit of rainwater sticking in, it was not enough to keep the Ford from consistent forward pacing at below 55 MPH.
The tire-road connections could still be felt, albeit quite muted, as the water density increased. Decelerations and brakings experienced only minor delays; however, accelerations seemed more complex. They were tolerable in shallow, stagnant water, but severely stalled the car at any water depth beyond 11 inches.
3. Off Road Performance: 8.7/10
Dirt Traction: 9.1/10
Though the dry and wet performance of the Wrangler DuraTrac still came out on top of our tested tires, its off-road performance sank to the bottom of the list.
Handlings on off-road dirt were alright but far from satisfying. There was a squeaking, slippery feel underneath the contact patch as our rubber struggled to connect with the thick debris. A stronger steering force could help squeeze out more traction, but in trade-offs for constant bumps and jostles along the way.
Any number beyond 60 MPH only worsened the stumbles, hence our decision to stick with 40-45 MPH only to retain more riding comfort. Brakings did not pose much of a problem, but landed painfully heavy and shook most of us off our seat edges.
Sand Traction: 8.5/10
Thin sand already sent DuraTrac into nervous stutters. Aided by strong wind and forceful tire contact, these small particles literally blew themselves into most interlocking sipes within the tread grooves. Just the sheer ability to move forward at consistent, unchanged rates was already considered a miracle; we did not even consider accelerations as a possibility.
Thicker sand made things even worse. Our Ford could not strike forward without side-to-side shakes, only toning down a bit when we reduced our speed to as low as 15-20 MPH.
Rock Traction: 8.6/10
None of the brand's promises about rugged compounds and anti-slip rim locks delivered their supposed efficiency on rock traction; we almost tripped just five minutes into the tread. After taking time to get used to the sharp, gritty surfaces, Ford did seem to stabilize a bit – only to be thrown off once again when the road texture changed.
While we managed to steer forward at 30 MPH, the entire ride felt very disconcerting – like our tires might act out at any second. And that was just straight driving; our team did not feel safe enough to experiment with more diverse corner angles.
Mud Traction: 8.6/10
Nothing about DuraTrac's mud capabilities seemed reassuring; its initial traction during the first few miles already screamed fatigue. Needless to say, all riding comfort and acceleration ease had to be sacrificed; the more important task was to keep the Ford in a straight line without stumbling or getting stuck.
On thinner mud with less water, the numb grooves finally gathered their remaining composure to speed up our ride. Even then, it was by no means a comfortable ride; hiccups and drags lingered down to the very last few gas drops of our performance test.
4. Winter/Snow Performance: 8.5/10
Light Snow Traction: 8.9/10
DuraTrac matched light snow terrains well, carrying itself even better than certain on-road AT tires. The compound's symmetric design cleared snow off the way and retained most of its dry-road traction thanks to the TractiveGroove technologies, giving our Ford very little problem to work with.
On another note, slightly thicker snow on sloped roads did stall the car's clean cuts at sweeping turns. Not to mention, the way our contact patch shuddered noticeably due to cold temperatures at greater heights did not help much with the issue, either.
Deep Snow Traction: 8.9/10
DuraTrac surprised every team member with its capable deep snow performance; barely any change was noticeable from our previous light-snow test. Unfazed by the increase in snow volume (8 to 12 inches this time), the TractiveGroove technologies pushed our Ford forward at 40-55 MPH with great confidence and refilled traction loss quickly before it got worse.
Still, these sentiments mostly applied to on-road snow; with off-road terrains where mud and rocks were present all year round, we did lose contact with the steering and grip quite often, especially at corners.
Ice Traction: 7.7/10
The fact that Goodyear Wrangler DuraTrac led other competitors by a long margin here did not really equate to good ice traction. It was just decent – enough to keep danger off the hook, but totally lacking in riding comfort. After failing to fight off slippage at as low as 25 MPH, we had given hope for smooth rides and unproblematic accelerations.
The only brief periods where the ride truly felt peaceful was when we rode on packed patches (where snow still lingered and not 100% ice) at 30 MPH on straight, on-road pavements.
5. Comfort: 7.6/10
Ride Quality: 8/10
Its riding comfort clearly lagged behind all-terrain and touring tires – but can be considered the best of its class.
Sand, rock, and mud handlings were horrendous, obviously – but at least on on-road pavements or snow, we could still enjoy leisure driving rates without too many jostles and vibrations. Plus, given enough prep time and strong steering command, cornering was not a complete disaster.
Noise: 7.2/10
Though we did not expect dead-silent rides considering this is a commercial tire, the noise levels still took us off-guard. Tread noises could already be heard on unchallenging, daily-driving terrains, and got increasingly louder the more we accelerated or sharpened our steering input.
And off-road paths clearly took this nightmare to a new level. The only exception was snow (light and deep alike), where the Tractive grooves tackled and redirected snow smoothly without leaving much of a sound.
6. Treadwear and Durability: 8.1/10
Treadwear was surprisingly okay (for a tire of this class). Despite its less-than-stellar performance on off-road terrains, the sand and rock did not leave clear damage marks on its side walls except for a few scratches due to sharp pebbles.
And when used in favorable conditions with much fewer driving challenges, tread wear was reduced to a very vague threat, especially when considering the brand's 50,000-mile warranty.
Goodyear Wrangler DuraTrac Pros and Cons
Better than all same-class competitors in overall performance
Great on dry pavements and snow (both light and deep)
Decent wet traction
Alright treadwear with a pretty good warranty (50,000 miles)
Struggling on every off-road terrain
Lots of road noises
Constant bumps and vibrations
Lack of corner stability
Conclusion
In our Goodyear Wrangler DuraTrac tire review, it performed much better than its direct competitors (Cooper Discoverer S/T Maxx and Firestone Transforce AT2). But one should not expect stellar performances during off-road and icy conditions. It was just barely decent – given non-aggressive drivings – and suffered from constant, annoying jostles.
On-road dry pavements and snow, on the other hand, are where Wrangler shines. Using the tire during daily driving and heavy transporting on paved roads and even as a winter tire for no-ice areas is totally within reach.
Goodyear Wrangler DuraTrac
PRICE
SOLD BY

Offers

In Stock

Offers

In Stock

Offers

In Stock

Offers

In Stock

Offers

In Stock
---
President & Automotive Expert at COR Wheels
Robert Herrera has been with COR Wheels for 17 years and has a great passion for the automotive industry. During his time at COR Wheels, he has driven and test-driven a variety of vehicles.
---