Yokohama YK-CTX promises optimal on-road traction for SUVs and crossovers. And judging by the overwhelmingly positive feedback, it seems this all-season tire has accomplished its intended mission, though further testing was still required in certain regards. The following review, compiling our team's most recent findings, will discuss YK's real-life performance in more detail.
In this article:
Yokohama YK-CTX Specifications & Features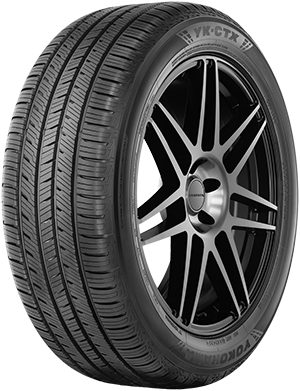 Tire Type
Crossover/SUV Touring All-Season
Tire Size
17″ – 20″
Weight
27.0 LBS – 37.0 LBS
Load Index
98 – 111
Load Range
SL – XL
Speed Rating
– H: up to 130 mph
– V: up to 149 mph
Warranty
60,000 miles
Ratings
8.6/10
Yokohama YK-CTX promises optimal traction across all on-road terrains through the following feature highlights:
Micro-silica tread compounds are engineered to withstand diverse temperatures while ensuring confident accelerating and braking.
Pass-through grooves and circumferential grooves evacuate water.
5-pitch variation designs minimize road noises and hums.
3D and 2D interlocking sipes create extra bites on loose snow.
Semi-solid ribs and large shoulder blocks promote linear steering responses, especially during highway maneuvering.
The optimized tread contour reduces bumps and enhances road manners simultaneously.
Yokohama YK-CTX Tires Review & Performance Test Results
We used the 225/60R18 tire size version of Yokohama YK-CTX on the 2015 Subaru Outback as part of the 2023 COR Wheels Tire Test.
1. Dry Performance: 8.8/10
Dry Traction: 9/10
The tire was a star on dry roads, with traction losses so brief and infrequent that they were hardly noticeable in the grand scheme of things. 25 to 55 MPH seemed like YK-CTX's best comfort zone, evident in the way it adapted well to instant speed changes (both accelerations and decelerations) while keeping close contact with the road pavements to trample down unwanted stutters. The longer we rode, the more stable it became, to the point that our team could let the steering wheel slacken a little without any real damper to the footprint.
Highway performances were just as delightful; unlike some other tires we have tested, YK-CTX did not falter once during texture transitions and embraced the asphalts with surprising confidence. Hence, after only a few minutes, our Subaru already strode in powerful strikes in and off lane in little to no drama, even managing some impromptu surges mid-way that ended nicely at the end of the exit. You will also likely have a pleasant experience during tight-spaced curves, as YK-CTX showed almost no signals of transparent burnouts after extended periods.
Higher speed ratings beyond 80 MPH did give YK-CTX a bit of stuttering during descents. Nevertheless, those wavers were mostly quite low-key and could easily be controlled with punctual downshifts, leaving little room for worry.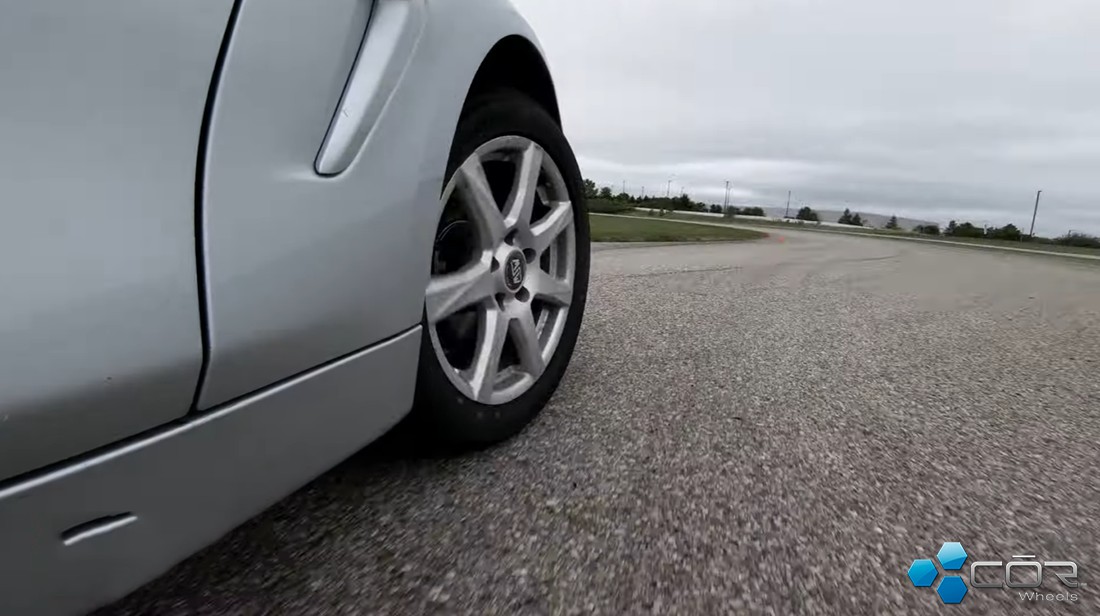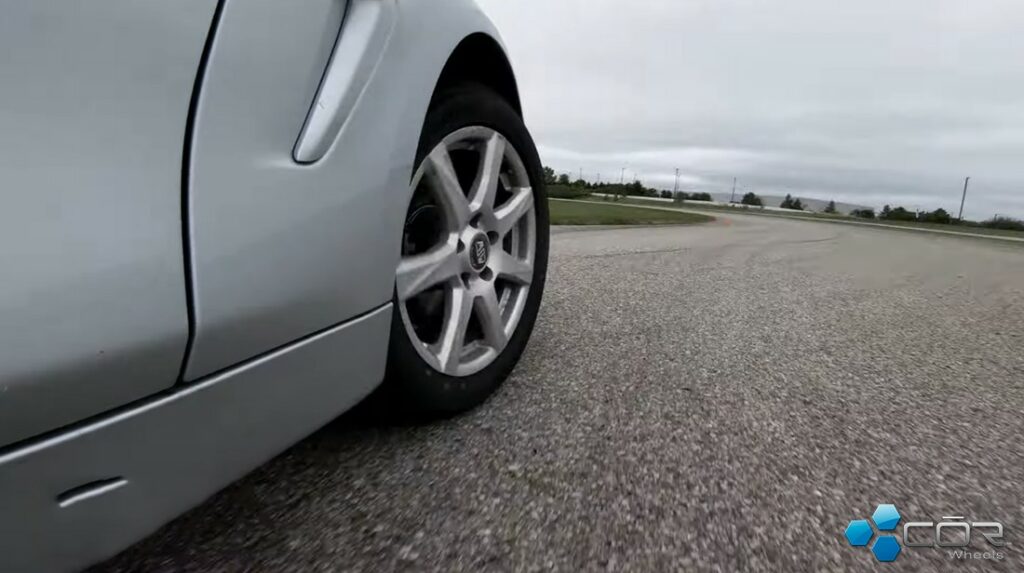 Corner Stability: 8.9/10
YK-CTX's boundless confidence around corners was impressive. Wide, gentle crooks were easy to handle – almost no difference from our straight-line endeavors – and bonded very well with the layered sidewalls and on-center ribs.
Tighter esses and zigzag switchbacks might pose a bit more frequent slippages around the flanks for you. Yet, they could hardly be considered truly dangerous, as our car still withstood extra power delivery, unplanned midway changes, and swift directional turns with relative ease.
Steering Response: 8.6/10
Steering responses did not strike as sharp as other Yokohama tires (e.g., the powerful Yokohama Geolandar X-CV) but played in our favor regardless. Basic driving situations or even correction skids around non-twisty roads were handled very well due to the constant, aligned feedback, and extended delays only became a real issue when we had to tackle extremely angled surfaces – which was not very often.
Higher speeds naturally stripped the tire of some steering edges; fortunately, thanks to the broad shoulders and extra bites, muted responses were still kept at a minimum. Hence, even if you are a beginner, handling emergencies or unexpected roadblocks should be quite breezy.
2. Wet Performance: 8.7/10
Wet Traction: 8.7/10
We were impressed with YK-CTX's confidence in moderate water depth (below 6 inches). Sure, one could not expect its traction maintenance to be on par with dry-road driving, but YK-CTX managed to keep most over-reactions away by balancing tire flex and rib stability at an impressive degree. Minus more pronounced coughs beyond 55 MPH, you can easily tackle corners, curves, and steep ascents and slopes without major jostles.
Better yet, even as the water depth rose above 7 inches, our Subaru did not encounter as much footing inconsistency as expected. The worst we observed was only some harmless gliding on graded, wet bridges, which grew less and less frequent over time.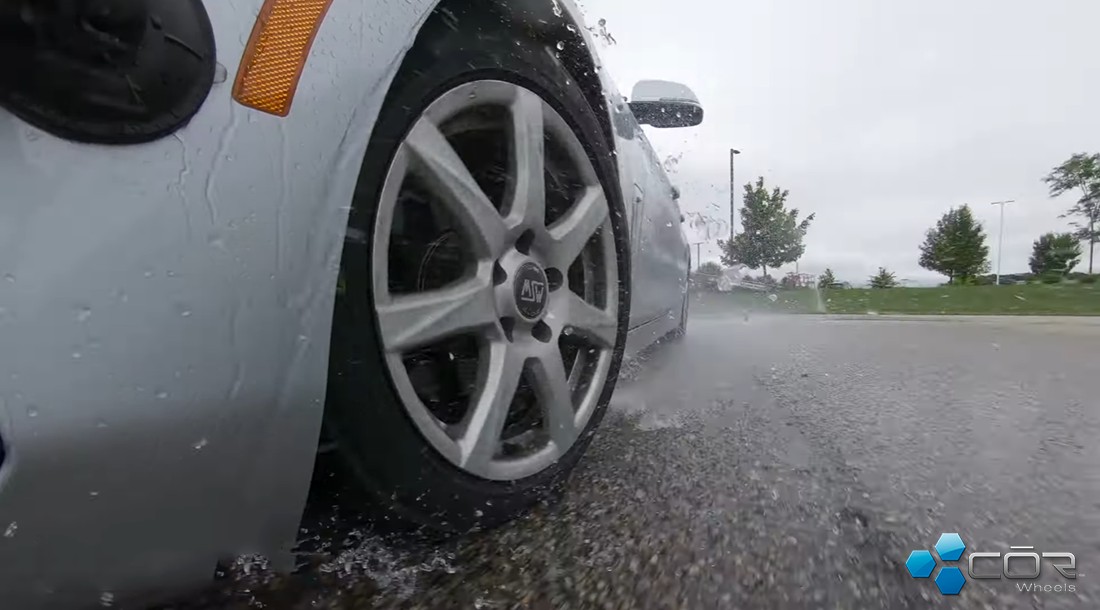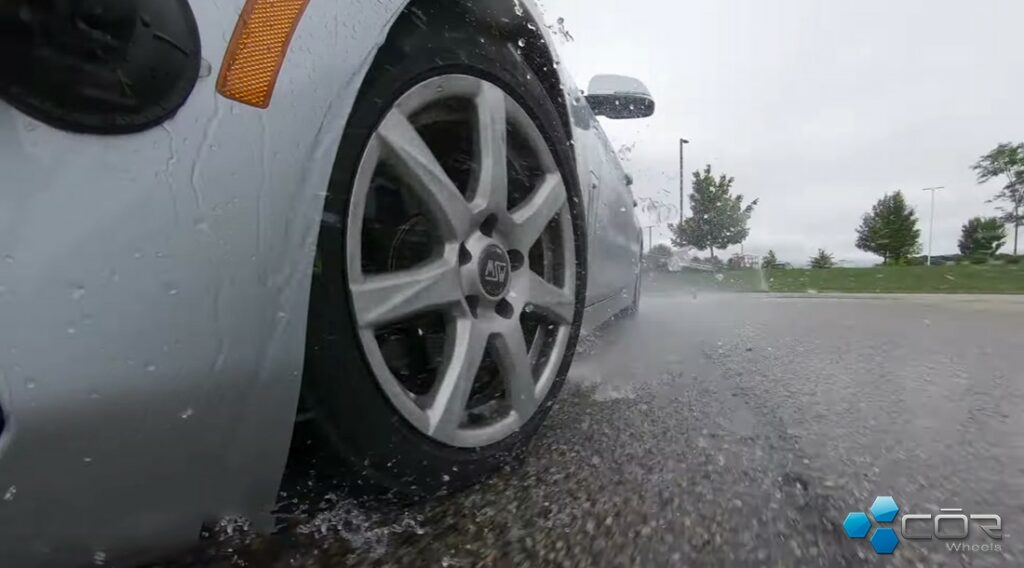 Hydroplaning Resistance: 8.6/10
Hydroplaning issues still occurred but hardly dampened our momentum. They mostly lurked around tight chisels within 55 to 60 MPH and barely showed up at any other driving rate, distributing water quite steadily through channeled sipes despite our low-key input.
Tire drags in water depth beyond and below 6 inches seemed not that much different and unaffected by loaded cargo of 100 to 200 lbs – great news if you have to tow/load trailers through humid-climate regions on a daily basis.
3. Winter/Snow Performance: 8.5/10
Light Snow Traction: 8.8/10
We admittedly did not have high expectations, but YK-CTX's aggressive plowing actions made us think otherwise. Including both 2D and 3D sipes was definitely a smart decision, providing the tire sidewalls with very stable, consistent tire rolls and well-distributed contact pressure.
Our team navigated breezily at 40-55 MPH, only faltering a little at highway speed limits. Snow chains elevated the tire's composed traction even further, making it one of the best replacement snow tires for you during the rest of the winter months.
Deep Snow Traction: 8.5/10
While the increased snow volume posed more struggles around corners and on less-paved roads, YK-CTX was still controlled enough during most of our driving attempts. It adapted well to gradual accelerations, behaved on wetter snow patches, and did not take long to come to a full stop once we engaged the braking pedals.
We did wish for faster understeering/oversteering recovery; but given that this is a touring tire, this drawback was not significant. Better yet, when equipped with snow chains, YK-CTX will serve as one of the best replacement winter tires for you, given no heavy storms or winds.
Ice Traction: 8.3/10
Dynamic leans or spirited revs towards extreme speed limits were clearly impossible on these terrains. But if explosive rides are not your priority, then YK-CTX actually had quite an impressive performance for a touring model: predictable stutters, decent tire-road connections, and strong resistance against cold temperatures, they were all we hoped for a proper winter tire.
Better yet, the longer we rode in warmer weather, the more tamed it became, seemingly finding enough internal composure to truly embrace the icy road patterns.
4. Ride Comfort: 8.1/10
Ride Quality: 8.2/10
YK-CTX admittedly needed a lot of refinement over large cracks, notable road bumps, or abrupt veering around roadblocks; during the first few days of our test, tire vibrations struck so sharply that we almost flung out of our seat edges.
Fortunately, the latter half of the test rides were quite tamed due to the sidewalls finally getting used to our steering habits. And for casual rides below 25 MPH on well-paved roads, jostles will be almost non-existent.
Noise: 7.9/10
Noise control was pretty good during straight-line endeavors, gentle cornering, and gradual accelerations with some downshifts thrown in between. Still, if you are noise-sensitive, the audible roars on highways or through wide-angle directional turns are admittedly quite annoying.
5. Treadwear and Durability: 8.7/10
Ten days of testing with constant abuse could barely leave a dent on YK's tread. The tire remained unchanged for most parts and did not send itself into frequent stalls during cold temperatures like some low-ranking competitors. The 60,000-mile manufacturer's warranty is very hard to resist, too, ensuring five years of mindless usage.
YK-CTX Pros & Cons
Exceptional dry traction
Confident braking
Very reliable cornering; snappy steering response
Excellent grip in wet weather
Stable road manners on snow and ice (for a touring tire)
Great tread life
Reliable mileage warranty (60,000 miles)
Noise control and riding comfort could be better
Conclusion
To sum up this Yokohama YK-CTX tire review, it lived up to expectations in almost every metric. It was confident on on-road terrains (both dry and wet seasons), battled temperature extremely well, and handled snow and ice with surprising composure for a touring tire. With a generous warranty and excellent treadwear rates as a highlighted bonus, it easily concludes our top 6 best touring tires for SUVs, pickup trucks, and crossover vehicles.
---
President & Automotive Expert at COR Wheels
Robert Herrera has been with COR Wheels for 17 years and has a great passion for the automotive industry. During his time at COR Wheels, he has driven and test-driven a variety of vehicles.
---