Despite not being a giant tire manufacturer, Nitto surprised automobile enthusiasts with its Motivo model, which managed to graze the list of the year's best sellers with thousands of positive feedback.
Our COR Wheels team has performed several tests on this all-season tire to see whether its performance matches the hype; a full review is disclosed in the sections below.
In this article:
Nitto Motivo Specifications & Features
Tire Type
Ultra High Performance All-Season
Tire Size
17″ – 20″
Weight
22.0 LBS – 39.0 LBS
Load Index
91 – 111
Load Range
SL – XL
Speed Rating
– W: up to 168 mph
– Y: up to 186 mph
Warranty
60,000 miles
Ratings
8/10
Nitto Motivo promises exceptional year-round traction and stable footings across all terrains through the following feature highlights: 
The Multiwave 3D sipes "lock" the sipes together via the interlocking ripple structure to manifest a continuous block for stable acceleration and braking.
Solid center ribs and wide shoulders promote corner stability.
Asymmetrically arranged tread pattern on the silica-infused rubber support handling with more responsive feedback and all-weather traction.
Exterior patterns of large-size blocks strengthen the tire's cornering performance on dry terrains.
Four deep and wide circumferential grooves work with open lateral notches to minimize hydroplaning.
The alignment indicators show visible measurements of the tire's current tread depths, informing drivers of real-time wear issues.
Nitto Motivo Review & Performance Test Results
Our team used the 235/50R18 tire size version of Nitto Motivo on the 2018 Ford Mustang model as part of our annual 2023 COR Wheels Tire Test.
1. Dry Performance: 8.7/10
Dry Traction: 8.7/10
Nitto Motivo impressed us with its stable contact patch right from the start. The tire got over the brief shakes around the flanks fast to fully embrace the 40-MPH starters, breezing the car in decisive, striking confidence through pavement grooves and cracks.
Basic reversing and vehicle-overtaking were quite effortless, and the way Motivo recovered after seconds-long veering around roadblocks also gained approval from most of our members. Better yet, abrupt accelerations did not choke the car out of its immediate momentum (as seen in other Nitto tires), paving the way for uneventful and consistent footprint connections from beginning to end.
Motivo's performances on highways, while not being as stellar, did not disappoint either. Texture transitions could hardly leave a dent in the tire's traction maintenance save for a few initial jostles – and once we chose a driving rate to stick to, the contact patch adapted itself to the road real fast. Our team managed smooth, swift lane merges without plummeting, even successful with occasional low-angled leans from time to time.
If one thing needed improvements, it was Motivo's deceleration on rugged mountain passes. The interlocking tread blocks seemed to work better for accelerations than speed reductions, so you should expect some panics around the flanks from time to time.
Corner Stability: 8.6/10
Given that Nitto did not instill any cornering-focused features, we were quite pleased with how the ribs stabilized itself well with the help of interlocking sipes and refilled traction losses almost instantly after input upgrades. Oversteer and understeer were not completely out of the picture but managed well – and once the danger zone was over, the rest of the strike towards corner exits grew as breezy as any regular straight-line endeavor.
On another note, just like our earlier dry tests, it seemed Motivo still worked better with accelerations at moderate/wide corners. Our experiments with unplanned decelerations were not entirely dangerous but did not end on a high note – evident in the continuous shakes and plummets that carried on almost one-third of the entire cornering endeavor. If you are a fresh novice or lack physiques, it would be much better to stick to unchanged speed rates around these sections.
Steering Response: 8.7/10
Motivo proved to be one of Nitto's most punctual tires in terms of steering, rarely being put in extended delays or delivering muted feedback in response to our demands. Thanks to this sharp alignment, we did not have to exert more force than necessary during gentle curves, wide turns, or moderate correction skids; just regular palm-to-palm control was enough to push the tire into action.
More spirited driving or higher speed limits beyond 60 MPH did seem to wear down Motivo's sensitivity, but not enough to sabotage our driving consistency. Hence, during emergencies or at unexpected roadblocks, you can still afford abrupt steering changes and hard brakings to avoid collisions.
2. Wet Performance: 8.4/10
Wet Traction: 8.5/10
Nitto Motivo obviously could not retain the same confidence as on dry roads, but its composure was still quite good regardless. Regular driving rates with punctual and sensible downshifts should be more than enough to maintain a breezy, uneventful strike in moderate water depths (2 to 6 inches). Predictable stutters that could easily be prevented beforehand if you have prior experience or travel familiar roads.
Deep water sent our car into stronger coughs – though they were thankfully easy to control with low driving rates below 29 MPH. Tight corner endeavors might need better refinements, but regular crooks were entirely doable with minimal steering inputs. Indeed, we applied minor intentional oversteering at the beginning to see how it went – and ended up safely on the other side of the road sections in little to no actual danger.
On another note, we felt like the tire's wet footings on bridges (or other similar graded surfaces) could have been improved using more optimized grooves. The higher it climbed, the fainter our connections with the road patterns became, making it quite a challenge to apply more complex steering techniques/ handle sudden road mishaps along the way.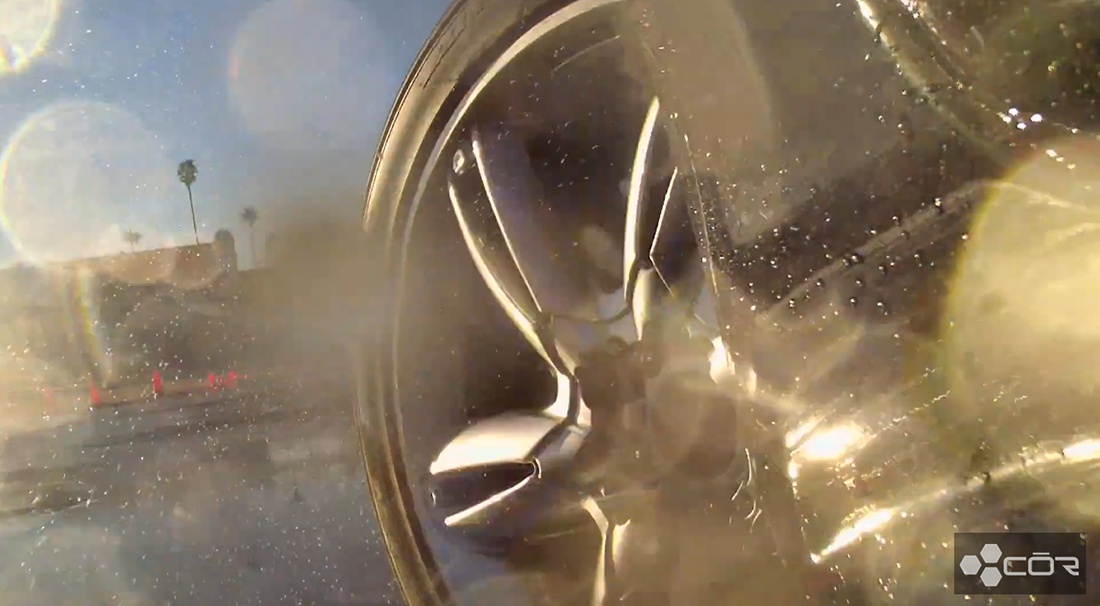 Hydroplaning Resistance: 8.3/10
Nitto Motivo was fairly reliable in shallow puddles with rare aquaplaning symptoms at 25 to 35 MPH, only rising to a slightly more transparent degree when we decided to load cargo heavier than 350 lbs. Motivo's quick adaptation to acceleration changes was not lost, either, allowing our car to rev straight to 60 MPH on more well-paved roads without risking intrusive water under the contact patch.
More troubles started to seep in at deeper stagnant water and during heavy storms, however. While contact points could still be felt clearly from the cabin, the way they kept slipping on and off the tire sidewalls – and got significantly fainter over the rain's cold temperatures – might strike as borderline annoying for some novices.
3. Winter/Snow Performance: 6.9/10
Light Snow Traction: 7.1/10
Motivo could not deal that well with cold rain temperatures, so we were unsurprised by the notable traction reduction on freezing snow.
The tire only worked best on well-paved roads (with as few twists as possible) and low driving rates below 30 MPH. Otherwise, the rest was a struggle, getting twice worse around corners and only receiving some mediocre boosts when armed with snow chains. Hence, you should reserve its usage for warmer winter temperatures, usually at the end of the year or January, to avoid extended tire stalls.
Deep Snow Traction: 6.9/10
Nitto Motivo clearly could not handle traction losses well here due to a significant lack of clawing actions; plummets and violent coughs were to be expected at almost every corner. Fortunately, its low-speed capability was not that much different from our previous light-snow tests, meaning you can still use snow chains to regain some confidence on paved roads in warmer winter-spring temperatures.
Ice Traction: 6.8/10
Motivo managed to carry almost all of its deep snow composure into ice traction, which was by no means excellent but still acceptable for short rides. We kept the speed below 30 MPH and avoided twisty corners and abrupt speed changes. Using thin snow chains on the front while removing all passengers and cargo will also give your car much better traction regains than expected.
4. Ride Comfort: 7.9/10
Ride Quality: 8/10
Major bumps and vibrations mostly lurked around high-speed cornering and rough snow/wet terrains; other than that, you could expect Motivo to behave well most of the time. Better yet, on well-paved roads with extremely consistent textures, those jostles even reduced themselves into faint protests near the borderline, barely noticeable amidst the ride's momentum.
Road Noise: 7.7/10
Likewise, tread noises only occurred on rugged surfaces or tough speed changes (mostly decelerations rather than accelerations, since Motivo's interlocking sipes supported power revs quite well).
For straight-line endeavors, there were only some low rumblings that could be tolerated most of the time, whitening themselves into the background once the contact patch settled into the road.
5. Treadwear and Durability: 8/10
The tire still needed better composure in cold rain/cold snow. In compensation, its wear resistance under extreme heat was not half-bad, resulting in little to no visible tread dent by the end of our test. Its 60,000-mile warranty is also quite competitive.
Nitto Motivo Pros and Cons
Stable and confident on dry surfaces
Decent wet-road traction
Tolerable, consistent snow and ice traction
60,000-mile warranty and decent tread life
Noise control could be better
Hydroplaning issues still occur
Conclusion
In our Nitto Motivo reviews, the tire maintained pretty good confidence on on-road terrains (though hydroplaning during wet seasons sometimes spiraled a bit out of line). Snow/ice performances were not exceptional but still tolerable for a non-winter tire, and riding comfort played mostly in our favor. As such, Nitto Motivo totally deserved its position as the 8th-best ultra-high-performance AS tire in our test.
---
President & Automotive Expert at COR Wheels
Robert Herrera has been with COR Wheels for 17 years and has a great passion for the automotive industry. During his time at COR Wheels, he has driven and test-driven a variety of vehicles.
---