Though Nitto's reputation mostly comes from on-road tires, its off-road AT models also raise high expectations, especially the recent release of Recon Grappler A/T. Retaining notable highlights from predecessors while introducing new features to the table, Recon quickly earns a place among the market's best-seller list.
This review, with gathered findings from our annual performance test, will discuss how much of these innovations translate to real-life efficiency.
In this article:
Nitto Recon Grappler A/T Specifications & Features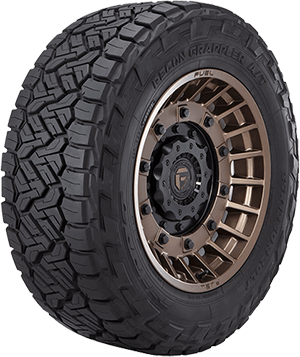 Tire Type
Off-Road All-Terrain
Tire Size
16″ – 24″
Weight
41.0 LBS – 83.0 LBS
Load Index
111 – 129
Load Range
C1 – XL
Speed Rating
– H: up to 130 mph
– T: up to 118 mph
Warranty
55,000 – 65,000 miles
Ratings
8.4/10
Nitto Recon Grappler A/T promises excellent off-road performances and on-road handling for pickup trucks, Jeeps, and SUVs.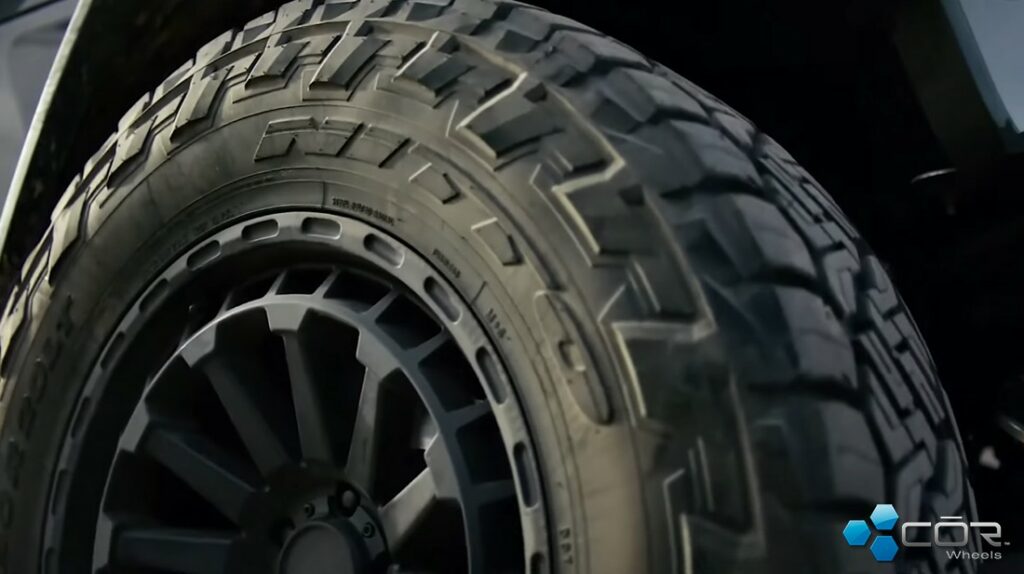 The robust, symmetric compound patterns feature huge tread blocks and aggressive shoulders that resist cuts from sharp debris and gravel.
Reinforced foundations at Recon's tread base support the patterns to mitigate high-load deformation and add confident dry rigidity.
Narrow/wide shoulder grooves intertwine to reduce road noises on pavements.
Zigzag shoulder and main grooves evacuate water, adding offset and lateral biting edges for stable performances on light snow.
2-ply polyester casings, double steel belts, and nylon reinforcements strengthen higher-speed handling.
Nitto Recon Grappler A/T Review & Performance Test Results
As part of the 2023 COR Wheels Tire Test, our team equipped the 2018 Ford F150 4WD with the LT265/70R17 tire size option of Nitto Recon Grappler A/T for on-/off-road evaluations during January and June-July.
1. Dry Performance: 8.7/10
Dry Traction: 8.8/10
Recon Grappler did a spectacular job maintaining responsive, grippy contact points on regular paved roads. The 40-MPH velocity settled impressively fast, refilling instant sidewall shakes before we even noticed and soon carried the car confidently through the pavement grooves. We had no trouble veering around roadblocks, overtaking vehicles, or applying low-angled turns to avoid collisions, thanks to the excellent tire-road connection that grew more and more stable as the driving textures finally settled under the contact patch.
Recon's behaviors on highways also landed within safe territories. Minus for certain common weaknesses expected for almost every off-road AT tire, such as fainter tire traction at high-speed ratings and slight burnouts during extended curves, you can trust Recon to deliver within expectations in virtually any basic road driving situation. The way Recon pulled gently before lane merge entries without plummeting was also quite competitive compared to most rivals of the same pricing range.
Corner Stability: 8.6/10
This all-season tire composed itself with excellent aggression during gentle, sweeping turns. Over-reactions might occur from time to time with tight approaches but were easily managed with more consistent pulls; if done right, they could lend our tires even better footing stability.
Accelerations and decelerations were totally within reach, though you might have to tame down a little on the latter if extra cargo exceeds 500 lbs; otherwise, this Nitto tire would end up plummeting a little near the liner.
Steering Response: 8.7/10
Nitto Recon easily passed our test in this regard, rarely delaying its feedback unless put under extreme pressure or critical emergencies (e.g., unexpected roadblocks). We also liked the way the steering became more stable the longer we rode (instead of getting fainter after extended periods like most tires) and kept occasional drags within acceptable margins during spirited rides.
Still, if you have higher steering demands than average, then Recon's hesitancy and lack of punctual sharpness on extremely graded surfaces need to be properly addressed.
2. Wet Performance: 8.4/10
Wet Traction: 8.3/10
Recon Grappler maintained decent footings on shallow and moderate puddles. While stutters and panics could not entirely be kept at bay, the on-center ribs launched properly to help the contact patch punch with better force through sliding water – hence our non-dramatic strikes during most of the test.
However, like with most off-road AT tires, you should not expect Recon Grappler to shine through deep, stagnant water. Contact points were not 100% lost, but they grew notably fainter than on light puddles, getting twice worse around corners and at high speeds beyond 55 MPH.
Hydroplaning Resistance: 8.5/10
We were pleased with the harmonious combination of zigzag and main grooves, whose combined power manifests a stable yet flexible water channel or convenient redistribution. Hydroplaning mostly occurred at high speeds and remained controllable in the rest – both deep and shallow water alike – ensuring the sidewalls had enough margin to breathe and proceed with traction losses (if any).
Better yet, given that our combined weight (five members) did not result in as much tire drag as other tires, you can do well with moderate loading tasks from 100 to 500 lbs.
3. Off-Road Performance: 8.4/10
Dirt Traction: 8.6/10
The robust shoulders and grooves clearly reacted to off-road dirt much better than rainwater; thus, our car retained much better composure than in wet on-road conditions and settled quickly to any regular driving rate below 55 MPH. Its ribs and built-in shoulder blocks also balanced stability and tire flex better than expected, which gave us more margin freedom to perform low leans, 90-degree veer, or any other spirited steering technique in surprisingly smooth cuts.
Hard-packed dirt was a similar non-issue (given good preparation), and cornering turned out to be quite effortless once we reduced our cargo to 200 lbs. Still, you might struggle a little with wet off-road gravel – as there is not enough high void ratio to claw through dirt and handle moisture at the same time.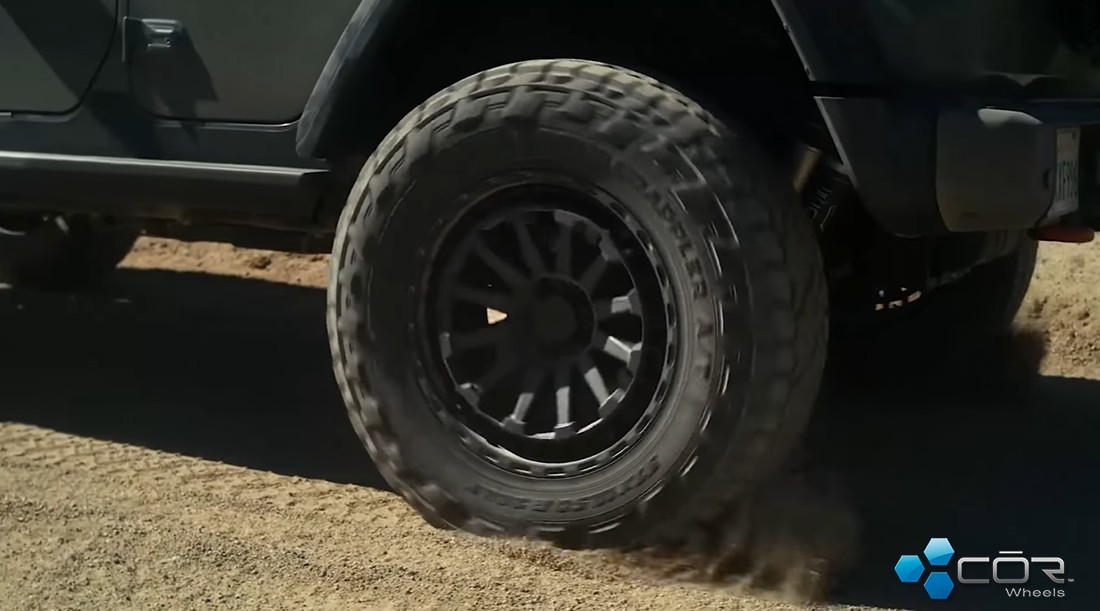 Sand Traction: 8.4/10
Despite lacking features tailored for loose ground, Recon Grappler still managed to handle traction losses well at 25 to 35 MPH, only growing slightly more shaky when our steering wheel got slacker than required. Abrupt accelerations seemed too much for the tire, but gradual ones were totally doable – evident in the way our car revved through 50, 55, and 60 MPH in slow but sure-footed feels. 
On another note, tight sandy corners and esses seemed to be Recon's weakest point. Thick particles kept intruding under the staggered shoulders despite our attempts to engage downshifts; hence, you should avoid them or drive as slowly as possible with little /no cargo.
Mud Traction: 8.4/10
Grappler repeated most of its up- and down-side on sand roads here (understandable since both are loose terrains). That meant we could travel worry-free at 25-35 MPH, accelerate/decelerate gradually without giving the tire instant chokes, and manage to engage in decent brakings when urgent situations required them.
And similar to sand terrains, Recon Grapper got weaker around tight corners and esses when traveling on mud. Extremely rough mud pits with hundreds of thick gravel clogs in diverse shapes and sizes also threw this mud-terrain tire into a loss, so remember to keep dynamic handling at a minimum here.
Rock Traction: 8.2/10
While one could notice the instant traction decrease compared to other terrains, the drifting symptoms behaved well enough to keep Recon Grappler safely within favorable territories here. Small rocks and soft trails could still be trampled over with sufficient composure, and we also liked how the tire managed to throw pebbles under the patch to pave the way for cleaner cuts (even though no stone ejectors were installed within the tread patterns).
However, with cargo as light as 200 lbs, Recon Grappler already suffered from more frequent plummets than average – not so great news if you have to carry weight onto these rocky terrains on a daily basis.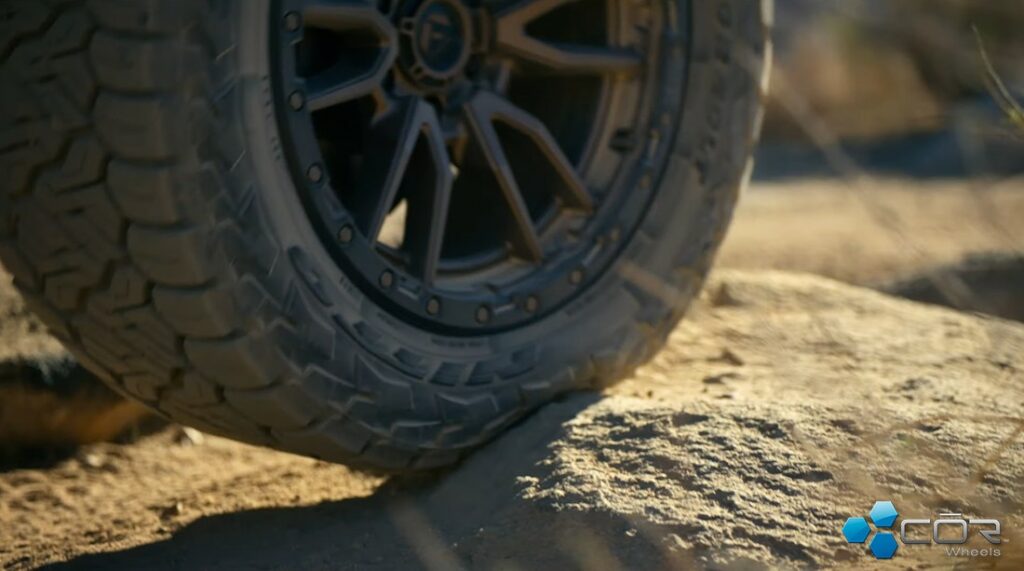 4. Winter/Snow Performance: 8.2/10
Light Snow Traction: 8.3/10
We were satisfied with Grappler's tamed behavior here. While not truly exceptional compared to competitors, the tire knew how to distribute clawing actions to its advantage, utilizing the shoulder lugs and narrow grooves to trample down drifting symptoms into faint, weak protests that barely affected our rides.
Cornering wavers did occur from time to time but disappeared almost completely once equipped with snow chains, so you can totally use it as a winter tire in favorable weather.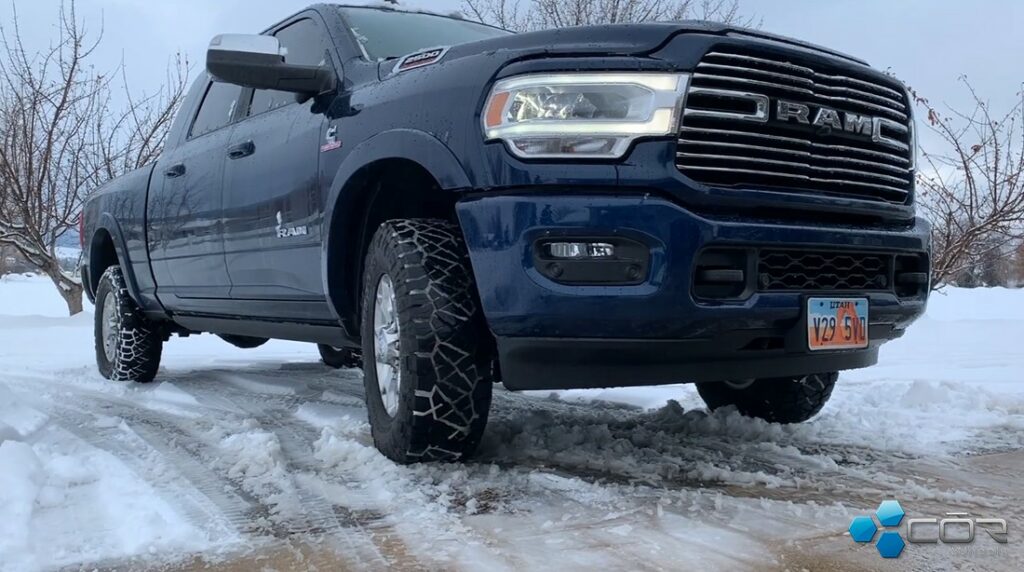 Deep Snow Traction: 8.1/10
The frequent stutters and jostles at highway speeds were admittedly disappointing for an off-road AT tire. Our Ford only became stagnant when entering snow blankets deeper than 5 inches.
But if accelerations are not really your priority, then Recon Grappler is satisfying in every way: with punctual steering and well-distributed pressure, traction losses were unlikely for us at driving rates below 40 MPH. Plus, when aided by snow chains on the two fronts, stutters around the flanks became much easier to predict with any cargo weight below 500 lbs. 
Ice Traction: 8.2/10
There was hardly anything to worry about; like with our previous deep snow test, Recon Grappler had no issue keeping over-reactions within control at regular driving rates. The strong sidewalls also bonded much better with packed ice than thick, wet snow, which should pave the way for very convenient oversteering/understeering recoveries if you have to handle tight corner dives.
Still, an off-road AT tire could not suffice to cut through a fusion of ice and snow. Revving to 40 MPH or more also sent the truck to a series of drifting.
5. Comfort: 8.3/10
Ride Quality: 8.2/10
Nitto Recon was not stellar in this regard but far from disastrous; in fact, as mentioned, low-speeds and straight-line endeavors were some instances where the tire's good behaviors reached their peaks. Jostles and vibrations only occurred few and far between (even on thick off-road dirt and snow), getting slightly better when passengers and cargo are kept under 200 lbs.
Noise: 8.4/10
Tread noises might sometimes be unpredictable, but the great news is that they rarely went out of the line. The worst we experienced was only some loud squeaks in deep mud puddles, which disappeared almost instantly once this all-terrain tire had passed through them. In casual drives at below 25 MPH, they will be barely hearable.
6. Treadwear and Durability: 8.1/10
Our tire remained mostly unchanged by the end of the test, minus some scraping on sharp rock edges that could hardly be considered real damage. The tire's warranty mileage of 55,000 miles (for LT tires) is also a good bonus.
Nitto Recon Grappler AT Pros & Cons
Great road traction and steering in dry conditions/dry surfaces
Decent response time
Comfortable highway rides
Good handling of snow/ice (for an off-road AT tire)
Decent riding quality and fairly quiet rides
Good maximum tread life
Generous 55,000-mile limited treadwear warranty
Off-road manners are slightly underwhelming for an off-road AT tire
Wet ground traction could be better
Hydroplaning in wet conditions still occur
Conclusion
To sum up our Nitto Recon Grappler AT tire review, it earns favorable scores mostly due to its dry on-road performance and good snow handling. Its off-road manners, while still good enough to gain a solid 8.4 out of 10, still feel a bit lacking compared to some same-sector rivals.
Hence, you should use Nitto Recon for dry paved roads, light off-road paths, and snow/ice terrains in moderate to warm temperatures.
Nitto Recon Grappler AT
PRICE
SOLD BY

Offers

In Stock

Offers

In Stock

Offers

In Stock

Offers

In Stock

Offers

In Stock

Offers

In Stock
---
President & Automotive Expert at COR Wheels
Robert Herrera has been with COR Wheels for 17 years and has a great passion for the automotive industry. During his time at COR Wheels, he has driven and test-driven a variety of vehicles.
---