After the success of the original Crosstek lineup, Nitto released the Crosstek 2 with updated features to provide more traction, meeting the increasing demands of SUV, crossover, and light truck drivers for towing. Though users have given mixed feedback regarding certain aspects, their general impression of its performance is favorable enough to make Crosstek 2 one of the best-selling all-season tires in the market.
We will review its real-life performance according to our annual COR Wheels Tire Test.
In this article:
Nitto Crosstek 2 Specifications & Features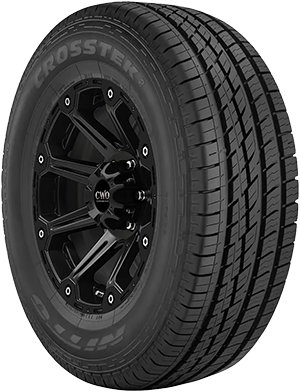 Like other SUV/crossover touring tires from Nitto, the Crosstek 2 promises smooth rides, decent towing/loading capability, and year-round traction across all weather, even in light snowfalls.
It features 3 circumferential grooves to channel water, maintaining great road contact.
The brand used simulation tests to optimize the pattern and tread block designs for improved water evacuation and a more stable contact patch during hard braking.
The 3D Multi-Wave sipes create more biting edges on slippery surfaces while interlocking to reduce excessive tread flex.
The densely serrated sidewalls help control "pipe resonance noise."
Visual treadwear indicator bars are integrated into the shoulder ribs in 6 positions, monitoring your current treadwear and alignment.
Nitto Crosstek 2 Review 7 Performance Test Results
During the 2023 COR Wheels Tire Test, our team used the 235/65R17 tire size version of Nitto Crosstek 2 on our 2022 Honda CR-V.
1. Dry Performance: 8.7/10
Dry Traction: 8.9/10
The Crosstek 2's sipes and grooves worked well with its shoulder and center ribs to stabilize our car on dry tracks. Tread flexes were only noticeable in the first few seconds and became much less frequent the longer we rode, especially at consistent speeds between 40 and 45 MPH. Gradual accelerations and decelerations also posed little problem, evident in the stable contact patch when we revved to 55 MPH with little effort.
Like most SUV/crossover touring tires, the Nitto Crosstek 2's grip felt less planted at higher speeds (over 55 MPH). Fortunately, the traction loss was brief and manageable. Not to mention, most SUV and crossover drivers usually do not drive that fast when loading cargo of more than 500 lbs, so there is little to worry about.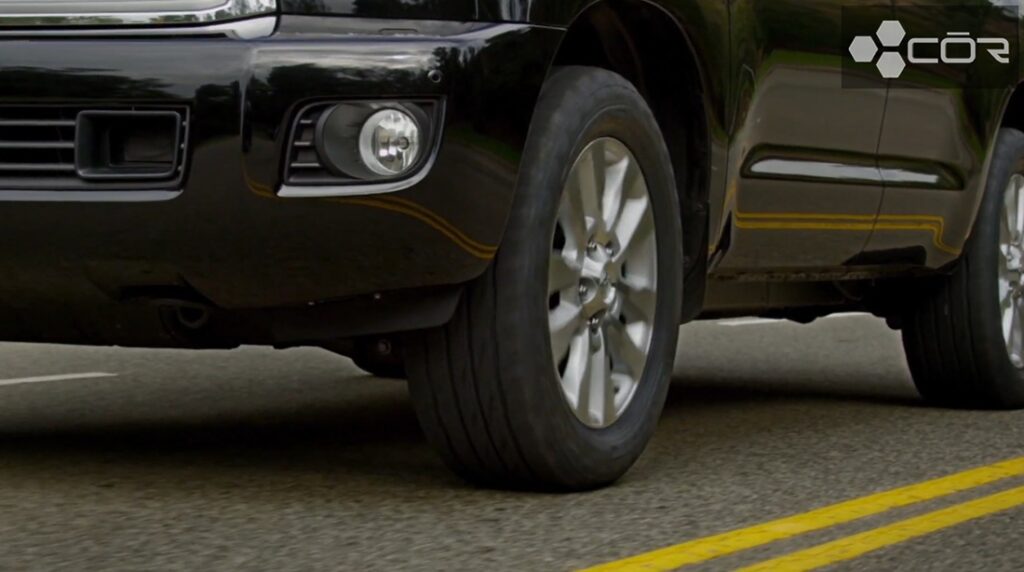 Cornering Stability: 8.7/10
We were impressed with the Crosstek 2's traction and stability when cornering.
Like on straight roads, the center ribs only wavered slightly at the start of the ride; we noticed no off-balance signs through gentle curves and corners. The tire also handled abrupt accelerations and hard braking much better than expected compared to the shaky Crosstek 1 we tested in the past. Therefore, loading more than 500 lbs should not be an issue for you.
Of course, we still encountered occasional gliding when revving past 55 MPH. But keeping our push-pull consistent was enough to help control the situation. Better yet, understeering and oversteering incidents at high speeds were surprisingly rare.
Steering Response: 8.4/10
The Nitto Crosstek 2 responded promptly and accurately in most basic driving situations, especially on straight roads. The tire aligned with our inputs well while keeping a strong connection with the road. Even when the tire stuttered during slightly sharper turns, its reaction still felt predictable and easy to control.
However, you should expect a less crisp steering response at higher speeds (50+ MPH), just like most SUV tires from Nitto. Handling descents and steep ascents also resulted in brief but frequent response delays if our steering inputs were inconsistent.
2. Wet Performance: 8.5/10
Wet Traction: 8.5/10
Our car did not slip too much when traveling in shallow puddles and moderate water depth below 4 inches, even at high speeds. We could even increase our speeds to 60+ MPH on well-paved paths, thanks to the 3D multi-wave sipes that displaced water to connect strongly with the roads. Shaking might still occur when you drive too fast, but it can't compromise the tire's balance or cause heavy drags when you load a cargo of 500 lbs or less.
On another note, the Nitto Crosstek 2 shuddered and vibrated much more often once we entered deeply flooded zones. The sipes struggled to maintain strong contact points and even stiffened in colder rainwater/temperatures, forcing us to avoid twisty roads and winding paths at all costs.
Hydroplaning Resistance: 8.4/10
Hydroplaning still occurred at high speeds (45+ MPH) and worsened around flooded corners and inclines. Carrying heavy cargo or more than 3 passengers in the car was unsafe – unless we kept our driving rates extremely low.
Fortunately, other than that, Nitto Crosstek 2 still performed decently in this regard, distributing rainwater quite well under the contact patch thanks to wide, well-placed circumferential grooves to keep our car balanced through both straight and winding roads. The advanced tread compound will also react to different road textures much better than expected, allowing you to move from regular streets to wet bridges/highways or vice versa with little to no drama.
3. Winter/Snow Performance: 7.5/10
Light Snow Traction: 8/10
We did not expect much snow traction due to the absence of snow-focused features. Surprisingly, the CrossTek 2 was much more stable than expected in light snow of 2 to 5 inches, as the serrated grooves distributed and redirected snow better than any other Nitto tire we had tested. 
Our car still struggled at high speeds (40+ MPH) and around tight corners, of course, but it remained impressively confident and predictable otherwise. You can also stabilize the tire further using snow chains (just on two wheels is enough), but they might not work that well when going uphill or downhill.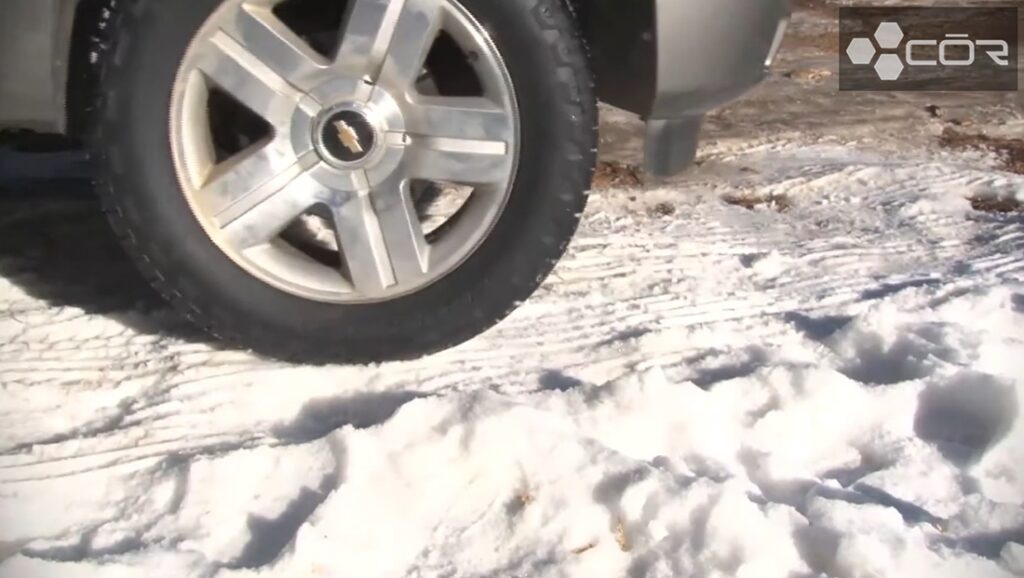 Deep Snow Traction: 7.5/10
The lack of extra biting edges on snow resulted in a rough drive in deeper snow; our car struggled to claw through it and shook from time to time, even on straight roads. Cornering was not impossible but definitely required strong, consistent steering force and constant downshifts.
On a brighter note, this tire was still rideable in slightly less dense snow (below 7 inches) when driven at 20 to 30 MPH. Using a couple of snow chains also helps you gain extra stability on highways and mountain passes.
Ice Traction: 7/10
The CrossTek 2 shuddered and vibrated very often on icy roads, making cornering attempts even twice as difficult as in our deep-snow test. Extra cargo weight, especially more than 200 lbs, resulted in serious tire drags and traction losses; the Honda CR-V could have crashed into nearby roadblocks if we had not used extra steering force to control it.
But in its defense, the tire was more or less manageable when driven below 20 MPH. Plus, if you are a seasoned driver or have already traveled these roads several times before, the traction loss tends to become less noticeable the longer you ride.
4. Comfort: 7.9/10
Ride Quality: 8/10
Though well-designed, the shoulder ribs and upper sidewalls sometimes felt too stiff. Therefore, you might experience dramatic vibrations and jostles over large road bumps or rough textures (e.g., cobblestone, brick roads, etc.), especially with cargo heavier than 400 lbs.
Fortunately, the CrossTek 2 was well-behaved on paved roads and in casual rides at below 55 MPH. Ascending or transitioning to highways/bridges also felt smoother than expected, considering the sudden changes in angles or road textures.
Road Noise: 7.8/10
Noise control was one of the Crosstek 2's weakest points. The rumblings and squeakings were low and tolerable on paved roads and around gentle corners, but they got annoyingly louder in water and snow. 
High-speed maneuvers and rough speed changes only exacerbate the situation. Unlike other tires that become quieter the longer you ride, these noises persist even after hours with no signs of subsiding.
5. Treadwear and Durability: 8.9/10
The constant noises and vibrations had given us the impression that the CrossTek 2 was weak against extreme road conditions and temperatures.
But to our surprise, the tire resisted well against these obstacles and barely suffered from any scratch at the end of our test. It only slightly overheats on sun-drenched roads during summer, yet you can easily fix it by lowering your driving speeds to reduce extra heat buildups.
Nitto Crosstek 2 Pros and Cons
Great levels of traction on dry pavements
Dependable traction and handling on wet road surfaces
Decent grip in snowy conditions; rideable on icy roads
Excellent treadwear and durability
Hydroplaning still occurs in wet weather conditions
Riding comfort and noise control could have been better
Slightly underwhelming steering response
Conclusion
The Nitto Crosstek 2 might not deliver traction as reliably as other premium tire models do, especially in wet weather, but it is generally predictable and easy to control.
Even deep snow and thick ice buildups do not dampen its stability as much as expected. Not to mention, the tire's resistance against cold temperatures and sharp debris is terrific, a great choice if you want to use this tire for extended periods.