Mickey Thompson Baja Boss AT surprisingly surpasses strong representatives from Yokohama, Todo, and more to stand out as one of the reason's most highly-rated rugged AT tires. To verify to what extent these opinions apply, our COR Wheels team has included the tire in our annual performance test; scroll for detailed reviews.
In this article:
Mickey Thompson Baja Boss A/T Specifications & Features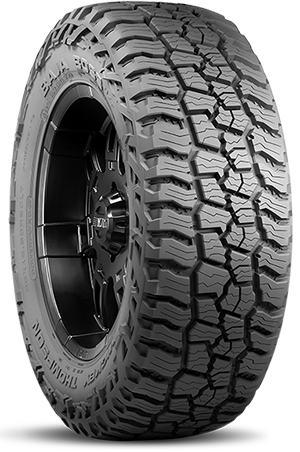 Tire Type
Rugged All-Terrain
Tire Size
15″ – 24″
Weight
37.0 LBS – 89.0 LBS
Load Index
109 – 129
Load Range
D2 – XL
Speed Rating
– Q: up to 100 mph
– T: up to 118 mph
Warranty
50,000 – 60,000 miles
Ratings
8/10
Mickey Thompson Baja Boss A/T is designed to assist SUVs, vans, and pickup trucks seek optimal off-road capabilities without sacrificing on-road predictability. 
The asymmetric tread compound patterns balance grip and noise comfort across off-road surfaces (especially loose terrains).
Silica blended into the compound provides wear resistance on coarse roads/harsh off-road terrains while improving wet performance.
Extreme Sidebiters protect the tire from small sharp objects and strengthen the tire's composure through off-camber surfaces.
Generous grooves and siping deliver extra bites for icy, light snow and wet roads.
2-ply (for non-LT tires), 3-ply (LT/high-flotation models), heavier cords, and thick casings increase puncture resistance, quicken steering feedback, and promote stability during serious towing attempts.
Mickey Thompson Baja Boss A/T Review & Performance Test Results
We test-rode the 265/60R18 version of Mickey Thompson Baja Boss A/T on the 2020 Toyota 4Runner as part of the 2023 COR Wheels Tire Test.
1. Dry Performance: 8.2/10
Dry Traction: 8.5/10
For a rugged off-road tire, Thompson actually did quite a good job on regular streets, almost comparable to a middle-range standard touring tire. The initial shakes in the first few minutes were slightly concerning but settled quickly, allowing our Toyota to breeze uneventfully at 40 MPH with only minor slippages on slightly rougher road patches (e.g., cobblestone). Over-reactions were also much tamer than expected, which helped keep panic reactions at a minimum once we started to increase our rates towards 60 MPH.
Highway performances were just as non-dramatic, if not even somewhat more stable; the tire's side biters reacted very well to the smooth asphalts here and knew where to stretch its flex limits to safe margins whenever adventurous leans were engaged. You will also unlikely find much trouble with towing tasks, judging by the way our Toyota only began to shudder after the extra weight exceeded 500 lbs.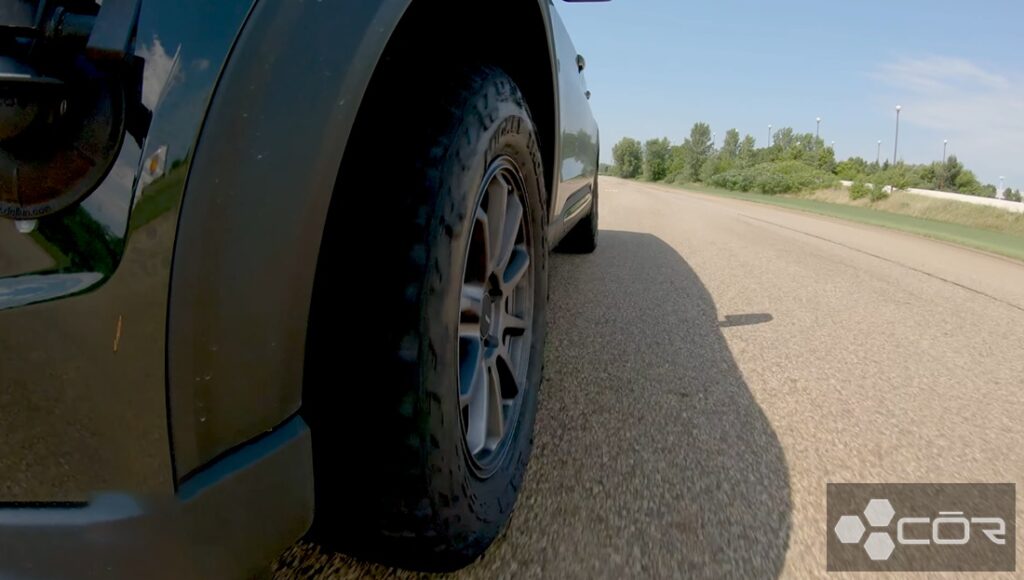 Corner Stability: 8.1/10
Baja Boss was not exactly the best stable performer with low-radius corners. Tight crooks and esses were somewhat tolerable thanks to the extra bites from the grooves and sipes, but back-to-back switchback would likely send the car straight fumbling. Oversteering also happened at a startlingly high frequency.
Still, given that most rugged AT tires are never meant for smooth on-road corners, Baja Boss did perform a great job here. Gentle, sweeping curves and tame approaches at low driving rates (35 to 40 MPH) helped the tire regain traction quite fast, and you will also have little difficulty carrying 100 to 150 lbs of cargo weight around such sections.
Steering Response: 8.1/10
Baja Boss was safe and predictable in most daily driving situations; you should be able to reverse, change lanes, adapt to gradual speed changes, or apply gentle mid-way turns just fine without issues. Longer-hour trips might make the steering feedback muter at times, but this issue could totally be negotiated by pulling the car over for a brief rest.
However, as expected, abrupt directional turns and spirited leans were still far from Baja Boss' best highlights. Even our experienced members struggle to keep the steering momentum straight across extended curves, so remember to use steering techniques as subsided as possible (preferably with both hands) if you are a beginner.
2. Wet Performance: 8/10
Wet Traction: 7.9/10
Thompson Baja Boss could cope decently in shallow water, though forceful steering was still required to keep brief stutters at bay. And while cornering attempts could be handled with relative ease, our car seemed to do it best from wide, gentle approach angles; tighter esses and chicanes led to more understeer issues than we would have liked.
Deep water beyond 4 inches surprisingly did not strip Baja off its contact points much as expected, given that the driving rates were kept strictly below 30 MPH. At any number higher than that, you should brace yourself for frequent coughs easily triggered at every turn and strike.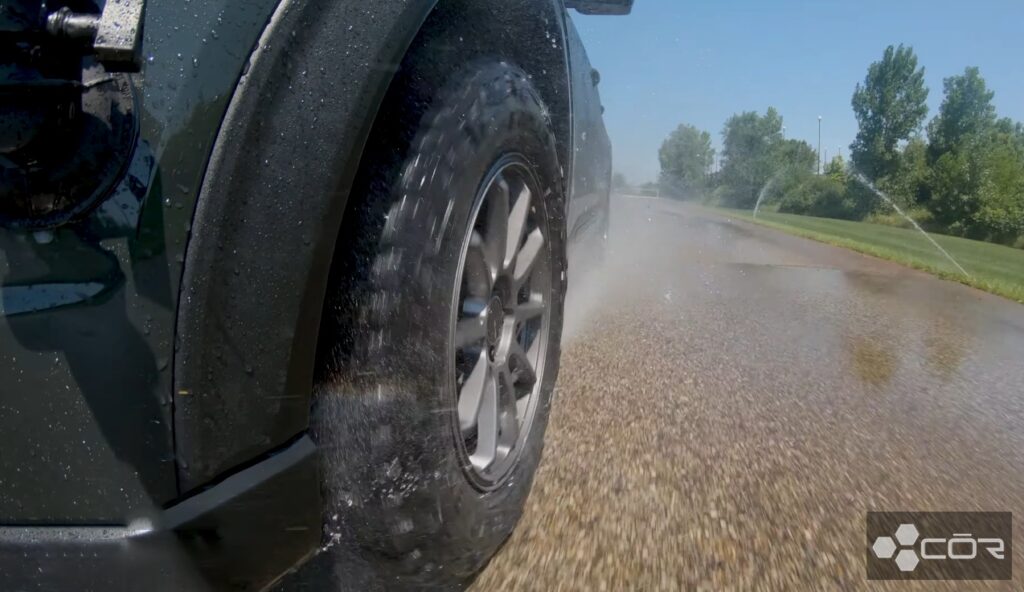 Hydroplaning Resistance: 8.1/10
Thanks to the grooves and sipings, Baja Boss manages to keep hydroplaning issues under control most of the time. Even during our worst slippage incidents at tight hairpins, the tire did not completely lose contact with the road patterns – and hence, easily regained composure with decent push-pull.
Better yet, unlike other tires that invited more water to intrude at higher speeds, we found the drags under the tire to stay unexpectedly unchanged no matter which driving rate we chose to stick to.
3. Off-road Performance: 7.9/10
Dirt Traction: 8.1/10
Our experiments with off-road gravel dirt went mostly smooth at 25 to 40 MPH; hiccups lurked quite often but remained low-key with strong palm-to-palm steering, so unexpected slippages were hardly a threat. The tire also redistributed loose dirt with decent confidence (almost the same as the way it dispersed rainwater), allowing us to attempt moderate to wide corners with little to no drama.
Nevertheless, Baja Boss is still a rugged AT tire, so we were admittedly disappointed by its clear lack of composure on hard-packed gravel. Tire-road connections did not vanish completely but felt quite weak, which made simple ascents and roadblock maneuvers thrice more challenging than on regular roads.
Plus, judging by the horrid shudders under the combined weight of 100-lb cargo and our five-member team, you should keep your towing tasks as light-duty as possible.
Sand Traction: 7.9/10
Minus a few sliding incidents around corners or through rough texture changes, we were pleased that Baja's sand performances were relatively the same as how it composed itself and off-road dirt.
Clawing actions were not sharp but enough for our car to get through most road twists and crooks; better yet, the tire seemed to settle more easily the longer we rode. On tamer, softer sand particles, you can even accelerate to 40-45 MPH with punctual grinding and steering pull.
Mud Traction: 7.9/10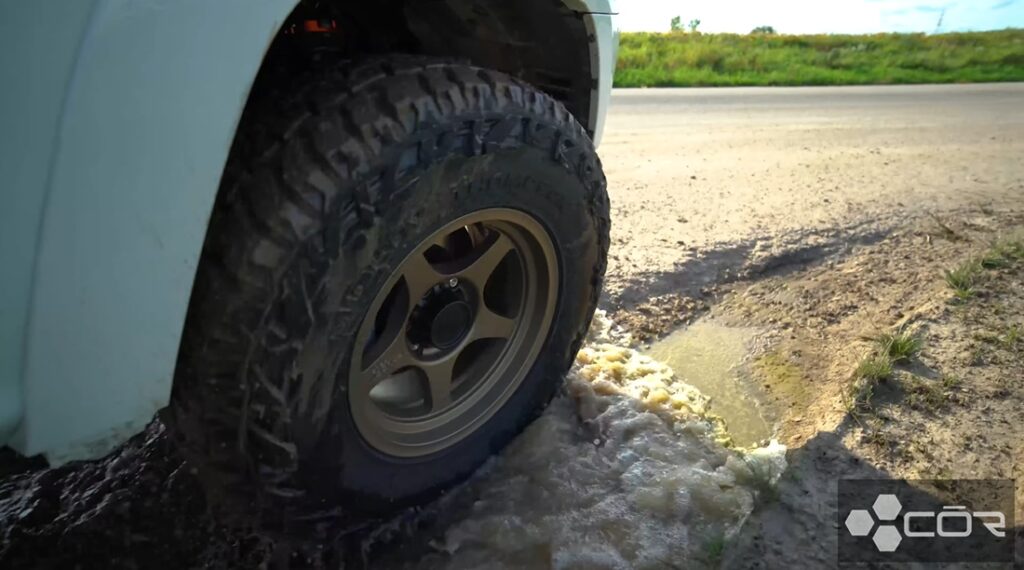 Likewise, Baja Boss carried most of its loose-terrain edges on sand into muddy roads. Marshy areas around farms and fields were easy to tackle (given good preparation), and any slightly stickier patch only took seconds for the tire to wriggle out of. Hydroplaning issues mostly occurred from 55 MPH onwards and stayed low-key at regular driving rates, which makes it easy for beginners to get used to the road textures.
On another note, deep pits and underwater mud were still the tire's most blatant flaws. Its grooves and sipes were too weak and ill-placed to handle moisture, thick debris, and high mud volume at the same time, so remember to avoid them or drive as slowly as possible here.
Rock Traction: 7.7/10
Baja's behaviors on rock terrains were not exactly stellar but far from downright disastrous, either, still striking pretty decent on soft rock trails and gentle riverbeds with few texture inconsistencies.
For thicker stacked rocks or scree slopes, though, our Toyota had to alternate between constant downshifts and speed changes, which required a lot of stamina – do not try it out if you have little physical confidence.
4. Winter/Snow Performance: 8/10
Light Snow Traction: 8.1/10
We were pleased with Baja Boss' excellent control (for a rugged AT tire) on light snow. In fact, its footings established themselves even better than on off-road terrains and adapted quite well to instant steering inputs, resulting in very few panic reactions. When armed with snow chains, the tire-road connections grow so sharp that you could use them around tight corners and moderately-spirited highway rides.
Deep Snow Traction: 7.9/10
Other tires often suffer huge discrepancies between their light-snow and deep-snow performances, but not Baja Boss. Save for more notable struggles at high speeds, you should expect more or less the same behaviors here: similarly predictable stutters, stable footings, and increased confidence with the help of snow chains. Traveling in groups of 4-5 should be a non-issue for you as well.
Ice Traction: 8/10
The Sidebiters also have their moment on ice, so Baja Boss dealt with hard surfaces better than wet slush and snow, evident in the way it tracked forward confidently at 40-45 MPH with only some minor, brief driftings thrown in between – a slight improvement from its previous deep snow behaviors.
Corners (even extremely tight ones) could still be attempted wisely from generous angle approaches and tamed speed fluctuations, making Baja one of the most reliable temporary winter tire replacements you can turn to.
5. Comfort: 7.7/10
Ride Quality: 7.6/10
Despite the advertisements, stumbles and vibrations were still a frequent presence across most of our experiments with Baja Boss, whether snowless or snowed, on-road or off-road terrains.
But on a brighter note, they were quite well-controlled under low driving rates, and somewhat whitened themselves out when we installed snow chains for light/deep snow performances. Keeping trailers/cargo below 100 lbs also boosts its impact handling to a dramatic extent.
Road Noise: 7.8/10
The tire came off pretty audible during off-road and snow conditions but remained surprisingly tolerable on dry on-road surfaces. High speeds also did not reek as much noise as we expected (guaranteed consistent steering and gradual revs) – good news for drivers preferring slightly more spirited drives without sacrificing too much noise control.
6. Road Tread Wear and Durability: 8.3/10
Mickey Thompson Baja Boss may plummet more often than not on gravel and mud, but its impressive composure against temperatures and weather extremes managed to gain back lots of lost scores for the tire.
Our ten-day test also concluded nicely with very few minor scratches on the top (mostly due to sharp rocks); aided by the 50,00-mile tire warranty, it should last you for at least five years.
7. Pros & Cons
All-round performances (all metrics beyond 7.6)
Good snow and ice handling
Quite stable on off-road dirt and loose terrains
Decent wet road traction (for a rugged AT tire)
Pretty reliable dry traction
Off-road manner could still be better
Sometimes slippery on rocks
Riding quality is not always smooth
Competitors & Alternatives
Against competitors like Falken WildPeak A/T3W and Toyo Open Country A/T III, Mickey Thompson showcased both strengths and areas that need improvement:
Mickey Thompson Baja Boss A/T was pretty comfortable on snow and ice but could do better with some off-road improvements.
Falken WildPeak A/T3W led the test with excellent noise comfort, though we would prefer its steering to be slightly more responsive.
Toyo Open Country offered sporty steering and nice impact handling. There was still room for extra wet grip, though.
Conclusion
After the Mickey Thompson Baja Boss AT tire review, we rank it the third in our rugged AT list. The Baja Boss A/T actually gained most of its score from stable on-road handling and good snow performances. Off-road manners, meanwhile, still had room for improvement, so it would be better if you use this tire for casual gravel dirt, light rock trails, and occasional sand and mud.
Mickey Thompson Baja Boss A/T
PRICE
SOLD BY

Offers

In Stock

Offers

In Stock

Offers

In Stock

Offers

In Stock

Offers

In Stock

Offers

In Stock
---
President & Automotive Expert at COR Wheels
Robert Herrera has been with COR Wheels for 17 years and has a great passion for the automotive industry. During his time at COR Wheels, he has driven and test-driven a variety of vehicles.
---