Although Hankook is not as popular as Michelin or Continental, its budget-friendly tires still receive great feedback from many drivers worldwide. The Kinergy ST H735 even lands among the market's best-selling standard touring tires, so our team included it in our annual real-life tire test.
Keep scrolling for our reviews regarding the H735's traction and performance.
In this article:
Hankook Kinergy ST Specifications & Features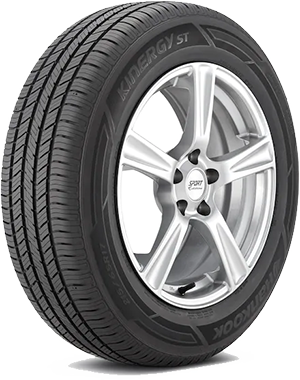 Tire Type
Standard Touring All-Season
Tire Size
13″ – 17″
Weight
14.0 LBS – 27.0 LBS
Load Index
82 – 105
Load Range
SL
Speed Rating
– H: up to 130 mph
– T: up to 118 mph
Warranty
70,000 miles
Ratings
8/10
The Hankook Kinergy ST H735 is developed for coupes, minivans, crossovers, and sedans that seek smooth, quiet rides, confident traction (even in wintry conditions), and great tread life.
Its all-season, abrasion-resistant compound extends the tire's lifespan.
The H735's symmetric pattern allows the tire to rotate more easily and prevent irregular wear.
The tie bars integrated into the outboard grooves and center ribs make the tire more stable and responsive.
The pitch sequence is optimized to reduce noise.
The sipes and independent blocks create more biting edges on wet, slippery surfaces.
Its circumferential grooves and shoulder slots evacuate water effectively.
Optimized sipes work with lateral notches to improve snow traction and wet braking.
The 2-ply polyester casing and double steel belts aid durability and riding comfort.
The full-width cap ply boosts high-speed performance.
The stiff bead filler ensures a crisp steering response.
The jointless bead wire secures the tire in place, boosting its uniformity for smoother rides.
Hankook Kinergy ST H735 Review & Performance Test Results
We installed the 235/60R18 tire size version of Hankook Kinergy ST H735 on our 2022 Honda CR-V Hybrid EX during the 2023 COR Wheels Tire Test.
1. Dry Performance: 8.6/10
Dry Traction: 8.8/10
Since the ST H735 is a standard touring AS tire, it is understandable that the tire felt less grippy when we exceeded 60 MPH. But the tire stabilized once we returned to the safer speed range of 40-55 MPH, thanks to the stable tie bars and center ribs that strongly supported the contact patch. We had no trouble navigating roadblocks, overtaking vehicles, and maintaining balance on slightly uneven road textures.
The H735 remained confident on highways (given that the driving speed was below 60 MPH) and did not falter as much as expected when going through extended curves. Its grip while ascending and descending was also surprisingly good, unlike some other Hankook tires we tested. Even as a beginner, you will likely have a smooth and seamless driving experience on these surfaces. 
On another note, the tire was not designed to withstand heavy cargo, even as light as 200 lbs or lower, evident in the significant drag we experienced on steep slopes and during sharp turns.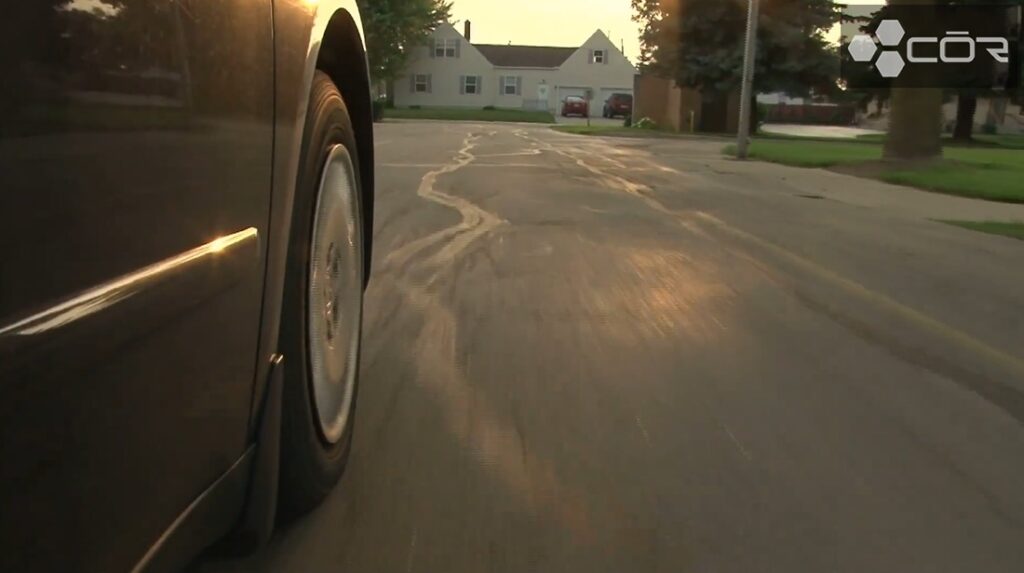 Corner Stability: 8.5/10
The Kinergy ST H735's cornering stability was not exceptional: our car still experienced a lot of shuddering when we applied hard braking or accelerated mid-corner toward 60+ MPH.
Fortunately, the tire did not lose control as often at lower speeds (between 30 and 55 MPH) and adapted well to gradual speed changes. Although carrying cargo was still not its strong point on twisty roads, the Honda still managed with 4-5 passengers at a time through corners without too much slippage or dragging.
Around tighter corners, understeering or oversteering might happen more often than with gentle curves; if you are not confident in your driving, do not try anything too aggressive.
Steering Response: 8.6/10
The ST H735 was generally crisp and responsive at low/average driving speeds. We still experienced occasional delays during long highway curves and extremely sharp turns – but other than that, the tire rarely disappointed us.
This impressive response continued during our higher-speed rides (between 60 and 65 MPH), only stuttering when we revved up to 70 MPH or more on rough road textures.
2. Wet Performance: 8.1/10
Wet Traction: 8.1/10
The Kinergy ST H735 could still handle deep water at around 50 MPH, but the constant vibrations and slippage became more annoying the longer we rode. The tire also encountered understeering/oversteering a lot when going through deeply flooded corners. While the recovery is likely quick, it might still discourage first-time drivers or those who prioritize smooth rides on wet roads.
On a brighter note, ST H735 will be very stable if you mostly travel in shallow water or puddles. Our ascents/descents under these conditions carried on smoothly without too many jostles and traction losses, allowing us to use the CR-V at its full passenger capacity (5 people) at 40 to 45 MPH.
Hydroplaning Resistance: 8.1/10
The tire's circumferential grooves and shoulder slots did not work well in water 4 inches deep and onward. Despite our controlled and consistent steering inputs, water kept invading the sipes and dampened the tire's footprint on the road. We had to remove 2 passengers mid-way to keep our car stable until the end of the test ride.
But if you rarely travel at speeds higher than 40 MPH, here's the great news: H735 manages to keep hydroplaning issues minimal in those cases. They were still intrusive when cornering or moving to highways, but not enough to affect our car's overall performance.
3. Winter/Snow Performance: 6.6/10
Light Snow Traction: 7.4/10
Despite Hankook's advertisements, the sipes and independent blocks barely work in light snow. Our car could only maintain tolerable traction at best on straight roads when driving at below 35 MPH and started to shake uncontrollably at corner entries. 
You can address this issue by using snow chains on all four wheels, but even this method can not 100% prevent unpredictable stutters and long response delays on less-paved roads.
Deep Snow Traction: 6.4/10
The ST H735 struggled a lot in deep snow, regardless of our steering inputs and techniques. The tire could remain somewhat stable if we decelerated to 25 MPH; unfortunately, any number beyond that or any signal of aggressive handling threw our car off its balance.
In colder temperatures and harsher weather (e.g., snow storms), its self-control worsened so much that no snow chains could help it gain extra stability. You should not use this tire for long, high-speed trips in severe winter conditions.
Ice Traction: 6/10
The ST H735's performance on thick ice was even worse than in deep snow due to the lack of biting edges.
We had to stop our test ride after 4 miles despite only traveling straight roads, and going through winding paths and sharp corners was clearly impossible. You should not also rev past 20 MPH; keeping the driving rates between 10 and 15 MPH will be the safest to avoid serious gliding.
4. Comfort: 8.5/10
Ride Quality: 8.6/10
The Hankook Kinergy ST H735 vibrated and jostled a lot during high-speed rides and in wet weather or thick snow.
Fortunately, that was not the case with our test rides on paved roads at 40 to 55 MPH; the ST H735 rolled over road cracks smoothly and felt cushioned on sharp rocks and debris. Gradual accelerations while going uphill/downhill will not result in too much shaking for you, either.
Noise: 8.5/10
We heard a lot of tread noises when cornering or going through long highway curves; the tire also squeaked a lot in deep water and thick snow.
But the great news is that these noises are quite low and will become less noticeable the longer you ride. With our consistent push-pulls while traveling on paved, smooth roads, the noise was barely there.
5. Treadwear and Durability: 8.2/10
The ST H735 needs much better stability in extremely cold weather and deep water.
But in its defense, the tread stayed stronger than we thought when traveling on sharp debris, mud, and shallow puddles. The 70,000-mile warranty is also very assuring for a standard touring tire.
Hankook Kinergy ST Pros & Cons
Great dry traction at low/average driving speeds
Fairly comfortable rides
Pretty good noise control
70,000-mile warranty
Underwhelming performance on wet roads
Disappointing in winter; unrideable on thick snowy roads and ice
Not for high-speed endeavors
Conclusion
The Hankook Kinergy ST H735 is not exactly the best choice for aggressive, high-speed ridings, and its wet/wintertime traction also leaves much to be desired.
But you can trust this all-season tire to perform consistently at 40 to 55 MPH on dry roads without sacrificing too much riding comfort. Not to mention, its affordable price will appeal to many tight-budget drivers.