Uniroyal is not a formidable competitor compared to Michelin, Bridgestone, Goodyear, etc. Thus, it's surprising when one of its touring all-season lineups, the Tiger Paw, continues to rank among the best-selling tires on the market.
To confirm if its performance lives up to its reputation, we've included the Tiger Paw Touring A/S in our annual tire test. Keep scrolling for more!
In this article:
Uniroyal Tiger Paw Touring A/S Specifications & Features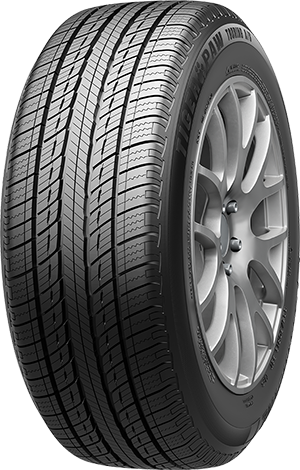 Uniroyal Tiger Paw promises great all-season traction by including the following features:
Its compounds are molded into symmetric patterns to lower road noises and boost ride comfort
The continuous center ribs strengthen braking consistency and steering response
Lateral notches and circumferential grooves reduce hydroplaning
Tru-Last Technology guarantees even treadwear
High-density sipes create more biting edges to control your muscle car in light snow conditions
Strong shoulder blocks encourage high-speed stability and handling.
Uniroyal Tiger Paw Touring A/S Review & Performance Test Results
We installed the 225/55R17 tire size version of the Uniroyal Tiger Paw Touring A/S on our 2017 Toyota Century during the 2023 COR Wheels Tire Test.
1. Dry Performance
Dry Traction
The Uniroyal Tiger Paw Touring AS faces little difficulty on dry roads. Its strong shoulder blocks gripped the road well, giving us a smooth ride at 40 MPH. We then increased our driving speed gradually to 45, 55, and 65 MPH; this all-season tire remained confident most of the time, except for brief shudders when navigating sudden roadblocks.
This confidence continues on highways, allowing you to merge/depart lanes and overtake vehicles breezily. Slippage happened more often on long, tightly-spaced curves, but it felt predictable, even for beginners. Hence, you can allow light cargo (below 300 lbs) for longer rides without dragging the tire too much.
Some of you may wish for better refinement when transitioning between road textures (asphalt to tarmac or vice versa). Fortunately, the traction loss did not persist for more than five seconds, and the Tiger Paw quickly recovered, regaining its initial stability.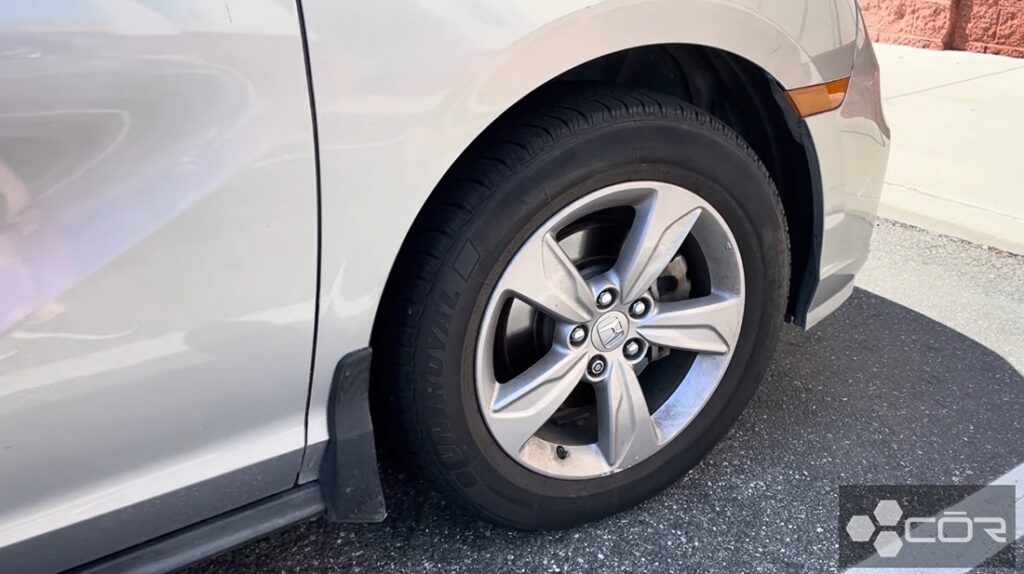 Cornering Stability
The Tiger Paw handled gentle, wide corners almost the same as it did on straight-road rides, partly thanks to the stable on-center ribs being unaffected by aggressive acceleration. This all-season touring tire also composed itself well during deceleration and hard braking, giving us confidence from the corner entry to the exit; you're less likely to experience collisions or unexpected slippage mid-way through cornering.
Although Uniroyal Tiger Paw was not specially designed for towing/loading, you can still carry 200-300 lbs through tight corners here – just like on straight roads. Our only complaint was about the occasional understeering incidents beyond 55 MPH.
Steering Response
There is not much to complain about Tiger Paw's sharp and quick steering response. It aligned with our inputs and regained confidence quickly after brief delays when going uphill; despite minimal inputs, our car reacted on time and predictably around corners, when moving to highways, or during speed changes.
On another note, the response became oddly slower when we encountered a short gravel road section. Still, since it's not an AT or off-road tire, we believe most of you won't frequent that terrain. 
2. Wet Performance
Wet Traction
The Tiger Paw was amazing on slippery surfaces and in 2 to 5 inches of water. The horizontal grooves established a reliable tire-road connection and seemed unaffected by the intruding water, so we could effortlessly maneuver around roadblocks and vehicles at 40 MPH. Abrupt acceleration might shake your car a little, but gradually speeding up will work well for Tiger Paw; the same applies to deceleration.
On another note, some of you might be disappointed with the braking distance on wet surfaces, which is mediocre in moderate water depth and worsened around flooded corners (water beyond 6 inches deep). Traction loss will also happen more frequently when you load your car with more than 200 lbs of cargo.
Hydroplaning Resistance
Tiger Paw's anti-hydroplaning design is not exceptional but decent for most driving situations. Although the water still lingered, the tire's grooves and sipes displaced it well enough for stable, even tire rolls. We could feel the contact patch clearly with little to no drag, except for in higher-speed rides.
Still, the tire's anti-hydroplaning capability shone on even surfaces; ascending or descending through deeply flooded roads invited more rainwater into the grooves than we would have expected.
3. Winter/Snow Performance
Light Snow Traction
The anti-hydroplaning design worked quite well in wet weather conditions and didn't lose its prowess on light snow (2 to 5 inches deep). Its biting edges kept our car stable and composed through rougher surfaces, so acceleration or braking was hardly an issue. Snow chains will balance the tire even better around tight corners, but without them, you can still handle cornering attempts just fine.
Nevertheless, extreme speeds dampened the Tiger Paw's traction (even on snowless roads), so if you are an adventurous driver in snow, do not expect too much here. It would be best to keep your car within the 40-45 MPH range and only accelerate beyond that on well-paved roads.
Deep Snow Traction
The grooves struggled to handle deeper snow blankets (beyond 5 inches) at 40 MPH; only when we reduced our speed to 35 MPH did the tire become much more stable. Straight roads will not challenge you much if you are experienced, but twistier sections and tight corners/blind curves definitely require stronger and more consistent push-pull.
Snow chains help you gain extra grip through regular roads and highways. But traction loss will return on rougher surfaces (e.g., mountain passes, canyon roads, cobblestones), so consider avoiding them altogether or keeping your passengers/cargo weight extremely light.
Ice Traction
The high-density sipes mostly work with snow/light gravel and not thick ice; no wonder our car jerked every 1-2 miles on icy roads.
It also took a lot of time to adapt to speed changes and cornering. So, if you do not have much experience, only use Tiger Paw tires on straight, icy roads. Cornering (whether gentle or tight) will be quite dangerous, even more so when your car has more than 100 lbs of cargo and luggage.
4. Level of Comfort
Ride Quality
The tire shuddered in cold and rainy conditions, even more noticeably on deep snow and ice. But other than that, it's hard to complain about its composure on daily paved roads (at 40-45 MPH), which feel so smooth and at home that even one-hand control is unlikely to push your car off balance. The 55 to 60 MPH speed range didn't significantly affect the tire's contact patch, only causing minor jostles during ascents.
Noise Level
The tire's symmetric pattern reduced road noises well in dry weather and on lightly slippery surfaces. 
But in heavy rain and deep snow, you must prepare for louder, more frequent screeches in the sidewalls and grooves. Fortunately, if you are not too noise-sensitive, they are tolerable and tend to grow quieter the longer you ride.
5. Treadwear and Durability
The Tiger Paw distributes pressure well to ensure even wear; plus, on less-paved roads, the double steel belts and nylon reinforcements easily keep the tire in great shape. As a result, tread life is the last thing you must worry about, further supported by the impressive 65,000/75,000-mile warranty (depending on the model).
Uniroyal Tiger Paw Touring AS Pros & Cons
Good longitudinal traction and ample grip on dry surfaces
Sharp and quick response time
Plenty of traction in wet weather/wet road conditions
Decent traction in winter conditions/light snow
Generous 65,000 or 75,000 miles treadwear warranty & 45-day ride guarantee
Fairly quiet rides
Affordable price level
Struggling in severe winter conditions, deep snow, and ice
Not for extreme speeds
Hydroplaning when ascending or descending
Conclusion
As seen from our Uniroyal Tiger Paw Touring AS tire reviews, the tire is confident in dry weather and controls slippage/hydroplaning quite well during wet seasons.
The tire certainly is not for long traveling over deep snow and ice, but that is normal for most standard touring models from less-popular tire brands like Uniroyal. And given the affordable price range, it is definitely a great deal for any tight-budget driver in casual, everyday driving.