The Hankook Ventus V2 Concept2 combines notched shoulders, wide circumferential grooves, and 3D sipes to guarantee the tire's ultimate performance in all weather conditions.
While it is among the best-selling high-performance all-season tires on the market, customer reviews from our survey seem quite mixed. As a result, we included it in our tire test to confirm its real-life traction and handling characteristics.
In this article:
Hankook Ventus V2 Concept2 Specifications & Features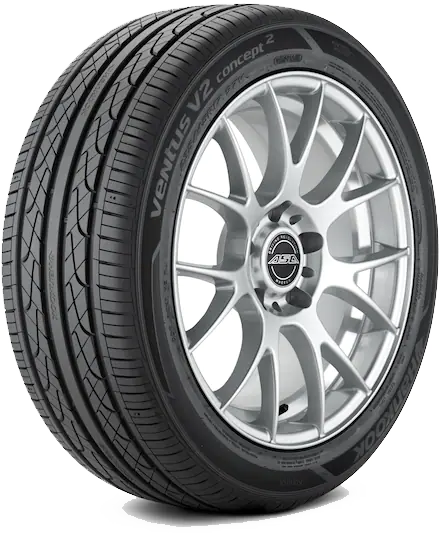 Tire Type
Ultra High Performance All-Season
Tire Size
15″ – 18″
Weight
16.0 LBS – 25.0 LBS
Load Index
82 – 99
Load Range
SL – XL
Speed Rating
– H: up to 130 mph
– W: up to 168 mph
Warranty
45,000 miles
Ratings
7.1/10
The Hankook Ventus V2 Concept2 is developed for performance sedans, sports coupes, and mid-level sports cars seeking great year-round performance and dynamic styling.
The tire features a silica-enhanced, high-grip tread compound that combines low rolling resistance, good year-round traction, and improved fuel economy.
Its directional design, including a continuous center rib supported by notched shoulders and interlocking blocks, promotes braking performance and steering response.
The V-shaped pattern and four circumferential grooves drain water to improve wet traction and reduce hydroplaning.
The engineered sipes, 3D intermediate blocks, and shoulder notches create more biting edges in winter.
The double steel belts wrapped with high-density nylon and high-strength bead fillers boost the tire's steering response, handling, and overall cornering performance.
Hankook Ventus V2 Concept2 Review & Performance Test Results
As part of the 2023 COR Wheels Tire Test, we installed the Hankook Ventus V2 Concept2 (215/45R17 tire size version) on our 2019 Toyota Corolla model.
1. Dry Performance: 8.1/10
Dry Traction: 8.2/10
The Hankook Ventus V2 Concept2 connected well with the roads when we drove our Corolla at speeds between 40 and 45 MPH. The tire occasionally slipped when we turned too sharply, but those traction losses were fairly brief and manageable. Better yet, despite the simple design, the Concept2 did not suffer from heavy drags under extra cargo/passenger weight; therefore, we could load 250 to 300 lbs without too much trouble.
Though it's a high-performance tire, you might be disappointed with the constant shuddering and shaking at high speeds (50+MPH).
The Concept2 did not adapt to different road textures as well as expected, either, causing the tire to glide dramatically during our transitions from regular streets to highways. Worse, after traveling for more than 2 hours, the tire showed clear signs of fatigue, especially when going through long highway curves.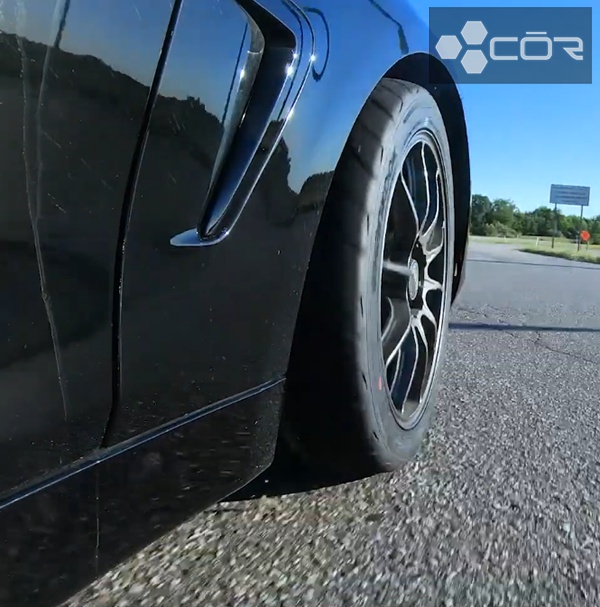 Corner Stability: 8/10
Like on straight roads, the Concept2 worked best with low or average speeds (25 to 45 MPH) when cornering. The tire was slightly off balance, wavering when we made sharp turns, but its traction losses were not enough to put the car under severe gliding risks. Better yet, provided that you make gradual and not too abrupt speed changes, Concept 2 should have little trouble adapting to accelerations, decelerations, and hard braking mid-corner.
On another note, the tire exhibited a lot of shuddering once we exceeded 55 MPH. It also struggled with tighter corners and off-camber bends, getting even worse when loaded with cargos of 200+ lbs. You should avoid aggressive handling or slackened steering inputs around these road sections.
Steering Response: 8/10
The Ventus V2 Concept2 was fairly responsive and aligned well with our steering inputs in basic driving situations. The on-center feel was reliable on straight-line roads, allowing us to relax our grip on the steering wheel. That said, it lacked the sharp edges we often expected from a high-performance tire for a more spirited driving experience.
As a result, the tire seemed quite hesitant during abrupt accelerations, sharp turns, and sudden lane changes; worse, we even noticed significant response delays when navigating unexpected roadblocks.
Seasoned drivers or those traveling on well-paved, familiar roads might not consider this a huge drawback. But if you are a fresh beginner, be careful; otherwise, this oversight could lead to serious collisions.
2. Wet Performance: 6.9/10
Wet Traction: 6.8/10
We were very disappointed with Concept2's lack of confidence on wet roads. Despite being an all-season tire, it already slipped on shallow puddles and lightly slippery surfaces. The traction loss only improved a little when we decelerated to 35 MPH – and even then, unpredictable slippage still occurred around corners.
Needless to say, the Concept2 was disastrous in deep water, barely maintaining decent balance even on straight roads. Understeering and oversteering often happen around corners (even gentle curves), so you should think twice before carrying more than 3 passengers in your car. The only case we felt a confident grip was under the rain when the road was not flooded yet; the tire still managed to offer a reliable contact patch then.
Hydroplaning Resistance: 7.1/10
Although not as serious as we had thought, the hydroplaning issues were far from pleasant. Water kept slipping into the sipes even when we slowed down to allow time for the grooves to evacuate water, and the tire rolls were not consistent enough to minimize the skidding. Therefore, maintaining a smooth and breezy ride was hard even on shallow puddles – only slightly easier when we drove very slowly (preferably below 30 MPH).
Navigating deep water beyond 5 inches gave us a slight floating sense, and sharp turns or tight corners caused so much slippage and heavy drags that we could barely continue our ride through steep slopes and wet bridges. It would be much better if you travel alone on these roads while avoiding difficult twists and turns.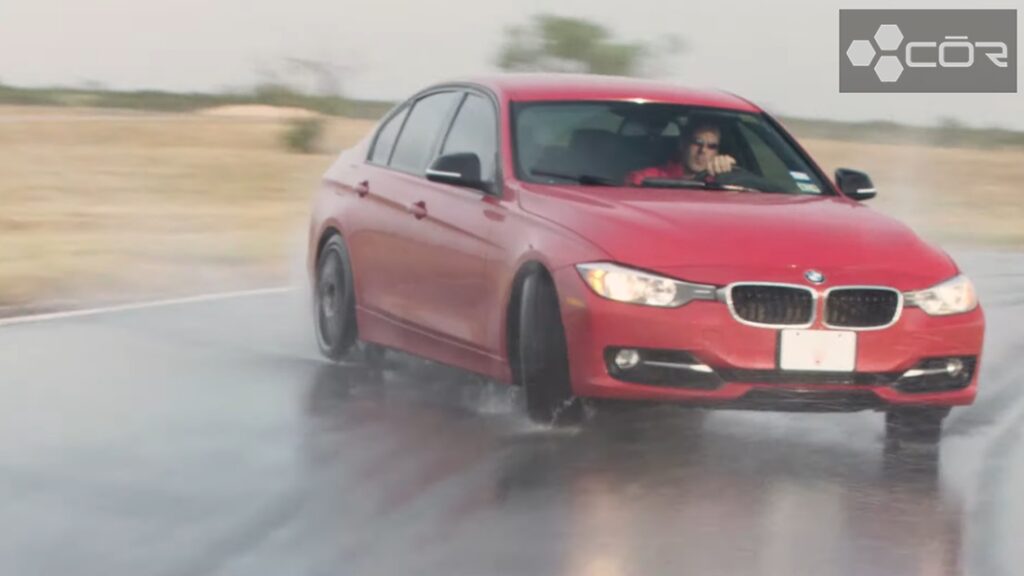 3. Winter/Snow Performance: 4.9/10
Light Snow Traction: 5.5/10
The engineered sipes and 3D intermediate blocks did nothing to help us retain good traction in light snow. Though we just kept the speed at 20 MPH, our car glided and shook violently every time we hit the gas pedal, forcing us to stop our test after only 3 miles.
Snow chains only worked on well-paved roads and barely gave us any extra traction otherwise. Needless to say, aggressive cornering, ascending, and descending might potentially send you straight into accidents if your steering slackens.
Deep Snow Traction: 4.7/10
The Concept2 cannot even handle light snow, let alone deep snow, so you should not get your hopes up. The shudders and vibrations observed in our light-snow test repeated here but twice worse; our car could barely go through the snow at 10 MPH. 
This lack of confidence became even more noticeable in wetter snow, where the tire screeched at every turn and took 15-20 seconds to stop after hard braking.
Ice Traction: 4.4/10
The Ventus V2 Concept2 was clearly not meant for long traveling on icy roads; even thin ice buildups were enough to throw our car off-track.
You should only use this tire when the temperature drops but not to the freezing point, preferably in late winter and early spring. Note that melting ice even exaggerates the danger since it sets the stage for hydroplaning. Otherwise, accidents and collisions will be inevitable regardless of your driving skills and prior experience.
4. Comfort: 7.8/10
Ride Quality: 7.9/10
Although we still wished for more subtlety and cushioned feel over large road cracks, the tire was not as bad as we thought: its rubber compound was stable but not too stiff, ensuring smooth, breezy tire rolls at 40 to 45 MPH.
We only faced real struggles in water, snow, and around extremely tight corners. That is great news if you are a casual driver who rarely travels at high speeds or on rough road surfaces.
Road Noise: 7.8/10
The Concept2 screeched very loudly when cornering and could barely keep the noise under control whenever we revved up or used hard braking. 
Fortunately, the tire was quite tame on straight roads and did not sound that deafening when we kept our cargo below 200 lbs. If you maintain your driving speeds under 25 MPH, the squeaking sounds will be barely audible.
5. Tread Life and Durability: 7.6/10
This tire was strong and stable – but only on dry, paved roads when traveling at low speeds. Extended rides on highways caused it to overheat and fatigue. It slipped constantly in water and snow, stalled every few miles in freezing temperatures, and could barely handle sharp debris and rocks. Therefore, we couldn't expect the tire to last so long, but many drivers claimed in our survey that they could reach 50,000-60,000 miles with frequent maintenance.
The 45,000-mile warranty is decent but not that competitive for a high-performance tire.
Hankook Ventus V2 Concept2 Pros & Cons
Good dry traction at low/average driving speeds
Decent steering response and cornering in dry weather
Tolerable road noise
Reasonable price
Underwhelming traction in wet conditions
Unrideable on icy and snowy roads
Not for high speeds
Conclusion
The Hankook Ventus V2 Concept2 needs much improvement with its wet and wintertime traction, which worsens at high speeds and around corners. Thankfully, this all-season tire is still manageable in casual rides on dry surfaces – a great choice if you are neither an aggressive nor demanding driver.