Few ultra high-performance models could surpass the HTR A/S P03 model from Sumimoto in terms of popularity, what with the sleek design and intricate sipes/grooves interlock. A few advanced add-ons are also included to elevate the tire's performance compared to predecessors.
Whether it lives up to expectations, though, will be discussed in more detail in our review.
In this article:
Sumitomo HTR A/S P03 Specifications & Features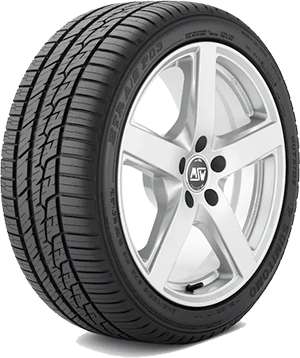 Tire Type
Ultra High Performance All-Season
Tire Size
15″ – 20″
Weight
18.0 LBS – 36.0 LBS
Load Index
83 – 108
Load Range
SL – XL
Speed Rating
– H: up to 130 mph
– W: up to 168 mph
Warranty
45,000 – 65,000 miles
Ratings
8/10
Sumitomo HTR A/S P03 is developed for owners of powerful sedans, sporty coupes, and sports cars looking for the best consistent performance that blends wet, dry, and wintertime grip across most driving terrains.
The following is a summary of P03's notable highlights:
The all-season, silica-enhanced compounds are molded in asymmetric patterns, optimized to sidestep profile deformation at corners and improve stability/handling.
High-tension, solid bead apex strengthens sidewall rigidity during cornering attempts – which, in turn, increases steering response and feel.
Innovative "fin" designs blended into the intermediate outboard ribs feed the water-evacuating channels towards the outboard shoulders. This design reduces hydroplaning for better stability on wet roads.
"Miura Ori" sipes are molded onto the outboard ribs, helping P03 maintain road connection in wintertime conditions and inclement weather.
Cross-design sipes and grooves are built into P03's inboard ribs to further boost the contact patch.
Robust, 2-ply polyester casings are included for riding comfort and increased tire durability.
Twin-reinforced belt packages (made of steel) are wrapped around with full-fledged nylon reinforcements to enhance reliability and high-speed stability/integrity.
Sumitomo HTR A/S P03 Review & Performance Test Results
Once installed on the Subaru WRX car, Sumitomo HTR A/S P03 (the 245/40R18 version) was tested for ten days in June-July and another few days in January as part of the 2023 COR Wheels Tire Test.
1. Dry Performance: 8.7/10
Dry Traction: 8.9/10
P03 was quite sharp on dry asphalt roads, handling brief traction loss with enough punctuality to turn it into a non-issue. Minor stutters only happened around the first few minutes and disappeared gradually as Subaru marched forward in consistent 45 MPH strikes. By the moment we reached the 4-5 mile benchmark, the contact points had been established so strong that no abrupt veering/maneuver we threw its way could make the car falter.
Graded roads with slightly angled builds did not throw P03 off its composure either; hence, you can allow yourself a bit of unplanned acceleration without risking your road safety. In fact, our team even managed to surge straight to 75 MPH in 5 seconds while grinding the steering wheel down to avoid sudden drifting.
Nearing 80 MPH on highways was also a pleasant experience, though we did notice that pronounced sliding motions started to occur more often around S-curves. Momentum has to be maintained in unwavering streaks right from the beginning, or you will likely skid off the line at any time.
Corner Stability: 8.7/10
Thanks to the asymmetric silica compounds, we did not have to suffer from much profile deforming at corner entries. P03 retained excellent footholds while diving in and carried on with decisive confidence through the very last few points of our corner exits.
Switchbacks with back-to-back zigzag patterns or consecutive esses could not deter P03 much; either; the high-tension apex did a remarkable job stabilizing the tire for better adaptation to directional changes. As such, you will have much higher recovery chances whenever oversteers or understeers occur, returning under the corner lines in an instant without dampening the car's thrust power.
Still, it seemed A/S P03 was not designed to handle extreme crooks with a tight radius. Despite our rather gentle inputs at moderate driving rates (35 MPH), skitters around the flank were still very transparent and sent the car fluttering frequently mid-cornering.
Steering Response: 8.6/10
Steering response was generally favorable with no significant delays or lagging.
Straight-line driving was a given, but cornering attempts carried breezily for us, too. More often than not, the punctual feedback saved us from serious off-camber rollovers and over-correction accidents. This all-season tire will be best friends with beginners who want to try slightly more adventurous moves without putting their lack of experience on the line.
Nevertheless, the very muted reactions at highway speeds beyond 65 MPH did not sit well with us, especially considering that this is an ultra-performance tire. Plus, very extended highway curves seemed to blow P03's sidewalls at significant degrees, so it would be better if you avoid extreme, daring inputs around these sections.
2. Wet Performance: 8.3/10
Wet Traction: 8.4/10
P03 tackled moderate standing water better than expected thanks to the cross-design sipes and grooves. While slippage was not entirely off the hook, the tire trampled over them with relative boldness (almost the same as on dry roads) and breezed us through 45-50 MPH cuts just fine.
Nevertheless, for an ultra-performance tire, the way P03 hesitated and hiccuped in water beyond 5 inches was rather underwhelming. You will also have to brace yourself for extra drifting around corners – or on wet pavements with slightly thicker gravel and mud.
Hydroplaning Resistance: 8.3/10
Water evacuation was kept under control most of the time, even in water beyond 5 inches, thanks to the rather creative fins design.
If water seeped in deeper than expected, quick palm-to-palm countersteering and well-placed accelerations were enough to choke the water out of the grooves. Hence, you should have no hydroplaning issues maneuvering around light corners or roadblocks.
Unfortunately, on slightly rougher wet surfaces (ex: wet cobblestones) or angled roads, the fins design began to lose power. The higher the speed, the worsened the hydroplaning, occasionally filtering out even our best steering inputs to push the car in extended 10-second drag under heavy water. Dynamic riding styles are clearly not the best fit for you here.
3. Winter/Snow Performance: 7.3/10
Light Snow Traction: 7.8/10
Our expectations for the Miura Ori sipes fell flat on light snow. They were not downright bad but failed to maintain decent footings in urgent maneuverings or gradual accelerations toward 60 MPH – and definitely required extra help from premium snow chains when tackling tight corners.
But in P03's defense, the tire still found itself among the top ranks of our list. While lots of sharpness was lacking (as described above), the twin-reinforced belts gave the tire better internal strength against extended drifting and hence, made our ride pretty predictable. Given no whiplashing speed changes or lackluster steering, you should be able to handle basic veering situations just as on dry roads.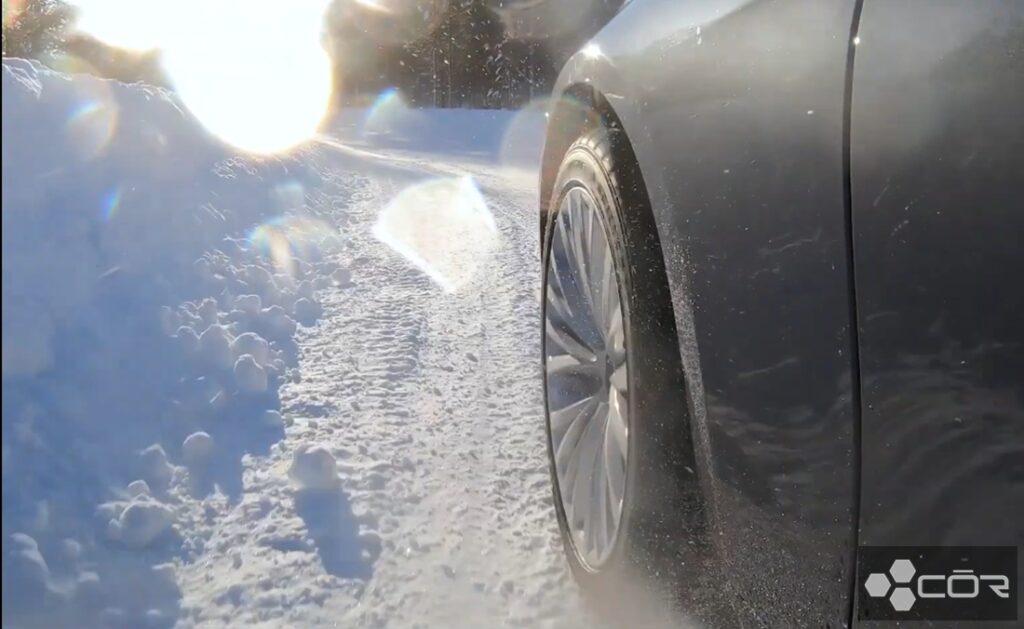 Deep Snow Traction: 7.3/10
While still landing safely in our top 5, P03's deep snow performance was not exactly stellar. The tire already felt quite muted during the first few minutes on cold snow, and grew increasingly fainter despite our unchanged driving rates (40 MPH with occasional revs to 43).
Snow chains did help with corners and slightly wetter road patches, but fell lackluster again when dragged on highways or throughout rugged mountain passes. Worse, in extreme snow storms or heavy rainfalls, the tire is almost unrideable if there are more than 3 passengers in your car.
Ice Traction: 6.8/10
The ominous shakes right after the initial bites already gave us a bad vibe – and indeed, P03 could not surge to any number beyond 45 MPH with its constant coughs and stumbles over thin air. Loading more than three passengers (or cargo beyond 350 lbs) was obviously impossible on tricky roads with multiple corner points; plus, in cold weather below 30 degrees F, pullovers after every 30 minutes were necessary for the tire to recover.
Yet, despite such an unstable performance, P03 actually managed to rank second on the list by retaining acceptable footholds on moderate ice edge buildups. Other ultra high-performance tires performed much worse.
4. Comfort: 8.1/10
Ride Quality: 8.3/10
The interlocking grooves and sipes did not cushion road bumps as well as expected. Well-built asphalt roads were decently handled with acceptable jostles, but cobblestones, gravel, brick roads, or any other rough surfaces send the car straight into back-to-back jitters.
Even after five days of testing or so, these jostles were hard to tune out, if not getting even more obvious at corners and U-pins. Hence, with extended usage beyond the 10-day frame of our test, you might either want to limit the tire to basic daily driving or purchase aftermarket wheel upgrades.
Noise Level: 7.9/10
P03's noise control still found its way into our top 10. The humming sounds under our contact patch could be heard from the cabin, but thankfully faint enough at regular driving rates below 45 MPH. When the car returned to smooth asphalt roads with few bumps, our team could even tune the noises out completely.
Nevertheless, sharp corners, extended curves, or traveling in cold weather all seemed to trigger more tread noises than we would have liked. On particularly serious slippage on snow, you might encounter horrid screechings that are hard to ignore; keep this in mind if you are a fan of spirited yet quiet riding.
5. Tread Life and Durability: 7.8/10
The tread struggled a lot with extremely cold weather and rugged surfaces. But on another note, it actually felt quite composed during abrupt countersteering or adventurous cornerings at favorable momentum, resulting in very little sidewall burnout. Coupled with the very generous 65,000-mile (for H and V-rated tires) or 45,000-mile (for W-rated models) warranty, you do not have to think much about treadwear problems for at least the first six years.
Sumitomo HTR A/S P03 Pros & Cons
Pretty confident in dry on-road conditions
Generous warranty (45,000 or 65,000 miles)
Stable at corners
Underwhelming winter performance (though still good compared to competitors)
Riding comfort and tire noise control could have been better
Sumitomo HTR A/S P03 Competitors & Alternatives
Sumitomo HTR A/S P03 was pitched against Fuzion UHP Sport A/S, Kumho Ecsta PA51, and RIKEN Raptor ZR A/S in our test:
Sumitomo HTR A/S P03 led the group with solid on-road dry and wet balance, but we would love to see some improvements with riding refinement and noise control.
Fuzion UHP A/S had a much shorter stopping distance than any rival in this group. Unfortunately, its ratings were compromised by the underwhelming wet traction.
Kumho PA51 was confident on slippery surfaces and handled road bumps well. This road tire model could have been better on light snowy roads, though.
RIKEN ZR A/S excelled in sharp, sporty handling and traveled on light snow with admirable confidence. But like Fuzion A/S, there was a lot of room for upgrade regarding wet traction.
Conclusion
In our Sumitomo HTR AS P03 tire review, despite being an ultra high-performance tire, AS P03 did not deliver much extra power compared to some standard touring tires we tested.
But thanks to its predictable road manners and tamed drifting in favorable conditions, P03 is still a great assistant for you in warm weather, light snow of mild temperature, and shallow standing water.
Sumitomo HTR A/S P03
PRICE
SOLD BY

Offers

In Stock

Offers

In Stock

Offers

In Stock

Offers

In Stock

Offers

In Stock
---
President & Automotive Expert at COR Wheels
Robert Herrera has been with COR Wheels for 17 years and has a great passion for the automotive industry. During his time at COR Wheels, he has driven and test-driven a variety of vehicles.
---